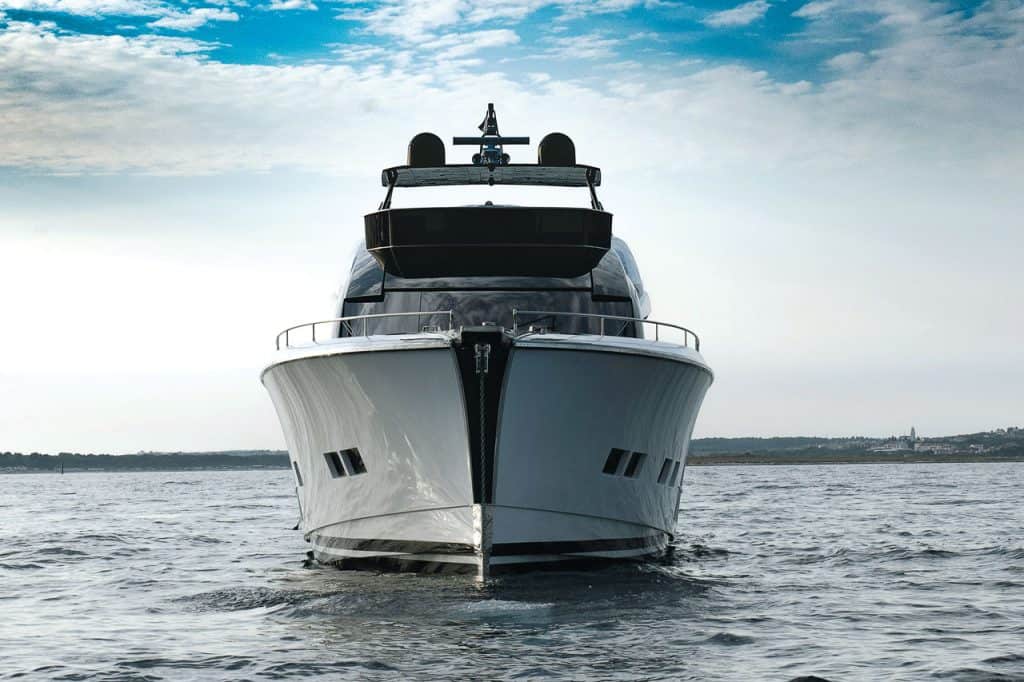 12 June, 2018
Adler Suprema 76
by Yachts Croatia
Experts from the aviation and automotive industry have entered the yachting field and teamed up with one of the world's leading yacht design studios to produce a truly extraordinary 'next-gen' yacht
'It all began when we sat down and started to realize that we all loved yachting, but hated this rut traditional yacht production has fallen into', Alexander Vagacs, Adler Yacht's founding partner tells us with an intensity that reveals his true depth of sentiment for the project. 'We hated how much fuel they need. We hated how heavily they were built and how ecologically harmful they are. We hated how many steps they had onboard and how impractical that is for children and more mature guests. We hated how limited the opportunity for customization and self-expression is on many of them. But we love yachting, so we set out to produce a yacht that finally changes the game.' Headquartered in Switzerland-from where Vagacs also heads up Avcon Jet, and drawing on a carefully curated collection of international collaborators, Adler has assembled a team worthy of their lofty ambitions. Carlo Nuvolari and Dan Lenard, at Adler Yacht have found the liberty to fully explore their exquisite inventiveness. Bridge is more akin to a flight deck, somewhat unsurprisingly as it was developed with partners from the aviation sector. Vagacs tells us the Austro-German hybrid system at the heart of the Adler Suprema 76 took two years of testing and four years of development, resulting in what is arguably the most efficient yacht in its class.
Boasting between 30 to 50 percent more efficiency than a conventional system, at a speed of 8-knots the yacht can cover a stunning 3,500nM between refills of its 5.200 l tanks. At a cruising speed of 15-knots this luxury flybridge consumes just 126 l/h and when the throttles hit the stops the speed over ground registers 30-knots. When the situation calls for silent, vibration and emission-free cruising, the Suprema switches over to its twin ATE high-efficiency 100kW e-units, which alone can revolve the carbon fiber propellers for a full hour, with a full recharge of the batteries taking just another 60-minutes. At anchor and just drawing hotel loads the high-capacity batteries will last all day, meaning guests can enjoy the full suite of facilities without the need to fire up the generator or engines. The Adler Hybrid Marine Systems' mechanical components comprises of twin Caterpillar diesel engines coupled to a combined electric motor/generator (the E-Unit), followed by a reduction gearbox that is used to transfer mechanical power to the propeller shaft. The electrical back end of the Hybrid System is used to control all functions of the hybrid system including gear changes, the combustion engine control, E-Unit control, executing all modes, displaying data, managing possible fault codes and defining safety procedures.
While unseen, the carefully studied naval architecture certainly contributes to the Suprema's attention – grabbing efficiency and performance figures, as does the all lightweight carbon fiber construction that incorporates Kevlar elements. The flying bridge – one of the largest in its class – is sympathetically and delicately concealed in the profile, ensuring the low stance communicated by the sharp hull with a resolute vertical bow is not despoiled. The superstructure element that floats over the expanse of tinted glazing unbroken by fashion plates or visible mullions is not just an architectural flourish that provides a signature identity. Adler has packed this 76 with features, technical aspects and technology like under-floor heating on the main deck and lower deck bathrooms. Showers on both the fly deck and swim platform mean guests rinse of and keep cool, while their cocktails remain the same thanks to chilled cup holders. Privacy glass provides one-touch transformation of windows into opaque glass panels and iPad controls allow an owner to monitor and change the settings of the yacht's various systems, even when not on board. In the main salon lateral picture windows satiate the growing desire for indoor/outdoor living during the day, while at night the drop-down projector and screen transforms the salon into a rather impressive cinema.
Owners can be guided at every step of the way as they their fully bespoke and customizable dream décor is fully realized. Utilizing their experience in the megayacht sector the level of design detail, quality of materials and finish is elevated well beyond the 'production yacht' values usually experienced in this size range and the intelligent division of space optimizes the generous volumes available. Accommodation is available for between six and ten guests aboard the Suprema, depending upon which of the three or five cabin arrangements is selected. Forged in the crucible of love and hate the Suprema 76 is certainly a product of passion and evidence that, with a balanced team of dedicated and talented professionals, truly remarkable results can be achieved. The Adler Yacht Suprema 76 is currently available to sea trial in Europe, we highly recommend you take the opportunity to familiarize yourself with this brand and vessel that is dedicated to changing the rules and moving the goalposts.
Photos by Adler Yacht