Axopar Brabus Shadow 800 is a unique vessel that combines exclusivity with performance, just like Brabus custom vehicles
Mere twenty units – sold at the last year's Boot Düsseldorf – were enough to create a legend. Brabus Shadow 800, result of a passionate relationship between two giants, yacht creator Axopar and tuning icon Brabus, is so far the only model of the new luxury custom brand, Brabus Marine. The philosophy behind the brand is simple: create something as unique in the yachting world as Brabus custom cars are in the automotive industry. Brabus Shadow 800 truly is the best of both worlds.
Every Brabus Shadow 800 is a true custom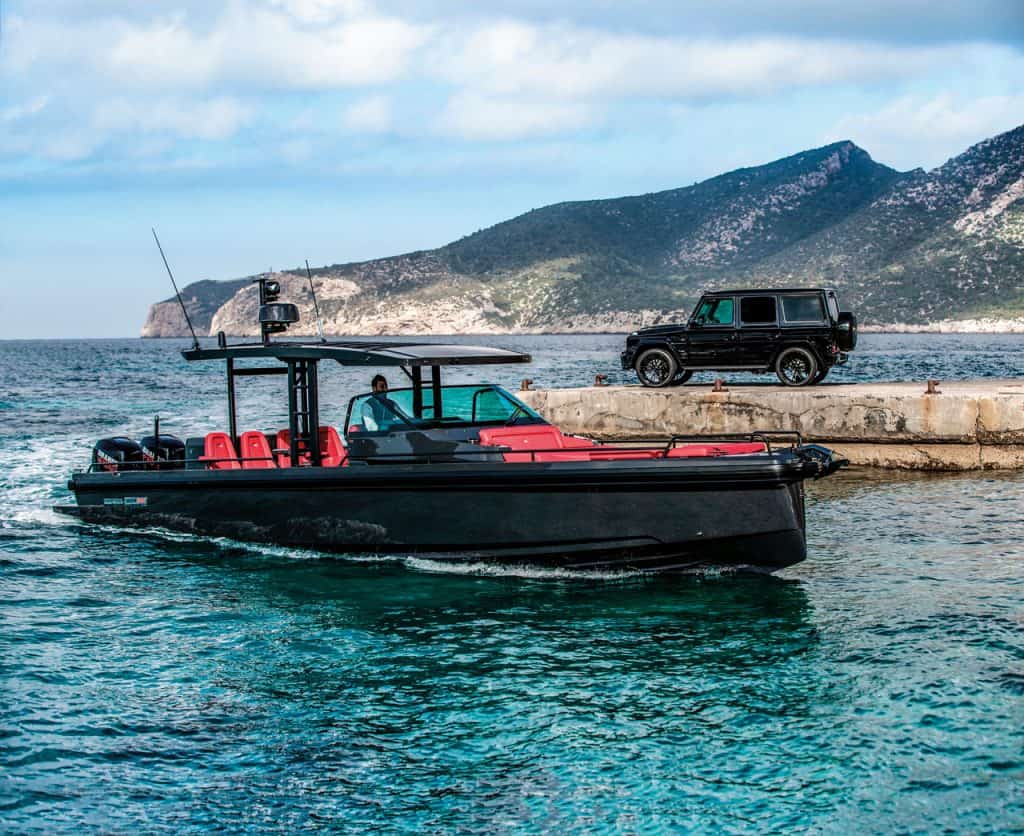 Mighty, fast, exclusive, every unit is a true custom, created from scratch to meet all the wishes of their future owner. Built on the Axopar 37 Suntop platform, every unit comes to life in Axopar production plants, where hulls are laminated, and then moves to the Brabus plant, where skilled hands meticulously finish every detail. Gunmetal grey, red fabrics and carbon details give the yacht an interesting look, attract the eye and allude to fast, boundless fun.
The award-winning hull is even sharper, with cleaner lines, while the mighty aft proudly hosts two 400HP Mercury Racing R engines. Brabus Shadow 800 lays low on the water, allowing the exciting logo to loom above the surface, promising heart-stopping performance. The hull is as stable on water as Brabus cars are steady on the road, even during manoeuvers. Speaking of manoeuvers, this beast is capable of turning swiftly and sharply at high speed, so as soon as you step aboard, find the nearest handrail (luckily, there are plenty around).
On our test, Shadow 800 manoeuvered at 42 knots – maximum speed is 45 knots – but other than disheveled hair and held breaths, we beared no consequences of that speed, such was the stability. Electrical-hydraulic steering, Mercury active trim and the adaptive speed control system made the skipper's job easier and made us feel perfectly safe at any speed. Shadow 800 has a sharp-entry hull that slices through the waves like a knife, leaving unsuspecting passengers to enjoy the calm ride in their leather seats.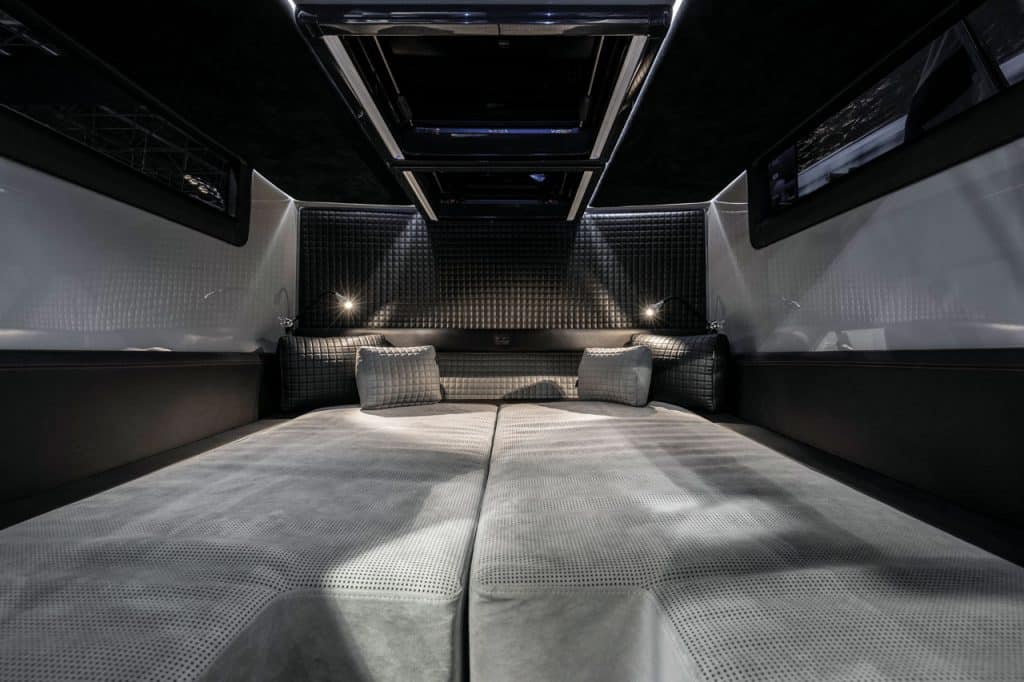 Good even for a James Bond
The command console layout is simple and the joystick as useful as ever, allowing for easy steering. The interior layout is also simple, intuitive, and the interior surprisingly comfortable, with a generously sized bed (Shadow 800 is also available with four beds) and head, allowing for several days of comfortable cruising. The aft kitchenette has a teppanyaki grill and a bar, and is ready to welcome a party. The walk-around design guarantees plenty of space on the deck, from the cleverly designed bow with enough space for three sun beds, to the aft, where the kitchenette allows an amateur chef to create more than just basic meals for the ten guests the vessel can carry.
Forget family day trips and laying around tiny coves: this beast good enough for James Bond is definitely more inspiring than that, created for pleasure and nothing but, be it fast island hopping, even faster transfers or trips to places miles away. Just don't forget to keep your fuel tanks full, because Brabus Shadow 800 is a temptation you will not be able to resist.
Text Filip Bubalo
Photos Axopar Boats