This model was primarily destined to be a tender to larger yachts, but due to its many unique qualities, it is much more interesting than that. Perfect for short day trips, Evo 43 is the nautical version of a getaway car
Evo Yachts have been interesting to the media since day one, primarily due to their chosen aesthetic. Sharp, edgy lines reminiscent of spaceships or fighter jets may not be what comes to our mind when we think of leisure yachting, but that is not to say they don't work. Their latest model, the head-turning Evo 43, follows the same principle: it's bizarre, glossy black and otherworldly – and somehow, those aren't even its best qualities.
Evo 43 design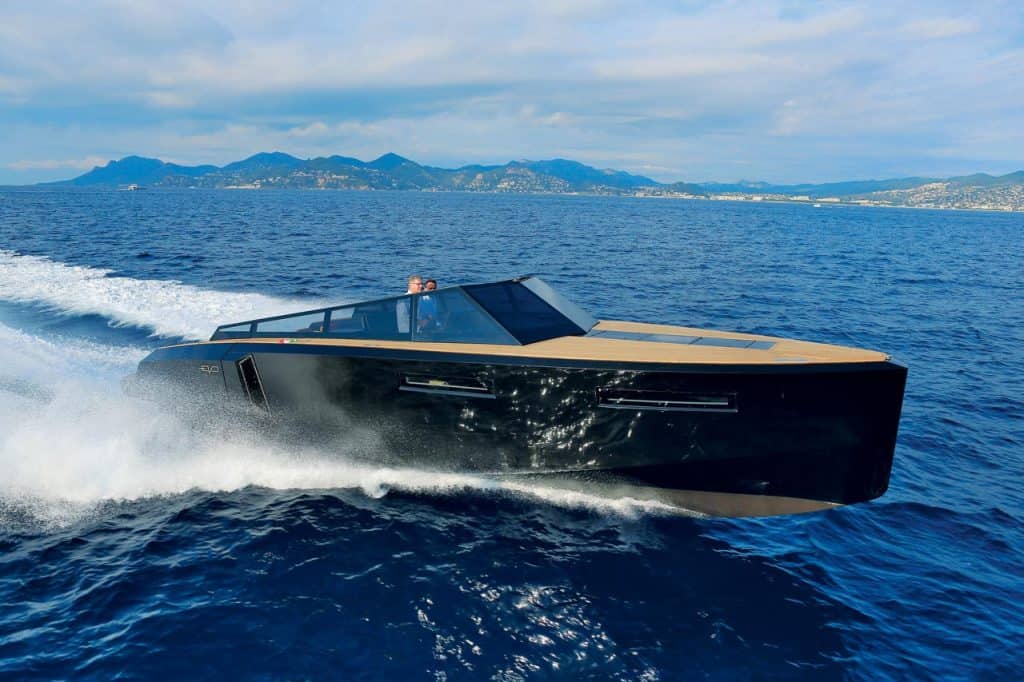 Inside and out, the 43 is a technological wonder. Designed around the cockpit, with a completely open aft ending with the submersible platform liberated from the usual ladder-type apparatus and endowed with an elegant staircase, Evo 43 is a hydraulic engineer's dream.
The cockpit is also hydraulic-powered and opens into a large terrace, stretching from 4,52 to 6,31 meter, ready to welcome sun pads directly onto the floor – the pads are then secured by the cockpit sides and the entire heavenly setup can be safely used during navigation, even at top speed.
Also hidden in the cockpit floor are two deck chairs, waiting to be lifted and displayed. The deck is covered in teak, whose light brown shade is in and tasteful contrast with the lively orange selected for the sun pad cushions and seating. The cockpit is large enough to host a foldable dining table and chairs (with orange cushions), and the table can be lowered into the floor and turned into another sun pad.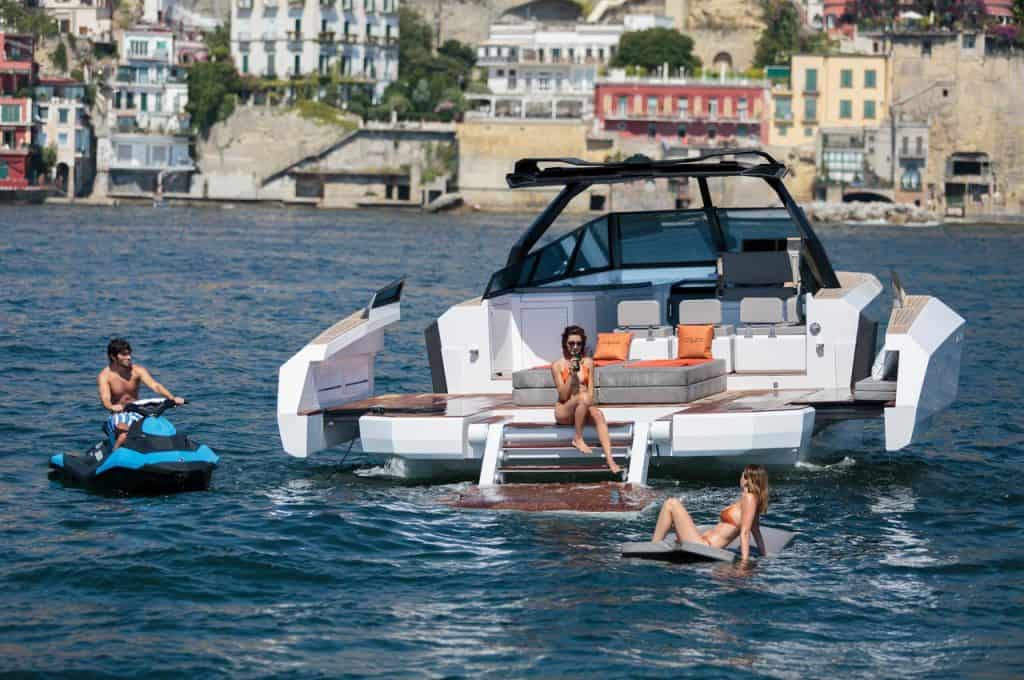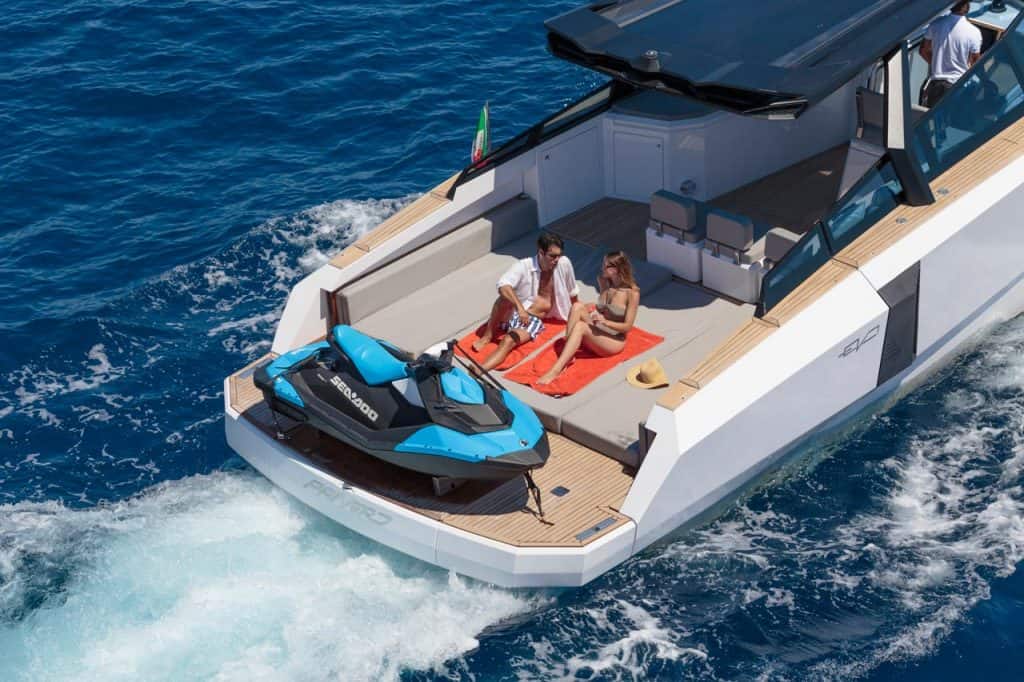 Near the table there are also a bar, a sink, a grill and a fridge, and the fridge can be – you've guessed it – turned into yet another sun pad. Two obvious imperatives on the 43 are functional and minimal, ant they permeate every detail aboard, but perhaps none more than the command console. Two Garmin multi-functional touchscreen displays are the only thing visible on the console, with just the wheel and the Volvo IPS joystick below them.
Perfect tender
The visibility from the helm is excellent – after all, there's nothing around to hamper it – and the tall windshield does an excellent job protecting both the helm and the cockpit from wind and spritz. Below deck, the 43 is a typical day cruiser, with a salon-cabin ready to welcome two guests on the table-turn-bed, a full-size head and another cabin in the aft, this one a double. The interior is white, tastefully minimalist and not bare, and boasting full standing height in most parts.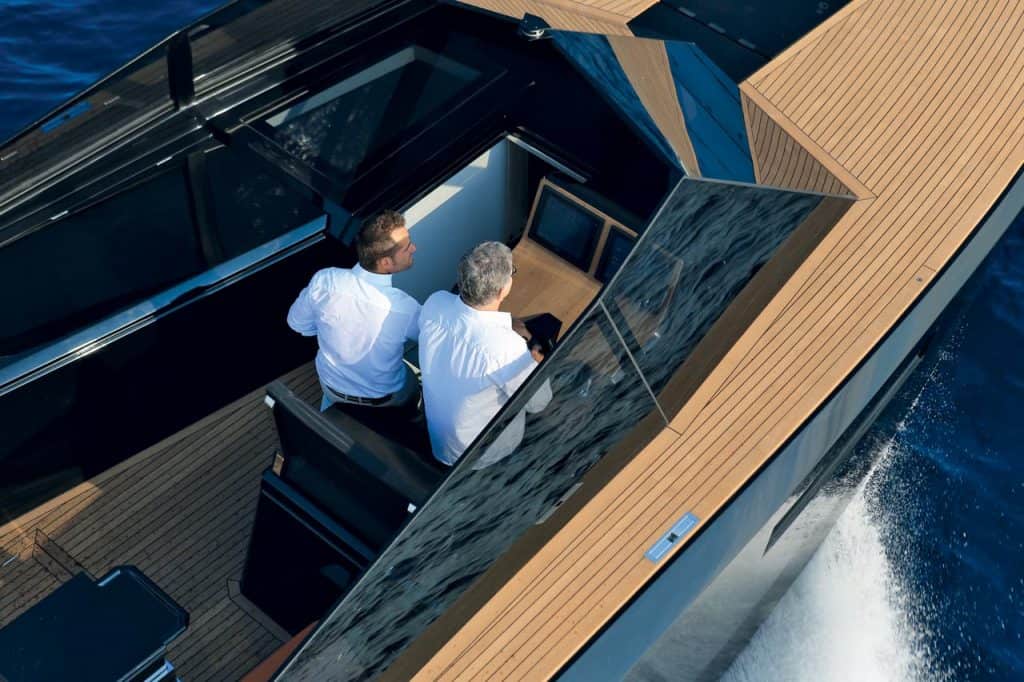 We tested Evo 43 in Cannes, on a mistral-laden afternoon, and found it delightful. Nimble and easily manageable like a small powerboat, Evo 43 handled the waves without even blinking. The length make it one of the largest day cruiser at the moment, which isn't surprising, as it was not designed to be a day cruiser, but a tender to much larger yachts.
Perfectly fit for both those purposes, the latest Evo is a unique boat whose many interesting solutions will surely attract those looking for a medium-sized, fast, nimble boat for day trips near the coast, or just dreaming about dropping an anchor in a secluded cove.
Photos Evo Yachts