The largest serial build in Croatia boasts a unique style that combines traditional yachting values with modern elegance
The largest serial production yacht built in Croatia is now longer than 20 meters. Monachus 70 by Monachus Yachts is a dream come true, made by builders and designers who have skillfully sailed through the financial storm that were the 2010s. Debuting this year in Venice, this elegant 70-footer is a truly special luxury yacht that manages to keep all the charm of a true lobster and adds a sporty fly into the mix.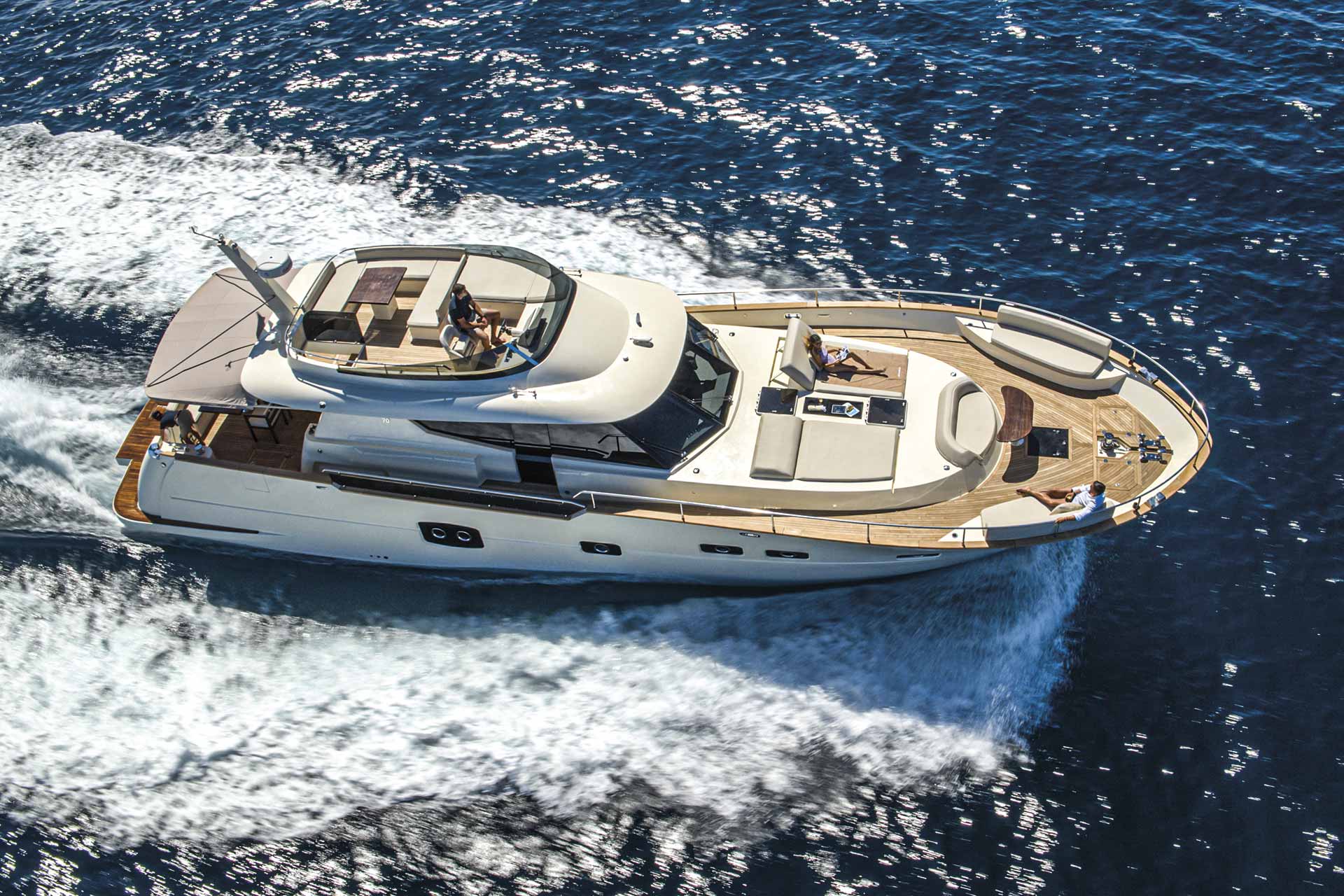 Boasting every element deemed necessary by sophisticated modern yachting enthusiasts, Monachus 70 opens with a sensational aft, with a submersible platform that allows for easy 3.3-meter tender launching – this multi-functional space will come in handy all summer long. Two symmetrical staircases lead to the aft cockpit, with an adjustable table in iroko, and a small storage space in the floor.
Following the brand's tradition new Monachus 70 navigates steady with excellent maritime behaviour
Also in the floors is the access to the unusually spacious engine room. For the most part the cockpit is covered by a bimini (similar to the one on Monachus 45), with mooring cleats and winches for tightening stern ropes, and exterior command post astern. Right next to the command post there is the side entrance to the cockpit, allowing for fast access in port.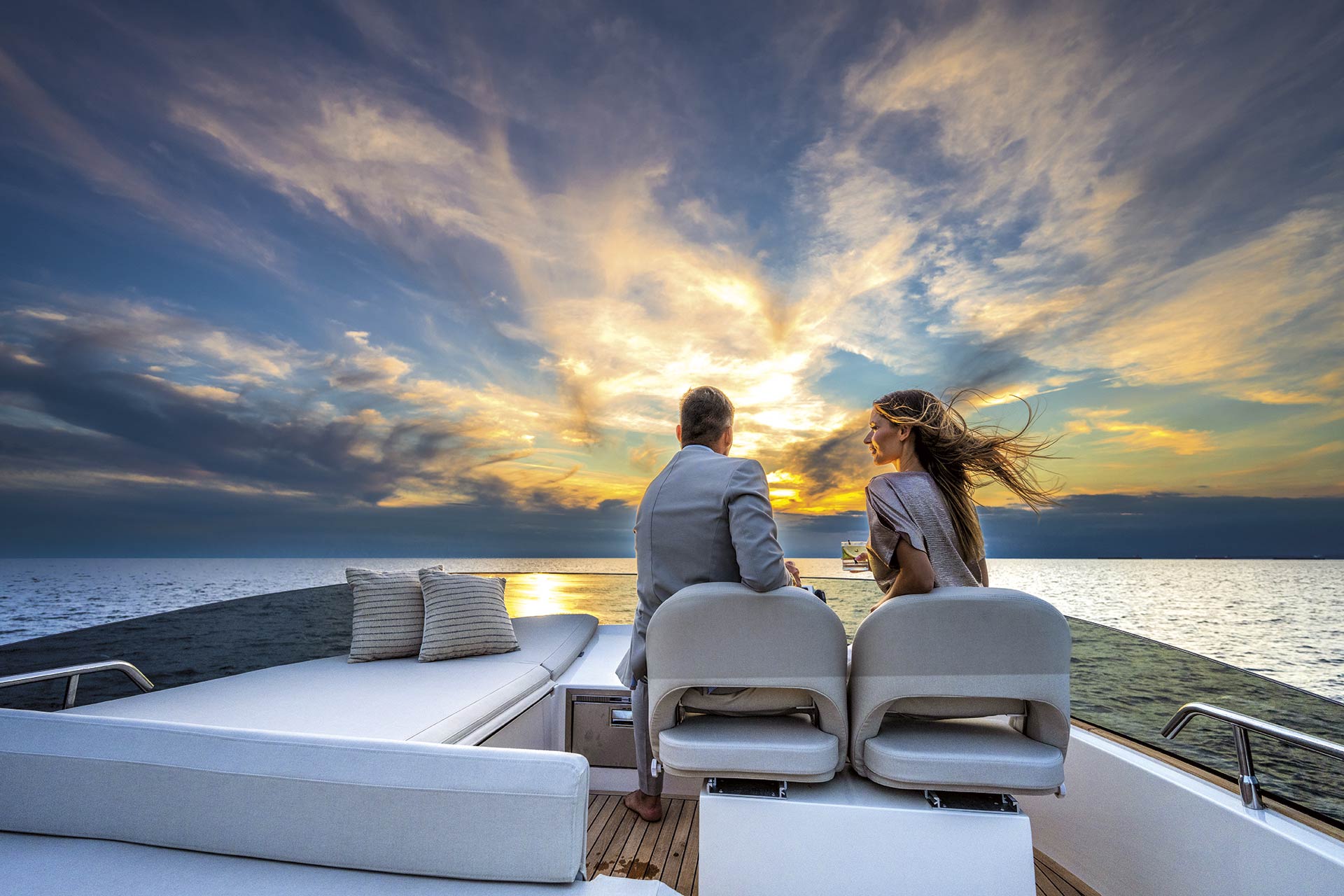 The fly is easily reached from the cockpit, via a teak staircase, and comfortable enough to host all guests. There is another command post on the bow, enjoying excellent visibility in all directions, equipped with a 21'' Garmin multi-functional screen serving navigation and other systems. There is also more than enough space for a sofa, a small table and a fridge, and this all can be protected by a bimini top.
Welcoming and cozy interior is bathed in natural light, furnished and decorated in light fabrics and dark pecan wood, and as relaxing as it gets, with smart LED lights that add just the right amount of artificial light. Pushed aft and to the port, the galley is L-shaped and large enough for a dishwasher, and is equally well connected to the dining room and the salon.
This space can be connected to the cockpit, or separated by glass sliding doors. Across the way from the galley, there is a large double fridge more suitable for a villa, but always good to have for longer cruises. The space also offers a long chest of drawers for various items, like utensils or serving dishes, as well as a large and comfortable C-shaped sofa and a table. The interior command post is located starboard, right next to the lower deck access.
YACHT SUGGESTION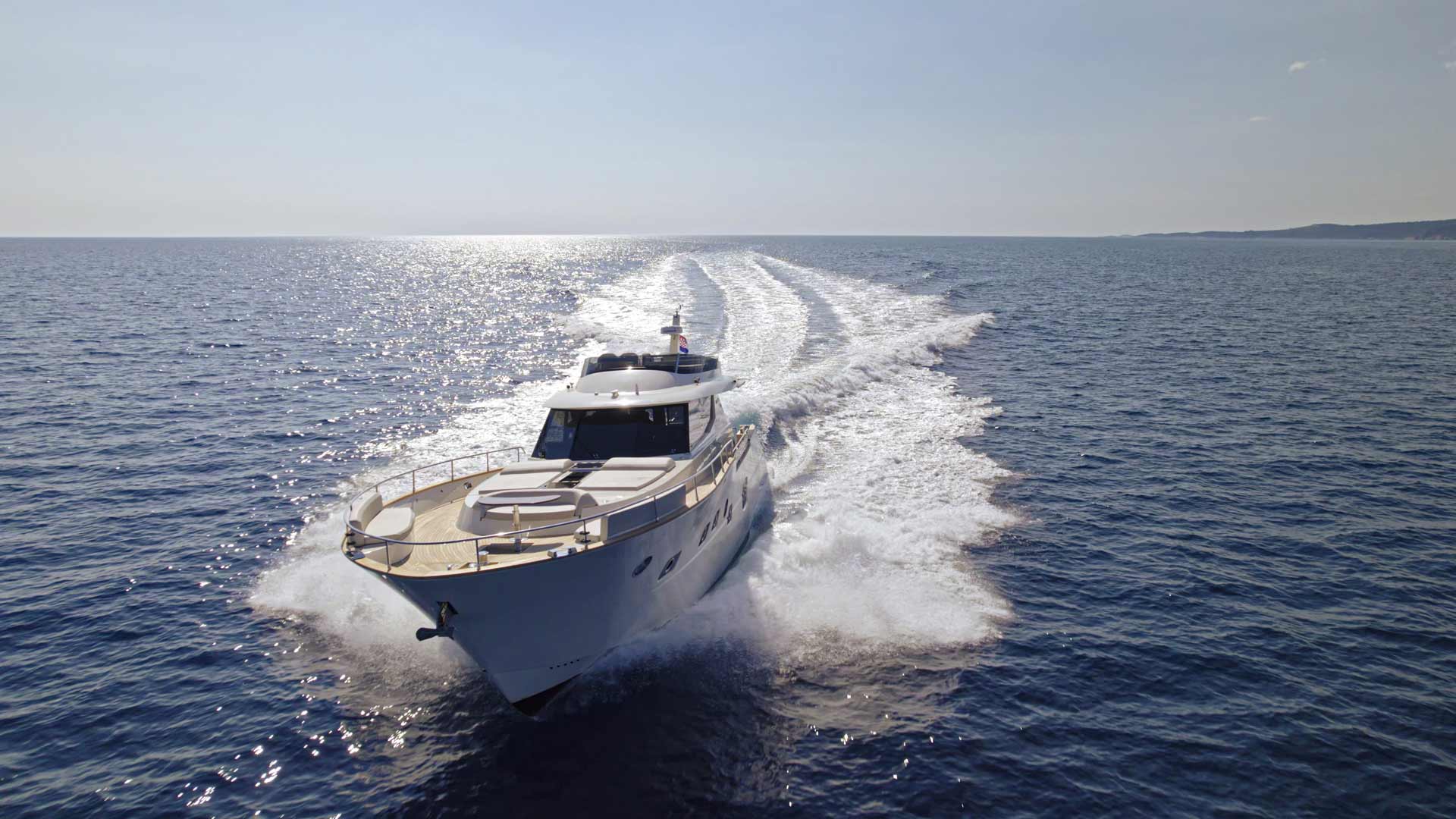 Panta Rei is a 70-feet long motor yacht with a sporty spirit and attractive appearance. Furthermore, this Monachus 70 Fly is a superior yacht with excellent cruising characteristics.
This command post has the look and feel of a much larger yacht, with solid wood elements, and three Garmin screens serving all systems. From there, the skipper has access to the exterior via a dedicated door, also good for letting some fresh air into the interior. This door allows easy communication between the galley and the bow, which we're sure will come in handy in navigation.
The new Monachus has an unusually large bow, due to both its hull shape and salon location, with plenty of space for a sunpad, a three-seat sofa and a table, as well as two side benches. This space is the most comfortable space aboard, and we see it being favored at anchor. Additionally, this space can be protected by a very large bimini top – everything about it belongs on a much larger yacht, and we can only imagine how nice it must be to enjoy cozy summer sunsets there, with friends.
Enormous bow area is the most special outside space of the new Croatian yacht
As for friends, you can invite more than you think, as the new Monachus has four guest cabins, as well as the skipper's cabin and a single crew cabin. The full-width master cabin is aft, the VIP is in the bow, with the twin starboard, and a pullman double port-side. The first unit of Monachus 70 'Panta Rei' will be used for charter, so the owner opted for four cabins, but the model is also available in a three-cabin version.
Since their first model, Monachus have been paying a lot of attention to performance and easy sailing, and their latest model is no exception to those rules, reaching 25 knots of cruising speed (fuel consumption 10 l/nm) and 31 knots of top speed.
Powered by two Volvo D13 IPS 1200, the model is easily maneuvered via a joystick, installed on all three command posts (engine room, fly, main deck), and the DPS (Dynamic Positioning System) allowing easy positioning just by pressing a button. Monachus 70 boasts unique style that combines traditional yachting values with modern elegance, and is an excellent proof this Croatian brand is sailing into a successful future.
Text Darko Šupuk
Photos Monachus Yachts