This new Monte Carlo Yachts 66 combines smart and elegant design with functionality, and has everything it takes to become the next classic
The new Monte Carlo Yachts 66 may be a yacht of simple, classic design, but that simplicity is in no way just a lazy way out: studio Nuvolari Lenard have this time put accent on function, but that doesn't mean aesthetic is less important.
Monte Carlo Yachts 66 design
Recognizable round portholes, somewhat more rounded, softer lines than on her predecessor MCY 65, and carbon hard top that seems to float above the superstructure work together to make the redesigned model an instant classic.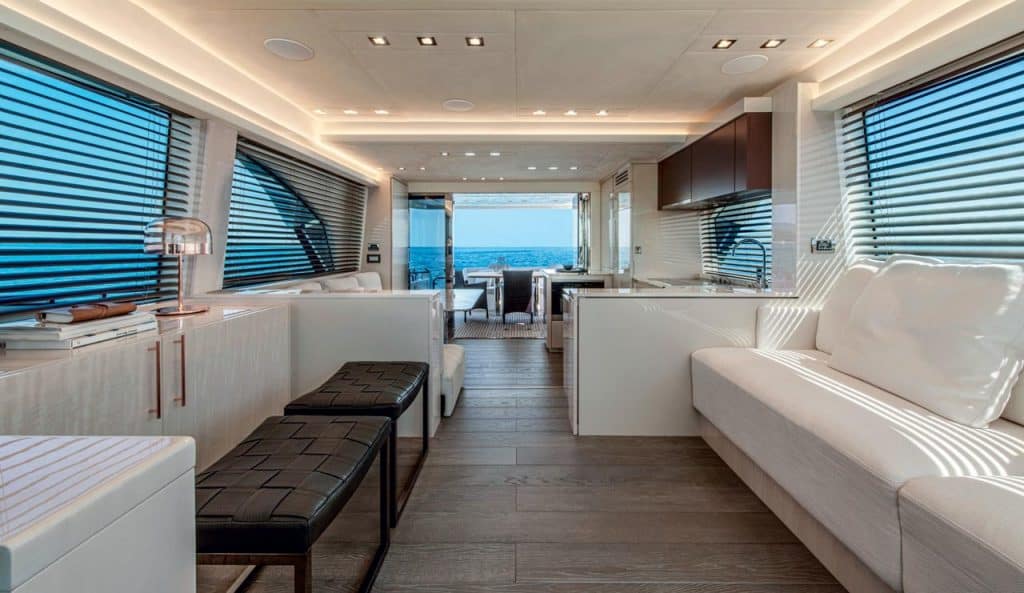 Still, it take a lot more than looks to become a classic, and the MCY 66 has it all. Monte Carlo Yachts pride themselves on treating all their models equally – big and small alike – and the interior of this model proves they take that rule seriously.
Designed to perfection, the interior is functional above all, comfortable in every aspect, flooded with natural light that seeps in through two large glass side panels, and decorated in carefully selected natural materials like wood, Italian marble and leather.
All the models enjoy the same luxurious style, which is one of the reasons for the popularity of the brand among new owners, but also experienced ones looking to invest in timeless quality, lasting value, something to leave to the next generation.
Always looking to add to that value, the brand based the redesign on several key features, and one of them is optimization of space. On the Monte Carlo Yachts 66, space is carefully divided into well connected sections: the galley is separated from the outdoor aft lounge by a glass wall, and open toward the interior salon, meaning they all blend into one large, inviting space.
Glossy lacquered wood, white furniture and plenty of natural light make that space feel even more generous, as does the smart, simple style based on fine materials that feel and look equally good, as well as luxury details that lift the décor to a higher level.
Functional and elegant interior
Below deck, there is enough space for three cabins and three bathrooms, but more importantly – the entire lower deck is a pleasant, inviting space that immediately brings to mind rest and relaxation.
As on the main deck, luxurious accents are few, and smartly placed. The owner's cabin is a true showcase for the brand's new aesthetic: functional, simple, elegant, spacious enough for a relaxing corner with a sofa, a cosmetic table, and a private head as large as the cabin next to it.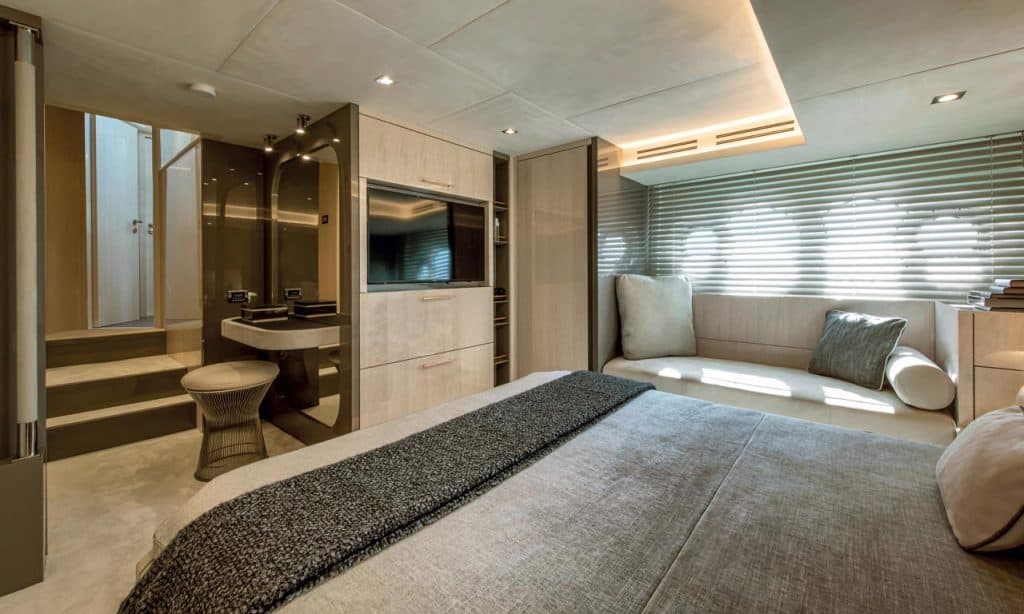 Designers of the studio Nuvolari Lenard were just as inspired when creating the exterior of the yacht. The lines of the hull and the superstructure are beautiful and timeless, and more importantly, they allow for generously sized sun beds and salons.
The carbon hard top supported by a sturdy, but almost invisible structure, allows the eye to roam all around, so guests can enjoy the view of the nature surrounding them.
Real joy to pilot
The skipper also enjoys excellent view in all directions, and the MCY 66 is a real joy to pilot, especially at top speed, or when changing direction at high speed. The hull is steady, handles commands with precision and poise.
During our test, we were especially delighted to find out the salon is absolutely quiet in navigation, and the two might MAN 1000-hp engines perform their duty gently and without vibrations. The new Monte Carlo Yachts 66 reaches top speed of 31 knots, cruises efficiently at 12 knots and sails peacefully, promising a relaxing yachting experience.
As beautiful and as smartly designed as she is, Monte Carlo Yachts 66 is first and foremost a true sailing lover's yacht, graceful on waves, ready to slice the sea without a hiccup, sailing in silence. This classy classic is a sailing masterpiece, made possible by combining yacht-building tradition and passion for excellence.
Text Filip Bubalo
Photos & Video Monte Carlo Yachts