Following several weeks of teasing, Lagoon has unveiled its new model, the Lagoon 55.
For catamaran lovers, who have been following Lagoon's fabulous history for more than 30 years, the name of this model will certainly evoke fond memories: the Lagoon 55 was in fact the very first Lagoon to have been launched, back in 1987. With naval architects Marc Van Peteghem and Vincent Lauriot-Prévost (VPLP design) at its side, Lagoon began to make its mark, and gradually became the undisputed leader in the leisure catamaran market. 34 years later, there are more than 6,000 Lagoon catamarans sailing all the seas of the world…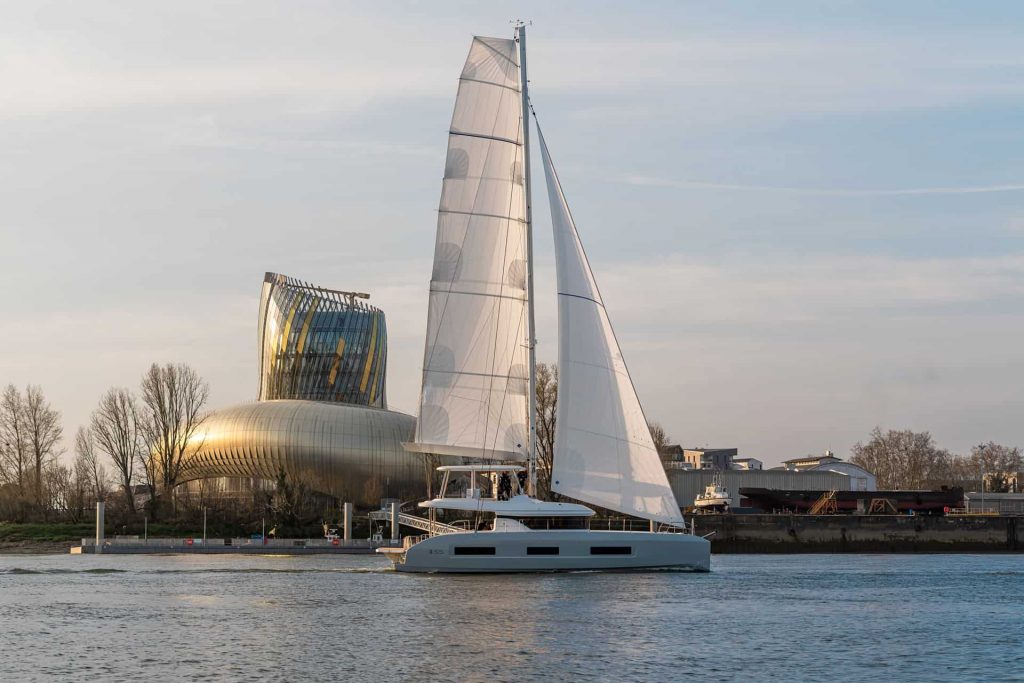 It's difficult to compare the Lagoon 55 of 1987 and the new Lagoon 55 of 2021, as innovations have changed the hulls and interior layout. However, shipyard said without any doubt that Lagoon has remained faithful to its roots and values: to offer a safe and comfortable sailing yacht, to go far and travel. A yacht where life is good.
This new model is equipped with an extra-large 25 m² cockpit, including a large dining area; two large loungers at the stern, overlooking the sea to enjoy the sunset; a comfortable deck chair in the shade of the roof; as well as a bar area perfectly equipped to ensure comfort on board
At first glance, the striking innovation on this new, just-launched Lagoon 55 is the aft area which has been totally redesigned to offer optimal circulation on board, creating a vast terrace on the sea. The cockpit is totally open, giving a panoramic and uninterrupted view, while the sugarscoops have been conceived both for easier access and also to become real additional living spaces.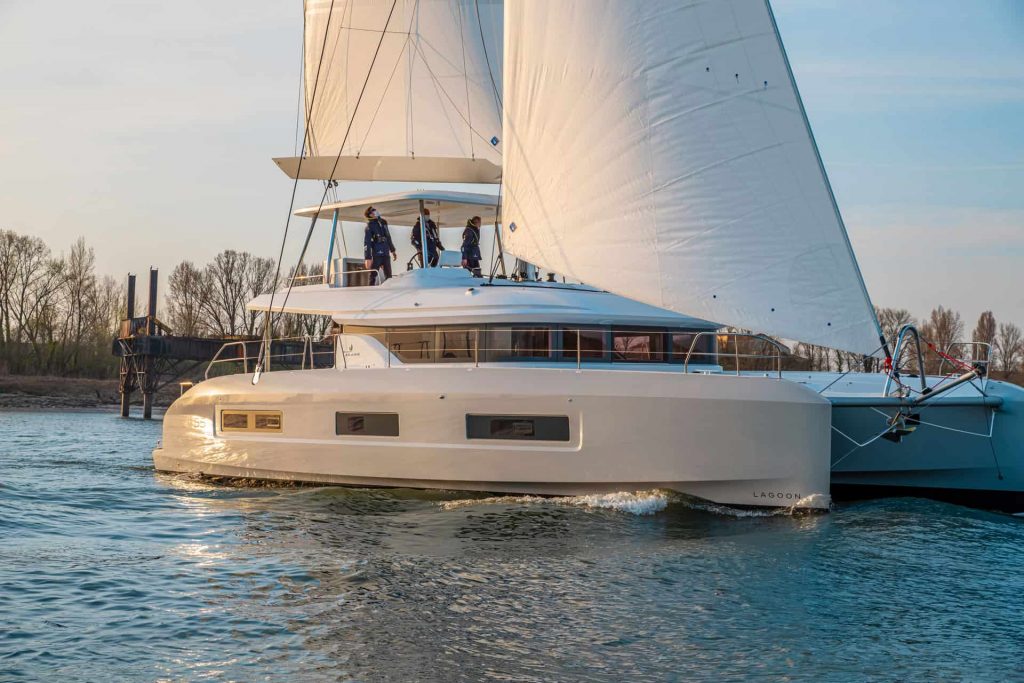 Emphasis has also been placed on light and ventilation, with overhead windows in the coachroof complementing the large vertical ones, creating that 'open air' effect so dear to Massimo Gino, the interior designer (Nauta Design): 'Opening the interiors to such an abundance of natural light allows for a seamless connection with the landscape and the natural environment'.
Available in 4, 5 or 6-cabin versions, with large private bathrooms whatever the chosen configuration, the Lagoon 55 offers impressive volumes, bringing real added value compared to the Lagoon 52 that it replaces in the range. The Lagoon 55 has a modern design while retaining the codes of the brand's DNA. This new model reveals a particularly carefully worked exterior design, with its new signature on the coachroof overhang and its raised bulwark, giving it a sleek and elegant profile.
Photos Lagoon/Nicolas Claris