The largest model of the family-owned Italian shipbuilder Cranchi, Settantotto is a versatile yacht ideal for all navigation styles, brimming with sporty spirit, smart design and high quality
It's pure wonder how in the current era of globalization, we still have gems like family owned companies with long history and good old manufacturing traditions. Luckily, the yachting industry has a few too, one of them being an Italian shipyard Cranchi, 153 years old and still owned by the Cranchi family.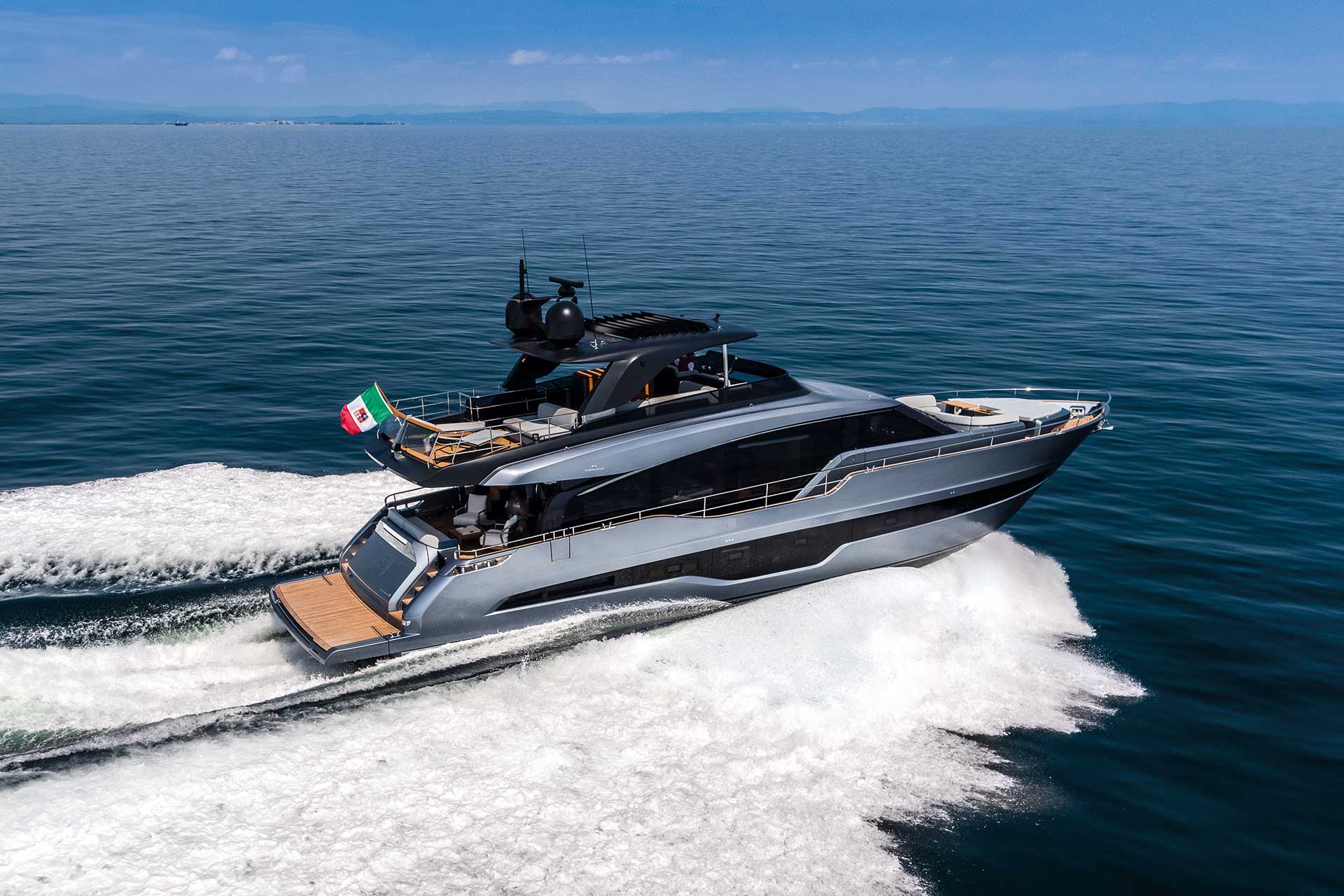 These companies and their products have one feature that is very important for many customers, especially for the luxury goods connoisseurs – a certain charm, like the possibility to shake hands with the company owner over the discussion on your future yacht.
Buying a yacht from a family owned shipyard or building one with them always means there's always something more to it: more attention to the future owner's needs, more options to customize your yacht, more flexibility. And in this exact aspect Cranchi strives for even more. If you want your 20+ meters yacht to be a superyacht – not in terms of size, of course, but in terms of ergonomics and sense – you should look closer at Cranchi Settantotto which in Italian means 'seventy-eight'.
Cranchi Settantotto is the flagship boat of the shipyard, launched in 2020 to mark its 150-th jubilee, and this alone means this model just had to be special. Just after stepping aboard an experienced yachtsman's eye catches glimpse of the first of its special features: not a single mooring line or cable on the deck! They are all wounded up on the hideaway winches inside the hull, making the deck clean and safe – neither the guests nor the crew will ever step on them or get their foot tangled.
Second thing one can't miss is the huge bathing platform of Cranchi Settantotto: any yachtsman would immediately imagine a jet ski or a tender based there, ready to go when needed. But then a garage door opens, revealing the space so big that one can store all the toys, the garage fits a 4-meter tender along with a jet-ski and a couple of seabobs, so the bathing platform becomes a comfortable wide 'beach'.
In further exploration of Cranchi Settantotto's capabilities in relaxation and having fun, we move from the bathing platform directly onto the flybridge – and it's fair to say that that's the place you can easily spend the whole day with your friends, leaving it only to have a swim.
Its ergonomics are very smart: you have fair share of both sunny spots and shade (thanks to the hardtop with electric sunroof section); you can stay here for breakfast, lunch and dinner and even cook it right here using the grill and the fully equipped bar; moreover, you even don't have to leave to take a shower on a hot day!
And last but definitely not least – you can actually drive the boat from here with the second helm installed very cleverly on the flybridge's port side opposite to the main one based on the starboard side on the deck below.
Cranchi Settantotto interior
Foredeck lounge on the main deck has a huge sunpad, a table and a U-shaped sofa. The interior of main deck has a separated kitchen and a day head, and spacious dining area joint with salon. The nice part of the main dining area is the lowered window line so you can enjoy the sea view while having guests for dinner.
Walking through the main deck of Settantotto we noticed one more smart design technique: the dining area is visually separated from the lounge with the use of different materials, colors and textures which helped to save space and create different moods for two different areas – while the dining area is shiny, bright and modern, the lounge is all about softness and coziness. One can also choose between four different décor options. Cranchi Settantotto has a sliding door to the cockpit that can be opened only partly as well – but please mind the step between the cockpit and the lounge.
A lot of yachts get rid of this obstacle, offering their clients a smooth deck, but Cranchi Settantotto's ocean Class A category means its interior has to be more rigid and protected. On the lower deck there are four cabins including the master stateroom in the middle as well as the space dedicated for the crew.
And finally, some technical information about the yacht, with a few nice surprises even here. For example, Humphree electrical fin stabilizers synchronized with the same brand's interceptors – which helps to eliminate pitching and makes the yacht stable in the curves. Or Volvo IPS propulsion system that not only allows to operate a yacht using joystick, but provides it also with a so-called digital anchor, that uses GPS to fix the yacht's position.
How fast is the Cranchi 78?
Out in the sea Cranchi Settantotto can act as different as you would like her to: if you don't care about your fuel bill and travel shortly, three 1000hp Volvo Penta engines make her 'run' at 30 knots, in economy mode it reaches 8,5 knots and covers 800 nautical miles. A comfortable crossover, one might think – but the final glance at Cranchi Settantotto's curves as we leave it unwillingly, brings us to decide, that she has a true sporting soul.
Photos & video Cranchi