Celebrating its coral anniversary, MYBA has decided not do it in an ordinary manner, but to see it as an opportunity to promote the protection of our oceans and inspire the yachting community to take small steps in a positive direction
This is a very special year for MYBA The Worldwide Yachting Association as it is celebrating its coral anniversary. Founded in 1984, by a small group of visionaries, MYBA is an international professional organisation whose focus is on safeguarding the superyacht industry's interests and promoting standards of excellence. It has always been characterised by a strong belief in working together for the good of all and driven by a vision of a sustainable future for yachting.
As sustainability becomes an increasingly important topic, it is only natural that the Association feels an increased responsibility towards the protection of our oceans and the marine life that inhabits them. The fact is that yachting is an activity which relies heavily on a healthy natural environment and it's in all of our interests to do what we can to minimise our impact on the planet. By adopting good practices across the superyacht industry, we can safeguard the waters we enjoy sailing in and depend upon for our livelihoods. In this light, MYBA has chosen not to celebrate its 35th anniversary in an ordinary manner such as staging an event or advertising the fact.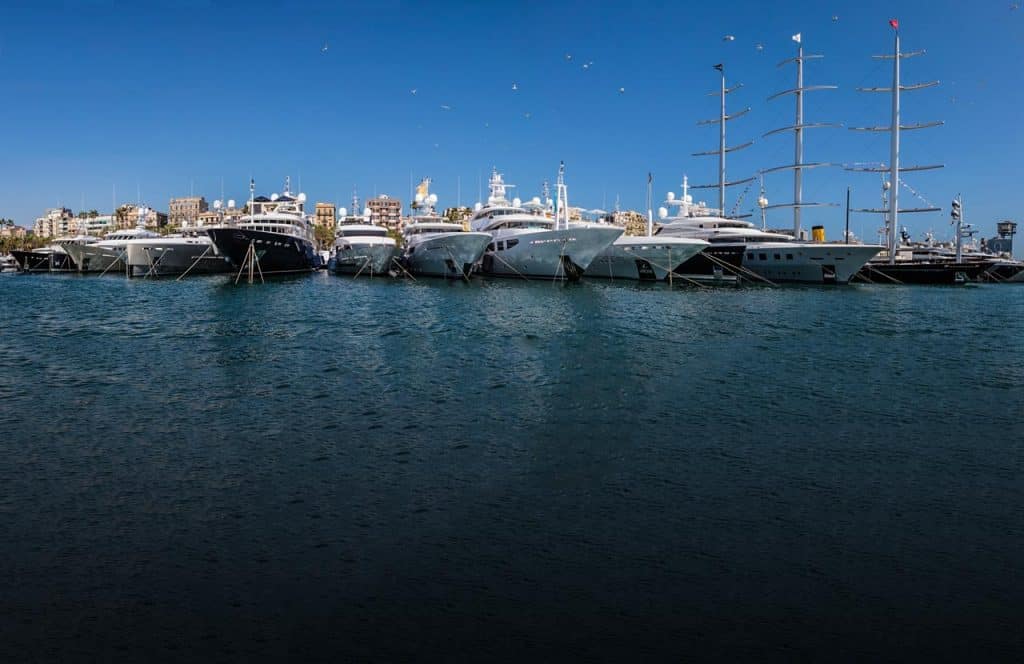 Instead it has decided to invest its time and communication resources in a campaign aimed at promoting the protection of our oceans. We first need to accept that human activities are primarily at fault for the current state of our oceans and although this may be disheartening, it also means that there is an enormous opportunity for us to turn the ship around – 'the more we know, the more we can do'. There are a few easily achievable choices that can make a difference. The first one is the issue of waste disposal.
Over the past few years there have certainly been positive developments as far as waste management on board is concerned. More and more yachts are separating their waste and storing it correctly until they reach shore. Owners and crew are working hard to ensure that waste from superyachts does not find its way into the waterways. You may ask where MYBA fits into this equation. The answer lies in part with the MYBA Yacht Management Committee which is currently preparing a survey for captains in order to discover what happens to the waste when the yacht actually reaches shore. It seems that very few ports and marinas have the appropriate reception facilities and operational waste can, and often does, end up in the sea. So, it is imperative to discover more and MYBA has the network to do so.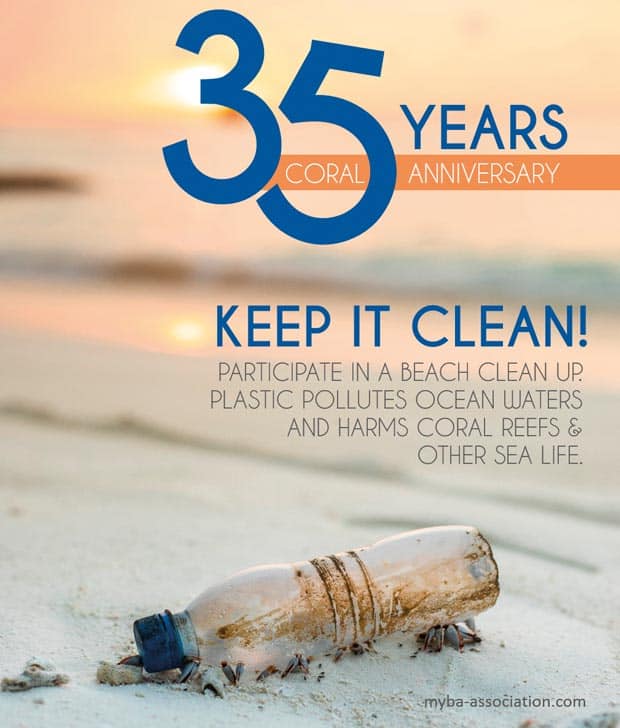 Once the data has been collected it will be used to open dialogues with individual ports but also to initiate discussions at an EU level and within the International Maritime Organisation (IMO), where MYBA possesses a strong voice. The second choice to be made is to practice safe boating, which means anchoring away from areas with sea grasses and coral formations. The damage from a dragging anchor and/or chain can destroy decades of coral growth in an instant. Disturbance and destruction caused by anchors can also influence the three-dimensional structure of the reef and this loss of complexity can, in turn, have a negative impact on fish abundance as well as biodiversity.
We must check carefully before that anchor drops! 'Taking nothing but photos, leaving nothing but bubbles' is the third choice we can make. Respecting the ocean means never touching or taking something from the marine environment. While the compulsion to touch beautiful things that we see underwater may be natural, as we would like to 'connect' with them, it can cause serious harm. Human touch is toxic for coral and may even kill it, with the results not showing until months later. So look, but please don't touch.
Over and above its efforts to generate awareness, and in cooperation with Yacht Carbon Offset, the Association is increasingly endeavouring to reduce the impact its activities have on the environment by offsetting most of the travel arrangements of MYBA Admin and with plans to offset the 2020 MYBA Charter Show. MYBA is also a strong supporter of Ecomer – Yachts du Coeur which has the ability and logistics to collect donations of good food, clothes and linen from large crewed yachts and redistribute them to those who truly need it. MYBA's initiative may be one of many with ocean protection as its clear goal, but it is one of the few organisations which has the network to support and promote it within the yachting industry. We definitely can make a difference, one choice at a time!
Text Pat Sakellari – Marketing Consultant for MYBA The Worldwide Yachting Association
Photos MYBA
No tags for this post.