SACS Rebel 47 is a luxury cruiser and a muscular boat at the same time, we hesitate to even call it a RIB, as the solid lateral tubes are not inflated but comprise of a state-of-the-art composition of moldable foams and hi-tech plastics.
The Rigid Inflatable Boat (RIB) has progressed significantly from its early days as the rugged, hardy but somewhat spartan craft of yesteryear.
SACS Rebel 47 revolution
Today, companies like Italian shipyard SACS produce craft that retain the ability to go where other boats fear to tread, and yet offer the amenities commensurate with the luxury entertainment platforms they are. This new SACS Rebel 47 model has been conceived specifically with the high-end commuter, day cruiser, chase boat or large tender market in mind.
In shunning the very core of the class's name–by discarding the 'inflatable' aspect–SACS have eliminated the issue of beam space limitation, and thus opened up opportunities to create completely new layouts that would not have prior been as effective in the commensurate length. To achieve this revolution, SACS have adopted technology developed in the commercial shipping sector, utilizing a similar system employed to fend vast maritime vessels off docks and on tug boats.
The tubes that enclose the SACS Rebel 47 consist of a composite: an inner filling of firm, closed-cell high-density foam, covered by a tough layer of explosive and collision resistant plastic, which is then sheathed in Hypalon to provide the practical benefits and cos-metic appearance of a traditional RIB tube.
Offering the same flotation properties as an inflated tube, the solid tubes possess all the positive attributes of conventional tubes–like acting as a highly effective chine to throw spray laterally and produce a very dry ride, plus the improved stability during navigation and at anchor–but with many other advantages in addition to the vastly improved durability.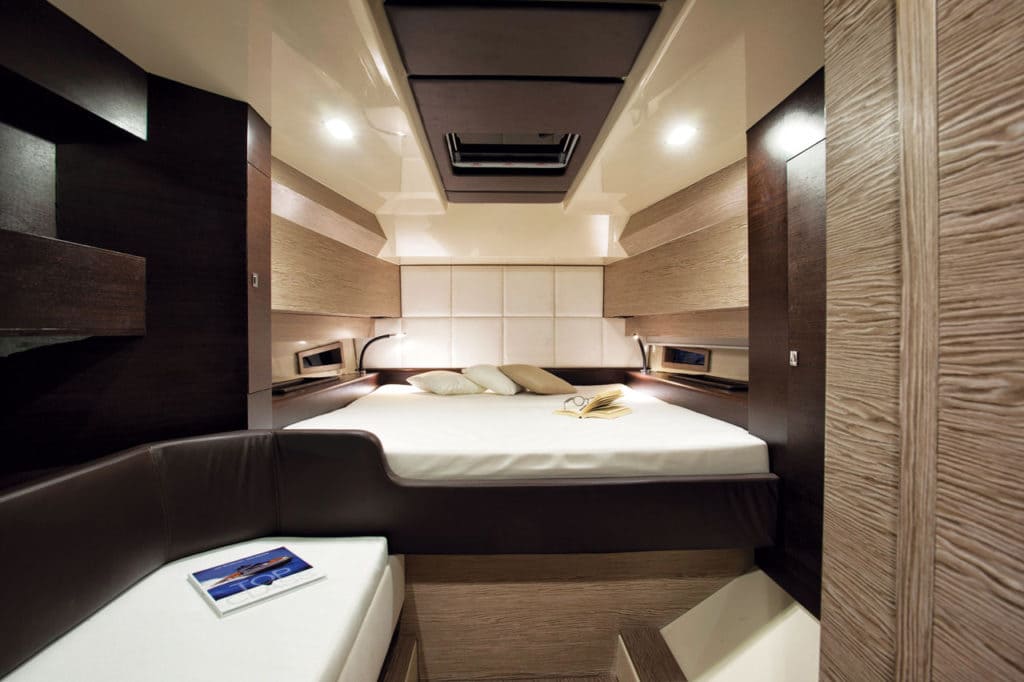 As the composite system can be shaped and molded into forms traditional Hypalon cylinders cannot, this opens up a whole exciting new field of possibilities for SACS in terms of both aesthetic design and gaining more space for the upper decks and increased volume below.
Stepping aboard
Also, as the system is not structurally dependent upon the outer Hypalon coating, there is the opportunity of it being changed easily, and relatively inexpensively, if damaged is sustained, refurbishment is required, or one simply wishes to change the color and appearance of their craft.
Stepping aboard the SACS Rebel 47, the additional useable beam created by the 'D' shaped tubes as opposed to the regular 'O' cylinders is immediately evident. From the bathing platform one enjoys unrestricted access past the triple aft sunpad and into the cockpit.
It is worth noting here that the option is offered to install a hydraulic section in the bathing platform to facilitate the carrying of a watercraft or smaller tender, while beneath the sunpad is a voluminous storage area that can accommodate a couple of SeaBobs or a roll-up inflatable tender.
These wide lateral passageways extend all the way to the bow, with high gunnels re-ducing the sense of exposure and promoting confidence to move around the boat even when travelling at speed.
SACS Rebel top speed
Facing forward, side-by-side, two chaise lounges provide the most comfortable and exhilarating position from which to experience boating I believe I've ever encountered. I'll admit to being somewhat per-turbed at first when our pilot suggested we take a position in the very bow and he'd run at full speed, but, once we assumed our positions, we fully appreciated acquiescing to his quiet insistence.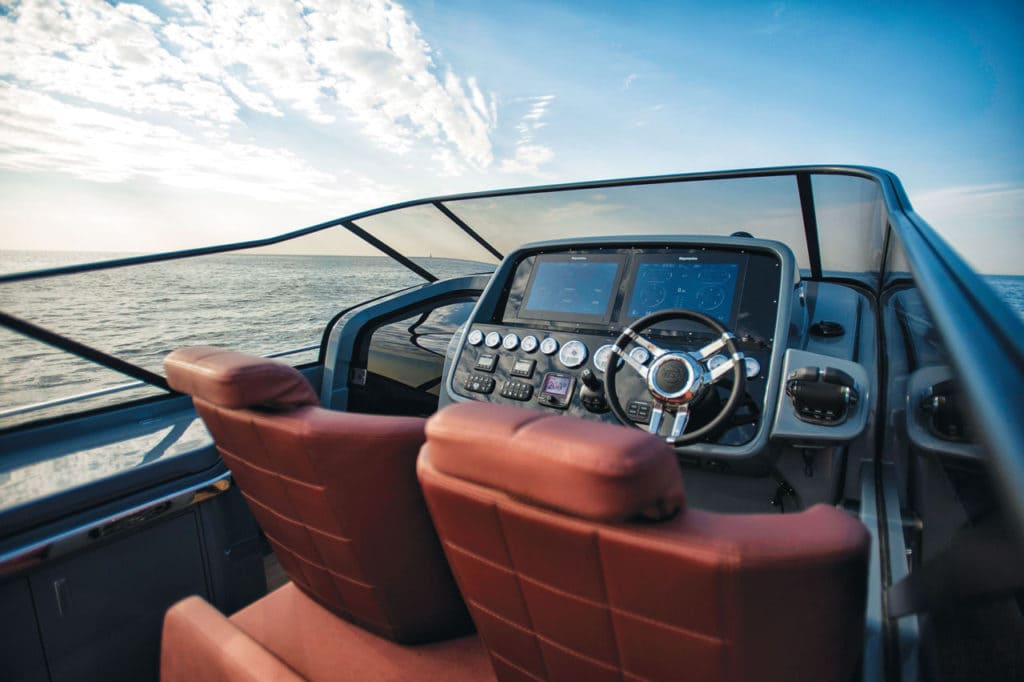 As the boat's raised forefoot gently slices through the chop, with zero alarming slamming or violence, one simply lies back and thrills in the delightful juxtaposition of an experience that lies somewhere between a thrilling fairground ride and the soporific relaxation of a gently rocking recliner.
The throttles for the twin Volvo DC-400 engines coupled to stern-drives fall easily to hand, and nudging them forward the SACS Rebel 47 re-sponds by almost immediately surging onto the plane.
Hull #0, being a prototype has been overengineered and weighs several hundred pounds heav-ier than subsequent units, but still achieved 38.5-knots at the top end. Future production is expected to top 40-knots. Accessed via a companionway to the portside of the helm, one descends cleverly offset steps to discover a surprisingly voluminous accommodation deck.
A V-shaped sofa occupies the forepeak, while infill cushions convert it into a double berth from which the occupants can stargaze through the skylight above. A second double cabin is located aft that, though comfortable to lie back in, features signifi-cantly restricted headroom.
In producing a craft pointedly designed and aimed at the high-end market, and in doing so have innovated with technology in order that even the most discerning of clients are well-served, SACS Marine have once again pushed the RIB sector forward a considerable difference.