Maxi RIBs are becoming a presence in the yachting world. Spacious and multifaceted, they make ideal tenders for large superyachts, or day boats for discovering intimate coves
Anvera 48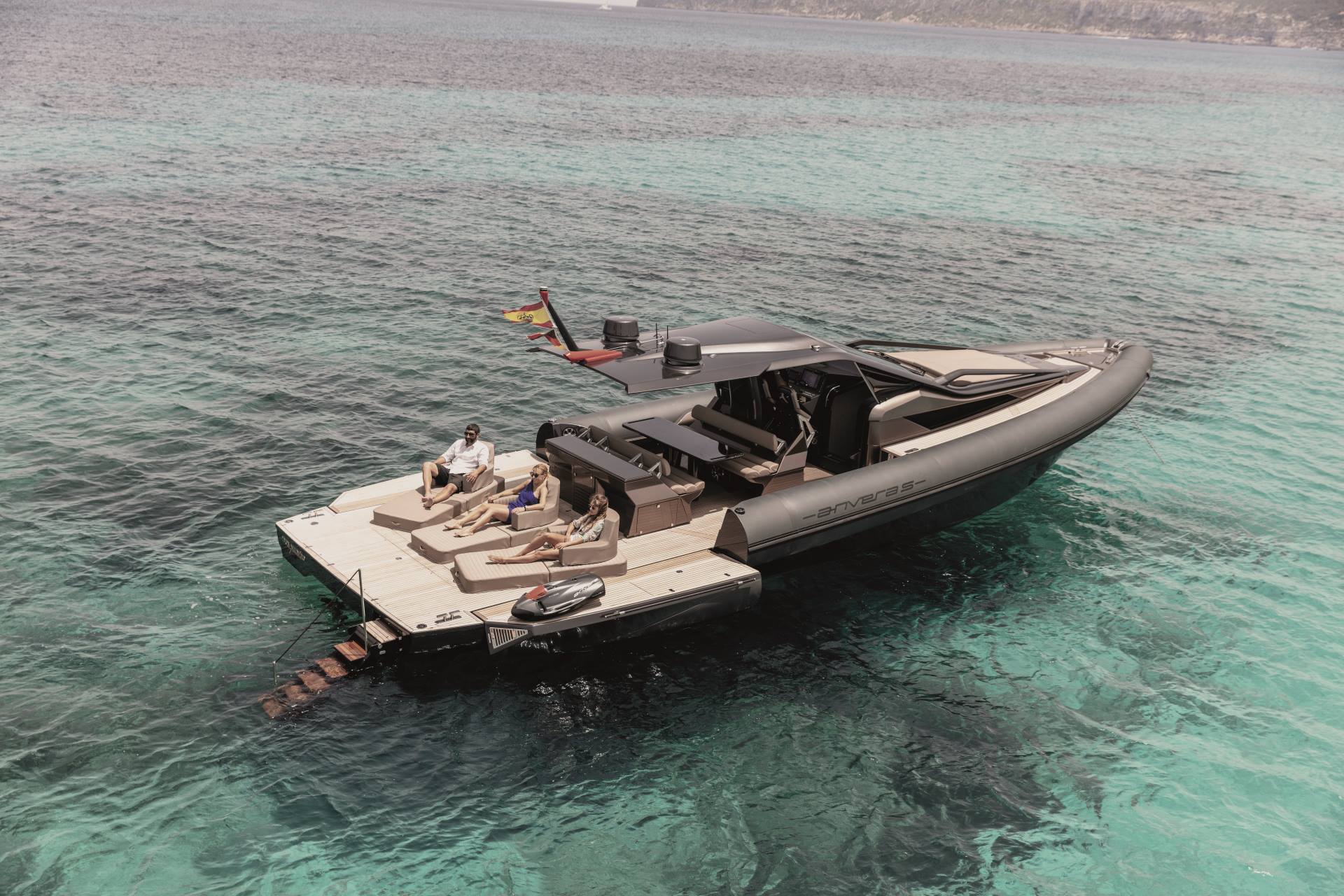 Entirely built in carbon fiber, the extremely light Anvera 48 features trendy, unparalleled design shapes, details and the excellence of Made in Italy production. 14.50 meters long and up to 4.91 meters wide, Anvera 48 is characterised by two special uprights around the deckhouse, the helm station, and the cockpit roofing, and by the air vent integrated in the single lightweight pillar supporting the superstructure.
This model offers the typical comfort of a bigger yacht thanks to its two wide side opening terraces and the several water toys that you can have on board. Designed with a strong focus on functionality, together with comfortable onboard spaces, the result is a sporty yet harmonious boat.
Anvera 48 can be equipped with two 370 hp Yanmar sterndrive engines or two 550 hp Yanmar engines with Top System surface propellers. The power/weight ratio allows the boat to reach a speed of 50 knots while consuming only 3.4 liters per mile at 40 knots.
Technohull Omega 48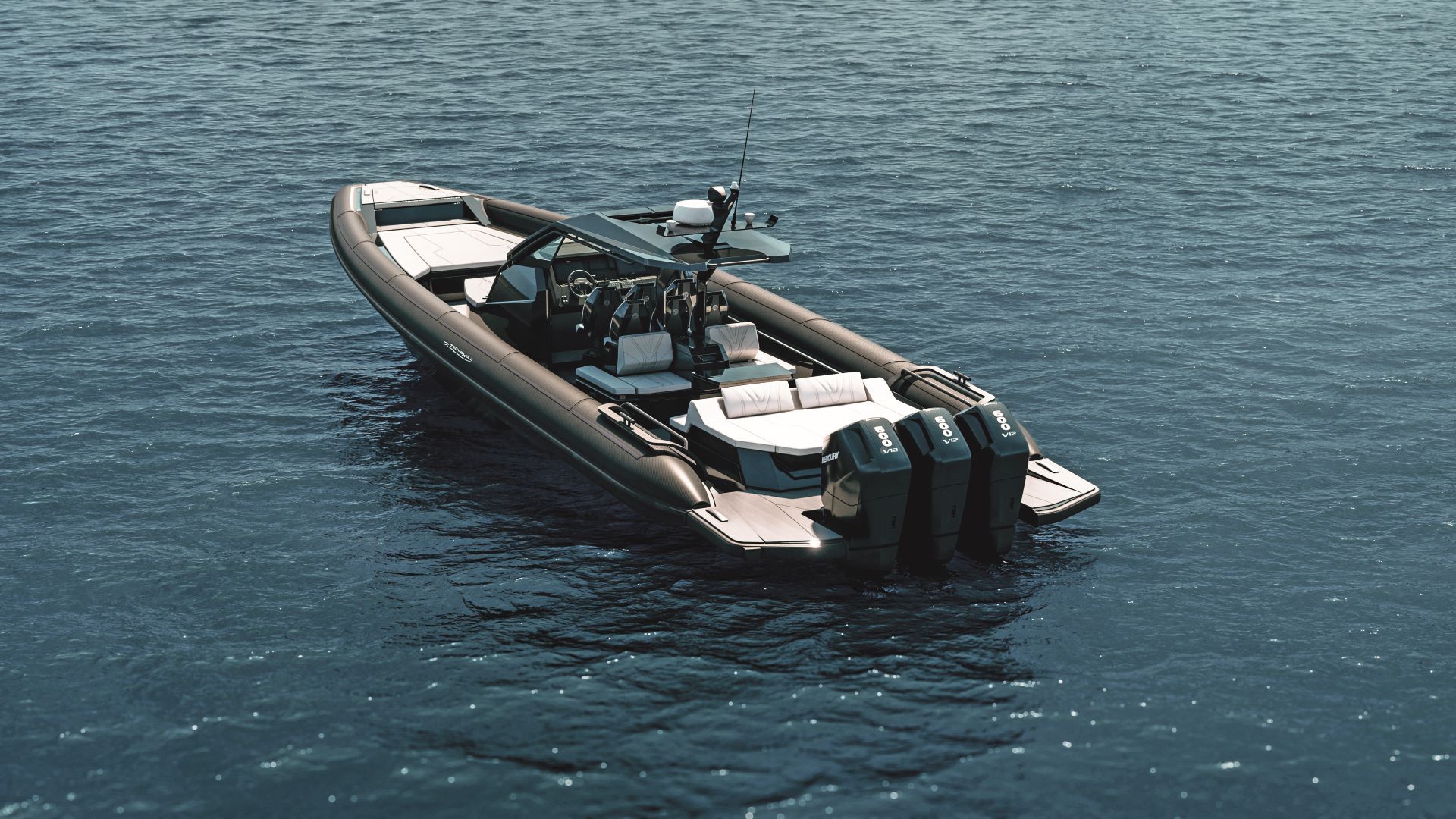 Boasting an incredibly wide deck, a 4.72 m beam and 14.95 m length Omega 48 offers a fresh, modern perspective on comfort, style and luxury. Thanks to Technohull's patented Dynastream hull design, the Omega 48 is a sheer performer that delivers beyond expectations, offering high speeds, exceptional seakeeping and maximum efficiency.
Engine options vary from 2 x 600 hp to 5 x 450hp, with many in between combinations and diesel options available. The vessel features a brand-new aerodynamic hardtop, which coupled with a full glass windshield, provides full shelter and absolute protection. The generous island sunbed in the aft deck area, which is presented on a Technohull for the first time, is among the most distinctive features of the model. Boasting alluring details and fitted with premium quality materials, the interiors level up the living experience onboard.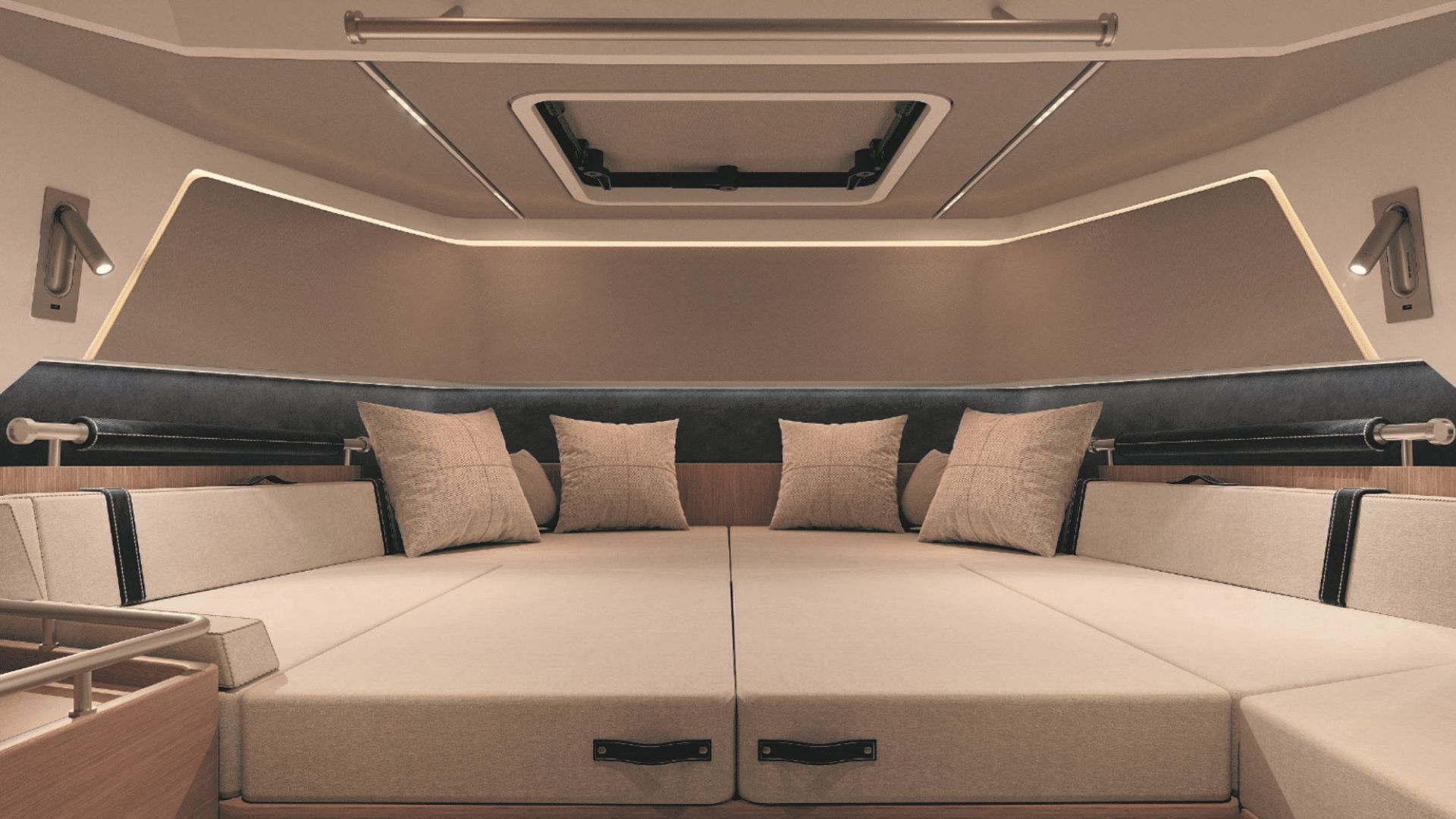 A side console entrance with a pantographic door reveals a highly comfortable and elegant cabin, that features an oversized double bed, ample storage space and a separate head with shower. For a more complete sailing experience, MennYacht has established the My Yacht Toys division, which represents the TechnoHull brand, which is an excellent addition to luxury yachts and cruising the Adriatic Sea.
Magazzu MX-14 Classic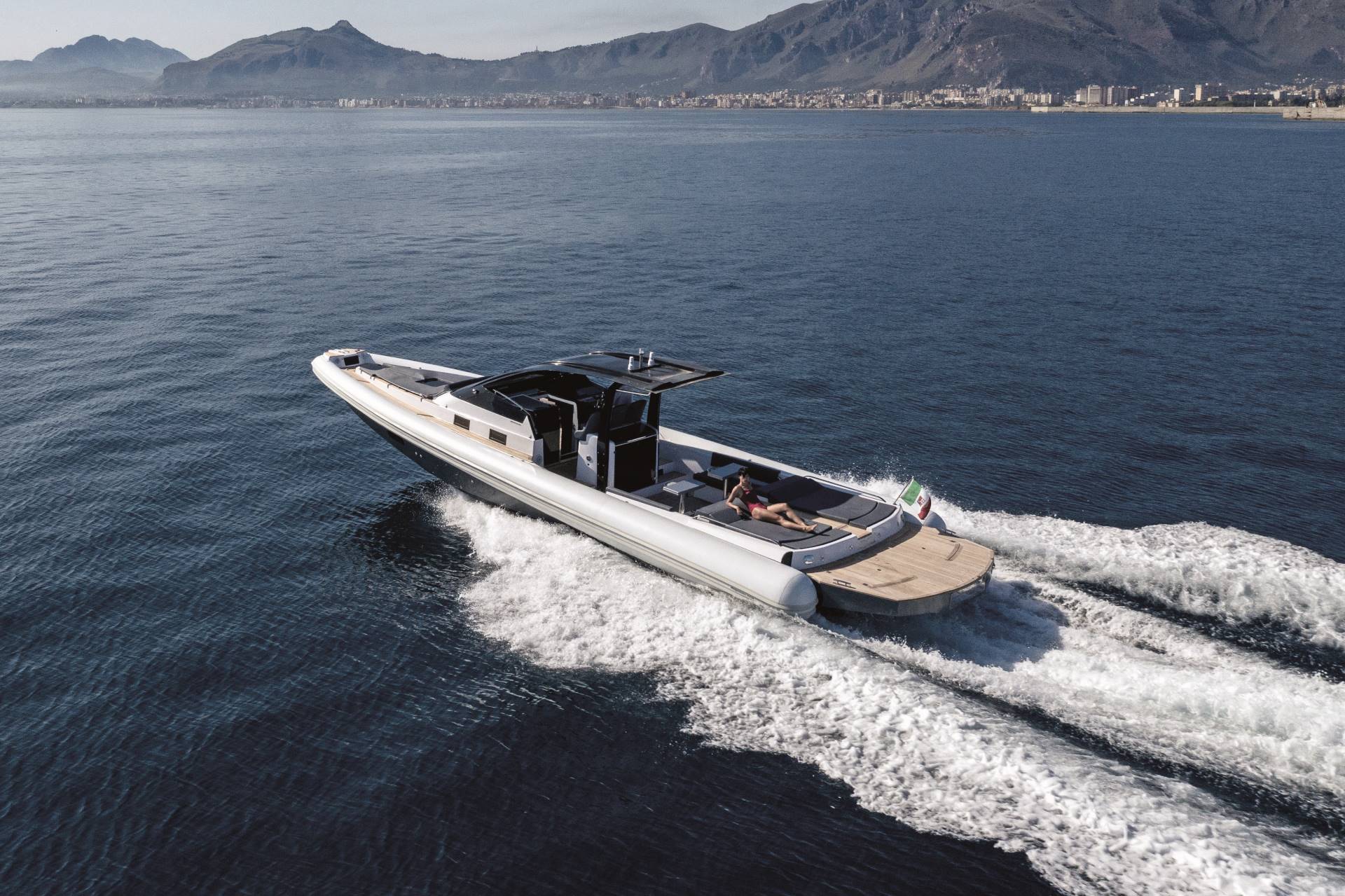 With its 14 m, the Magazzu MX-14 Classic sets a new standard in the Maxi RIB sector and merges, in a single creation, the advantages of an inflatable boat with those of a boat with classic lines, timeless. The very high level of customization and spaces of this boat allow it to be equipped with all possible comforts, such as an electric bimini or a hydraulic platform.
The U-shaped sofa in the cockpit can seat at least six people without problems while two removable tables serve them with their cup holders. Behind the sofa there are two giant sundecks which, separated by a central walkway, allow two people to sunbathe in maximum comfort.
The steering console is ergonomic and the angle of the windscreen does not hinder what is a practically perfect visibility. Available with engines from 800 to 1,200 horsepower, MX–14 Classic is able to offer adrenaline-pumping performance and very high cruising speeds. Two cabins, a bathroom, and a convertible dinette, bring the number of beds available to six and give this Maxi RIB the definition of a medium-range cruiser.
Olympic Ribs ORL45 Src Stern Drives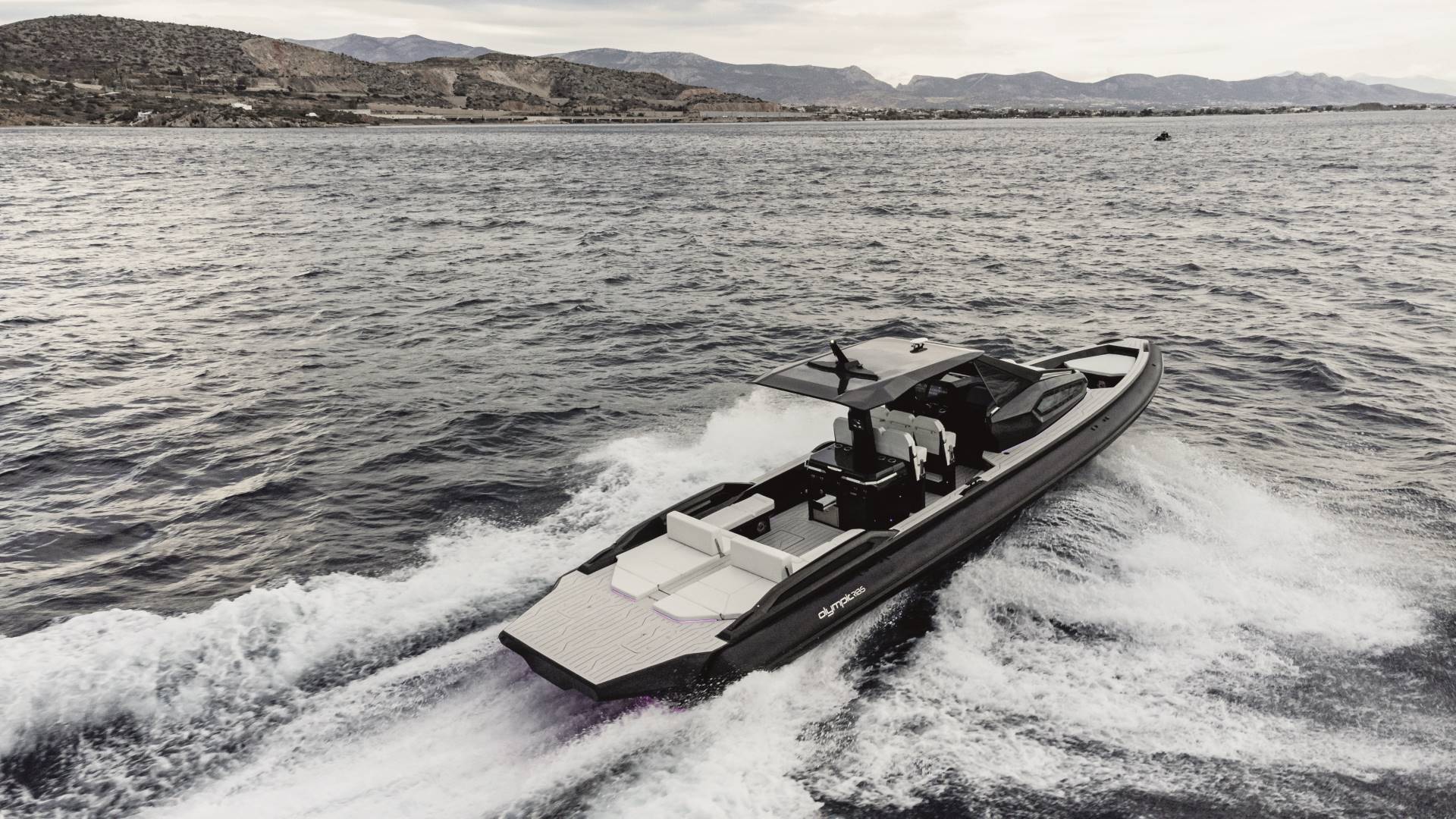 Custom color palette and equipment upgrades can transform 45 SRC into an elegant cruiser with full teak deck equipped with helm chairs and twin stern drive diesel engines or into a super sport beast with carbon fiber details, Ullman mitigation seats and Twin Mercury Racing Stern Drive Engines.
At 15 meters length the 45 SRC Stern Drives offers a spacious aft seating area for seven people surrounded by a U-shaped sofa and an additional bow seating lounge that can host five seated passengers while at rest. Innovative design provides easy movement around the deck, with wide all-around bulwark and spacious corridors. With two meters standing height, the cabin has a spacious luxury sense harmonious with deck's ergonomics and aesthetics.
The rest of the interior boasts a large seating area complete with a table convertible to a full-size double bed, additional storage space and counter tops with cupboards and drawers that form the interior galley.
SACS Rebel 47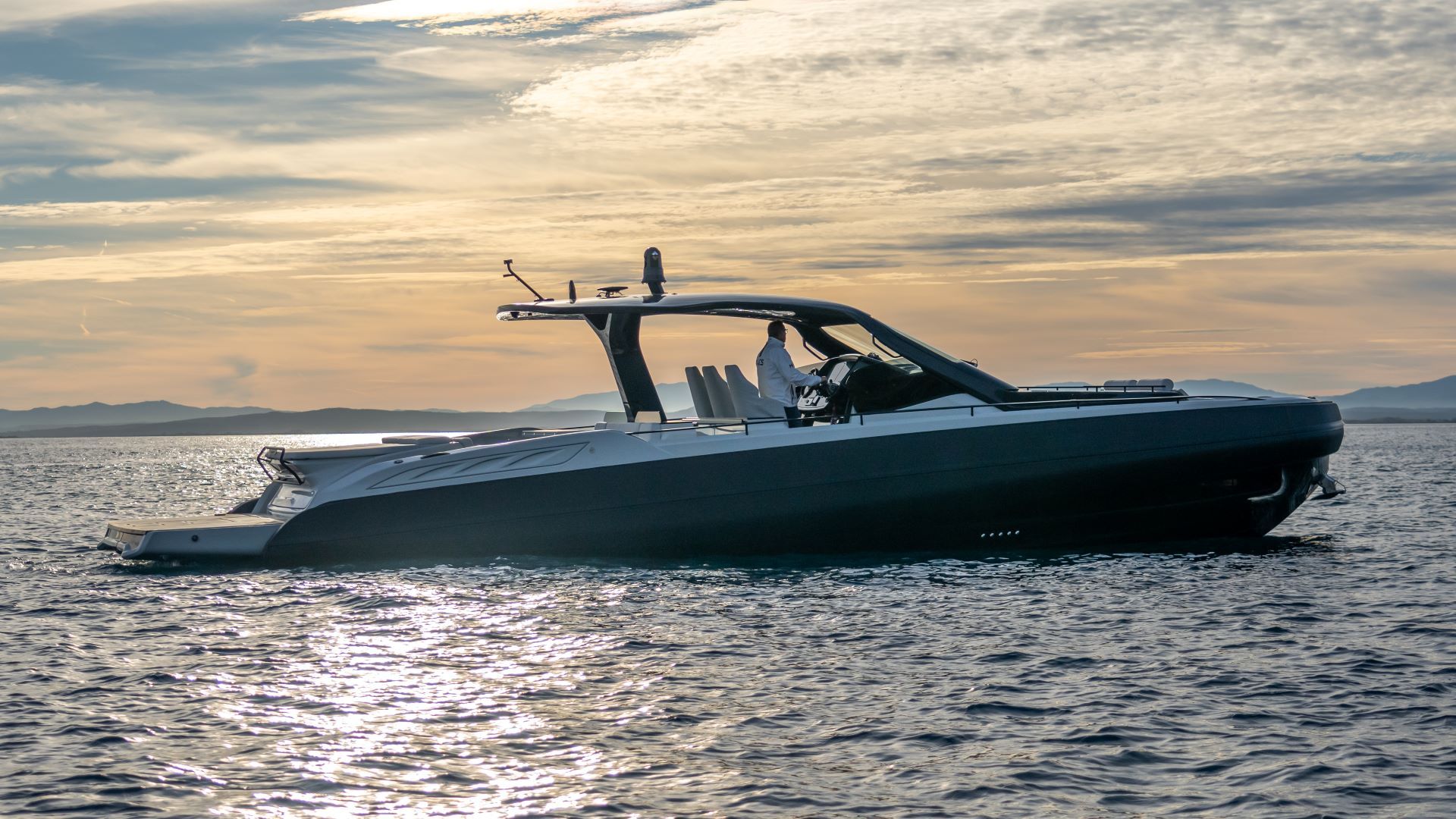 The new version of the SACS Rebel 47 takes the form of a luxury cruiser with a modern design. The reduced dimensions of the tubes make the external layout more sinuous, slender and elegant.
With a length of 14 meters and width of 4 meters, the generous external layout offers comfortable spaces starting from its dining area with a bar, sink, cabinet, fold-out teak dining table and a large relaxation area with sofas and sun lounger. The lower deck has two double cabins with a Super Queen Size double bed, two-seater sofa and bookcase.
The Rebel 47 also comes with a completely updated hard top in carbon fiber to lighten the entire structure and further lower the center of gravity to increase stability. The innovations present on the Rebel 47 include the widening of the front glass, with a consequent increase in visibility from the command post, a reduced beam to fall within the 4-metre width, which offers a considerable advantage when docking in port, and a new range of metallic paints.
Skipper 42NC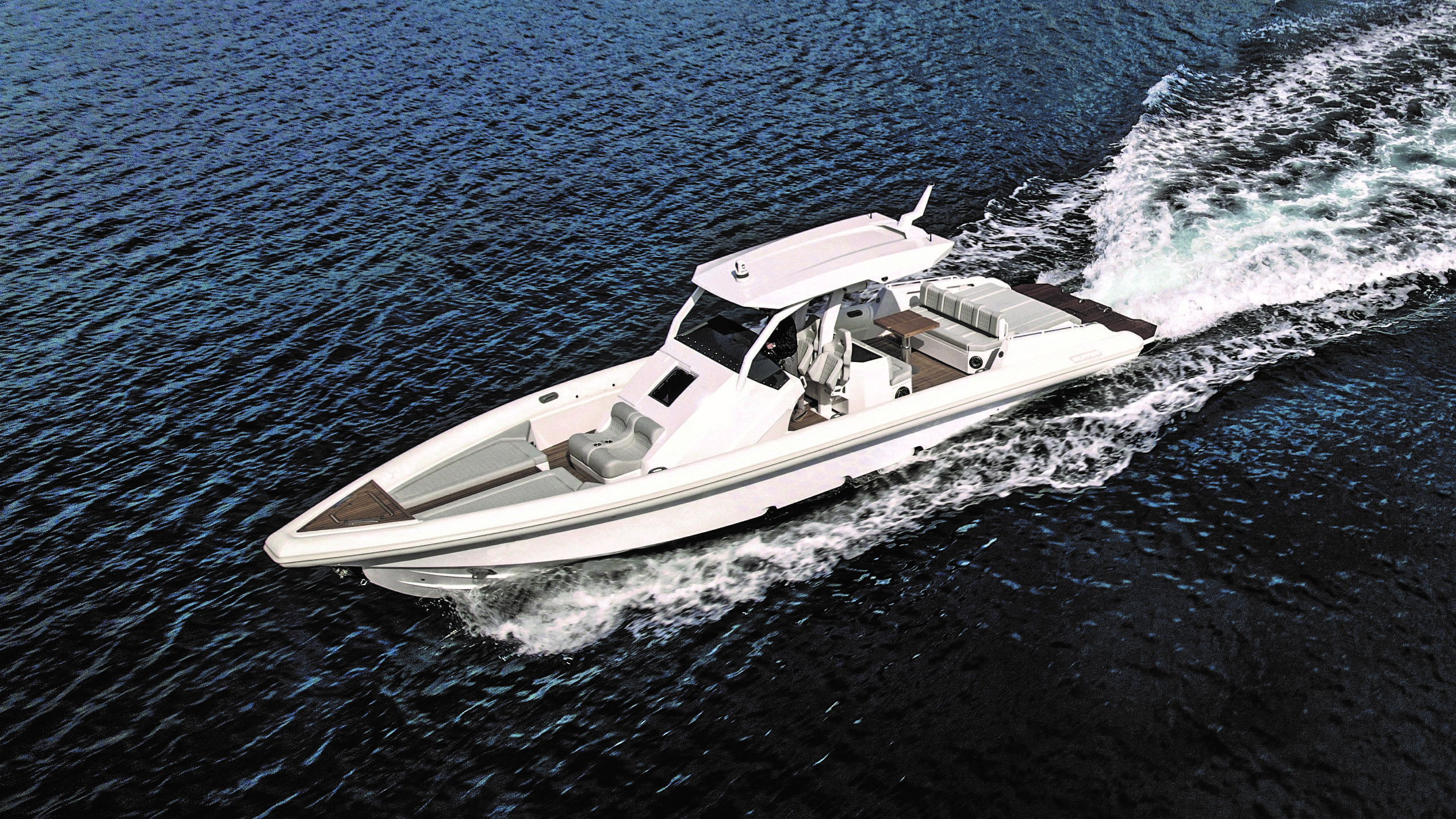 The Skipper 42NC is an exceptional RIB boat that is designed for ultimate luxury and performance. It is perfect for those who desire a comfortable and spacious vessel for their next adventure on the water. With a length of 12.40 m, it provides ample room for up to 12 guests to relax and enjoy the journey.
It has a spacious deck that is perfect for sunbathing, enjoying a meal or simply relaxing with friends and family. The interior of the boat is just as impressive, with a comfortable bed area, WC and shower. The Skipper 42NC is also equipped with advanced technology and top-of-the-line digital features that make it a pleasure to navigate. One of the standouts features of the Skipper 42NC is its versatility.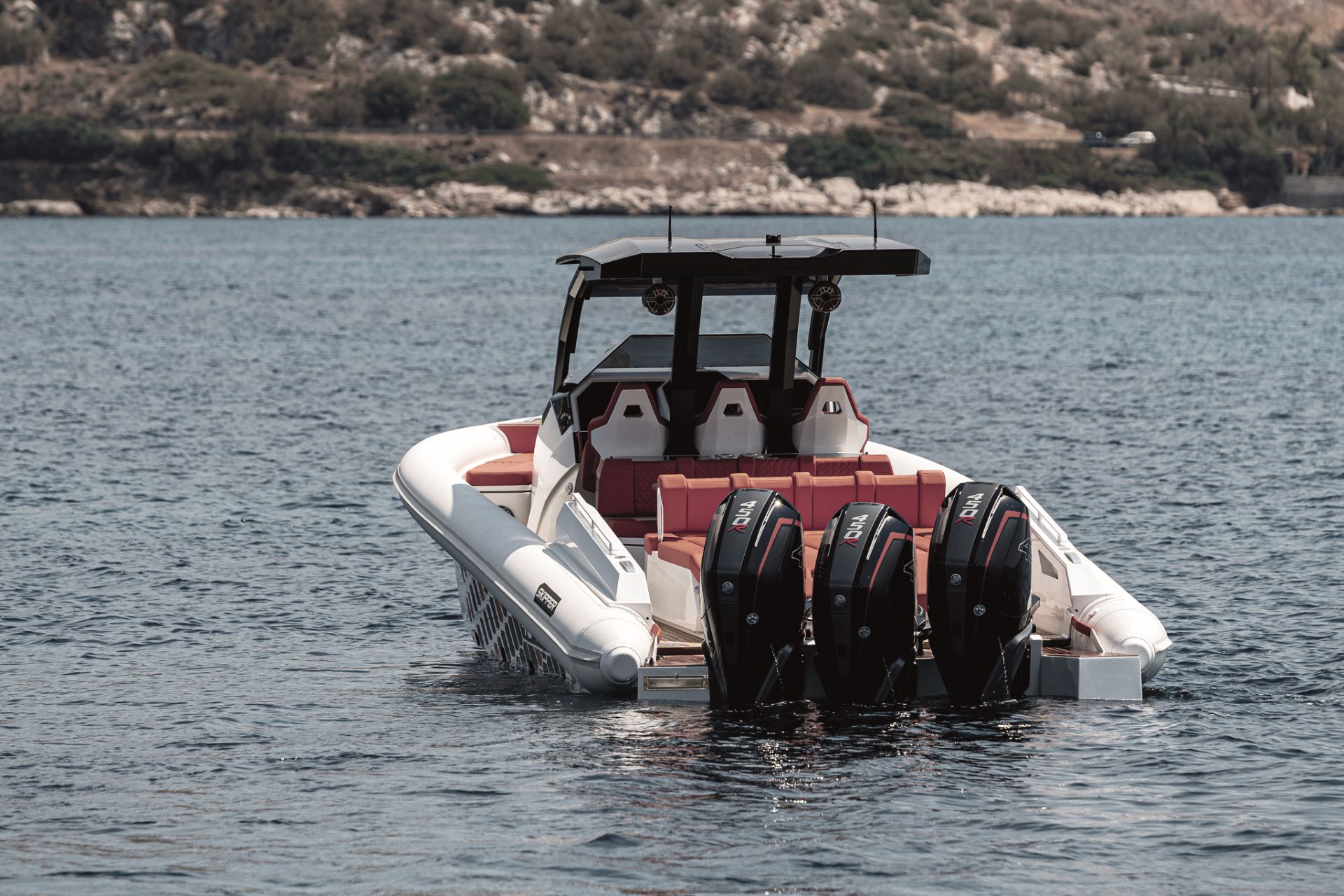 This boat is perfect for a wide range of activities, from relaxing day trips to longer voyages. Some of her characteristics are a consumption rate of 2.0 to 2.5 l per mile and a speed of 50 to 70 knots, depending on the engine combined. From 2 x Volvo Penta D6-440 to 4 x Mercury 450R engines, is able to cover all needs, even for speed up to 100+ mph.
Tecnorib Pirelli 50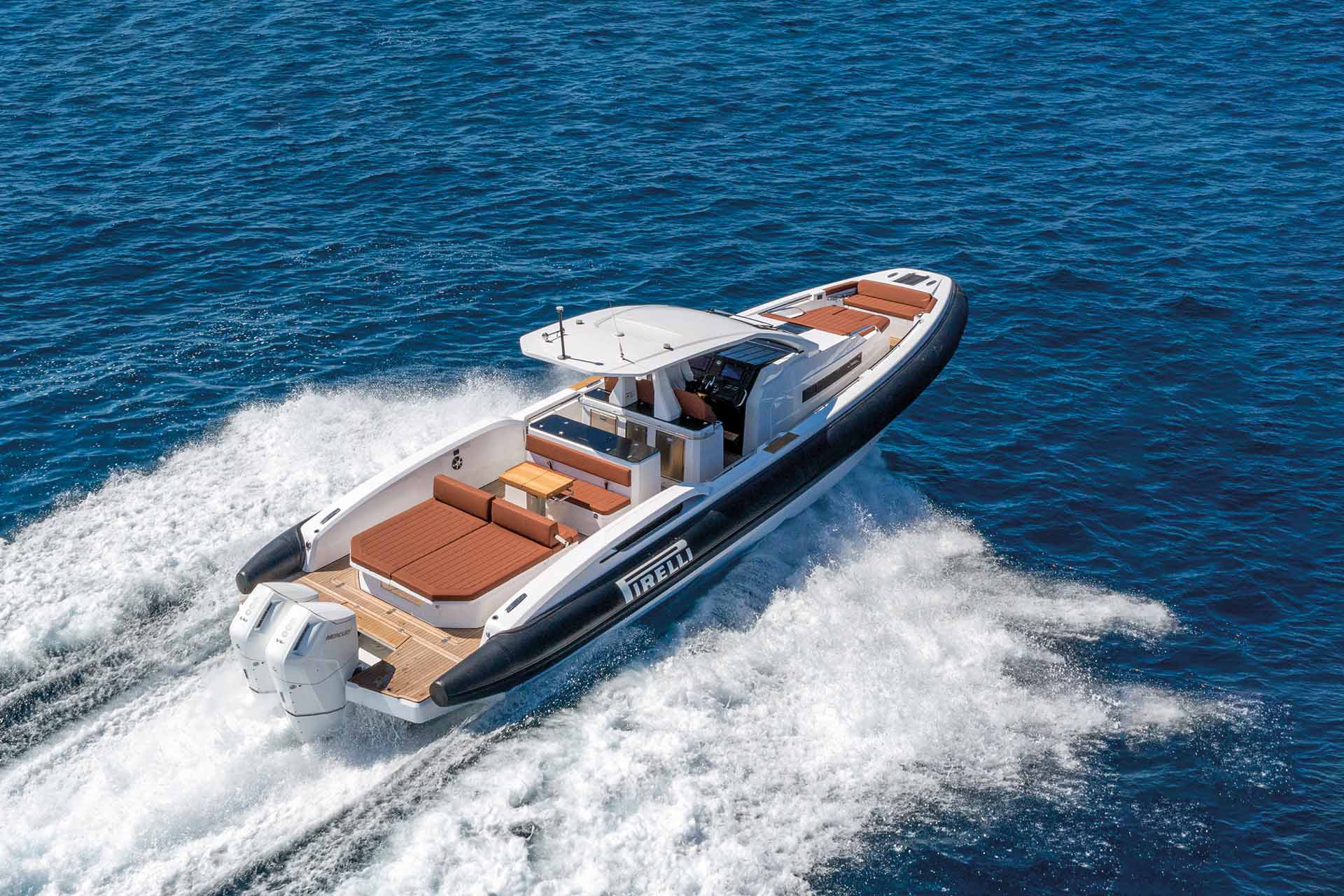 The largest of the Walkarounds models, at 15 meters long, Pirelli 50 is designed for versatile use, from daily usage to medium-range cruises, but is also ideal as a superyacht support vessel or chase boat. The two seven-and-a-half-liter V12 engines, equipped with a two-speed powershift transmission and steerable foot, guarantee a maximum speed of 50 knots.
The external layout allows for extreme freedom of movement, thanks to the creation of a single central block that also incorporates the bow sundeck, leaving a clear passageway forward. The large, comfortable aft sundeck has a pantograph backrest to serve both the sundeck and dining area.
Behind the solarium area is the dinette, where a teak table extendable on both sides allows you to dine in comfort. The black, comfortable and ergonomic helm station has three seats, with folding elements to choose the most suitable seating.
With a contemporary design and attention to detail, two double cabins have been designed, and both cabins, as well as the space between the two, have plenty of deep wardrobes and large spaces for storage and galley, while the portholes ensure plenty of light. Navis Marine is an exclusive dealer for Pirelli Ribs, which can serve as an excellent addition to a luxury yacht and during sailing on the Adriatic.
Lomac Granturismo 12.0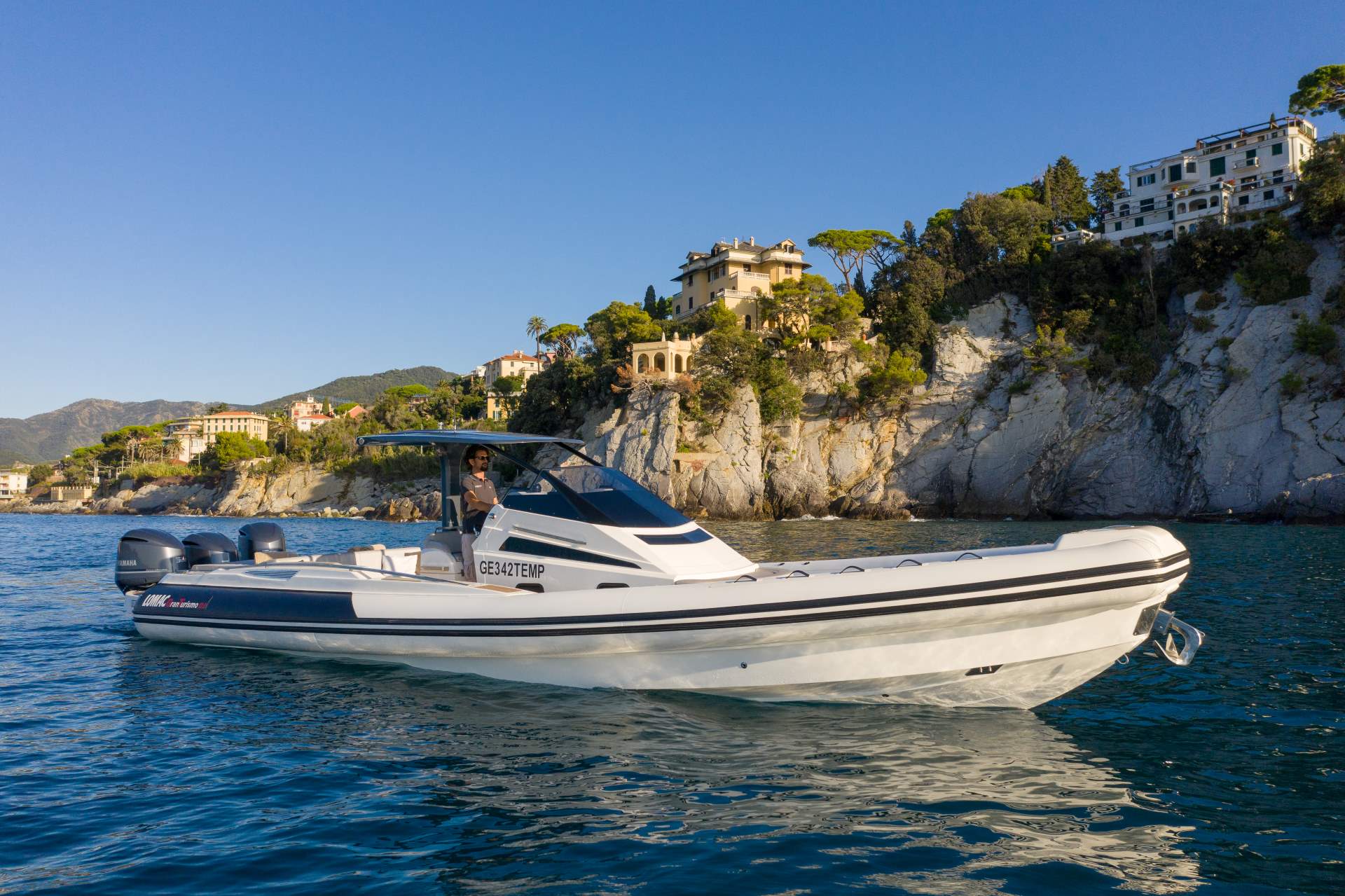 Granturismo 12.0 is a sophisticated 12-meter model ideal for owners who love mid-range cruising in absolute comfort. The main attractions of the new model are great freedom of movement on board and total safety while navigating.
With the new Mercury Verado V10 engines, the vacuum infusion laminated hull this model can fly across the water at a top speed of over 60 knots. The bow section is completely open and has a sun pad that can be converted into a dining table, while the stern area is a large, highly versatile space fitted with a big hideaway table.
Granturismo 12.0 also has a cabin containing a double bed and separate bathroom with rear access, offering a safe and easily accessible indoor space. The new Granturismo 12.0 also stands out for its exclusive new T-Top. Made from fiberglass and composite materials, it is perfectly in tune with the range's lines and design, while the canvas windows that are a distinctive feature provide ventilation at any speed and shelter from the sun.
Ribco Venom 34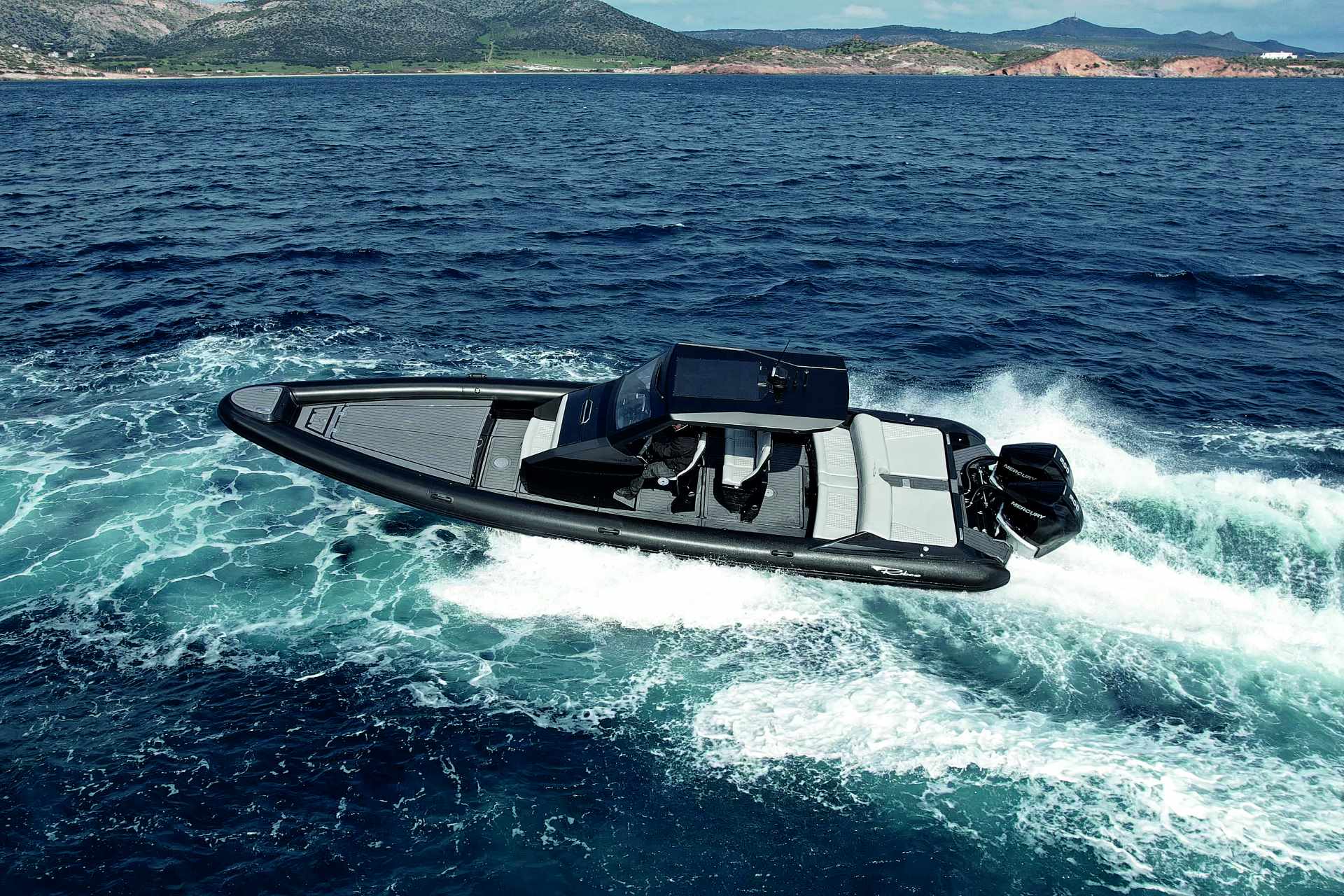 The Venom 34, the smallest within the Venom series, has all the characteristics of the larger models with the distinction of being exceptionally compact, allowing the potential speed of +65 knots. From the technical side, Venom 34's dimensions (9.98 m length and 3 m beam) provide unmatched comfort and enough space for up to 10 persons. The Venom 34 is designed with a T-top made from hundred percent carbon fiber which is light and robust, with a tremendous strength-to-weight ratio.
Regarding electronics, RIBCO's Venom 34 offers features such as GPS Raymarine 12", a touch screen with map and sounder, digital switching, FUSION 650 marine audio with four speakers, VHF Raymarine 260, and a wet bar. Practical, comfortable, and luxurious, Venom 34 is a perfect combination of top quality and unparalleled performance. For more information, contact Yacht IN, the official dealer of Ribco vessels for Southeast Europe.
Photos & videos Anvera, Technohull, Olympic RIBS, Magazzù, SACS, Skipper, Tecnorib, Lomac & RIBCO