Most superyachts of today have exquisitely equipped gyms or fitness corners that allow the owner to stay in shape during their vacation
Yachting is a special form of hedonism; it is the love of life and beautiful things best described to those still not in the know in the words of Mr. Carlo Riva, sailor extraordinaire, who honed the concept of Dolce Vita and honed enjoyment of all things beautiful to perfection.
As the concept evolved, so did yachting, and over decades turned into a trend-factory with eyes of the entire luxury industry on it. In the 1960s, along with Riva's Dolce Vita, emerged a philosophy of wellness and the perfect balance of the body and mind.



In this day and age, there is no greater luxury than the elusive quality time, and there is no greater vacation than an experience offering both healthy living and nautical hedonism. Lately, there's been a noticeable uptick in the interest for fitness in the world of luxury yachting, most visible in the growing popularity of gyms on superyachts. Once considered a bonus room, the gym has become an absolute must-have.
Most superyachts of today have exquisitely equipped gyms or fitness corners that allow the owner to stay in shape during their vacation. Many superyacht owners and yachting brokers have decided to adapt to this new trend, adding to their crews fitness and yoga experts in charge of monitoring the exercise regime and diet of their clients, offering alternative solutions or advice.
Gyms have become an onboard essential for owners or clients, but to design the ideal gym, one that meets all the needs of owners and clients, smart equipment is as valuable and important as advice of experienced healthy living professionals.
Interior of an average superyacht exudes understated luxury, and fitness areas are expected to follow the same visual principle in order to fit perfectly into the concept of wellness on the high seas, both in terms of quality and aesthetic.
Technogym, known worldwide as Wellness Company, is a company that has deconstructed the hedonistic approach to fitness and blended it into a broader concept of wellness, approaching wellness as a lifestyle, a regime combining regular exercise, balanced diet and positive mental attitude.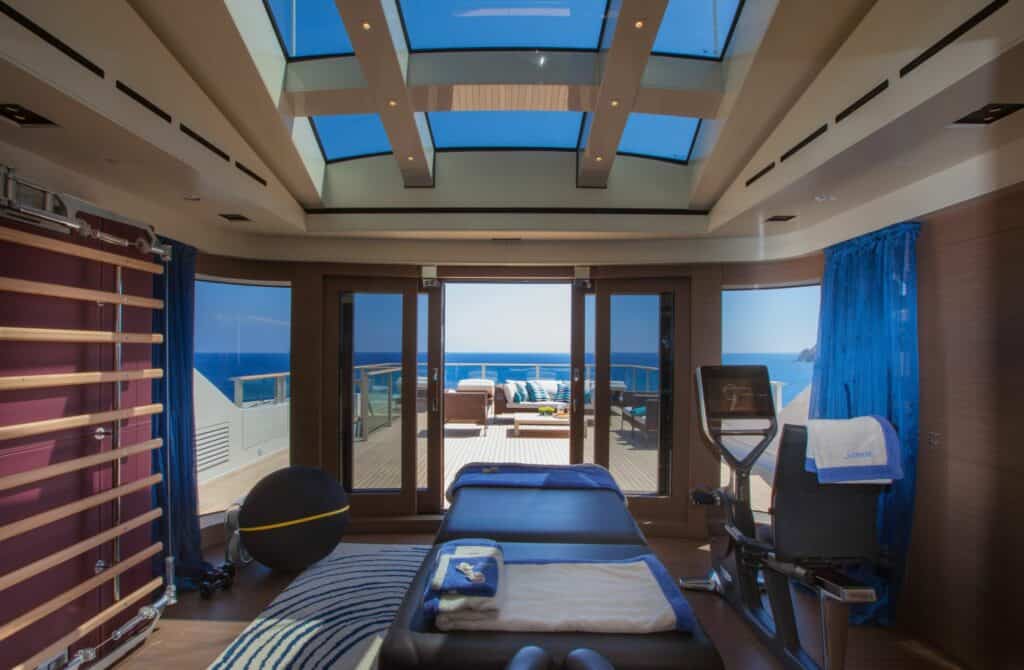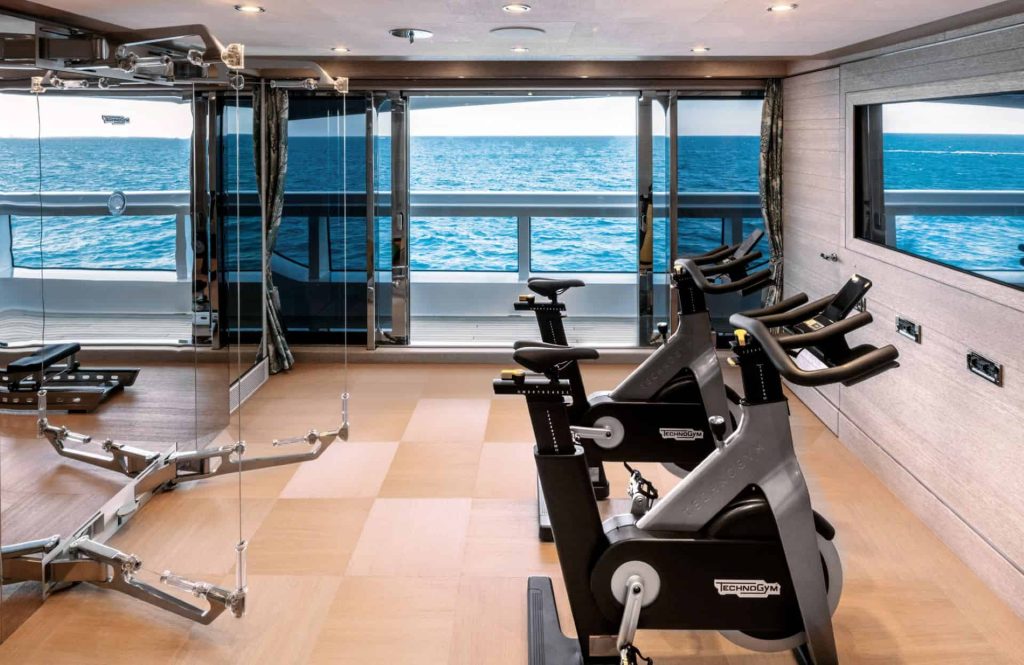 Innovative Italian design, cutting-edge technology, unique quality and ease of use have made Technogym products stars of many an exclusive gym or private home, as well as the choice of famous sports teams such as Juventus, Milan or Inter, and athletes participating in the Summer and Winter Olympics starting with Sydney 2000.
Technogym is also the choice of some of the most exclusive yachts in the world, such as Saramour and Cloud 9. Renowned Italian designer Antonio Citterio has created, inspired by nature and science, a product series that boasts sophisticated design, superior workmanship and aesthetic appeal which blend seamlessly into the interior of any superyacht.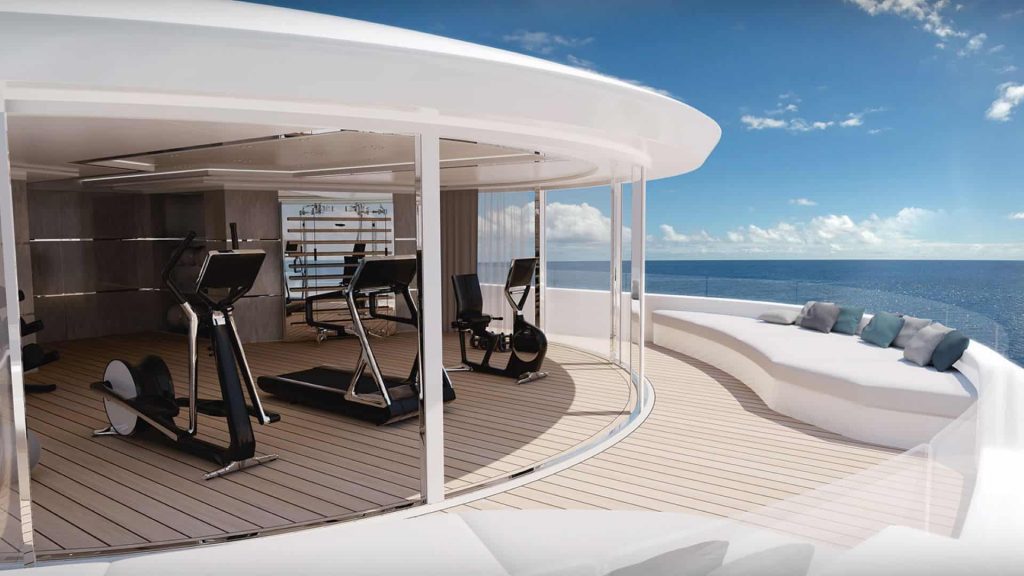 Technogym Personal Line designed specifically for superyachts was created for those who consider only the best to be good enough. The series combines innovation, state-of-the-art technology and iconic design.
Kinesis Personal offers an amazing selection of more than 200 exercises, and occupies less than one square meter of precious surface. Benefiting from Technogym's patented FullGravity technology, Kinesis Personal was designed for strength, flexibility and balance exercises through a range of simple movements.
Cross Personal, the traditional Technogym elliptical machine, is an ideal choice for all exercise enthusiasts, from complete beginners to seasoned professionals in need of an intense cardio training. Smooth elliptical movements exercise both upper and lower limbs to maximize calorie burn.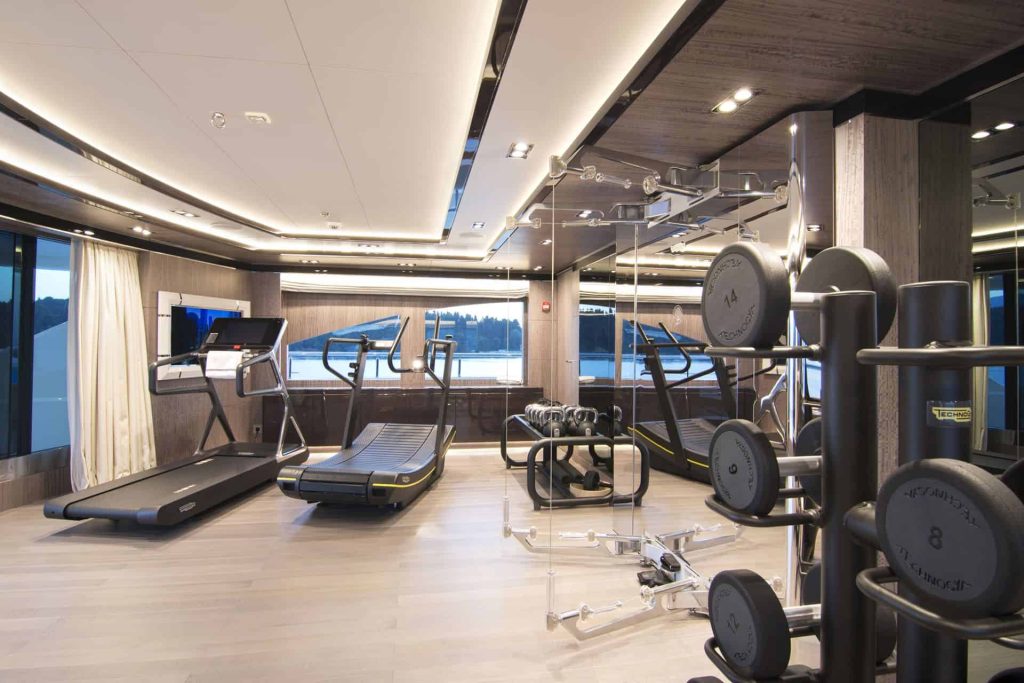 Run Personal treadmill blends elegance and functionality in perfect balance. This virtually silent engine is ideal for any type of training, from light walking to high-intensity marathon training, and its large and clear 21.5-inch screen allows the user simultaneous interaction with their favorite content.
More information can be found HERE.
Photos Technogym
No tags for this post.