Power multi-hull 80 Sunreef Power gives motoryachts of the same size a run for their money. This model might just be the one to propel its Polish builder into the big league in terms of sophistication and quality
On days we get to test the most sold model in its segment, we love our job – especially if the said model is a power multi-hull. 80 Sunreef Power, so popular it found its way to tennis superstar Rafael Nadal (named Great White), is a delightful luxury catamaran.
On board the 80 Sunreef Power
Riding the wave of multi-hill popularity that's been sweeping the market for some time now, Sunreef has seen rising profit for some time now. And what is there not to like? Multi-hulls are generally accepted as ecologically-oriented, low-impact boats with often impressive fuel economy that beat any yacht their length in volume, for obvious reasons.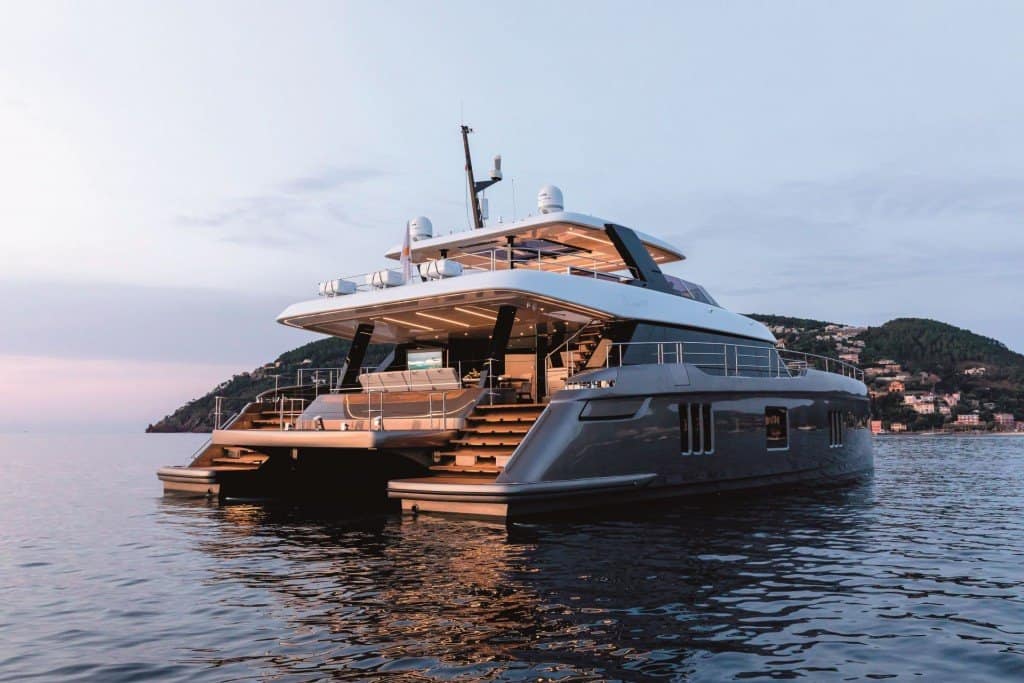 80 Sunreef Power is 24 meters long and luxurious in more ways than one, but the most visible feature that puts it right up there with equally sized motor yachts is the interior decoration – and the customization options, which, if you have a knack for style, can turn your unit into a showcase of yacht interior trends.
80 Sunreef Power interior
The owner of the unit we tested in Cannes, an American gentleman, confirmed he was more than happy with his choice, adding that even though 80 Sunreef Power was a match in every aspect, he was most pleased with the boat's volume and entertainment and relaxation spaces.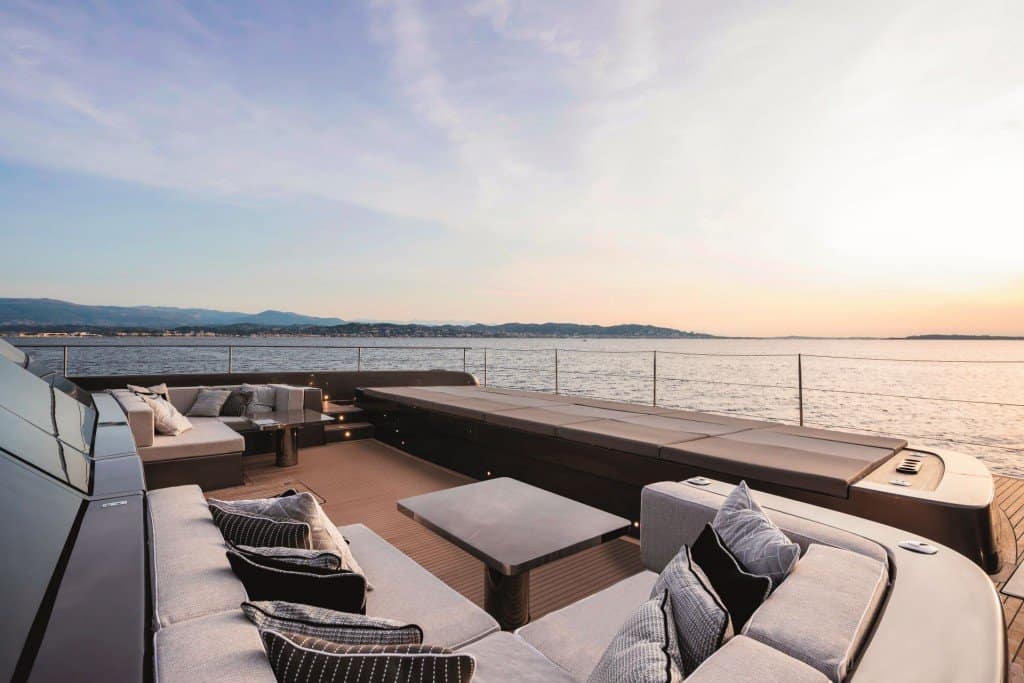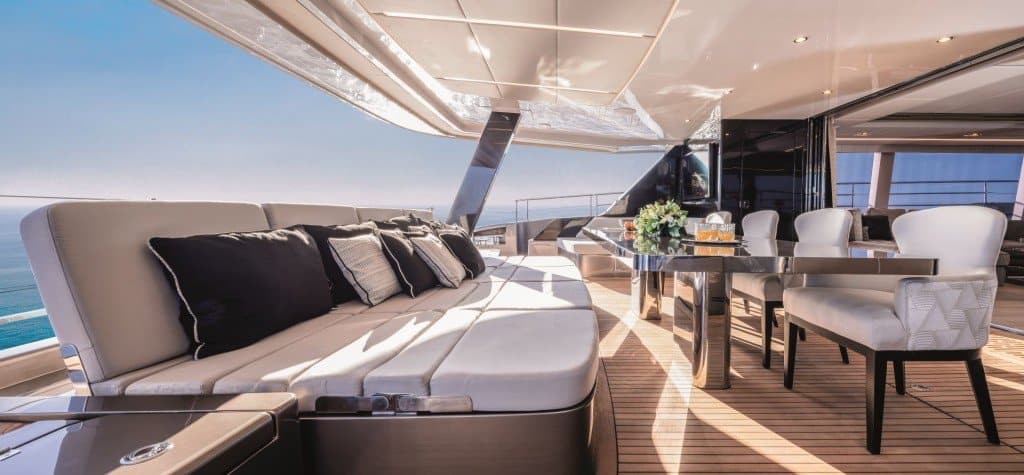 On this said unit, the cockpit was furnished with a dining table and an aft bench. Behind them there was still enough space for a hydraulic-powered platform to store the tender, and below the cockpit there was a large garage for a jet ski. The biggest flaw in design of most multi-hulls is the lack of that garage – seeing how there is nothing but empty space aft between the hulls – so this solution already gives the 80 an advantage. The cockpit also had a large TV, integrated into the bulkhead that separates the cockpit from the main deck salon.
The salon was customized, and as we learned, decorated by the owner's wife, in light, natural shades and in supple, refined fabrics worthy of a luxury motor yacht. Every detail was supremely finished. As for the layout, it mirrored the usual sailing yacht layout: on the right, a dining table, on the left, a sofa, front a galley with a beautifully designed kitchen island with plenty of storage space.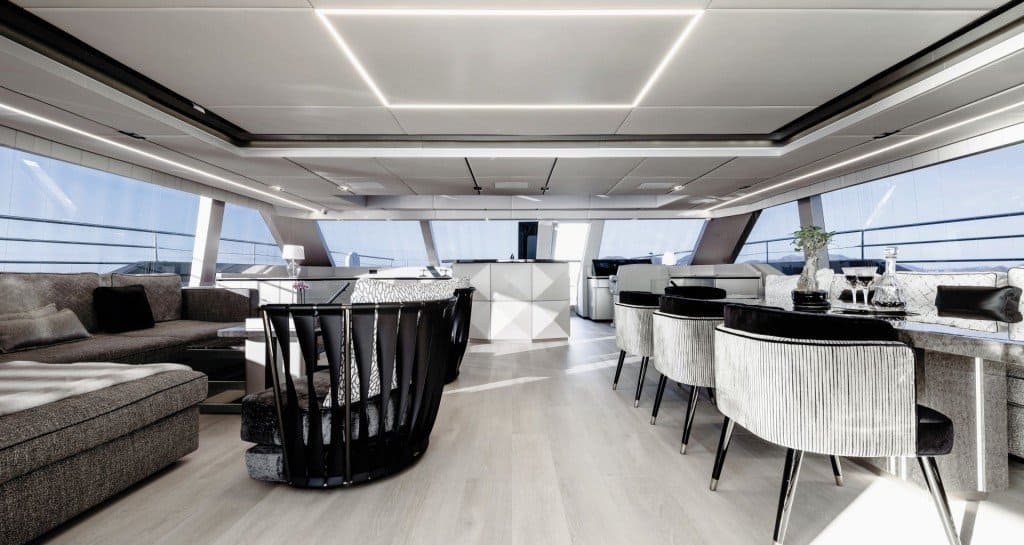 Layout is customizable, as we said, and the galley can be moved to the left or below deck. Another interesting option is switching places of the galley and the master cabin – in that case, the master cabin is a continuation of the main deck salon and the space ahead, on the bow, becomes its private terrace. On the unit we tested, that space was accessible through the bow door, truly enjoyable in feel and size, and impressive, especially when compared to the similar space on regular mono-hull sailing yachts.
80 Sunreef Power layout
Below deck, the unit we tested has four cabins, but the builder offers several layouts, with up to six guest cabins and crew cabins. The choice obviously depends on future usage of the yacht, either for charter or for private purposes. In comparison to her sailing sister ship Sunreef 80, the 80 Power has a teak deck – and what a difference does teak make. Very large and completely covered in teak panels, the aft deck is luxurious, almost too big, and perfect for intimate moments.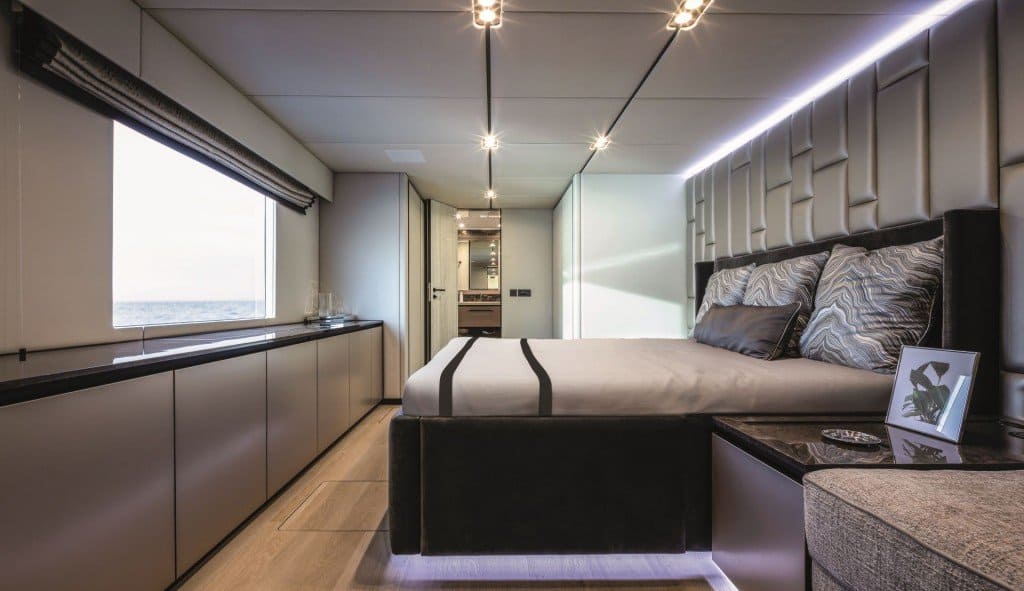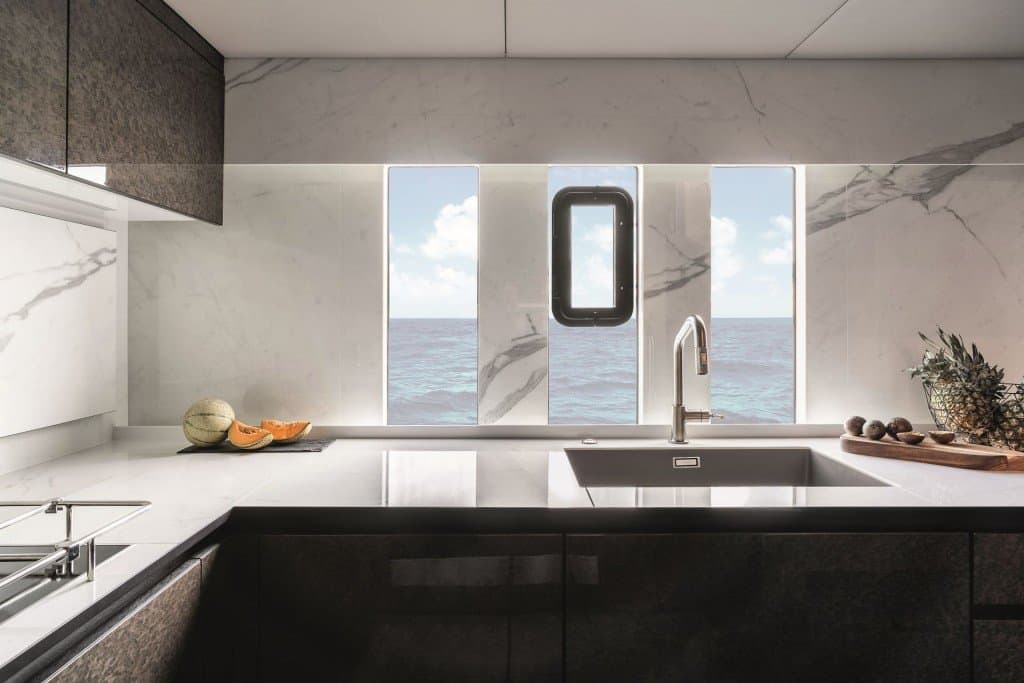 Furnished with plush sofas, with a large sunbed and still somehow large enough for a dance party – which Sunreef even states in their video introduction of the model – this is the most delightful part of the model. Equally appealing, even if different in feel and look, is the upper deck.
Catamaran with 'backyard' feeling
The American owner of the unit we tested opted for the 'backyard' feeling, with a large round jet pool and a bar with four bar stools – pure hedonism. In addition to that, there's enough space for a sunbed, two smaller dining tables, two command posts and an element with a sink.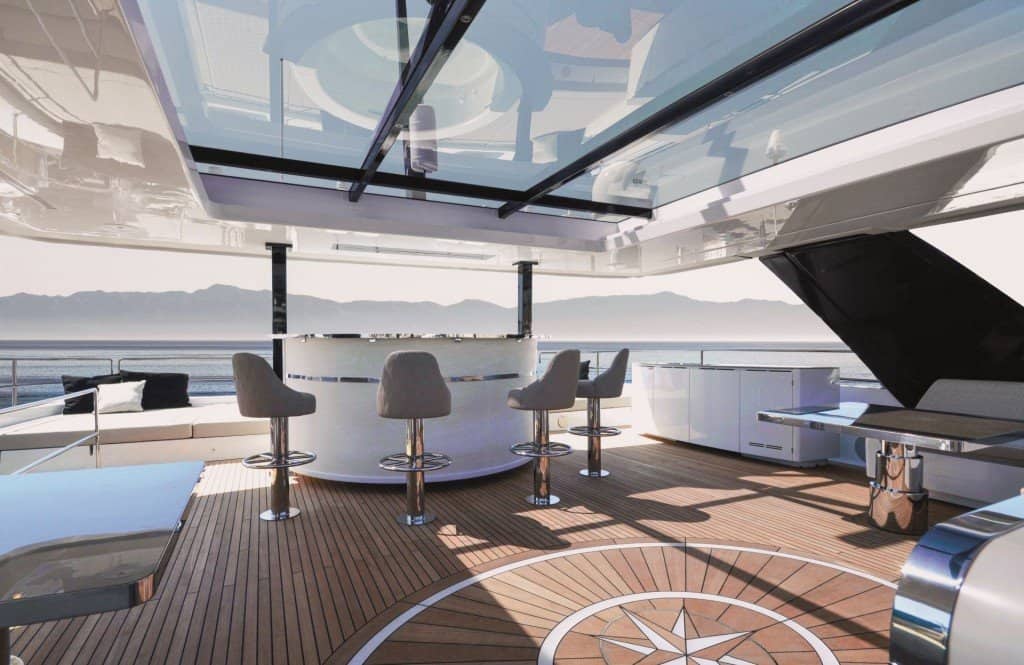 This entire space is covered by a hard top that opens in the middle, allowing the eye to roam across the starry sky – and is still spacious enough for several people to just mingle, despite all the amenities. Size really does matter, Sunreef have once again proven. This model has so much space to offer that most competitors must feel powerless looking at it (no pun intended!), and it can all be customized in function, look and feel.
80 Sunreef Power reaches 24 knots of maximum speed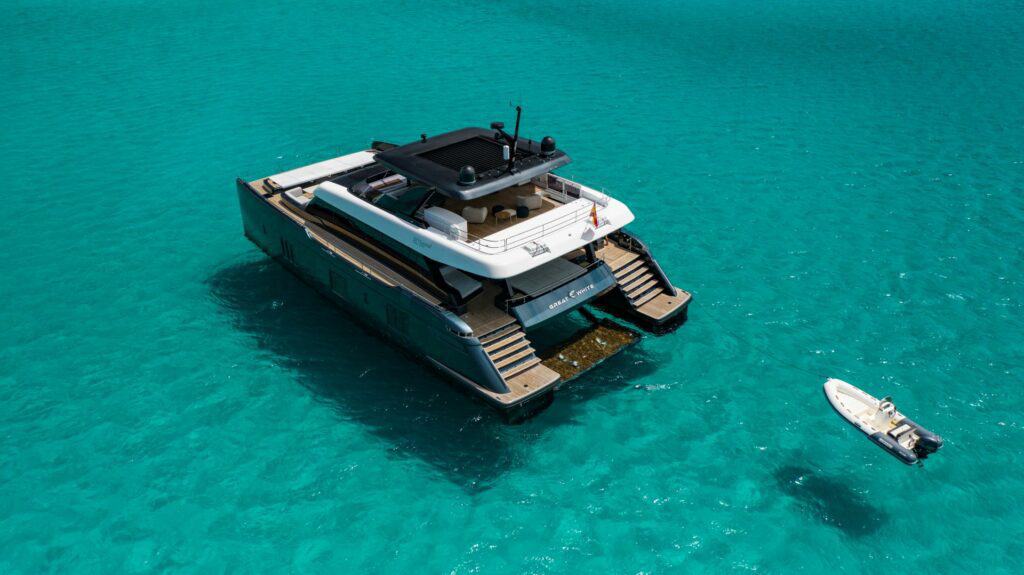 Not to fast, but not slow wither, 80 Sunreef Power can be powered by engines ranging from 575 to 1.200-hp, and reaches 24 knots of maximum speed, standard for multi-hulls this size.
Comfortable, stable and ready to take you on long trips without having to dock in crowded marinas, luxury catamaran 80 Sunreef Power is most interesting to those who wish to get away, or those whose active sailing days are behind them, but still wish to spend time at sea.
YACHT SUGGESTION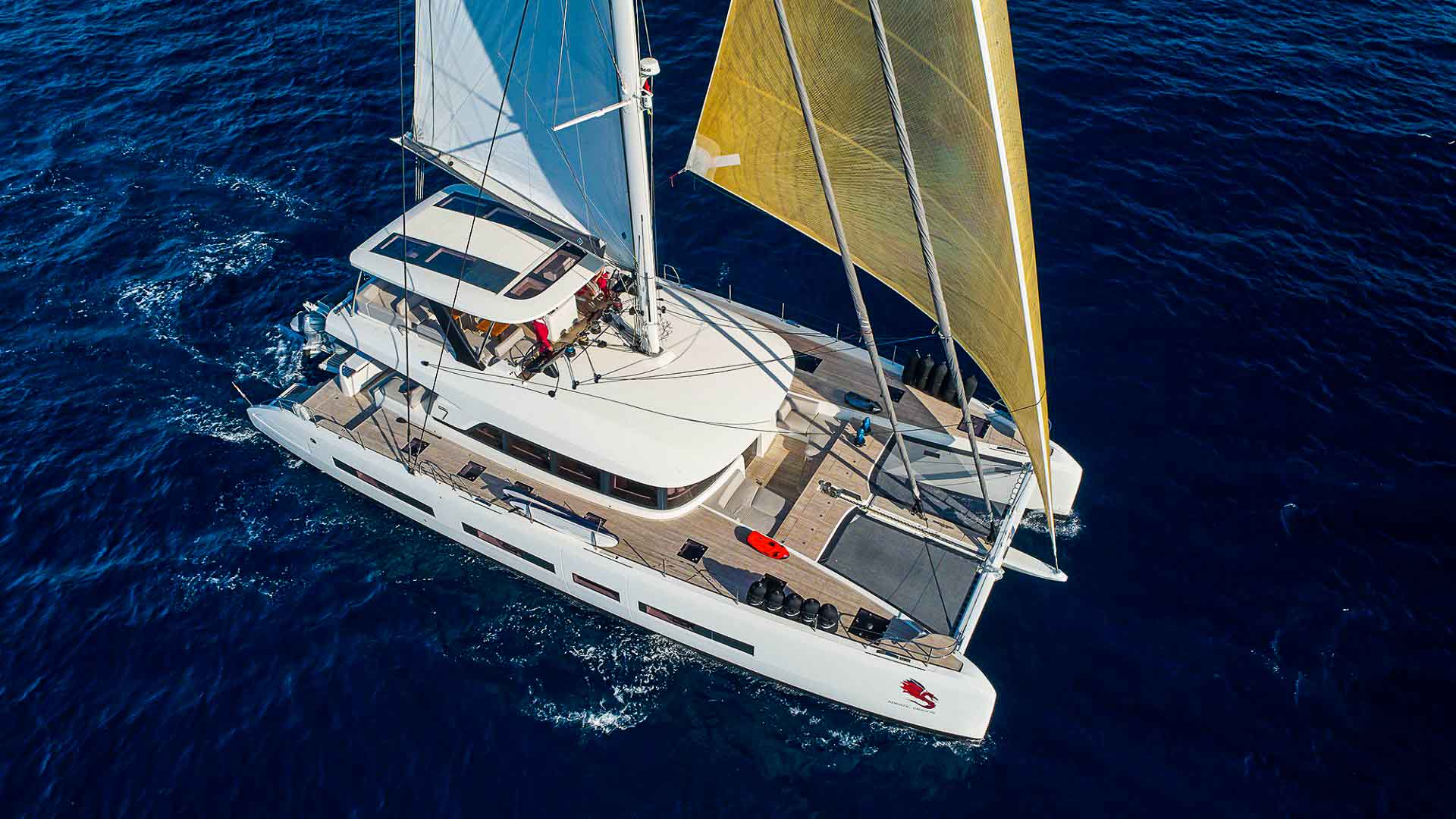 Lagoon 77 is a new concept, with new dimension, belonging to the world of superyachts, while still holding the generosity and friendliness that are characteristic of Lagoon catamarans.
Excellent layout and plenty of outdoor spaces that allow the user continuous contact with the nature make this model a lovely companion for your next calm, relaxing yachting adventure.
Tekst Darko Šupuk
Photos & video Sunreef Yachts