Under their charismatic founder Francis Lapp, Sunreef Yachts have grown into the luxury catamaran standard and introduced numerous green innovations
Last year Sunreef Yachts has celebrated 20th anniversary and recently shared the news about 43M Eco sailing yacht hull #2 under construction – the biggest electrical driven catamaran in the world. Just in a couple of decades this brand made yachting enthusiasts all over the world believe: a) there is such a thing as a luxury catamaran, b) a luxury catamaran can be built in Poland, and c) a luxury yacht does not necessarily mean burning tons of fuel.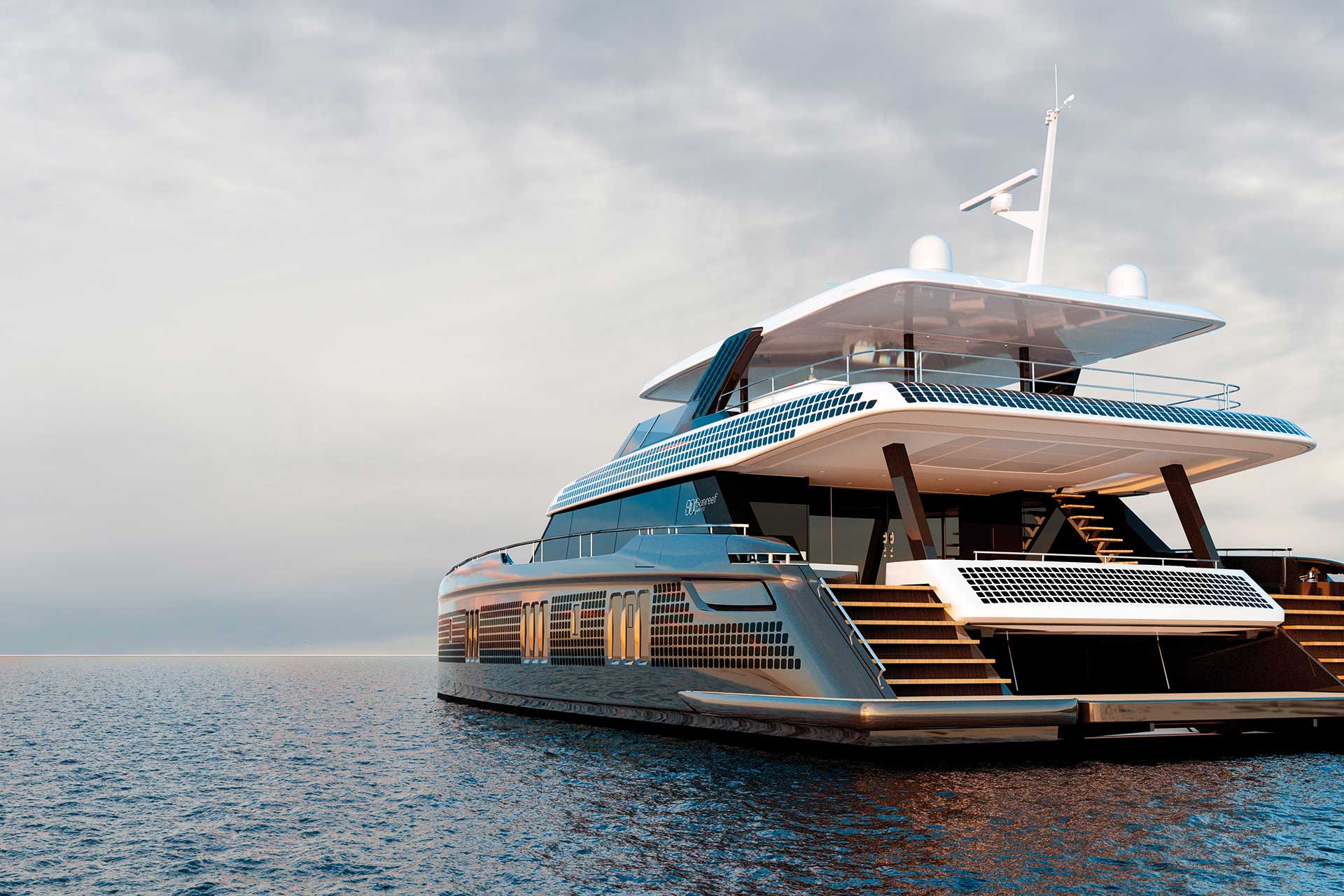 As the saying goes, behind every strong brand there is the charismatic figure of its founder. Sunreef is exactly the case and Francis Lapp is definitely a strong personality. Everything he does, he does with passion and courage – like when still a young electrician, he without hesitation left Alsace, his birthplace, for a big project in Saudi Arabia.
Back in 1980s it was completely another country comparing to what we can see today, but Francis' passion for travelling and his occupation was stronger than fear of the unknown. He got acquainted with sailing much later, after he founded and ran his own companies in France and Poland. When he did, he was puzzled that he couldn't find himself an ideal boat to charter – and, with familiar decisiveness finally decided to create one himself. And this was how Sunreef Yachts started.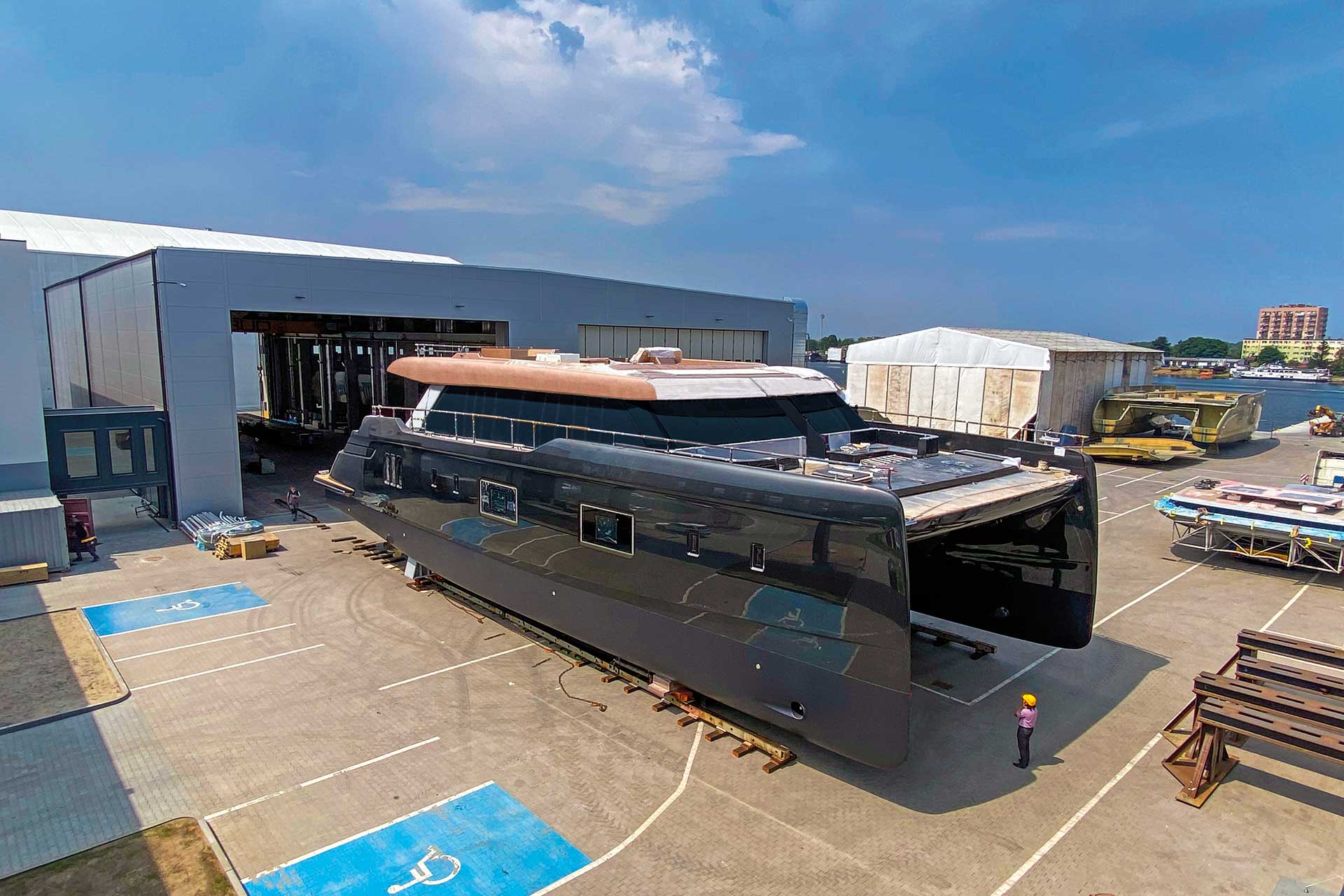 Sunreef Yachts was by no means a usual shipyard right from the start. They always dreamed big – or how else would you earn your way in yachting industry? First the place: Sunreef is based on the legendary Gdansk shipyard, where anti-communist movement 'Solidarity' began, and together with it, the modern history of Poland itself.
Then come the boats: Sunreef was the first shipyard that has built flybridge catamaran, embodying Francis Lapp's dream of an ideal multihull yacht for charter. And the first Sunreef Yachts client came exactly from the charter: he bought the 74-feet yacht he chartered with Lapp's company because he couldn't find anything better.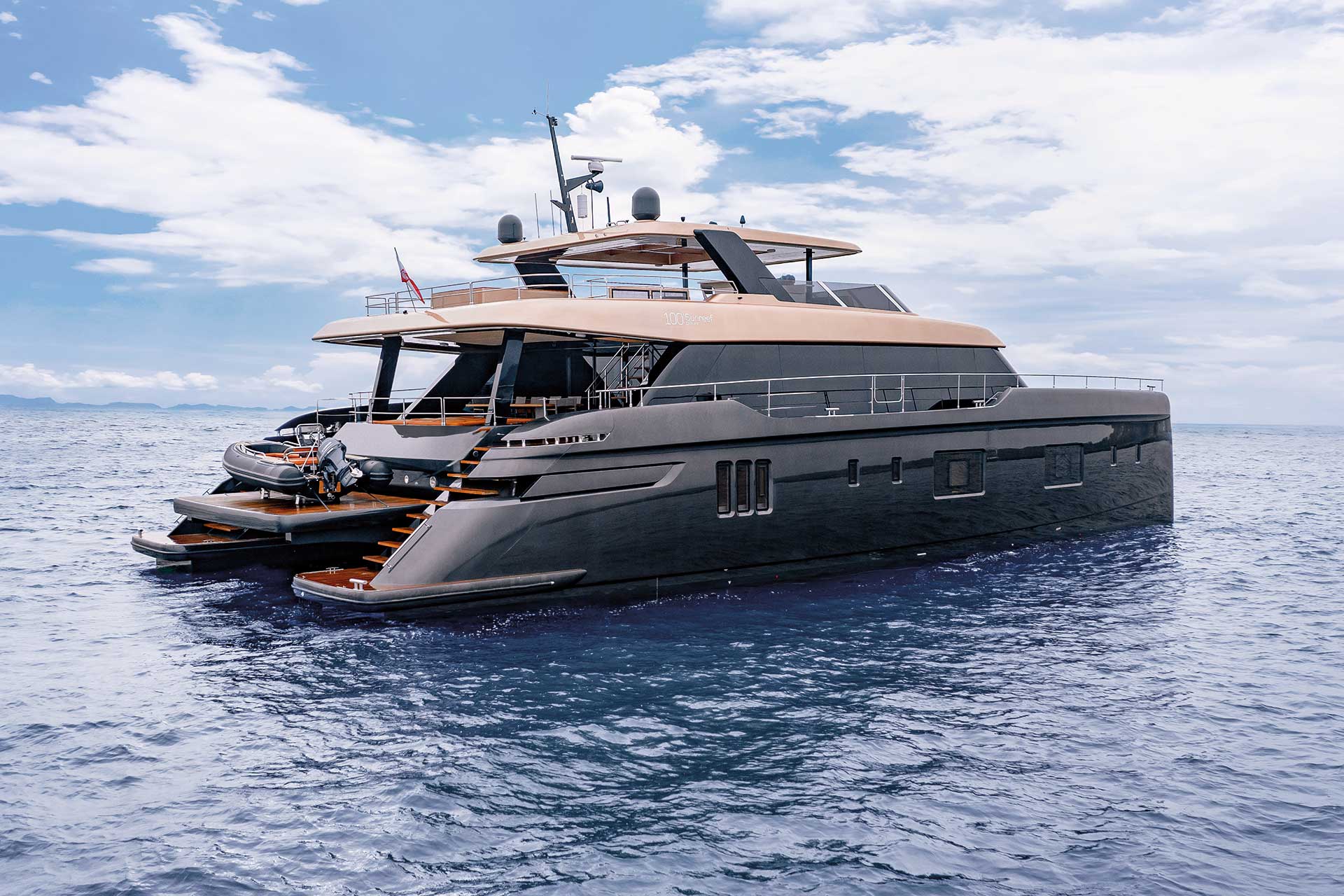 Over the years, it's exactly the clients and their unique personalities that have become the ambassadors and one of the main driving forces for Sunreef Yachts. The first Sunreef power catamaran – 70-feet 'Jumbo' – was created and built in collaboration with famous French yachtsman Laurent Bourgnon.
He circumnavigated on it with his family and while also making a big promo-company for Sunreef power yachts. And the idea of creating a folding mast for a sailing catamaran came up in negotiations with the client from Abu-Dhabi. He was based in Yas Marina, which is surrounded by bridges, but uncompromisingly settled on wanting a sailing yacht.
Then an old client, who owned a 74-feet catamaran, approached Francis Lapp with request to build something bigger, and this is how a 100-feet sailing catamaran appeared. Even now, being a big established series production shipyard, Sunreef is still very human oriented – every one of seven power and four sailing models in their range can be customized in terms of interior.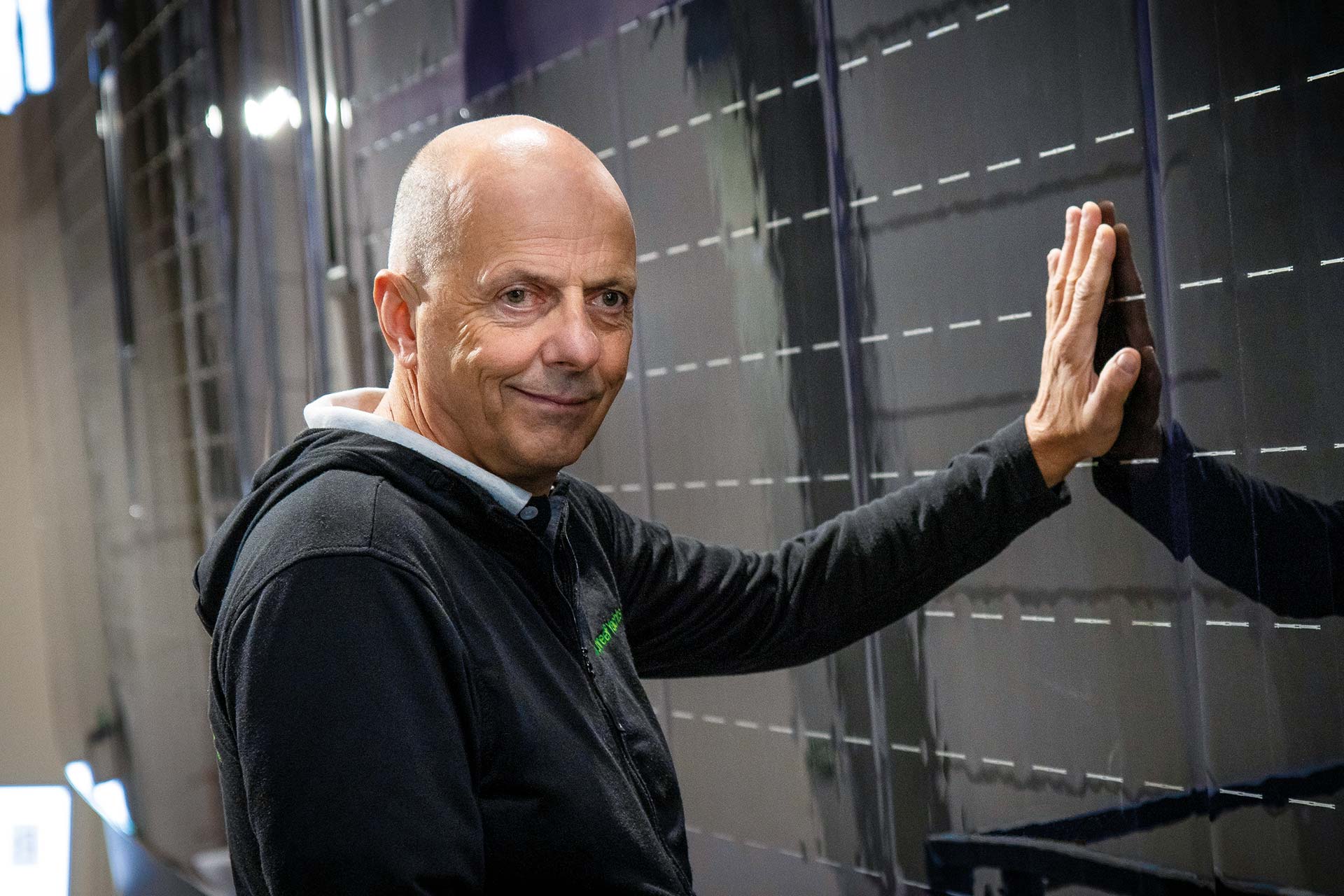 Among company's clients there are a lot of people who gave inspiration to millions of people: tennis superstar Rafael Nadal proudly owns 80 Sunreef Power, Formula 1 champion Nico Rosberg promoting the shipyard's eco initiatives aboard his sailing Sunreef 80, adventurer and traveler Mike Horn as an ambassador of new Sunreef Explorer models and, of course, Fernando Alonso – another Formula 1 champion and legend – eagerly awaiting for his 60-feet electric Sunreef to be built.
The eco innovations that are a big part of Sunreef Yachts are also rooted in the shipyard's founder's personality. As mentioned earlier, before coming to yachting industry, Francis Lapp started as electrician, which makes all the sustainability, eco-friendly and electric agenda, that take more and more place in the yachting industry now, kind of natural for him.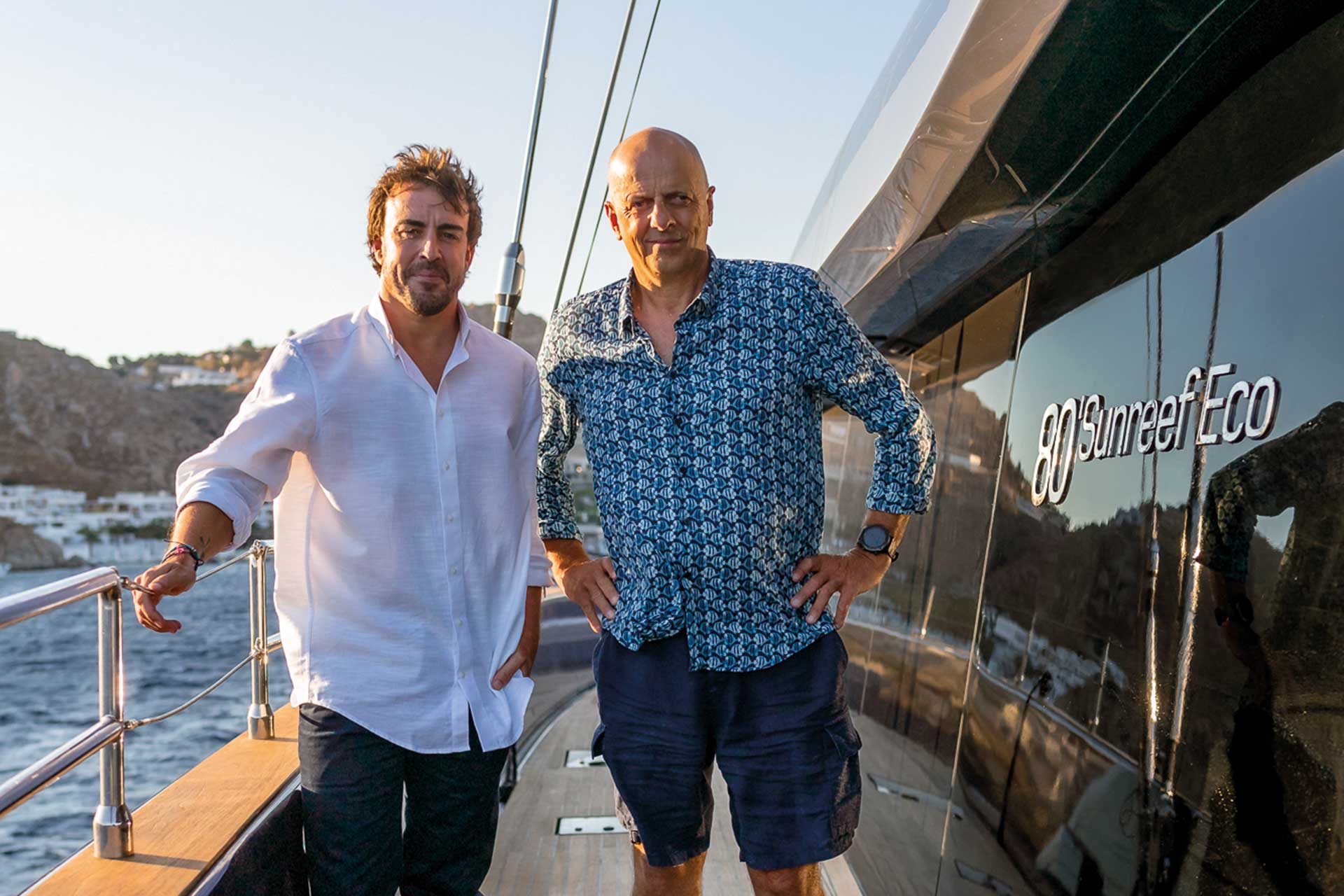 But as opposed to those companies who just hop on to the hype train, Francis Lapp and his employees come up with real ideas and solutions. The perfect example is the latest line-up of Sunreef 80 sailing catamarans, where the idea of a silent and effective luxury yacht is brought to another level by the addition of a hydro generating system – to put it simply, Sunreef has made its sailing yachts generate the power themselves while using the power of the wind.
The next big thing are very thin solar panels invented by Sunreef. This technology is already proved by Sunreef 80 lineup and is also used for the future Sunreef 43M Eco. Thin, strong, flexible, easily maintained photovoltaic panels, that can be easily removed while repainting the yacht or maintaining the hull, can be placed now not only on the mast, geek or Bimini top of the yachts, but on the hull too.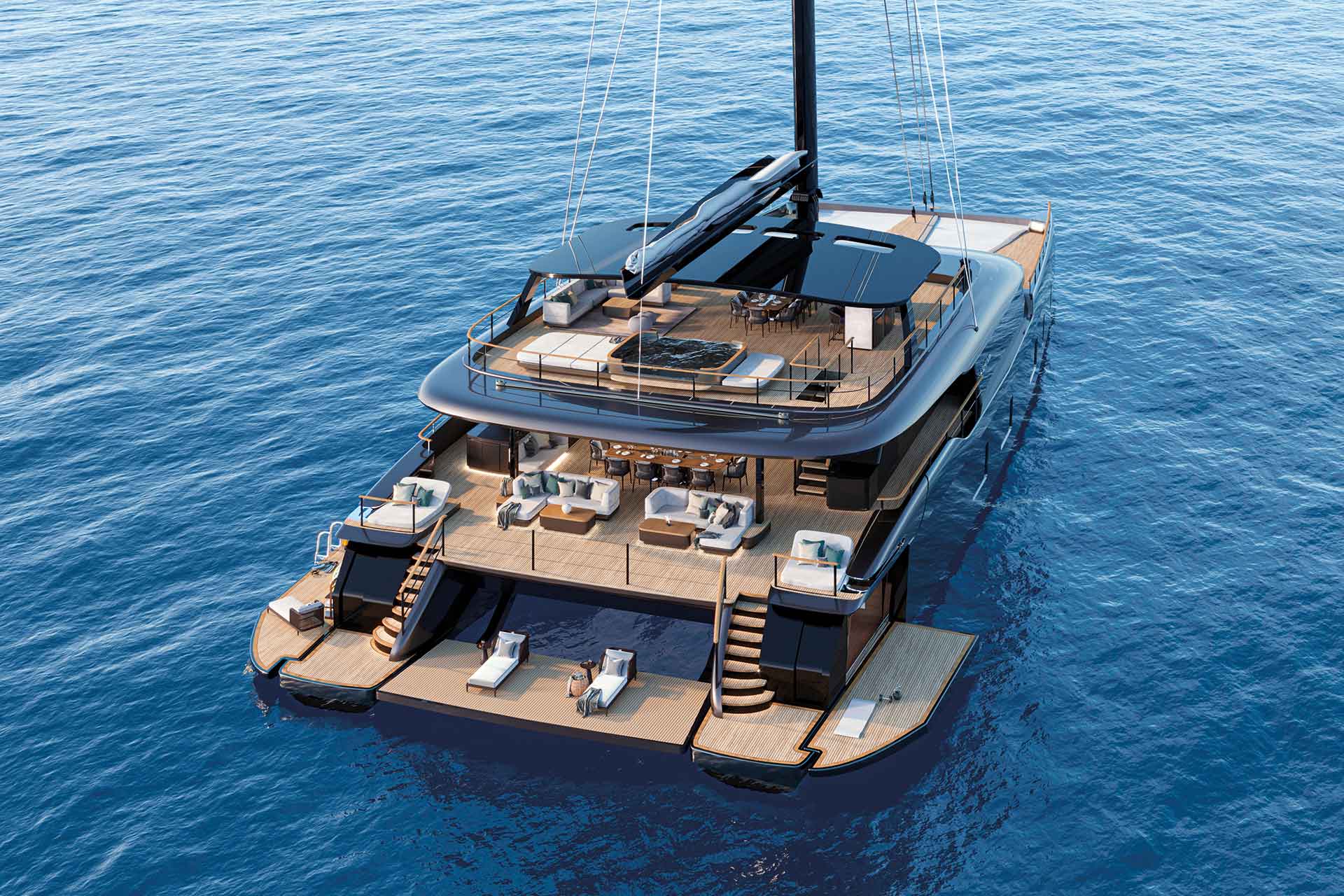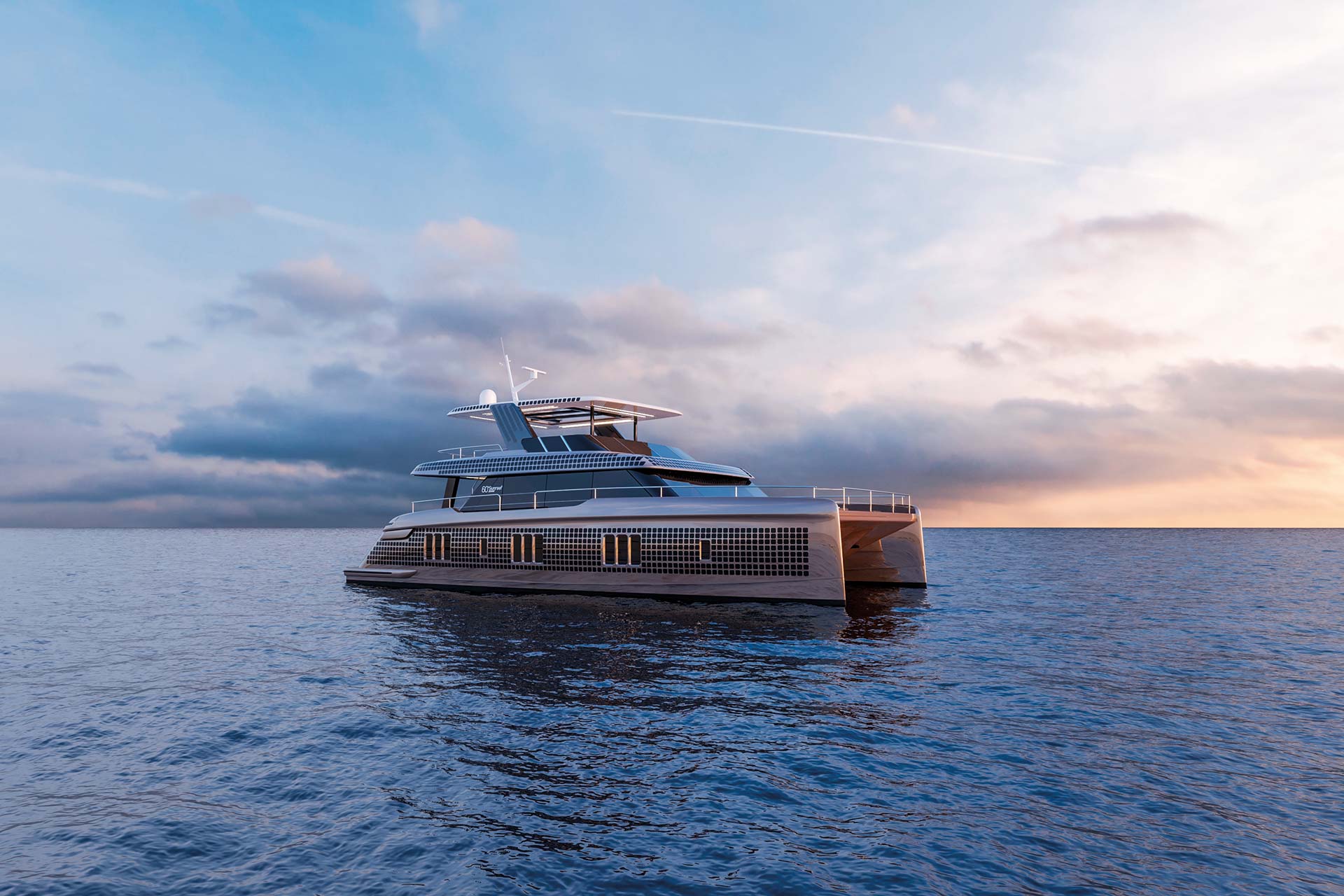 On Sunreef 43M Eco these panels are able to generate up to 60 kW in the peak of sun activity – it is almost twice of what a big modern yacht diesel generator can provide. Like everything with Sunreef, the panels are produced in-house. Francis Lapp endorses the motto 'if you want something done well, do it yourself'.
Recently, Sunreef Yachts unveiled Ultima – a new range of hi-tech hybrid power catamarans fully-customizable. A line was designed to offer full creative freedom to every owner looking for the ultimate lifestyle platform. With smart storage for toys, diving and fishing gear, every craft represents the essence of the marine lifestyle.
Lapp claims that Ultima was created as a powerful response to a new market demand: 'To achieve this, we combined the best of the multihull and monohull design philosophy. This concept is all about fast cruises, vast living space and energy-efficiency.'
Sunreef Yachts is the biggest yacht building company in Poland and also the most successful Polish company that builds not only innovative and eco-friendly catamarans (and not only in Poland, since Sunreef Yachts is building new production site in Ras Al-Khaimah, UAE) – it gives its clients a modern, fast and silent means to truly enjoy the sea. And how do you enjoy the sea?
The right answer is very simple for most of the yachtsmen: feeling safe and being able to hear waves and wind. And we believe that this is why two Formula 1 champions, who are probably tired of noises and pollution more than anyone else, have chosen Sunreef.
Photos & video Sunreef