In the past few years, power catamarans have become a favorite of charter customers and private owners. Combining the best of both worlds, modern multihull boats are perfect boats to cruise along the Croatian coast enjoying the yachting lifestyle
Power catamarans are impressive vessels that combine the spaciousness, stability, and fuel efficiency of catamarans with the power and performance of motor yachts. With exceptional range, luxurious amenities, and unmatched comfort, these floating masterpieces are redefining the yachting experience for discerning owners and charter guests.
Prestige M8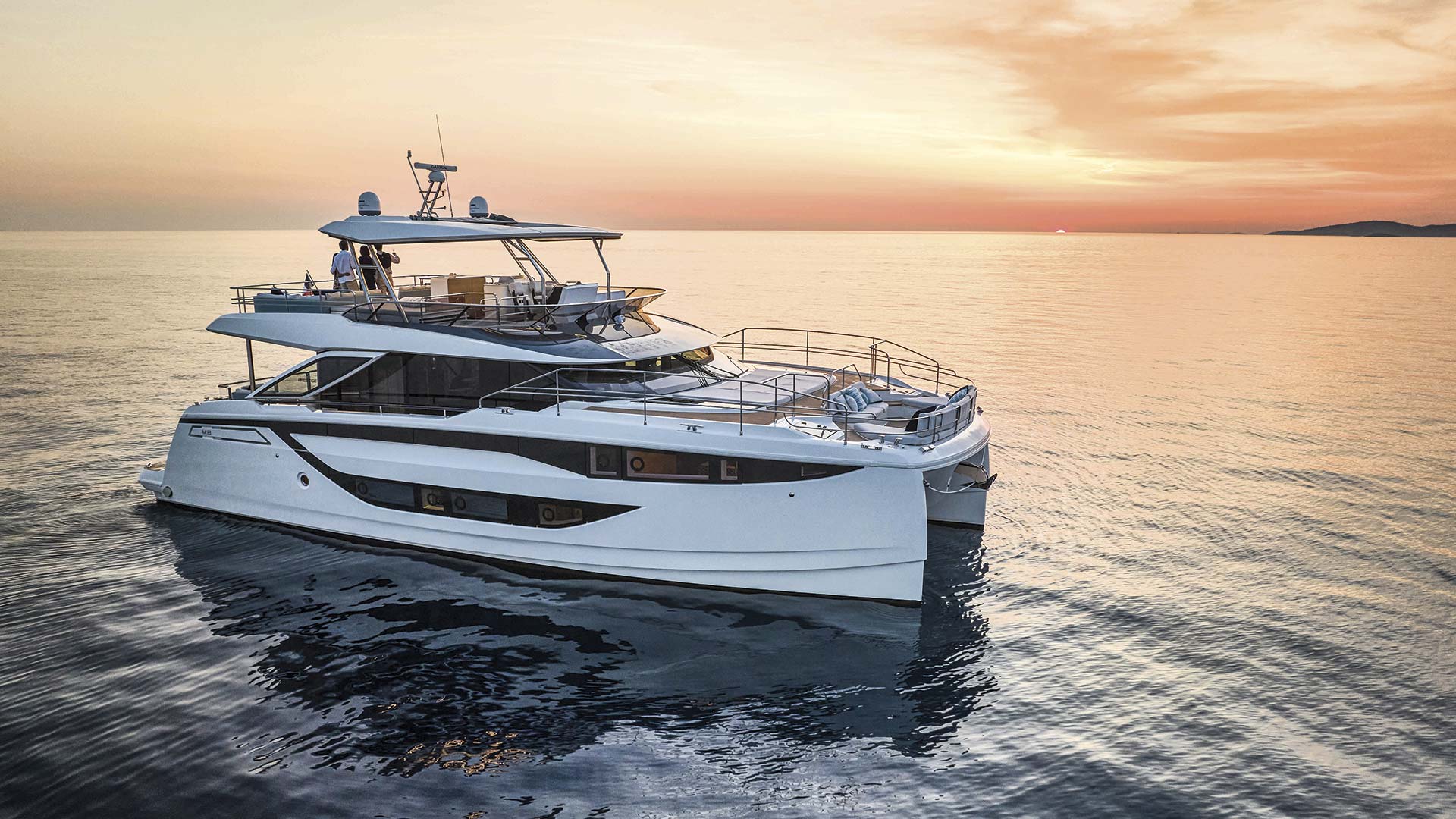 Over the past three decades, with over 4,000 yachts cruising the seas around the world, Prestige has become a world leader in motor yachts from 40 to 70 feet. But last year, once again, shipyard raised the bar and presented a new vision in the world of multihull motor yachts. The M-Line product range represents exceptional design, generous space and profuse light, preservation of privacy, incomparable stability, and reduced fuel consumption.
Following the M48, the first model in the new M-Line, the M8 features every advantage to become an immense success. With its multihull configuration, this new model affords the space and comfort equivalent to those of an 85-foot monohull yacht, targeting the market for large models.
Prestige M8 offers the ultimate in comfort, with over 270 square meters of living space. She features truly spacious suites, occupying the full beam of the yacht. Each detail is carefully studied, and always elegant, with new materials and colors and a new finish worthy of the largest yachts.
The catamaran hull design guarantees reduced fuel consumption and affords greater range and autonomy. Carbon emissions are reduced, and cruising is more respectful of the environment.
Fountaine Pajot Power 67
While Fountaine Pajot, a renowned French boat manufacturer, is primarily recognized for its sail catamarans, they also offer a range of motor yacht catamarans known for their outstanding performance, exceptional fuel efficiency, impressive power, and world-class safety.
Their model, the Power 67, elevates luxury to its ultimate expression and makes sailing at sea a truly refined experience. Shipyard has tailored the Power 67 with all the hallmarks of the famous shipyard line, but it also inherits the luxury, space, and elegance of the Alegria 67 sailing catamaran, a model of the latest generation. The Power 67 is just as well designed for long-distance getaways, beautiful cruises, or simply for the pleasure of welcoming guests. A true two-hull yacht with large areas in the flybridge, cockpit, and salon, enviable design, and modern features.
With her rounded, asymmetrical lines, this luxury power catamaran catches the eye and conveys a sense of intrepid power. Its volumes impress with the ingenuity of their layout as well as their impressive scale. Thanks to her hull design, powerful engine delivering up to 2 x 480 hp, and 4000 liters of fuel on board, the Power 67 has a range of 1700 nautical miles.
Lagoon Sixty7
After almost forty successful years, Lagoon stands tall as a brand among the renowned names in the world of catamarans that combines innovation, comfort, and performance. Their commitment to innovation is evident throughout a range of models that cater to various sailing preferences, so they have easily become a go-to choice for sailors seeking the perfect blend of luxury and adventure on the water.
With powerful engines that ensure swift and comfortable voyages, the Lagoon Sixty7 is the ultimate in luxury and sophistication on the water. The catamaran offers three distinct areas for relaxing and entertaining, and the open plan saloon offers 360-degree panoramic windows.
With three to six guest cabins, each with an en-suite bathroom, the Lagoon Sixty7 is perfect for extended stays and can comfortably accommodate up to twelve guests. This impressive catamaran is designed to cater to every need and ensure an unforgettable and luxurious experience at sea.
100 Sunreef Power Eco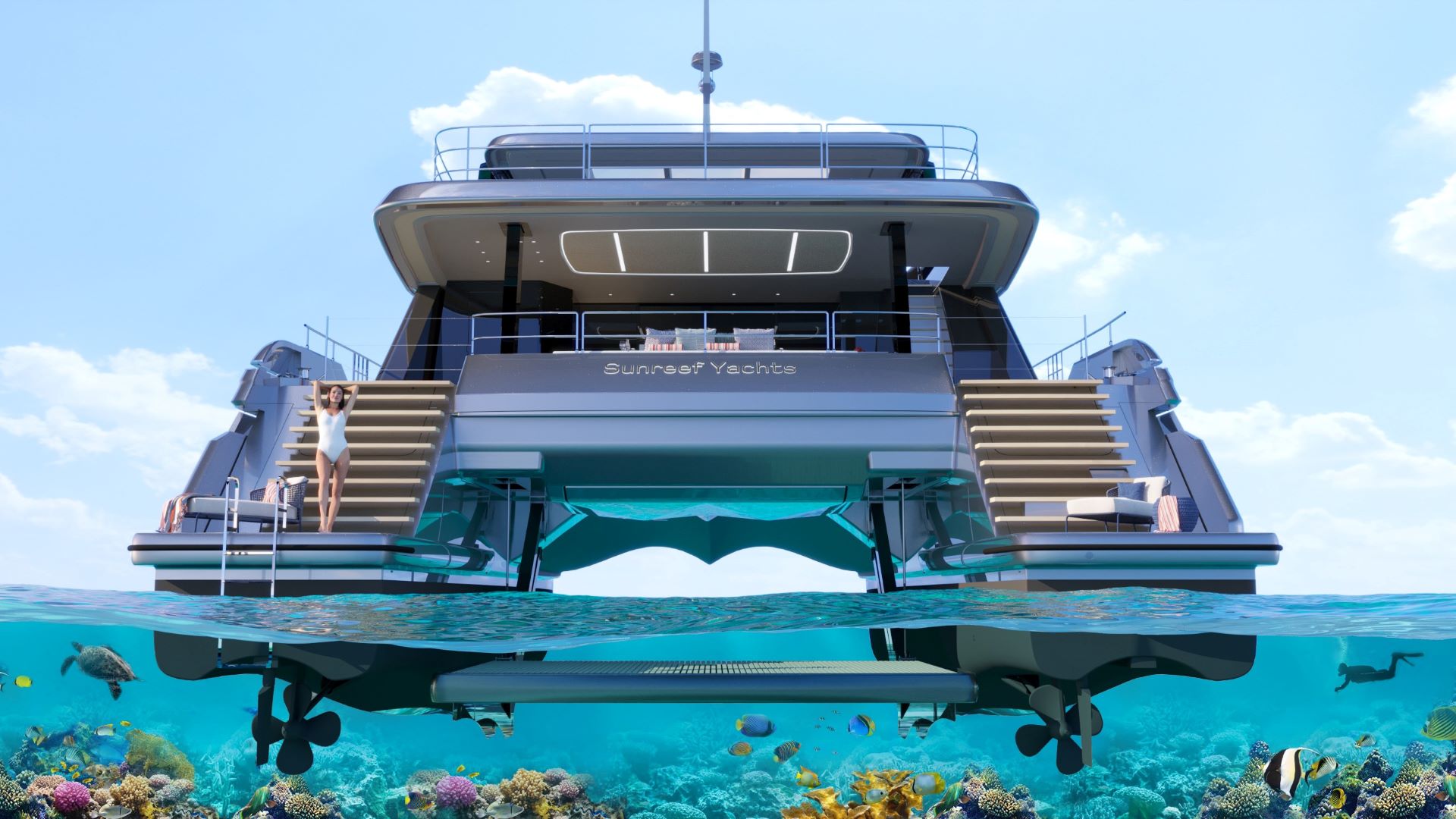 Sunreef Yachts has revolutionized the industry by combining cutting-edge design, impeccable craftsmanship, and uncompromising luxury. Since its inception in 2002, the shipyard has earned a stellar reputation for producing bespoke, high-performance luxury sailing and power catamarans from 18 to 61 meters in length that cater to the most discerning clientele.
The shipyard incorporates energy-efficient systems, lightweight construction materials, and advanced propulsion technologies to ensure optimal fuel efficiency and reduced carbon emissions. Designed to be 'a green supercat', the 100 Sunreef Power Eco combines superyacht comfort with cutting-edge sustainable technology for long cruises in total harmony with the oceans.
Using avant-gardist green tech, the 100 Sunreef Power Eco features efficient composite-integrated solar panels built into the yacht's hulls, superstructure, and bimini roof. The catamaran's custom-engineered battery bank powers both the propulsion and all the amenities on board.
Silent 120 Explorer
This innovative Austrian company, which produces the oceangoing solar-electric production catamarans, uses silent electric propulsion for unlimited range without noise or fumes and minimal vibration. Marking the logical evolution of boating and global exploration yachting, the shipyard presented the new project, the Silent 120 Explorer.
The 36.74-meter 120 Explorer, the first of which is currently in construction and due for launch in 2024, features a 13.85-meter beam and an astonishing volume of 499 gross tons to offer extended cruising at 6–8 knots in economical mode or up to 16 knots at full power. The supercat also heralds the next step in solar-powered cruising, with 40 kWp panels providing enough energy to cover the yacht's hotel loads as well as offering significant fossil-free cruising autonomy.
Leopard 53 PC
Pioneering the powercat market since 2002, Leopard Catamarans is ushering in its fourth generation of power catamarans with the introduction of the new Leopard 53 PC for Leopard private customers.
With the space, stability, and efficiency offered by a catamaran combined with the comfort and luxury of a motor yacht, she is crafted with style without compromising on performance. With a maximum range of 2000 miles, no other type of motor yacht can compete. She reaches a maximum speed of 28 mph (25 knots) with a cruising speed of 20 mph (17.5 knots).
The heart of the Leopard 53 Powercat is the flybridge, covered by a fixed solid hardtop with the helm station to starboard. The spacious seating provides panoramic views and is the perfect place to entertain. On the main level, large, retractable sliding glass doors leading from the aft cockpit to the galley fuse indoor and outdoor entertainment. Offered in a three- or four-cabin layout, with the option for separate crew cabins. The three-cabin owner's version provided an at-home feel with a large, walk-around bed, a walk-in closet, and a double vanity.
Aquila 54 Yacht Power Catamaran
With the perfect blend of form, function, and innovation and created by some of the best charter industry specialists, Aquila power catamarans have easily become a game changer in the marketplace. Their rapid growth and global success challenge Aquila's design and engineering teams to always elevate expectations with a newer, larger, and more elegant cruising model.
The Aquila 54 Yacht Power Catamaran embodies the reliable features and construction methods of the hundreds of Aquila yachts and boats cruising the waters of the world. This model also enhances onboard luxuries with full-size refrigeration and layouts that include 3, 4, and 5 cabin options, as well as skipper's quarters and galley-down layouts.
Engineered with an open flybridge and solid glass front windscreen or a completely enclosed and climate-controlled flybridge, the Aquila 54 Yacht Power Catamaran features the versatility to appeal to a global audience of boating enthusiasts.
ALVA Ocean Eco 60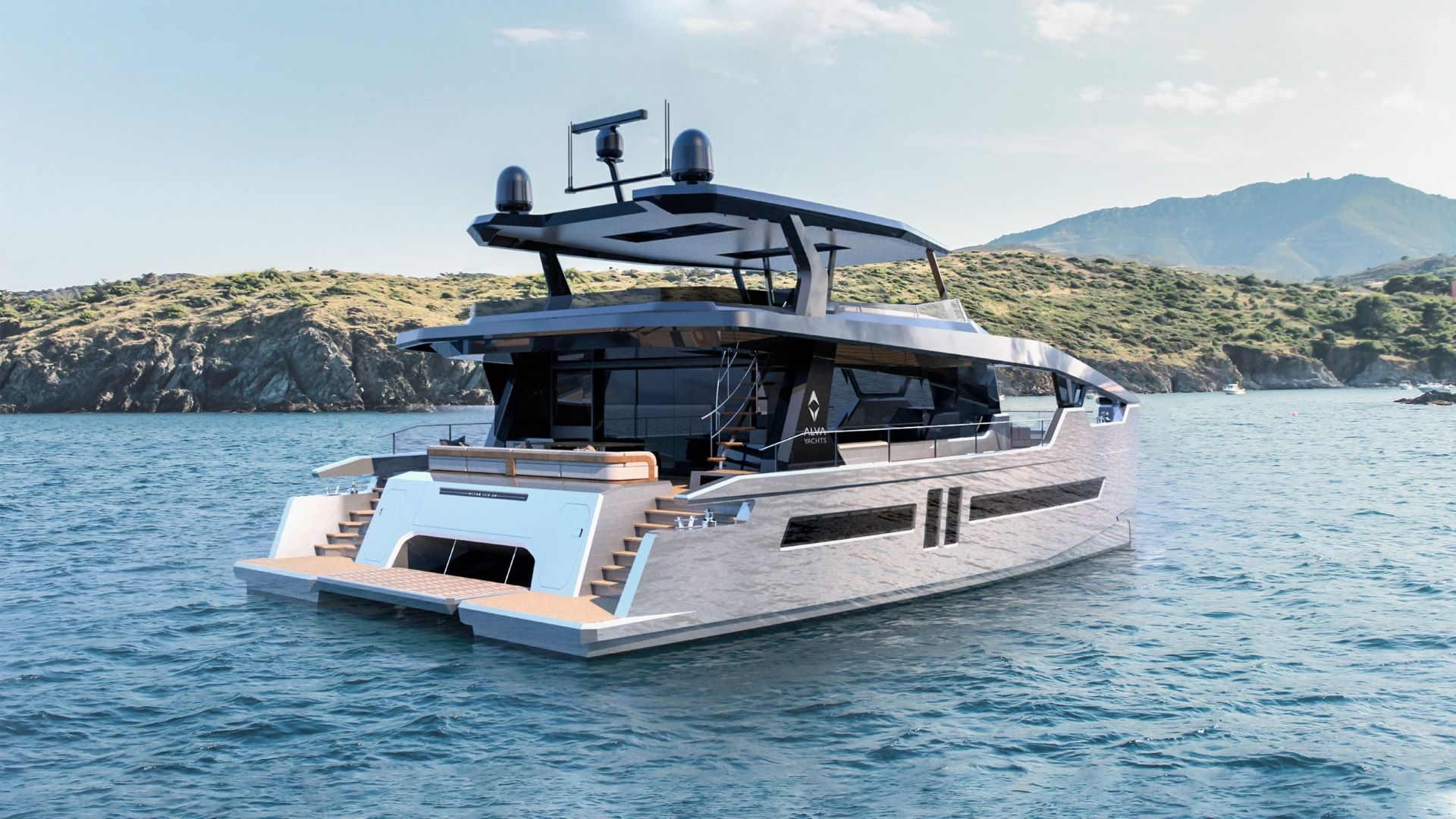 ALVA Yachts, the German builder of electric solar catamarans and sail boats, has introduced the Ocean Eco 60, an 18.4-meter multihull yacht with electric propulsion and transatlantic range. It offers generous social spaces and exceptional handling, even in the toughest conditions.
The Eco 60 has been designed with responsible yachting at its core, boasting emission-free operation and generous internal and external deck space of 230 square meters. Its expansive roof has been specifically conceived for its integrated solar panels, which take energy from the sun and store it in the battery packs that power the electric engines.
It is designed for adventures and as a true ocean-going cruising yacht, with the ability to cruise efficiently for up to 2,000 miles on a single fill-up while using extra solar support. The model is also available as an Explorer and a Coupé.
WiderCat 92
Thanks to its future-conscious approach, Wider has always been committed to constant innovation. Their yachts are designed and built with a strong focus on performance, significantly reducing fuel consumption, noise, and vibrations emitted without forgetting the aesthetics of the design and the quality of the materials.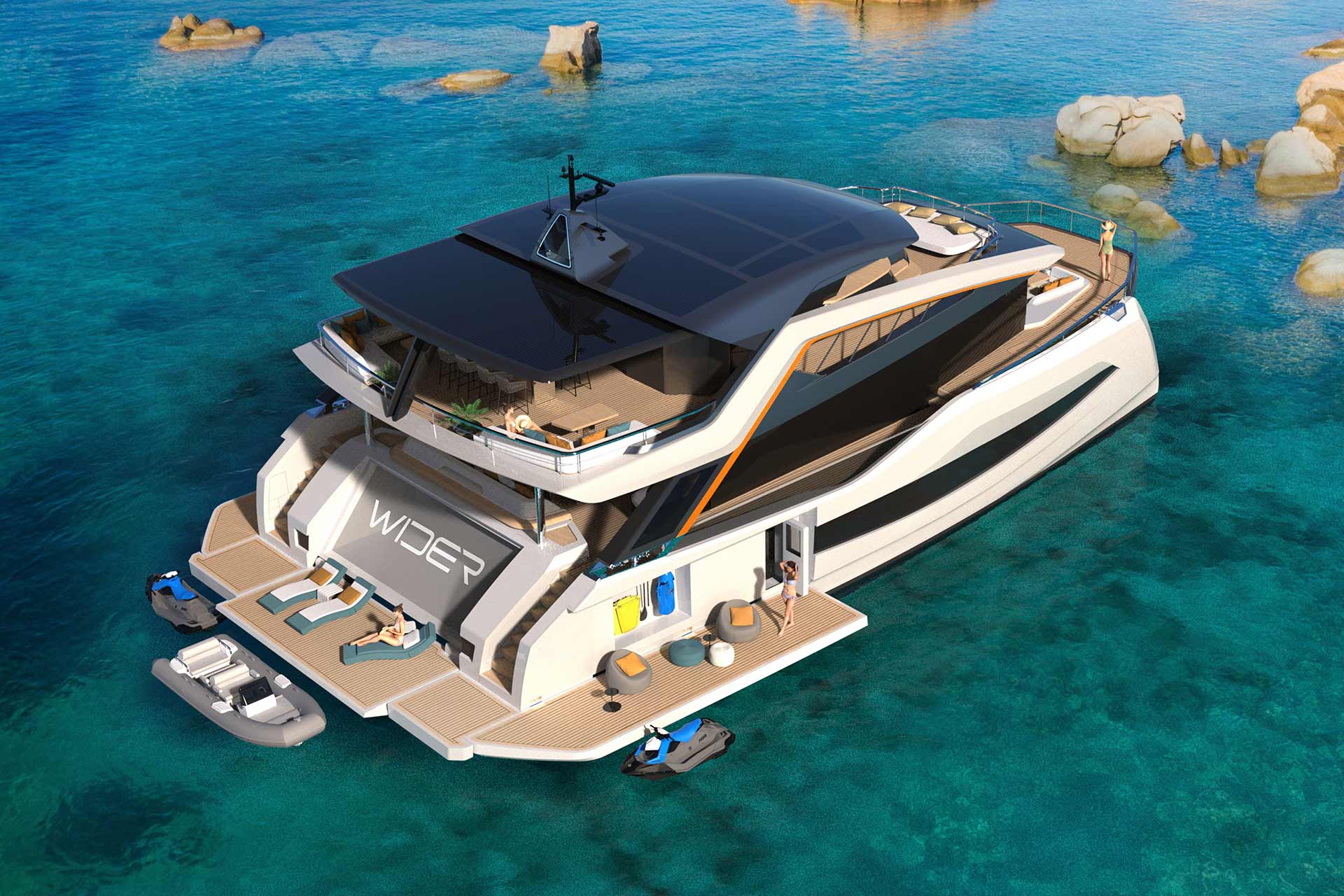 Inspired by a limitless philosophy, WiderCat 92 is the first multihull in the history of the Marche-based shipyard. The entire propulsion system ensures a cruising speed of 12 knots, reaching 15 knots thanks to the Electric Boost. The catamaran also includes Zero Emission Mode, which lets you travel about 27 nautical miles at six knots in complete silence or provides 12-hour autonomy on battery power alone, without charge, when sitting at anchor.
The main deck covers an area of more than 100 square meters, while large windows, full contact with the sea, versatility, and privacy are just a few of the main features. The standard below deck layout provides two ultra-generous VIP cabins that uniquely offer two platforms opening directly onto the beach club, a testament to Wider's indisputable know-how in terms of versatility and sea accessibility for every guest.
Photos & videos Nicolas Claris, Prestige, Lagoon, Aquila, Wider, Alva Yachts, Leopard, Silent, Sunreef, Fountaine Pajot