Azimut Yachts Presents Grande S10
The New Sports Collection Flagship
An atypical and unrepeatable boat, the new S Collection flagship exists to amaze with its exclusive original features. The design springs from collaboration between the Avigliana-based shipyard and Alberto Mancini. Highly regarded for his purist approach, Mancini habitually draws inspiration from the aerospace and automotive worlds, which he knows very well because of his training as a car designer. Azimut Grande S10 is a sporty motor yacht but with class, more gentlemanly than typical sports boats and featuring flowing lines combined with exceptional performance.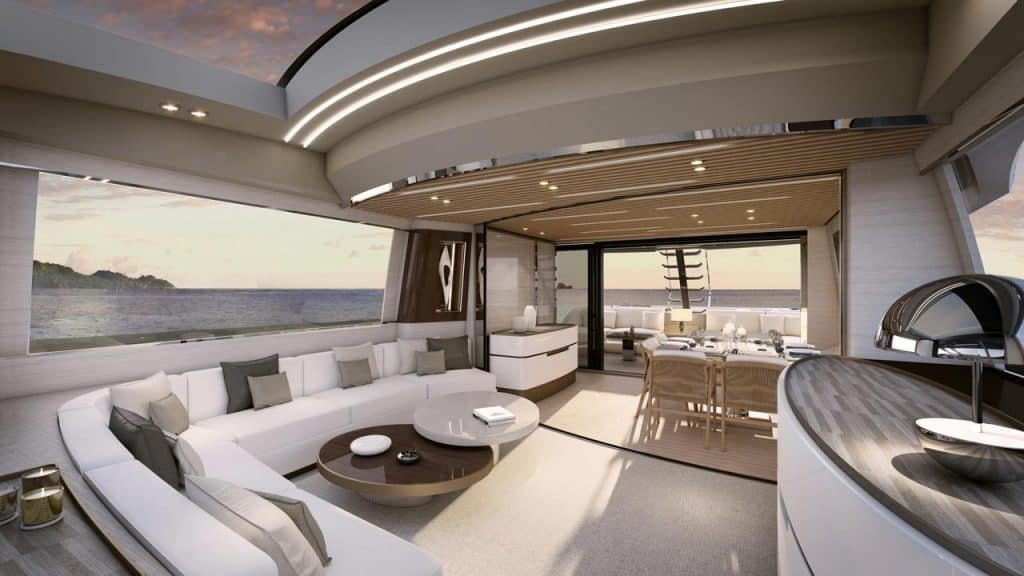 As it has done many times in the past, with this model Azimut Yachts again exceeds the usual market standards to chart a new course for the whole industry. As can be seen, the terrace is a central element of the Grande S10, connecting with the liveability and social interaction of villas and megasailers. It is a space that communicates and converses with the sea, free of any visual impediments. The stern railing is a glazed surface designed to be almost invisible, establishing discrete and elegant contact between two settings on two different levels.
Access to the full-beam beach club at water level is down hidden steps, in an innovative solution that leaves the transom with even cleaner lines. The sporty feel of this model is expressed by the shapes used and the choice of materials. The carbon that began as a technical decision is now a style feature too: with its powerful black fiber in full view, it defines the edges of side fins that tilt towards the bow, conveying an intense sensation of dynamism. Carbon also replaces the classic steel manrope, which takes on a rather gun-like appearance and extends up to the bow, acting as the perfect containment for the sunbridge. We can think of it as the bodywork expanding and playing an increasingly important role.
Photos and video by Azimut