CdM Darwin 107 Storm is designed to sail thousands of miles a year in total safety, therefore quality of construction, top-end machineries and equipment, not to mention comfort, are of key importance
Established during the most tempestuous period experienced by the yachting industry in recent times, Cantiere Delle Marche is a shipyard that bucked the odds by not just surviving, but actually growing into the most successful yacht builder in their market sector.
The secret to their success? A business plan that works for the shipyard and their owners, a determination to deliver an investment quality product and building yachts that can face the wildest elements… and to have fun doing so!
CdM boutique production
I'll commence by coming clean and confess to being a big fan of the Cantiere Delle Marche shipyard since my first visit to their Ancona shipyard just prior to the delivery of M/Y Percheron in 2012. The hardy Darwin 86 explorer yacht encapsulated the shipyard's engineering ethos, building from the engine room out and constructing honest yachts that would safely look after their owners wherever they went, in whatever conditions.
From the outset the yard's business plan has revolved around remaining 'boutique'–producing three to four high quality yachts a year–with a primary focus on maintaining exacting standards and never flooding the market. An attractive proposition for owners I've always thought; it should protect the residual value of their vessels.
Fast forward to the Cannes Boat Show in September 2014. Whilst waiting to cast off on a sea trial with another shipyard, I find myself leaning on the rail of a Navetta and admiring M/Y Percheron once again. Two years after launching her paint job shone in the Cote d'Azur sun and the sparkling azure waters reflected in her mirror-like brightwork. Not a single rust tear wept from a fitting and to all intents and purposes she looked flawless.
Darwin Class explorer yachts
Those unfamiliar with Percheron could easily surmise she'd been launched that season, unaware that this diminutive 86' yacht has no less than 23,000 sea miles under her hull. Not easy miles either, bluewater crossings, Panama Canal passages and thousands of hours use on both sides of the Atlantic. It takes a special kind of alchemy to produce such a treasure.
CdM are remaining faithful to their level-headed promise of limited production numbers too, despite their forward order book suggesting they could follow the rapid expansion route traditionally taken in the industry… generally followed by a loud 'pop' when the market deflates.
In fact, in the 2015 Global Order Book, CdM is recognized as the leading shipyard in the 80' to 110' steel and aluminum explorer yachts category. Six yachts are currently under construction at the shipyard, with three Darwin Class explorer yachts (an 86', a 102' and a 107') launched this summer.
The latter, the new flagship of the fleet, was christened MY Storm on launch being the subject of our attention for this feature. Our paths, serendipitously, were to cross in Cannes during the show this September. Following by far the show's most entertaining press conference, with shipyard owner Ennio Checchini and business partner Vasco Buonpensiere having the assembled members of the press in stitches with their candid humor and touchingly humility, we toured the latest launch with the double act.
Tour of the CdM Darwin Class 107
Owners must have a tremendous amount of fun building serious yachts with this highly personable team. At our first opportunity we posed the question Vasco had been dodging for several months on email: with their early owners now reaching that time in their ownership cycle when they will be trading up for larger builds, what percentage of their initial purchase price are their existing yachts achieving in the brokerage market?
'OK, now I can answer your question as we've recently had our first resale boat,' answers Vasco, the yard's Head of Sales and Marketing. 'I can tell you the owner made 500,000 euros on top of the original acquisition cost. That's unheard of in this size segment in the market.'
What really blew us away however was when Vasco revealed that boat was MY Yolo, the first Nauta Air 86, a yacht with a very particular interior and layout that would appeal to a limited sector of an already specialist market.
Vasco continued however, 'Now, there is another CdM vessel on the market, and I am heard that they are experiencing quite the same kind of situation, thanks to the CdM primacy and uniqueness on the market'
Today the list price of a new build Darwin 86 is 7.1-million euros and she has a volume of 200 GT, so at 35,000 euros per GT they are still remarkably aggressively priced. It's not often one can invest in a yacht of this size!
Prior to our tour of the new CdM Darwin Class 107, Ennio proudly points to the fact this yacht was 'commissioned by a client whose prior ownership included yachts built by very prestigious northern European shipyards.' Ennio continues, 'For me this is further confirmation of what the market has shown to be a proven fact: CdM has managed to take the best of the two cultures (Italian and northern European) and merge it into a synthesis that has apparently never been done successfully before, all to the advantage of our clients.'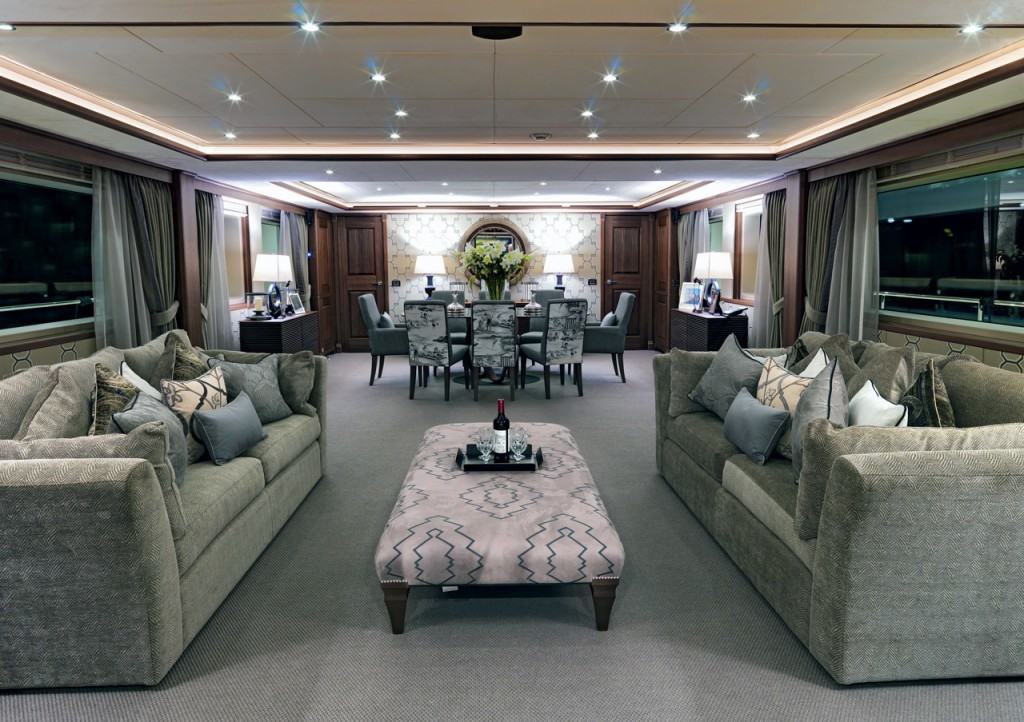 Having been incredibly impressed by the quality of their launches in the past, we were champing at the bit to have a look around and see if the yard's early exacting standards had been maintained.
CdM Darwin exterior
The first point of note was Sergio Cutolo's exterior design for the hardy Darwin Class, on this occasion finished in a dark grey hull and white topsides, benefits from the additional length when compared to more modest models in the range.
While certainly attractive to those who appreciate real expedition yachts–and here it is worth making the distinction between these true blue water warriors as opposed to fashionable explorer yachts–it's probably fair to say that the profile of the shorter Darwins may take some getting used to for those who's experience has previously been limited to sleek GRP cruisers.
The CdM Darwin 107 however, with her majestic bow towering a full two decks over the bow bulb and high freeboard tapering back through well-protected gunnels, makes a strong statement of intent and is an impressive sight to behold.
The Darwin 107's extended aft decks not only lengthen her aesthetic, but are also eminently useful in creating a generous cockpit, stowage on the upper deck for a Cobra RIB 6,6 tender and space for freestanding deck furniture after launch, plus a large sundeck.
The sundeck, which supplements a very comfortable solarium and lounge in the bow, offers enough real estate to house an arrangement of four fixed sun loungers aft, a full wet bar and dining area amidships and a split helm and lounge area forward.
On the sundeck
After concluding our tour we joined at least 15 others who were comfortably enjoying the yard's hospitality on the sundeck, so there's more than enough space for the usual compliment of between ten and twelve guests.
Before even entering the main salon the most uninitiated of guests will understand the authenticity of the yacht's capabilities: here there is no swish as tinted glass sweeps aside to reveal the yacht's interior, but instead the reassuring chunk of a heavy duty watertight door. Not only does such practical features lend a sense of gravitas to the vessel, they are also extremely effective at keeping the outside world out and the inside world in. Whatever tempest is rages around one outside, a sense of confidence can been drawn from the fact the family is safely cocooned in an oasis of calm.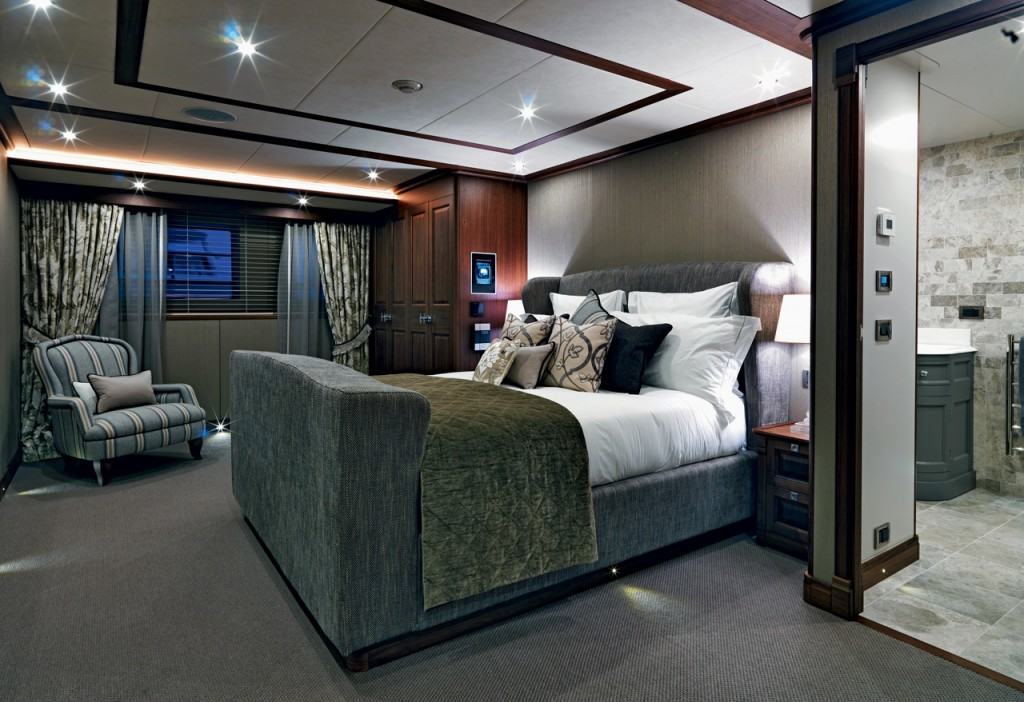 We'll not devote many words describing the rather splendid interior design completed for CdM Darwin 107 MY Storm by the studio of PFA Design, each photograph tells a thousand, though we will mention how snug and tightly each element holds together, both aesthetically and in the quality of the completion.
Full use of the space
This yacht may well be a hardy explorer, but her owner and guests will cruise in practical and understatedly luxurious accommodations, as befits discerning English gentlefolk. The use of wallpaper throughout the yacht is an unusual and yet very attractive solution, which makes one wonder why it is not used more.
The galley is a very interesting indeed, along with the 2.10m (6' 9") high headroom the chef's domain is of the dimensions one would usually associate with a 40 to 50m yacht.
'In addition to the wheelhouse it's the only area the yacht where someone is constantly working,' Vasco explains, 'and as the yacht allows it, we decided to make full use of the space. There are some great additions that we included at the suggestion of the crew too, who worked with very closely on this project. The Captain wanted stowage in the galley's lobby for oilskins and wet gear, almost like a mudroom, so outdoor gear could be removed by crew and guest before entering the yacht.'
Generous accommodation for crew
Once inside, it's likely the guests will pull up one of the bar stools at the compact breakfast bar to enjoy a mug of something hot and a snack to warm them through. There's certainly enough space to create the family country-style kitchen so popular amongst North American owners.
While the generous crew accommodation and square (accessible through the galley's internal lobby) is a testament to the owner's appreciation of the need for crew comfort during extended periods on board, his stateroom is on-deck and enjoys full use of the full beam. In the interest of practicality the owner has also conceded space from the entry to his cabin–where a vanity or office would usually be placed–to provide additional storage outside.
'He decided he simply sleeps in the cabin which is already more than sufficient in volume for him, so he gave the space to make the crew's life easier,' Vasco shrugs.
Heading into the owner's en-suite and then down to the four guest cabins on the lower accommodation deck we can attest that generosity of space is certainly not something this yacht is lacking.
The generosity of the owner in devoting space to his crew is further evidenced by the inclusion of a radio room adjacent to the wheelhouse from which the Captain helms his Storm powered by twin Caterpillar C18 ACERT 500kW engines.
CdM Darwin 107 speed and range
Producing a modest 640hp each, the fuel sipping economy of this CdM Darwin 107's propulsion and hull package means she'll cover 5,000 nautical miles between refills of her 14,635 gallon tanks: the quickest of calculations shows consumption of around just three gallons per mile at 10-knots. Her top speed is a touch below 13-knots and recommended cruising speed 11-knots.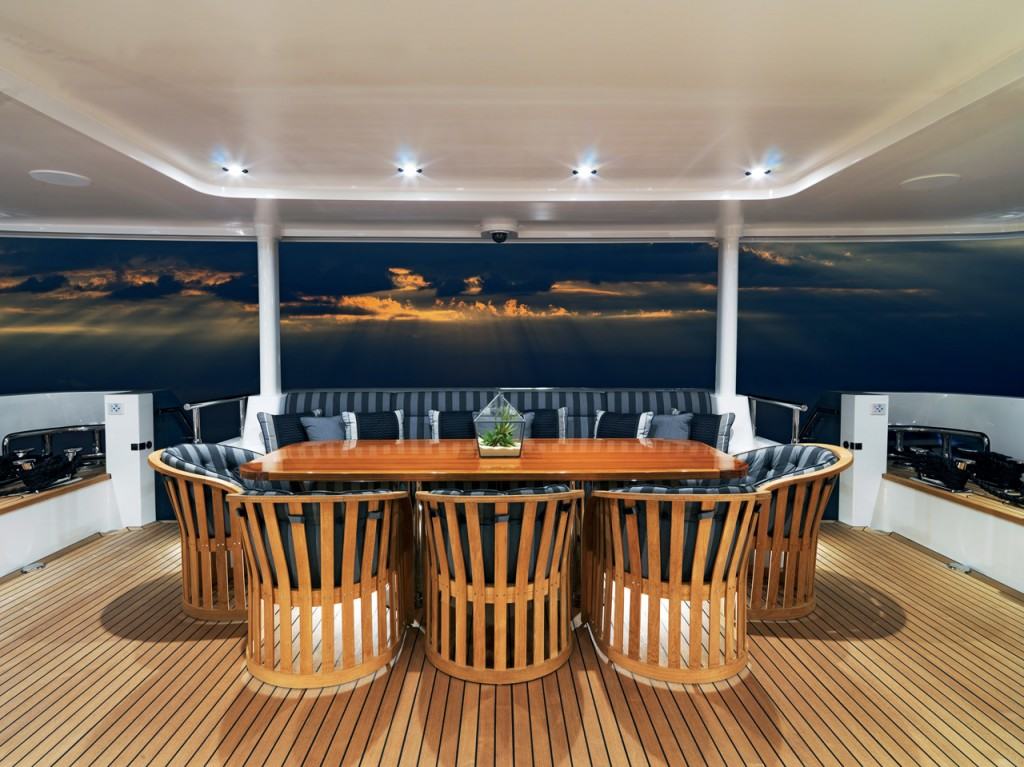 Prior to leaving CdM Darwin 107 MY Storm we enquired regarding their presence at the Fort Lauderdale Yacht show where their new 102' Darwin Class M/Y ACALA launch plans were exhibited. It turns out the Americas is a focal market for Cantiere Delle Marche and as Vasco explains, it's one they've already enjoyed considerable success in.
'The Mexican market is on fire for us at the moment and in fact we've been popular there since the very beginning. In fact I'm heading to Miami to hopefully seal the deal on our fifth build for a Mexican client as soon as this show closes. We'll still stick to our limited build schedule of three boats a year however–four provided we can maintain quality.'
The goal is to build better and better
If you're wondering what projects CdM currently has in the pipeline, we can tell you there is great excitement surrounding their start of constructing a new Nauta Air 108'; sold by the shipyard following negotiations begun at the Cannes Boat Show.
The design of this line is the result of collaboration with the Milan-based studio Nauta Design and, in addition to the usual Explorer Yacht features (over engineering, redundancies, remarkable seaworthiness, transpacific autonomy, etc.), it will boast sleeker exterior lines, ample exterior spaces and a stunning customized interior by renowned Italian designers.
In addition, three important negotiations are currently underway for three more yachts to be commissioned, all over 100'. We ask about the 'max size' CdM is interested in building to and Vasco replies with candor.
'We recently defined our mantra: 'We're not interested in growing bigger and bigger, the goal is to build better and better'. Actually, because we're a 100-percent no bullshit shipyard I can prove to you the sincerity of that statement.'
Vasco quickly scans through his cellphone and paraphrases a recent conversation between himself and a client.
'The client suggests in conversation that he's considering the build of a 50m. My reaction was, 'would you like me to introduce you to a suitable yard?' He asks 'why, won't you build it for me?' So I explained we'd only go up to the 500 GT threshold. Look, we're realistic. If I go to a nightclub in Beverly Hills, amongst Johnny Depp and Di Caprio, I'm not going to get any attention. We have found our niche in the market, we look after our clients and are not chasing dreams.'
Ability, wisdom and courage
Having sold many of CRN's megayachts in his previous role at the neighboring yard, Vasco's modesty does him a disservice. From this conversation however one can appreciate the judiciousness with which CdM make their prudent business decisions, protecting the interests of the business and their owners. For this fact and the superb yachts they build CdM has convinced me they are no fairweather shipyard and have the ability, wisdom and courage to weather any storm.