Classic lines, wood, attention to detail, and a classic philosophy: it will be called ClassicNikka
For the moment it is still only a (beautiful) project by Giovanni Ceccarelli, the CYD 215, but in about 12 months time, when it will be launched, it will represent yet another demonstration of owner Roberto Lacorte's love for sailing and the sea. The decision of the owner, known for his projects that look to the speed and the future, is to combine classic taste and materials to enjoy unique, intimate sailing moments in his sea of origin, the islands of the Tuscany archipelago.
It will therefore be a boat designed to experience the sea with simplicity and safety, marine and easy to sail even with a reduced crew. Below deck there will be a single cabin, a bathroom, and all that is needed to pass a night at anchor.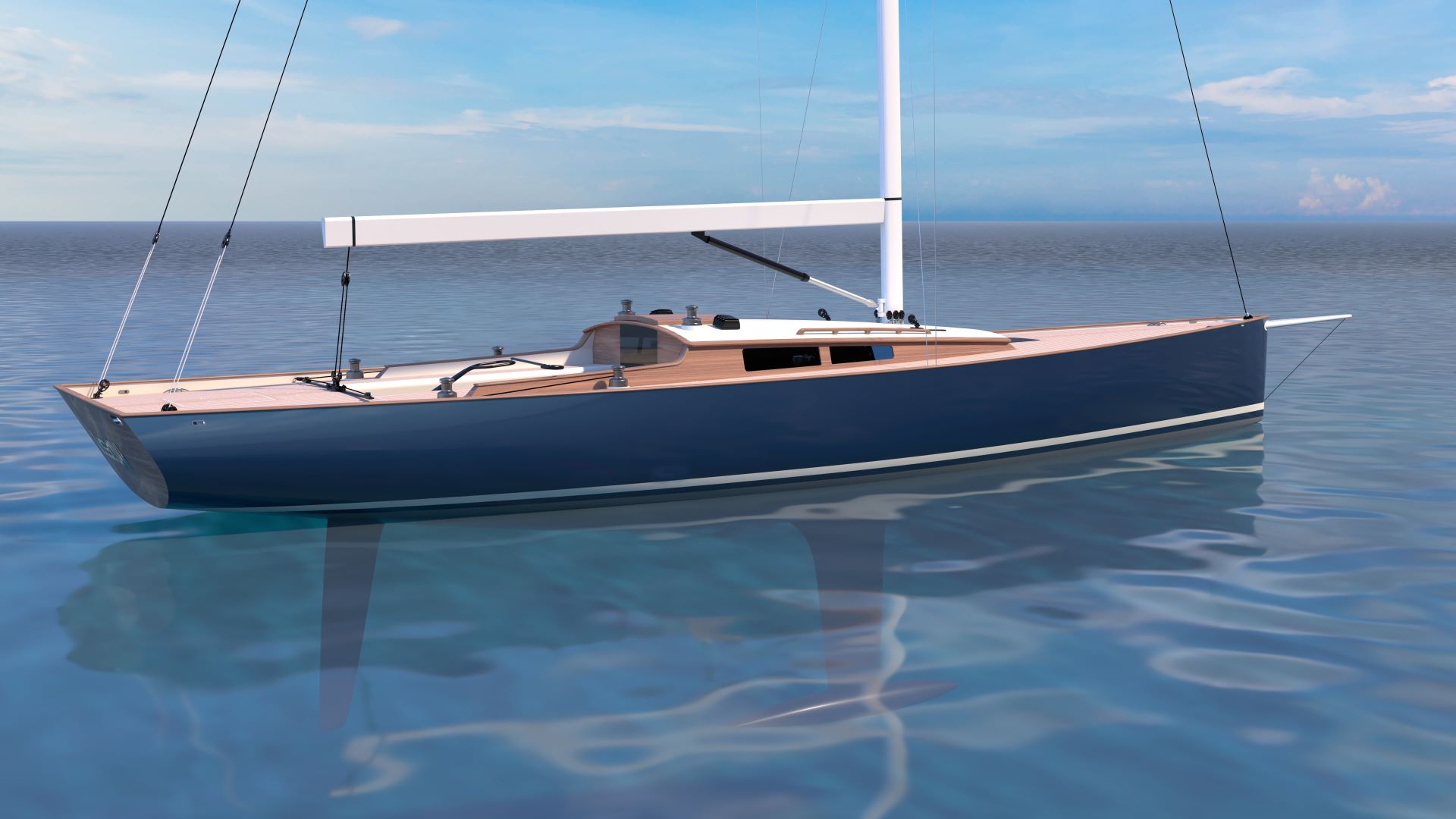 12.80 metres overall length (42 feet), 3.15 metres beam, and sloop rigged with ClassicNikka, she will be built in three layers of mahogany glued with epoxy resin, at the Checchi Shipyard in Massarosa (Lucca), shipwrights since 1980, the year the yard was founded by Angelo Checchi.
In reality, the Tuscany entrepreneur, current owner of the famous Mini Maxi foiling FlyingNikka, undoubtedly the most innovative and modern racing sailboat currently in circulation, also aims to participate in the regattas/meetings of the vintage sails circuit in the Spirit of Tradition class, open to modern boats built according to traditional philosophy and materials (starting with wood), and perhaps some IRC or ORCì classic offshore races.
The Ceccarelli Firm began its activity in the 1950s, founded by Epaminonda Ceccarelli, precisely with wooden boats, and Giovanni too began by designing in laminated wood, with which dozens of prototypes have been built, some of them even recent, both racing sail and motor boats. At the time, the projects were developed by hand with the boards bent over a polished surface and the frames were drawn to life on sheets of mylar laid out on the ground. Giovanni's career path also led him to design Mascalzone Latino and +39 for the America's Cup.
Today the ClassicNikka is designed with the aid of the computer, the hull and appendages are tested with CFD, but the wood construction systems are the same as then because those unique and 'unrepeatable' hands of the shipwrights with their techniques that can only be learnt through years of work are still needed.
The relationship between Lacorte and Ceccarelli started last year during an event in Portofino and took off not only because of that magnificent common denominator called sailing, but also because of the common passion for motorsport: Ceccarelli as an expert and passionate supporter of all that is four-wheeled, Lacorte as a current driver with past participation in great classics such as the 24 Hours of Le Mans and the 24 Hours of Daytona, and victories in the famous 12 Hours of Sebring with the Cetilar Racing team.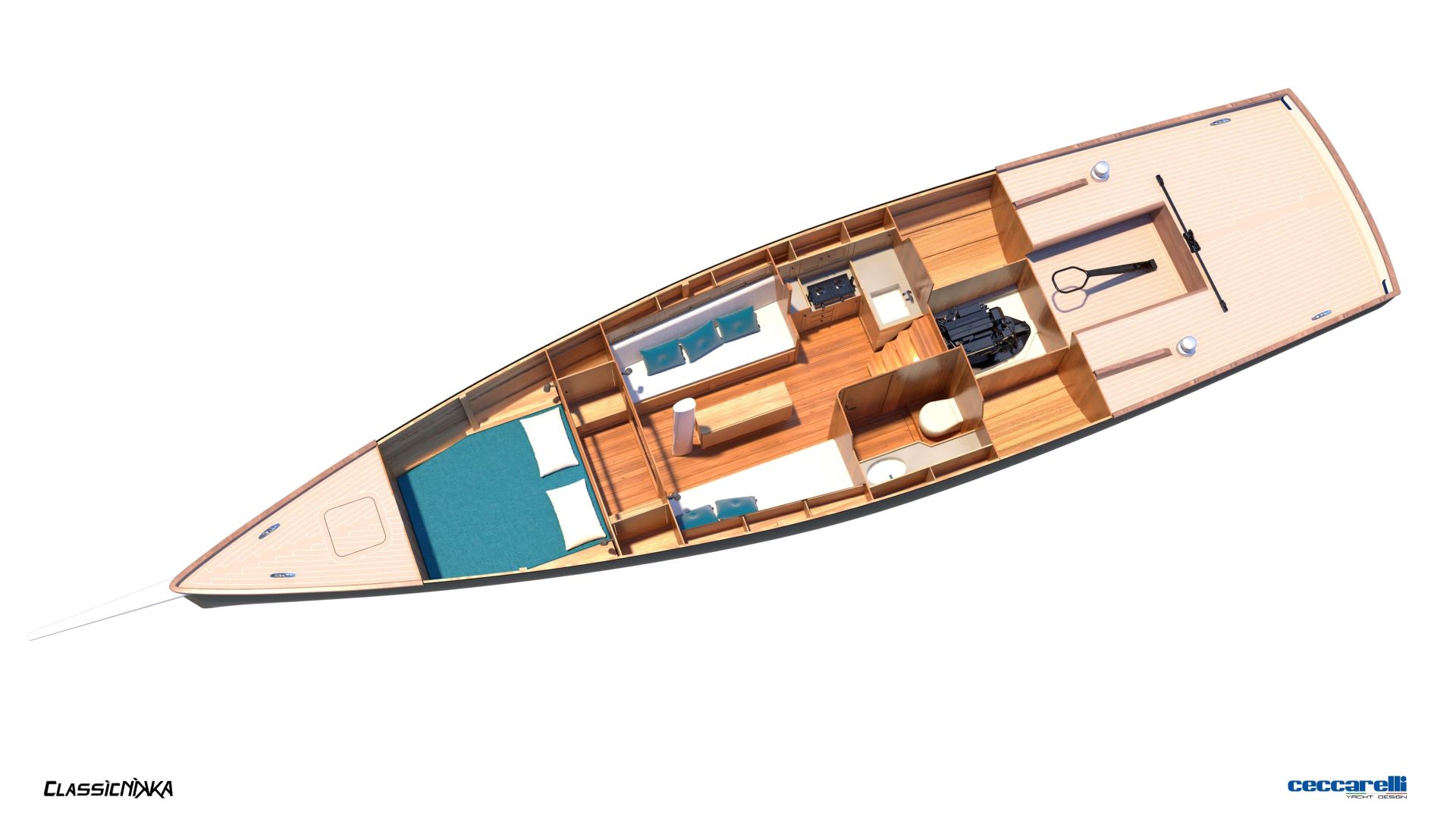 'ClassicNikka was born out of a desire to experience the sea from a totally different perspective than FlyingNikka. And to do it with my wife Luisa, as always co-owner, in a more traditional context but with a boat that is nevertheless modern, although designed with classic lines and built in wood,' explains Roberto Lacorte. 'With Giovanni Ceccarelli there was a great feeling right from the start, we got on very well and I am sure that ClassicNikka will be very positively influenced by this harmony.'
For Giovanni Ceccarelli, this is a project that he feels is as alive as the material of which it is made. 'In designing the boat,' he recounts, 'I could not forget that Roberto, besides loving the sea, is competitive and a lover of challenges, and so I conceived lines for ClassicNikka that are close to metric boats: clean and elegant without any influence of tonnage, which will be marine and fast even in regattas. The boat will have to be beautiful in its modern classicism. It was a great satisfaction when I sent the first drawings and images to Roberto and he, calling me from the car after a few seconds' pause, said one word: 'bella' in his Tuscan accent. I think he was going fast. We met again at the Genoa Boat Show and the operational phase started. Now the design is finished and we are starting construction'.
The selection of the shipyard is another key aspect of this project.
We opted for Cantiere Checchi because it has a strong tradition of shipwrights and because over the last 40 years it has built some of the most beautiful wooden boats currently in circulation. 'The goal,' Lacorte concludes, 'is to have a splendid and elegant modern boat with a classic spirit, which can participate in the main regattas for vintage sails. A boat with which to best appreciate the pleasure of sailing, totally different from FlyingNikka, which currently represents the most innovative approach to sailing. They are two totally different projects, but united by the same common denominator: passion and love for sailing'.