Powerful and modern exterior lines, very special color tone and unmistakable foredeck give new CRN yacht M/Y Voice certain personality. We spoke with Carlo Nuvolari about their newest CRN launch, and also about the trends in the super yacht industry
We had a chance to speak about the latest CRN superyacht called Voice with her designer Carlo Nuvolari, co-founder along with Dan Lenard of world known Italian architecture studio Nuvolari Lenard.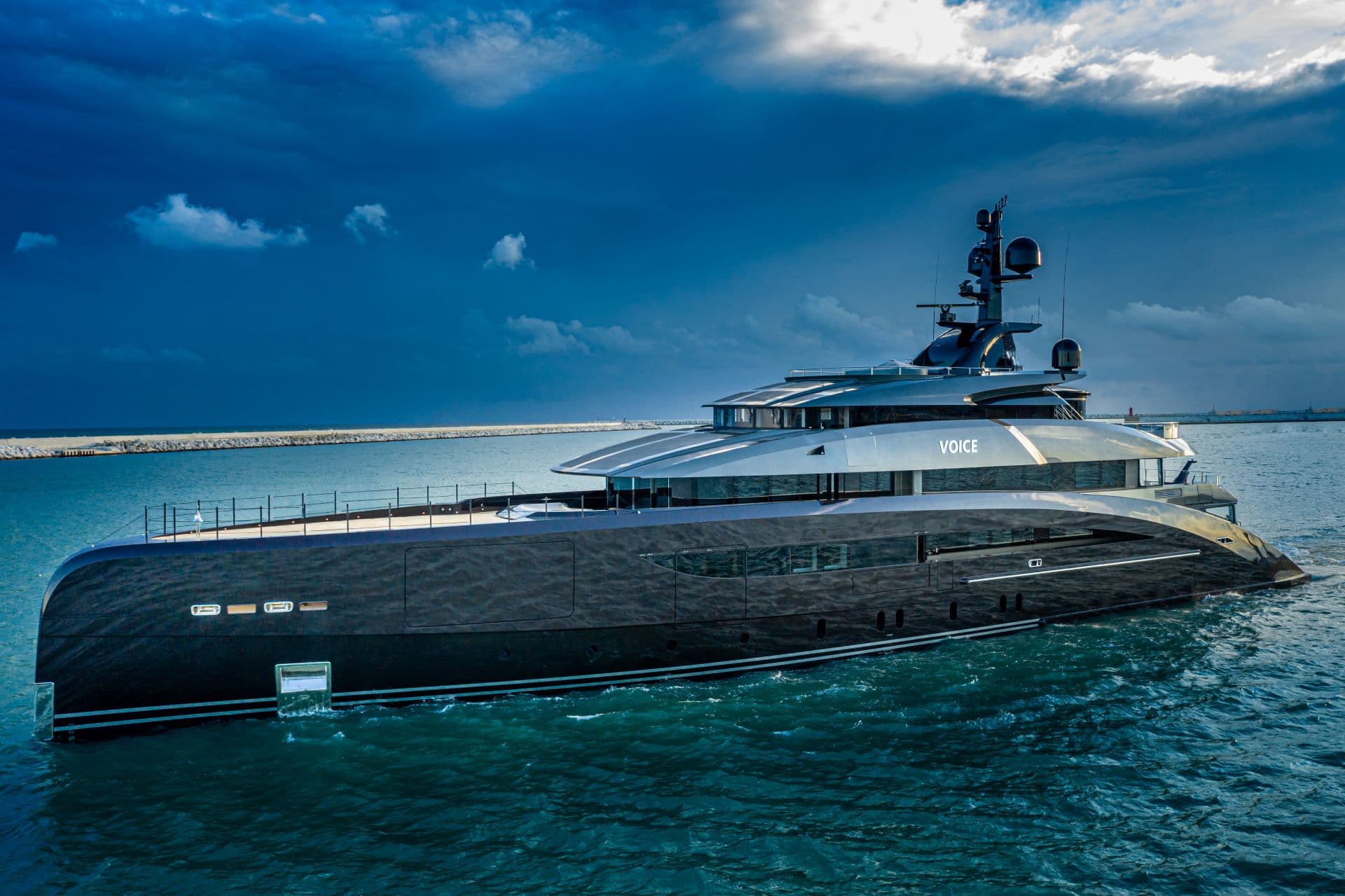 The new 62-metre megayacht with an 11.50-metre spans five decks with a master suite and five VIP cabins to accommodate 12 guests in exquisite comfort. The upper deck is the owner's exclusive domain, with a suite to the stern and a panoramic lounge at the bow offering total privacy and a space to entertain friends.
Taut yet fluid, the aerodynamic external lines lend the CRN Voice strong character and an inimitably Italian touch. The striking impression is reinforced with the personalised colours of her smoky quartz hull, silver sand superstructure and jet black details.
Voice has a modern exterior look, what were her design guidelines?
The stylistic cue of Voice refers to a design that creates a forceful, dynamic, powerful and sporty impression. But her signature feature is the long cadence of her lines. The gunwale swings along and down in a smooth unbroken curve from bow to stern; this has been a visual hallmark of ours for many years and creates an impression of extreme length and fluidity.
The yacht is really sleek and conveys a feeling of extreme speed but at the same time is characterized by wide and bright interiors. Voice has a really strong personality, she is unmistakable and stands out for miles not only for her bespoke colours but for the aerodynamic, taut and fluid external lines, with a strong identity.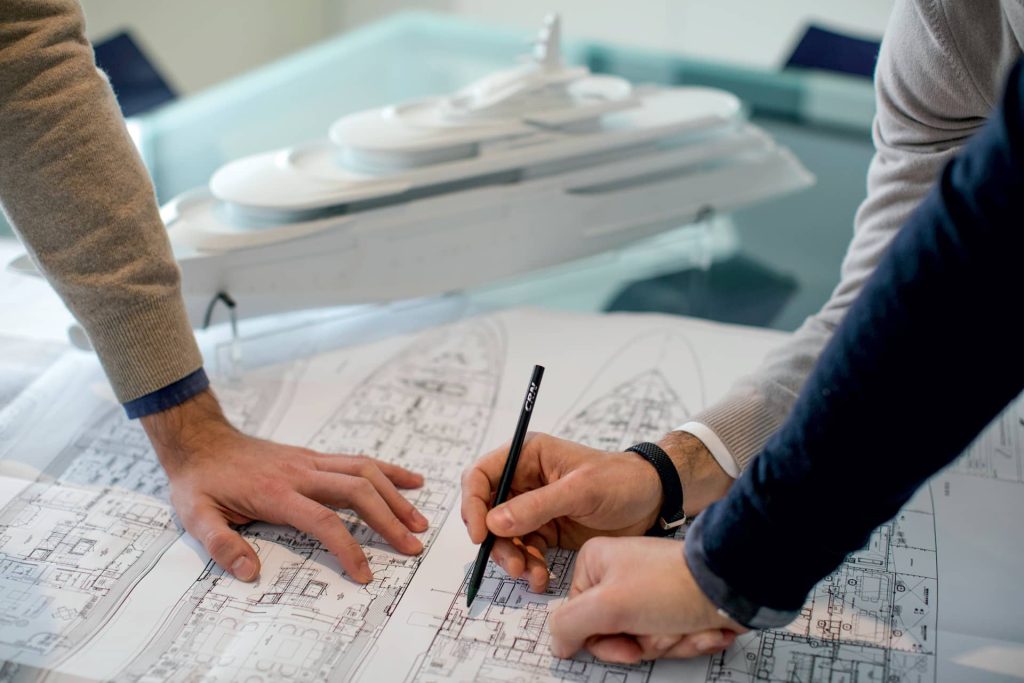 What would you say are the highlights of this project?
A distinctive feature of Voice is her strong personality, combined with an extreme cleanliness of the lines and the research for essentiality that is unmistakably found in her extremely wide and uncluttered foredeck. A highlight is also the view of the panoramic lounge at the bow on the upper deck, which is the owner's exclusive domain; it is a truly unique area that offers maximum privacy on board and can also become a social space.
Another notable characteristic, courtesy of CRN's in-depth expertise in designing and building tailor-made yachts, is the meticulous attention to the finest detail. As with every yacht that we have helped to make with CRN, Voice has been crafted with pinpoint precision; some stainless-steel fittings are real masterpieces. Also, the veranda structure with panoramic windows under the tree on the top deck is a wonderful area for enjoying breathtaking views of the sea.
What else makes her a bespoke yacht?
Voice, like every other yacht we have realized with CRN, is a fully custom yacht, there is nothing that has not been expressly conceived, designed and made to measure for her Owner. The Owner is a very determined person, he has transferred to us and CRN his clear vision and his enthusiasm. He wanted a yacht that would represent him, that would make a lasting mark. Owners of fully custom luxury yachts, first of all, want their vessel to represent them, to be as unique as they are. A result that we have certainly achieved, together with CRN, a highly distinctive yacht with a potent personality and yet an exquisite balance among all her component elements.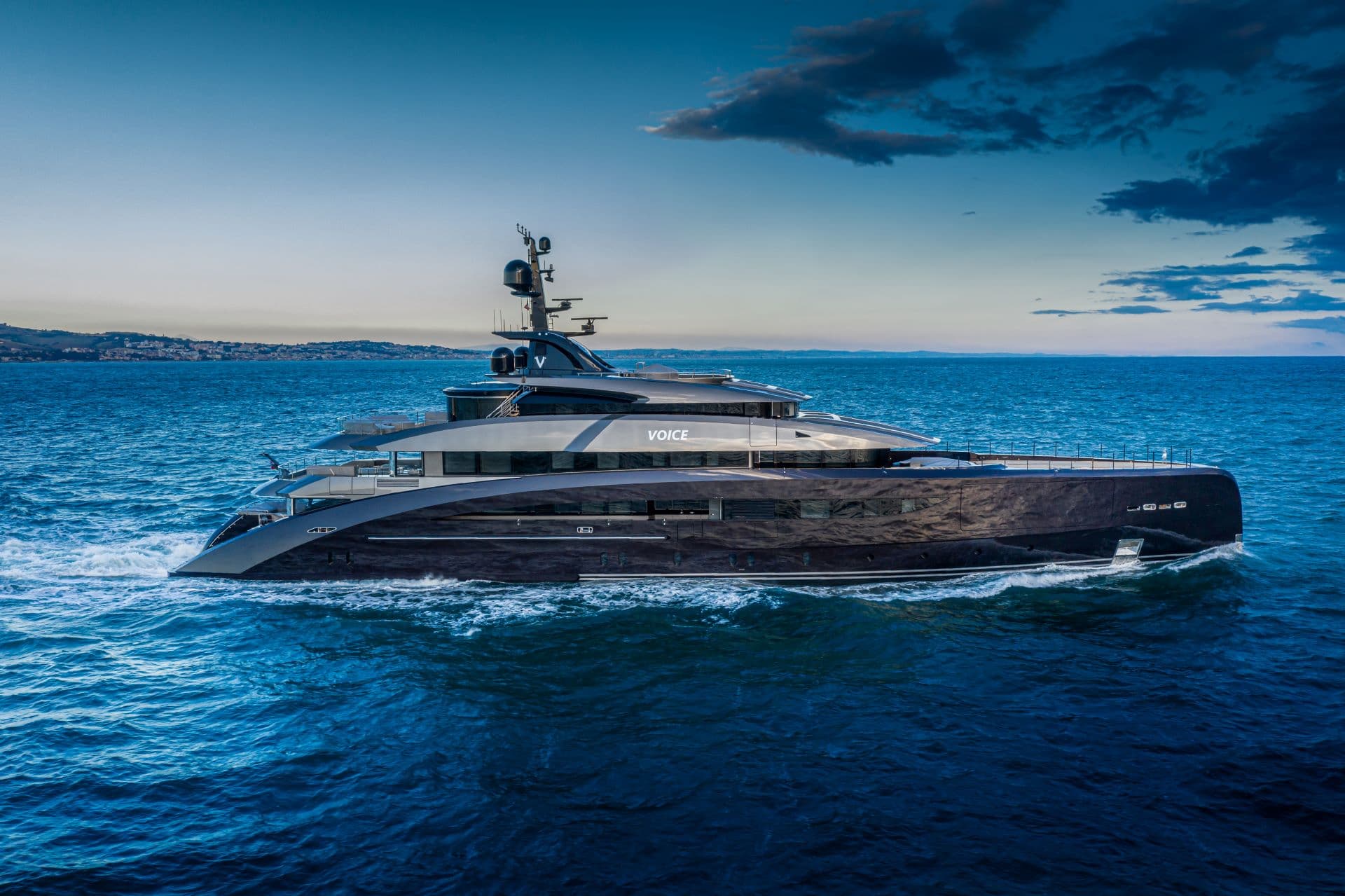 What do you think about environmental protection and its connection to yachting?
I believe that there is a growing sensitivity in the sector and among Owners towards this issue. Installing hybrid or electric systems onboard, paying attention to the type of propulsion and decreasing the amount of fossil fuel burned are some of the main topics to be concerned about but there are many other factors to keep in mind. Among these, the behaviour of the Owners is also fundamental, such as making sure to navigate away from the coast, avoiding anchoring where there is seabed of particular value or avoiding unloading solid or liquid waste into the water. The topic is certainly felt but there is still awareness to be acquired. This is why it is important to promote dialogue on these issues; I commit myself on a personal level also because I live in Venice, a reality that is really exposed to this problem.
How do you foresee the future of the superyacht industry evolving over the next five years?
We are witnessing the concentration of large spending power in a relatively small number of possible Owners. For this reason, the average size of mega yachts is increasing and shipyards are designing and building larger vessels. Also, there is a trend towards the request for smaller yachts especially by Owners who have already had larger boats that can preclude very pleasant types of cruising such as enjoying exclusive, small islands, ports or secret places where large yachts are unable to access or where access is denied by regulations that are increasingly strict.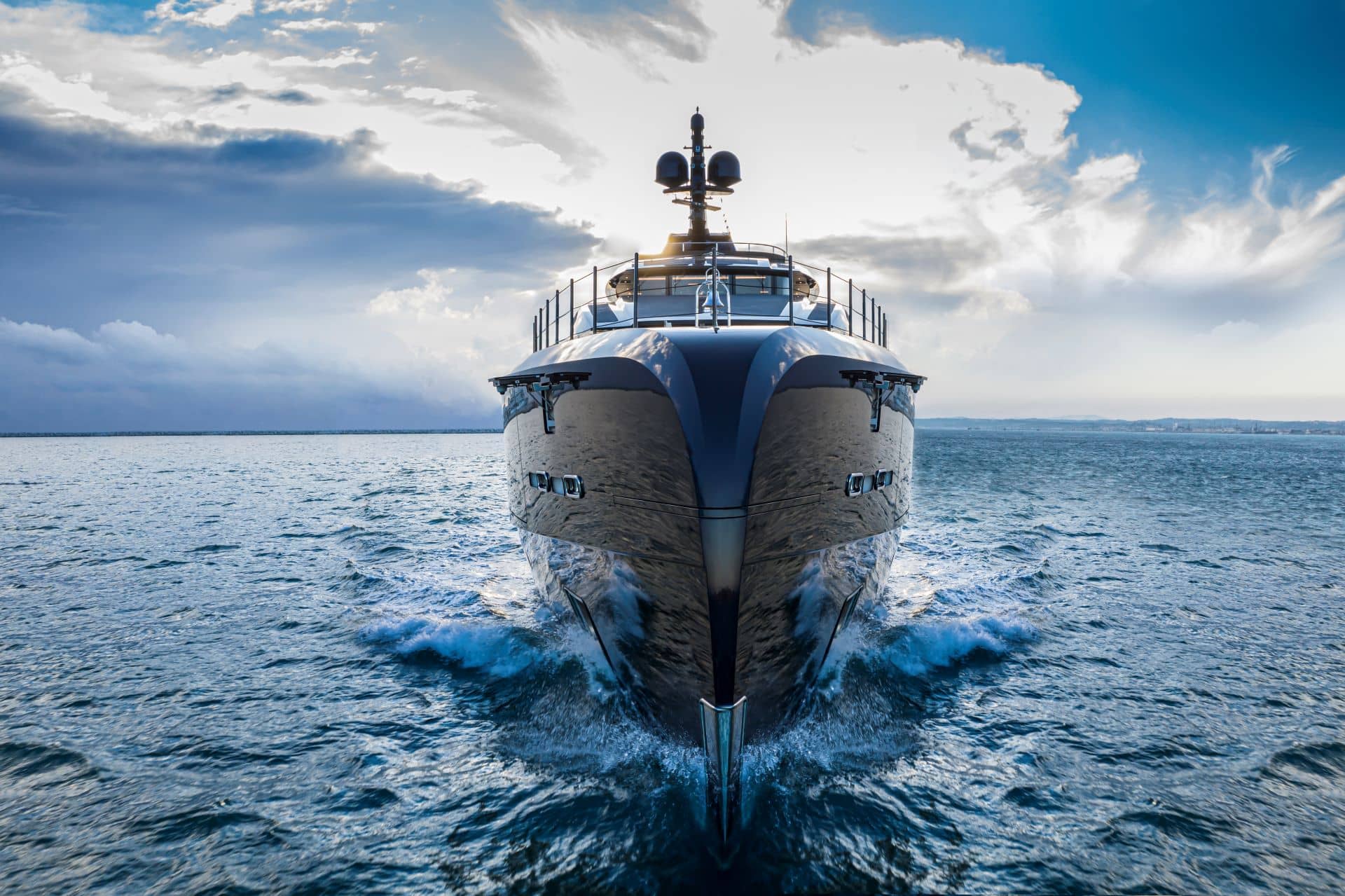 The expertise of the CRN, vast experience in building custom yachts and dedication to every detail, is clearly visible on the yacht Voice, about which the shipyard based in Ancona was happy to tell us something more
Voice has a special color applied, whose wish was it and how did you select the exact tone?
These dark, personalised, colours of the hull are a precise custom request: the Owner wanted to replicate the colours of one of his favourite cars. The CRN yacht project management dedicated team obtained fully-custom colours with a smokey quartz hull, silver sand superstructure and jet black details with a final striking result of changing colours depending on light reflections.
This yacht is the first yacht from CRN to be IMO Tier III compliant, what did this mean for project and design?
Voice obtained IMO Tier III compliancy in early 2020 and will be followed by the other fully custom CRN yachts currently under construction. IMO Tier III requirements have been very important for the prevention of air pollution; the compliancy with the regulatory standards guarantees a certified reduction of 70% in harmful emissions of nitrogen oxides (NOx) in engine exhaust gases. The project was coordinated and completed by CRN's technical office engineering team with the installation of the SCR (Selective Catalytic Reduction) system that works by injecting urea in the exhaust system reducing the formation of NOx.
The modifications for the SCR implementation have affected the design of the Engine Rooms; the goal was to install the catalyst without taking anything away from the Owner's living space. To achieve this result, the Engineering team focused on an extreme optimisation of the machinery layout and piping coordination (tubes, ducts, cable routing, etc.), which had to remain functional and accessible
As this yacht is built in Italy, did you use Italian craftmanship while shaping her?
Italian craftsmanship played a crucial role in the creation of Voice and of course in the realization of all our bespoke yachts. At CRN we are proud to have an in-house select group of elite craftspeople: master shipwrights, welders, engine mechanics, electricians, production mechanics, instrument mechanics, joiners, carpenters, cabinetmakers, painters, plasterers, marble-workers, upholsterers, decorators, who, with their know-how, are always primed to provide bespoke solutions.
CRN also boasts an in-house carpentry, Zago (company part of Ferretti Group) with over 110 years of history behind it and more than half a century of master cabinets makers know-how. These master craftspeople are a specialist all-Italian resource and their contribution brings a superlative level of minutely detailed customisation. CRN works also in collaboration with small and medium-sized enterprises. These excellent specialists and local Italian craftspeople underpin our long-term production continuity, working with total professionalism and flexibility.
Photos CRN & Giovanni Malgarini
Video CRN