Ferretti's largest model Ferretti Yachts 1000 boasts a modern and beautiful interior, a sporty silhouette and an ingenious layout that allows easy connection of all decks
The star was born last year, and we finally had a chance to meet her recently. The new Ferretti Yachts 1000, or as it is called 'mille' by her Italian builder, is the largest yacht in their product range, successor to the hugely popular Ferretti 960. The new model boasts the same high-end Italian design and craftsmanship. At a glance, the new 1000 has a sporty silhouette, with glass surfaces along the entire length of the hull giving it elegance and, in a way, deceiving the eye – hiding her true size.
New flagship from Ferretti Yachts
More glazing has also found its way astern, which is a detail currently popular among several brands. Right next to the transom, there is glass partition allowing unobstructed views over the stern when sitting in the cockpit.
Enourmous flybridge has outside dining room with very useful bar opposing it, large open space on the rear enjoys flawless connectivity with bow area
This model has kept the ever-popular aft longitudinal seat, hiding the entrance to the garage, large enough to accommodate a Williams Jet 445 tender and a jet ski. The aft cockpit is least innovative part of the yacht, stretching across 40 square meters and furnished with a square folding table, making it easily convertible into an outdoor dining area. Upon entering the salon, you can immediately recognize the interior design concept: soft, simple shapes, plenty of natural light seeping through large windows, carefully selected fabrics and materials that add warmth.
Ferretti 1000 interior
The new Ferretti Yachts 1000 is available in two interior styles, classic and modern, and the unit we took for a ride was a modern delight. The salon features Minotti furniture port (Alexander sofa and Tape armchair in velvet) and a huge television starboard, with a dining room on the bow this space has a modern glass table seating ten, and on each side of the dining room there are sliding doors leading to the deck. Bow on the main deck, the master cabin has a private dressing room and a large bathroom located in the front.
Below deck, there are four cabins, two with double and two with single berths which can be joined into double, so essentially four doubles. Two of those can be joined into another master suite, turning this model into a luxury yacht. All cabins are decorated in fine fabrics and materials, with plenty of walnut wood with grooves that add sophistication. In addition to these guest cabins, the new Ferretti 1000 has room for five crew, below deck in the bow.
The upper deck stretches over 55 square meters, with a large command post starboard, and with two seats port. Both this upper deck and its hard top were made with plenty of carbon fiber elements.
The outdoor dining area is protected by a hard cover with a moving central part and located starboard, while a bar with four bar stools is port. Aft on the upper deck, there is room for free-standing furniture, in this case Piper sofas by Roda.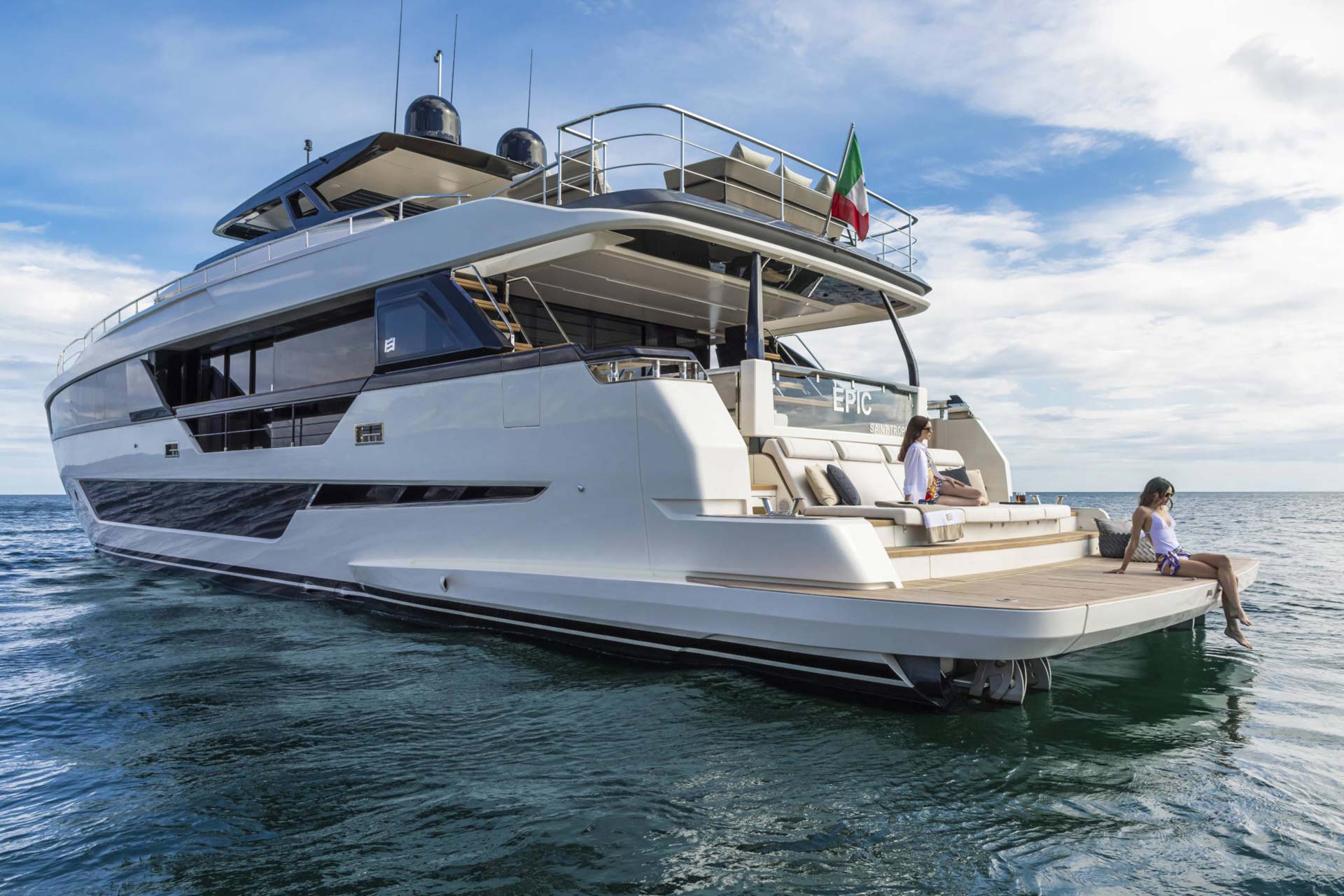 The most interesting design element on the new model is exemplary communication of the upper deck with the bow. Passages on each side allows easy access to the sun deck on the bow, in front of the windshield, as well as to the additional large seat on the bow itself which is divided in two parts by two teak tables.
This ingenious solution allows a very enjoyble lifestyle aboard, as well as complete privacy in marinas.
Ferrett 1000 speed
Ferretti Yachts 1000 is powered by two MTU 16V 2000 M96L engines allowing 24 knots of cruising speed and 28 knots of top speed. The new mille is already on her way to becoming one of the most successful models in the Ferretti lineup and we can see her maintaining that spot for years to come.
Text Darko Šupuk
Photos & video Ferretti Yachts
YACHT SUGGESTION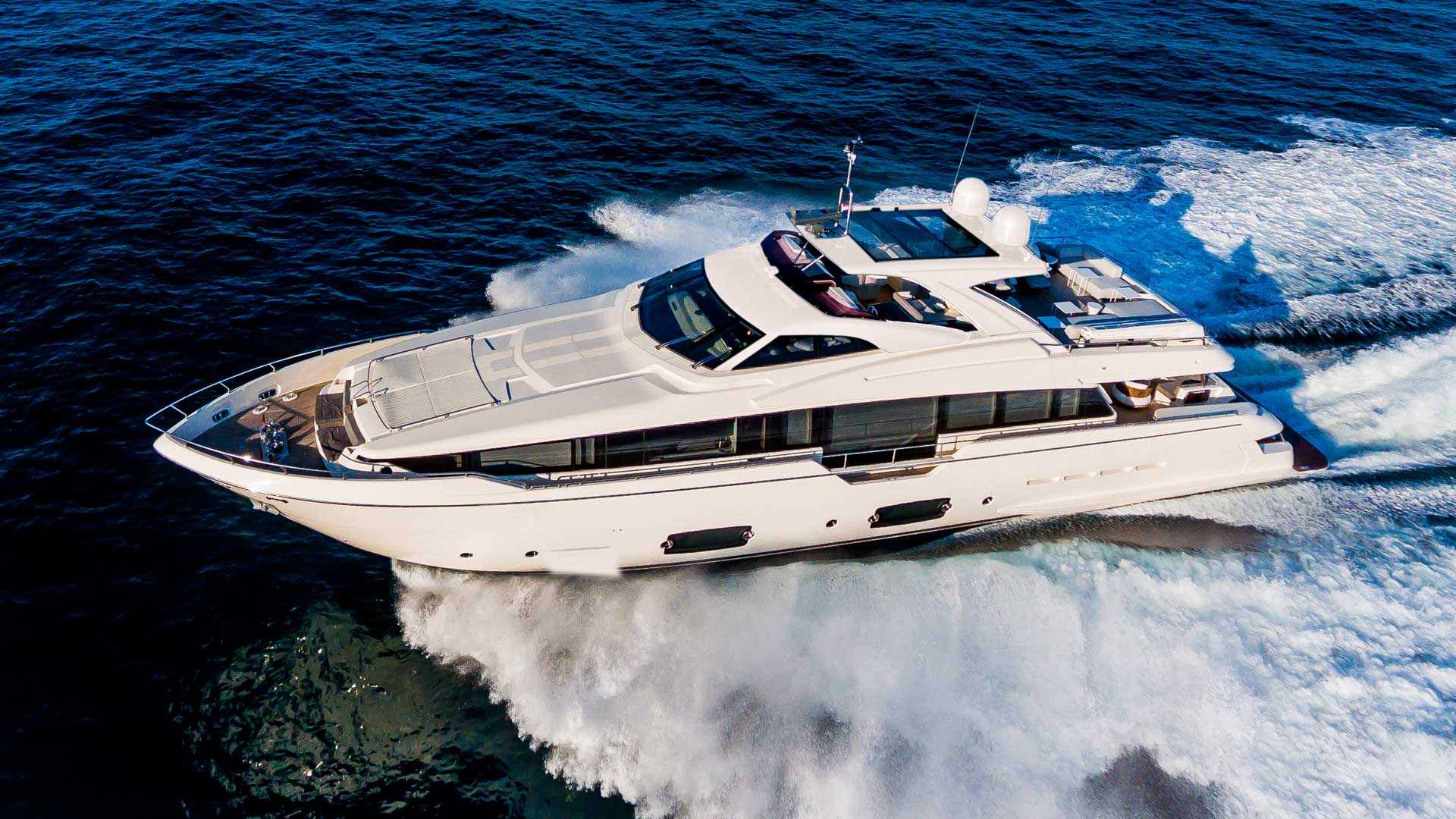 This Ferretti 960 model with her sophisticated, modern spacious interior, dining area with breathtaking panoramic views and amazing sunbathing platform is calling you to spend unforgettable experience on the sea.