Restaurants on the Kornati islands offer sailors a unique experience of local history, tradition and a modern approach to gastronomy, and sailing through the beautiful labyrinth of the Kornati is not complete without trying local delicacies
How many times have you felt now is the time for something special? It's enough to sail out and yield to the gastronomical characteristics of your hosts on our most beautiful Kornati islands, one of the best charter destinations in Croatia.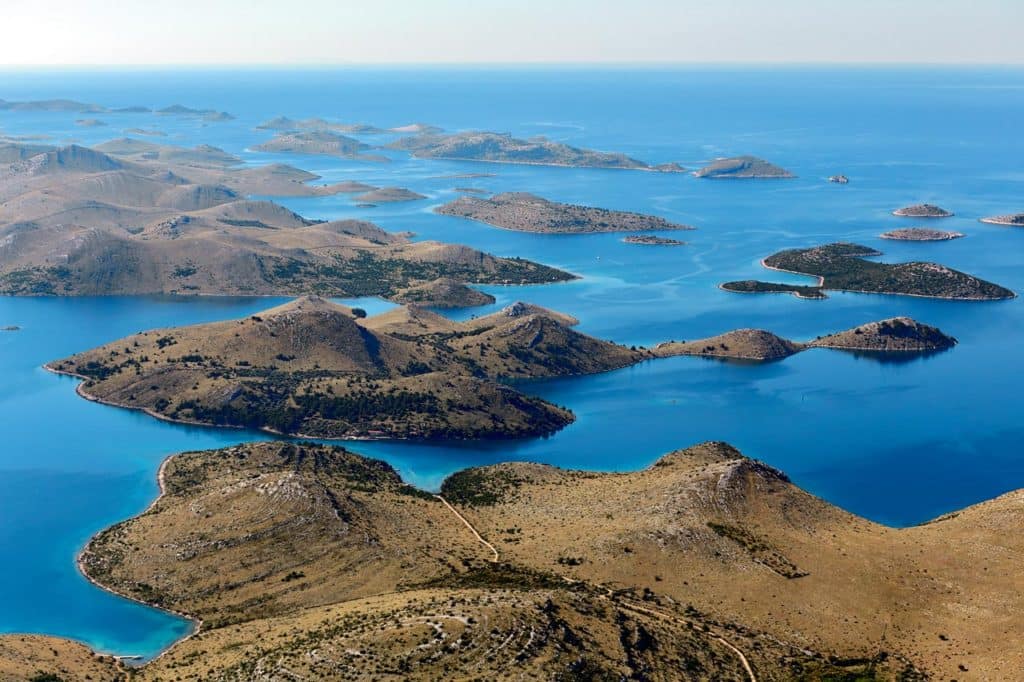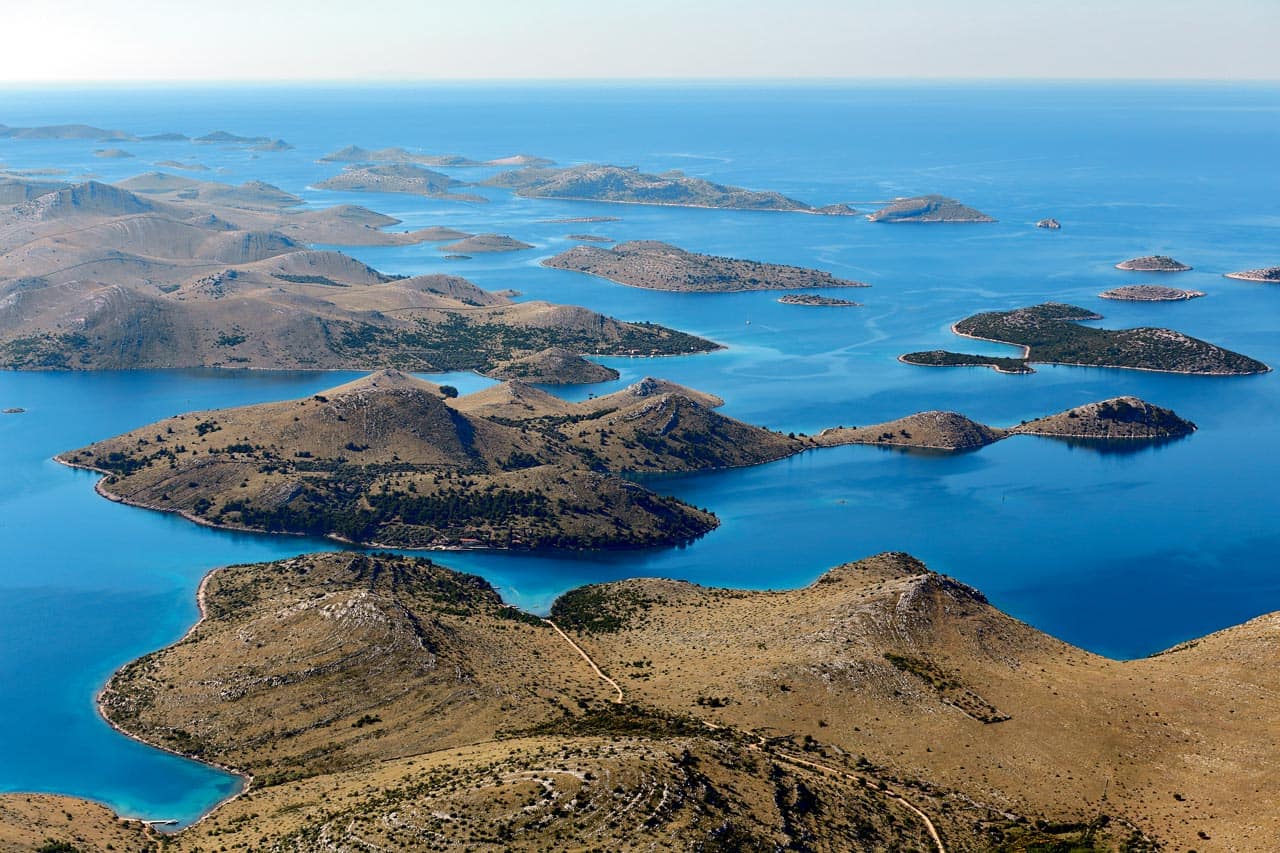 Seven days in yachting heaven. Every day, kitchen doors will open and present you with a whole new world, offer an understanding of life and its philosophy. At the same time, a marvellous, genuinely Mediterranean world that will captivate and win you over with the experienced pleasures. Quite the fireworks to behold, to taste and to feel… Seven days — seven restaurants, each with their own story in a magical atmosphere.
Konoba Opat, Kornati Islands
Sailing from Šibenik to the Kornati takes you to the Opat Bay and the Opat tavern where you are greeted with a big smile and positive energy. Ante Božikov, also known as Dolphin, is the soul of the konoba and an incredibly brave and creative head chef who is discovering the magic of cooking in his creek. Lucidity is yet another of his traits so you can definitely expect a big surprise for your palate.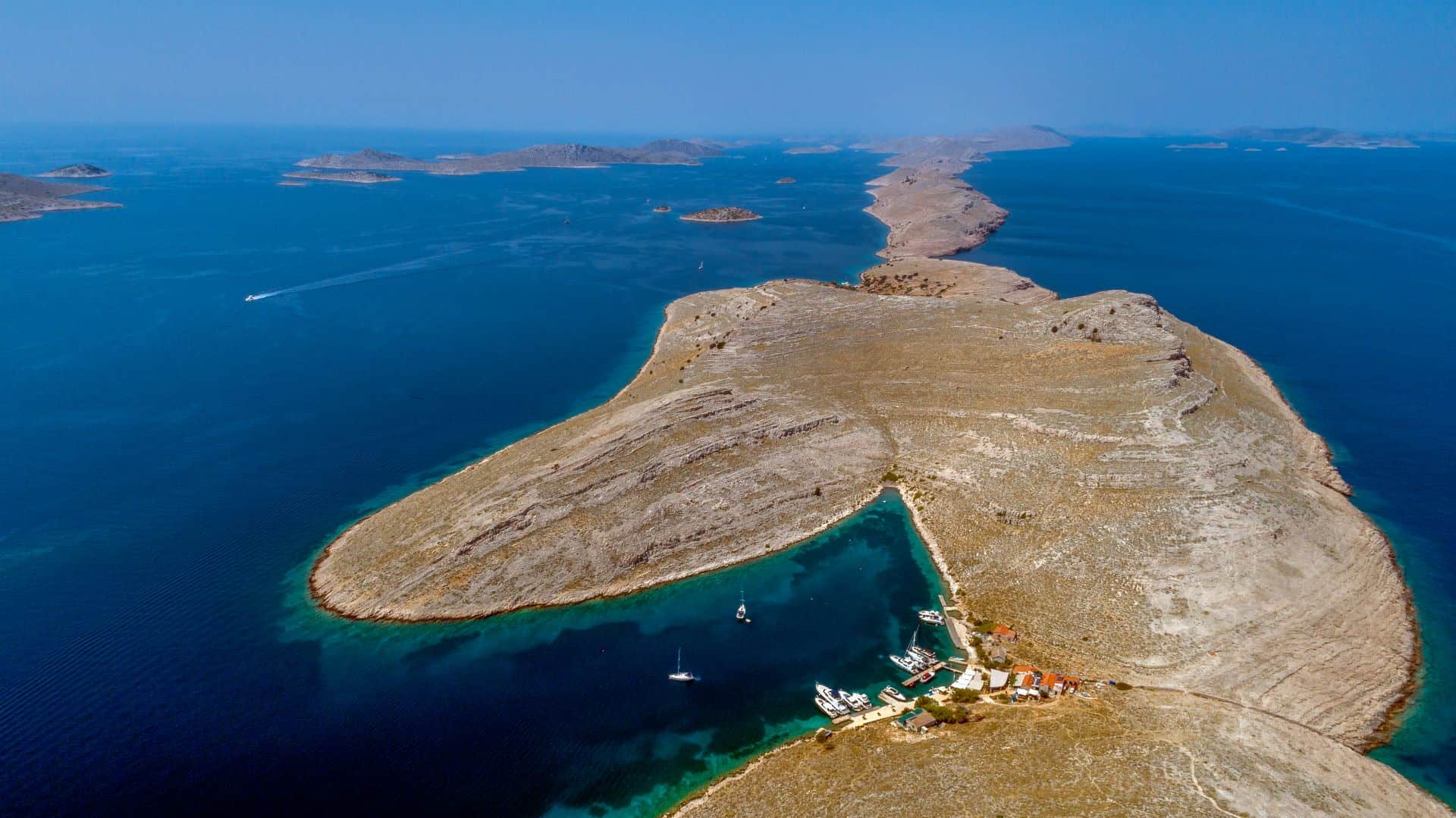 'After a whole day of cruising and bathing around the Kornati come the people who like to eat well. They look for big bits of fish and lobster, like lobster risotto with saffron or grilled lobster with hollandaise sauce prepared with olive oil. We cook a lot of broths from redfish, dusky grouper, and turbots à la Kornati. It's specific because it's made 'cold' by adding ingredients in the bowl, pouring oil over them and stirring.
YACHT SUGGESTION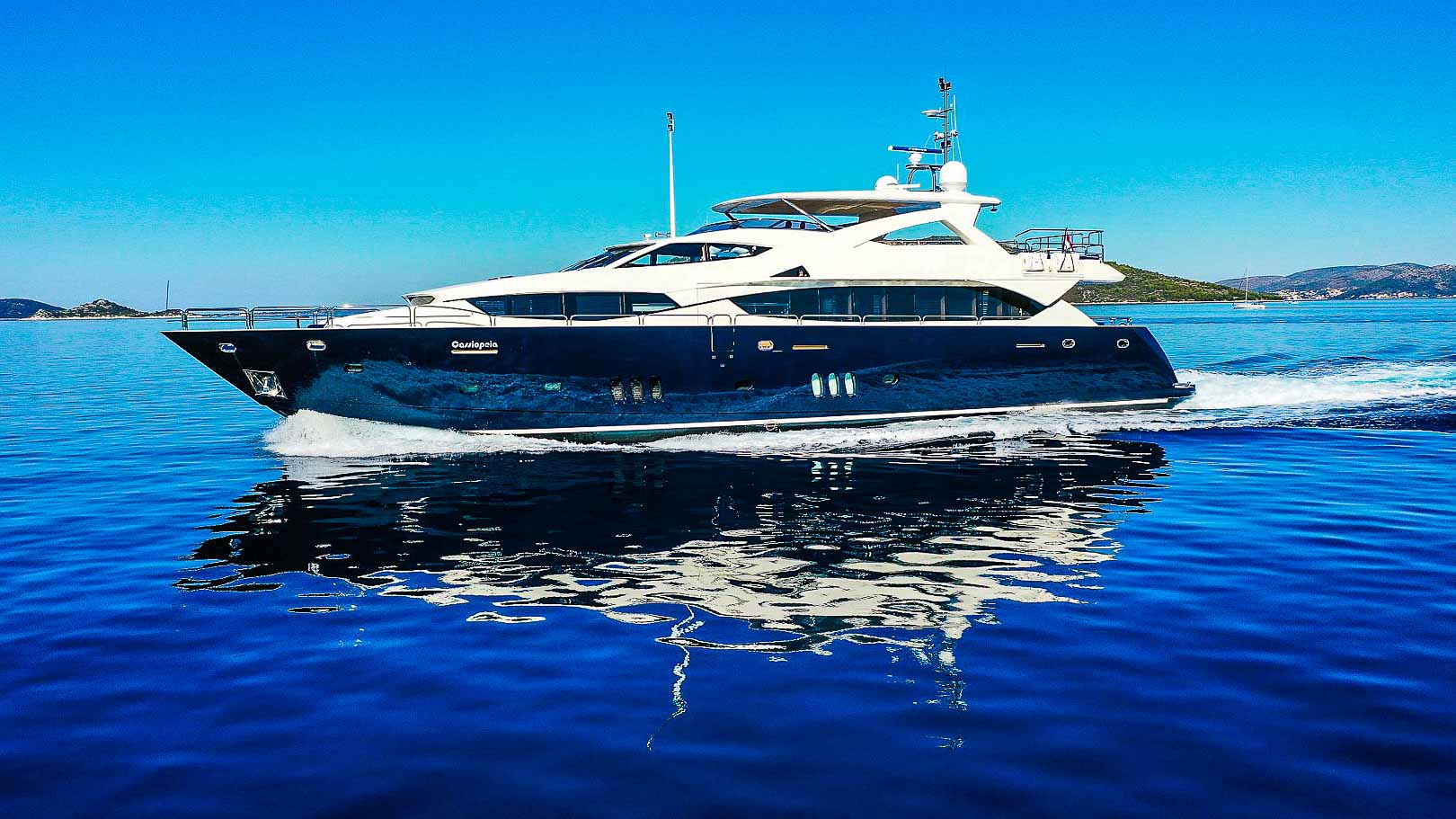 Designed and built by Sunseeker, Cassiopeia was delivered in 2009 and lightly refitted before summer 2020.
It is most important to guess the amount of water needed since more can't be added during cooking. That's how the fishermen cooked and I find this way the best. We receive home-made polenta from a mill in Imotski, that we cook for two–three hours and then it becomes a real meal', Ante Božikov explains.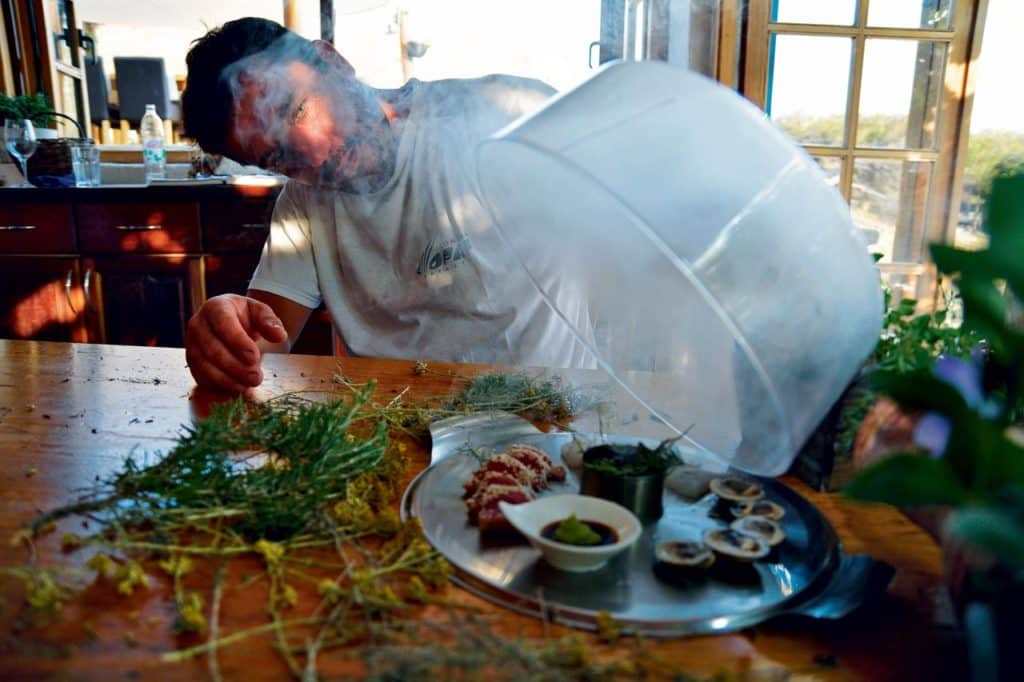 Konoba Piccolo, Smokvica Vela, Kornati Islands
Docking in front of the Piccolo tavern, you've arrived at the place where the traditional Kornati cuisine is preserved. Rajka Turčinov and her husband try to serve only the freshest of ingredients, prepared so that you feel like you're eating grandma's food. 'We've broadened the menu with cold appetisers, chickpea paste, tagliatelle, Adriatic shrimps in white sauce, vegetable soup and grilled tuna steak to satisfy our guests' hearty appetite', Rajka says.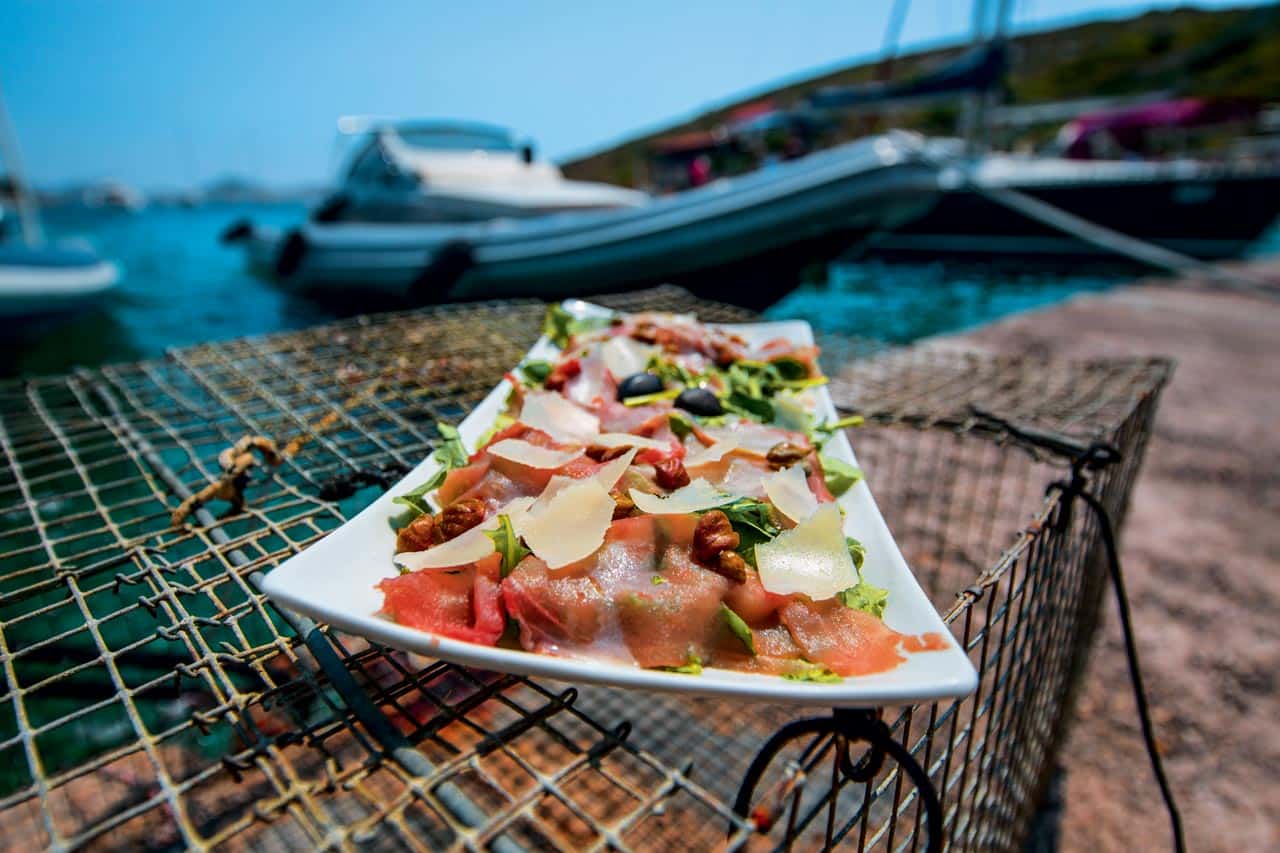 Tossed fish salad, octopus salad, salty pilchards, salty anchovies, marinated anchovies, marinated shrimp salad, tuna paste, Atlantic bonito salad, tuna carpaccio, black cuttlefish polenta, Adriatic shrimp risotto, stewed savoury warty venus and fish are just a part of the rich daily menu. Don't leave Picollo without trying the lobster or spiny lobster with pasta.
Lobster, yellow onions, garlic, salt, pepper, tomatoes… This is the second time we're trying to get our hands on the recipes, but no dice. Rajka guards them proudly. What's then left is to try this unforgettable magic for yourselves out and to remember the taste for a long, long time.
Konoba Žakan, Ravni Žakan, Kornati Islands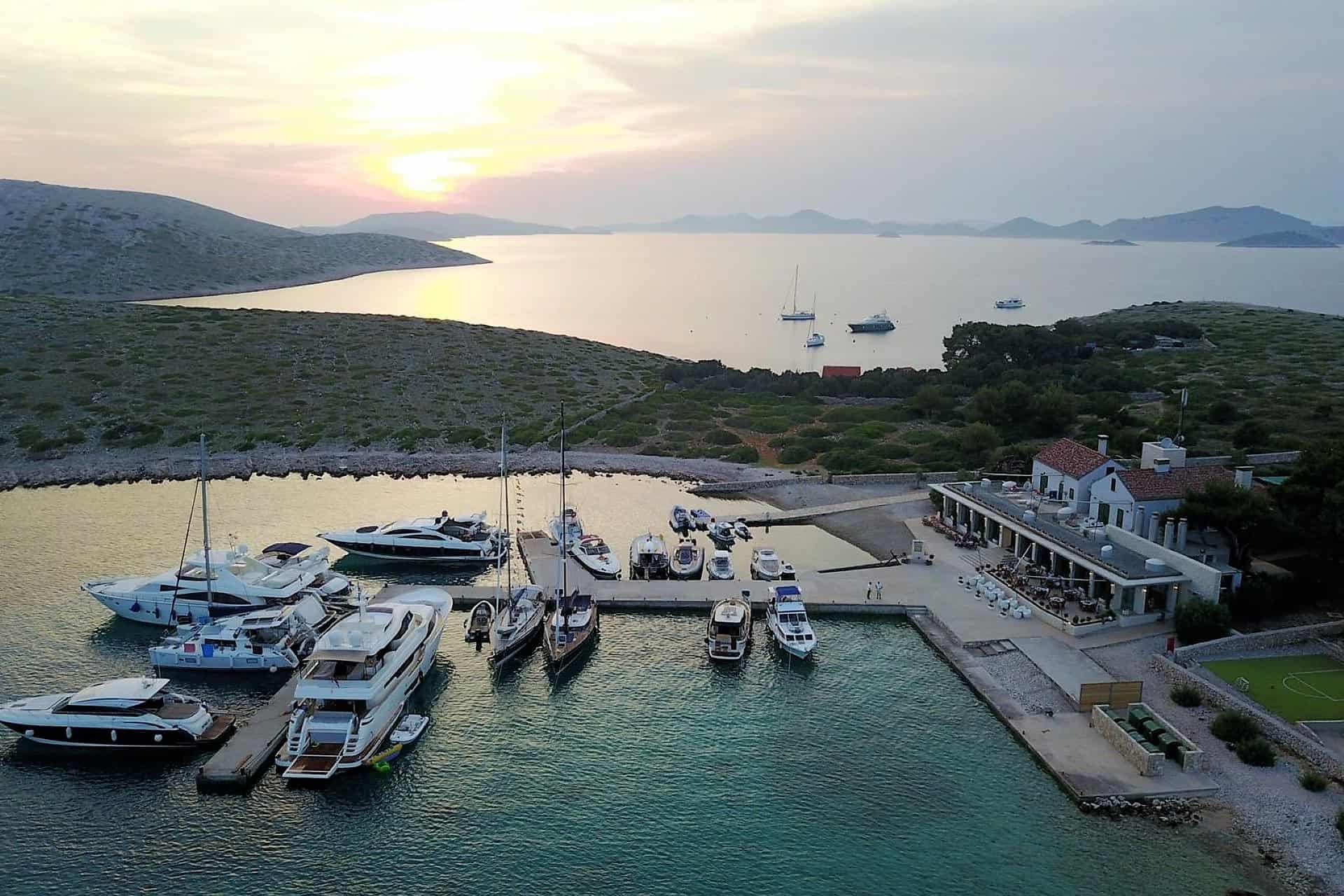 To dock in Žakan means to arrive at a place where everything is completely different, new, but still completely immersed in the 21st century. The top-notch approach applies for all segments of this tavern, since, when you enter it, you can't believe that you're on an island and in the Kornati, except when you sit down and take a look at your surroundings.
The gastronomical approach is also modern, but the with atmosphere matching its location. 'If you are first time visiting Žakan, it's best to relax and try something from the taster menu that comes in multiple sequences according to the strength of taste, with a choice of excellent wines.
We kick off with John Dory carpaccio and raw scampi, shrimp salad, marinated scampi, risotto with saffron, poached gilt-head bream filets on black polenta and olive oil emulsion and end with anglerfish in lobster sauce with one of many refreshing desserts', explains Nikša Bakulić, the head chef and manager.
The John Dory marinated in ginger and lime caught our eye. It's a really refreshing small bite, but of rich taste. The wide choice of fish and herbs allows for 'experimentation' in the kitchen and the lobster salad really impressed us. Green salad, cherry tomatoes, arugula, capers, lettuce, yellow onions, all from the garden next to the tavern, in addition to olive oil, vinegar and lobster. It's a really refreshing meal of juicy and rich flavour that is an equal to the king of crustaceans — lobster.
Konoba Levrnaka, Levrnaka, Kornati Islands
Entering this turquoise bay is an event in itself. The smell of the sea and the herbs on the island can only wet your appetite for various delicacies prepared traditionally, yet presented modernly and attractively. The flavours of food are authentic and you can feel the respect given to the ingredients, the thorough preparation and, of course, a wide selection of meals.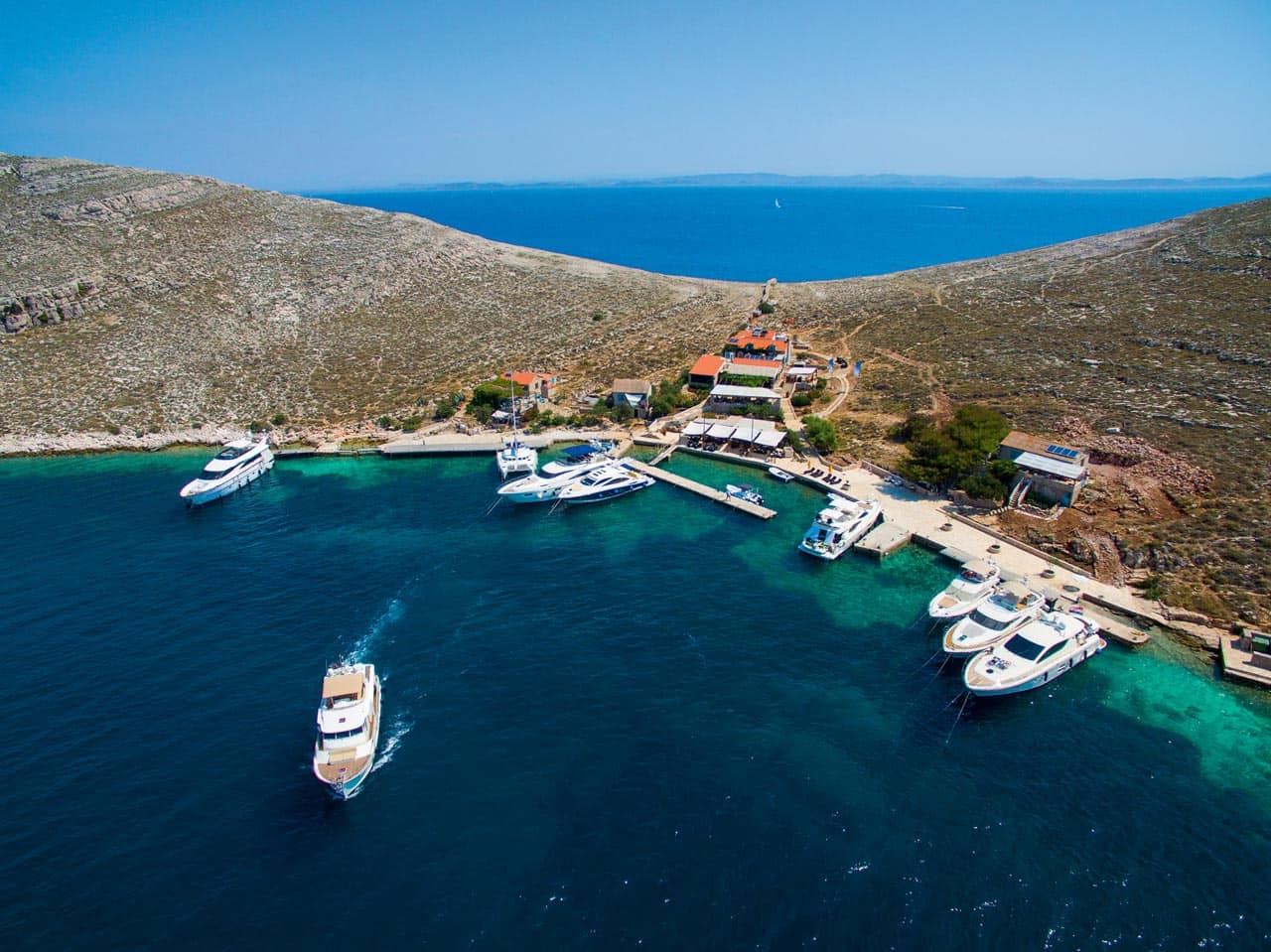 Roasted lamb with potatoes and roasted squid and octopuses are meals which need the most time to prepare, but there is no lack of cold appetisers, broths, and grilled fresh fish.
Danijel Ježina, the son of the tavern's owner, offered us octopus salad, shrimp salad, chickpea and anchovy paste and marinated tuna with onions and cherries. Most surprising was the chickpea and anchovy paste. It's a very simple dish but somehow neglected in the company of other dishes, and its taste reminiscent of a bond between earth and sea.
We'd also recommend the seafood risotto. Squid, warty venus, Mediterranean mussel, and shrimp combined with home-made olive oil and rice have shown us the strength of fresh ingredients and well cooked risotto. An addition to everything, the terrace is located 'in the sea' with a view of the barques rocking gently in the rhythm of waves.
Konoba Ante, Vrulje, Kornati Islands
It's picturesque and one of the oldest places in Vrulje, on the island of Kornat, which you can reach by climbing to the top of the hill on a path next to a stone wall. The basic offer of the tavern is fish caught around the island of Kornat and Kali with some interesting dishes such as beefsteak and rumpsteak for those wanting a good piece of meat. The tavern is lead by Jure Jerat, Ante's son, who has introduced changes visible in every detail.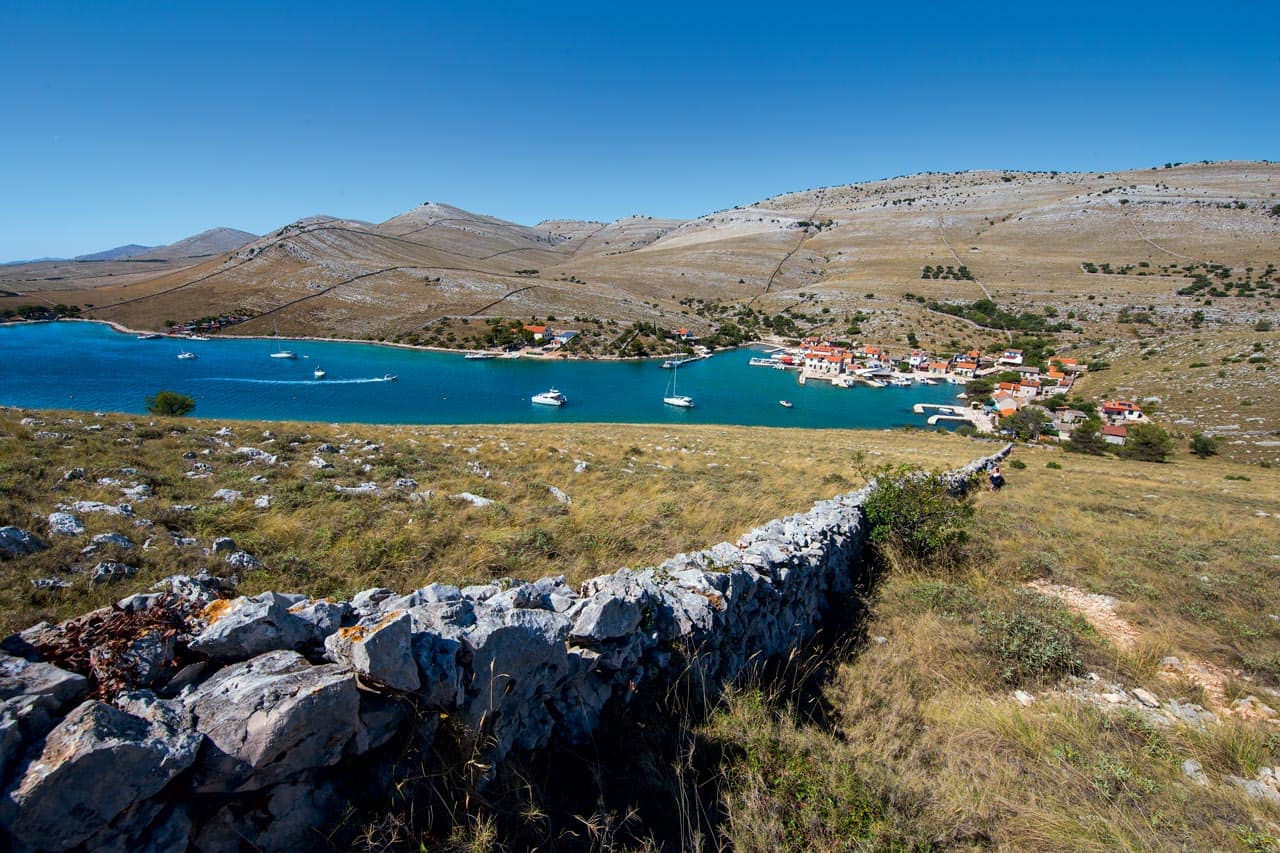 Jure suggests trying something from the daily specials menu. Scampi, Adriatic squid, dentex, chard, potatoes, and salad. Professionally grilled on embers from local trees and covered with olive oil. Sounds really simple, but when the dish arrived at the table, at the terrace, on the sea, it suddenly turned into a feast and the taste was out of this world.
The scampi, fish, and squid… really tasty and of strong aroma. They say that the fish first swims in the sea, then in the oil and then for the last time in the wine that will relax you into to watching the sunset in Vrulje. Our recommendation here is the grilled Adriatic squid covered with olive oil, chard, and baked potatoes. This dish deserves five stars.
Restaurant Fešta, Žut, Kornati Islands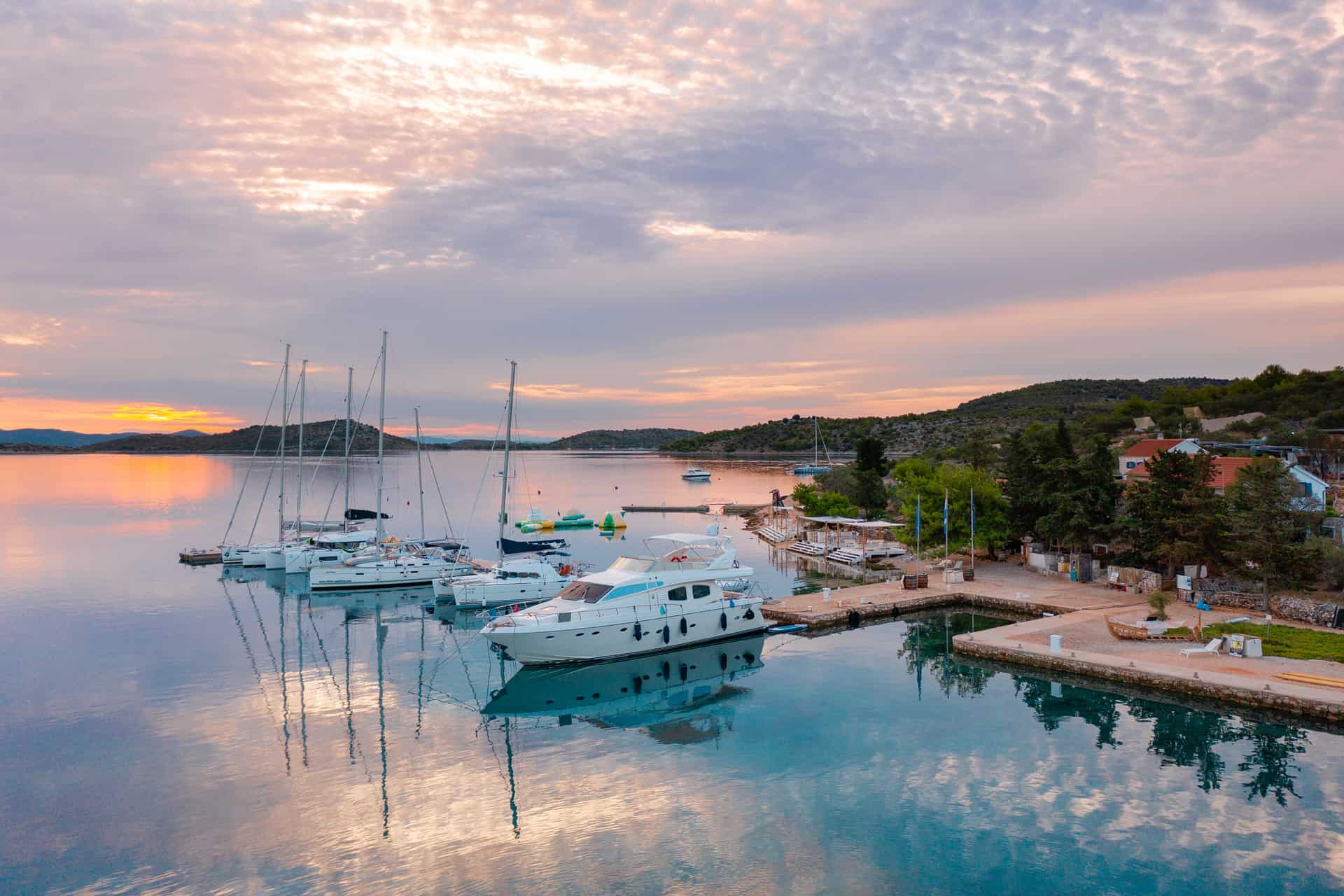 Sailing into the Golubovac Bay on the island of Žut lets you immediately know that you're entering a completely different world. The emerald-coloured sea and its reflections dominate the scenery and seem to announce the restaurant's specific nature. The restaurant is a mixture of traditional and modern values, in architecture as well as in gastronomy.
It's astonishing how much attention was devoted to the restaurant's decor, all for the guest to feel superb. The stone floor on which you are walking was hauled manually from a nearby hill by hard working people — more than 20 tonnes were transported.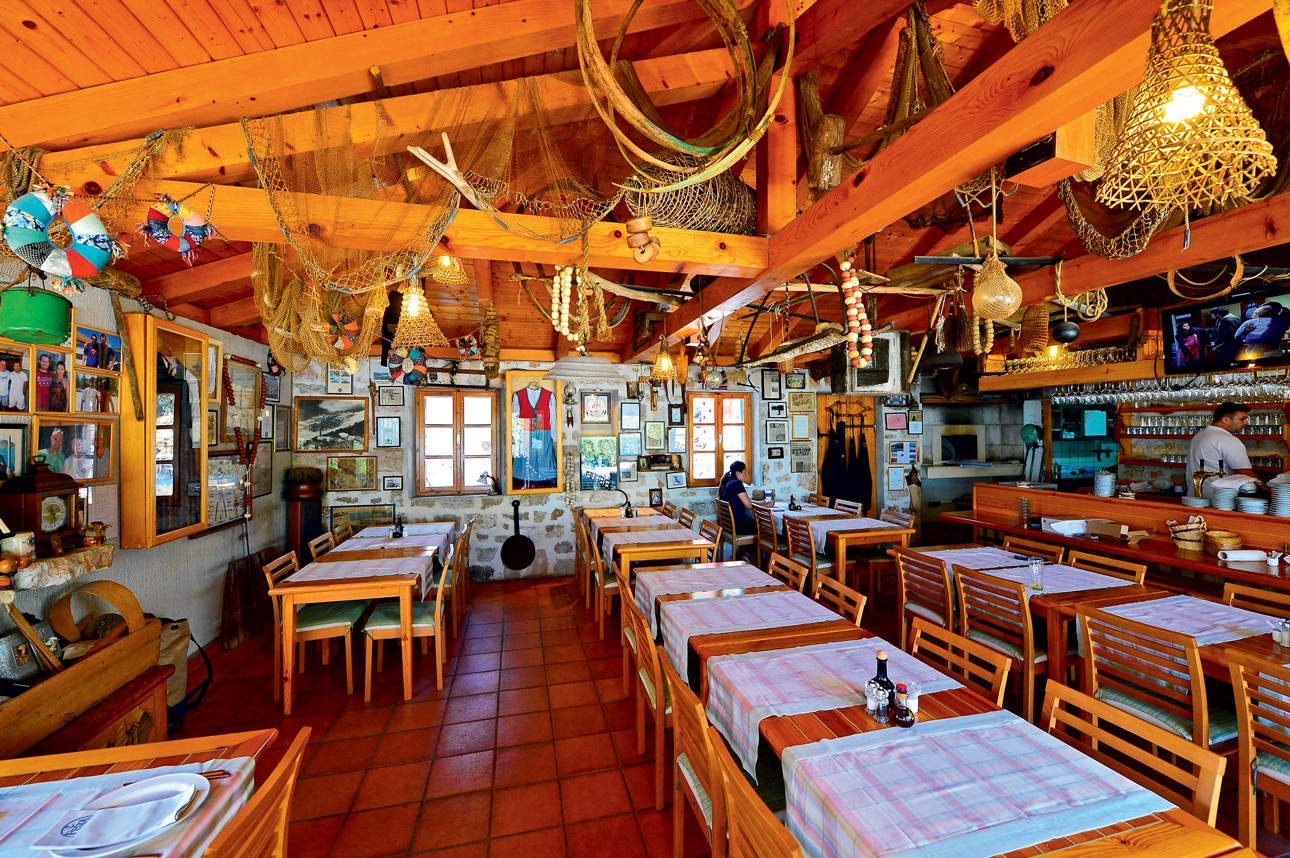 A stone box for keeping oils was turned into an exhibition space, their wine cellar has around 500 wine labels, and their collection of drinks is international. Also included are a massage parlour, cocktail bar, water park for children, biological water treatment… But you can disregard all of these once you have a taste of Fešta.
Krešimir Mudronja, the restaurant's owner, chose a difficult path to satisfy his guests' needs. They harvest their own olives and make their own olive oil, catch their anchovies, prepare lobster oil, lavender caviar, apricot jam, home-made vinegar, honey and so on.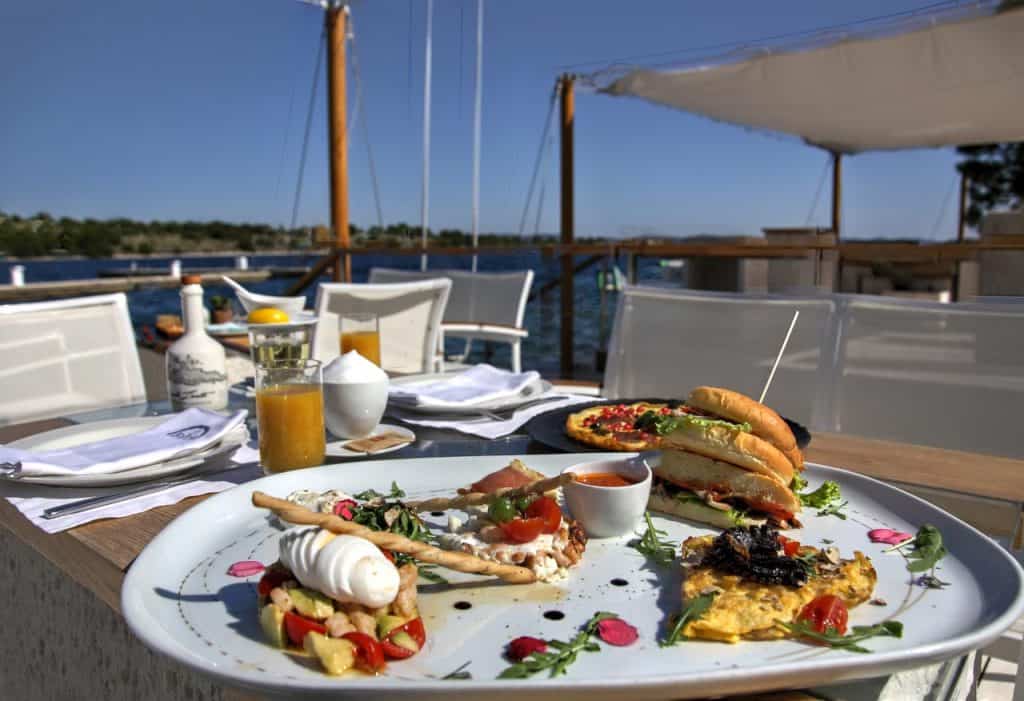 A huge plate of all the possible cold appetisers will satisfy even the pickiest of gourmands. They make their own pasta, and if you combine it with the lobster, you won't regret it. All the caught fish is grilled en-mass and the dishes from the oven, like the broth with curd in a clay pot, are a nod to the tradition and living monument to the culture reflected in Fešta. 'The food approach is firstly basic, elementary, simple and traditional and then modern with sophisticated and demanding cooking techniques, pâtisserie making, and cocktail-making at the lounge bar.
We have to offer the guest something elite because such is our restaurant: flawless. In each and every one of its segments Fešta reflects its tradition and climate. It possesses the genetic code of this climate with excellent gastronomy. That's what makes our restaurant different from all the others', Krešimir says.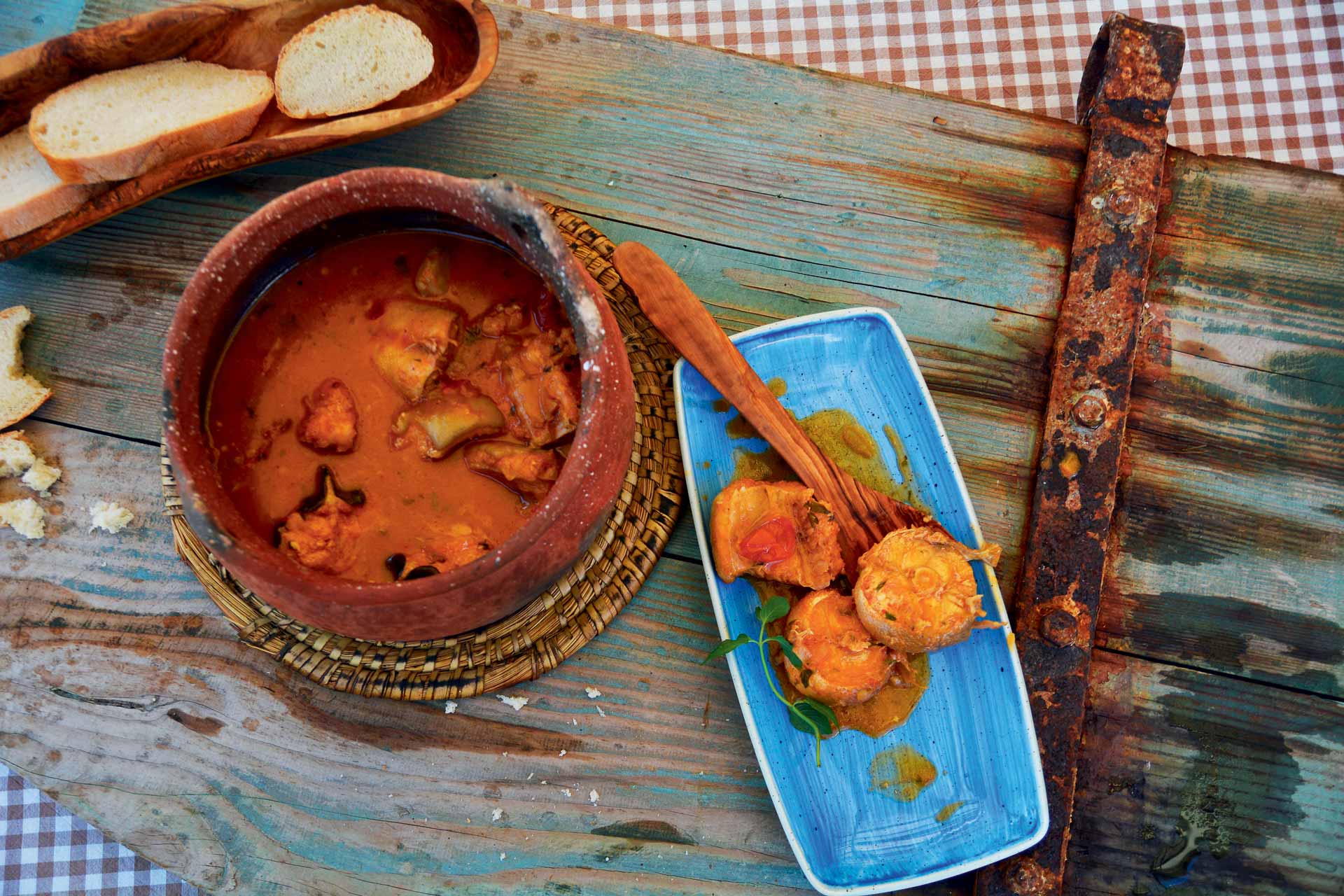 It's not unusual that the restaurant has returning guests who have recognised the value of this place, the incredible labour and its owner's investment in creating an amazing restaurant in the difficult operating conditions on an isolated island.
Kornati Yacht Charter
In order to explore Kornati Islands at its best, we provide free counseling regarding chartering and activities during your charter holidays. The team of experts that brings together Yachts Croatia is also at your service when creating your perfect charter experience in Croatia.
YACHT SUGGESTION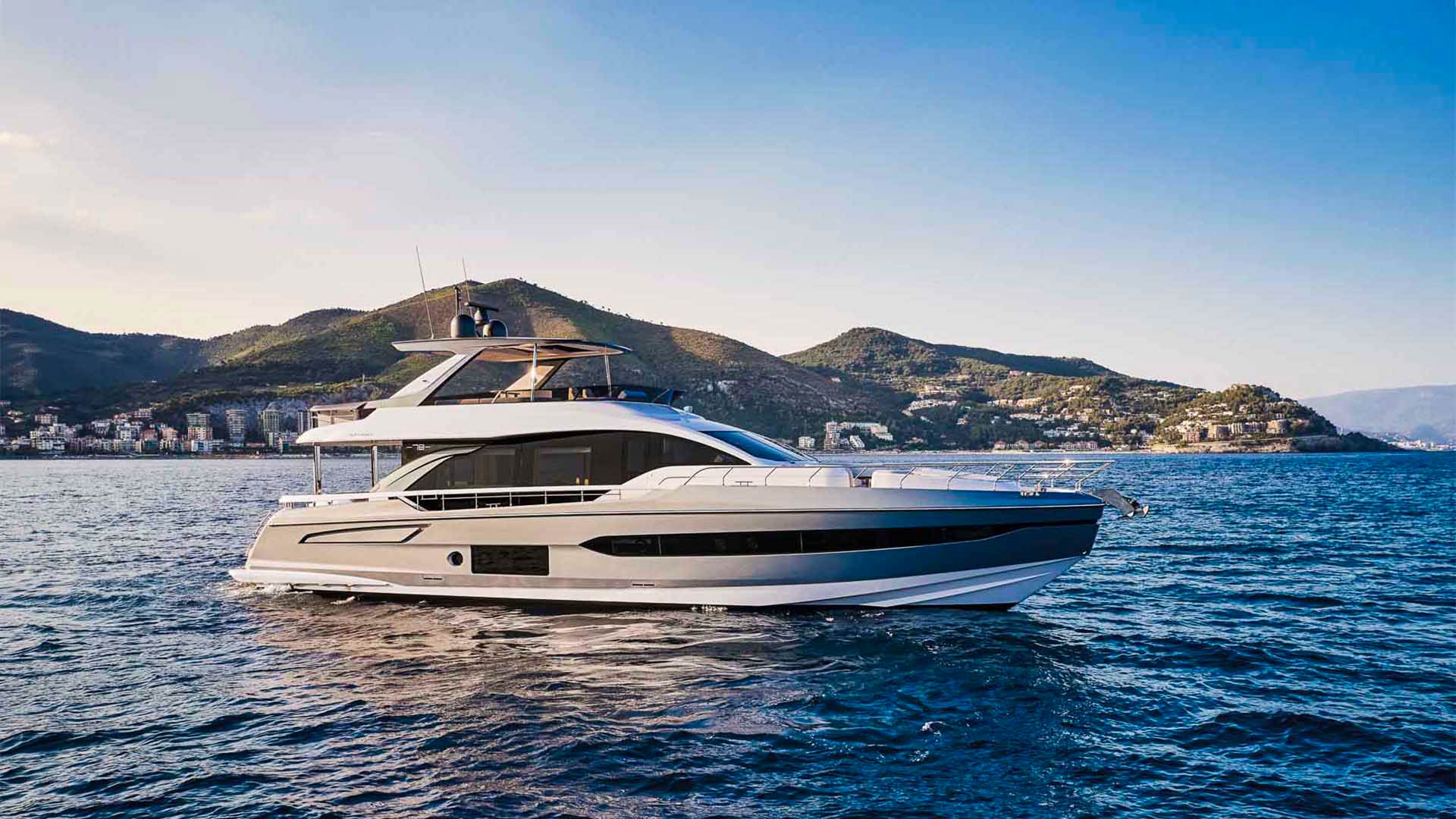 Azimut 78 Flybridge combines the stylistic features of the nautical and automotive industries, without limiting functionality and spaciousness, which is the greatest art in nautical design.
When choosing a yacht, you first need to decide whether you want to feel the meditative power of silence on board sailing boat and catamaran, or whether you appreciate speed and comfort, with interest to rent a motorboat or luxury yacht. After that, leave all the 'details' to us. We will pay special attention to all your needs, to select the boat up to your wishes, to feel safe and comfortable with the crew that will make your time special, organize provisioning and prepare the route that will leave you breathless!
Upon request, our team will visit the yacht (s) you are interested in, with special care to your wishes – and make sure that we 'pamper' you with beauty while sailing!
Photos Žakan, Boris Kačan, Mario Jelavić & Fešta/Impala Studio