An extensive refit project managed by Capax restored her true glory after the fire incident on the bridge deck
The 64-meter superyacht Bash, originally Jonikal, later Sokar, claimed her fame with iconic photos of Princess Diana on the yacht's passarelle from August 1997 in Portofino. Fast forward 24 years, Bash was towed from the port of Rijeka to Adria Docks Shipyard in Trogir, Croatia in December 2021.
An extensive refurbishment project followed to restore her true glory after the fire incident on the bridge deck. Capax, a marine engineering and management company from Šibenik, Croatia was in charge of managing and leading the entire refit, including the new bridge deck design performed alongside the Slovenian company Bobic Yacht Interiors, hired for the production and installation of the new interior layout.
Stripping her down wasn't without surprises, leading to the installation of entirely new penetrations of a bulkhead and deck, and a new aluminium bulkhead on the wheelhouse to maintain the integrity of the fire divisions with current ABS rules.
'We laid the new wiring from the wheelhouse to other parts of the yacht, dismantling the entire yacht interior and exterior for access to cable trays. The entire plumbing system was brought up to modern standards. A completely new air-conditioning system was fitted throughout the yacht. Dutch company Yacht Living Solution integrated a new AV/IT system on board. The bridge deck and sun deck areas are painted in white and light grey AWL Grip. Other parts of the yacht were also considerably improved such as installation of integrated Wärtsilä Navigation and Control System, Böning monitoring system fitting, the Techno leader power management system, NAVIS steering system with DP and Autopilot, upgrade of existing SKF stabilisers with ZeroSpeed, Tilse windows, new deck jacuzzi equipment, and the Minimax sprinkler system', Teo Petričević said, the CEO of Capax Ltd.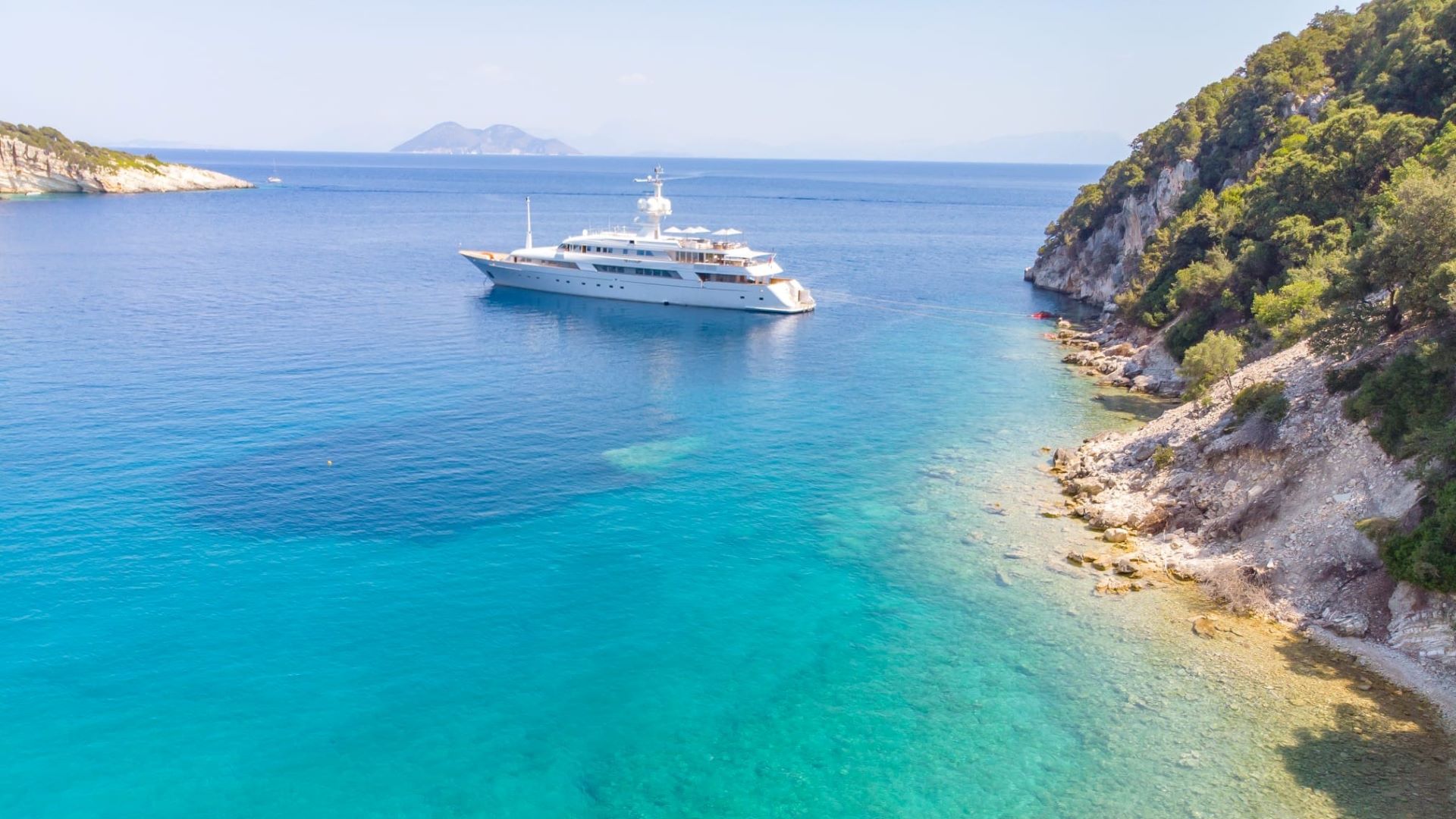 Finally, this May, a year, and a half later, the refit of Bash was complete, and it is now a vastly improved yacht with a significantly higher charter value. And she can look forward to many more years of service. Not bad for a 33-year-old girl.
'Getting to this point took a lot of hard work and required a lot of skill, but it was worth the effort. Our warmest thanks go to all those who contributed to the refit of the motor yacht Bash', concluded Petričević.
Originally this 64-meter yacht was designed by naval architect Vincenzo Ruggiero and at its launch in 1990 it showcased as one of the most luxurious yachts. With the spacious interior accommodating up to 12 guests in 6 staterooms, Bash offers the ultimate luxury in a master suite with two bathrooms, a walk-in wardrobe, a private lounge, and office, and five double staterooms, all complete with en-suite bathrooms.
Standout interior features include a large main saloon with a dining room, a bar, a hair dress room with a massage area, and gym area. Her decks feature two al fresco dining areas on both the bridge deck and the sun deck, various lounge seating areas, a jacuzzi, and a swim platform to her stern.
Performance-wise, Bash is built with a steel hull and aluminium superstructure and powered by Wärtsilä Nohab 12V25 engines giving her top speeds of 20 knots and a cruising speed of 13 knots. M/Y Bash has a range of 6900 nautical miles at 11 knots.
Bash is currently owned by Bassim Haidar, an entrepreneur and founder of Channel IT and Channel VAS.
Photos Josip Barešić & Robert Matić
No tags for this post.