The Marex 330 is designed as a smaller version of the popular Marex 375 and to be the next edition of the former Marex Scandinavia. A fully planing boat. The hull and deck is completely new.


To meet different markets and various needs, the boat can be delivered with either a single or double engines, both shafts or sterndrives. The cruising speed will be from 23 til 30 knots and top speed from 28 to 38 depending on the engine power chosen. As several marinas and lakes has restrictions on size it can be delivered with either a long or a short bathing platform.
The previous customers has wished for a closed boat with a generous sitting group inside as well as a large sitting group outside. This makes the boat suitable for many friends daycruising. A pilot sliding door at the helm has also been requested and build in for easy access out. Mooring and handling is made easier.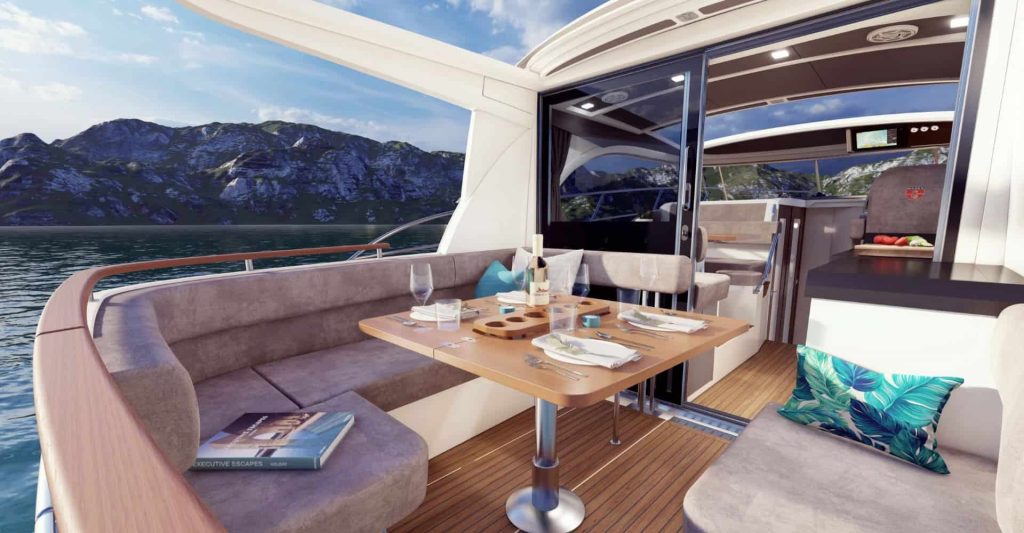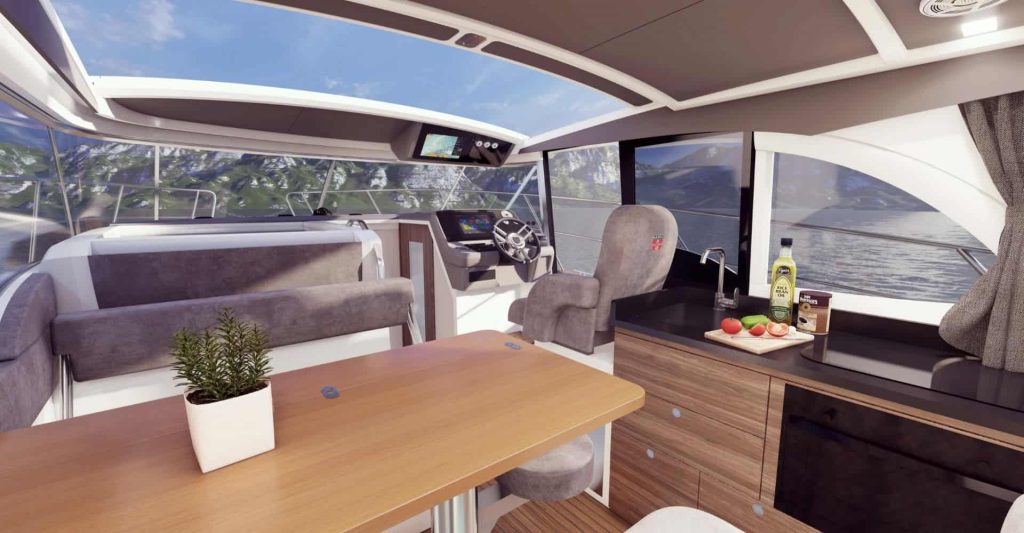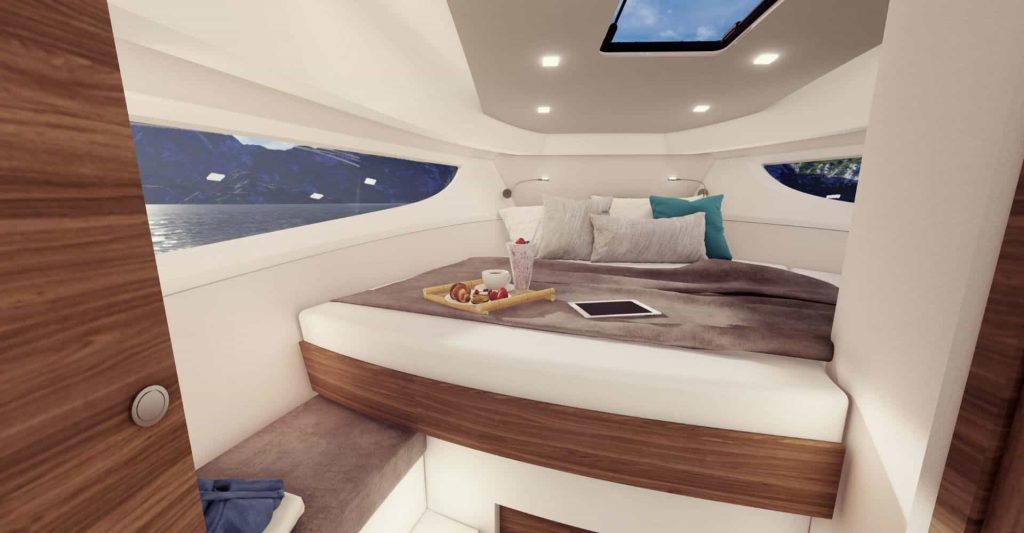 Fully enclosed the Marex 330 is warm and makes the season longer in the north and can easily be cooled with a large airconditioner in warmer climates. The boat has a soft roof in the aft and a front hardtop. The canopy solution is the absolute quickest on the market, it is a sliding roof system with the side curtains stored in the targa arch. Just a minute to open or to close. From a completely closed to a fully open boat. That combination gives the best of both worlds.
A double dashboard fullfil todays need for all kinds of instrumentation. Ist also integrated for Ipad and similars. Todays efficient solar panels can optionally be mounted on the roof with up to 900 watts charging power. Enough to keep the boat without shore connection over a long period of time even with the fridge and freezer permantently on. The roof come with an optional mounting rack for the adventurous. A place for bicycles as well as paddleboards or cayacks. Naturally the front deck sun bed can be thrown to the water as a floating patform in the water, for kids and and parents to play on…Their own private beach.
The copilot seat flips over, so that the passengers can enjoy sitting in the driving direction, enjoying the trip in the saloon. The cooking facilities is made large, even for the most passionate gourmets, and the aft part can in addition be equipped with a large grill.

The aft sitting group can be delivered with many options like a extra fridge, icemakers, extra sitting bench, storage or just open space. The need for storage is well taken care of all over the boat.
Below deck: by placing the shower in the centre of the boat it has been possible to make a highly practical bathroom. This provides generous space, standing height and it also gives way for a huge front master bed in the front cabin. Even the mid cabin has a lot of space for two to sleep and and live comfortably.
Text Tea Bikić
Photos & video Marex