A RIB or a fast motor yacht? Pirelli Pzero 1100 Cabin brings the two together in a sharply designed and fast one-cabin inboard engine boat
The name Pirelli immediately brings to mind car and motorcycle tires, but for the last ten years to some of us Pirelli has been the synonym for fast, large, sturdy rigid-hulled inflatable boats, or RIBs. Pirelli is not the sole maker of boats marketed under their name, as they are partnered with Italian boat builder Technorib, a veteran of the segment with over fifty years of experience.
Pirelli 1100 Cabin is a full-blooded day cruiser
Earlier this June we've been given an opportunity to test one of their new models, the impressive Pirelli PZero 1100 Cabin. Just one look at the specifications is enough to realize the 1100 Cabin is not simple rigid-hulled boat, but a full-blooded day cruiser with central console and one small cabin. Ten meters long, powered by inboard engines, the Pirelli 1100 Cabin looks a lot like a classic RIB, but larger.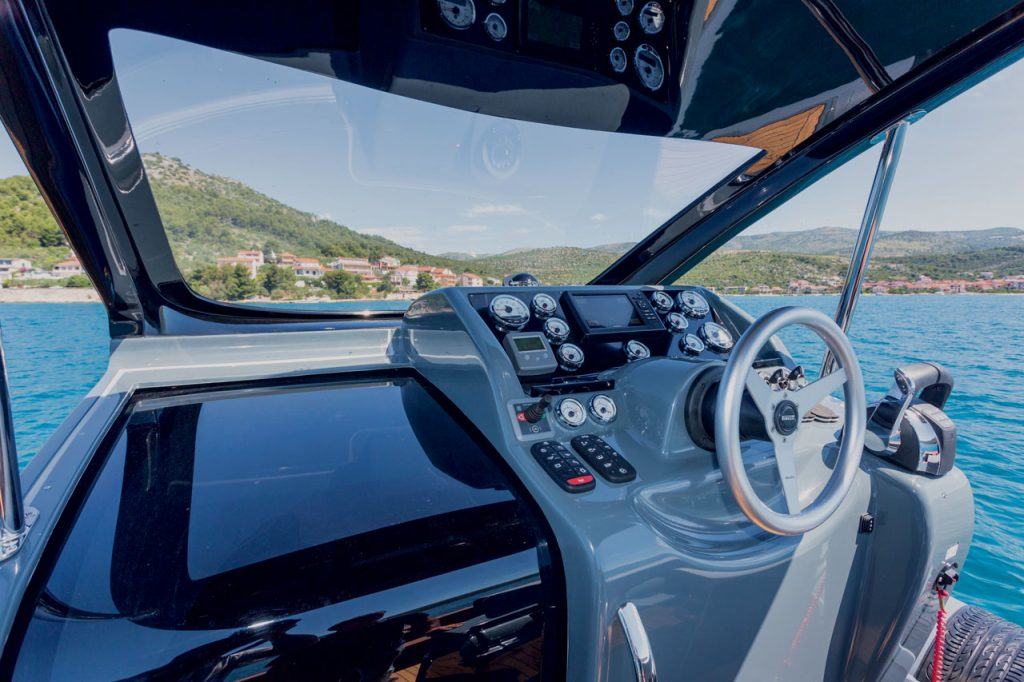 Proud of its RIB roots, the Pirelli 1100 Cabin is fast and safe. Its relatively narrow hull guarantees speed, and its deck is wide and deep enough for relaxed and safe sailing.
The unit we tested was painted a serious shade of gray, lightened up by orange and gray cushions. The aft platform is one meter long and extends all the way to the end of the hull, protecting the propeller and allowing easy access to the water.
Pirelli's RIB cockpit is simple and comfortable
The aft is essentially one giant sun bed, as even the central passage can be covered in cushions and mattresses. The cockpit is simple, furnished with a C-shaped sofa and with plenty of room for a foldable table and a two-piece bar with a sink, a grill and a fridge.
The central passage leads toward the console, which in turn hides the entrance below deck. The console is well protected from the sun by a small hard top connected to the windshield, and the whole protects the skipper from the elements without taking away the outdoors feeling.
Up on the bow, which can be reached via safe teak side passages, we found another sun bed.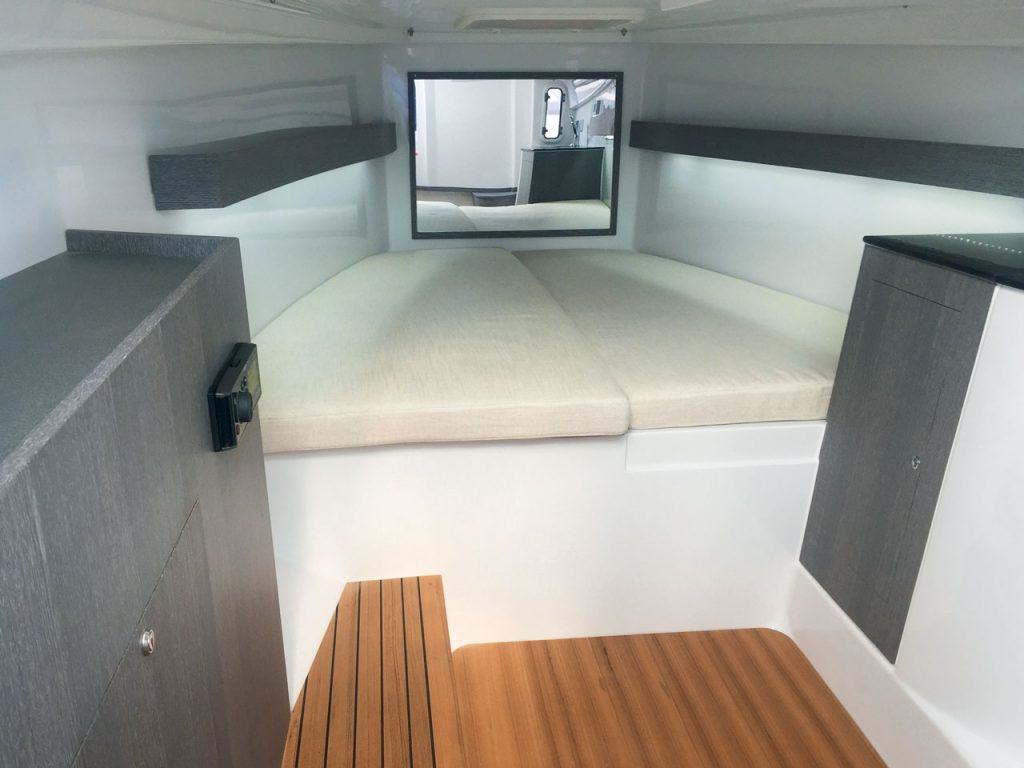 The below deck cabin is rather simple, furnished with a double bed, and adjacent to the small head with one toilet, one shower and a sink. Although the cabin does not boast impressive headroom, it is everything but claustrophobic as is mostly the case on fast day cruisers, and is perfectly good for a refreshing daily nap or one night in a distant cove.
Pirelli 1100 Cabin reaches 40 knots of top speed
Still, you might not use the cabin at all, as the Pirelli 1100 Cabin is very fast indeed and can take you anywhere you need to go in no time: powered by two 4.5-liter Mercruiser engines (2 x 250HP), the 1100 reaches 40 knots of top speed. Unbelievably stable even at that speed, the 1100 barely leans on the water even in sharpest turns.
Those who find the cruising speed of 24-25 knots (at 2.300-2.400 rpm) inadequate will be glad to hear the builder accommodates every need for speed and the 1100 can be powered by gas or diesel engines up to 2 x 320HP, inboard or outboard.
Pirelli PZero 1100 Cabin is a fantastic maxi RIB that proves beyond doubt why Pirelli is so beloved among both RIB lovers and speed addicts. If Ferrari made RIBs – and was capable of practical thought – they would still have hard time catching up to the 1100.