It is utterly wrong to state one part of the Croatian Adriatic is far more beautiful than the other: the only truth is microregions from west Istria to Konavle are all fascinating in their special way. With this Dubrovnik sailing itinerary that suggests a route from Dubrovnik to Lastovo we are not saying you will sail the most beautiful part of the east Adriatic, just an exceptional one, rich in natural and historical monuments… this we guarantee.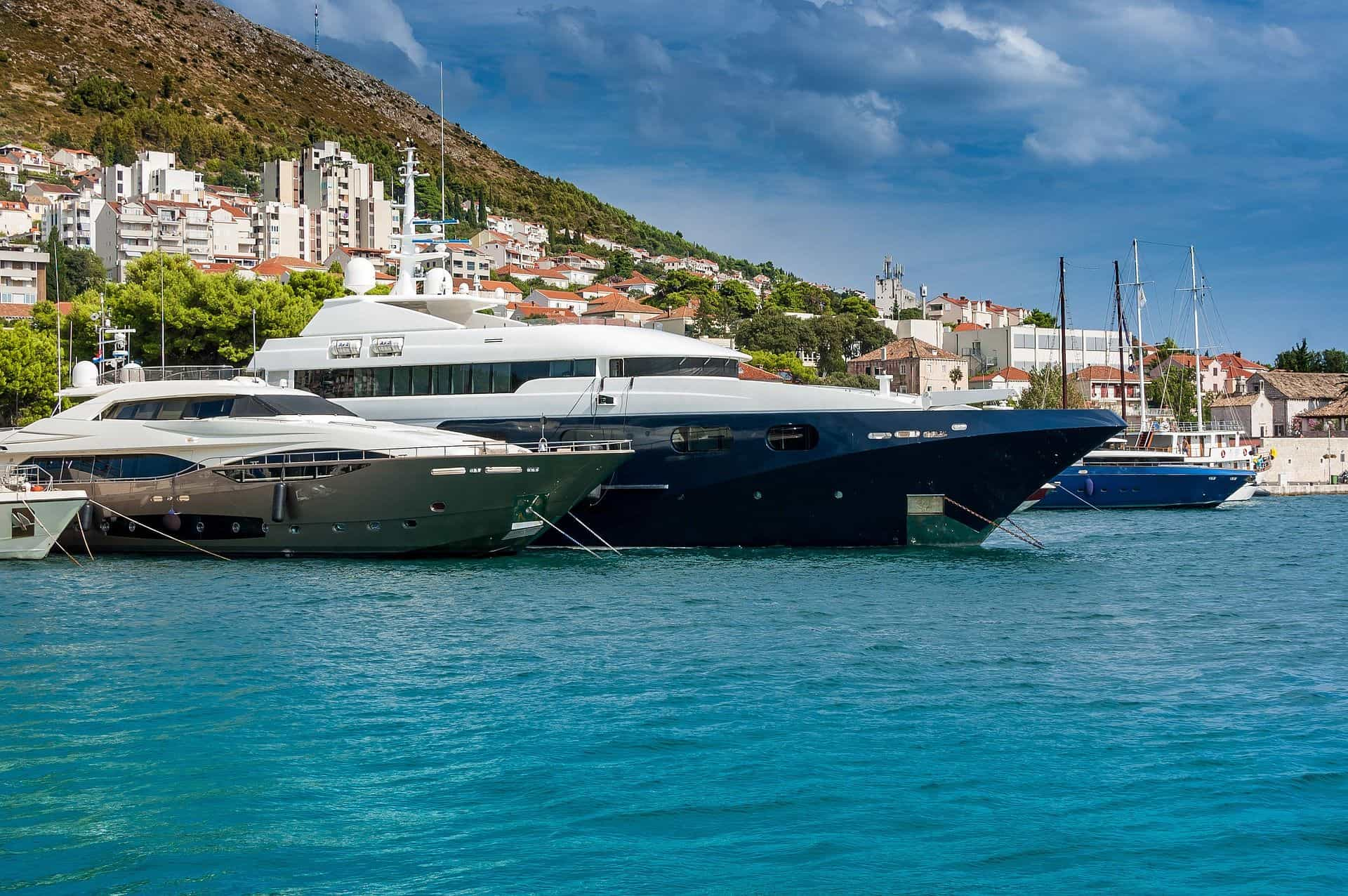 It is hot and mistral is bringing pleasure to true lovers of the wind and sails so it is high time you untie the mooring ropes. At last, a well-earned vacation lies at your feet. You wish to forget all the hustle and bustle of city life, traffic jams, noise and the craziness of the everyday pace. Enjoy in replacing all this with winches chirping, the sound of the waves, and the needed peace.
However, it is the peak of the season, and all the popular navigation routes are crowded, but we are ready to reveal their secrets and suggest hidden coves on the beautiful south route! Nevertheless, we are taking you to this memorable Dubrovnik luxury yachting experience taking into consideration the usual summer weather conditions. These imply daily mistral blowing from the sea and nightly burin blowing from the land.
DAY 1: Dubrovnik – Mljet (Podškolj bay)
Your amazing trip on a luxury yacht from ACI Marina Dubrovnik in Komolac is just about to start. Keep in mind that the manoeuvre space inside the marina is far narrower than you think. The wind and currents can make things more difficult – for the river Ombla, one of the shortest rivers in the world, flows here into the sea.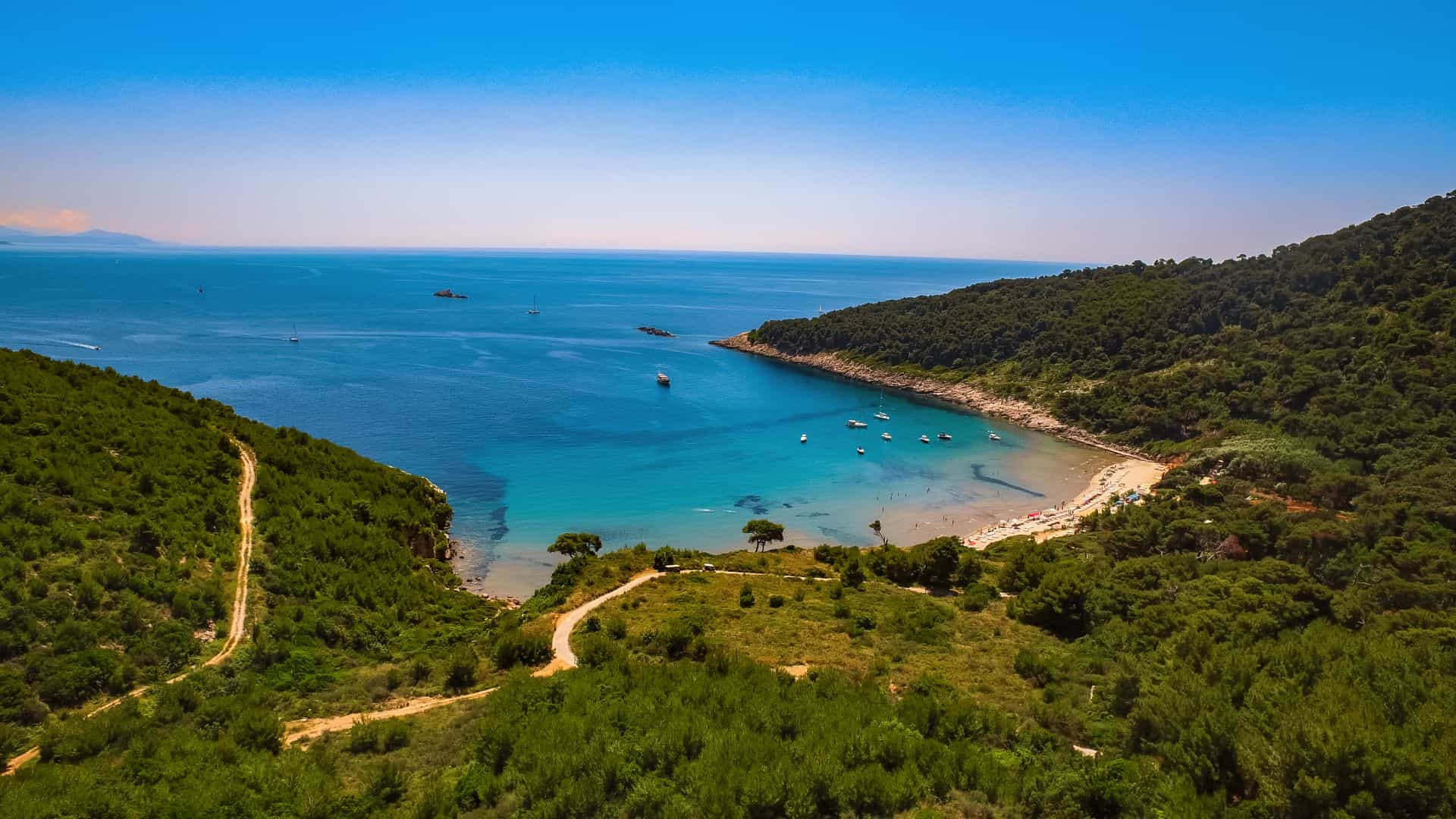 When you sail along the long bay called Rijeka Dubrovačka and start your Dubrovnik sailing itinerary be aware of the speed limits. Furthermore, after you pass dr. Franjo Tuđman bridge, take the direction towards Lopud island. On the southeast side of the island, in Šunj bay, you can enjoy the most popular sandy beach of the Dubrovnik Aquatorium.
This bay offers you shelter from all the winds but sirocco, which is evident from the sandbars you can notice as you approach the coast. Often it is crowded with swimmers, but nothing can spoil that long-awaited feeling of freedom you get after jumping into the sea.
Ten miles separate you from the east side of Mljet island, and according to many, from one of the most beautiful places around, Podškolj bay. If you are lucky and a peaceful night is expected, anchor your sailboat in the 3 meters deep water between Mali and Veliki Školj, and the east coast of Mljet island. Alternatively, moor your boat to one of the buoys of the 'Stermasi' restaurant. This restaurant is situated on a nearby hill and we highly recommend it. The food and service are excellent, but the view from the lovely terrace is spectacular.
DAY 2: Mljet (Podškolj bay) – Mljet (Blace bay)
With the first sunbeams swim to Školj, and dive into the kingdom of colours and wildlife. Sail around the east cape of Mljet island, leave the too shallow Limuni bay at port, and anchor in a nearby Saplunara. There you will find a long sandy beach, the popular Hippocampus Beach Bar and a small grocery shop.
In the bay, there are few family restaurants, but MS restaurant with delicious food stands out. Continue your Dubrovnik sailing charter along the outside coastline of Mljet towards Ulysses cave which is situated at the bottom of Babino Polje just across the Ogiran islet. According to the legend, the Greek hero Ulysses was stranded on this rock, so he swam into a cave that is now named after him.
Fishermen leave their boats and fishing tools at the highest spot inside the cave. From the inside of the cave, there is a narrow path leading toward Babino Polje. The depths in front of the cave are huge, so don't anchor.
Make sure you leave someone on the boat, while others can go for a swim or explore the inside of the cave with a dinghy, a recent habitat of the Mediterranean monk seal. Should you arrive around noon on a clear sunny day, you will truly enjoy magical colours. Continue your Dubrovnik sailing itinerary to Blace bay, ten miles away. Anchor your yacht and fix stern lines to the rocks in the first part of the bay, just behind Rt Lenga.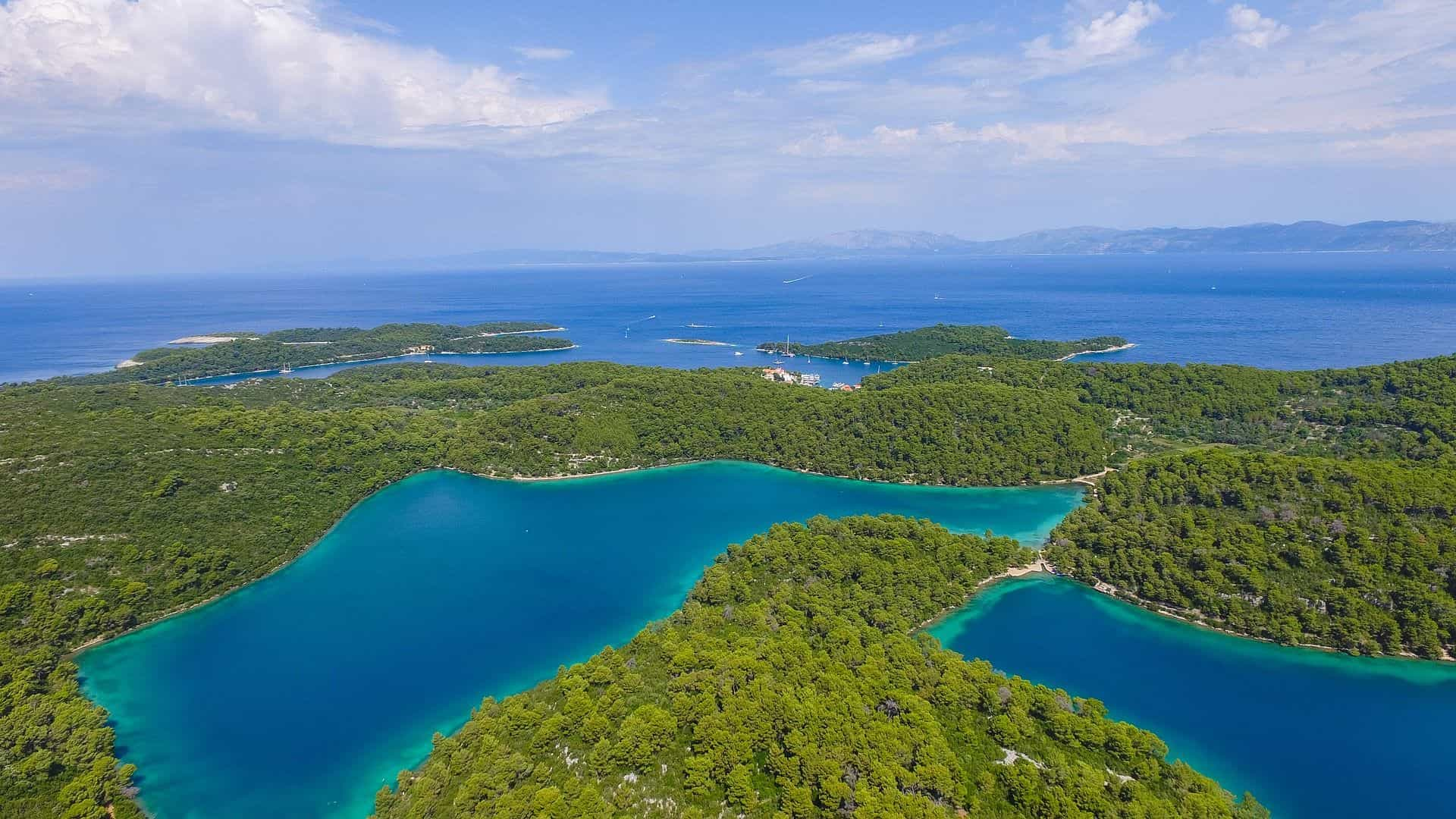 We suggest you explore the drawn part of the bay just across the shallow isthmus as well as take a tour to Soline and Mljet lakes. Probably the reason for Mljet's name, Green island, derives from the abundance of Aleppo pine trees. Visiting this unique national park at dusk, just as the visitors are about to leave, is once in a lifetime experience. Do not miss a swim in Soline bay, where tidal changes create a natural jacuzzi.
DAY 3: Mljet (Blace bay) – Lastovo (Mrčara island)
Indulge yourself in Dubrovnik's luxury sailing experience and enjoy Lastovo island, a nature park special for number 46. Namely, Lastovo is surrounded by 46 uninhabited islets, there are 46 churches on Lastovo, 46 hills, and 46 cultivated fields. After leaving the lighthouse on Glavat islets behind, we suggest the north side of Vlašnik on Vrhovnjaci for swimming or anchor your yacht between Češvinice and Štomorine islands on Lastovnjaci.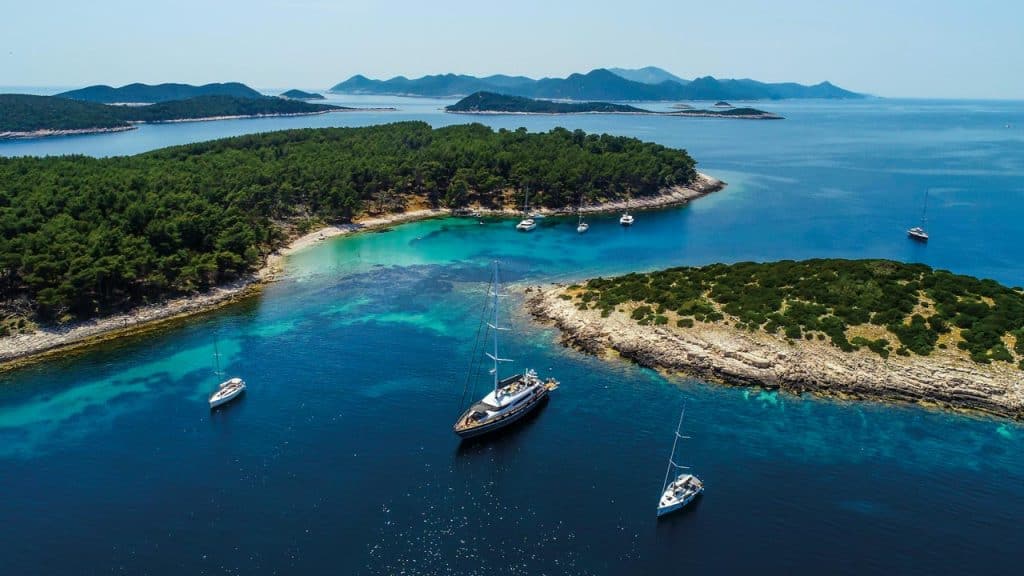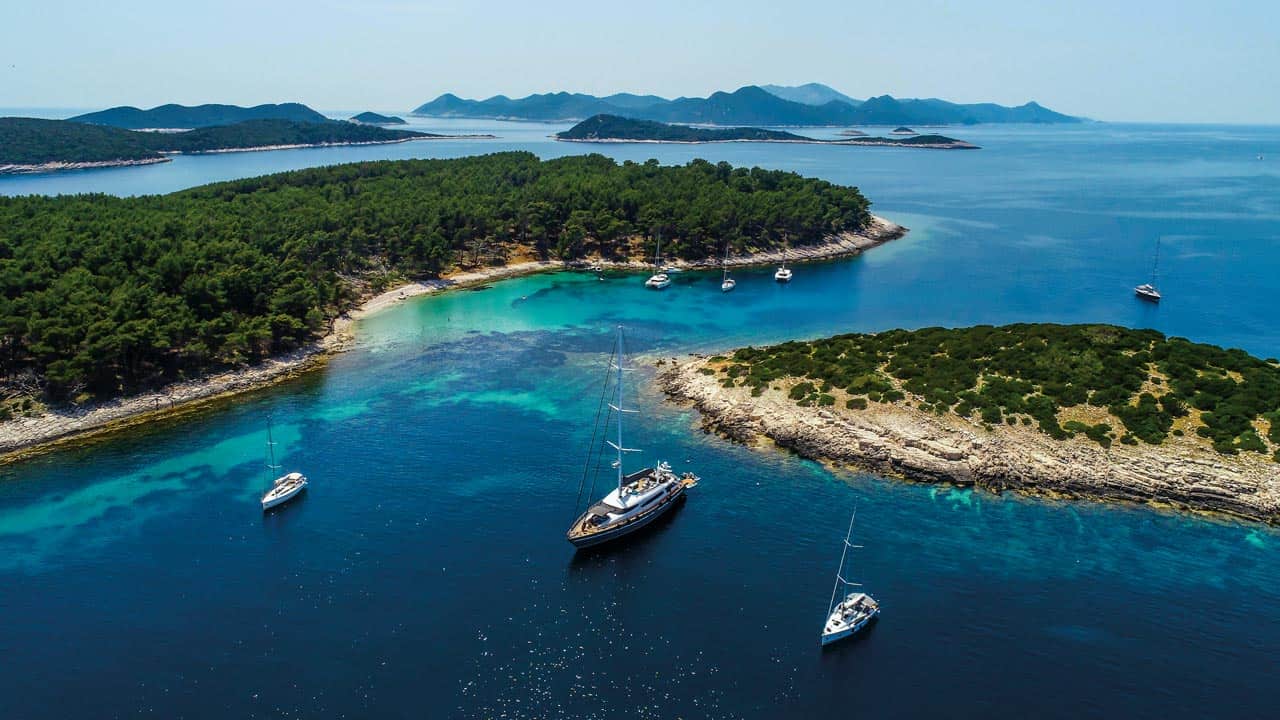 Keep in mind that you should carefully study nautical charts and beware of the underwater rocks. Both of these places are of astonishing beauty, while simultaneously wild and impregnable. Dive into this piece of heaven and let yourself go. If you are lucky you might stumble upon, according to some people, the most beautiful fish of the Adriatic – swordfish.
In the afternoon we suggest sailing into Zaklopatica bay. Here you can tide your yacht for a buoy or on the pier. Alternatively, you can use the possibility of mooring in front of the restaurant Augusta Insula, and enjoy a delicious snack. There is a 2 km long road leading from the bay to the village Lastovo.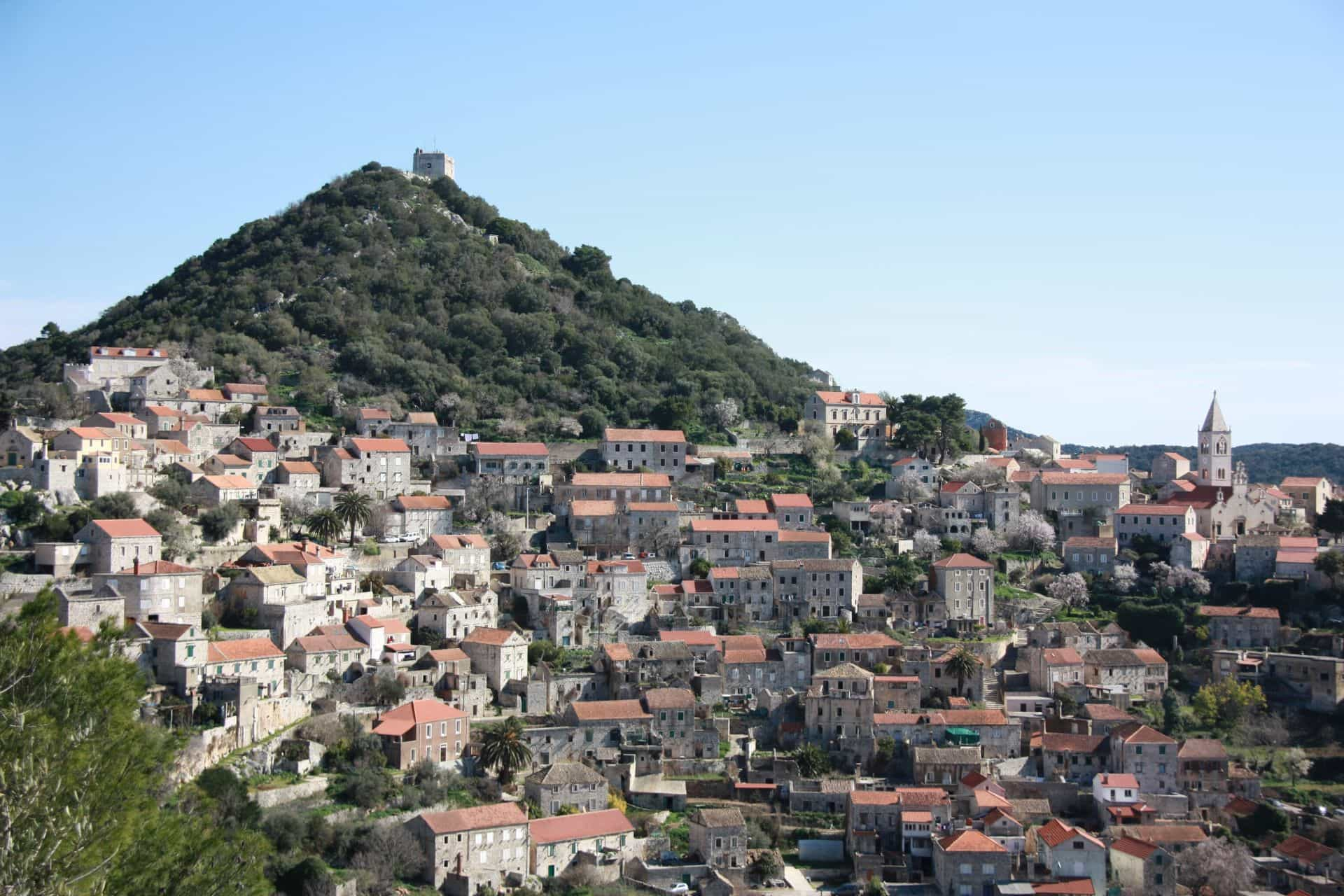 Take a walk and visit this place of unique architecture and specific chimneys. Don't miss a splendid view of the surrounding islands and channels from the Lastovo fortress. There is a groceries shop in the village, so do not miss this opportunity to fill in your supplies. At dusk continue your Dubrovnik sailing charter and sail towards 4 miles distant Mrčara island.
You can anchor your yacht in the shallow lagoon between Mrčara and Ruvtenjak islands. In case north-east wind bora is expected, choose a small cove just across, near peninsula Prežba, where you can find interesting fortresses from not so long ago.
DAY 4: Lastovo (Mrčara) – Korčula (Lumbarda)
Use the morning breeze and sail across the Lastovo channel, and if you are lucky dolphins might say hello. There is a magnificent bay Orlanduša on the south side of the island Korčula. Untouched from the civilization Orlanduša has managed to preserve its original beauty. There are a few small houses in the bay that fishermen used not so long ago, and a few Robinson-style apartments. The sea is crystal clear, and the energy in the bay is simply unique.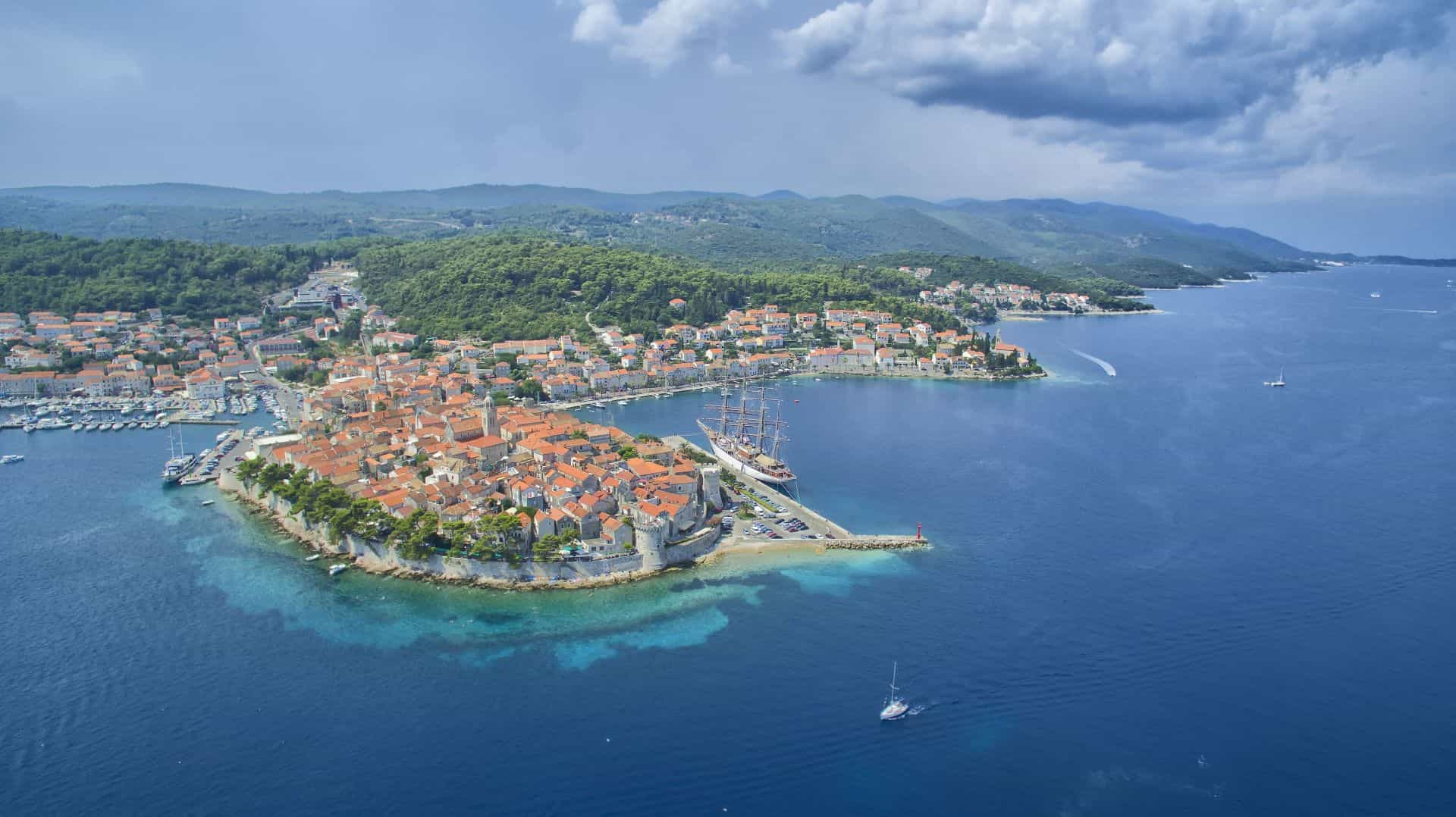 The impressive part of this Dubrovnik sailing itinerary is sailing beneath Korčula hills towards the east cape of the island. However, beware of the many fishing nets, and other floating fishermen's tools. These cliffs are covered by tick pine trees after which the island was named Korkyra Melania, black Korkyra. If you wish to cool off over a cocktail or you are for a volleyball game on the sand, stop in sandy bay Pržina. We suggest spending the night in a quiet marina Lumbarda. Lumbarda is a picturesque fishing village, the first Greek colony on the island, where you can find peace and quietness.
Go for a stroll to the old town on the hill offering you a magnificent view of the 20 islets archipelago. Afterwards, continue your tour through the avenue of mulberries all the way to the beautiful vineyards on the sand. This is the cradle of Grk, a sort of wine held by some experts to be an autochthonous Dalmatian variety, while others, due to its name conclude it is Greek and believe it to have been brought here by Greek colonists ages ago. If you feel like enjoying a glass of high-quality wine or food, visit Škafetin agritourism. For those wishing for some hustle and bustle of the nightlife, there is only 6 km to the city of Korčula, one of the top charter destinations in Croatia.
DAY 5: Korčula (Lumbarda) – Mljet (Tatinice bay)
The morning hours are meant for getting acquainted with the Korčula's islets. This Aquatorium is well known for edible female sea urchins easily recognizable for shells, seaweed, and pebbles they like to decorate themselves with. Even their spines are not completely black, but mildly red, and a bit shorter than those of males. All you have to do is cut them into two halves and squeeze some lemon juice on roe.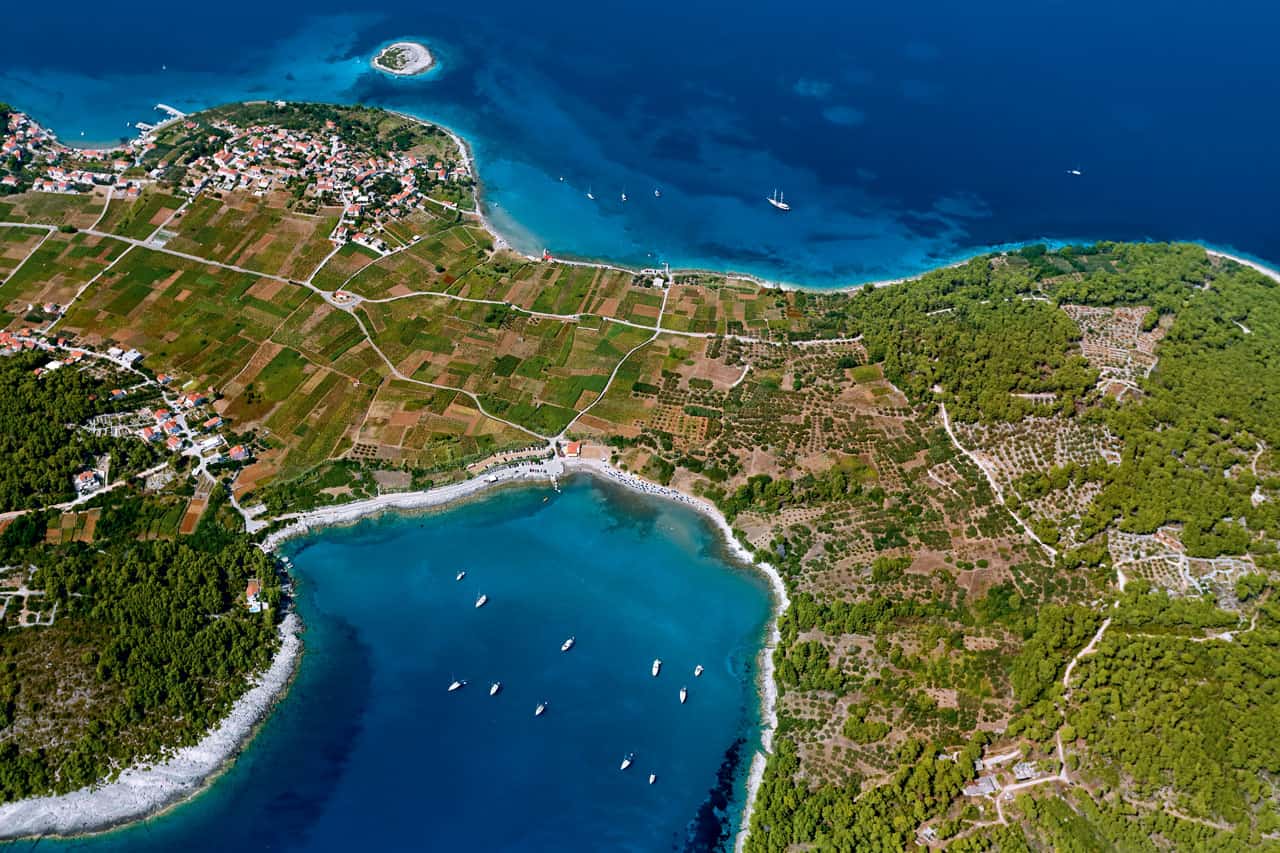 Let's sail towards Vrnik, the island of astonishing beauty, but also the only inhabited island of the archipelago. It is well known for its stone-cutters and stones, which have been used for building Korčula, Dubrovnik, Aya Sofia and the White House. At the beginning of August people of Vrnik organize the traditional Beach Night, so if you find yourself being at the right spot at the right time, do not miss this event.
The largest island of the archipelago is Badija, well known for its Franciscan monastery from the 15th century and for its sports-recreational centre, which among other athletes, the Kostelić family used for their sports preparations. The deer population is present on the island, so keep your eyes wide open. Do not forget to visit the city of Korčula for an unforgettable image of harmony and beauty. As a swimming spot we suggest Stupe, a bit wild and mystical, yet splendid azure lagoon which will leave you breathless.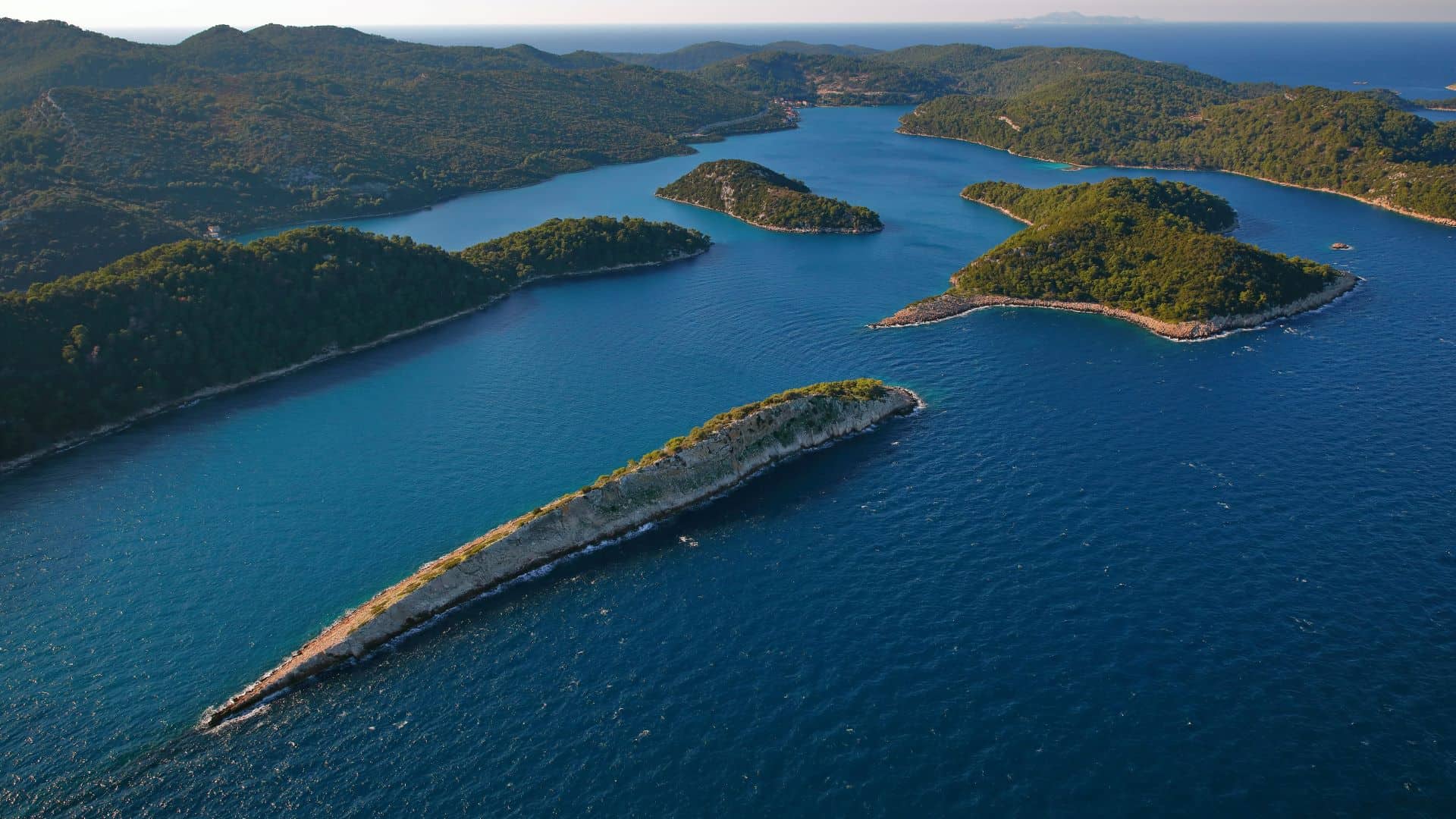 Don't miss the popular tavern and beach bar on Vela stupa. Sail away towards the largest and safest Mljet port – Polače. The port is not visible from the sea, as it is hidden by four islets. They create magical moments of this Dubrovnik sailing itinerary for being green as they are as well as for being intertwined.
If you are eager for some action, take a bike, a scooter or a mini car to Mljet lakes. If you are in the mood for fine quality food and wide make sure you visit restaurant Bourbon. We suggest you spend the night in Tatinice bay, where colours, scents and silence shall take your breath away.
DAY 6: Mljet (Tatinice bay) – Jakljan
Sailing next to the green shoreline of Mljet is more like a dream, and when you reach Prožura and the south side of its bay, the only thing left for you is to soak in everything nature is so unselfishly offering you. The mountain and the sea merge into one presenting you with special hues of colours. Immerse yourself in an unforgettable Dubrovnik luxury sailing experience.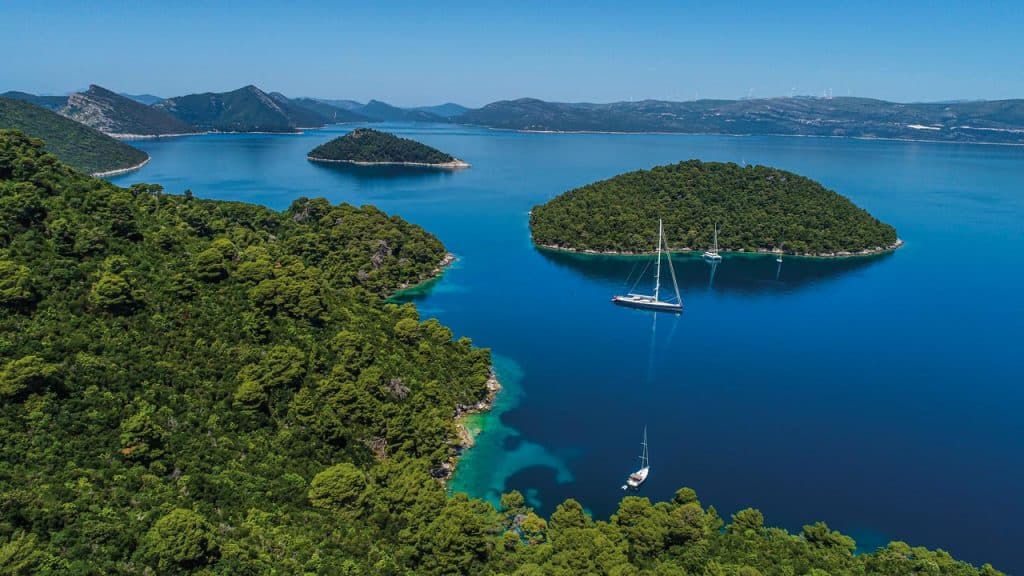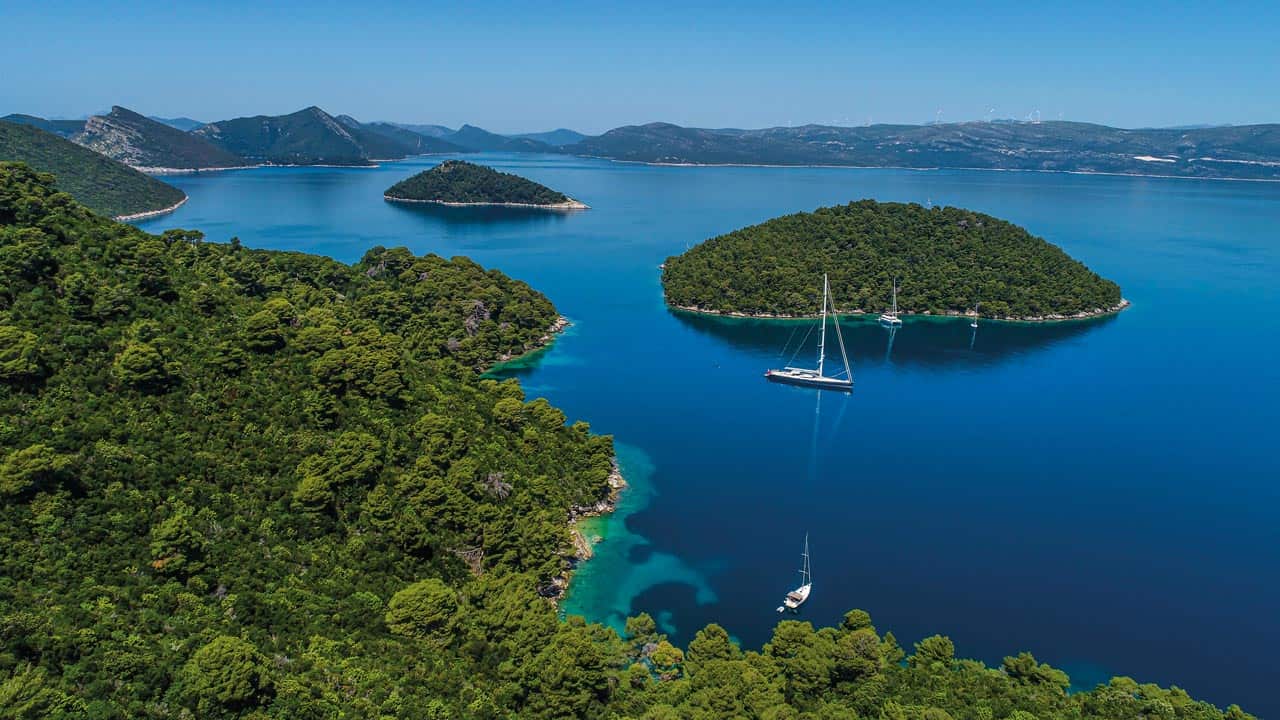 Take a swim, and after a short siesta sail away across the Mljet channel. Afterwards, sail through less crowded Mali Vratnik, along with islets Olip, and Jakljan all the way to the Šipan port. Another breath-taking place. Make sure you visit one of the best taverns in the Adriatic – Kod Marka. Rent a bike and go for a ride to Suđurđ and get acquainted with inland of this fascinating island!
Spend the night in an impressive place between Šipan and Jakljan in Elaphiti Islands. Be aware of underwater rocks, anchor your yacht, and fix the stern lines to a rock. That night and the ambient will always stay carved in your memory.
DAY 7: Jakljan – Dubrovnik
You probably have many things on your mind… and the only thing you want is to stay forever in this world of beauty. The reality is it is the last day of your Dubrovnik sailing itinerary and you are about to go back, but do not forget to enjoy every moment left. Take the direction through the Ston channel towards Ston and take a long walk along the longest wall in the world (after the Great Wall of China).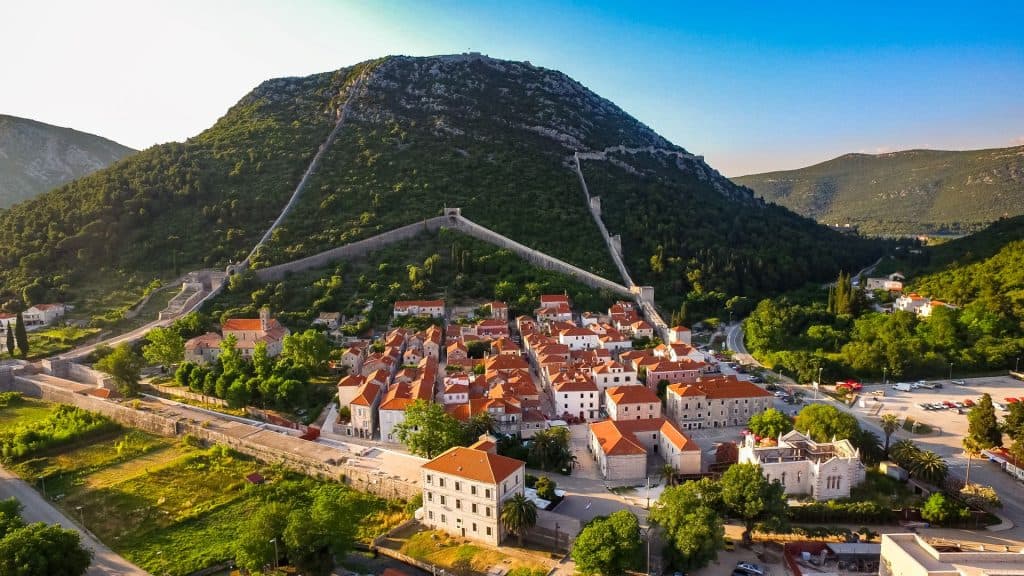 Alternatively, enjoy a relaxing morning swim between the north cape of Šipan and islet Mišnjak. Afterwards, sail beneath Dubrovnik city walls which is a unique experience. It's time to go back to the Dubrovnik marina with filled hearts and a big smile on your face for, surely, you will visit this amazing South area again!
YACHT SUGGESTION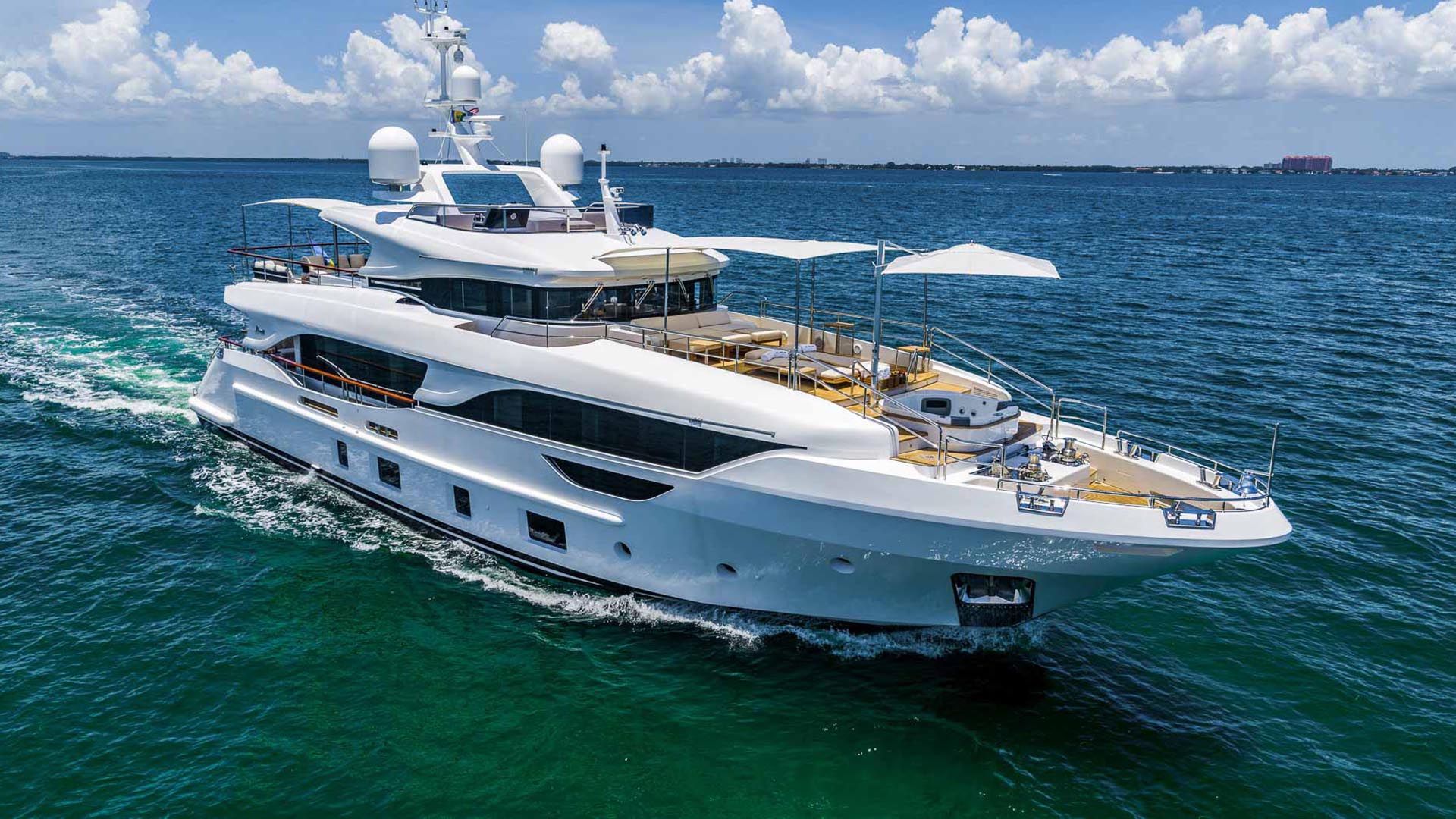 This Benetti Delfino 95 is a 28.95 m luxury motor yacht with an interior design by Achille Salvagni and an exterior design by Giorgio Cassetta.
In order to explore this area at its best, we provide free counseling regarding chartering and activities during your charter holidays. The team of experts that brings together Yachts Croatia is also at your service when creating your perfect charter experience in Croatia.
When choosing a yacht, you first need to decide whether you want to feel the meditative power of silence on board sailing boat and catamaran, or whether you appreciate speed and comfort, with interest to rent a motorboat or luxury yacht. After that, leave all the 'details' to us. We will pay special attention to all your needs, to select the boat up to your wishes, to feel safe and comfortable with the crew that will make your time special, organize provisioning and prepare the route that will leave you breathless!
Upon request, our team will visit the yacht (s) you are interested in, with special care to your wishes – and make sure that we 'pamper' you with beauty while sailing!
Text Josipa Vlahović Cikatić
Photos Mario Jelavić, Boris Kačan, TZ Mljet, Hrvoje Serdar/HTZ, Ivo Biočina/HTZ, Unsplash, Pixsabay