Seafarer 33 proved its powerful look in our review and with enough space new Ribco can be an ideal luxury tender or a day cruiser for four people
Greek builder Ribco makes RIBs between 23 and 44 feet, which places the new Seafarer 33 right in the middle of their range. Great value for money, it's also a great example of how to balance luxury feeling with sporty spirit.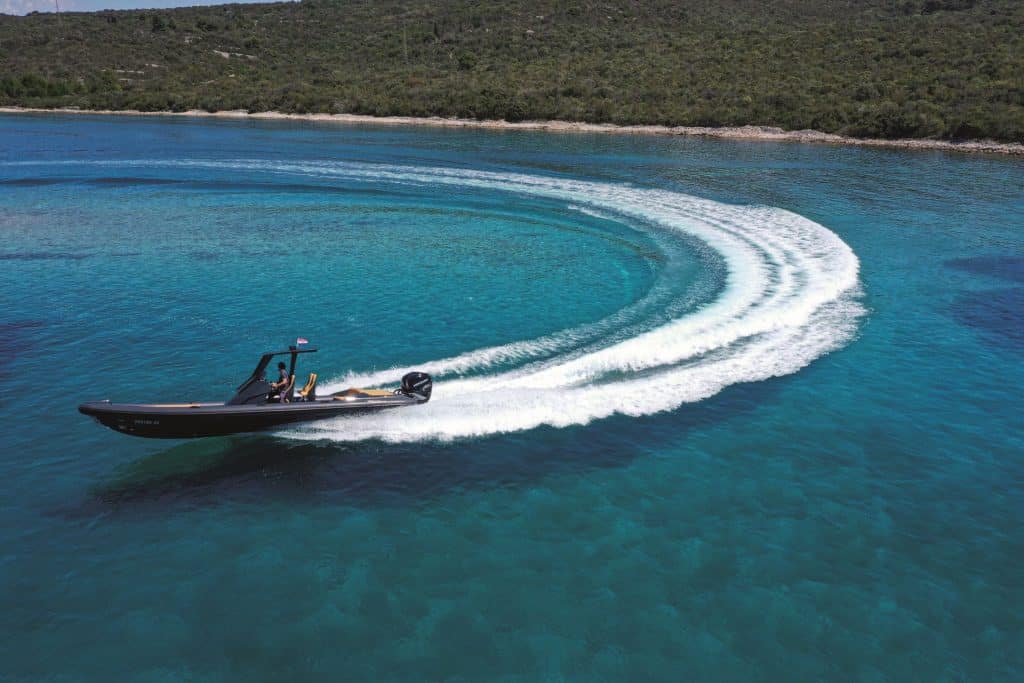 The sporty silhouette is underlined by a narrow aft platform, while the offshore pedigree of the model visible in the sharp V-profile of the hull. The two combine in a powerfully looking, nimble model easy to handle, making Seafarer 33 an ideal luxury tender or a day cruiser for four people, to sail comfortably and safely.
Seafarer 33 is comfortable even at 30 knots
Almost ten meters long, Seafarer 33 offers enough space for a double bed in the bow, a chemical toilet hidden under the command console, an outdoor shower, two storage units under aft seating, and a table (option), also stored under aft seating. Storage space is hidden from view and covered in well chosen shades of brown and orange fabric that complement the black tubes.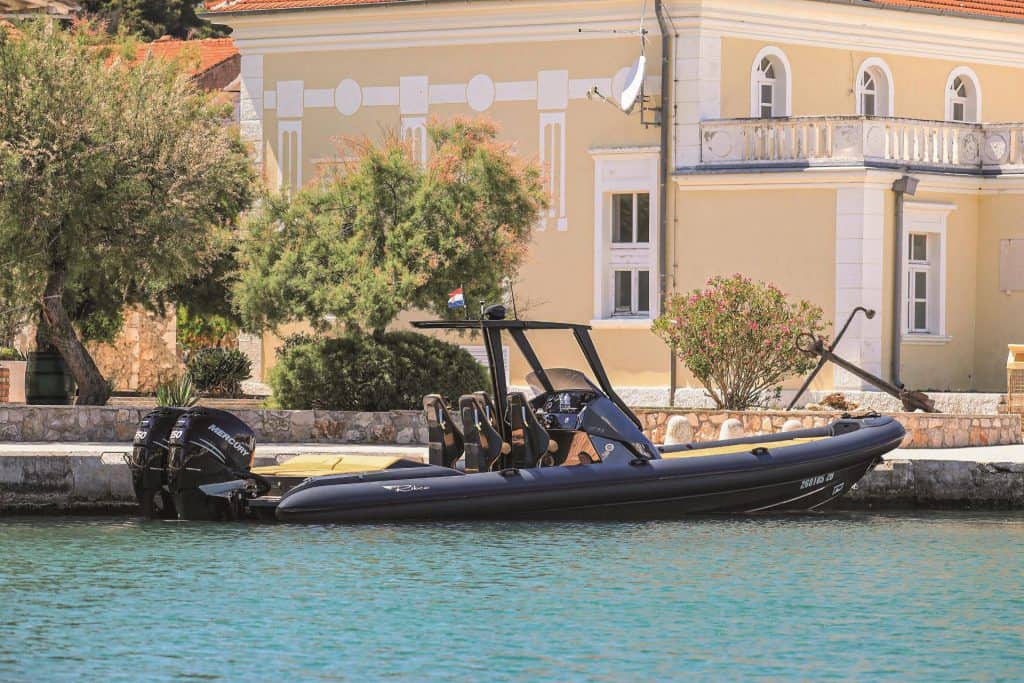 The hull scores high marks for quality and well balanced dimensions, which translate into commendable stability even with side waves, eaves from the bow, or at disembarking. Years of partnership with British RIB maker Scorpio have obviously earned Ribco the know-how to go their own way, and become serious competition for their former boss.
The skipper's seat is comfortable and safe, enjoys excellent visibility, and the command post includes bow thruster controls and a Raymarine AXIOM PRO 9-inch touchscreen that allows control of all systems. Even at higher speed (30 knots), Seafarer 33 is comfortable no matter where you sit; aft, or on one of the four seats protected by a T-top.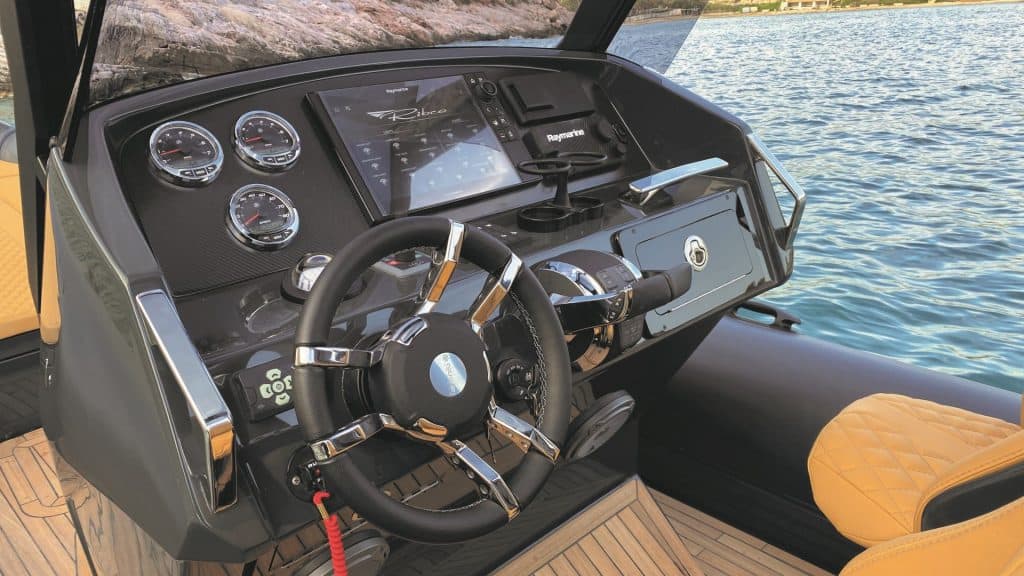 Still, as we've reached 55 knots of speed during our test, we recommend standing and holding on to railing. We took Seafarer 33 for a fast and curvy test, trying to get as many attractive photos as possible, and despite all the maneuvering and varying speed (between 30 and 40 knots), the boat remained stable and our ride comfortable.
Perfect partner for Adriatic
At 3300 rpm and 30 knots of speed we managed to maintain a casual conversation at normal volume, enjoyed music from the Fusion Apollo sound system, and spent mere 35 liters of fuel per hour. Sudden turns are no challenge for Seafarer 33, as we have proven several times on our way to the shooting destination. During the shoot, our speed only occasionally fell under 30 knots.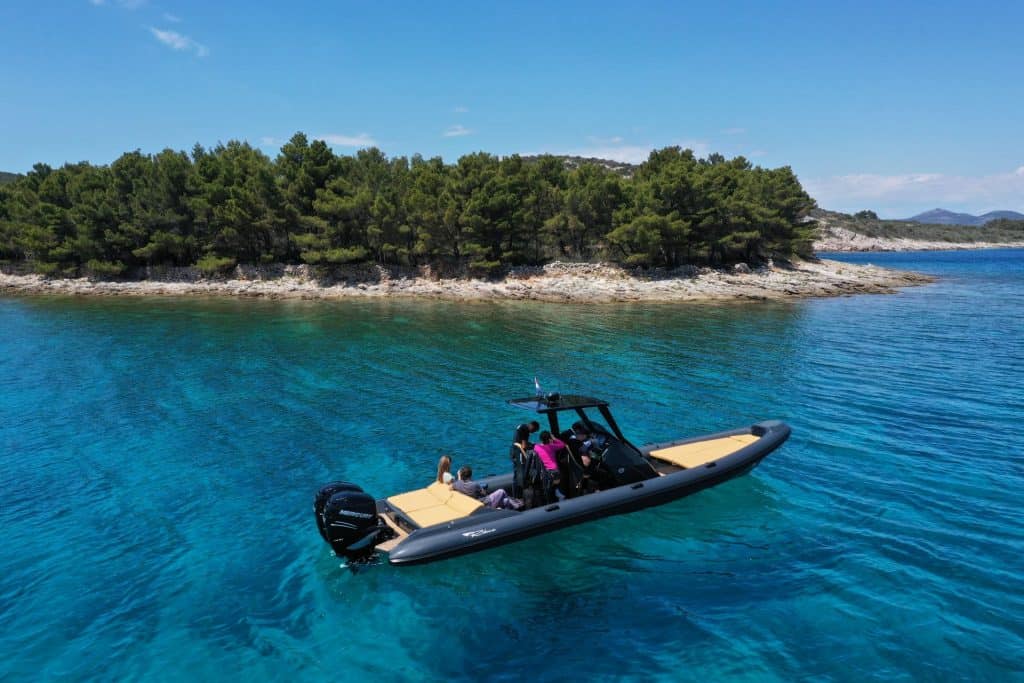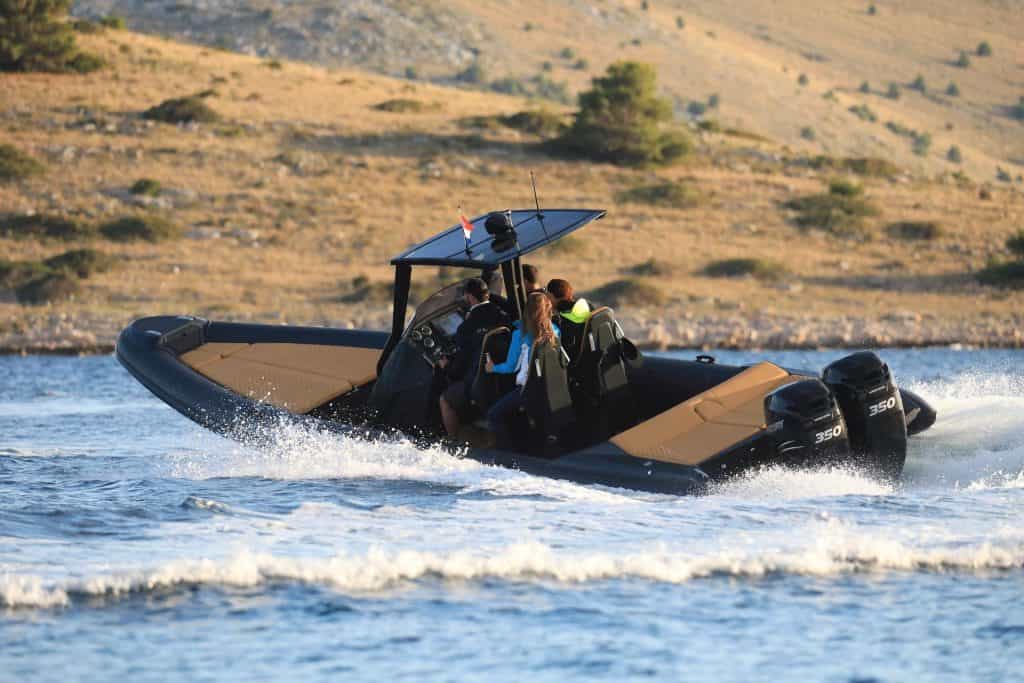 The hull held surface with confidence, course adjustments after sharp turns was swift and soft, and no point did we feel any bumps or hiccups, proving once more the designers deserve nothing but compliments. After covering roughly one hundred miles on Ribco Seafarer 33, we are convinced nobody could wish for a better partner for Adriatic adventures – no matter the conditions.
Finally, all these smart qualities are packed in attractive design that will surely turn some heads while in port, or by a yacht. The cherry on top, the looks of Seafarer 33 might prove to be a real magnet for young and adventurous potential buyers.
Text Filip Bubalo
Photos Boris Kačan & Ribco
Video Ribco