Considered one of the most romantic towns in Europe by many painters, writers, and modern travelers and adventurers, Rovinj is a place of candle-lit summer nights that welcomes visitors – be they full of expectations or just curious – and sends them on their way as friends
Bone da bati mar – 'good for beating the sea', they say in Rovinj in Croatia, referencing their most prized invention, the batana boat. Every townie will know about it, and so will you after leaving Rovinj and seeing this lovely old town on the western coast of Istria worship their boat so much they have created a museum only to celebrate it. The small fishing boat that has long been the symbol of the local community is the only piece exhibited in one of Europe's top ten most original museums.
---
Discover the Beauty of Rovinj: Explore the Old Town, Beaches, and Islands by Yacht. Jump to specific sections to learn more about:

---
What to see in Rovinj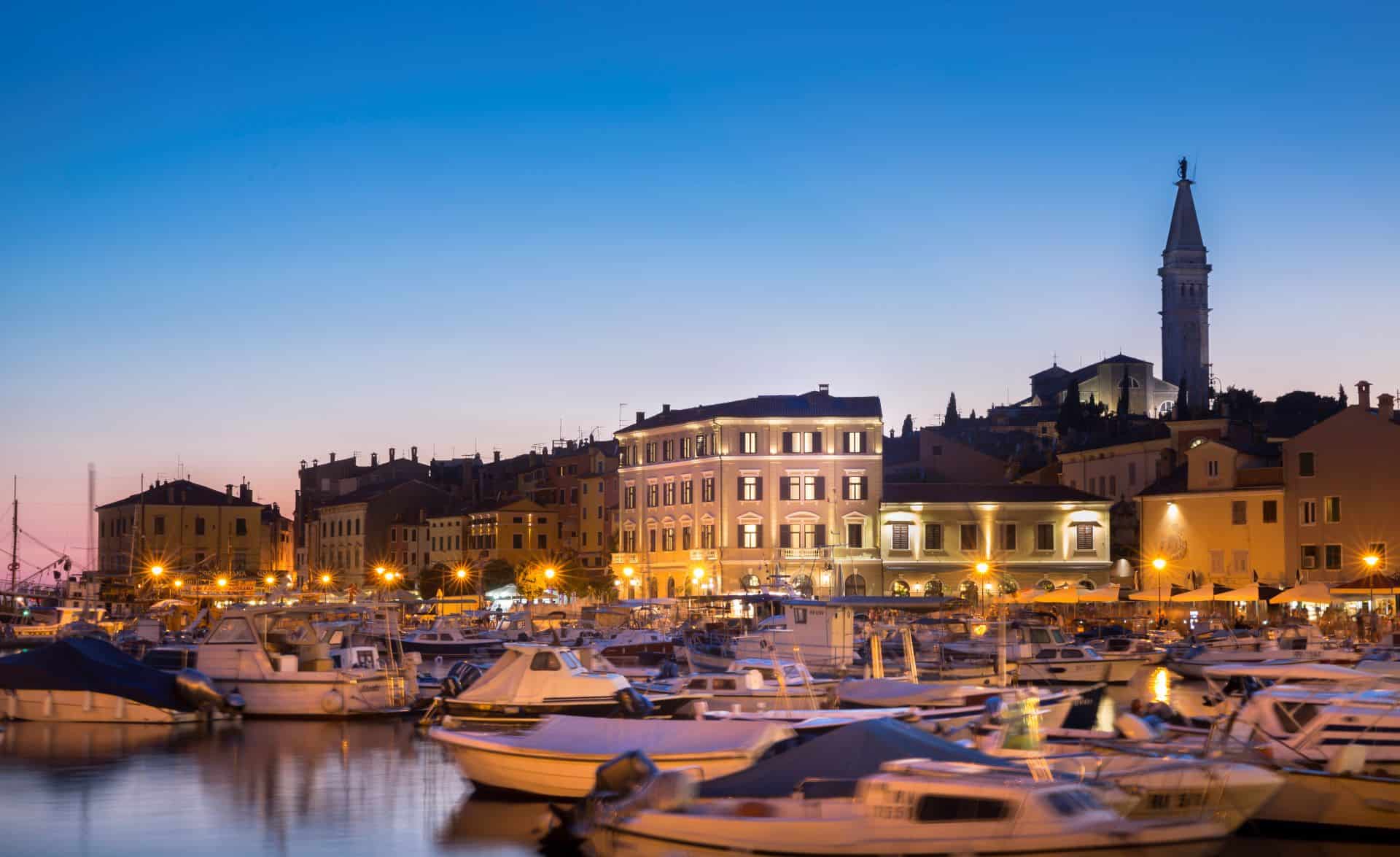 If you only have a couple of days… go see the batana museum. This very old, very traditional fishing boat is the pride of Rovinj, a testimony of their long fishing and sailing traditions, a heart-warming reminder of days gone by, and a cherished treasure that has the potential of becoming a cultural icon in the future as part of the already quite famous Rovinj brand.
The nine and a half-meter-long batana and her wooden soul are testimonies of the town's maritime tradition, and you can learn all about it in the museum, which offers an exhaustive look into its history, displaying various models with uniquely painted sails. The museum folks would very much love to lose their jobs – and see the boat come back full force as a fishing boat, replacing all those modern plastic boats dotting the sea.
Featured Yachts
Old town of Rovinj
Just as romantic as this old wooden boat is the rest of Rovinj. Even the most basic postcard with the town silhouette is lovely, or at least not as stereotypical as all the other ones, and even simple scenes like sunsets or night falling on the old town can turn an amateur photographer into an artist. This town doesn't take a bad photo. The colors, the harmony, the shapes – this town was born to model for future big-shot artists.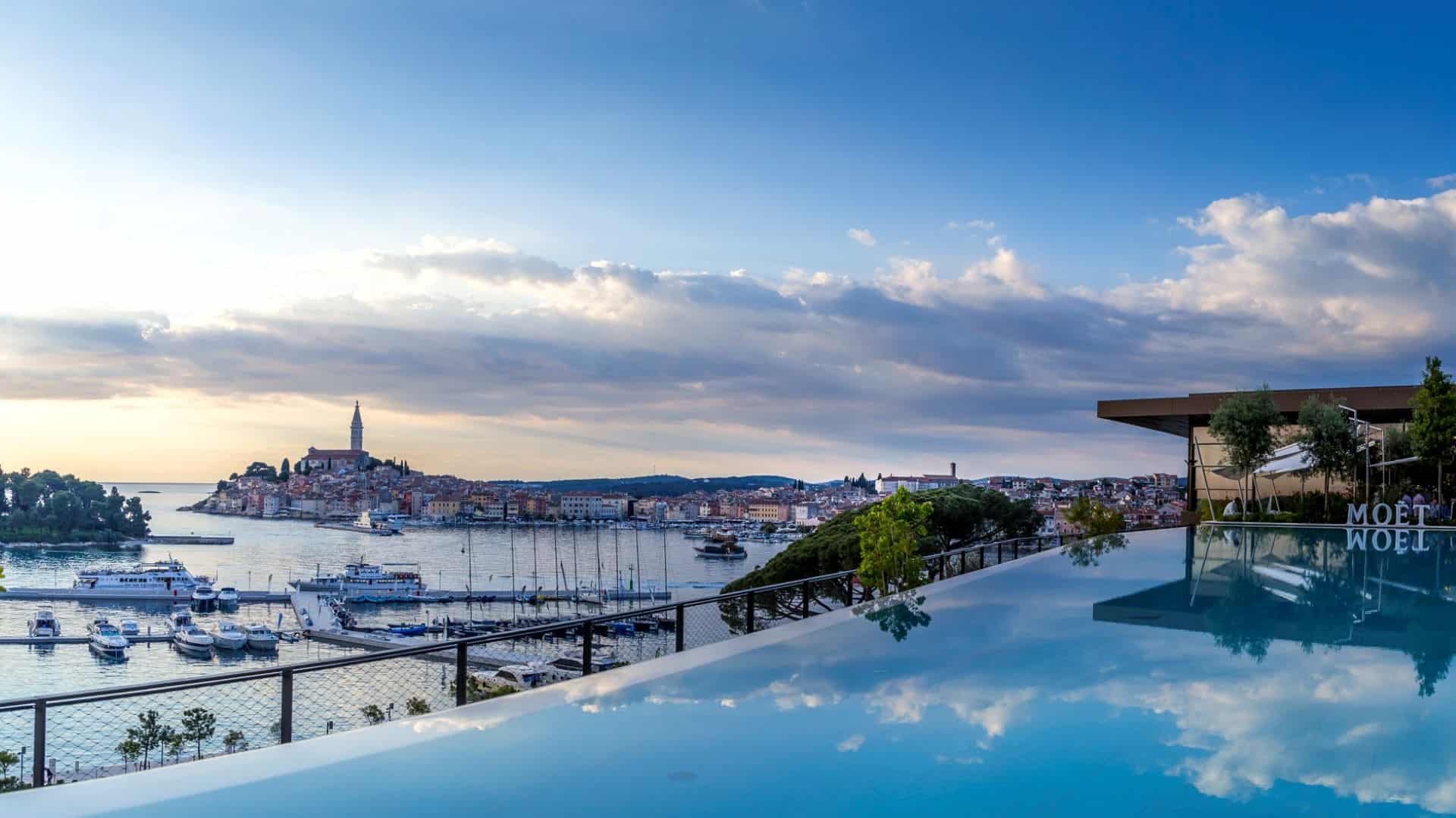 Adris Gallery on Obala Vladimira Nazora is the town's beating artistic heart, the visual arts Mecca, and a testimony to the power of business and economy joining hands. The great Edo Murtić has turned the front ceramic wall of the gallery into its most interesting part, its – and his – signature work and the crowning piece of the collection, as well as an inspiration to all those whose work is displayed at the gallery or those still dreaming about that honor. Adris Gallery is a must-see and must-experience, where you can admire the works of every great modern artist Croatia has ever had: Bukovac, Medović, Crnčić, Vidović, Meštrović, Gliha, Račić, Becić, Kraljević, Kulmer.
Now imagine all those works under one roof – just not at the same time, because that would be too much for any four walls. Part of the charm of the gallery is the element of surprise – you never know what will be on display on the day you decide to visit. Culture is best enjoyed in zen mode: whenever the roads take you to Rovinj, this pearl of Istria, take your time and visit Adris to feast your eyes and your soul.
What to do in Rovinj, Croatia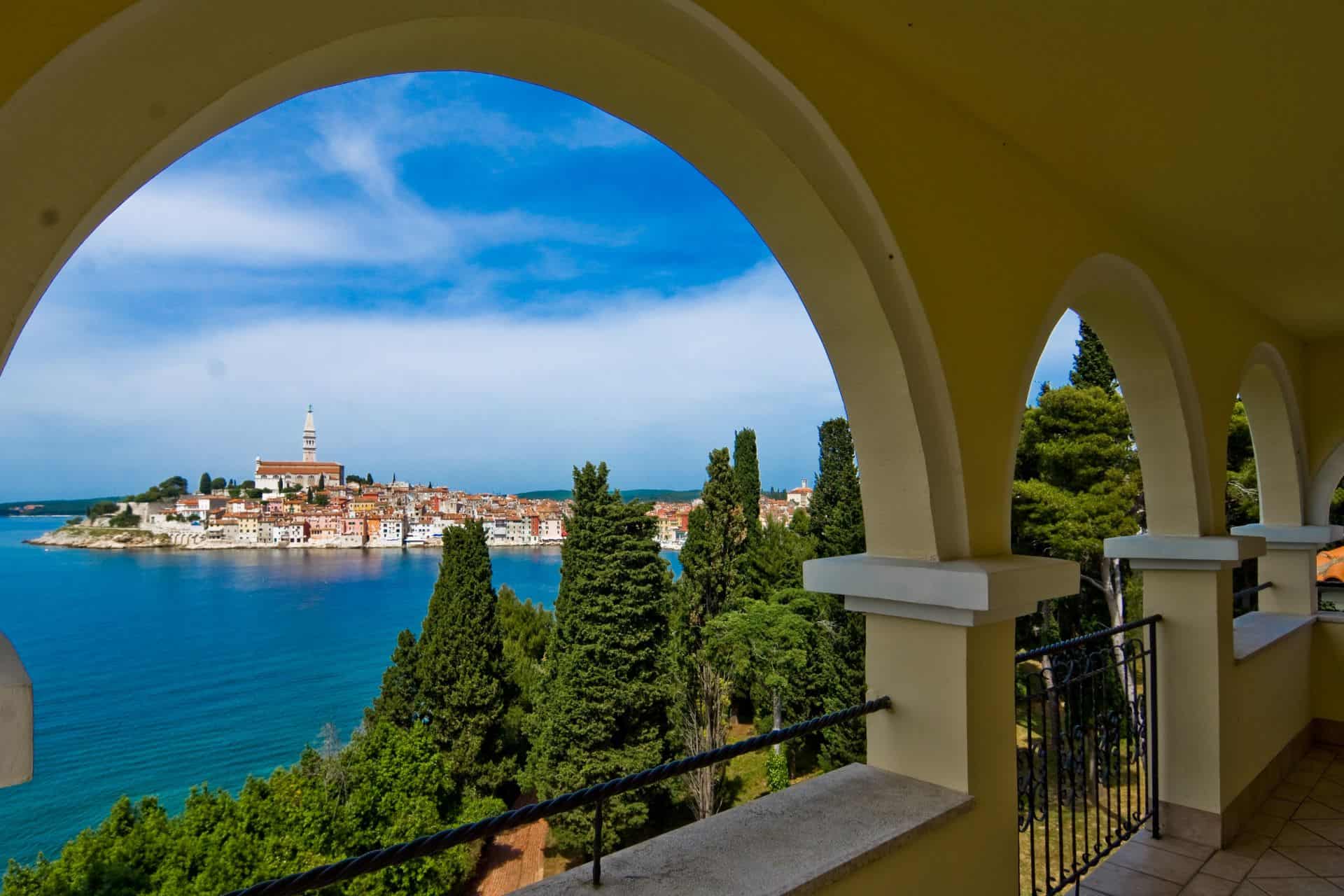 Who knows what we're all looking for on our travels – the answer is probably in there somewhere, and we can probably glean it occasionally, when something unexpected piques our interest. Whatever that may be, you might find it in Rovinj, a town sure to meet your cultural and spiritual needs. It is also an amazing honeymoon yacht charter destination for romantic souls.
Red Island
If you already know you're into castles, you've come to the right place. Rovinj and its surroundings have long been popular among the crowned heads of several countries; their summer villas are now sprinkled across the Rovinj archipelago. Red Island is one of those places, first mentioned in the early Middle Ages when the Benedictine order built their monastery there (later renamed St. Mary's and even later St. Andrew's).
The monastery was rebuilt in the 15th century by the Franciscan order, but the island finally found its calling when it was purchased by the German count Georg Hütterott. Lush, cozy, and green, the island was a favorite summer spot of their majesties, archduke Franz Ferdinand, Bavarian princess Maria Theresa, and princess Stephanie von Habsburg, endless dukes and archdukes, members of European nobility, respectable ladies, and gentlemen.
These days, you can enjoy everything they did and more, seeing how our favorite spot, seafood restaurant Lanterna, is a modern addition. Their unique take on the flavors and aromas of Istria can only be matched by the romantic view of their surroundings: the restaurant lies smack in the middle of all those monastery walls.
St. Catherine Island
St. Catherine Island was purchased by Archduke Charles Stephen of Austria for 516 kilograms of silver – and later sold for 2.333 kilograms of the same metal to the Polish count Ignazu Karol von Korwin Milewski. The Polish count kept the island for a while, planted thick and lush woods, and built a very elegant island. Today, the island is public property, and the town of Rovinj seems to use it to serve its vanity: Rovinj is at its most beautiful when seen from the island of St. Catherine or from a luxury yacht.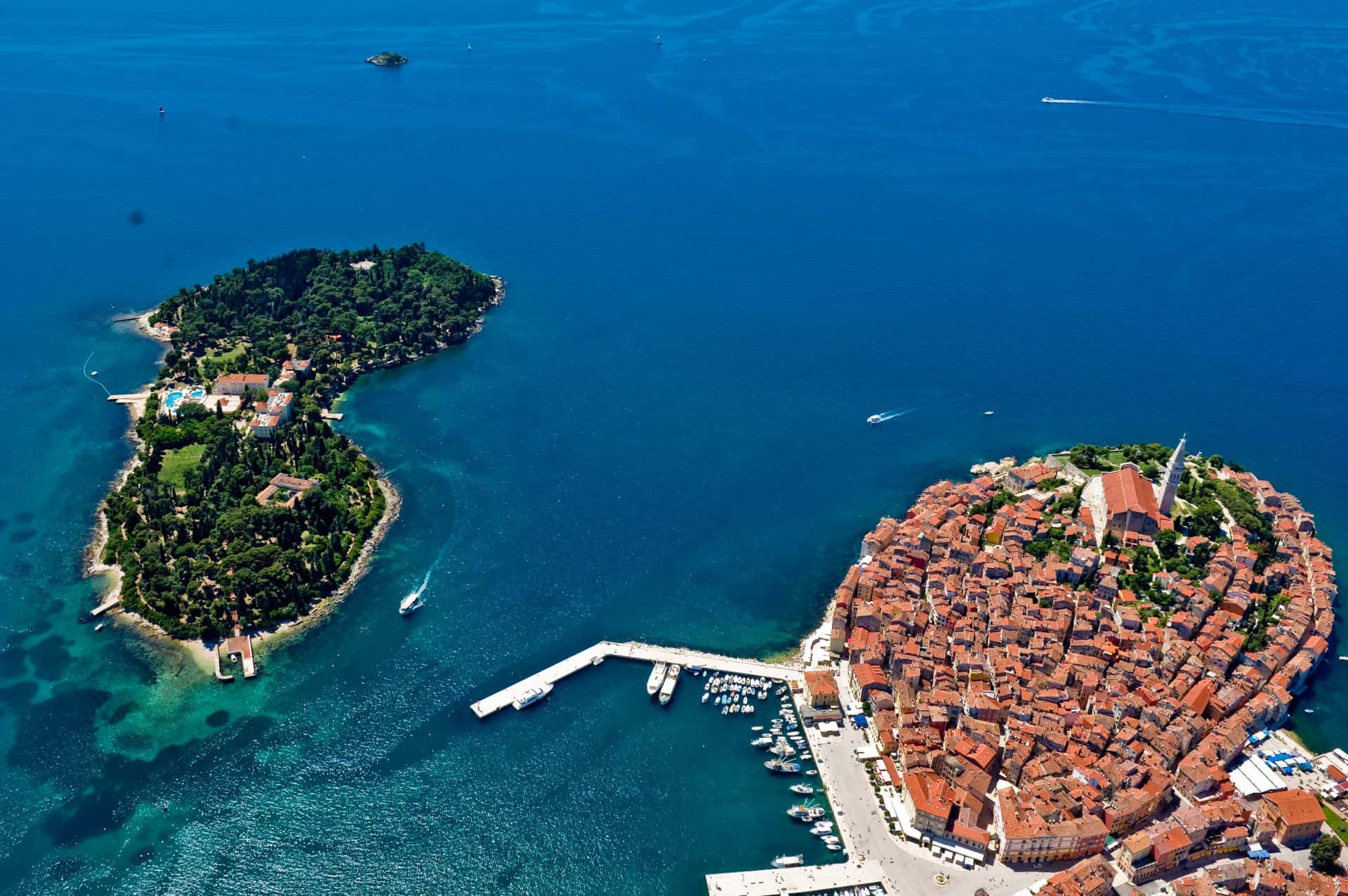 All those aristocrats can't be wrong, so go ahead, take their lead, and book your stay in the hotel of the same name, built in a mix of modern hospitality style and very traditional, very Austrian style. So sit back and relax, put up your feet, and take in the beauty across the bay: artists, fishermen, restaurants, locals, stone-cobbled streets, picturesque houses… Just don't relax too much because you are being watched by a saint.
The legend of St. Euphemia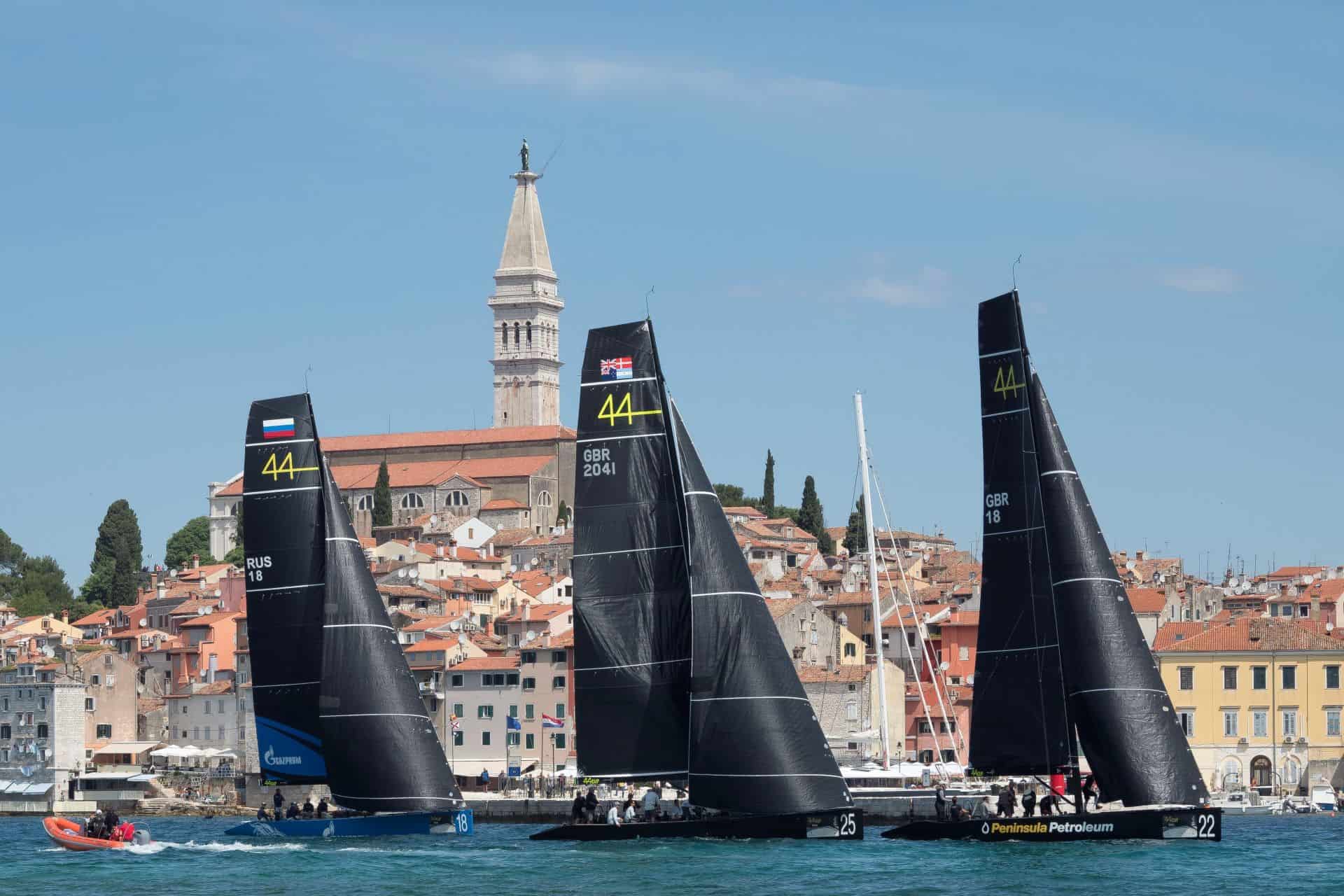 The tallest and most important monument in Rovinj is the church of St. Euphemia, sitting at the very top of the peninsula. The baroque church built in the recognizably Venetian style celebrates the bravery of one Miss Euphemia, a Christian believer who, at age fifteen, was captured by emperor Diocletian's soldiers, tortured, and finally thrown into the lions' den, all because she wouldn't deny her faith. The lions did kill her, but they wouldn't eat her, and the legend has it that her body floated into the port one morning after a storm, in a marble sarcophagus, no less, on July 13, 800 AD.
That miracle merited both a consecrated church and a celebration day, September 16, when the locals thank their town patron for keeping an eye on them by eating kraut and mutton stew and sweet fritters. You can celebrate the saint by climbing to her church atop a hill, where you can sit on worn white marble stairs and admire the town she's been protecting for centuries, knowing you, too, are now a small part of its history.
Grisia street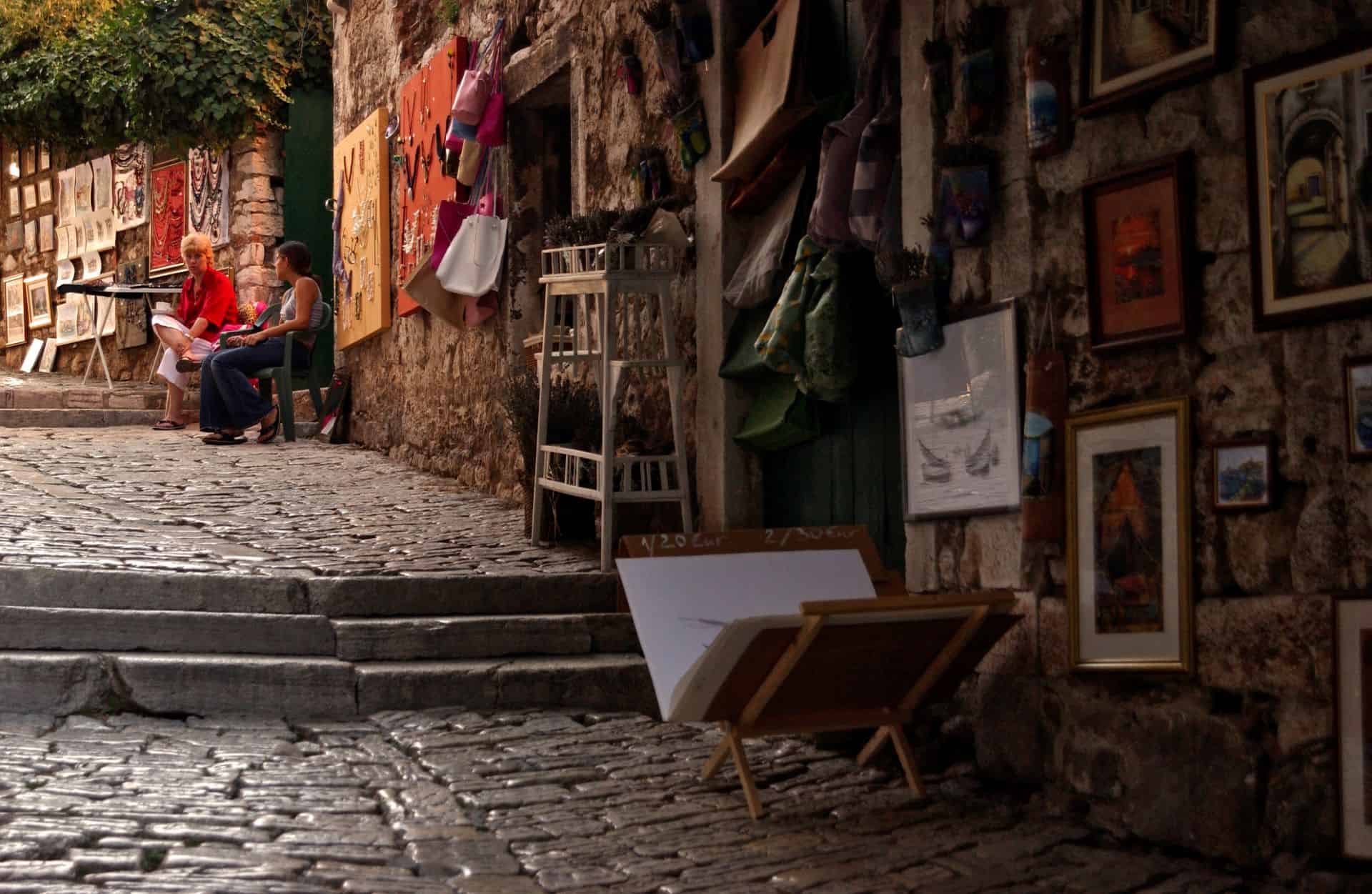 If you ask the locals about the most important street in their town, they'd probably say it's Grisia Street, the one leading to the top of the hill and dotted with galleries. Walking that street, you might feel as if you're on a pilgrimage, if for nothing else than the multitude of rituals being observed at any moment. Art lovers will find it difficult to ever leave, as Grisia Street is brimming with strategically placed traps: painters, sculptors, illustrators, talented children artists, poets, and house owners just waiting to offer their walls to lean on, their yards to cool down in, or just their friendship.
Carrera street
This old part of Rovinj is a maze, but even if you could walk faster, you probably wouldn't want to, seeing how there is something to see at every step. Speaking of steps, do be careful; the old stone cobbled street is so worn by millions of soles you might slip. The other important street in Rovinj is Carrera Street, the longest and widest street in town, filled with cafes and shops, passages, and people, of course.
Hotels in Rovinj
There are many streets to walk in Rovinj, so plan to stay longer than one day. The town has many hotels, most of them quite luxurious, like the Monte Mulini, Lone, and Grand Park Hotel, where even the best-traveled among us enjoy everything from food and wine to impeccable service. Rovinj is locally famous as one of the most high-end cities in Croatia, with some of the finest luxury Adriatic resorts.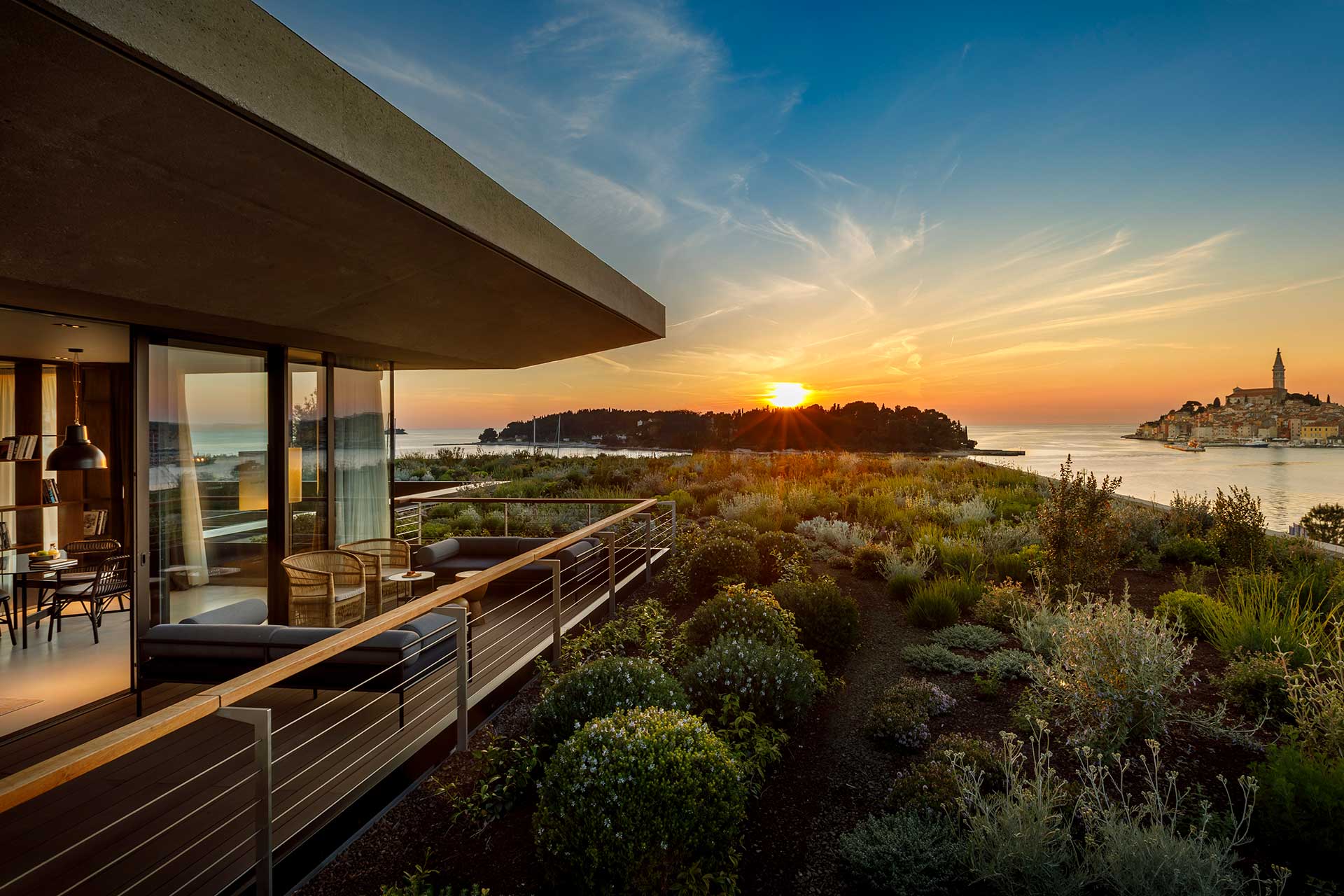 Surrounded by lush green woods and the Mediterranean greenery of the town park Zlatni rt, some of the finest hotels in Rovinj are places where both body and spirit take a breather. Choose however you see fit, but we suggest a chocolate massage or a honey massage; don't those sound appealing? No? Are you more of a gold-facial kind of person? Or a Michelin-star dinner at Restaurant Monte or Restaurant Agli Amici? Whatever you may choose, you will not soon forget it, and those moments will taste better with time, like fine wine, lit by the soft golden light of memory.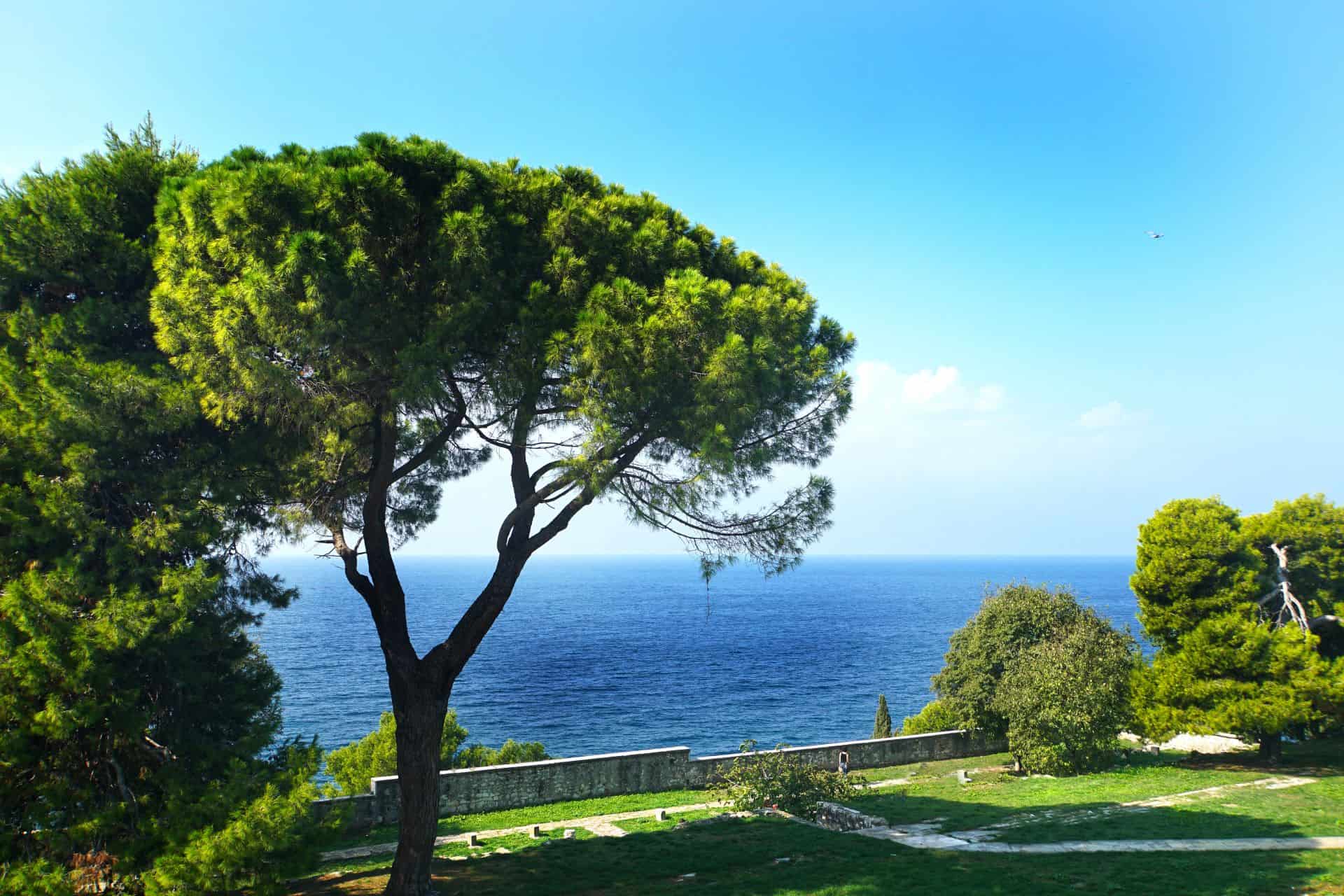 Health, mindfulness, and harmony of the body and mind are the tourism trends of our century, but the pearl of Istria has long been spoiling visitors with just that.
Considered one of the most romantic towns in Europe by many painters, writers, and modern travelers and adventurers, Rovinj is a place of candle-lit summer nights that welcomes visitors, be they full of expectations or just curious, and sends them on their way as friends.
Photos Nico Martinez, Maistra, Unspash, Pixsabay