Rebel 40 offer comfort that once would be incompatible with a RIB, all thanks to thirty years of experience behind Sacs and solutions by Christian Grande
It's been ages since RIBs have been clunky working boats used by divers or to accompany sailboats during practice. Sacs Rebel 40 is as far away from those as possible. Although the smallest model in its range of maxi RIBs, Rebel 40 is just as accomplished as its larger predecessors.
Sacs Rebel 40 design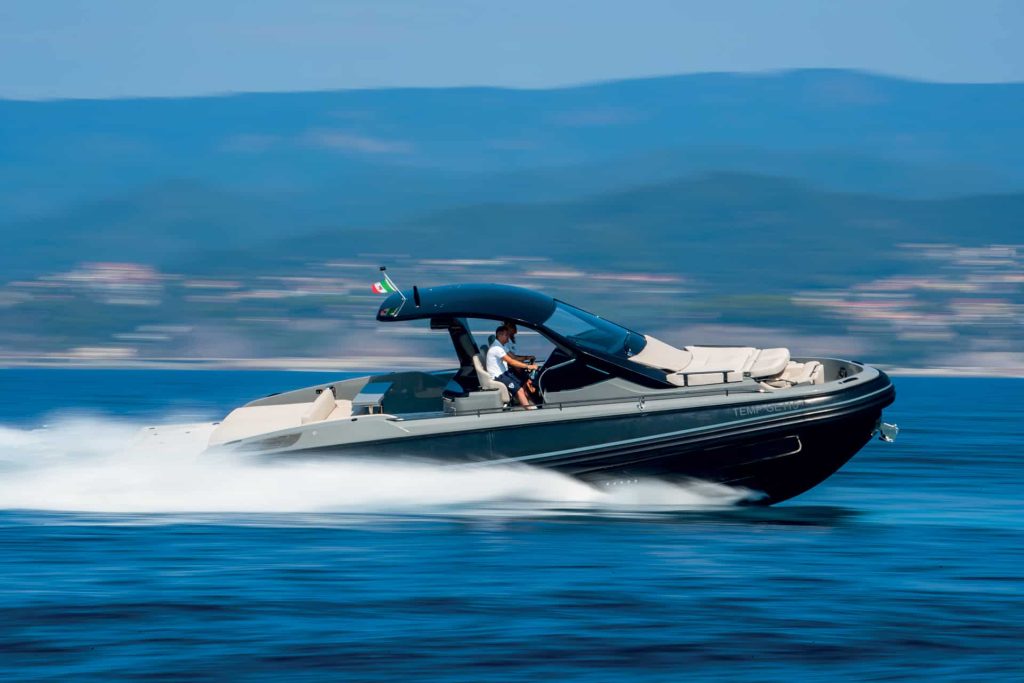 Dynamic design and excellent performance, sturdiness that guarantees safe arrival into port no matter the conditions – and comfort to boot. Only 12 meters long, Rebel 40 offers plenty of comfort indeed, thanks to the joint effort of the builder and their thirty years of experience, and designer Christian Grande.
Viewed from the aft, the 40 doesn't look like a RIB, but like a walkaround day boat with anti-collision tubes made in neoprene and the discreet, but useful railing. The interior is voluminous, so it seems Sacs have successfully combined the best of cruiser and maxi RIB types.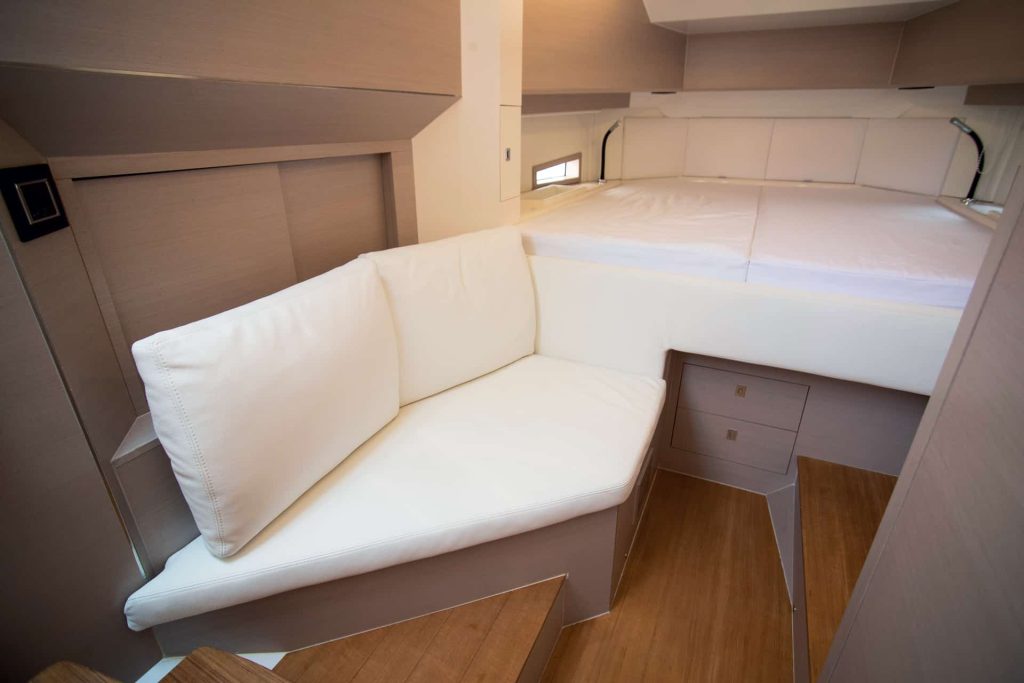 Below deck everything is white, and the color adds both to the size and to the luxury feel. Clearance is impressive – even if you're over 6 ft., you'll find that you can stretch with no problem at all – and there's enough space for a head and a shower booth.
Rebel 40 is cozy and comfortable
Storage space is everywhere, and the TV is on starboard. The beds, both king-size, are in the bow and under the cockpit, and impressively sized for a RIB.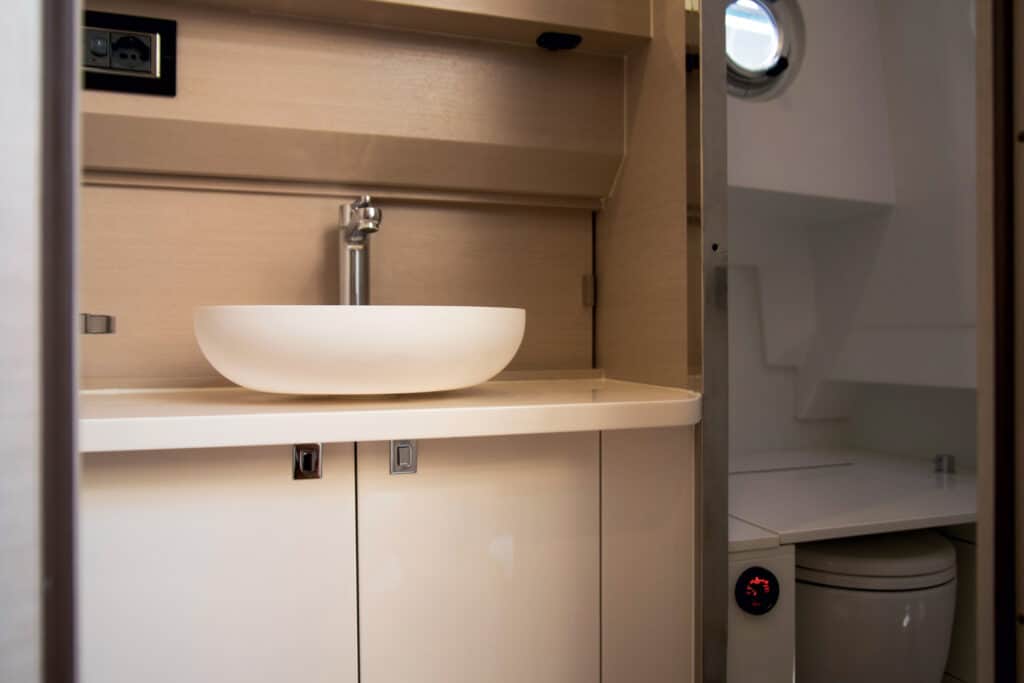 The cockpit is equipped with three pilot seats, very comfortable and shaped to keep the body comfortable and safe even at high speed Rebel 40 was designed for. The deck is protected by a glass element combining roof and windshield, which guarantees protection from everything coming at you at 40 knots of maximum speed. The console is dominated by two Raymarine screens, and analogue instruments give the console a racing feel.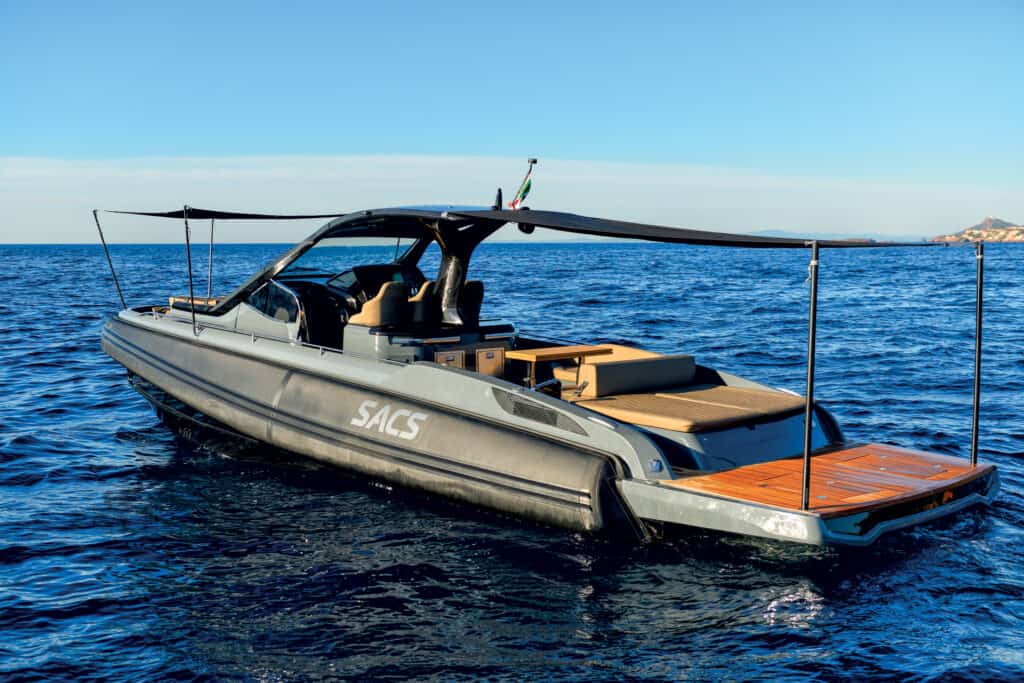 Behind the seats, there's enough room for a galley with grill, sink and two fridges, as well as a folding table – everything you need in a cozy cove. When you drop the anchor, this rebel turns into a meek little boat ready to laze around in the sun. Aft sun mattresses are huge, comfortable and decorative, in a two-color scheme, while those on the bow are somewhat smaller in size, but still big enough for two and more.
Sacs Rebel 40 top speed and consumption
The unit we tested was equipped with two Volvo Penta D6/400 hp, and while we enjoyed riding a completely new boat, we were also met with certain limitations and only got two hours of 'engine time'. We decided to stick to lower speed, and found Rebel 40 to be perfectly interesting even when just cruising around. At 1500 rpm we reached 10 knots, and topped out at 3000 rpm and 33 knots, with fuel consumption of around 100 l/h.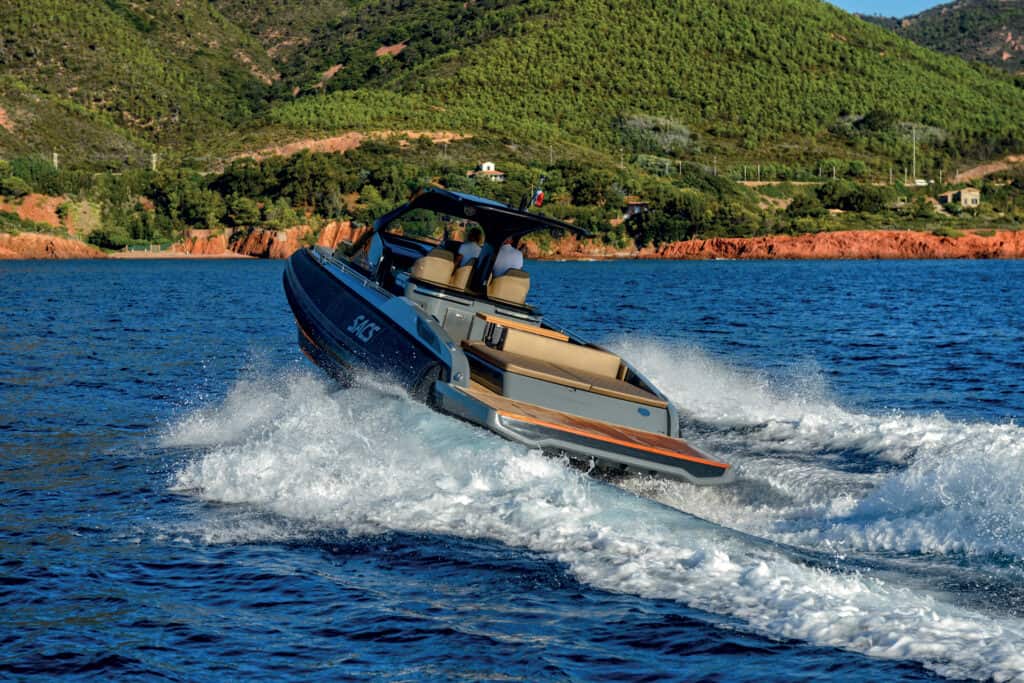 Sacs Rebel 40 handled every challenge we threw at it with poise, turning much more calmly than a large RIB with Volvo Penta engines – we found the entire experience almost elegant and relaxing, even when jumping over larger waves. As for maximum speed, announced at 41 knots (fuel consumption 150 l/h), we had to take the word of our skipper, Jure, who tested the unit in the open sea and found it responsive, prompt and stable.
RIB that combines the elegance and comfort
Sacs Rebel 40 reaches top speed only equipped with two Yamaha 425 hp engines, 200 kg lighter than the engines we tested. This lovely RIB that combines the elegance and comfort of a classic cruiser with impressive performance and maneuverability of a RIB is the right choice for everyone looking for speed, comfort and safety – and wants to avoid getting splashed by even one drop of water.
Text Filip Bubalo
Photos & video Sacs