Although just a blink away from the island of Vis, the tiny island of Biševo has so much to offer it really should be considered the most interesting destination of that corner of the Adriatic. Find out more about Blue Cave, Medvidina Cave, Porat bay and sandy beaches on this Croatian gem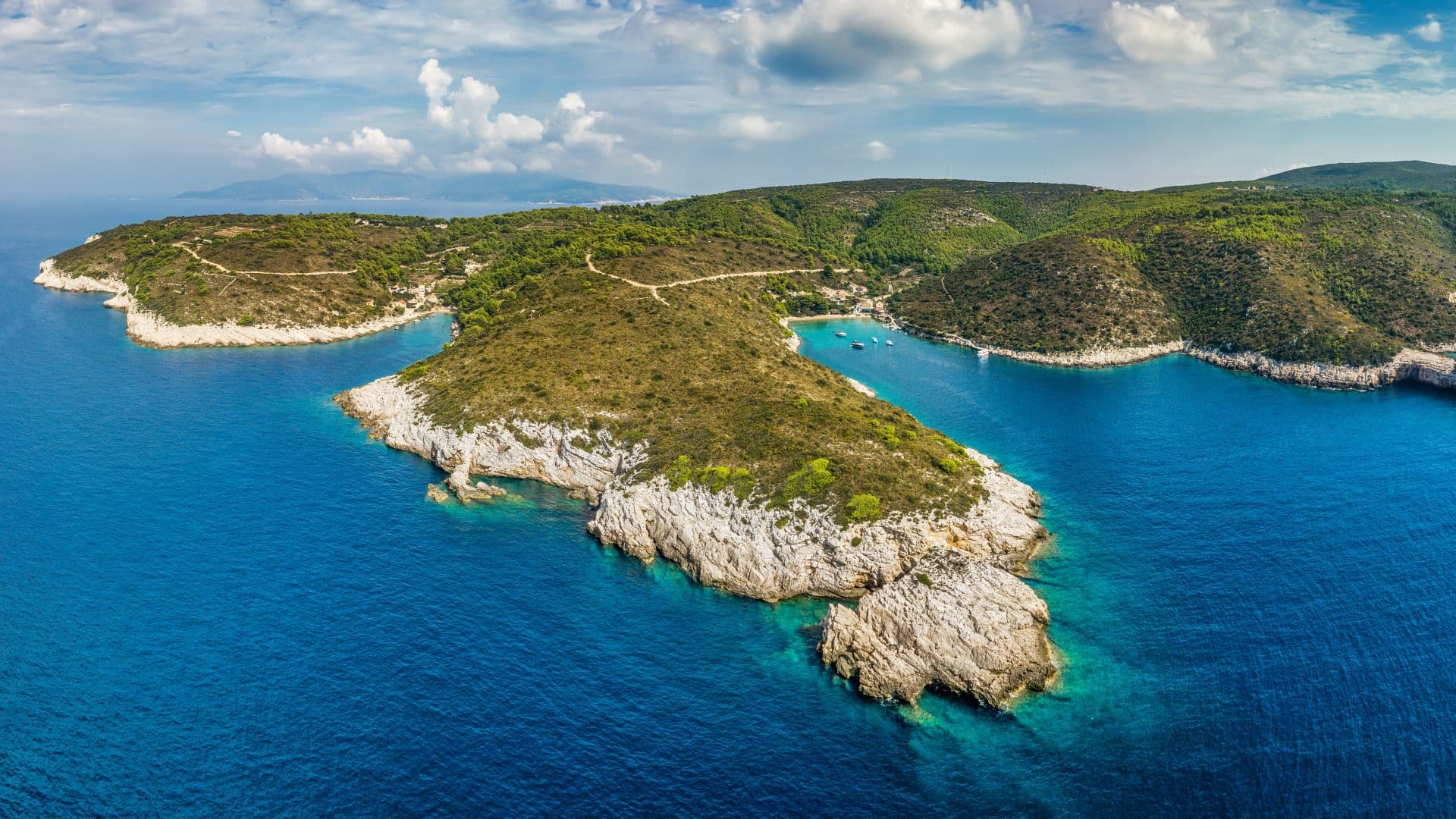 The beautiful island of Biševo seems torn from the deep and wide Komiža bay like by the hand of God – or Mother Nature. Once you see how much beauty it holds, you'll come to understand why it still attracts so many hearts and minds, even so far from the rest of the Adriatic.
Blue Cave
As of last year, the island is officially part of the Vis Archipelago UNESCO Global Park, which just might guarantee it will remain just as peaceful in the future. Humanity has already left its mark on the island of Biševo – even the famous dolomite and limestone Blue Cave has been opened for visitors thanks to human activity – but the island is still very serene.
Sometimes compared to the even smaller island of Šćedro (once a large Benedictine monastery, today just as peaceful as back then), Biševo is much more interesting despite the calming nature. Blue Cave, Medvidina Cave, Porat bay and beach sands on one side, peaceful rural land on the other – Biševo is an island we all dream about. This little zen dot on the blue hides as many as five caves with hidden entrances, impossible to reach by boat.
The most popular cave on the island is the Blue Cave, and seeing how several years ago the Komiža tourist board decided to build a small promenade, a souvenir shop, modern toilet facilities and even a digital visitor counter (!) right next to the cave, that part of the island has lost some of its charm. In the high season, the cave is almost impossible to reach by boat, as tourist boats take up every spot – most of them bringing tourist who only came to see the cave.
In addition to twenty free buoys, there is enough mooring space at the dock – keep that in mind, as the buoys are popular among tender RIBs that are coming from Split, Hvar, Vis or Korčula. The water around the dock is deep enough for larger boats, and free almost all day long, unless used by the local taxi boat from Komiža.
Those who choose to visit in the off-season can use their tender to approach the entrance to the cave, but in the high season private boats aren't allowed access. Our advice is to just swim in, as there is not better way to experience this truly unique geological phenomenon than swimming in, diving through and breaking the surface in the south-east part of the cave.
Medvidina Cave
The mystical Medvidina cave in the Trešjavac cove offers an eerie atmosphere: 160 meters long, it is the longest cave in the Adriatic, but also wide enough for small boats. The sea in front of that cave can be whimsy and the currents swift to change, so never leave your boat unattended.
Don't forget a waterproof hand lamp and make sure you swim in deep enough to reach a hidden beach where up to the 1960s lucky divers could meet Mediterranean monk seals. Seals were part revered, part feared by local fishermen, whose activity ultimately lead to seals leaving those waters.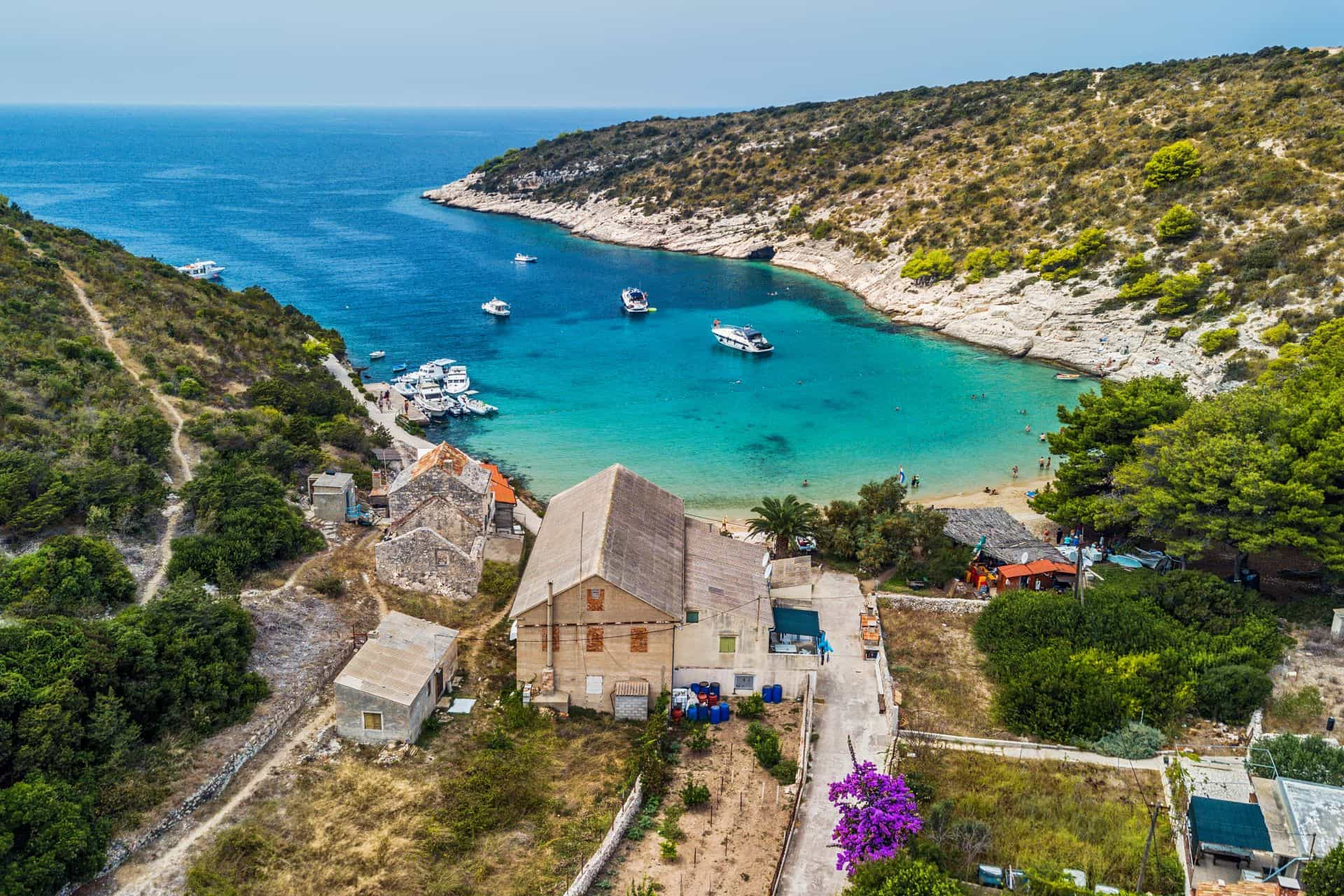 The nearby Mezoporat cove is not a hospitable place, with strong northern bora and tramontane winds especially strong in the summer, so be aware of the weather report at all times – and whatever you do, leave for Komiža before any sign of a storm. Small boats might get seriously damaged – keep in mind the saying around the island warns all those fishing ships that went under weren't defeated by southern winds, but northern and western, that don't even let up at night.
Now that we've scared you a little, let's focus on the fun side of Biševo. There aren't many islands in the Adriatic as pleasant for trekking as that one. Mere twenty minutes from the coast lies Polje, a tiny village easily recognizable by the messy layout, but hiding several architectural gems, like the medieval St. Silvester church and the antique villa rustica.
From there, hike up the Stražbenica hill (240 m) and take a good, long look at the serene blue of the Adriatic, dotted with tiny islands of Palagruža, Svetac, Brusnik and Jabuka.
Porat beach on Biševo
In its heart, Biševo is mostly covered in untouched nature, sprinkled with agricultural land and sandy soil ideal for growing the excellent local wine, bišovski plavac. The many wildflower meadows also attract bee swarms, so the tiny island produces plenty of fine honey. Some of that sandy soil spills onto beaches on the western side of the island, in Porat and Salbunara, so your hike might end with a nice swim.
Porat cove is good for anchoring and safe during mild mistral, but can be very unpleasant during southwest lebić wind, so our advice is to transfer to Vis. As tiny as it is, Biševo offers a decent number of restaurants, all of them equally attractive, as the catch of the day here is always fresh and plentiful.
YACHT SUGGESTION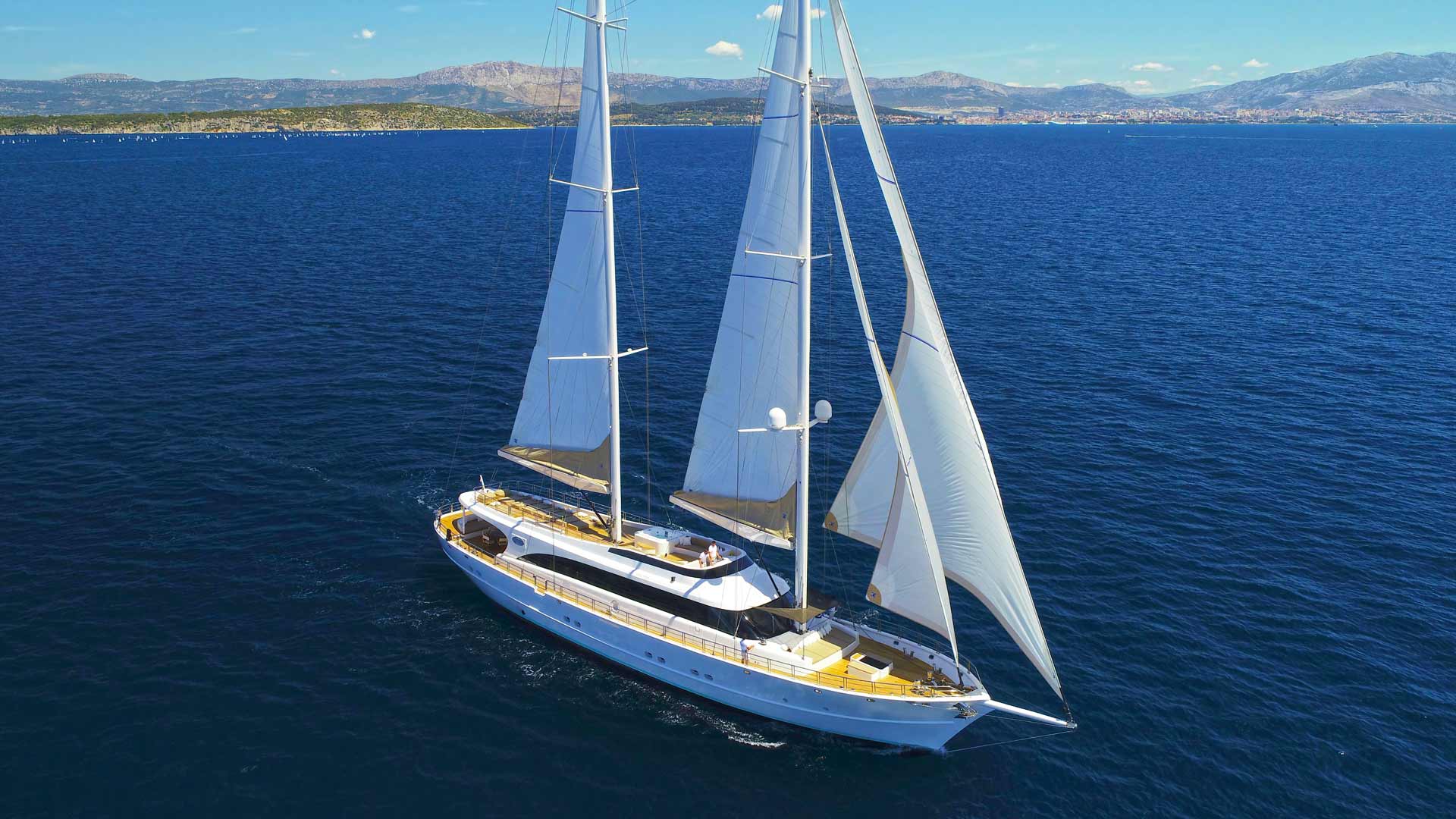 49m Acapella is a sailing superyacht, launched in 2021 by a well known Croatian family. This luxurious yacht has been lovingly constructed with ultimate comfort in mind, which is reflected in her 5 incredible staterooms, accommodating a maximum of 12 guests.
The future of Biševo as a tourist destination is uncertain, as the two main factions have completely opposite views of what it should be: the tourist board wants to go along with global trends, while private citizens – inhabitants of the island – would prefer to keep it small and sustainable, and keep control over the nature and culture the island abounds in.
While you're waiting to see who wins, you can watch 'iOtok', a lovingly made documentary about Biševo, its people and their desire to keep their little slice of heaven.
Text Filip Bubalo
Photos Boris Kačan, Filip Bubalo, Kristina Peračić, Ivo Pervan, Aleksandar Gospić/HTZ
Video Yachts Croatia