Solaris Power 48 Lobster has unmatched design and unprecedented quality outside, lovely surprises inside atop a well-balanced hull capable of interesting performance
We tested the Solaris Power 48 Lobster last September, during her debut and so far the only public presentation in Genoa. This new model built on the 48 platform – shared by models Open and Flybridge – is one of the most beautiful yachts her type and size we have ever seen. The first model of then new brand Solaris Power was 55 Lobster, which we also tested.
Solaris Power 48 Lobster design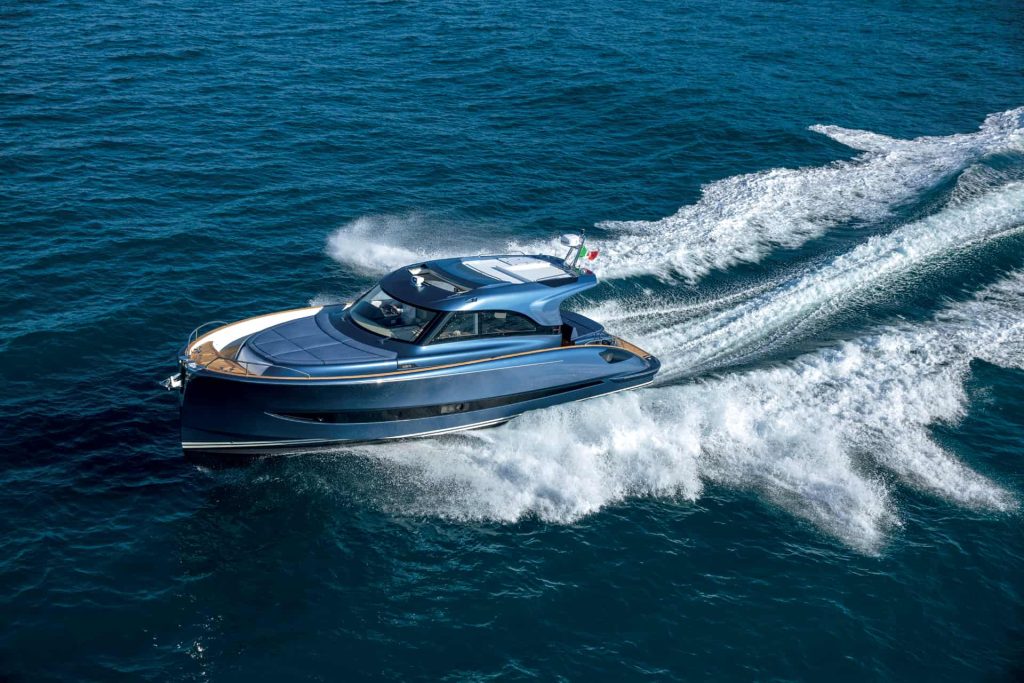 A little more than a year later, the brand has demonstrated how quickly they evolve. Already known for perfectly crafted sailboats, the builder used their skills just as wisely on this lovely lobster that announces its quality with the hull glazing – the metallic blue is so perfect it shines like a mirror.
Like a expensive sporty car
The unit we tested reminded us of expensive sporty cars not only because of the hull color, but for many other details – sweeping, tall sides, teak sidedecks, flush mounted cleats and bollards just like on large sailing boats.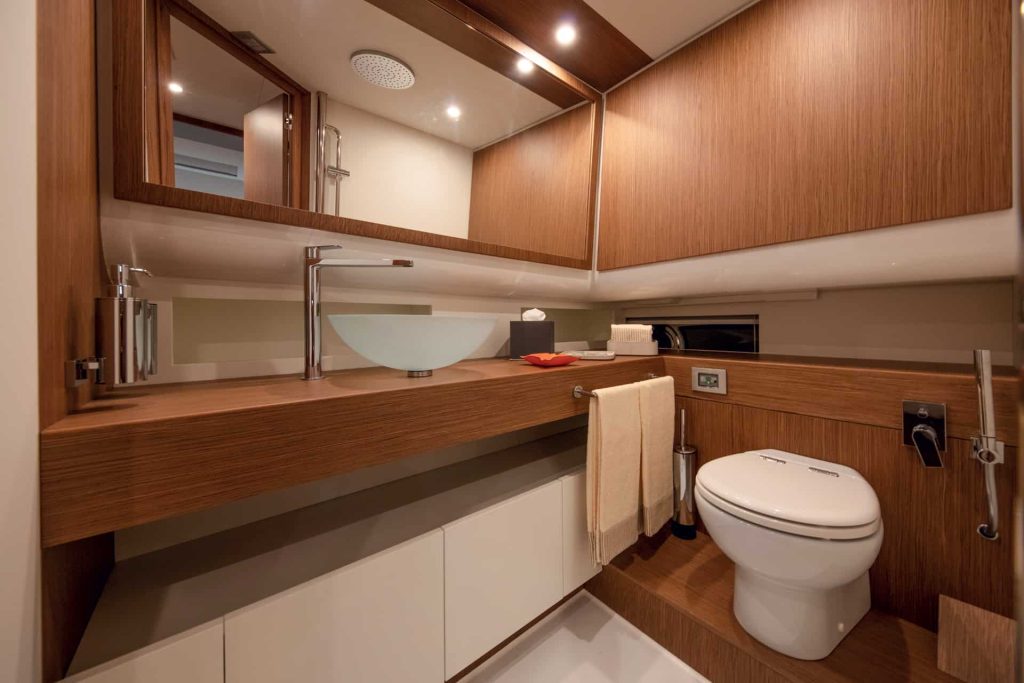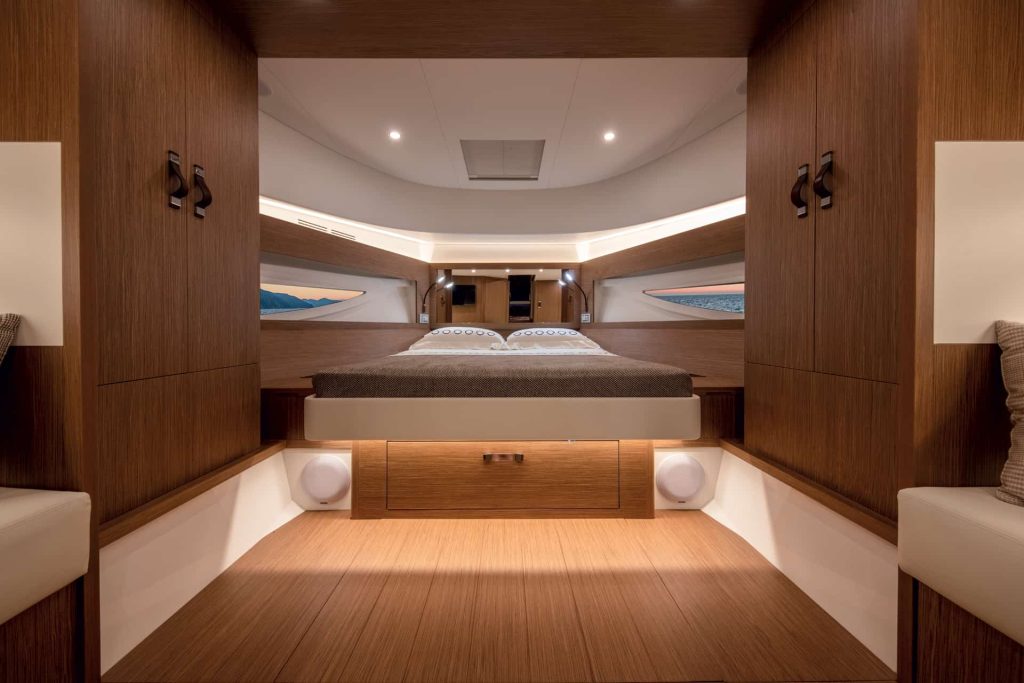 Solaris seem to have used all the know-how and skill acquired building sailing boats on this sexy little motor lobster, applying some time-tested tricks to make her as perfect as she is. In addition to impressive design, Solaris Power 48 Lobster boasts volume and comfort. The unit we tested had one large cabin below deck – and nothing else, as the owner requested. In the bow, there is more than enough space for a king-size bed with lovely designed drawers, the head is aft port-side, while aft starboard there is enough room for a small salon with a sofa.
Additional storage can be found aft below deck, and on the unit we tested that space is used for a washing machine and an additional fridge. Although this one-cabin solution is pure luxury and there probably won't be many units repeating it, Solaris has undoubtedly proved what they actually mean when they say the model is semi-custom.
Very Italian interior
The interior is very Italian, very high-quality and boasts several cute details that demonstrate how far the builder is ready to go to make the client happy. On the main deck, the command post is starboard, while a small diner with seating for four is port-side. The table folds, and the space can be used as an additional salon or for sleeping.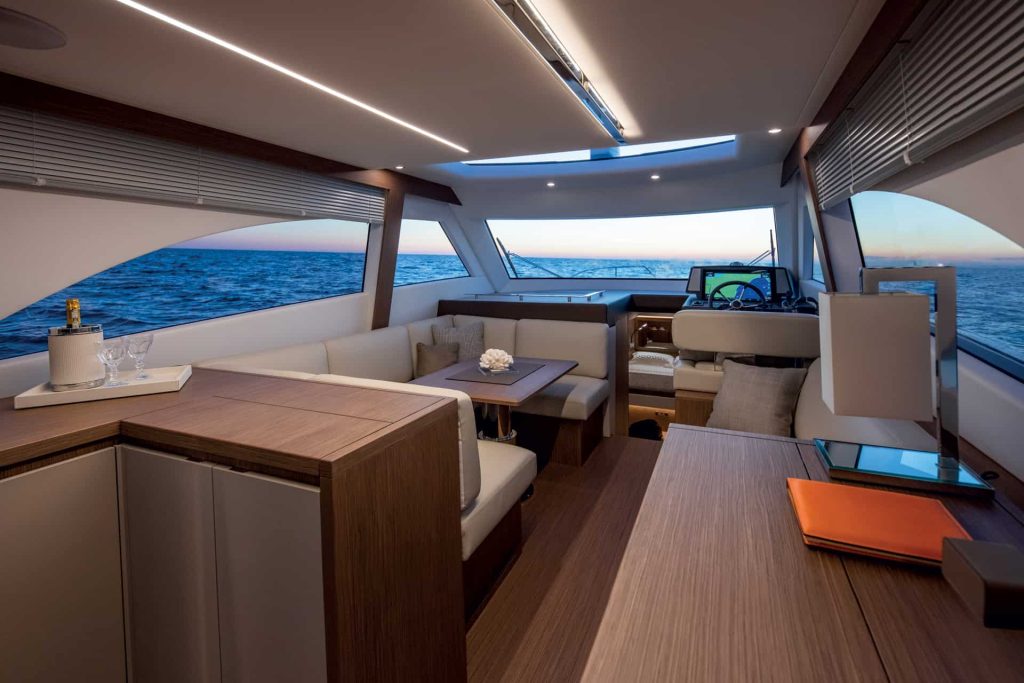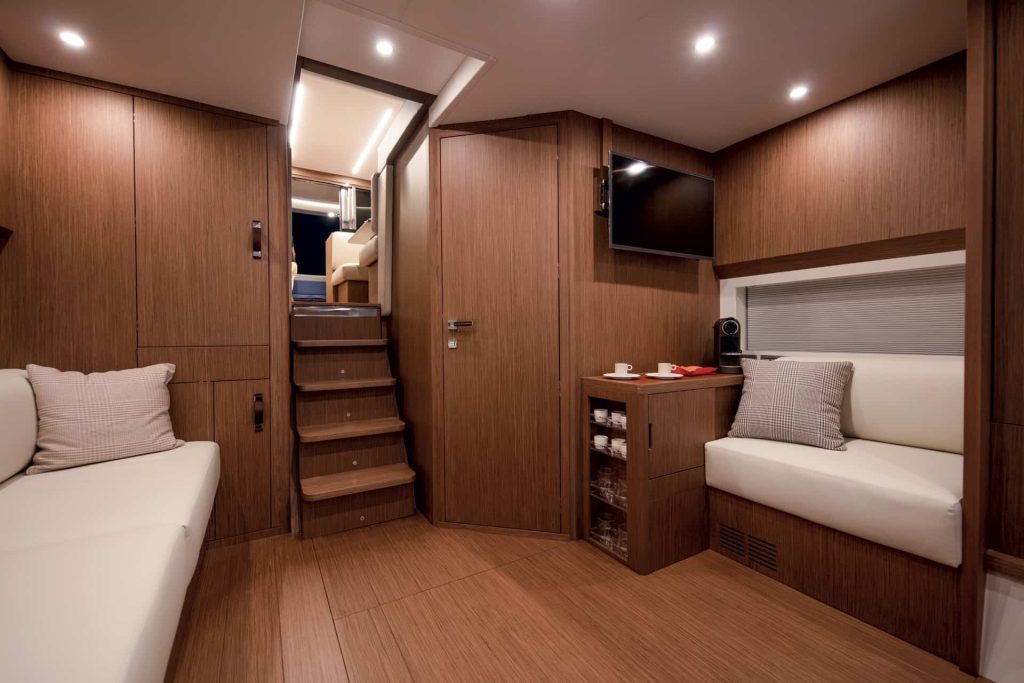 Our favorite detail indoor was the lovely stainless steel handrail integrated into the ceiling of the salon, which allows opening of its front part. Aft in the salon, the galley is well equipped with a stove (both gas an induction) and a sink, while the fridge has been moved to the cockpit.
Top speed of 32 knots
The galley faces the deck and is visually connected to the cockpit. As for the cockpit, it's brimming with excellent solutions. The dining table seats four or folds into a sunbed in a couple of easy moves and the aft deck hides a garage for a tender up to 2.50 meters in length. Just like on the Open, the bow is essentially a large sunbed, stretching side to side.
The model is available with various engine configuration, and the unit we tested was powered by two IPS 650 480 hp engines, which is the more powerful configuration – and the one that convinced us Solaris Power 48 Lobster isn't just beautiful, but ready to take you for an exciting ride.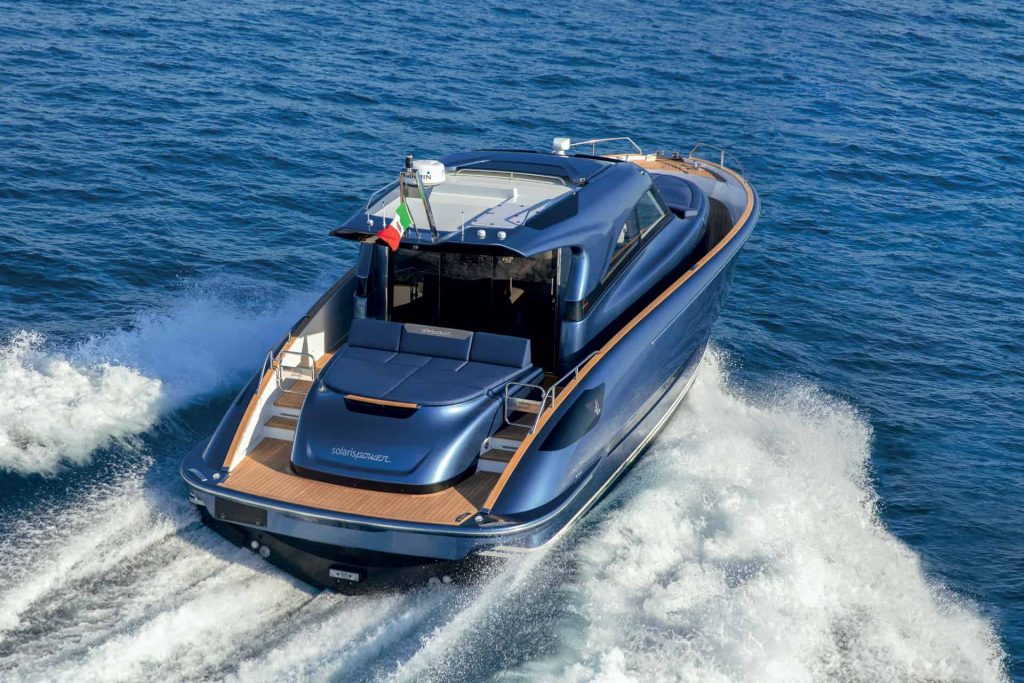 On our test, we reached top speed of 32 knots (with fuel consumption reaching almost 190 l/h), but the skipper who assisted us – and who covered 2500 miles on the 48 Lobster last summer – informed us the model is equally impressive at 22 knots, with consumption falling to 115 liters per hour, and the autonomy rising to 300 miles.
Solaris Power 48 Lobster range
We found this beauty interesting even at low speed – 10 knots and mere 25 liters of fuel per hour – which only goes to prove how far you can take a model based on hull design above anything else. Just like all Solaris Power 48-footers, this one was also designed by studio Victory Design, so kudos to them.
Solaris Power 48 Lobster is a truly balanced vessel, equally well designed and well made in every detail, and we can't wait to see new units cruising the local waters of Croatia.
Text Darko Šupuk
Photos & video Solaris Power