T7 is a representative of a new generation of Technohull RIB, best known for their excellent performance and top quality build. The latest in the series has plenty of both
Technohull T7 design
With its 7,8 meters of length, Technohull T7 is a sporty day cruiser with an impeccably designed hull and various features – from the storage space or the berths, to the impressively large swimming platform with a useful ladder that facilitates daily operations.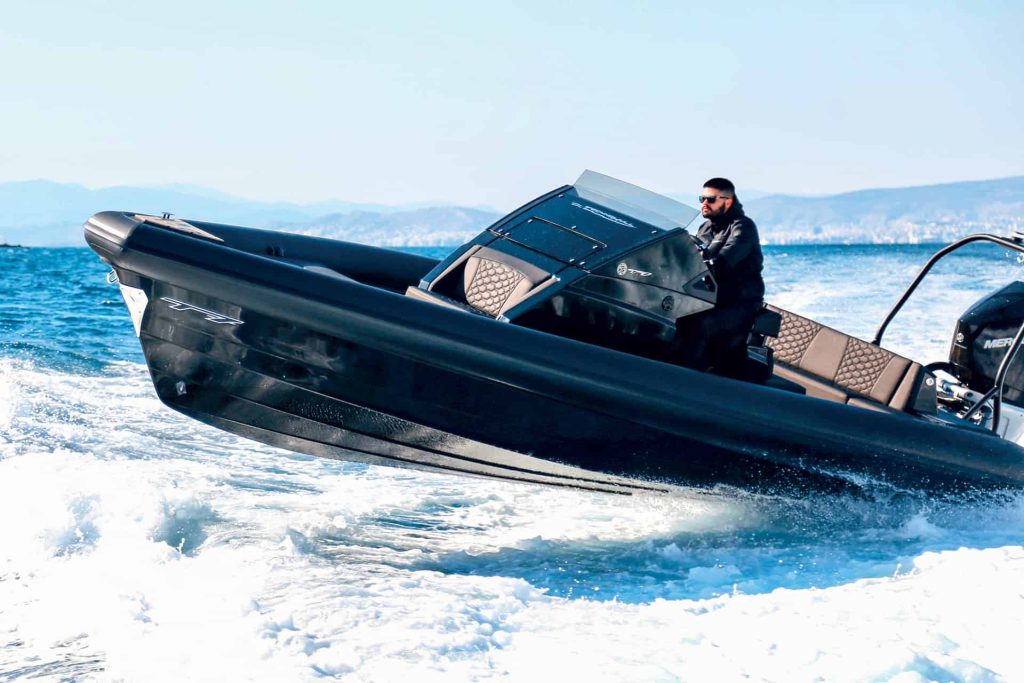 This model is the latest incarnation of Technohull's day cruiser, smaller, but still impressive boats adequate for various purposes, following the brand's successful foray into superyacht tenders.
The hull of the new T7 is brand new, stepped (patented Dynastream technology) and was developed over five years. The air cushion the Dynastream creates not only allows fast cruising, but also reduces friction and lowers fuel consumption.
The unit we tested had sharp, sporty lines, carbon extras, comfortable and functional seating with hand-made seams just like all other models of the series.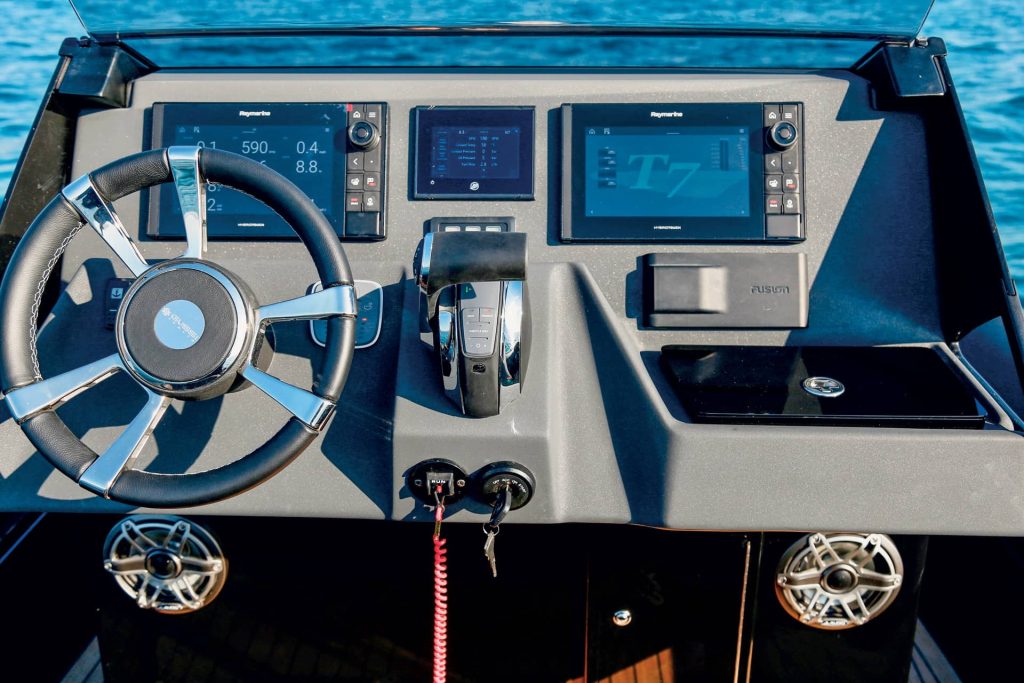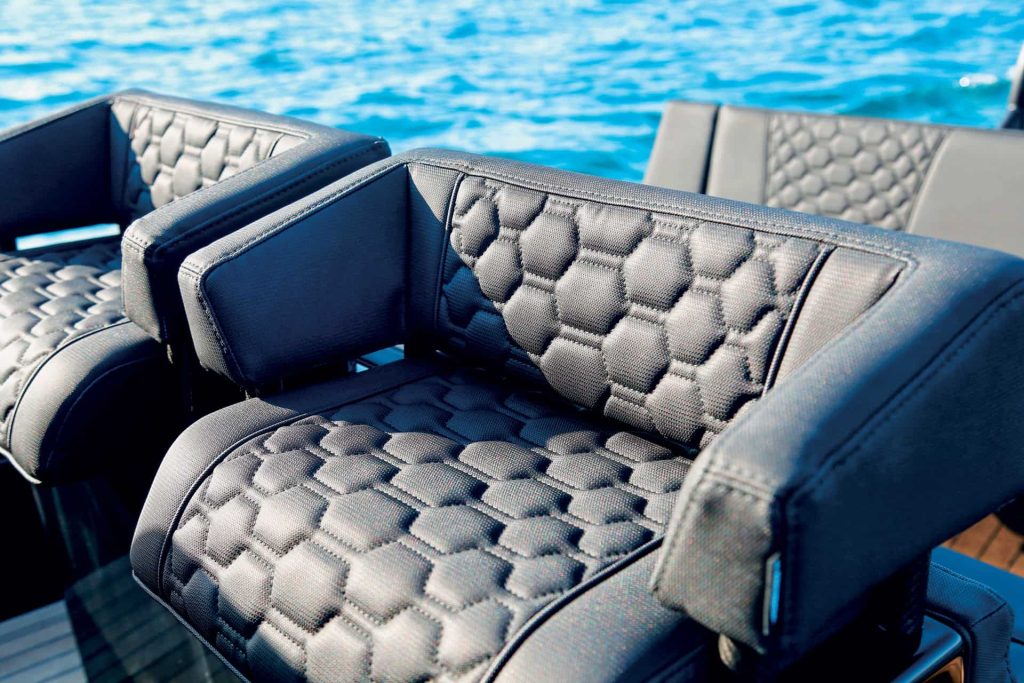 Comfortable and functional RIB
Behind the central command console there are two separate seats for the skipper and the co-pilot, the command console touchscreens are clearly visible even in bright light, and the power handle is placed to serve best with the skipper half-seated. Behind the seating, there's a bench facing aft, and below, storage space.
There is also a larger bench farther aft, which can be turned into a sunbed with cozy cushions. In the bow, there is another storage space, for ropes and fenders. We found the unit we tested quite well equipped, although we did wish it had an additional water tank and a day shower, usually seen on day cruisers.
Powered by a 300-hp Yamaha, T7 only has displacement of 2080 kg, which already tells us how fast and fun it can get. Brand data states top speed at 57 knots with a 350-hp engine, but the unit we took for ride had a weaker engine, so we didn't even try reaching it.
Technohull T7 top speed and overall experience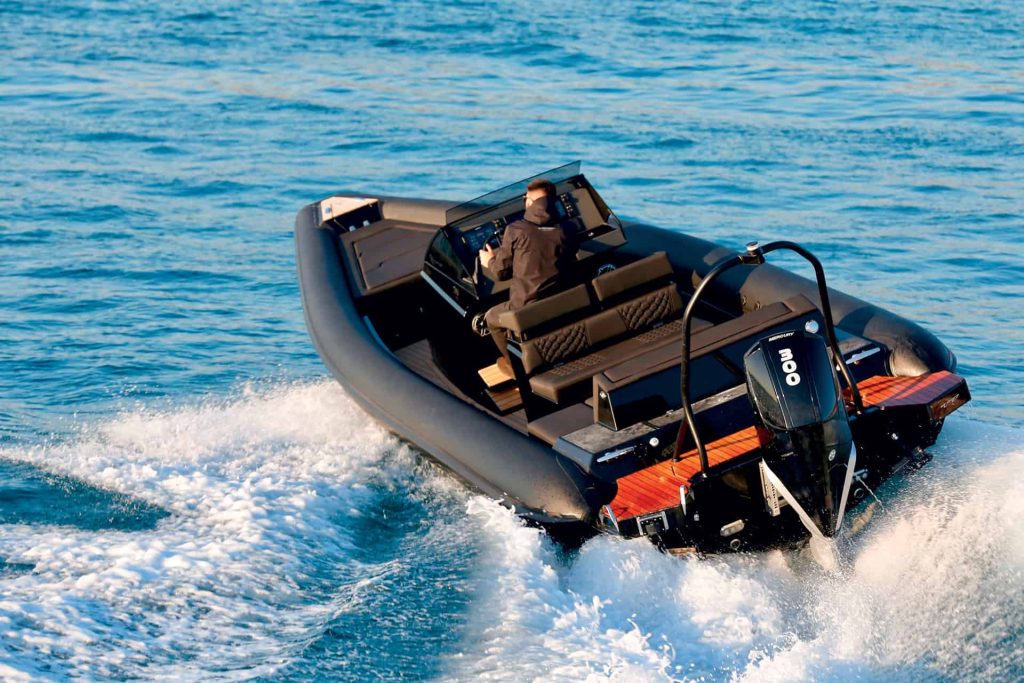 Instead, we found the new T7 extremely fun in turns and on waves. Even though we started out slowly and carefully, we were quickly reassured and hit the gas. At higher speed, T7 sliced the waves without a hitch, and we found the overall experience even smoother and more comfortable than navigation at lower speed.
We reached 49.5 knots at 5700 rpm, and it took only 3 seconds to reach planning speed – we also found it difficult to tell exactly when we started planning, as the hull is so stable there was no characteristic jump, and planning was achieved at rather impressively low speed.
With 85% load, we reached 40,8 knots, with fuel consumption of 79 l/h, and we guessed cruising speed to start 21,7 knots at comfortable 3500 rpm – and end at 40 knots, if you're in a hurry. Extremely stable and safe, Technohull T7 impressed us with speed, safety and overall performance, and we found our ride on quite unfriendly waves to be comfortable at all times.
Text Julijan Višnjevec
Photos Technohull