Picturesque Jelsa on the northern coast of Hvar is a yachting hot spot, luring visitors in with longstanding winemaking tradition, azure coves and simple island lifestyle
Jelsa, a charming town on the island of
Hvar
, lies on the northern coast, in the proximity of the island's two highest peaks, Sv. Nikola and Humac. This perfect little getaway spot grew out of a tiny harbor that served nearby Pitve. Later, in the 13th century, Jelsa gained power and turned into one of the most visited merchant ports in the area. Merchant ships sailed these waters carrying local produce, especially wine and olive oil.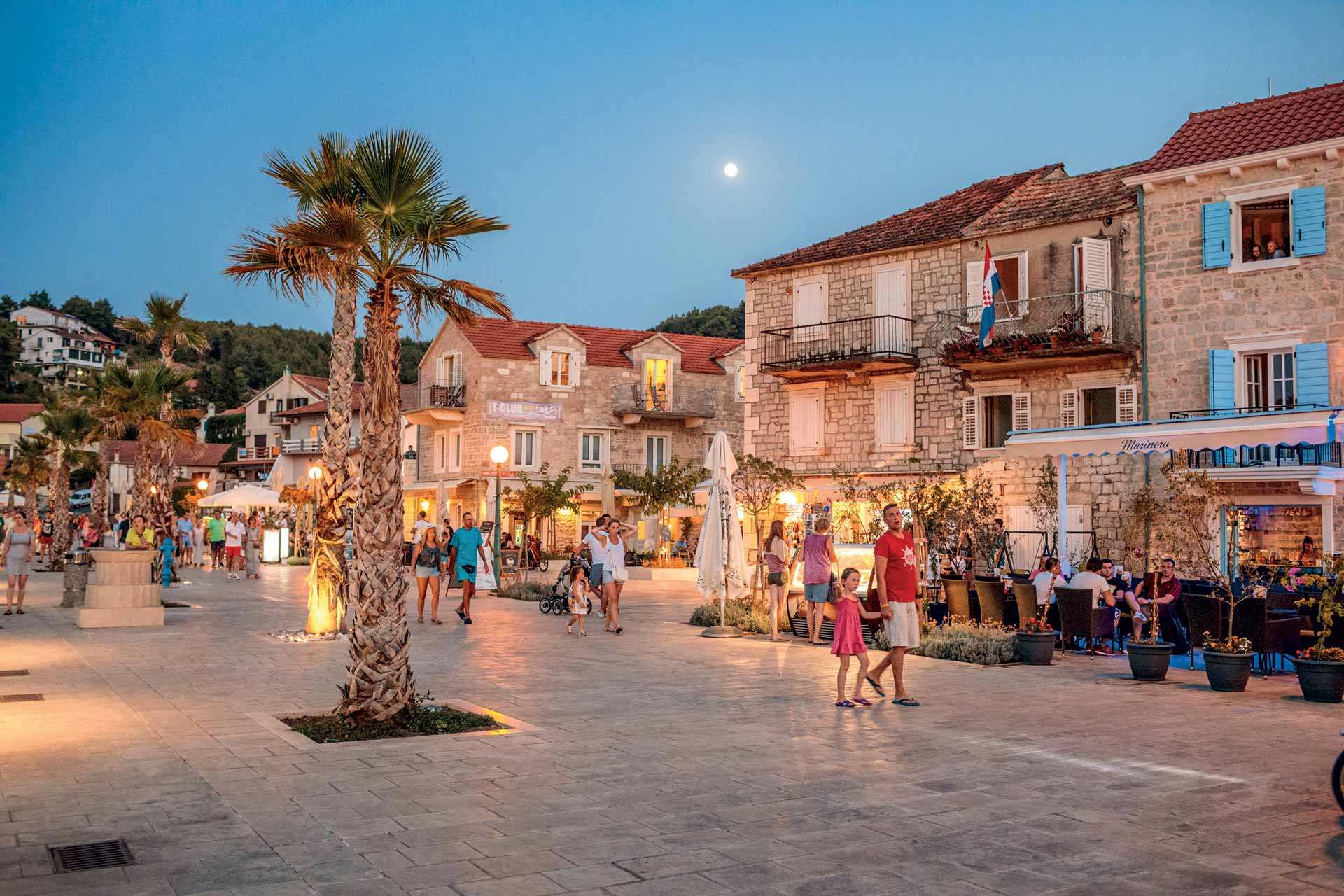 The most powerful merchant family, the Duboković family, grew olives and grapes on their many island properties, exporting locally and all the way to Trieste and even to the English Portsmouth. Although the long winemaking tradition of this island and this town stretches back into ancient history, back to the local Greek colony established in 384 year BC, Jelsa found its place on the map with the growth of its local merchant fleet. The Duboković-Nadalini family pulled Jelsa into modern times with their many initiatives; port renovation, revival of vineyards, building several public schools and the first public library on these islands.
What to do in Jelsa
Today, Jelsa is an interesting yachting destination, as well, thanks to its location in the heart of a deep bay. Clear azure water is especially beautiful in those hard to reach coves accessible only by boat, while local sandy beaches of Mina and Grebišće are idea for a relaxing day in the sun for the whole family.
Those looking for some peace and quiet will find them almost anywhere along the coast, in the shade of pine woods, or over a coffee, cocktail or a snack in one of the many local bars and restaurants. The locals love taking trips to Zečevo, a tiny island located on the sea route to Vrboska. protected from wind is the perfect spot for those afternoons when mistral spoils the fun everywhere else. The island is green and lush, surrounded by azure water and boasts one single bar, skillfully blended into the unique nature of this place.
Best Jelsa beaches
Around Jelsa, there are more beaches than you might need – but certainly the most beautiful are those on the south side of the island – in Gromin Dolac, Ivan Dolac, Zavala and Sveta Nedjelja. Passionate bikers or hikers will love the many hiking paths around here, leading to Vrbosko via Vitarnja, to Starigrad via the UNESCO heritage location of Starogradsko polje, alongside protected drystone or up toward the 4th century BC Greek-Illiryan tower of Tor. After a long walk, what better than a foodie tour.
Jelsa restaurants
Go for a tasting tour of excellent local wines, in one of the several wineries – Vina Tomić/Morinovi, or in the vineyards of famous winemakers – Tomić, Duboković, Huljić and Marijan. Try local food, a mix of modern and traditional Mediterranean cuisine, in one of the authentic local trattorias and restaurants, like Konoba Nono, Taula or Napoleon, and then go for a movie in the open-air cinema or for drinks in one of the popular seaside bars, like Tarantela and Prošperin.
Jelsa is somewhat locally famous as the location of the first disco club in the former Yugoslavia, which opened the island's since endless tourist season both locally and regionally. All summer long, the island sizzles with seasonal events, popular well beyond island limits. Fešta Vina, wine fest, takes place every last weekend in August, Vela Gospa (Assumption of Mary) on August 15, theater and music festival Večeri Antuna Dobronića last for a month, from July 20 to August 20.
Procession Za križen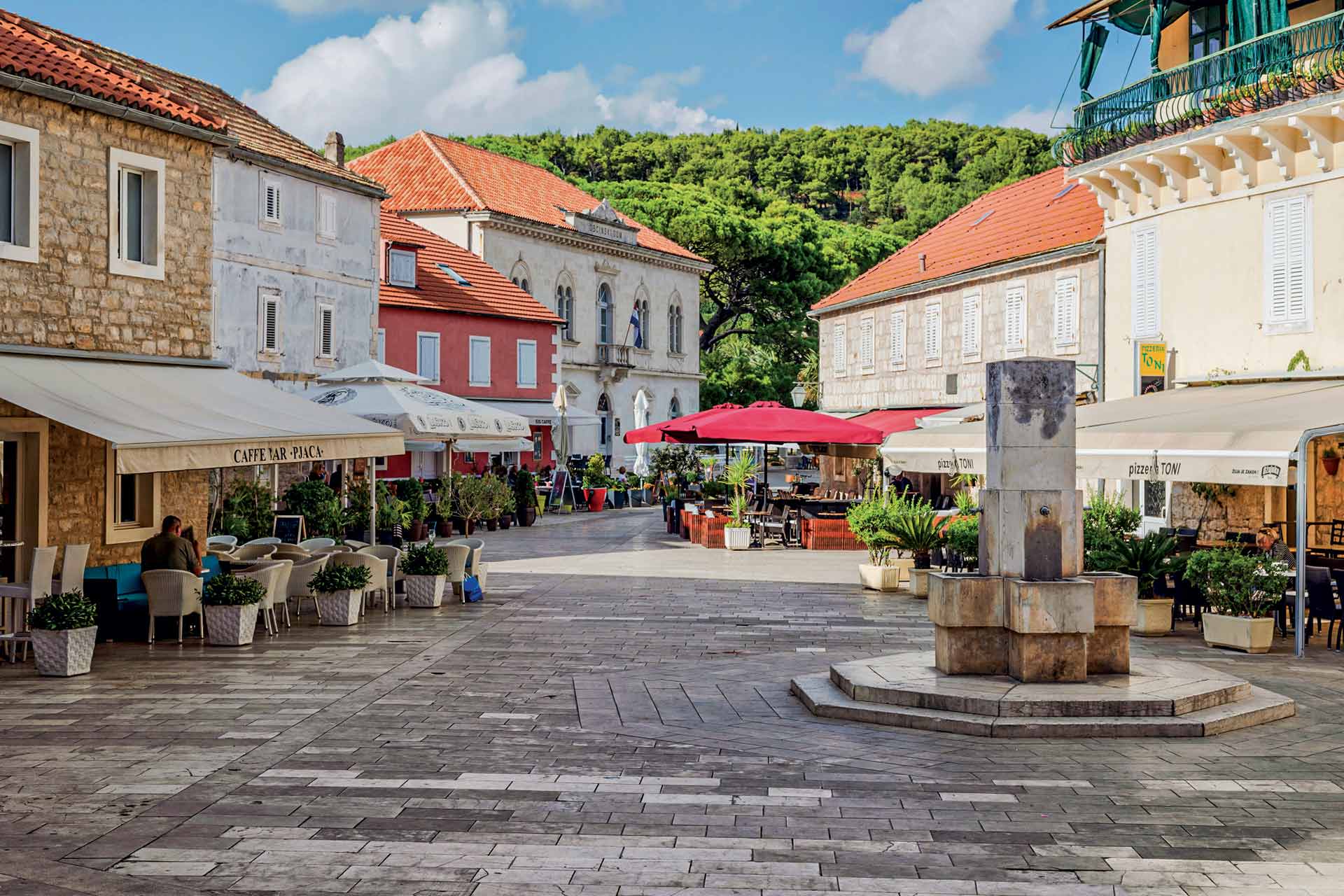 Then Jelsa offers something for every taste, from theater, concerts and exhibitions, to donkey races, the prosciutto race (up a mast!), bingo, floating fireworks, and of course, tasting of every kind. Jelsa boast another UNESCO cultural heritage event, the 17th century tradition Za križen, a religious procession that takes place on Maundy Thursday, with participation from Jelsa, Pitve, Vrisnik, Vrbanj, Svirče and Vrboska.
The long and mystical night procession travels for 22 km, with chanting, prayers and archaic hymns, all lit by the soft light of wax candles, and is an event so powerful that believers from the entire country flock there year after year. This lovely little island town is one of the most unique places in Croatia, whose many charms are more than enough to make many visitors come back year after year.
Jelsa moorings and docking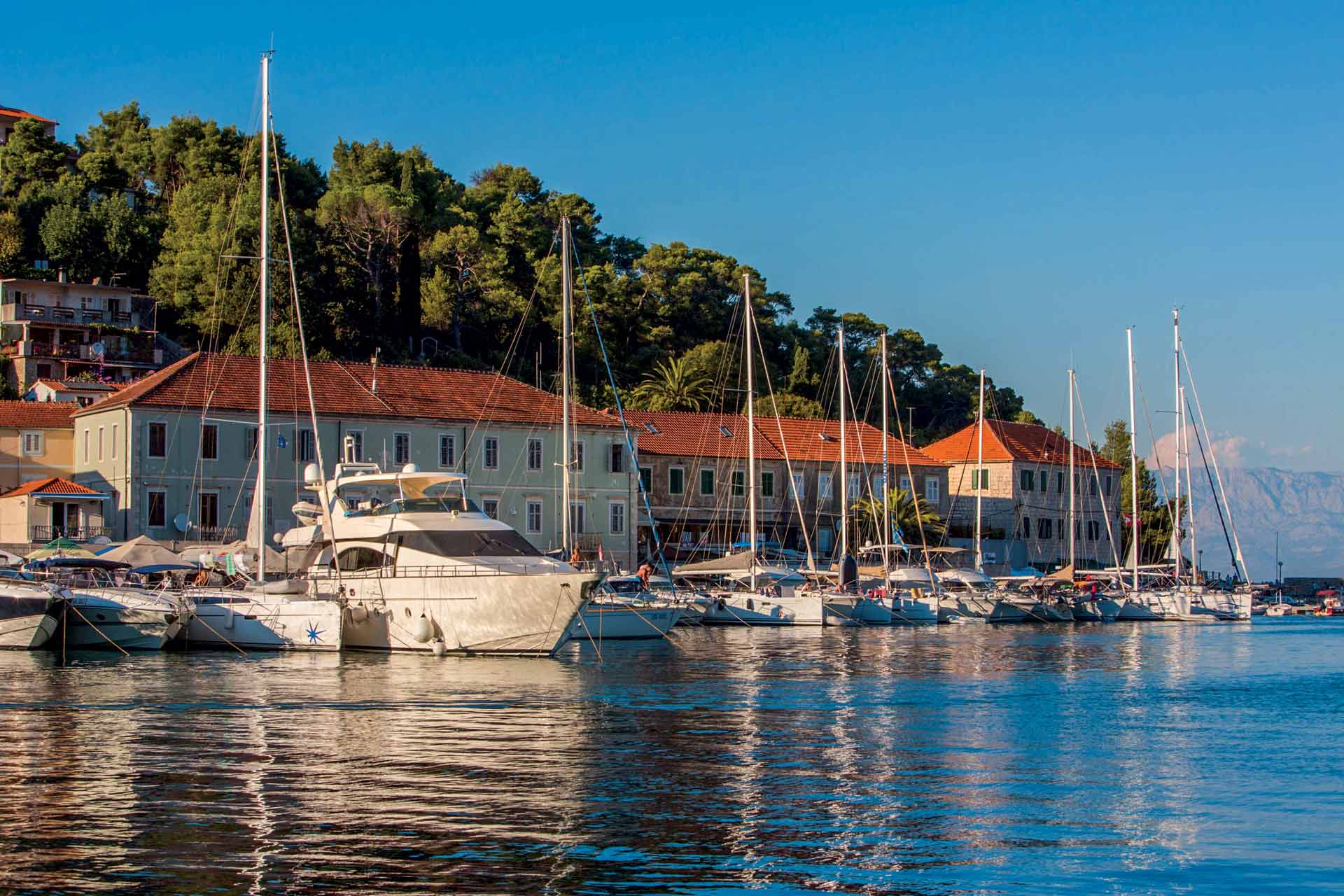 Jelsa offers plenty of mooring and docking spots, with electricity and potable water available on both sides of the bay. The port has 54 berths; 21 on the northern coast and 33 on the southern, for yachts and boats with draft under 4,5 m. Northern side is preferred by sailboats, luxury yachts and other leisure vessels, while the southern side is mostly used by tourist boats and catamarans.
Jelsa Yacht Charter
Islands near Split are among the most beautiful yachting experiences in Croatia. For example, island of Hvar has gained global visibility, but there are many other gems to discover within this stunning area to sail, only 30 nautical miles from Split. In order to explore this area at its best, we provide free counseling regarding chartering and activities during your charter holidays. The team of experts that brings together Yachts Croatia is also at your service when creating your perfect charter experience in Croatia and can help you to customize your boat charter.
YACHT SUGGESTION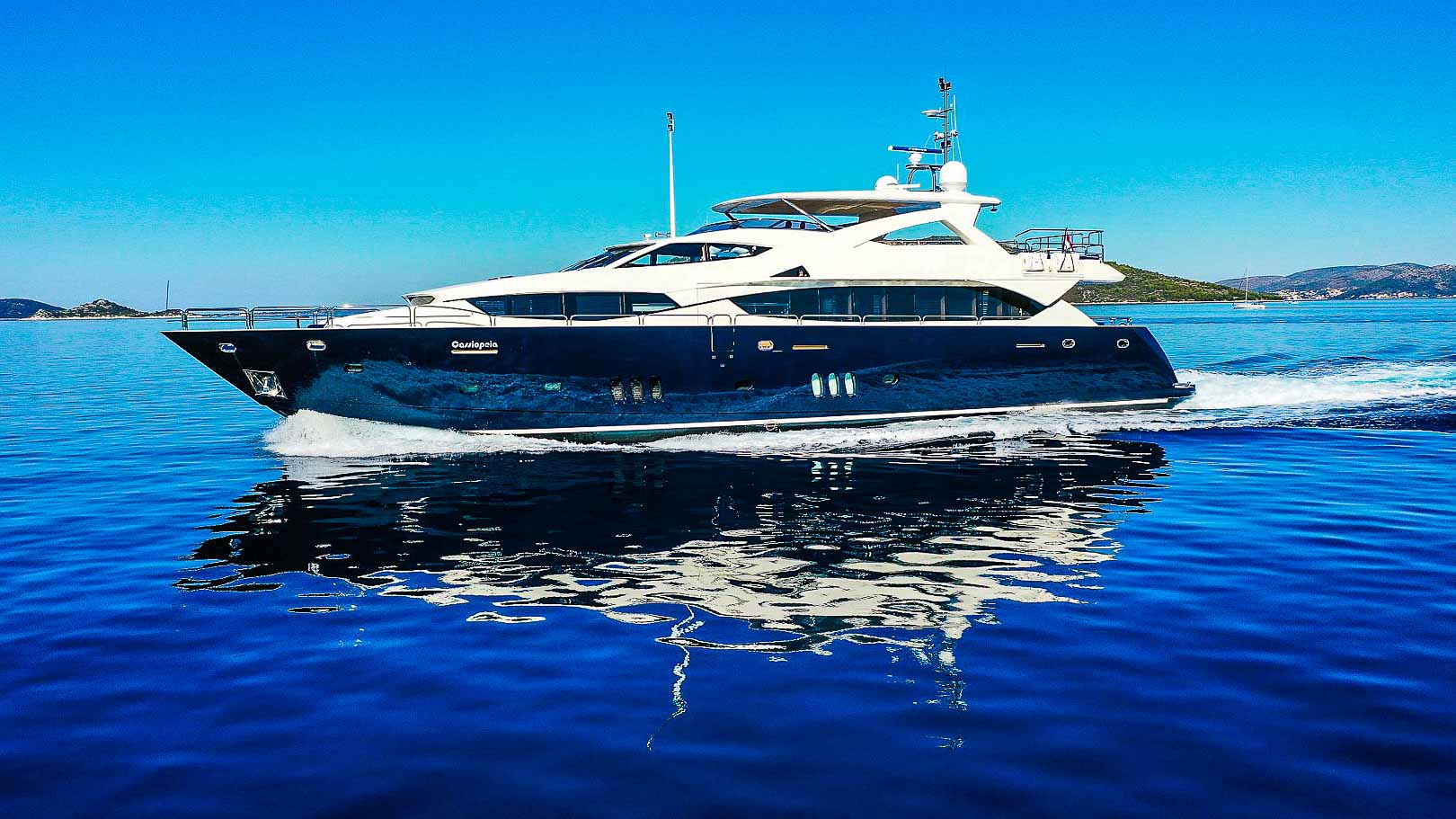 Designed and built by Sunseeker, Cassiopeia was delivered in 2009 and lightly refitted before summer 2020.
Upon request, our team will visit the yacht (s) you are interested in, with special care to your wishes – and make sure that we 'pamper' you with beauty while sailing! So contact your broker and make sure your e-mail includes the following information: your preferred type of yacht (sailing boat, catamaran, motorboat or yacht), arrival and departure dates, number of guests, preferred number of cabins and crew. Finally, we recommend you add the sum you are willing to spend on luxury yacht charter in Croatia.
Text Nika Drinković
Photos Mario Romulić & TZ Jelsa