Interesting in many aspects, the new Azimut S8 boasts great performance, large open exterior spaces and lavishly designed interior, and a stylish overall feeling shaped by designers Alberto Mancini and Francesco Guida
The latest model in Azimut S Collection has entered the market in 2019 at Cannes Yachting Festival, without much pomp, overshadowed by S10, the biggest in her line. After a long pandemic year where not much happened in the yachting world, this year's Venice Boat Show finally gave her and other newcomers a chance to shine. We were lucky enough to take her for a ride around the Lagoon and see what she can do. We found the new Azimut S8 simply irresistible for several reasons.
Azimut S8 range
Powered by three Volvo IPS (3 x IPS 1350 1000 hp), she's impressively fast. Acceleration, speed, maneuvering capabilities and above all, smooth sailing, are all equally attractive to turn everyone into a fan of the S8.
The carbon superstructure works its magic on several aspects of navigation, primarily on stability: we sailed across waves without even noticing them, and without any vibration at all.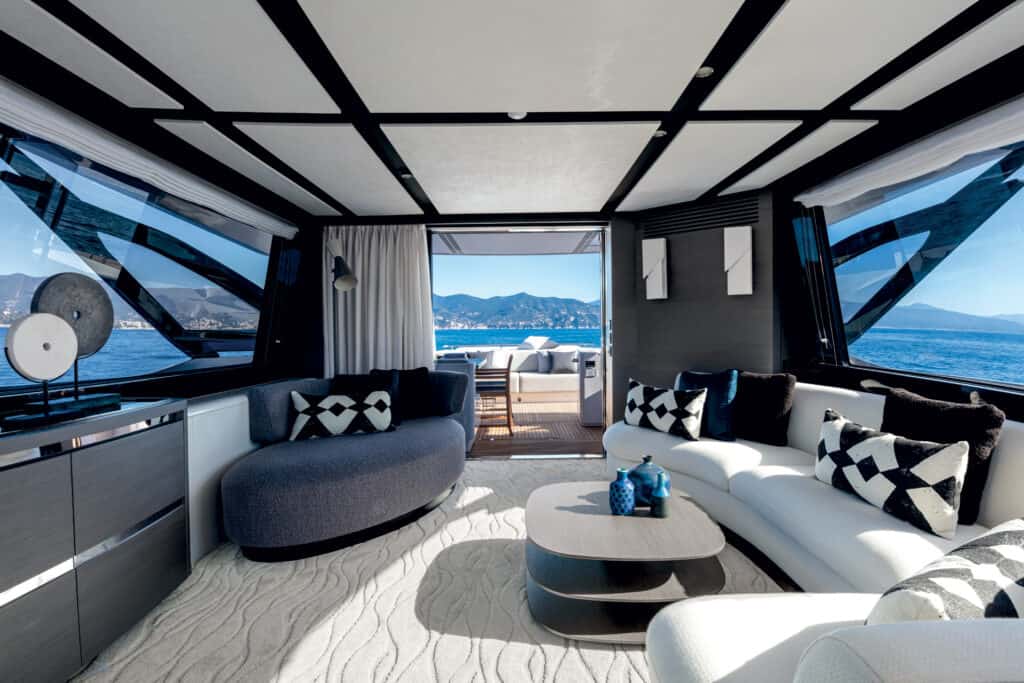 Although not advertised as the fastest in line, the S8 is still impressively fast with her 35 knots of top speed. We found 30 knots to be the most comfortable, with 480 liter of fuel used per hour, quite decent for three engines. Our skipper, an experienced Italian professional, informed us that at 20 knots and 1800 rpm fuel consumption keeps at about 10 liters per mile.
Smooth sailing is something you can only recognize after you've felt it once, and we've felt plenty of smoothness sailing on S8. Equally smooth are her exterior lines, fresh and unassuming, but impressive.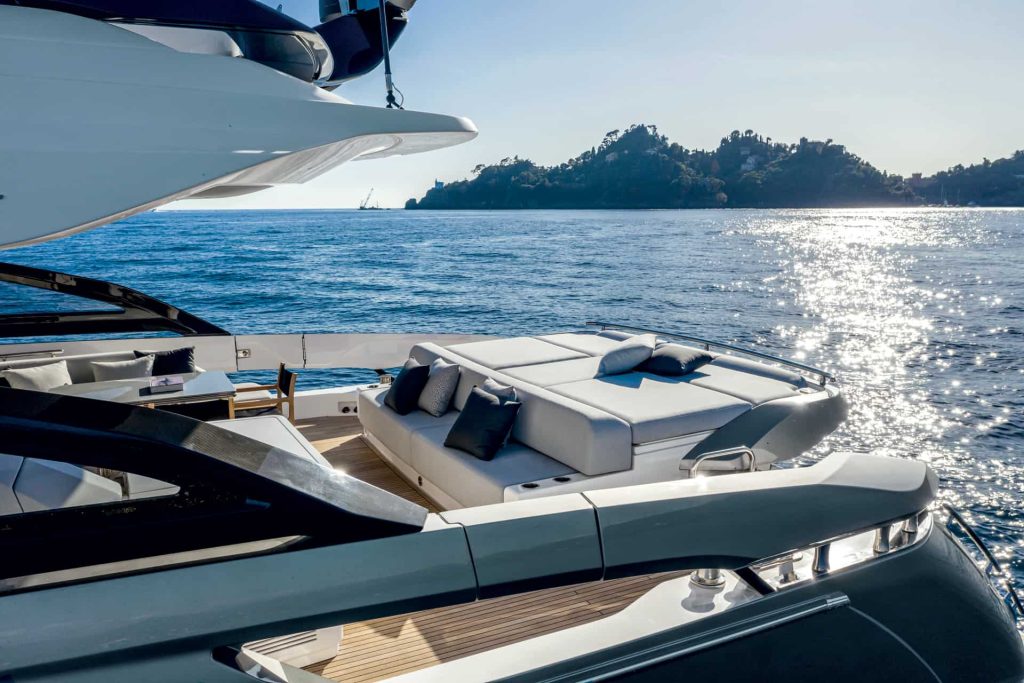 Visible carbon details and invisible use of carbon throughout, large glazed surfaces like windows stretching over superstructure sides, and the use of negative space make this yacht instantly recognizable in any port. The designer duo that have in these past few years created every line of every model, Alberto Mancini (exterior) and Francesco Guida (interior), have once again created an understated masterpiece.
Azimut S8 layout
The interior is light, airy, cozy, with modern overall feel, custom furnishing and a touch of luxury that suits this type of yacht. If you don't fall for Azimut S8 after seeing her exterior lines or her interiors, you'll surely find her irresistible after you've tried spending some time aboard.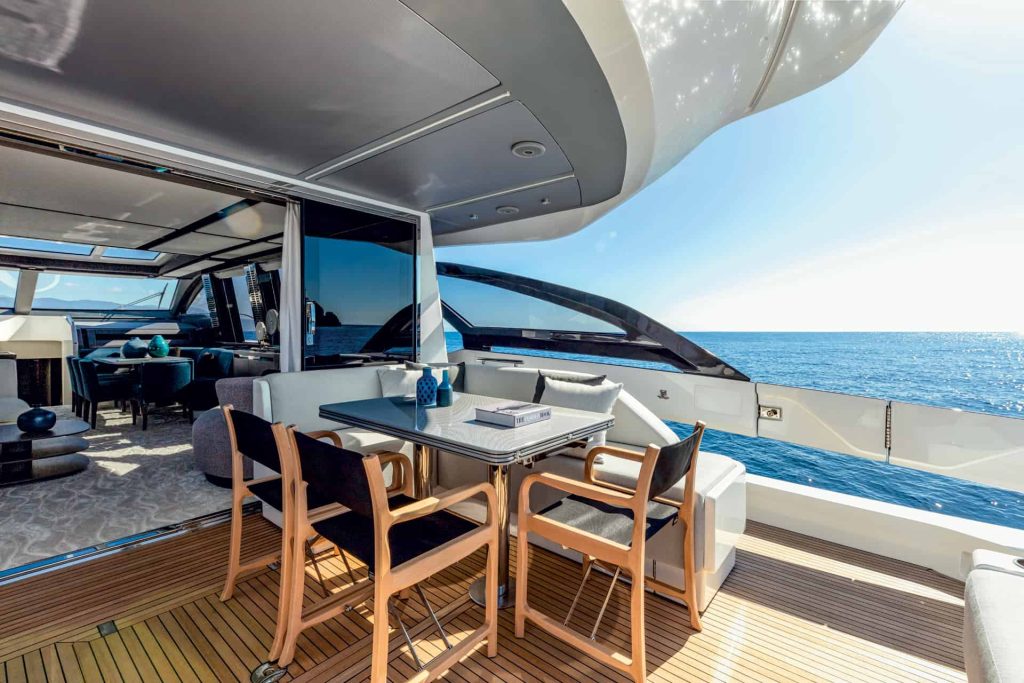 Designers and engineers have put their heads together to create the most interesting and functional layout we have seen in the recent years. Unmatched in her class in terms of usable space, the S8 has a large aft cockpit with a long bench and a foldable table that seats eight (the table also has a visible carbon structure).
Above the aft garage, there is a large sunbed protected by a top with carbon structure. In the cockpit, there is an element with a sink, a fridge and an icemaker, in line with current trends in exterior furnishing. The cockpit on the bow is completely different, unusually spacious and can be protected from sun rays.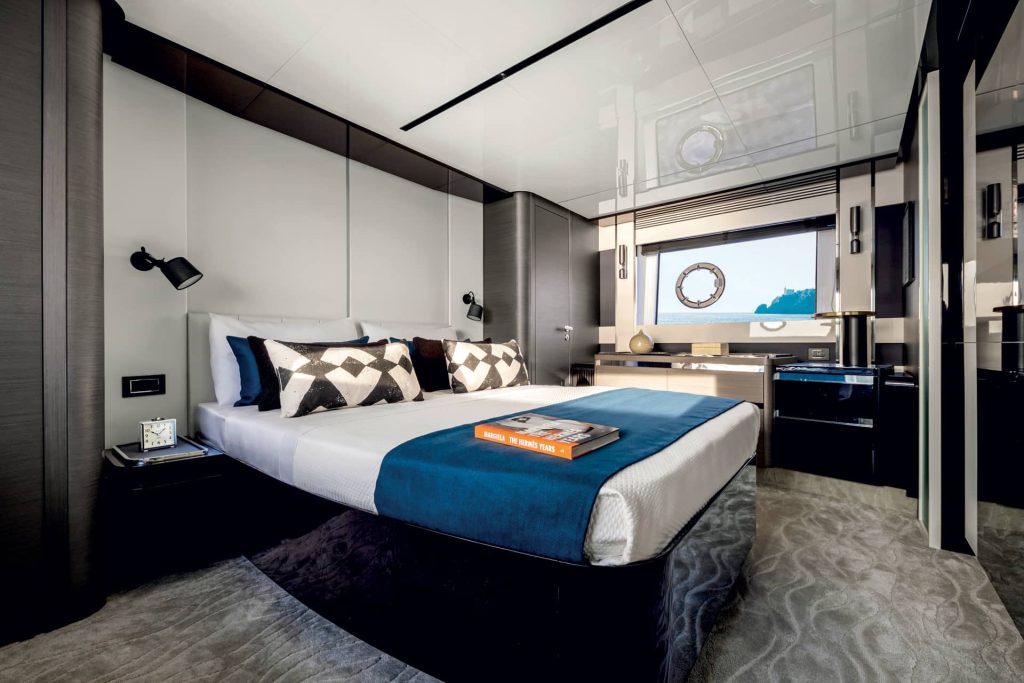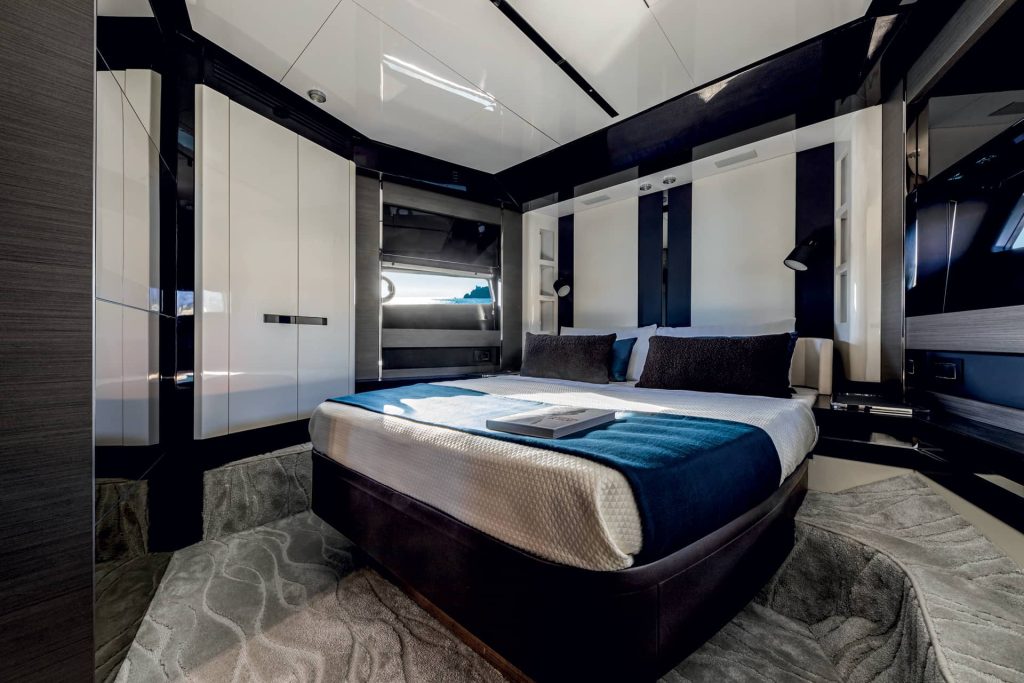 It is a wonderful alternative to the aft cockpit, and would be our choice in ports or at anchor. In this cockpit, there is a big sofa and two sunbeds with modular backrests, making it as versatile as it is pleasant. The third interesting exterior space is the sporty upper deck, which during our test seated six to eight without cramping, and the fourth is the popular beach club, opening from the garage while at anchor.
The interior is just as inviting. Straight up from the cockpit, the salon offers two sofas in the sitting area, then continues to the dining space starboard and the command post to the port, with two seats and a dedicated door leading to the deck.
Yacht with four cabins
The salon is well lit by natural light seeping through large windows and the skylight, which can be covered electrically. The command console is large and has three Garmin screens that control everything, even the engines. Below deck, beside the galley, there are four cabins – the master aft, the VIP in the bow, and two guest cabins with Pullman beds, and the S8 overall has ten berths. Another big hit for Azimut, and a challenge for every builder looking to do better in this class.
Text Darko Šupuk
Photos & video Azimut Yachts