Driven by nature, built with passion, these eco friendly yachts were meant to make cruising as quiet, luxurious and enjoyable as possible, with great respect to our oceans
Whether it's a yacht meant to explore the oceans in a most sustainable way, or it is a catamaran that with a luxury offering of interior space dedicated to enjoying seascape, these four eco friendly yachts, offer in its own right a glimpse of future of yachting.
Green dreams of eco friendly yachs
While some 'newcomers' such as Soel Yachts are still in the development phase for the model Senses 48, others with years of experience are making a 'green dream' a reality. Silent Boats are the pioneers of eco friendly yachts, and on the wings of success of Silent 64, new and impressive Silent 60 will touch the water in March 2021, while this summer this company will launch the first Silent 80 – its flagship super-cat.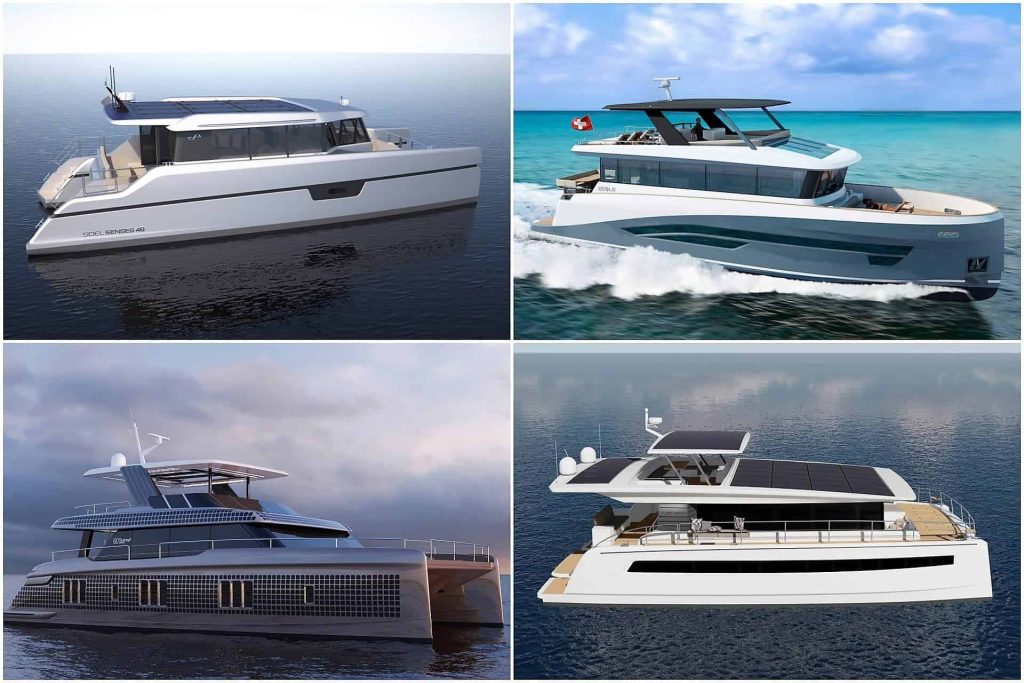 All this under a new member of Advisory board (J. Rudat, Ex-Tesla Central Europe Director) and in the prospect of creating a totally new platform for new Silent and Cupra/Volkswagen project, which will be revealed also in 2021. With their incredible success and new shipyard facilities in Gdansk housing Europe's largest CNC machine, Sunreef is a major player, capable of supplying their own solar panel technology an incorporating ecological 'in house' and complete solutions far from just installing electric propulsion.
At this moment two of the eco friendly yachts are on the water Sunreef 60 'E' and Sunreef 50 'Tiril' but without the composite-integrated panels. For 2021 a new electric Sunreef 80 Eco is planned with panels integrated into the hull, bimini, mast, boom and deck, as well as 80 Sunreef Power Eco which is set for launch later this year.
As rather 'new player' in the nautical world, a Barcelona based studio BYD offers unique designs. In eco yachting segment they introduce style and usability of a trawler, and the first unit is already under construction at Martinez Constructions Navales in the South of France and is going to be launched as announced from BYD sometimes in 2021.
BYD Eegle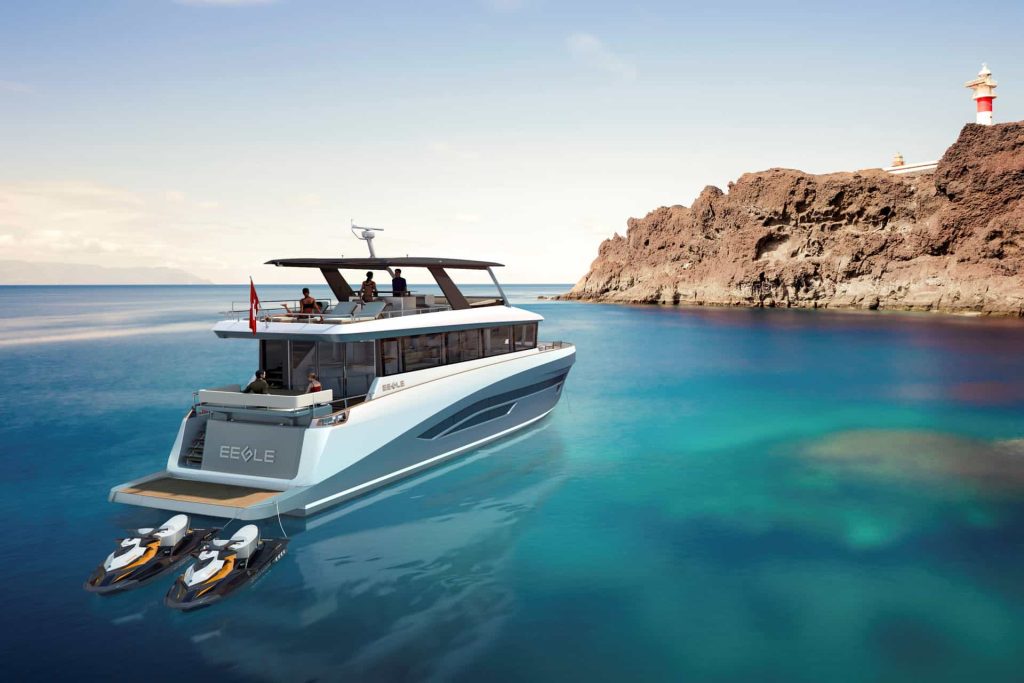 Preserving the planet doesn't have to mean the sacrifice of a comfortable lifestyle, and the Eegle is the proof. Full-service naval architecture and engineering firm Spanish BYD Group is changing the game in sustainable yachting with its new all-electric, 20-metre trawler-style Motoryacht.
With robust exterior lines and a plumb bow for improved performance and maximised use of space on the lower deck, the composite-hulled Eegle has a draft of just 0.89 metres and reaches top speeds of 20 knots. The 600kWh batteries provide the yacht with a range of up to 80nm when travelling in purely-electric 'green' mode, while the four 150kW engines deliver up to 20 knots of speed.
Covering an area of 30 square metres, the flybridge's hardtop solar panels can generate up to 9kWh of additional energy to amplify the Eegle's cruising range. Clients can opt for the reassurance of a range-extending fuel tank and generator system to increase the Eegle's reach by up to 1,000nm at 7.5 knots. The generously proportioned, full-beam saloon provides the kind of interior living space that is rarely seen on a 20-metre monohull.
The yacht's accommodation for up to six guests is found on the lower deck. The capacious full-beam owner's cabin feels more like a land-based suite with enormous windows filling the room with light, a king-size bed, vanity, desk and space for a chaise lounge, a walk-in shower, double basins and generous dressing room area.
The exterior decks are where the Eegle really shines. The flybridge is a multifunctional space, with an L-shaped sofa and bar located behind the helm station, while a C-shaped sofa and convertible table are found forward. The VIP cabin and a twin guest cabin are both en suite.
The aft of the sundeck has a large, open space big enough for up to three sun loungers, with an overhang that protects from the sun to the deck below.
The convivial dining space in this shaded cockpit has direct access to the saloon's galley area through bi-fold sliding doors. A sit-up bar at the aft port side galley area offers a spot to relax and enjoy an early-morning coffee or pre-dinner cocktail, with space for an adjacent dining table if required.
60 Sunreef Power Eco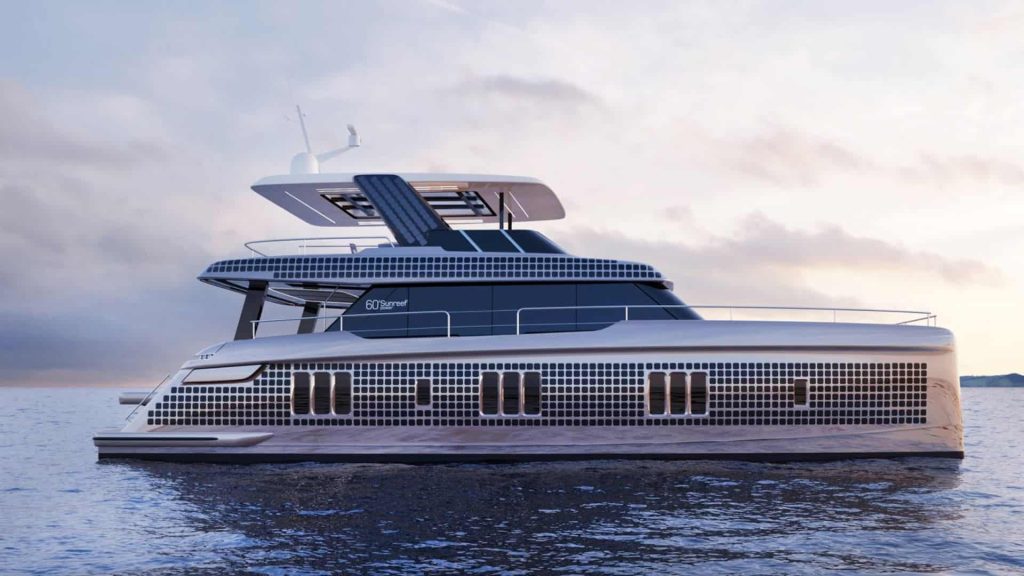 The 60 Sunreef Power Eco is a versatile eco-responsible Motoryacht offering complete freedom of customization. This luxury craft is equipped with the latest innovative technologies to achieve maximum energy efficiency and great performance. Sunreef Yachts' proprietary state-of-art solar power system on the 60 Sunreef Power Eco covers up to 68,6m² of the surface on board, extending the solar energy generation to 13kWp.
Solar panels are fully-integrated with hull sides, superstructure and curved areas all over the yacht. Flexible and ultra-solid, they are the industry's lightest panels. The 60 Sunreef Power Eco uses cutting-edge electric engines (2 x 180 kW) powered from the dedicated ultralight battery bank for silent and vibration-free cruising. Battery capacity can be between 250kW (716V) – 320kW and with 2 x Genset 100 kW.
To be able to maintain all house loads and air-conditioning throughout the day with only a minimum use of the generator, Sunreef Yachts Eco catamarans achieve that thanks to smart engineering and ultra-efficient lithium battery packs. With green features including wind generators and eco-responsible finishing materials like basalt and linen-based structures, the 60 Sunreef Power offers a 360° sustainable cruising experience.
The 60 Sunreef Power Eco offers amazing potential for customization with endless layout options and an infinite choice of decors. The exterior living spaces feature a vast flybridge, a full-beam bow terrace and aft cockpit, for cruising in full comfort for 12 guests (+4). Prized with the Best Power Driven Catamaran Award at the World Yachts Trophies, the 60 Sunreef Power concept also incorporates a garage and aft platform. In addition to 60 Sunreef Power, this Eco range features three more models: 70 Power, 80 Power and 100 Power Eco.
Silent 60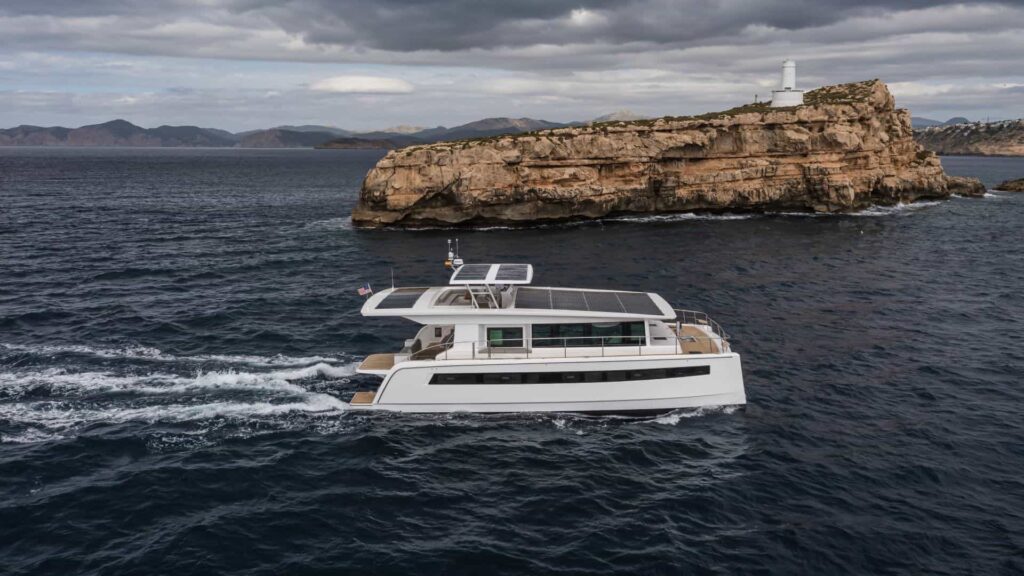 The Silent 60 embodies the next generation of the legendary Silent 64, the first production solar-powered yacht to have ever crossed the Atlantic. She can be handled by two people with ease and offers plenty of space for families and crew. Furthermore, she offers the possibility to upgrade the tender from 3,8m to 4,2m through the optional hydraulic platform, which also includes a sofa with a flippable backrest.
For adventurers, additional water toys, sups, kayaks and e-bikes can be stored in the bridge deck. The most powerful propulsion option with 2 x 250 kW combines the largest battery bank (300 kW) with the strongest electric motors available. Therefore top speeds around 30 knots can be sustained for even longer periods while also maximizing the amount of energy which can be stored for back-up and deployed whenever needed.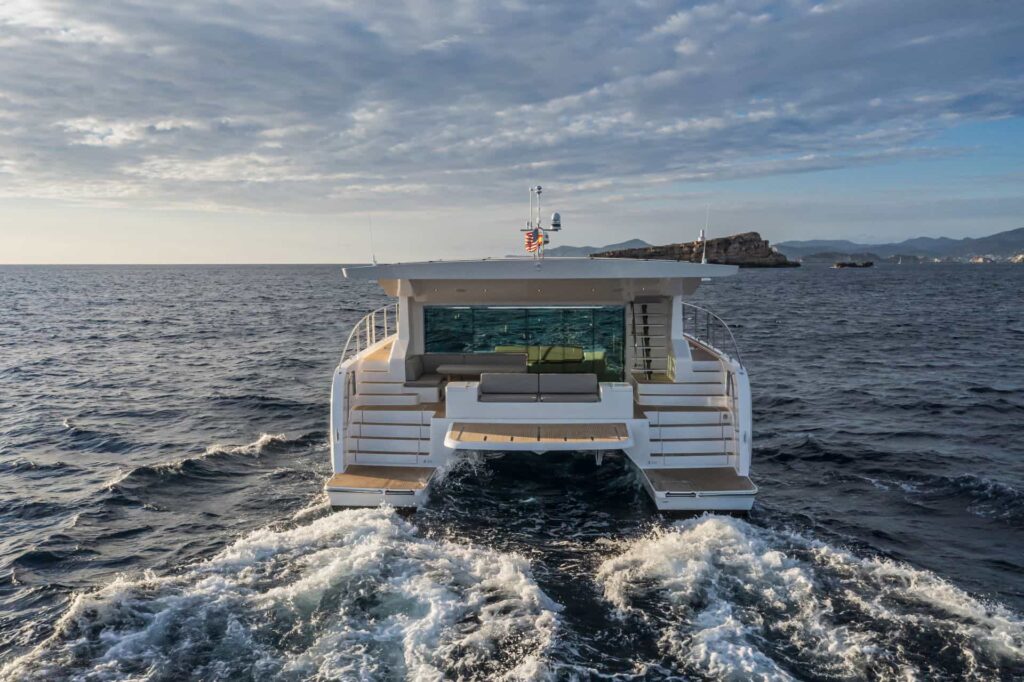 In addition to 'green' benefits of electric yachting, Silent offers many more advantages, such as Lifetime maintenance-free motors and Lifetime warranty for motors and 25 Years warranty for the solar panels. In addition to electric cruising, Silent Yachts offers the option of a fully automatic towing kite. It flies at altitudes between 70m and 140m where winds are far stronger than at the level of the vessel. At those altitudes, it has a dynamic flight pattern, which resembles the shape of figure 8.
For this reason, the kite generates up to 10 times more power per square meter compared to a conventional sail. Silent-Yachts has new shipyards in Thailand and Italy In Fano, Italy, a series of Silent 60s are now under construction and a second line is being set up to provide capacity for building 15 Silent 60s a year.
Soel Senses 48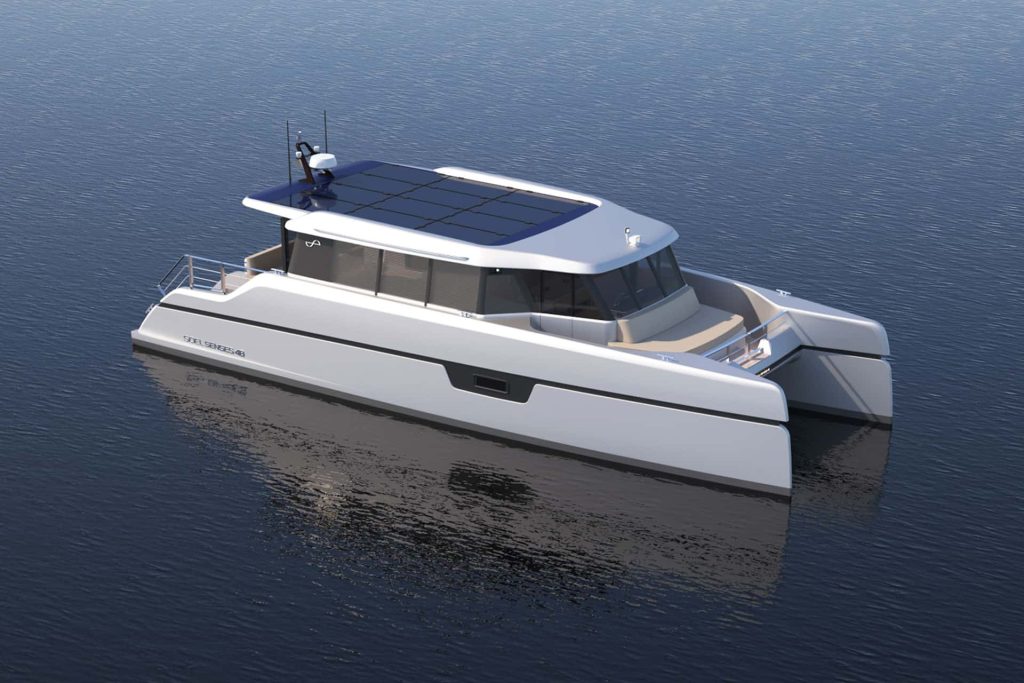 The 48ft Soel Senses solar electric catamaran requires no fossil fuels to operate and is thus fully silent it is designed to enjoy nature in comfort while being fully sustainable. The solar electric yacht has been designed for high efficiency and electric propulsion from the start. The very slender hulls and the lightweight, yet durable fibreglass construction are major key factors for the solar yacht's high performance.
The electric propulsion system and has been designed for a cruising speed of 10 knots and a top speed of 18 knots. There are two different system options available, the Naval DC EPS-40 kW and EPS-100 kW electric system. With a lithium battery package of 2x 71kWh (or an upgrade of 2x 142kWh) the referring range at 10 knots cruising speed is 30nm and 56nm.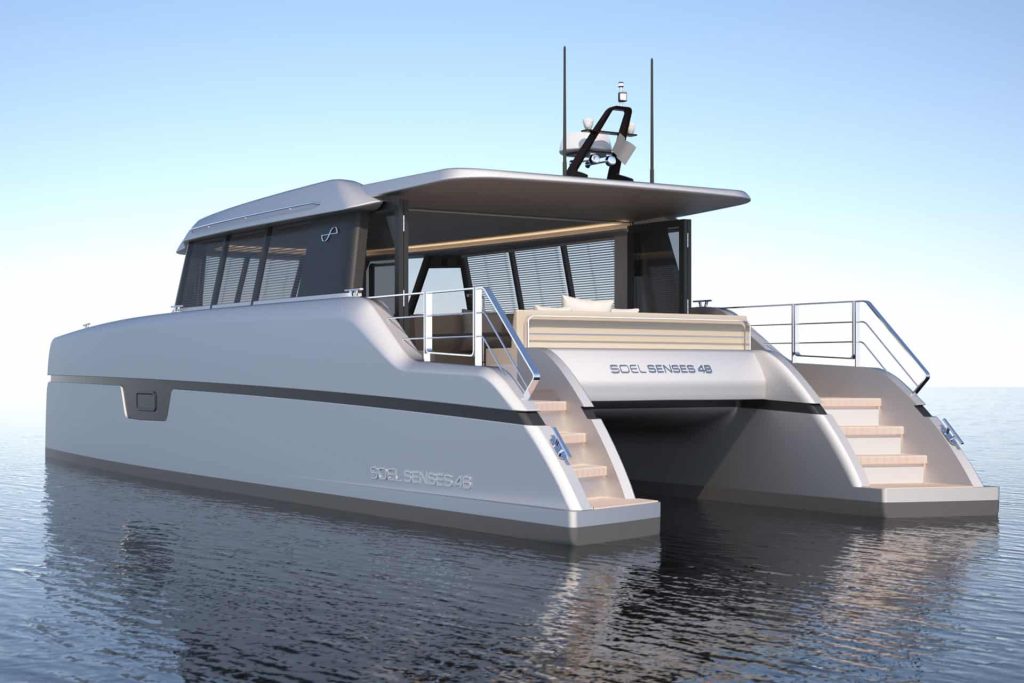 The deck space of the solar electric boat has been designed for comfort, flexibility and spaciousness. A large seating area offers space to lounge and enjoys BBQs and dinners with the group. The cushy sunbathing area in front offers a more private area to relax in the sun. The solar electric yacht offers enough space for equipment and storage of water sports gears and toys. The two sleeping berths offer space for up to four guests, while four additional guests can sleep in the salon.
The comfortable benches in the main area can be used as beds and offer thus a lot of flexibility. The fully enclosed and protected solar electric catamaran can be equipped with air conditioning for pleasant temperatures. However, doors can be also fully opened over the whole width to create more openness towards the back. The inside and outside space then connect and create one spacious living area. A central bar connects the seating area with the captain's helm station and forms the central point to enjoy a stunning view towards the front and the back of the solar yacht.
Text Filip Bubalo
Photos & videos Soel Yachts, Sunreef, BYD Group and Silent Yachts