Azimut unveils the first renders of the Seadeck 9 project, the future flagship of the Seadeck Series, which is the first Series of hybrid family motor yachts, representing the most efficient models ever built by Azimut – soon to be the ambassador of the Shipyard's Low Emission Yacht fleet.
The Series, which will make its debut in 2024 with the Seadeck 6, inaugurates a new gentle era, marking a milestone in Azimut's path towards a more conscious approach to the topic of environmental sustainability. Seadeck signals a return to nature through technological solutions that potentially reduce CO2 emissions by up to 40% in an average year of use, both while sailing and at anchor, perfectly paired with the Fun Island, a reinvented aft deck that 'embraces' the sea and a new lifestyle based on wellbeing.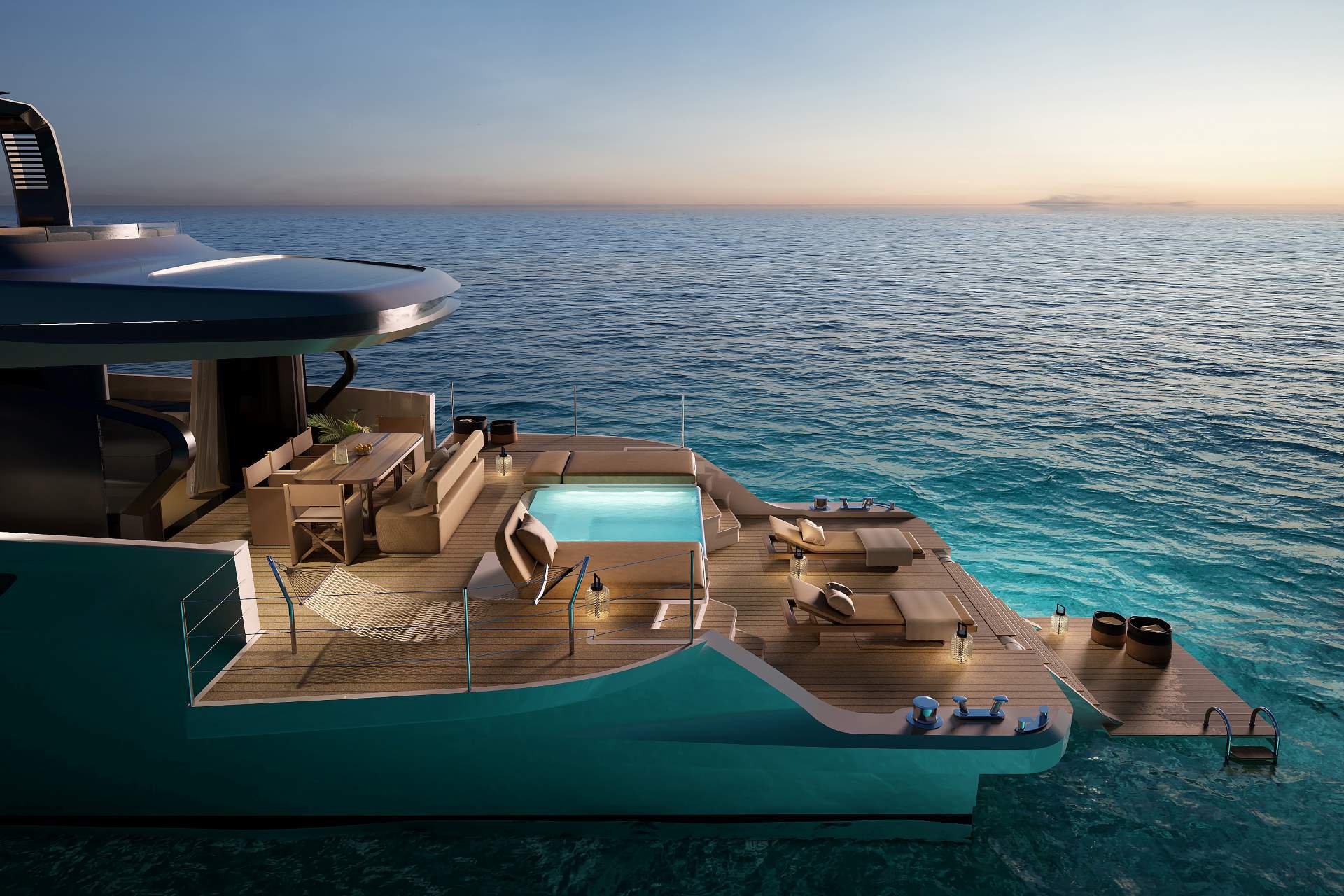 The Azimut Seadeck 9 – with exteriors by Alberto Mancini and interiors by Matteo Thun & Antonio Rodriguez – represents the epitome of the Series' concept and elaborates its innovations. The Fun Island is transformed into a cascade of terraces with a surface area of 60m2 on 3 levels, a pool integrated into the deck and flanked by two sunbeds which can slide to cover it, and an additional large platform at water level. The combined space is an unparalleled design masterpiece, whose elements transcend their individual functions to evoke, as a whole, the aspiration for a world of sharing, nature and freedom.
During 2023 Azimut reaffirmed the foundation of its design philosophy: build experiences that evoke extraordinary emotions. The mission has grown from its roots in the Shipyard's DNA and in the vision of Paolo Vitelli, strengthened by an ambitious promise: to introduce, with each new model, an innovation that allows you to experience the yacht or an environment like never before, discovering unexpected passions and sensations.
Photos Azimut