In the Adriatic, superyachts can choose from any of the serendipitously located marinas enjoying mild micro-climate, proximity of repair and maintenance facilities, and excellent management
Sprinkled across the Adriatic, superyacht marinas are most often located in places enjoying specific maritime and climate conditions allowing berthing and maintenance during harsher winter months as well. Although polls have shown most foreign yacht owners sail the Adriatic as many as six times a year, winter statistics tell a different story: most superyachts avoid spending winter in these waters, their owners preferring other Mediterranean destinations. The reasons for such a choice are many – availability of maintenance and repair facilities, the cost of their work, availability of project management for such repairs, winter prices in local superyacht marinas, and even personal choice of the crew.
Some Croatian superyacht marinas fail to attract guests over winter in part due to logistics (many owners feel the proximity of major airports is an important element in their decision, to facilitate boarding of crew and supplies), as well as bureaucracy, which in Croatia is ubiquitous, slow and inefficient. Šibenik's D-Marin Mandalina is the number one winter superyacht destination in the country. With berths for yachts up to 140 meters in length – out of total 430 berths, 79 at sea and 50 in dry dock are large enough to welcome superyachts – the marina is located in a serene and naturally beautiful part of the country, enjoys mild climate throughout the year. In addition to these natural advantages, the marina is a seriously well managed facility with 24-hour surveillance and a number of services available, among them high-voltage power source essential for superyachts functioning in winter.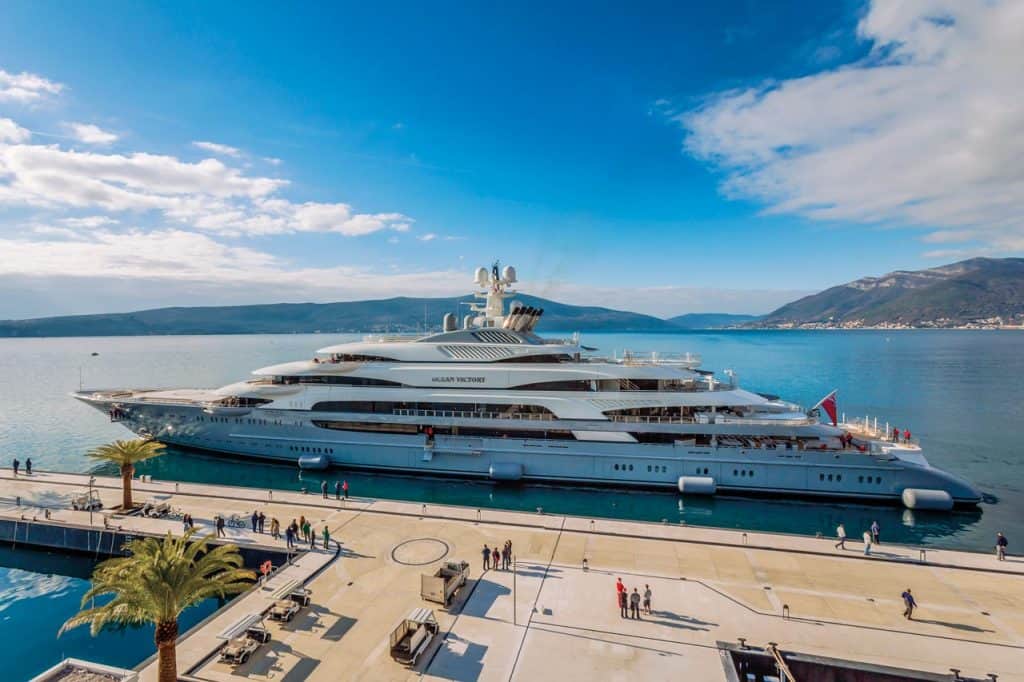 Another plus for D-Marina Mandalina is the proximity of the NCP refit and repair yard, as of recently under new management. Marina Betina is not a true supeyacht one, but there is a refit and repair facility, rather popular among captains, and another repair and refit yard is in the very vicinity of the marina. Operating for two hundred and seventy years, Betina yard offers professional assistance in all sorts of repairs, and is a popular choice for smaller superyachts – as many as two hundred yachts come to Betina for their annual checkup or repairs. Marina Trogir has more than 250 berths and a small private repair yard that may be new to the business, but was founded and is managed by experts honing their skills in the respected Brodotrogir yard (now partnering with Šibenik Capax in repair and refit of superyachts).
The marina is mere ten minutes by car from the Split airport, which makes it one of the most popular among superyacht owners. Another relatively new mooring spot for superyachts is located in the center of Rijeka, the largest Croatian town in the north part of the Adriatic. Porto Montenegro needs no introduction: the most prestigious marina in the Adriatic enjoys international reputation and appeal, confirming year after year their status among the biggest and best marinas in the Mediterranean. Ready to welcome yachts up to 250 meters in length, Porto Montenegro is a winter favorite and the true yachting heart of the Eastern Mediterranean. The only thing missing for now is a repair and refit facility in the marina or nearby, but that might change soon, as repair yard Bijela in the Bay of Kotor is currently preparing to partner with Damen, the refit and repair giant.
Text Špiro Jurišić
Photos Archives