With genuine spirit and innovation, step by step, Korčula takes the number one spot on the must-see, Adriatic destination list
If you are looking for a new Adriatic adventure, set your compass to south and head for Korčula island. A perfect blend of unspoiled nature and woodlands, rich cultural heritage and a dynamic gastro-enologic scene. With genuine spirit and innovation, step by step, Korčula takes the number one spot on the must-see, Adriatic destination list. Should you decide to follow our advice, it may open up possibility for you to experience and taste Korčula's best in a one-day-trip.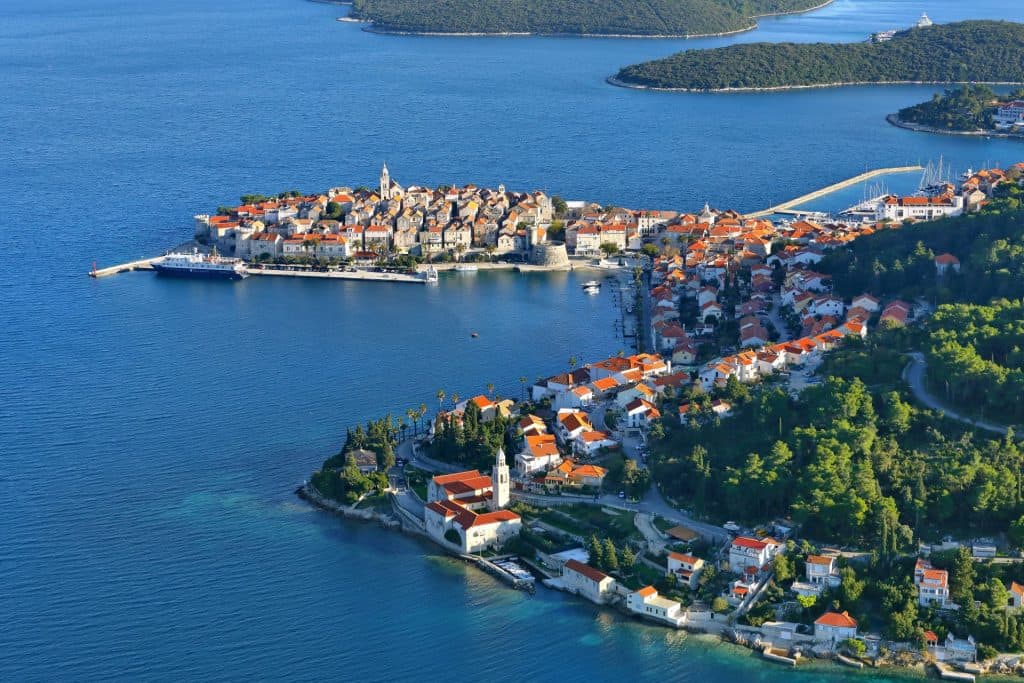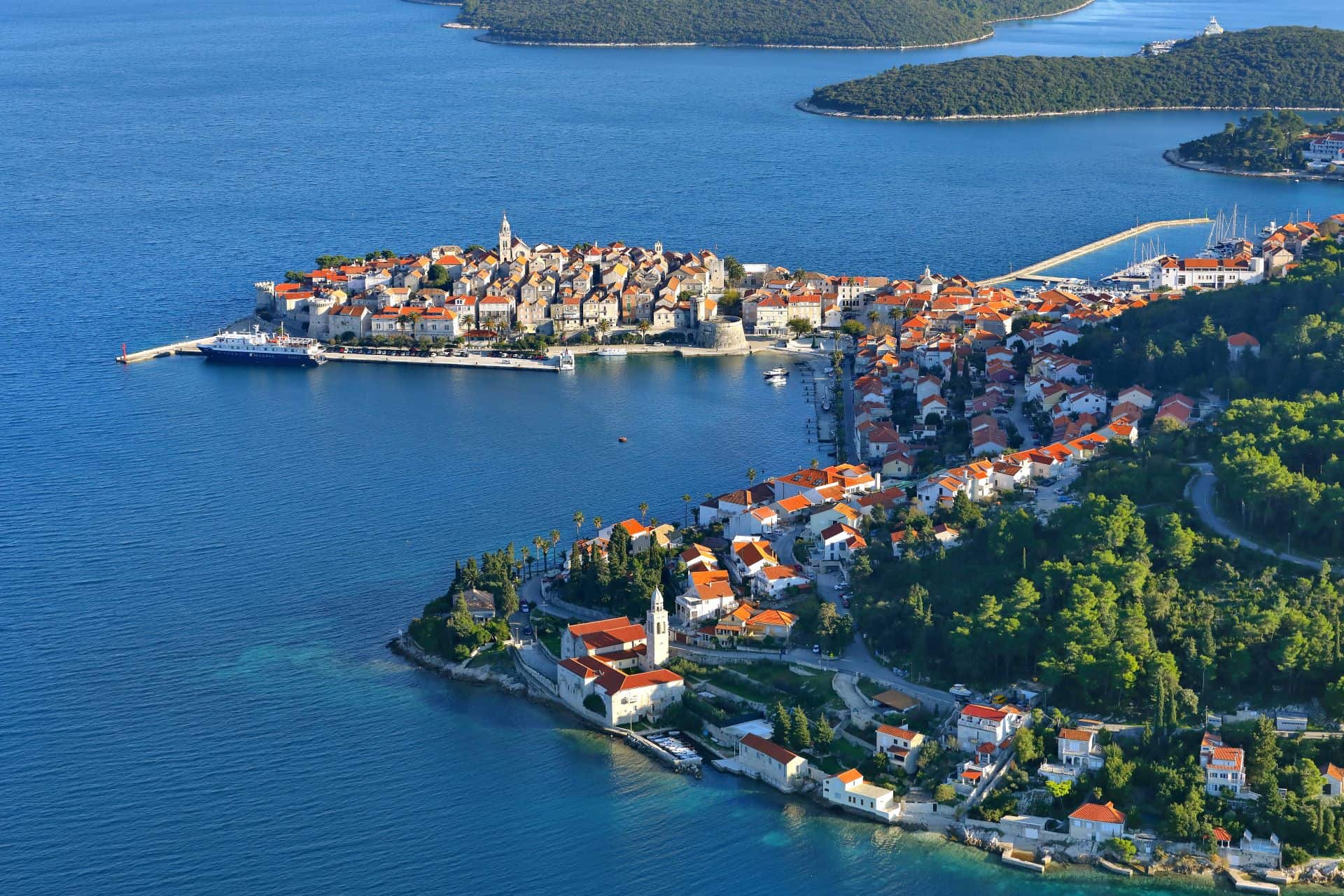 Anchor in the nearby Lumbarda
Seafarers have been fascinated by this island since Neolithic times. The Amber Merchant Route enabled autochthonous inhabitants to interact with other cultures, marking the island's history till today. The most significant site Vela Špilja, we can trace signs of human activity 20,000 years BC. The island's morphology, with a chain of hills and constant altitude changes, has resulted in plentiful slopes, especially towards the south and southwest of the island. Over the centuries, it has become home to magical stone terraces that give birth to autochthonous Dalmatian wines, particularly white vines Pošip, Rukatac and Grk. Just like in the old days, the locals cherish with tradition and pride, their local wine varieties that are rare on the enological world list, yet represent the connection with the beginnings of the western civilisation.
Anchoring in the vicinity of the town of Korčula or, maybe even better in the nearby Lumbarda (6 km off the Korčula town), is an ideal, albeit a little unexpected, starting point for the introduction into the eno-gastro story of Korčula. Lumbarda is not only known for the wine sort Grk, but also for being the historical site of one of the oldest written monuments in Croatia – Lumbarda Psephisma (3rd ct. BC). During the first phase of the Greek colonisation, which gave Korčula its name – Korkyra Melaina, such fertile ground meant survival for the island colonists. Due to its sandy soil, Lumbarda presents unique conditions for growing this autochthonous island variety Grk and as a result, it has withstood the vine disease Phylloxera that has devastated vineyards of the entire Europe, even Dalmatia.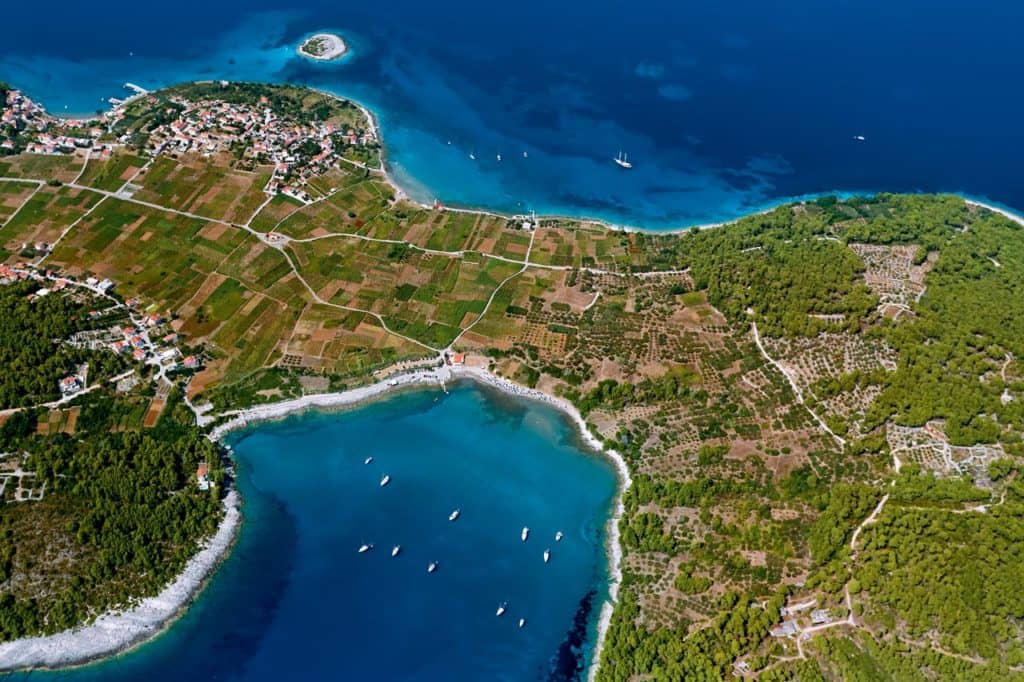 However, nowadays many tourists, owing to its enological wealth and the geographical particularities of wine growing, come to Korčula, known as the island of white wines. Pošip also stands as a genuine variety and thrive in the region of Čara and Smokvica, where many family farms grow and sell variations of the golden, alcoholic nectar. Its features make Grk intriguing and of strong character, dashed with fresh and fruity flavour, and have launched it into the most-wanted variety outside of Korčula.
Discover peaceful spots
One of the Grk promotion pioneers, Franko Bire, having inherited these vines twenty years ago, began a renaissance of this variety and with the help of UNDP's credit, planted new vines on the stonewall terraces. Bire wine cellar, has a production concept according to detailed, personal design and serves as the meeting point of visitors. Providing not only local autochthonous wine varieties, but also a specific way of life, representing the cultural heritage of ancestors who cultivated this splendid island. A family atmosphere offers kindness and history stories of the village and island, with exquisite cold dishes as well as homemade pasta 'makaruni', made according to traditional recipes, wine tasting of Plavac, Rose and Grk, pairing marvellously with seafood, will give you the genuine feel of the town of Korčula itself.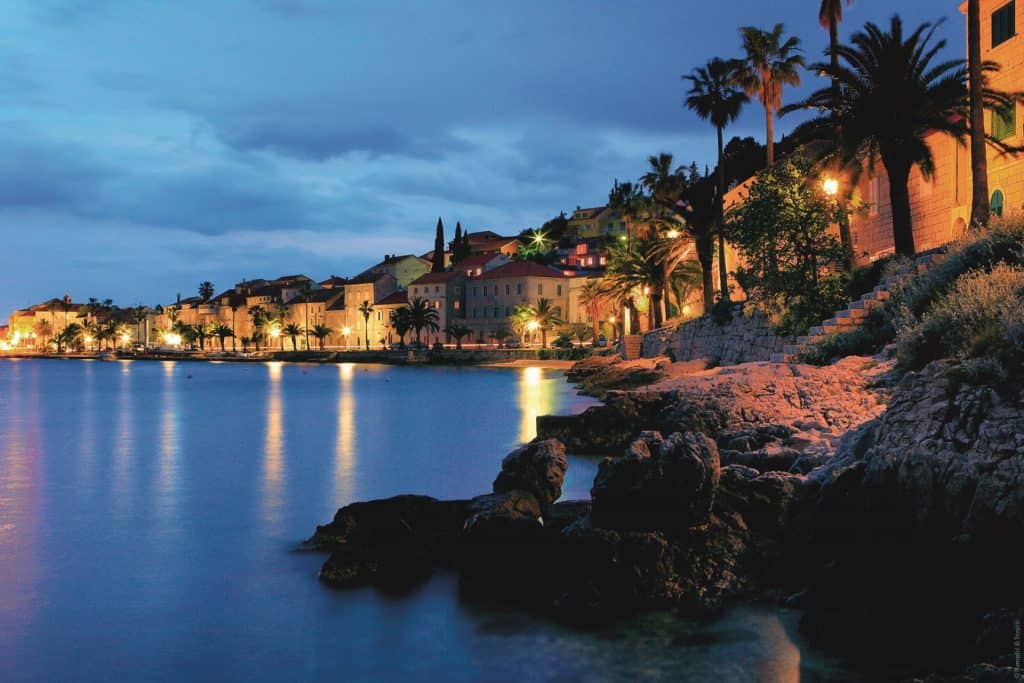 In the Middle Ages and the time of Marco Polo – the most famous dweller of this city and one of the greatest explorers in history, Korčula experienced a flourishing era, especially after the establishment of the archbishop headquarters and the writing of their own statute in 1241 – the second oldest, Slavic, legal document. More than three and a half centuries of the Venetian reign as a Mediterranean maritime force over Korčula, has left deep traces in an architectural sense – in the city walls, sacral and residential architecture, and socio-economic sense.
Less than four kilometres away from the Korčula city centre, one can enjoy magnificent Žrnovo and Postrana. Picturesque villages, living at their own pace without pressure of pre and post tourist seasons, are perfect spots for rewarding yourself with traditional dishes
Should you decide to drop anchor underneath the city walls for the time-saving purposes a one-day-trip requires, ACI marina in Korčula provides 160 cutting-edge, fully-equipped berths along with an infrastructure with two hundred meters of pier, with limit of 40 meters for mega yachts. For privacy enthusiasts, the south side of the island hosts numerous secluded bays and coves like Zavalatica, Brna, Rasohatica, Prižba, Karbuni. These are peaceful spots offering serenity far away from the summer crowds. The city of Korčula, this cultural and historical site equals tourist-packed, Dubrovnik.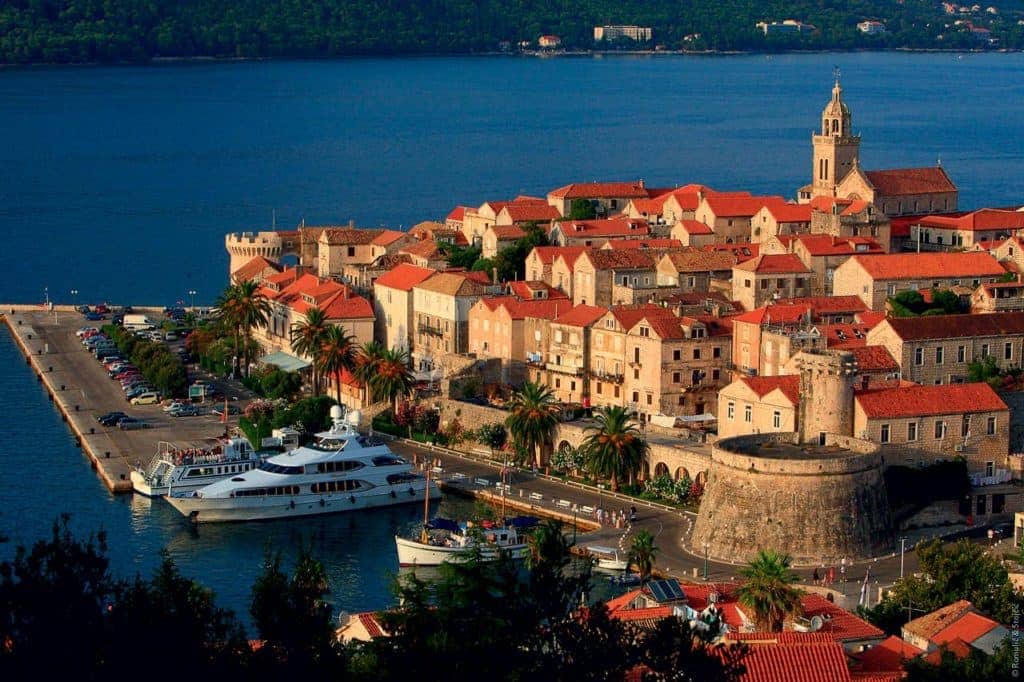 Offering walks down narrow, stone streets underneath Baroque churches, Renaissance and Gothic facades and palaces. The Revelin Tower will lure you into its stoney interior leading to a little square and there are options to explore the fortified town in all directions, enjoy photo spots, ruins of palaces and narrow alleys. If you wish to avoid the regular tourist route, you will find yourself in the magical labyrinth of a medieval grid with the layout of a fishbone, providing protection from the winds.
A must-see Gabriellis Palace
However, the most charming element is the insight into the world of locals who withstood the challenges of enhancing touristic offering while remaining devoted to their traditional old houses, protecting their piece of urbanism. The people of Korčula cherish their centuries old tradition – they still preform Moreška (during season every Monday and Thursday), a unique, romantic battle dance with swords that generations of Korčula families have proudly taken part in.
A walking trip across Badija island and close by Vrnik, a current-day peaceful haven known for its quarry, represent a snapshot of history that will remain engraved in your mind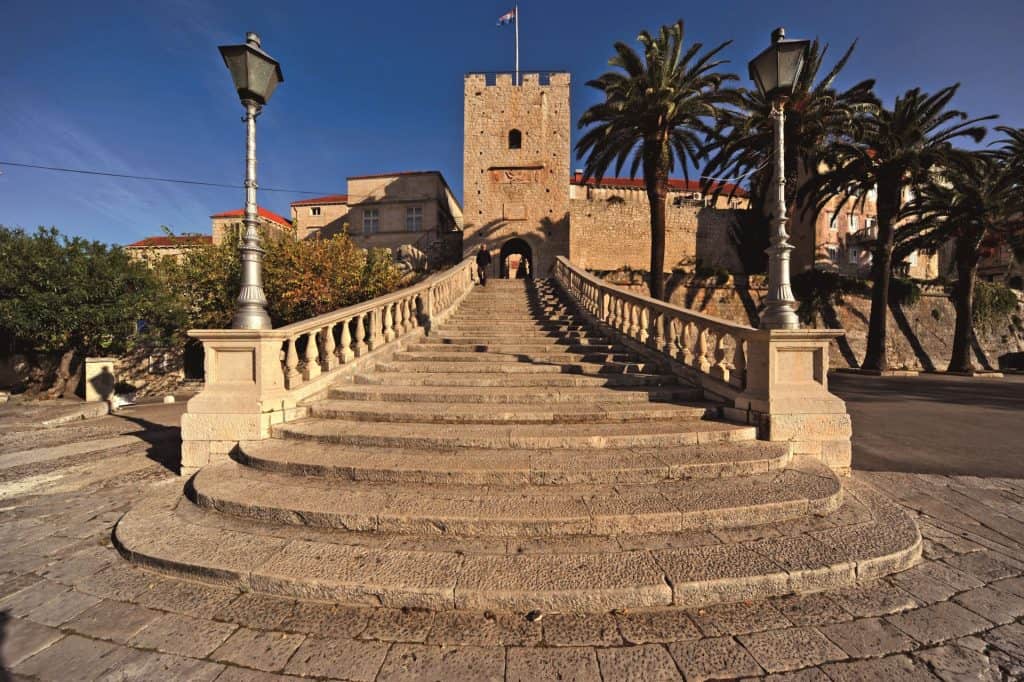 If your tour takes place at the peak of the season, around the 20th of July through to mid-August, most probably you will encounter Pošip Days, a festival dedicated to this wine variety. Most restaurants take part in Festival of Knightly Games, when the town dresses in the medieval manner or Wine Festival, when hidden squares like St. Justina turn into intimate gatherings, celebrating and toasting to life with the hum and buzz of summer in the background. As opposed to the more developed tourist destinations, here, one can find craftsman stores, restaurants, watchmaker shops, wine cellars, regular stores, small jewellery manufactures, all elements of the Mediterranean as it used to be and that nowadays, fades away.
One of the most famous elements is Gabriellis Palace, today housing the Town Museum of Korčula, a must-see treasury of the town's history, speaking of maritime and stonemasons' heritage. St. Mark's cathedral (15th ct.) witnesses of the rise of the craft that dominated the entire walled town. The town is the living proof of the rich architectural elements derived from a lineage of local stonemasons – church bells, rosettes, portals and alleys, all thanks to the rich stone sources from the quarries on Vrnik and Badija islet, which have contributed greatly to the development of Korčula in an economic, social and political sense.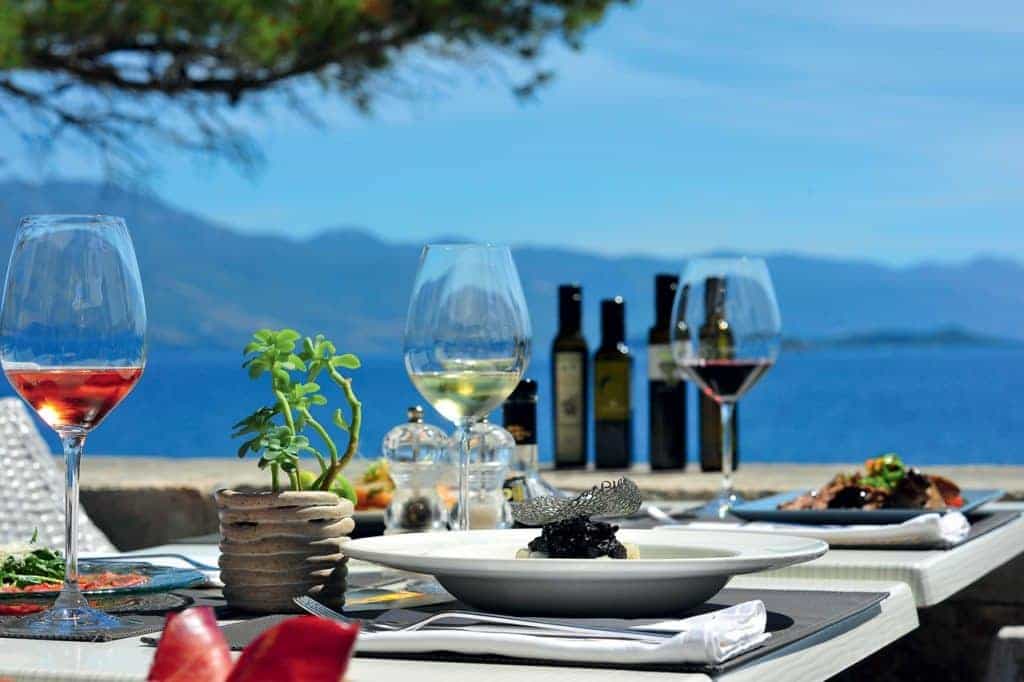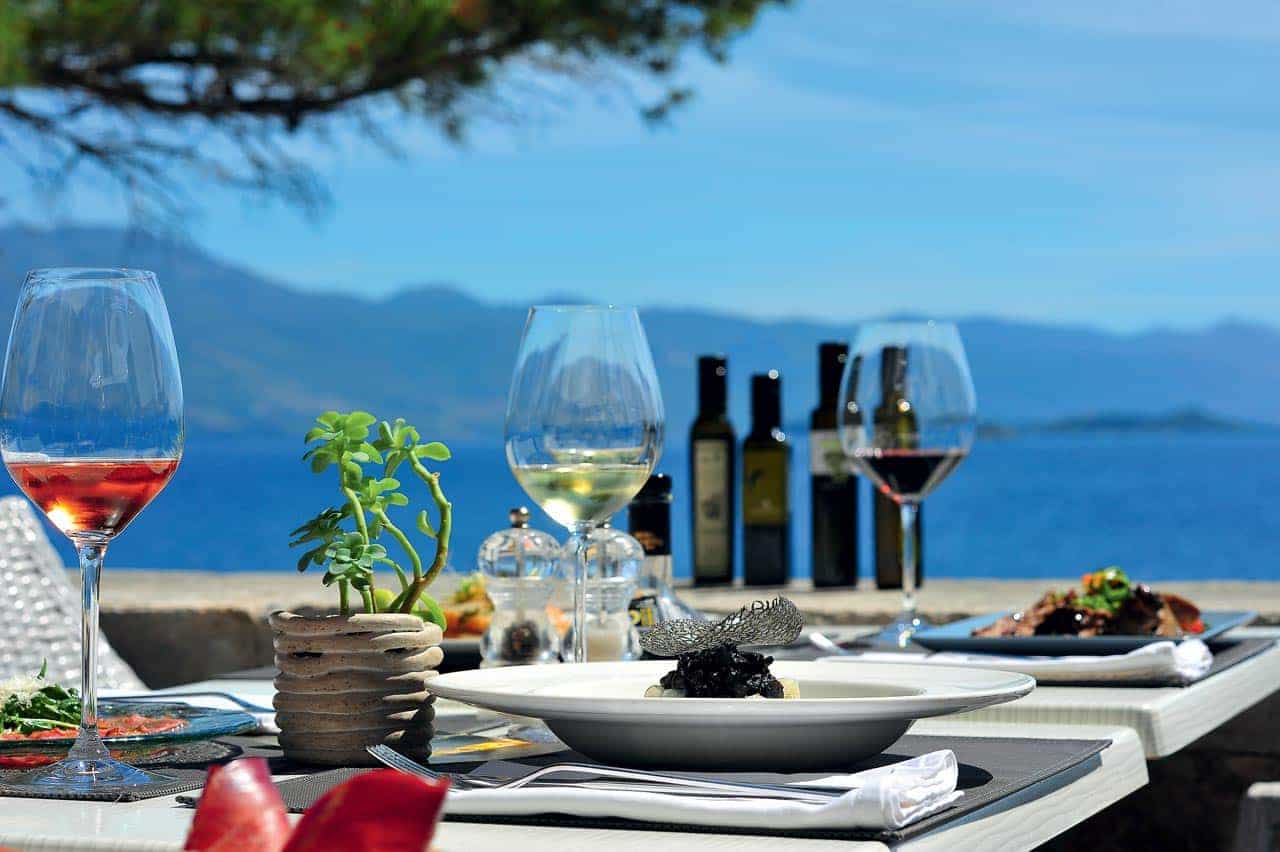 If you feel the need to imprint the traces of history onto your taste buds, most restaurants dish up traditional meals. Made according to the old recipes and served under a veil of timeless ambience that rules the Škver Tavern or Adio Mare Tavern (in the vicinity of the Marco Polo Museum), with menus offering two to three traditional meals and a carefully selected wine list. Korčula hides in its stony bosom many gastro surprise. An exceptional (historical) experience can be had on an open terrace of the oldest town hotel, featuring an ancient spirit with new glam – Korčula De La Ville Hotel, recently completely renovated, where British king Edward VIII, Jackie Kennedy and many other jet-setters have stayed.
New wave of Korčula restaurants
One of the visionaries of the new wave of Korčula restaurants, the Lešić-Dimitri boutique hotel, represents an exceptional example of the blend of cuisine cultural heritage and an innovative approach to hotel-management. Apartments feature design elements of the Marko Polo journeys, top service compliments local cuisine and a modern, deconstructed approach of the chefs to the traditional Korčula recipes. The real charm of this island is the adventure of exploring secluded lagoons and finding anchoring spots close to attractive, family-oriented beaches like Vaja, Žitna, Bačve and others.
Track down your piece of Korčula paradise among 19 islets in the archipelago surrounding it. Even in the heat of the season, it is not difficult to find an anchorage in front of the largest, closest islands Vrnik and Badija. They offer secluded beaches, as well as safety during regular, summer, weather conditions. These islands are also a must-stop on a kayak tour organised by adventure company, Korčula Outdoor. Experience in a few hours, the colourful, beautiful vistas over the archipelago, fortified town and isolated beaches, easily achieved with your own rowing powers.
A walking trip across Badija island and close by Vrnik, a current-day peaceful haven known for its quarry, represent a snapshot of history that will remain engraved in your mind. The same company offers tailor-made tours with other means of transport, throwing at your feet hidden, inland treasures. Such as two of the most fertile fields (Lumbarda and Blato), yielding most of the island products, like the famous, Korčula, extra virgin oil recently protected by the EU label of originality and authenticity.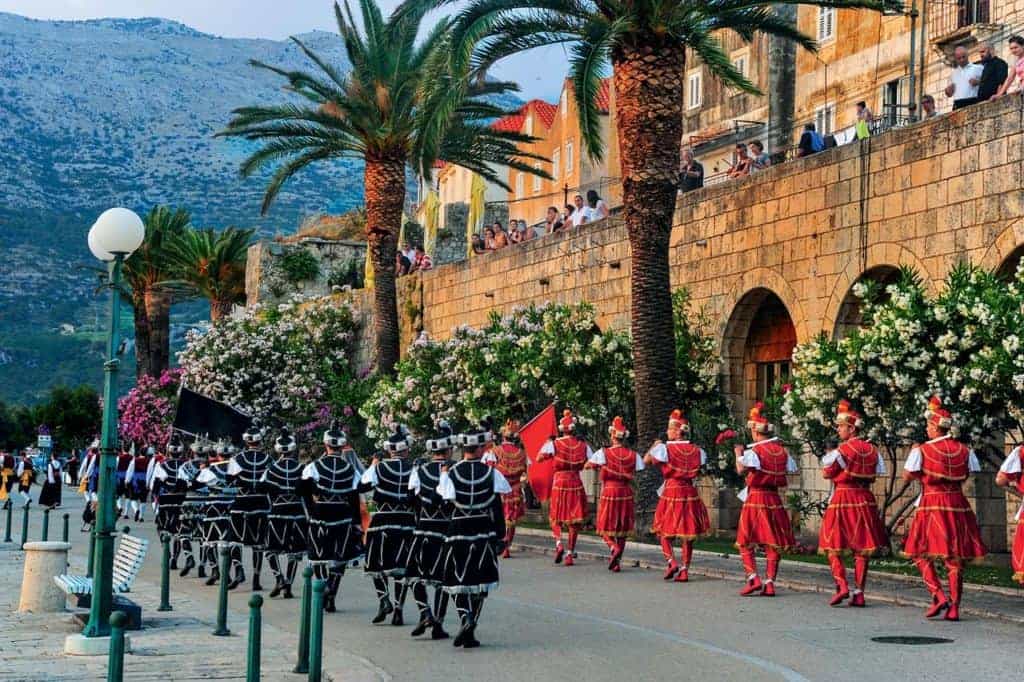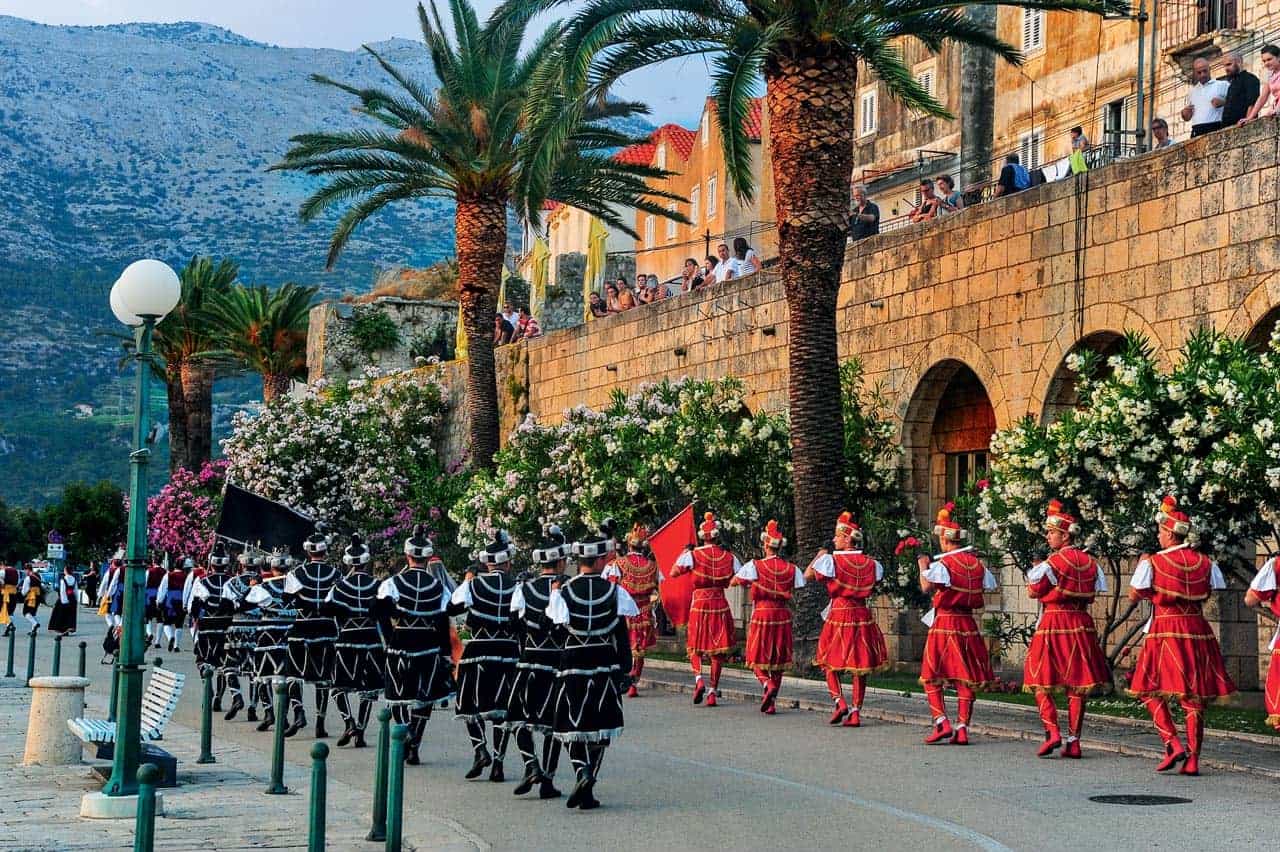 On the way to the rural, heart and soul of the island, if you are in shape and wish to see every corner of the forest-covered island, a bicycle is a smart way to explore. Less than four kilometres away from the Korčula city centre, one can enjoy magnificent Žrnovo and Postrana. Picturesque villages, living at their own pace without pressure of pre and post tourist seasons, are perfect spots for rewarding yourself with traditional dishes.
Visit the protected Kočje Nature Park
The landscape of these villages has not changed for centuries. Old, simple houses have been rebuilt thanks to diligent owners, now serve for agritourism purposes, like Maha Tavern, providing insight into the rich heritage of this region. Close to this already reputable tavern is the Marović family farm, known as Eko škoj, where hardworking hands grow autochthonous products in their own garden. Focused on presenting their island through genuine, organic products (around 70 of these), Eko škoj has quickly managed to capture the hearts of numerous satisfied guests.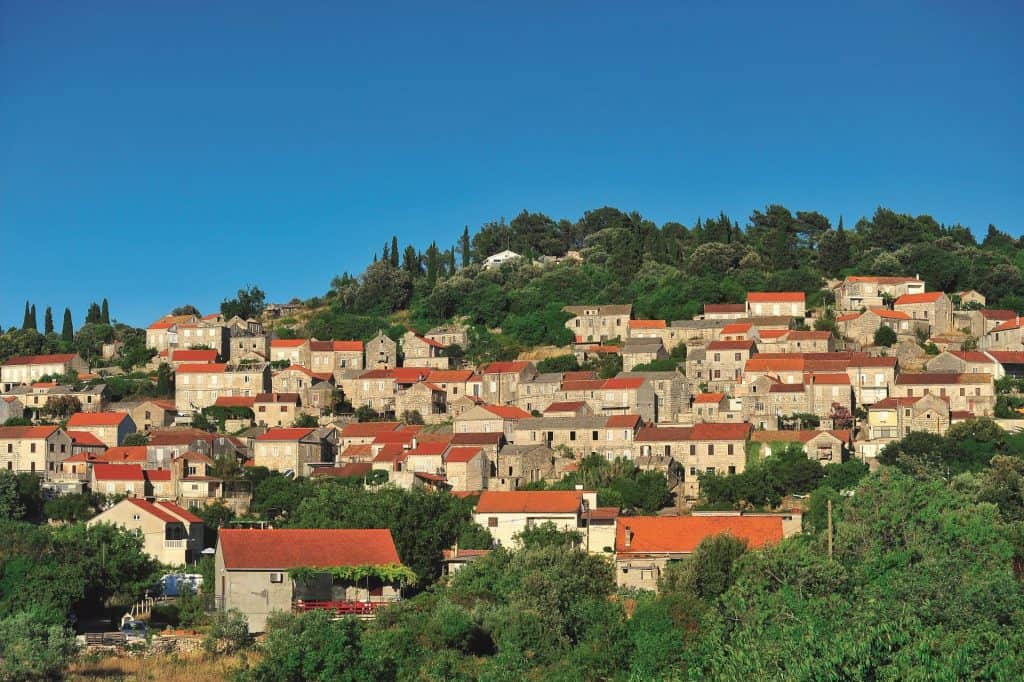 The secret ingredients for successful agritourism is a personalised approach to visitors, where groups never overlap, but have the entire space at their disposal. The choice of homemade organic products is wide: brandies, liqueurs, vegetables, sweets and traditional meals, often prone to a vegetarian style, are resourced by the host from the entire Žrnovo. With pre-arrangement, tasty, traditionally prepared, goat meat can be had. Close to Eko škoj, is the starting point of the Marmont Path leading to Pupnat, where you can visit the protected, Kočje Nature Park. Following the forest trails, you will discover long forgotten, natural pools, charming churches, a cave, abandoned hamlets and feel memories of past island life.
Those with a persistent nature can go for another eight kilometres and reach At Mate's Tavern, a widely reputed gastro corner of family cuisine, realised through homegrown ingredients under an authentic ambience. Under the veil of a summer dream, plan your next visit to this island with its many, unexpected, hidden treasures waiting to be discovered by exceeding that one-day time frame.
Text Filip Bubalo
Photos Boris Kačan, TZ Korčula, Yachts Croatia archive