The Adriatic is an ideal destination for a first wedding trip. A honeymoon on a yacht is an opportunity to enjoy a romantic vacation and the hidden coves of the Croatian islands
The playful Croatian coast has for years now been a Mediterranean favorite of many yachts and sailboats from all over the world. This idyllic luxury charter destination offers safe and unforgettable sailing through thousands of islands sprinkled across the blue, swimming in emerald coves and exploring local gastronomy – it doesn't get better than that, does it?
Make a plan for your honeymoon on a yacht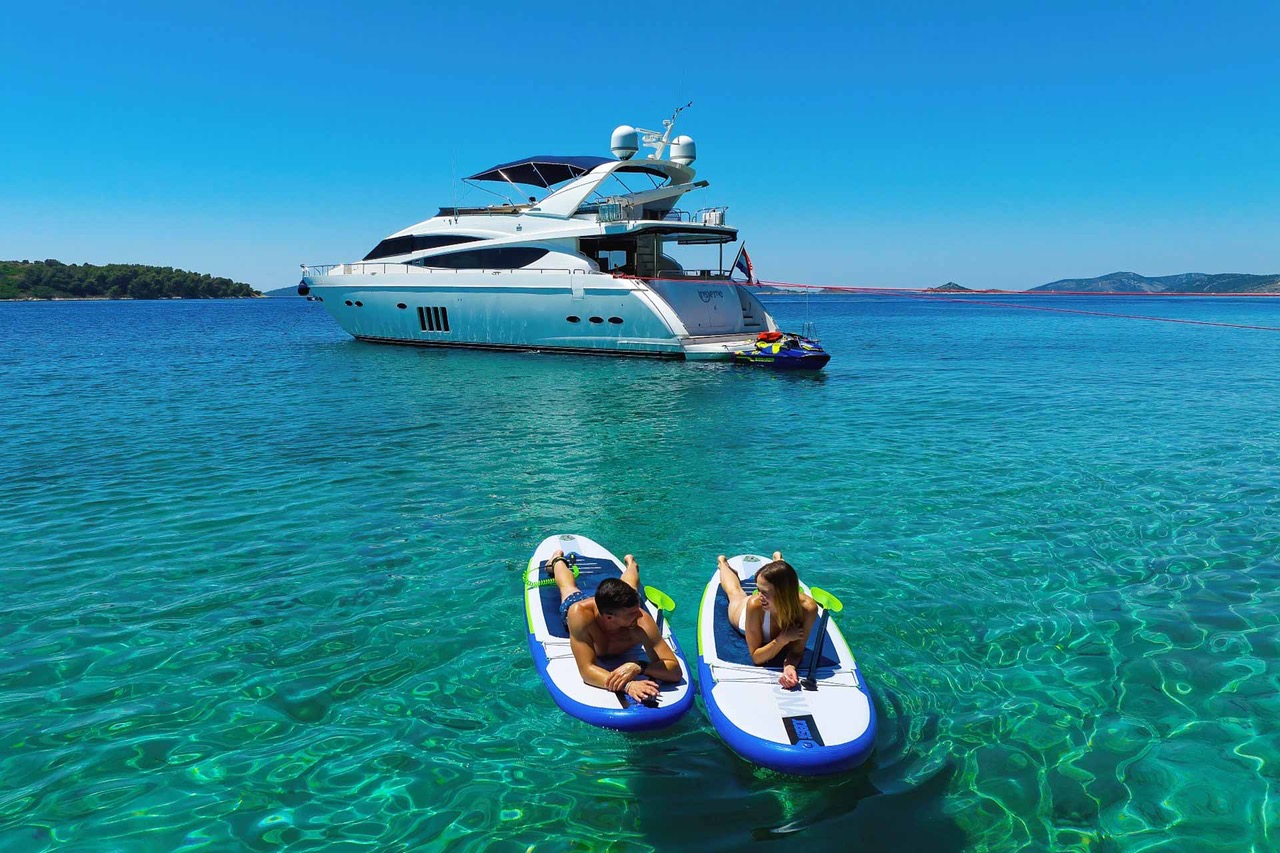 Endless pristine coves, crystal clear sea, historic cities and towns and secluded island promontories sound like the perfect honeymoon location. After the wedding, most couples embark on a honeymoon in one of the many idyllic international locations, and this time, we suggest the Adriatic.
After endless hours of planning the wedding, most newlyweds will welcome nothing more than some peace and relaxation, and there is hardly a better occasion for it than a private yacht charter honeymoon. Dropping your anchor in a hidden cove, discovering a charming island, or just doing nothing in the sun sounds like the most romantic possible honeymoon yacht charter.
Honeymoon yacht destinations in Croatia
Luxury yacht charter Croatia is an excellent opportunity to explore the natural beauty of the Croatian coast at your own pace, enjoying yourself on a private charter catamaran or a luxury sailing yacht with your other half. This romantic experience will be customized, giving you the opportunity to explore best Croatian islands, hidden coves and intimate beaches where cruisers or other yachts can't reach.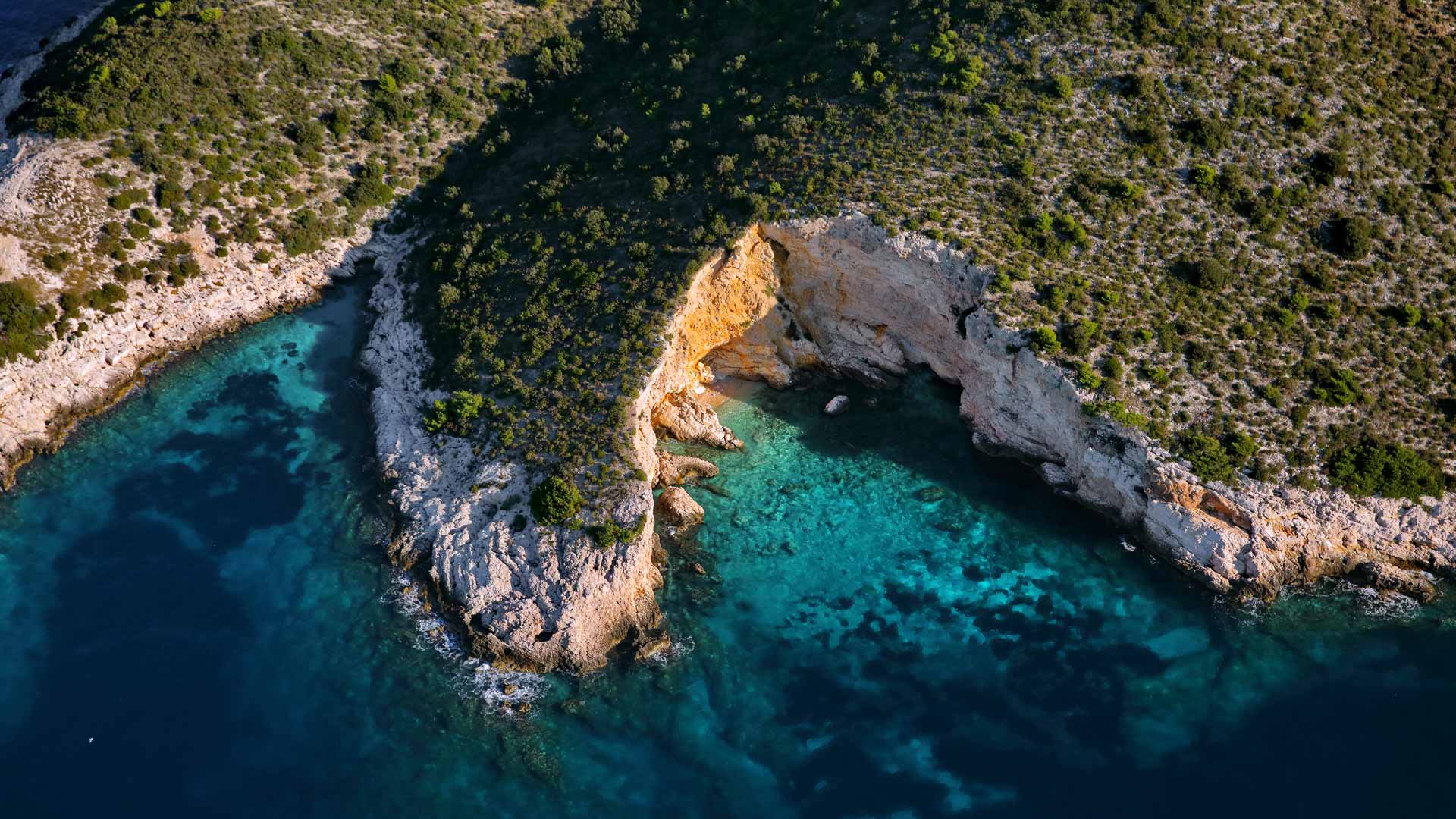 Endless islands, big and small, and exclusive locations like the Blue Cave on Biševo, Pakleni Islands, southern coast of Vis, national parks and others have for years been favorites among the selective yachting crowd.
The magical Kornati archipelago awaits all adventurers at heart, with nothing but the starry sky above you and the sea and clean air around you. Once you experience all of that, you'll yearn to come back. This unique landscape, dotted with roughly one hundred islands, brims with diversity – natural as well as man-made.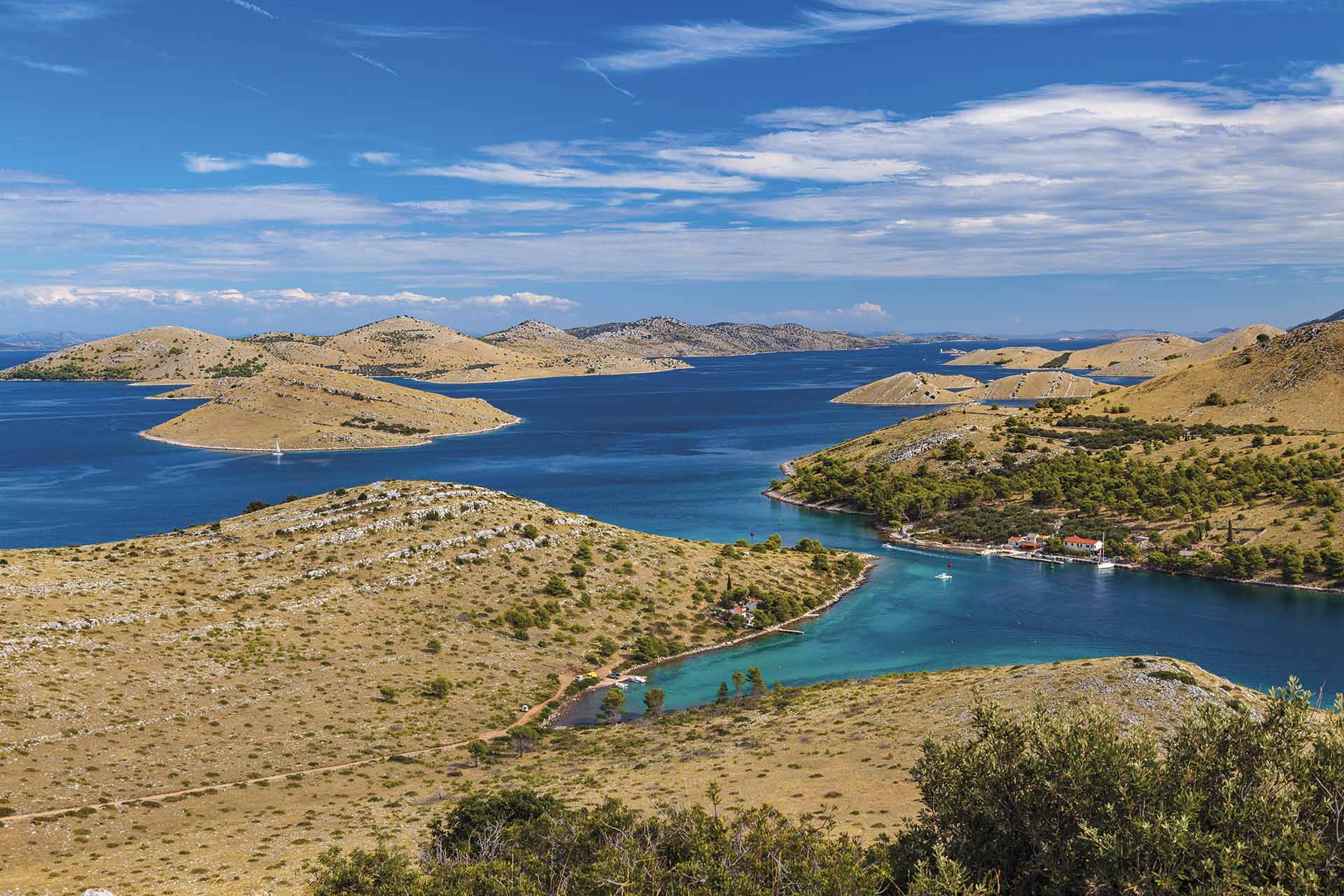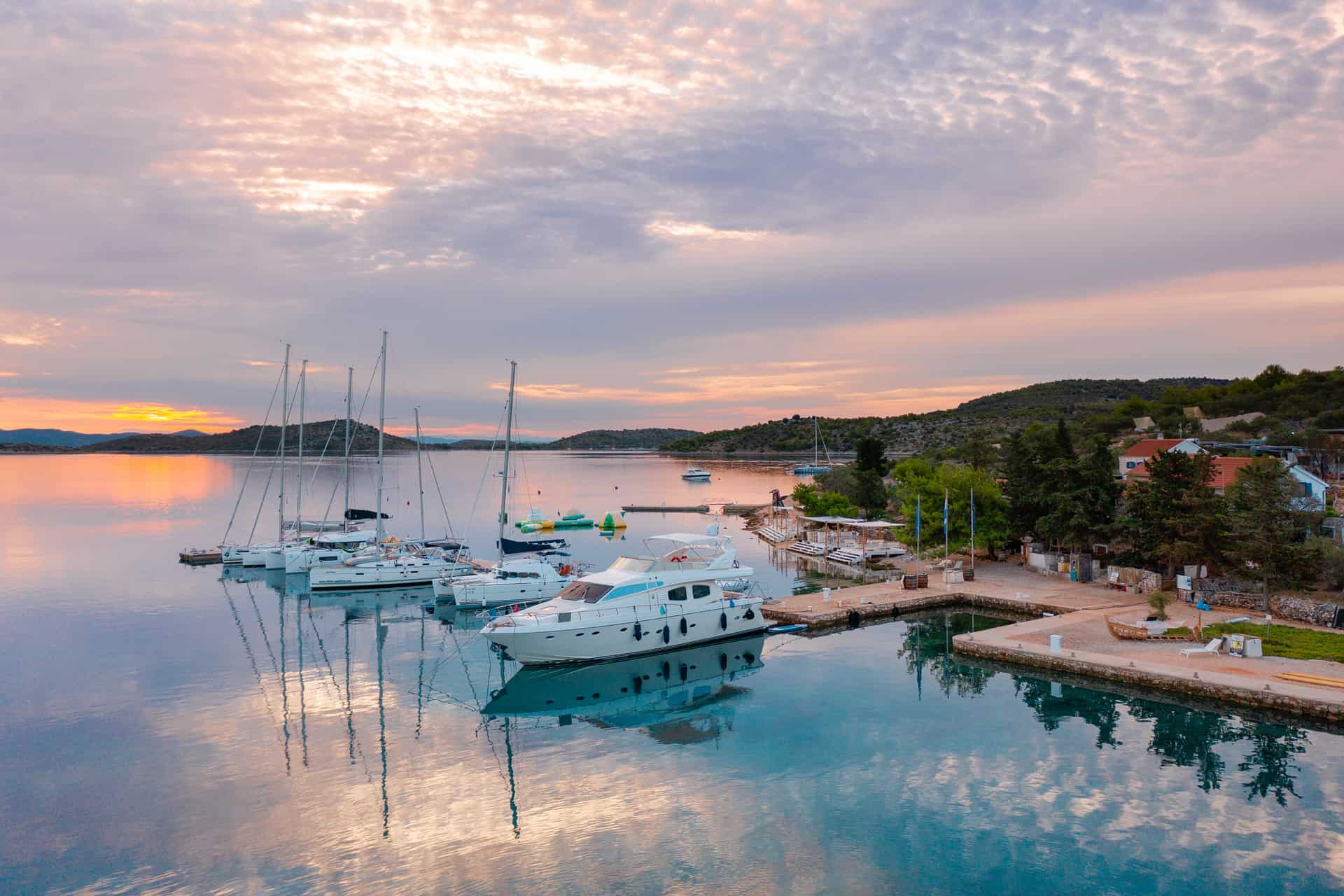 Cliffs, hills, and old walls can be found on almost all islands and in every cove. Tiny villages with no more than a dozen homes hide foodie spots – in our opinion, Fešta, Levrnaka, Žakan and Opat are among best restaurants in Croatia to visit by yacht.
Spice up your cruise with a visit to Telašćica National Park and the nearby Sali, where you can have a midnight cocktail and enjoy nightlife. Also nearby are the impressive waterfalls on the river Krka and the Šibenik archipelago, but bear in mind that at both those locations you can expect a little more hubbub than in the quaint Kornati.
Split and its surroundings are among the most popular locations in the Adriatic, and for good reason. The island of Brač and its tiny port of Milna are the nautical world favorites, while the even tinier Pučišća has suddenly grown in popularity with the opening of the super-luxurious Puteus Palace heritage hotel.
The most popular tourist destination in Croatia, the town of Hvar, is ideal for couples who wish to infuse some nightlife into their private yacht charter honeymoon, just like Bol, Vis, Komiža and the town of Korčula.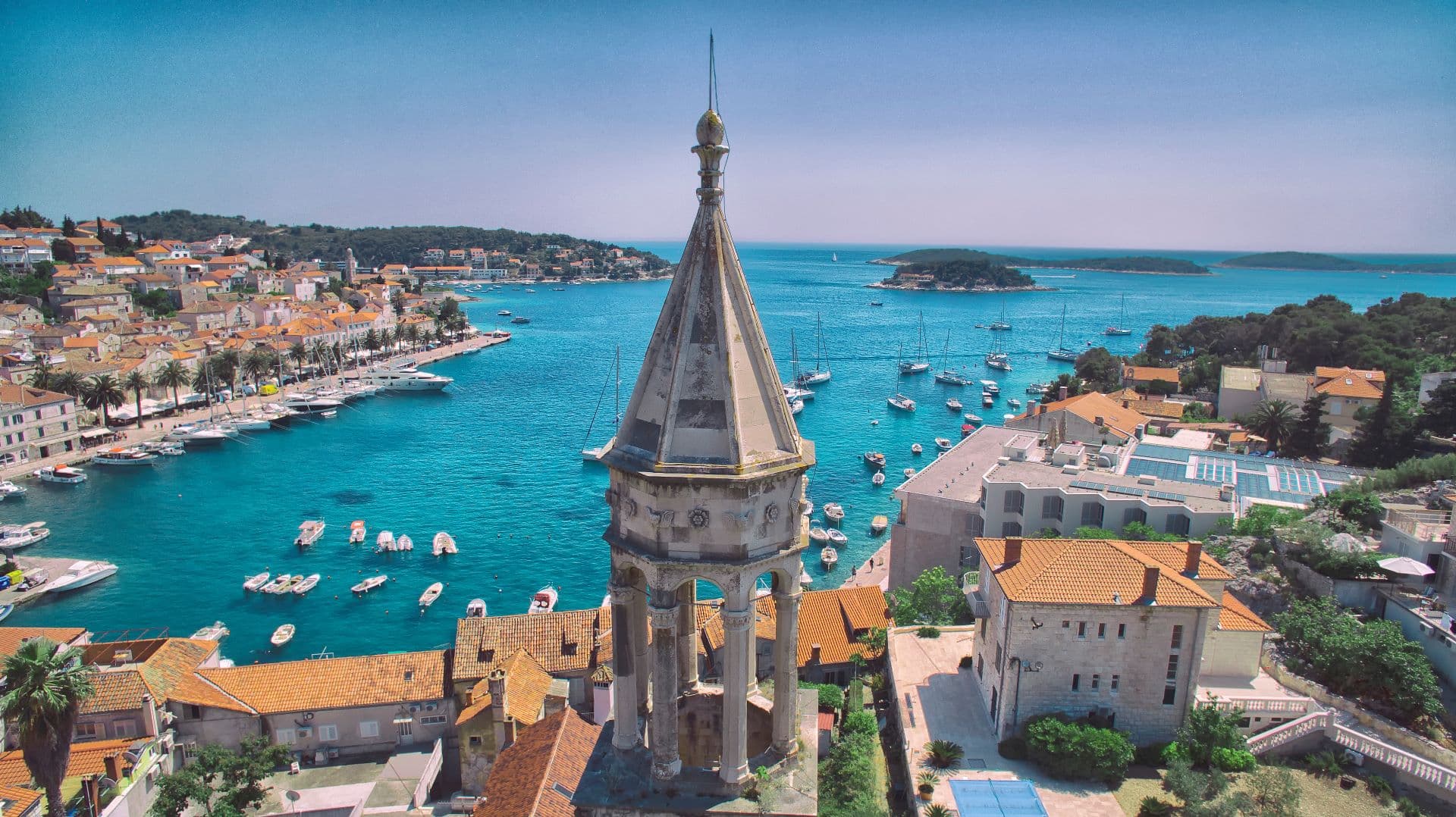 A much more quiet and romantic spot on the same island is Jelsa, on the other coast, as is Pokrivenik Cove, where nature is as unspoiled as it was centuries ago. These waters are dotted with intimate coves, especially lonely in spring and fall, and the islands brim with possibilities – guided tours, trekking, bike tours, wine tasting and military history tours – for outdoorsy couples.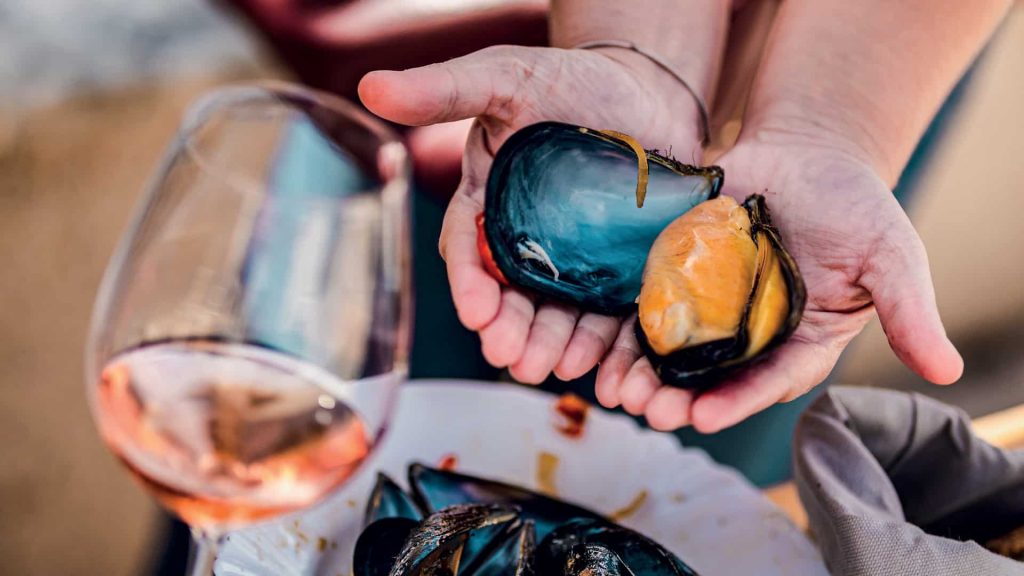 The waters of Dubrovnik are ideal for nature lovers. The islands of Mljet and Lastovo take the crown, as protected nature reserves. These quiet oases in the southern Adriatic are never crowded, always lush and green, fresh even in summer heat, and ideal for biking, trekking or kayaking. The town of Korčula is also part of this green magic tour, somewhat livelier and louder than all that nature around it.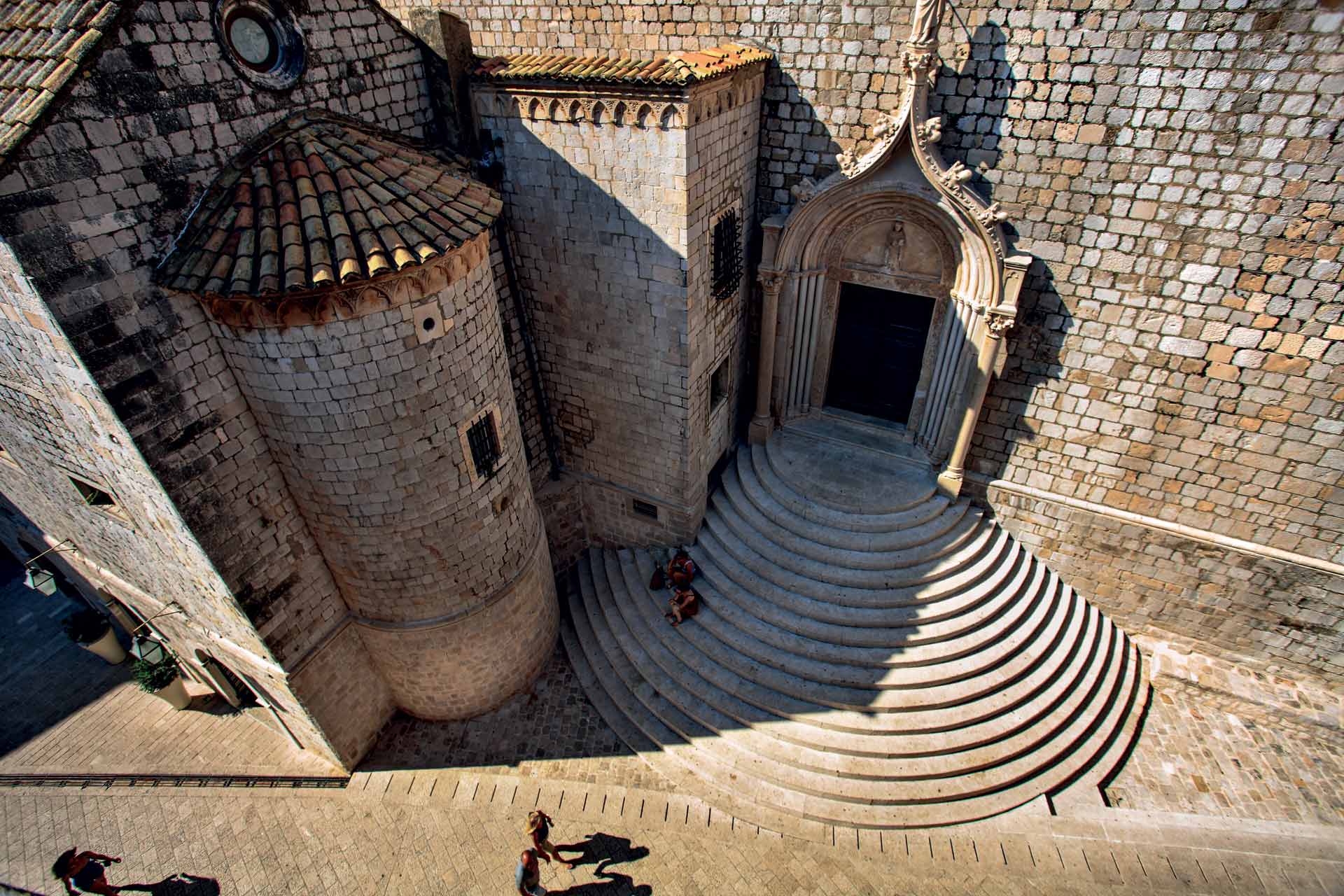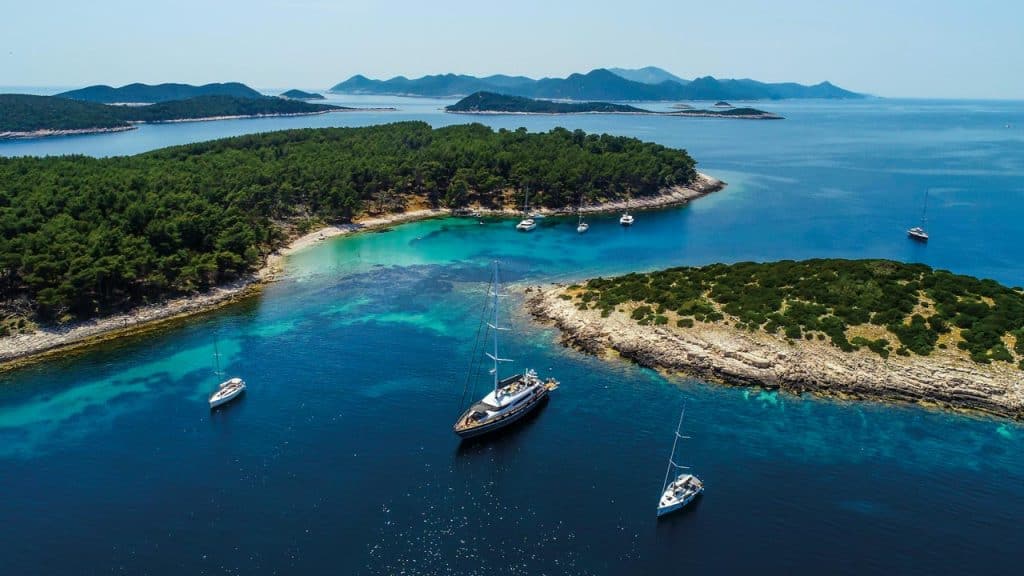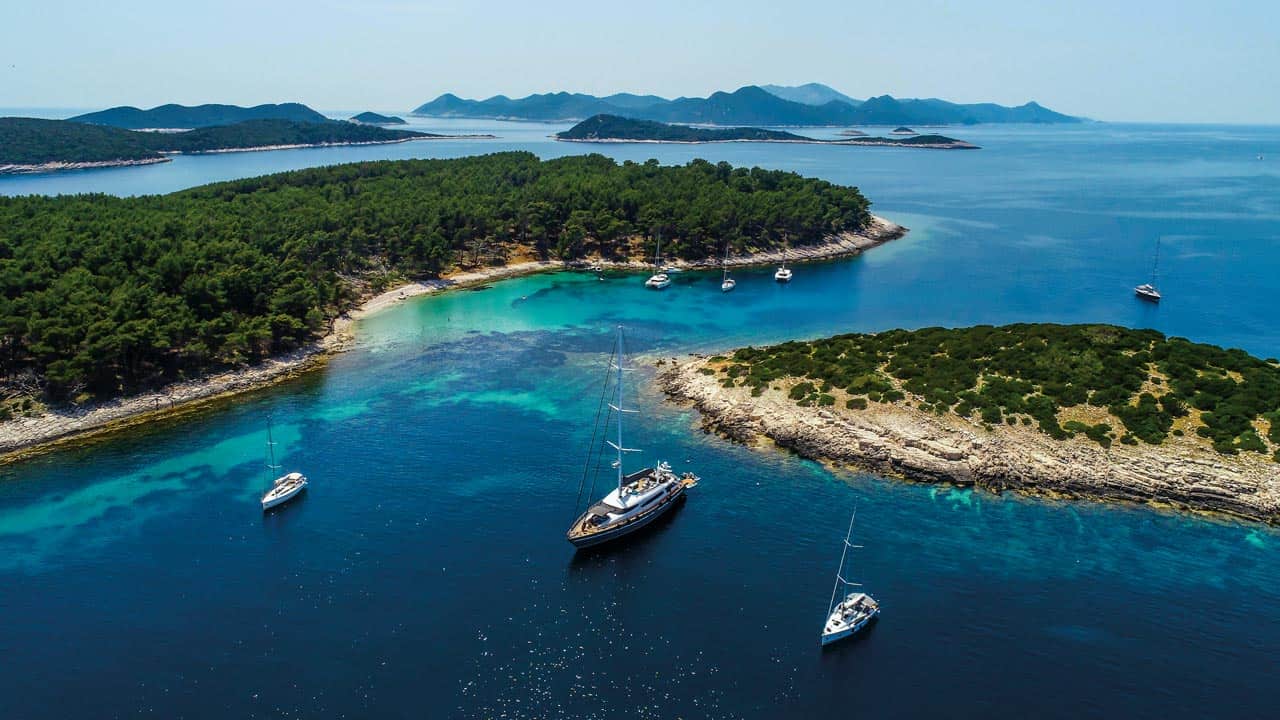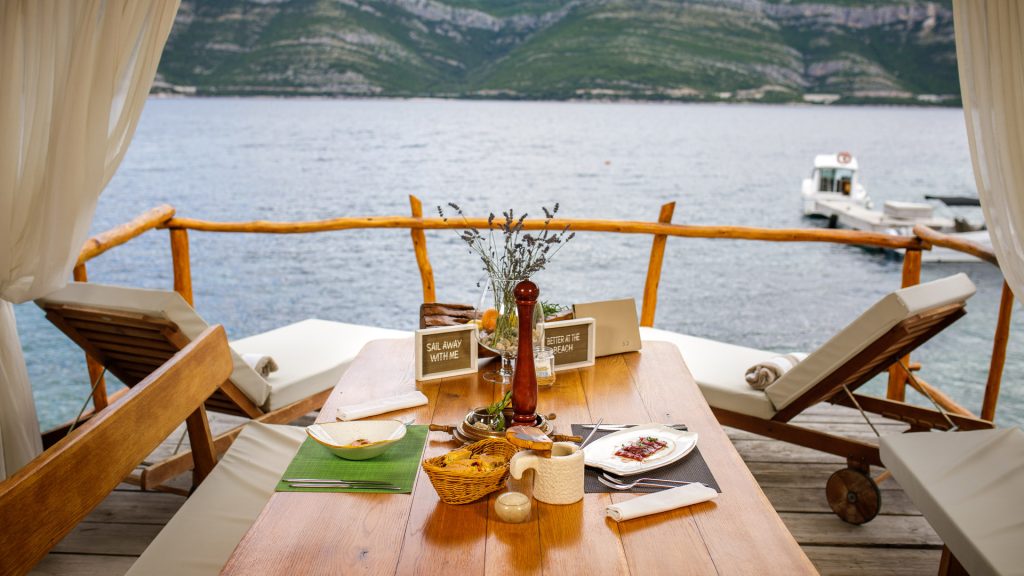 Finally, the Elaphiti Islands and their picturesque port of Šipan welcome you one by one – every cove on every island of the archipelago, especially the romantic Jakljan, is so tiny that only one yacht can sail in at a time. Whatever you choose, pristine nature and an azure sea are sure to add an extra dash of romance to your honeymoon.
Best yachts for your honeymoon
Island hopping, waking up in lonesome coves or under the starry sky, sharing a glass of wine with your other half – a honeymoon we all dream about. Before embarking on your journey, consider what you expect from your vessel during your honeymoon yacht charter. All models, be they catamarans, motor yachts, or sail boats, are romantic in their own way, all offer their own version of comfort, so the choice is up to you.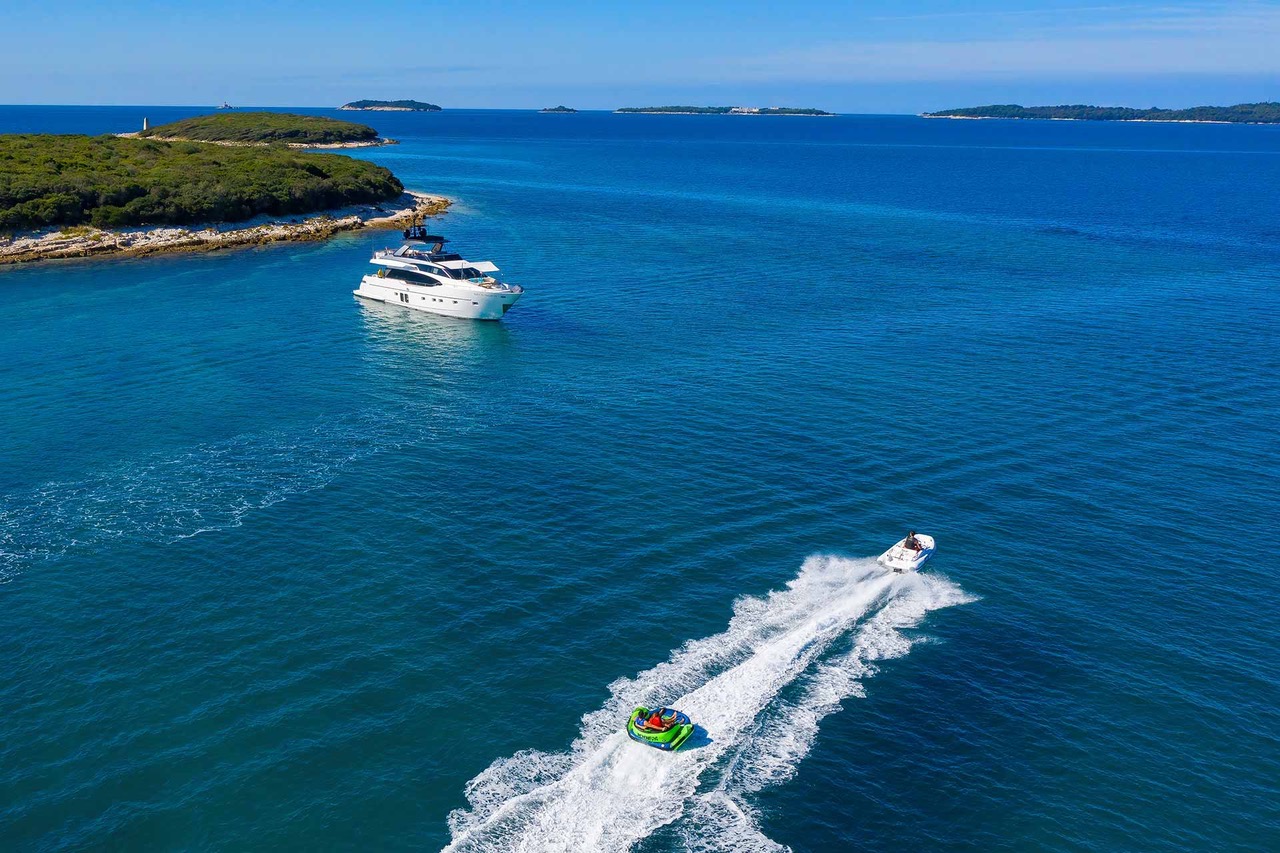 Newlyweds most often opt for luxury yachts 20 to 25 meters in length with a large master cabin that doubles as a honeymoon suite. Depending on the size of the yacht, the crew may include a skipper, a hostess, a private chef and other crew members. We recommend at least a three-person crew for the highest level of comfort. Your preference list taken care of, your honeymoon aboard a luxury yacht is bound to be an unforgettable experience.
Outdoorsy, adventures couples who prefer an active vacation and have sailing experience will probably have no need for crew, so their ideal choice would be a charming sailing boat. Cruise at your own pace, discovering romantic destinations and Adriatic hot spots, hidden coves, intimate beaches and quiet anchorages where you won't see another person for days.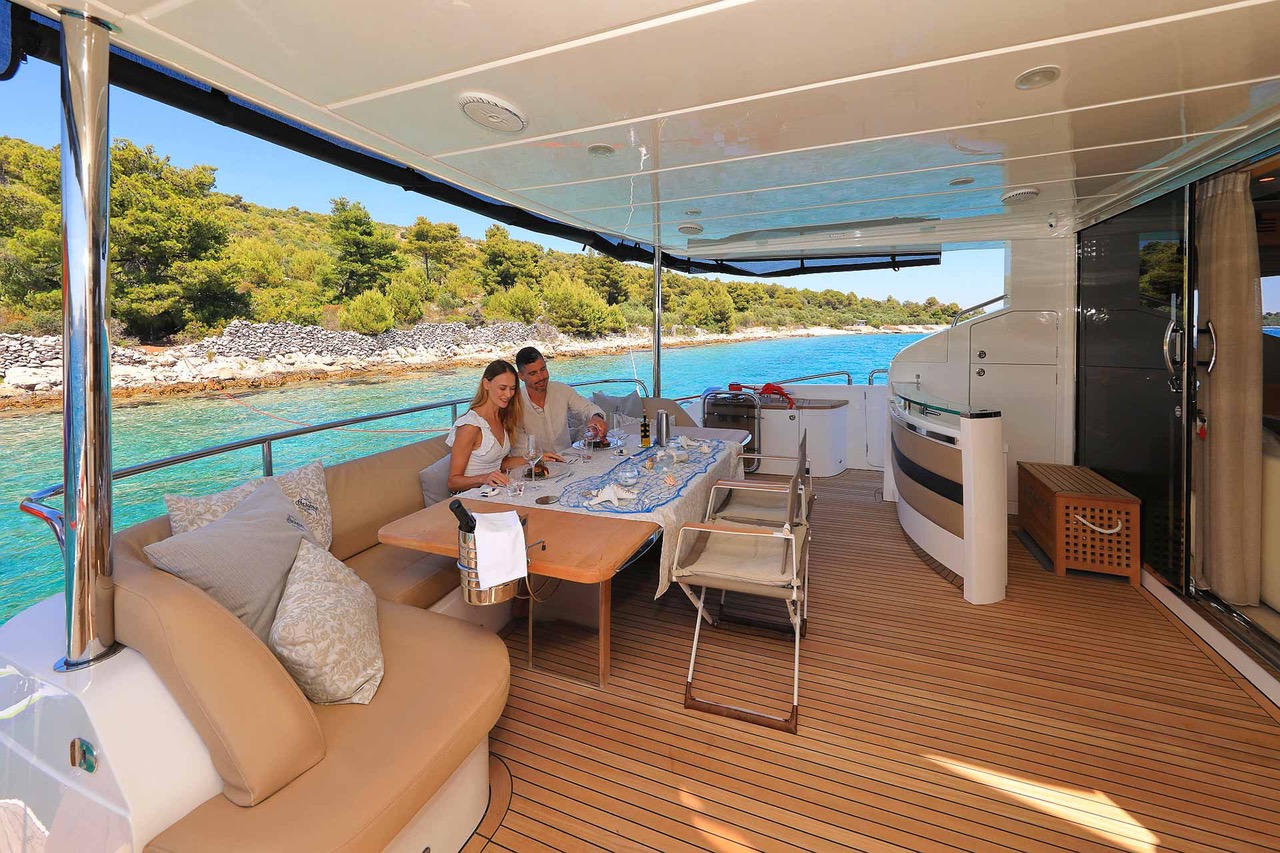 For a totally stress-free sailing honeymoon, opt for a sailboat or a catamaran with a skipper and enjoy the most relaxing Adriatic cruise you can imagine. The skipper will customize your cruise, taking you to quiet coves, busy island towns, or Michelin star restaurants for an unforgettable Croatian vacation.
Perfect time of the year in Croatia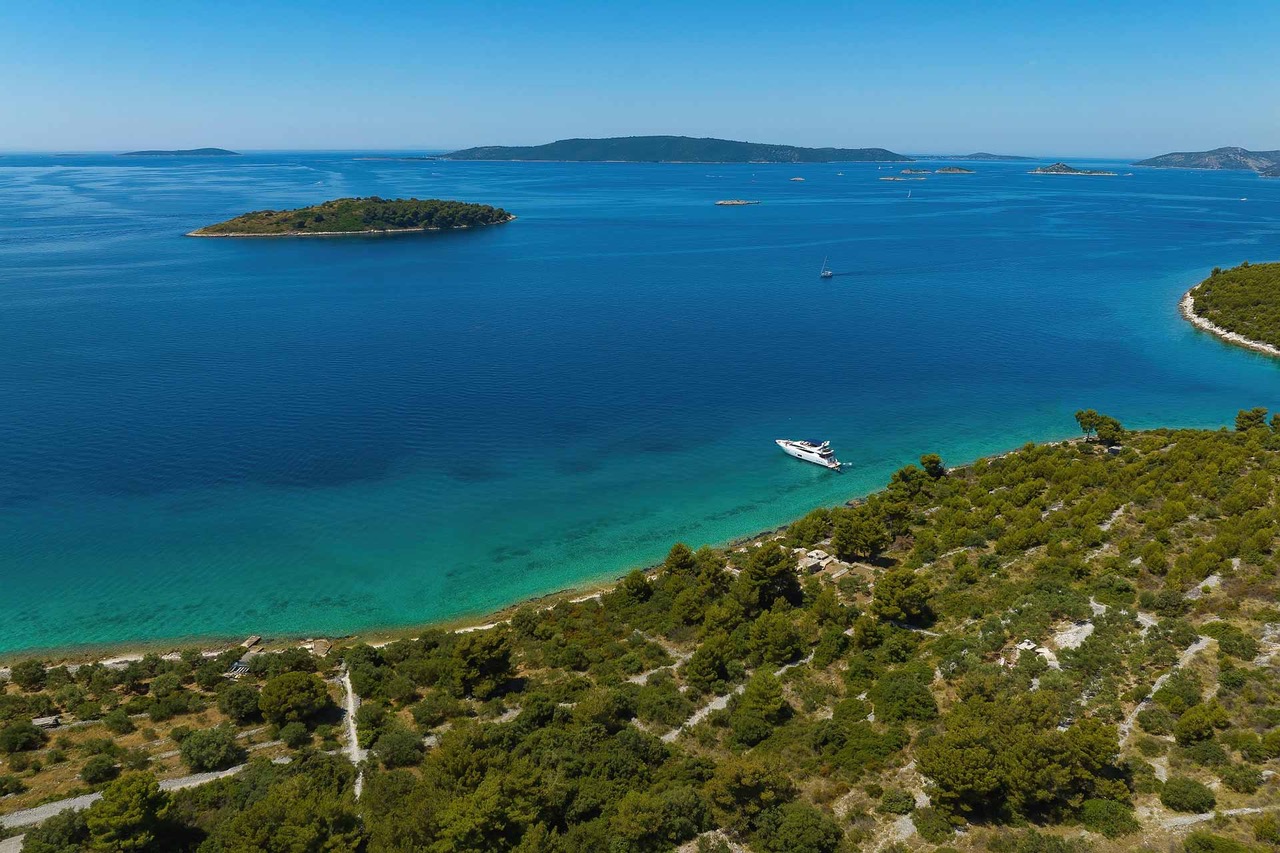 If you want to avoid the hustle and bustle of high season, choose June or September for your private yacht charter honeymoon, when you'll find it easier to enjoy the beauty of this coast and its waters. Still, most couples chose July and August for their luxury yacht charter honeymoon, when long days and hot nights will allow you to use every minute of every day.
In the after-sailing season, the weather is milder and ideal for sailing, and the wind is ideal for sailing, as is obvious from the number of sailing races crowding the Adriatic.
Fewer yachts at sea, as well as fewer tourists in towns and villages, are more appealing for some couples, whose happy days of honeymoon sailing will pass in slow cruising from one quiet cove to another, aboard their very own private boutique hotel.
When renting a sailboat and while sailing, you certainly do not want to leave anything to chance. If that is the case, the most important thing to choose is a trusted agent. Contact our luxury yachts charter expert Josipa at josipa@touchadriatic.com.
Photos Boris Kačan