Classic speedboat body and beautiful dark blue hull color perfectly paired by none other than Christian Grande with dark red leather upholstery, make this luxury tender both modern and equipped above the average bowrider
The small, low, open beast that answers to the name Cranchi E26 Rider is all anyone can want from a product Made in Italy. Elegant, fun and made from highest quality materials, this model is a natural born winner. There aren't many shipyards that can boast a 150-year-old tradition, and Cranchi is one of them – and still a family business.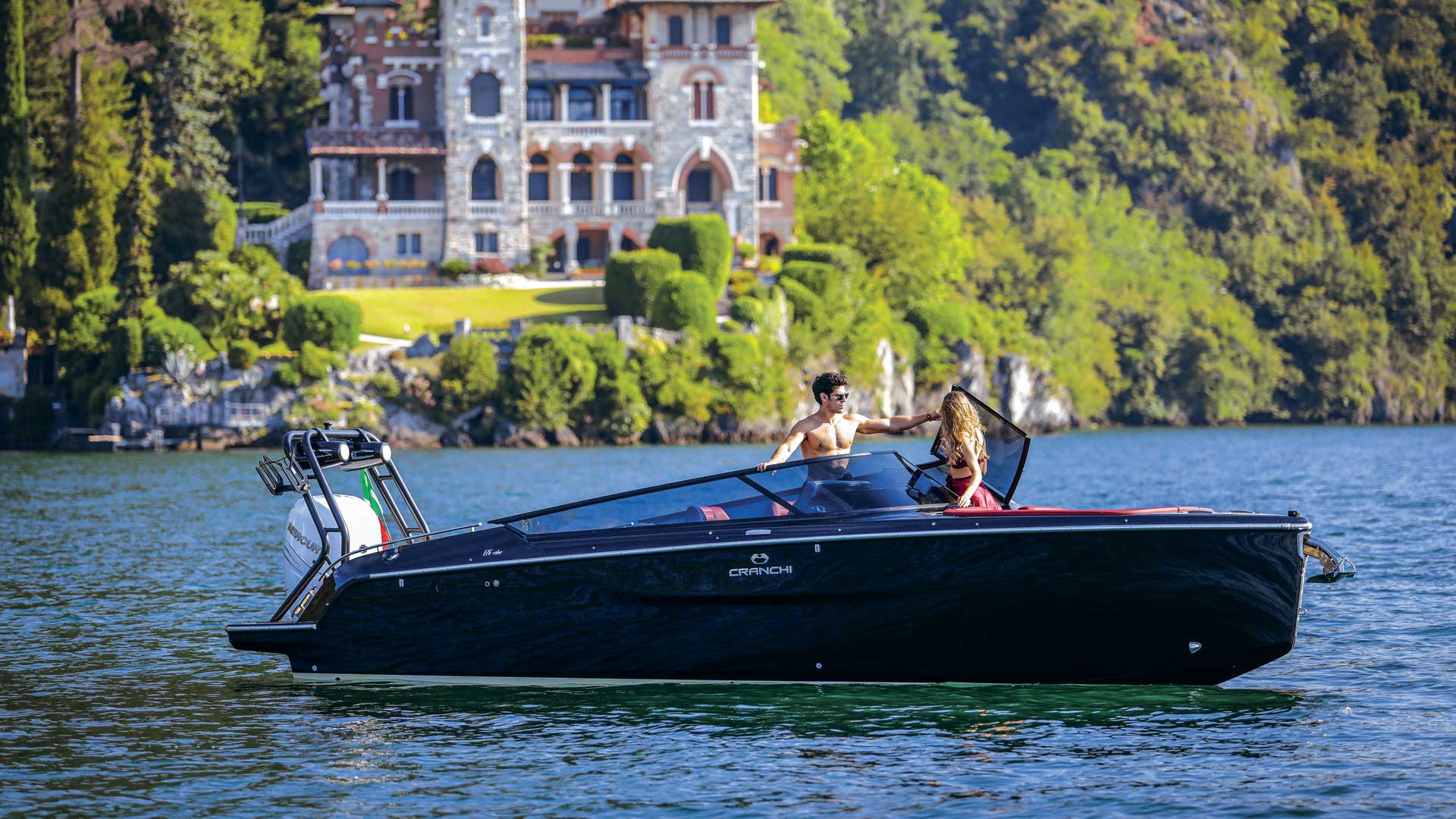 This tiny 'Italian gigolo', which we had the opportunity and pleasure not only to test, but also to launch in the marina Agana, is a new version of the E26 Classic. Classic speedboat lines with an elongated windshield, and a beautiful dark blue hull (Blue Murano) perfectly paired with the red leather upholstery and teak of the interior (kudos to Christian Grande, as always): this is obviously a luxury motor boat.
The finish is exceptional, both in all aspects requiring a traditional approach and the know-how of Cranichi's two modern plants around Lake Como. This bowrider is equally perfect for the role of a luxury yacht tender or a fast commuter, because in addition to seating for up to 12, the E26 exudes style and equipment far above the average bowrider. Easy access from the aft leads directly to the passage connecting to the bow, where we found a teak-covered anchor storage sturdy enough to step on.
The bow lounge is ideal for sitting with a chilled glass of champagne, for which a side table can be set up, while side sofas are just made for enjoying the ride. Under the seats there is storage space for cushions, as half of the cockpit can be turned into a large sunbed, and there is an option of adding a table, and protecting the aft with a bimini. This retro rider was designed with young buyers or first-timers in mind, so handling is almost too easy, especially with a bow thruster.
The skipper's seat is very comfortable and can be rotated in all directions, and apart from the throttle levers, trim, various switches and the steering wheel, as well as four analog counters, there is nothing to distract you from enjoying the navigation. Instead of the navigation screen, the central place is occupied by the screen for displaying engine data.
The windshield is sufficiently protected, and the passage in the middle and towards the bow opens easily. We'd like to see cup holders around the skipper's seat and storage for mobile devices and other gadgets as we find the toilet, hidden under the console, rather difficult to use, except maybe for kids.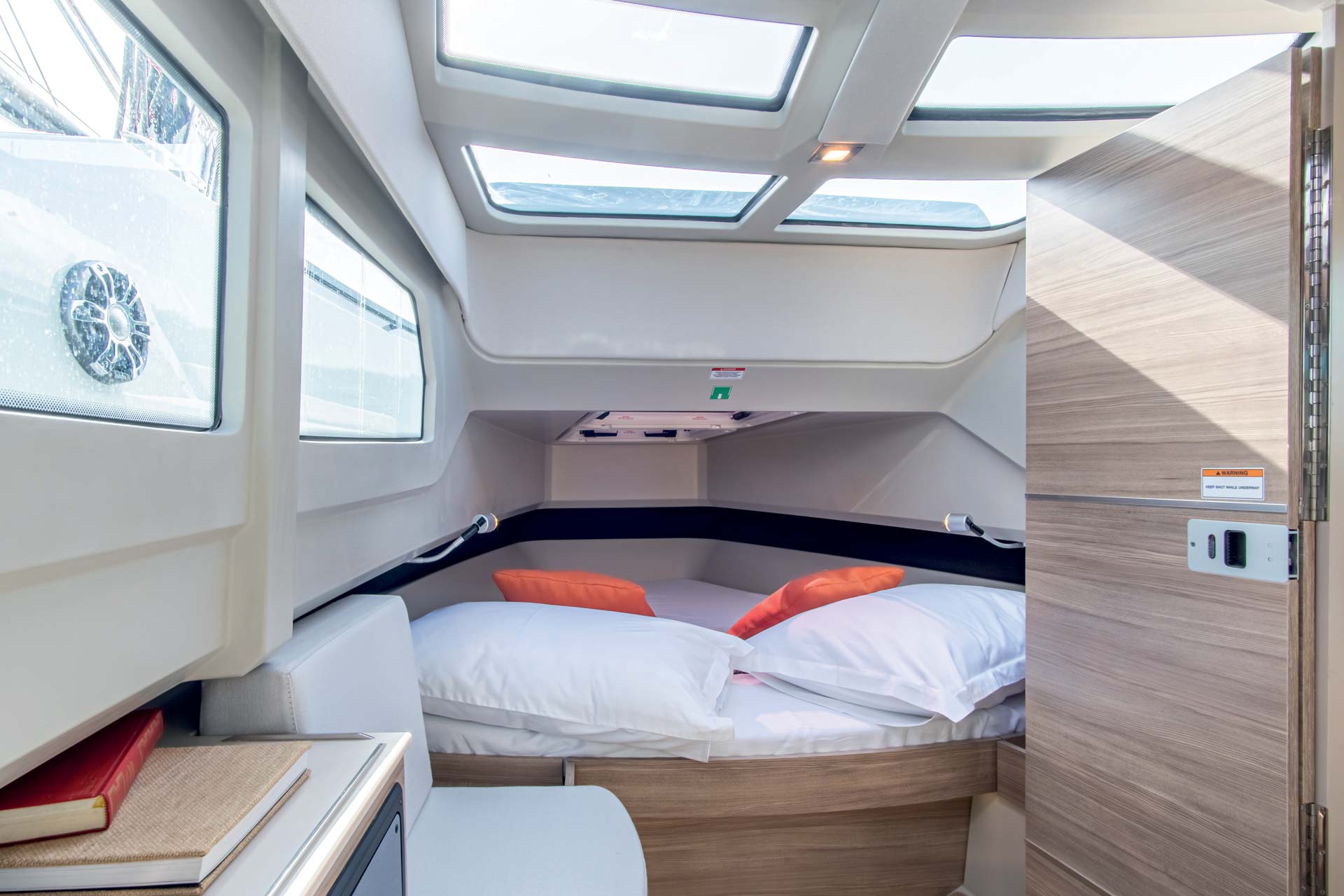 The front lounge boasts two powerful Fusion speakers built into the sides, always a welcome addition on any model aimed at younger owners. Cranchi E26 Rider is exceptionally easy to handle, offers excellent steering response, accelerates with ease, and given that a good portion of the hull is constantly above water, it also provides the great pleasure of a drifting.
The feeling at the steering wheel reminded us driving a rear-wheel drive car, say an older BMW 3 Series model and Cranchi accidentally managed to bring it back to life.
Weighing two tons (without the engine) and with more than enough power (a 350-hp with Mercury holding the aft firmly in place), Cranchi E26 does it safely and fast. This would not be possible with internal engines like the ones installed on the original E26, so outboard engines are a logical choice, not only because of the fun factor, but also because of maintenance, price and consumption.
We achieved planing at 11 knots, and with 4000 rpm we easily reached about 20 knots, with consumption of approximately 30 l/h, while for the extra five knots we had to reach 4400 rpm (46 l/h).
At this speed and a with sudden change of course, the hull tilted sharply (with three passengers aboard) and caught some air around the propellers, which can be remedied by slower turns or balancing the passengers around the deck in a symmetrical manner. Cruising speed of about 30 knots proved to be very comfortable, as were all speeds below 6400 rpm: in less than 20 seconds our E26 exceeded 40 knots with calm and poise, in a typical Italian style.
Text Filip Bubalo
Photos & video Cranchi