An original journey through Brač gastronomy in six restaurants is another Brač miracle putting the island on a map for guests anxious for an authentic experience and taste of Dalmatia
An island without an eponymous town, where the highest peak of all Dalmatian islands is located, as well as the most famous and ever-changing beach; vast amounts of uncarved stone, the same amount that the pyramids in Egypt have, according to some; an island on which young men couldn't get married without proving that they had planted one hundred olive trees; the stone used for the Diocletian's Palace, but also the White House; an island with over 100 churches, ancient ruins, the only school of stonemasonry in this part of Europe; the island whose bora wind Croatian poet Tin Ujević wrote a poem about, or the jokes about the island's notoriously cheap inhabitants (which was never proven)… It's all Brač.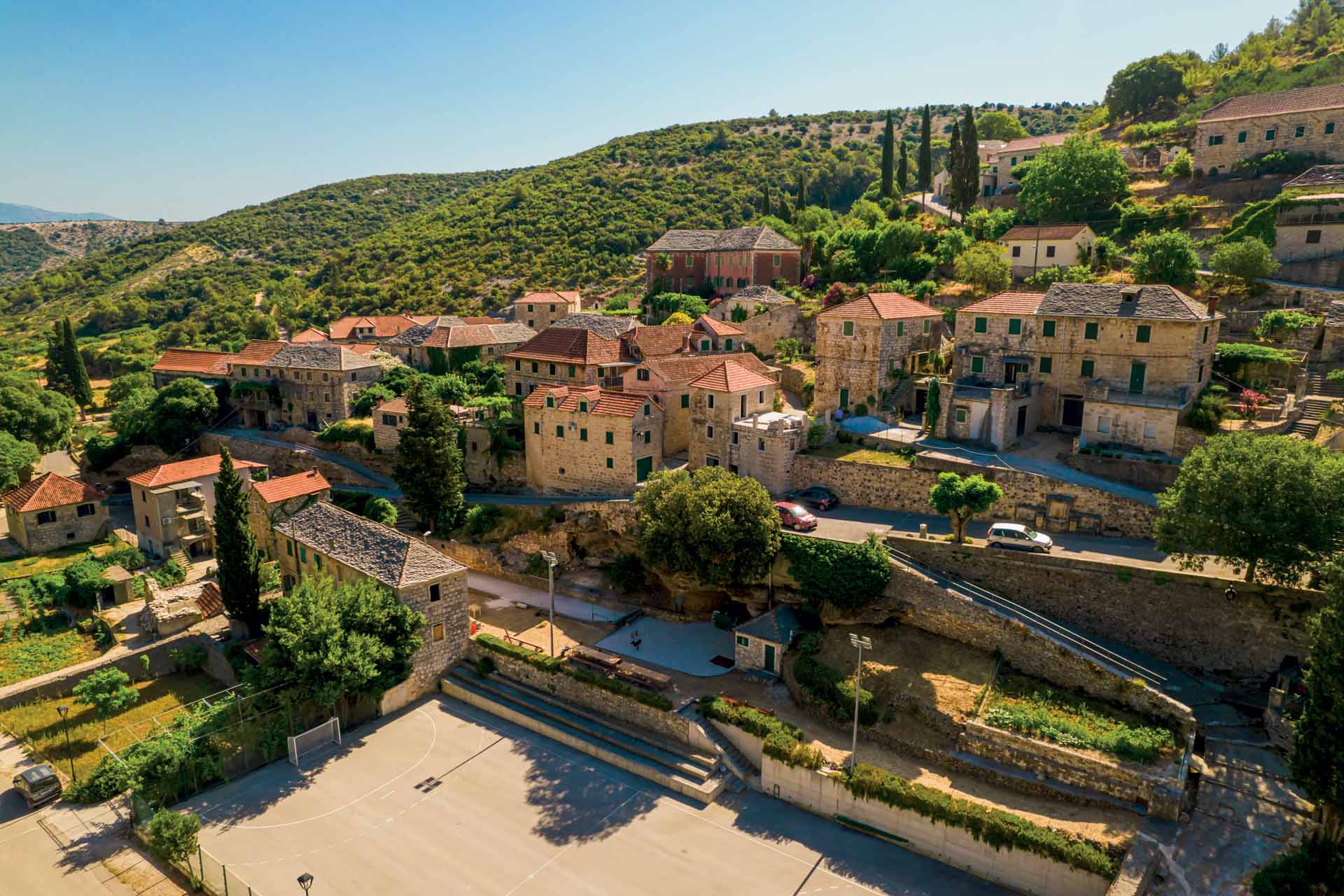 It's no wonder that it's a place where an interesting new culinary story emerged. It's also no wonder where the idea for the most original slow food in the Mediterranean was born and it gives us great pleasure to be able to publish it in the pages of our magazine. Ivo Ljubetić Šteka owns a tourist agency in Sutivan and has been in the industry for over two decades. He was the driving force behind the 'Vanka regule' Festival (Out of the Ordinary), organised a number of cycling and climbing events, initiated the Olive Picking World Championship and is a well-known figure in tourism.
His endless enthusiasm is based on the love for his island and life in general, and while working as a tourist guide for elite guests on Brač, he got the idea for a different food story. In his own words: 'A wonderful project, envisioned as a culinary tour of Brač, turned into reality this summer, led by enthusiasts, experts and connoisseurs and the island and its history. Travellers passing through can enjoy and dine in restaurants with a unique Dalmatian charm.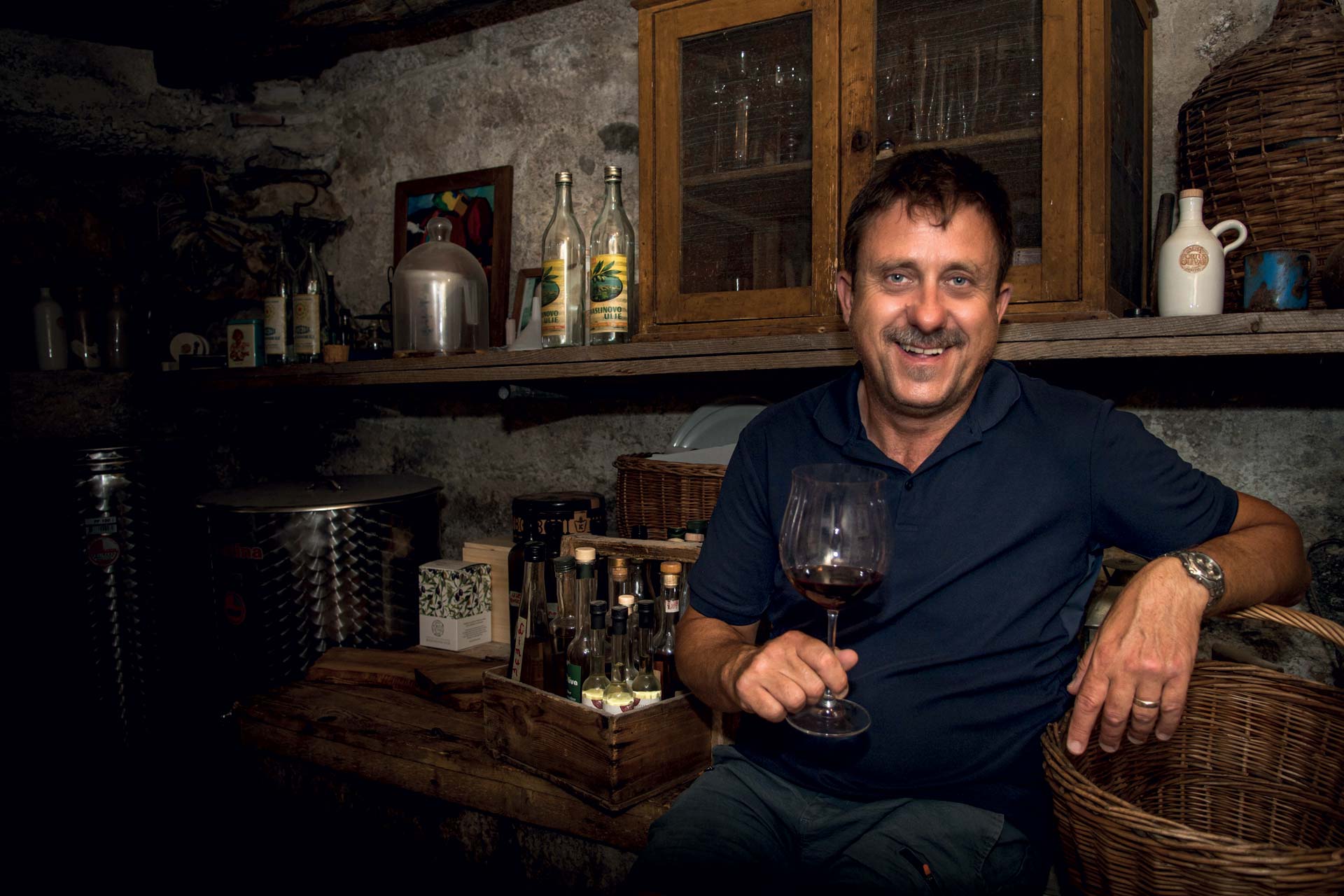 The local people love to brag about their history, wine, olive oil and food that's consumed on the island surrounded by an almost meditative peace that's become rare on the islands in the Adriatic. A cultural, historical and culinary tour of the island lasts five hours and is aimed at only one thing: enjoying myths and legends from romantic history while enjoying the food and wine produced by the soil in an eternal struggle with stone that makes the toil of Brač farmers even more relentless.
The goal isn't necessary to match the high standards of award-winning world restaurants, but set special standards stemming out of tradition, heritage and deep respect for this slice of heaven in the Adriatic with the help of young and creative chefs. Sutivan, Supetar, Donji Humac, Škrip and Dol eco-ethno village are proud to present their island by offering their best and what they've learnt from living with nature and what they know about the beauty of their land.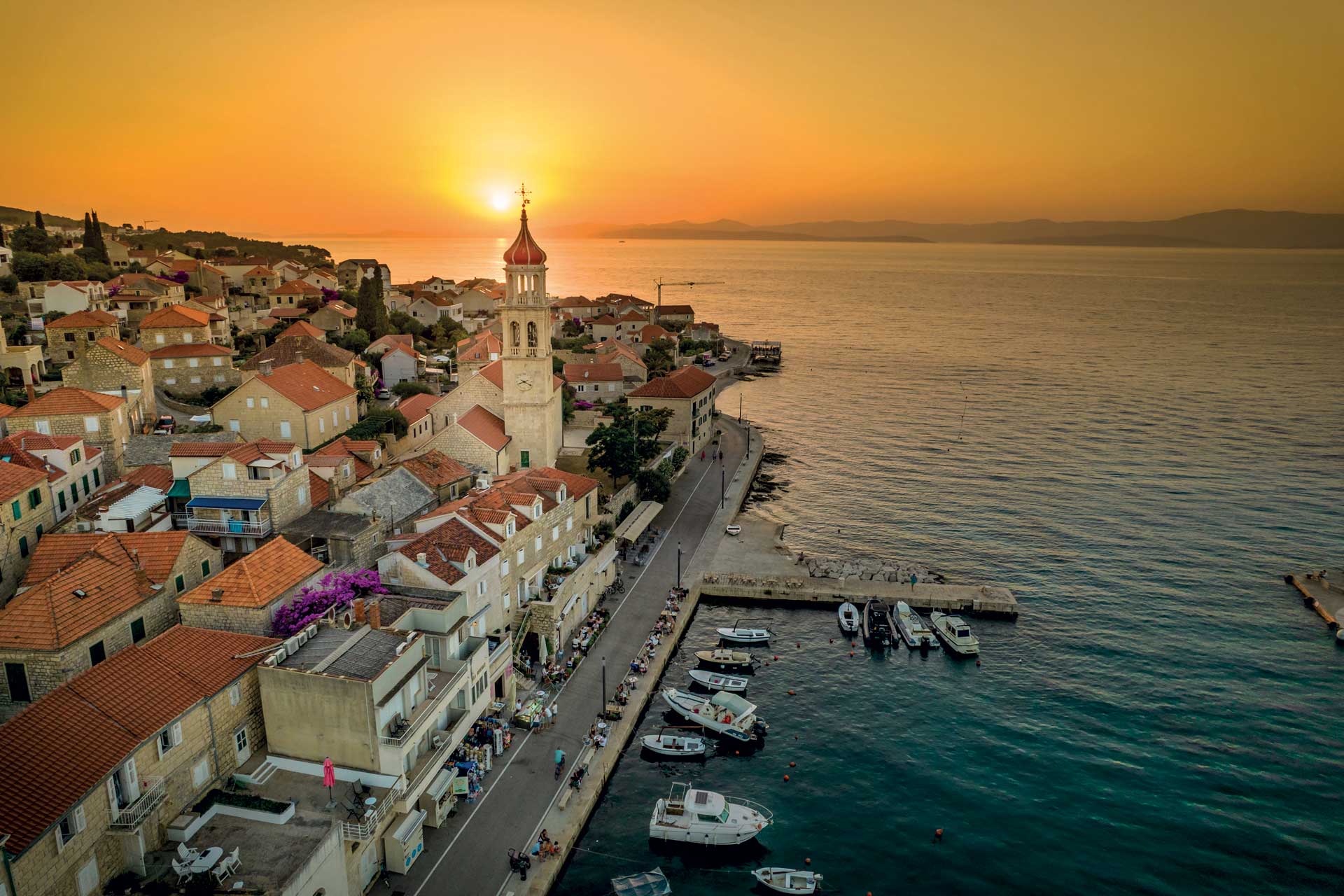 We've selected one special course from each of the six restaurants and the first taste starts in Sutivan, at the Lemongarden Hotel Restaurant and Bokuncin Tavern. They're the first and second courses. The third is in the heart of Supetar, at the Kala Restaurant and the fourth in the interior of the island, served at the Kopačina Tavern in Donji Humac. The location for the fifth course is the oldest settlement in the island of Brač, Škrip, where an olive oil museum is located, while Dol is in charge of the 'most typical Brač desert'.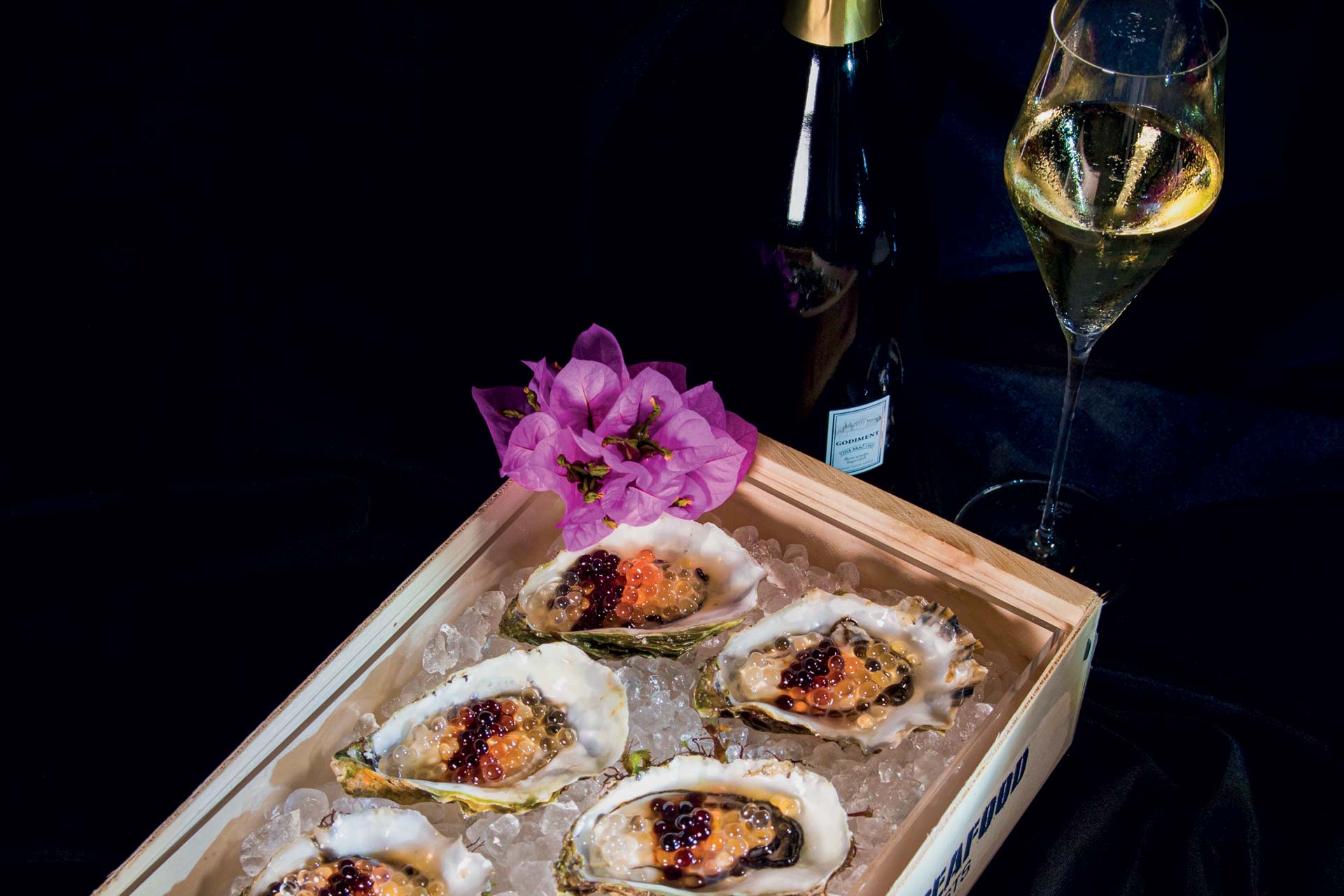 Lemongarden Restaurant, Sutivan
1st course – oysters
Ante Udovičić is the head chef at the Lemongarden Restaurant in Sutivan and his philosophy in cooking is based on a fusion between Mediterranean and Croatian cuisine. The first course includes French oysters with white balsamic pearls, Yakitori chicken with a side of celery emulsion, chicken demi-glace, emulsion of tomato and Tabasco, chicken skin chips, Pak choi and rainbow carrots. The second course includes tuna tartare, served with warm focaccia and Adriatic tuna cubes, fresh oyster and celery sauce, coconut milk and oysters.
The third courses are boneless lamb cutlets with rosemary and garlic, thin potato slices and green asparagus sauce as well as slow-cooked pressed quince. Next is wild Adriatic Sea bass and ravioli stuffed with sea bass, Hollandaise sauce and blanched fennel. Naturally, the dessert is inspired by lemons and looks like one, consisting of Sutivan curd infused with three types of citrus fruit… This is a whole other side of Brač. Global.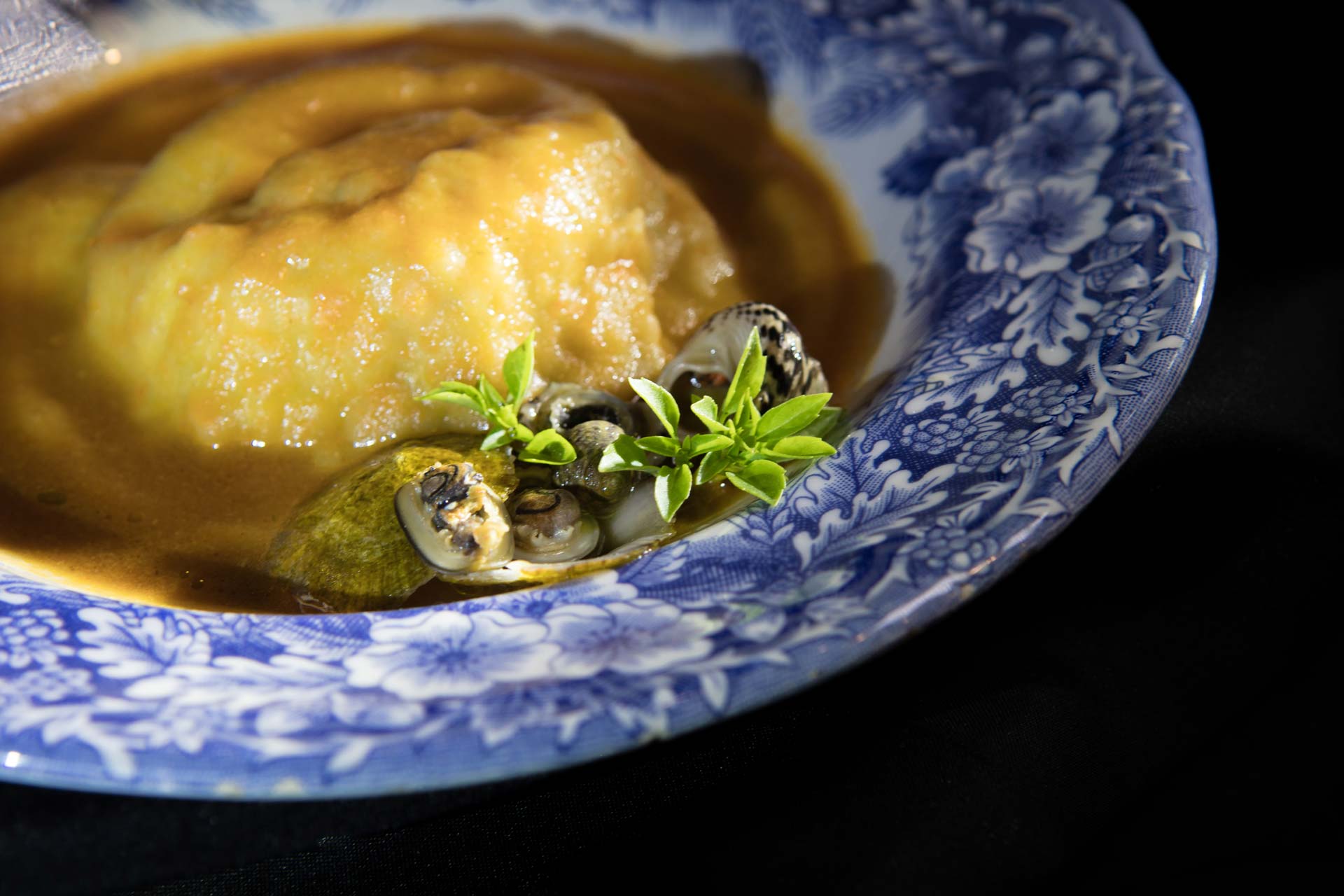 Bokuncin Tavern, Sutivan
2nd course – crab ravioli
Owners Ela Vrsalović and Matea Tonšić have turned their Bokuncin Tavern into a place for premium homemade pasta that they make by hand on a daily basis, adding various types of stuffing based on homemade island produce. Their guests only try what's local, made or grown on the spot, therefore getting the authentic Brač experience. This is what makes their limited menu, which is adapted almost daily, so exclusive. Sourdough focaccia is made every day and it could easily be the tavern's trademark.
Ravioli stuffed with scampi, European spider crab and prawns served on brodet (fish stew) made from local fish, with a touch of lemony citrus aroma. In any case, Bokuncin is the staple of Sutivan when it comes to Brač gastronomy.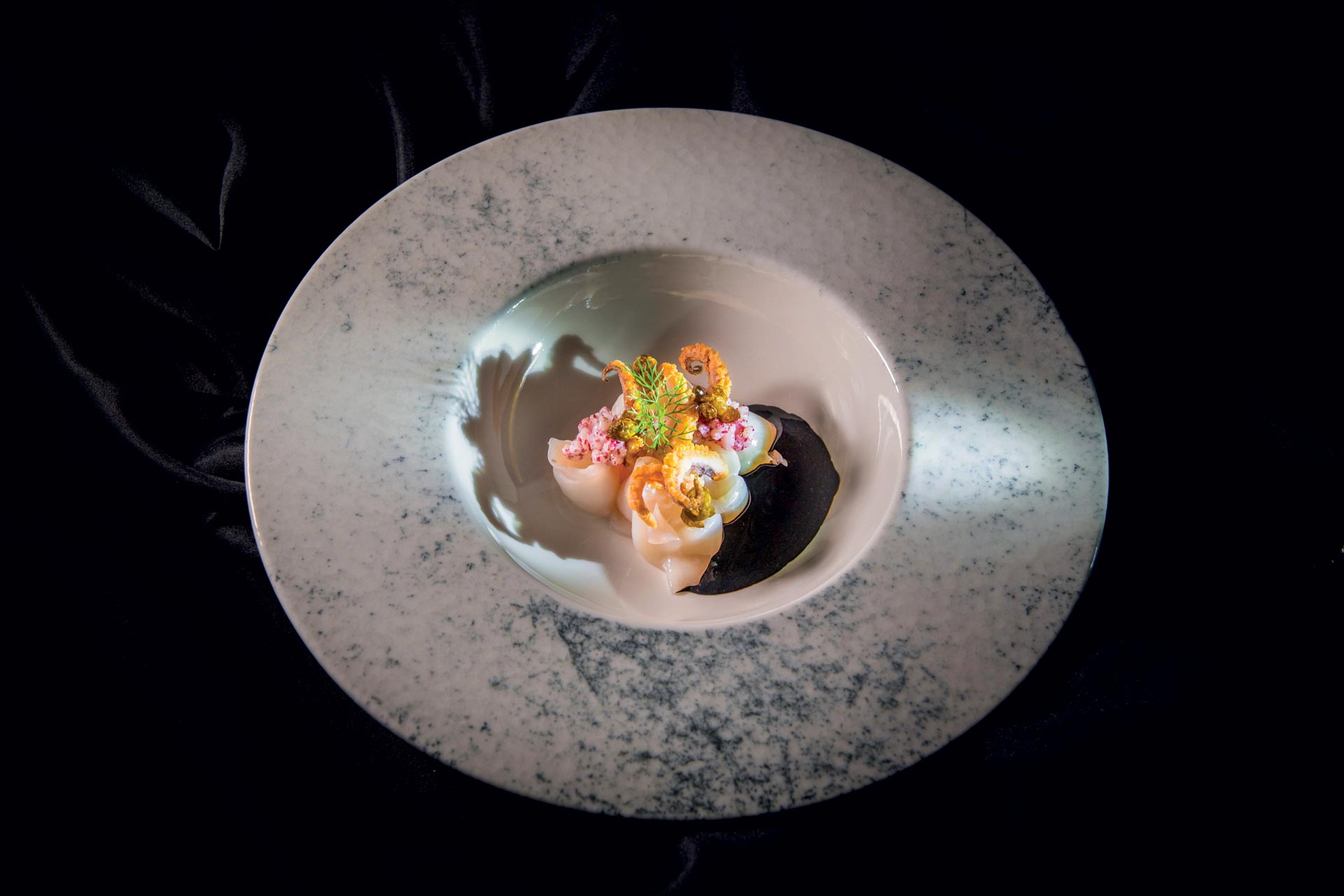 Kala Restaurant, Supetar
3rd course – 'ALL THE SQUID'
Young and creative chef Dino Šeparović turned Kala in Supetar into a world-class restaurant led by a modern approach, based on the desire to present his island through a carefully crafted menu even to the most demanding gourmand. Everything on the plate is from Brač. The seven-course Chef Experience Menu is the reflection of the island's culinary offer. It starts with curd and fish pate made on brodet or buzara-style, mostly made from amberjack and sea bass caught in the waters around Brač.
Next is 'Sea and Vines' that brings together homemade vermouth, Brač pomegranate and oysters. After that, squids, and nothing is thrown out (squid confit, tartar, squid intestines sauce, tentacles with homemade capers). 'Sea Essence' is a soup made from oysters, mussels, vongole with Salicornia and sea fennel. Octopus can be tasted in a ragu and arancini (rice balls) or grilled. Next is shrimp infused in Brač herbs, wrapped in Swiss chard and finally, 'The Island', a desert consisting of curd, white chocolate and almonds.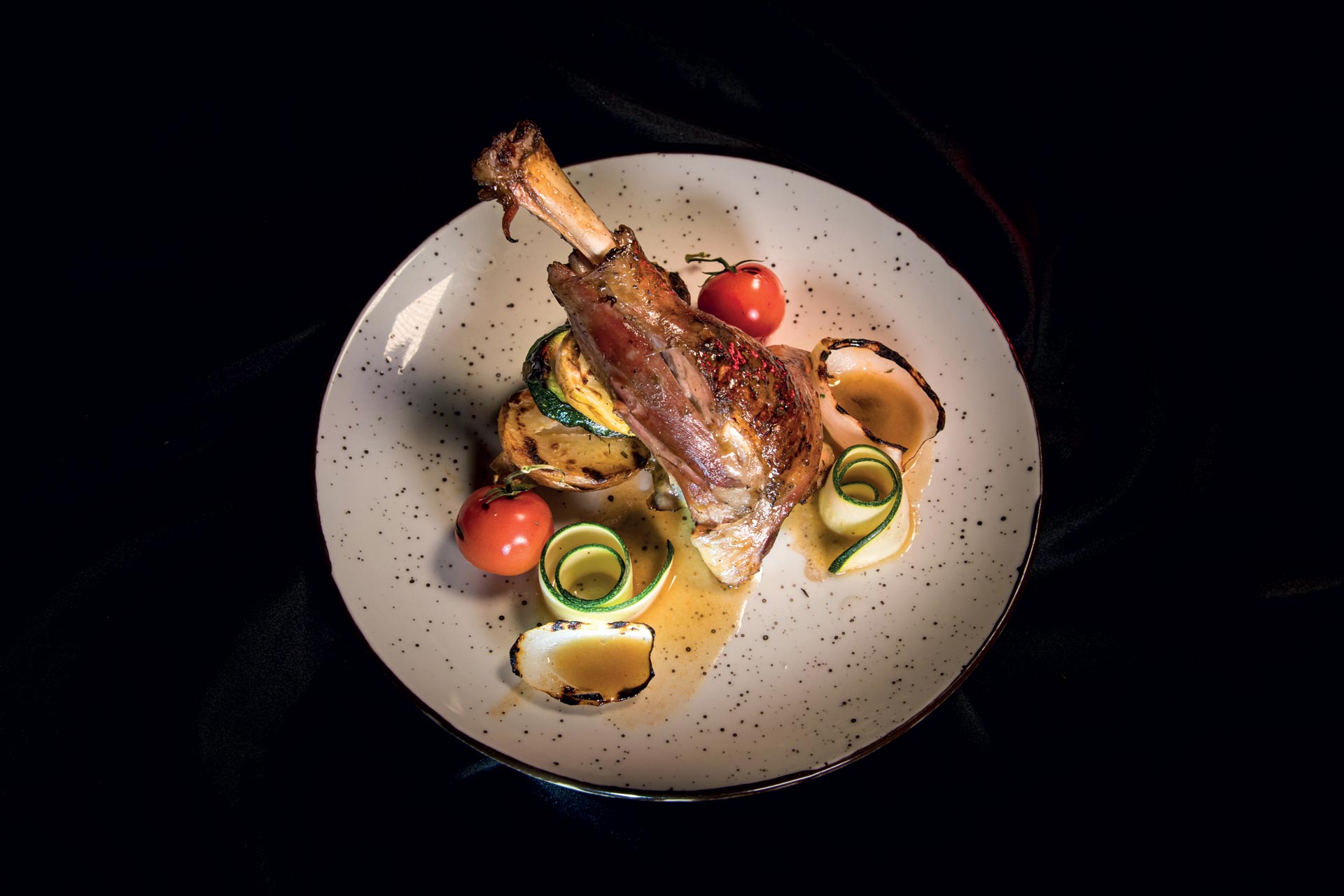 Tavern Kopačina, Donji Humac
4th course – sous vide lamb shank
Ivan Jugović continues the family tradition in his tavern in Donji Humac and proudly presents lamb 'one hundred' ways. The Brač vitalac (offal skewers) is a dish with protected status that needs to be eaten right off the spit and right in this tavern. Of course, there's the obligatory lamb peka as well as spit roasted lamb, but in smaller pieces, so the meat is more tender.
Lamb ragu with the Brački varenik (reduced grape juice as a natural sweetener), tripe with leg of lamb, lamb brain parfait… When ordering lamb at Kopačina, listen closely to what they offer, choose the one you like best and then come back to try everything else.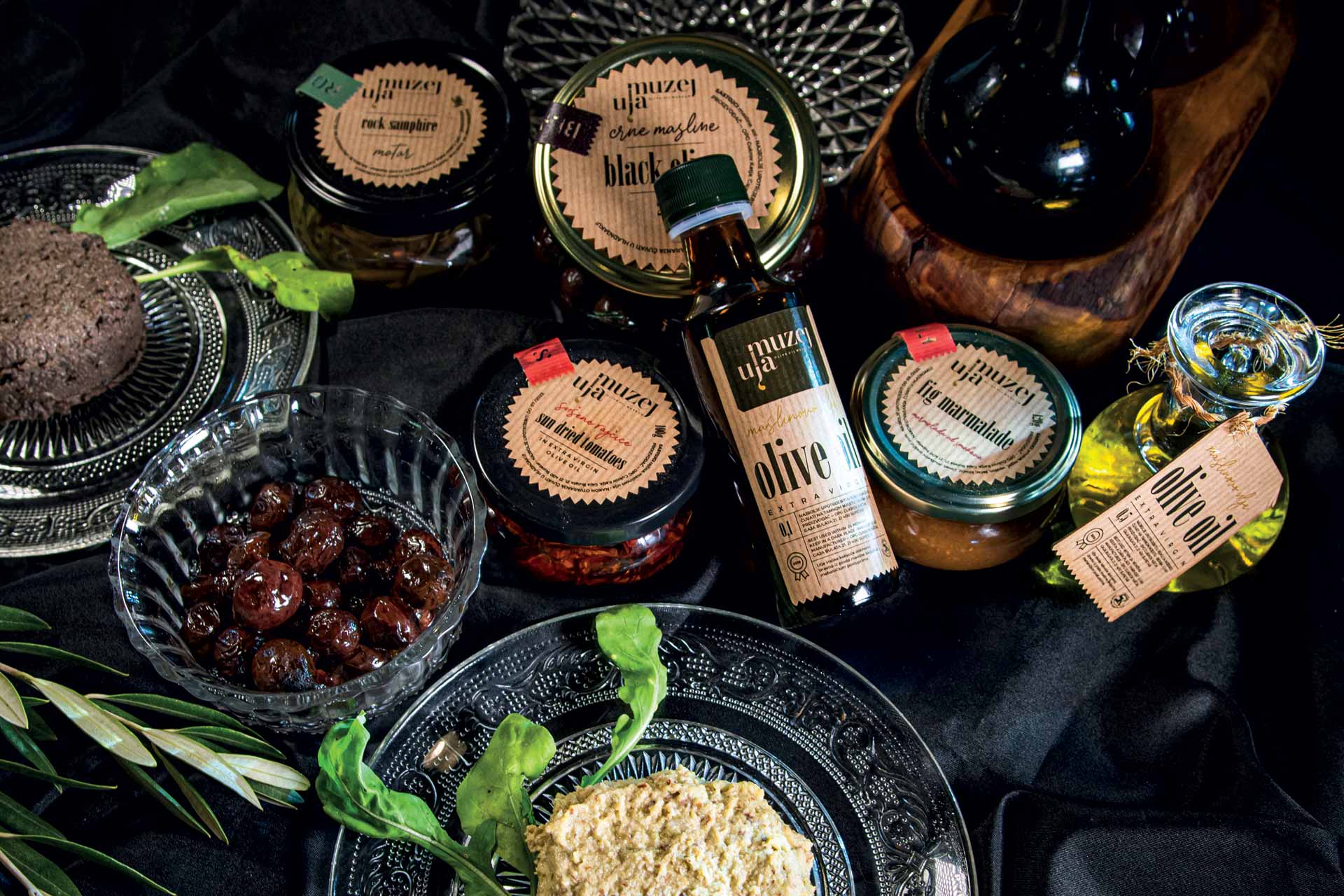 Muzej uja (Oil Museum), Škrip
5th course – olive and cheese spreads (relax and oil tasting)
An old oil mill turned into a museum, protected cultural property of the Republic of Croatia, can be found in Škrip. The most interesting feature is the presentation of how oil used to be made in the past and naturally, tasting. In addition to oil, you can taste olives (salted black olives are made traditionally, without undergoing heat treatment, using salt to extract water and bitterness), green spread with almonds, black spread with anchovies, garlic and Parmesan cheese with capers and sea fennel, as well as homemade cheeses and sundried tomatoes.
Varenik, or reduced grape juice made only from certain grape varieties, complements the story. Museum Director Katja Cukrov treats her tasting room like a well-prepared curator at an island museum.
The Hrapoćuša Association, Dol
6th course – hrapoćuša
The Hrapoćuša Association, led by Jerko Gospodnetić, will take care of the typical Brač cake. The island's sweet side is represented by the hrapoćuša cake, made only at Dol in Brač. The cake was probably made the same way 300 years ago and the stories were passed from generation to generation.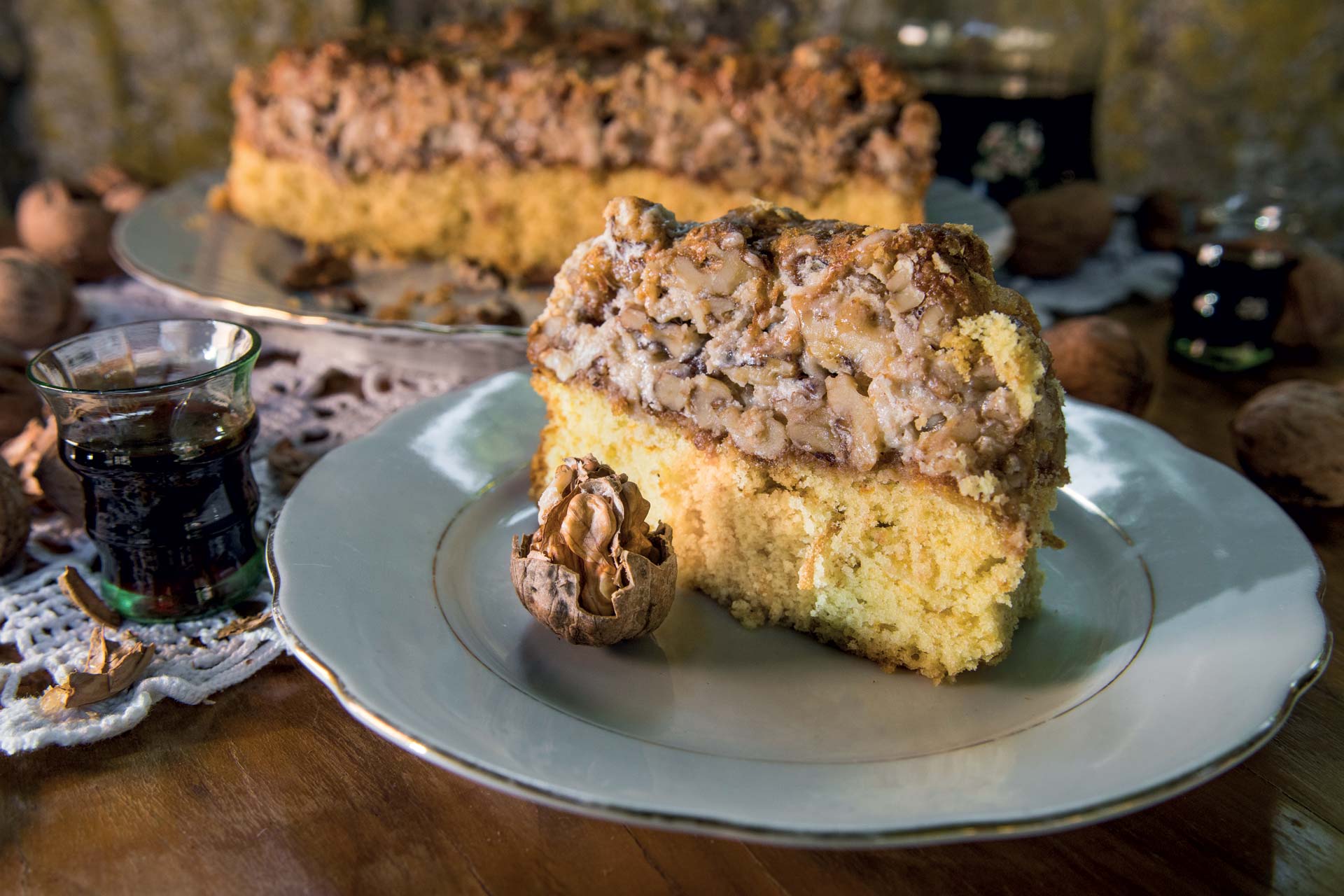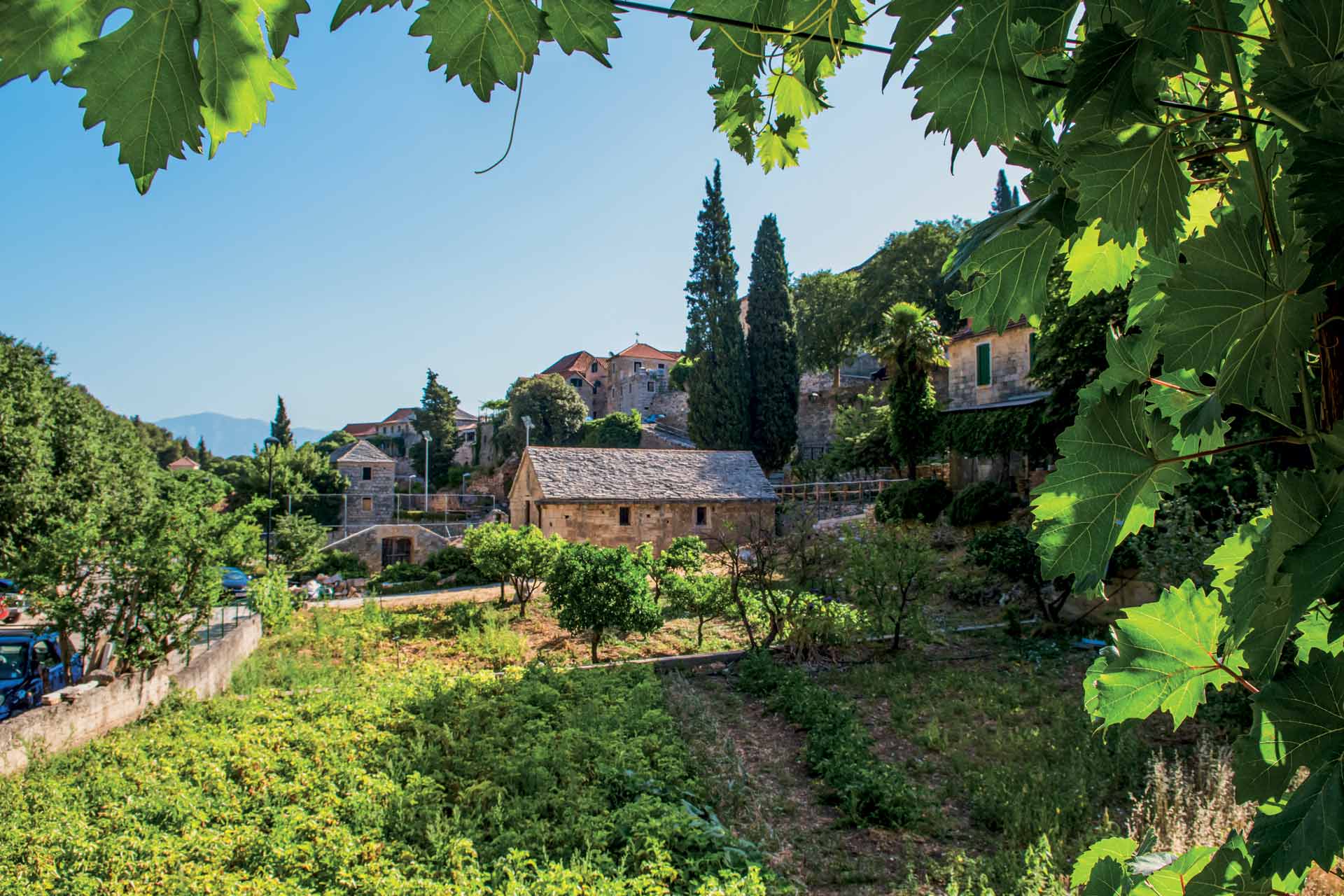 It's made from local walnuts, eggs, wheat for the dough and orange and lemon rinds. It's a calorie bomb, so it was made only for special occasions. In 2012, the Hrapoćuša cake became intangible cultural heritage and soon an interpretative centre will be built for visitors to see how it's made.
Text Jasmina Stošić
Photos Đorđe Stošić