Whether working on large public spaces, private villas or designing personalised spaces, an architect from Split is writing a new chapter in Croatian architecture by interpreting them in accordance with modern trends, while maintaining respect for tradition
To place Dinko Peračić, architect from Split, within a certain disciplinary of architecture is not easy – he does not see his works of art as shapes that draw attention to themselves in a space, but rather, through the effects and interactions that his projects have with their surroundings. He has been honoured with a series of awards and describes himself as an explorer of the culture of space. Also an Assistant Professor in architectural studies, his works can sometimes cause perplexity.
Could you please describe to us how do you see yourself?
I see myself as someone who views the architecture of space in the context of the culture of space and the culture of building. I'm really interested in the fact that architecture, beside fulfilling my client's wishes and corresponding to the society in which it is being created, has a strong bond with the space and the climate in which it resides, utilises known construction methods and also creates a modern face for the space in which we live. I'm lucky that alongside working in architectural studies, I also work in the Architecture Faculty and in the research group Platform 9,81, where I can test my ideas. It helps me make my projects different, more innovative, and it also helps me to open new frontiers, that is, to have ambition and strength to move the society forward. Besides, a standard office architectural work can hardly provide enough time and funds for research. So, by working in Platform 9,81, I can develop new ideas to make the projects more dynamic within their environment.
What is the Platform 9,81?
It's an association dealing with the investigation of the culture of space. Through various projects and activities, we connect different people from the world of culture, such as artists, curators, designers or even experts from other fields, for example, geographers and urban planners. Over a period of years, we've created a real 'platform', a sort of a think-tank for discussing space. It's also a great opportunity to observe our architectural profession from a broader perspective — something that a standard architectural office doesn't provide.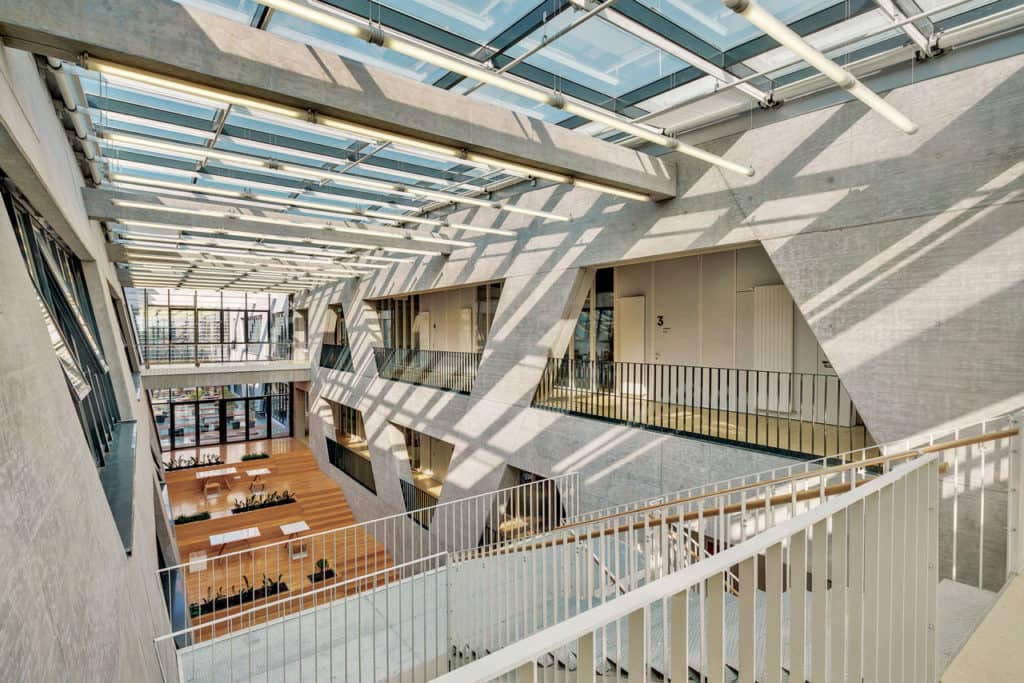 Last year saw the 15th International Architecture Exhibition in Venice and you fulfilled a prominent function there.
The Venice Biennale of Architecture is the biggest and most relevant architecture exhibition in the world, that is, the most significant place globally to present architectural achievements. Last year we represented Croatia at this exhibition. The main curator and elector was the famous Chilean architect Alejandro Aravena, winner of the prestigious Pritzker Prize, who is known to implement interesting architectural solutions for his projects for disadvantaged communities in Latin America and work on major projects for banks and universities. We started an interesting discussion at the exhibition, because, on the one hand, architects are expected to realise private dreams and the needs of the capital with their works, while on the other hand to act responsibly in accordance with the society. And, this is exactly what I deal with most: how to connect the investor's interests and the responsibility towards the society and space in which architecture is made. On the Biennale, we presented projects for our three cultural centres in Zagreb, Split, and Rijeka that are being built in formerly abandoned buildings that generate culture. The cultural programmes and scenes grow together with the buildings and this is what ultimately brings us to new and interesting situations. The authors of the project are Miranda Veljačić, my partner, Emina Višnić, former director of 'Pogon', Slaven Tolj, artist and director of the Museum of Modern and Contemporary Art in Rijeka and myself. Emina and Slaven are the key people of the European Capital of Culture – Rijeka 2020 project. For the projects that we present on the Biennale, they are both the clients, authors, and contributors at the same time. This experience was very interesting because we've shown how to make architecture livelier and substantial if the work being done becomes a part of the creative process.
Can you compare the works and projects seen in Venice with what's done in Croatia?
Croatian architecture has fine individuals who can compete with any works present on the Biennale. Hwoever, if we had organised support, we could have had a recognisable architectural scene like Chile, Portugal or Japan. An attempt was made in Venice to highlight the projects which have a common social capital. In Croatia, nearly every architectural project worth mentioning is creating something of public interest, whether it be a hotel creating a beach, or promenades creating a street or public square. Such is the legacy and the culture of our public spaces – we're good at that. If you follow the global architecture scene, you will see that it is oversaturated with big celebrities and iconic buildings. There is a demand for adaptable and responsible projects. Architects should confront the ecological, political, and social questions, instead of dealing only with design and technical challenges. The projects we've presented there deal with exactly these issues. What we've been doing for years is now a fundamental issue. We don't follow trends, but the trends follow us.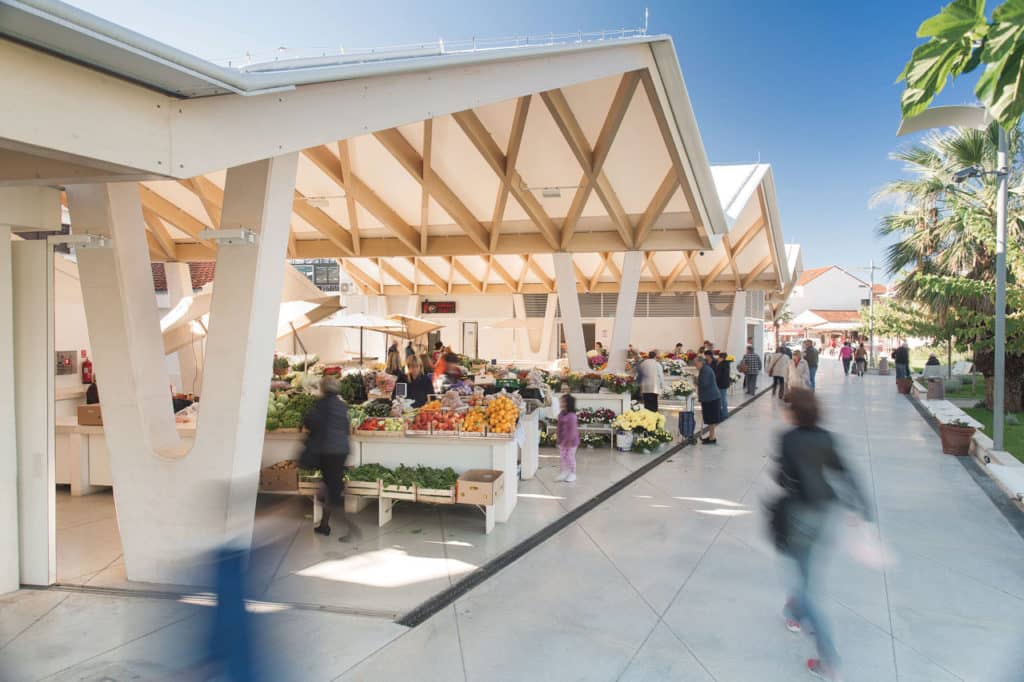 The building of the Faculty of Civil Engineering in Osijek, which you were working on, has been superbly evaluated in Croatia.
For exactly that building, we've been given a medal from the Croatian Chamber of Architects. The building is made up of five parallel concrete walls, two of which are slanted, measuring 100 metres and the building is four storeys tall. Between these walls, space is opened up for lecture halls, classrooms, offices and hallways. Although the building fits snugly between other already existing and planned ones, we've achieved that the natural light and air reach all of the more important inner spaces for it to look more optimistic and bright in every corner where people work and reside. Moving through the building of the faculty is like an experience from a movie. Scenes cascade, each of which is different and interesting in its own way, and the scenes are connected with the presence of concrete construction and a balanced interior design. People using the building say that it reminds them to not be average and instead, encouraging and inspiring them to be innovative. Even in the contractual work, we have added 700m2 of living space to the pre-existing surface. In this space are now great halls, a cafeteria, open classrooms, gardens, places where students can work individually, and meeting spots. I think these spaces will become ever more important, because an increasing amount of knowledge exchange occurs in such less formal situations when people are in the same space. This building even became a part of life in Osijek. The building's halls host various manifestations, concerts, conferences and exhibitions, many of which are not only tied to the Faculty.
What sort of projects are we expected to see in the future?
At this moment, I can only think of the Gruž market in Dubrovnik and the Olive House (Kuća maslina) in Jezera. We work often on public spaces and the contents of coastal cities and municipalities. These cities and places, after years of dominance of private interests, realised that they have no future without wholly investing in public content and raising the quality of destinations. So far, we've made the market in Vodice and it gave it a new life. It showed that Vodice wants to be a much better place for holidays, and it started other initiatives and brought on positive change. This project had as its goal not only to fulfill supply needs but also to create a contemporary Mediterranean ambience that will make the citizens proud and paint a significantly better picture of Vodice to tourists. We achieved this by installing a tall, white awning on the wooden beams of the market. Everything is shaped according to contemporary principles, connected with familiar materials and adjusted to the local context that it seeks to promote. The project has received the regional Piranesi Award.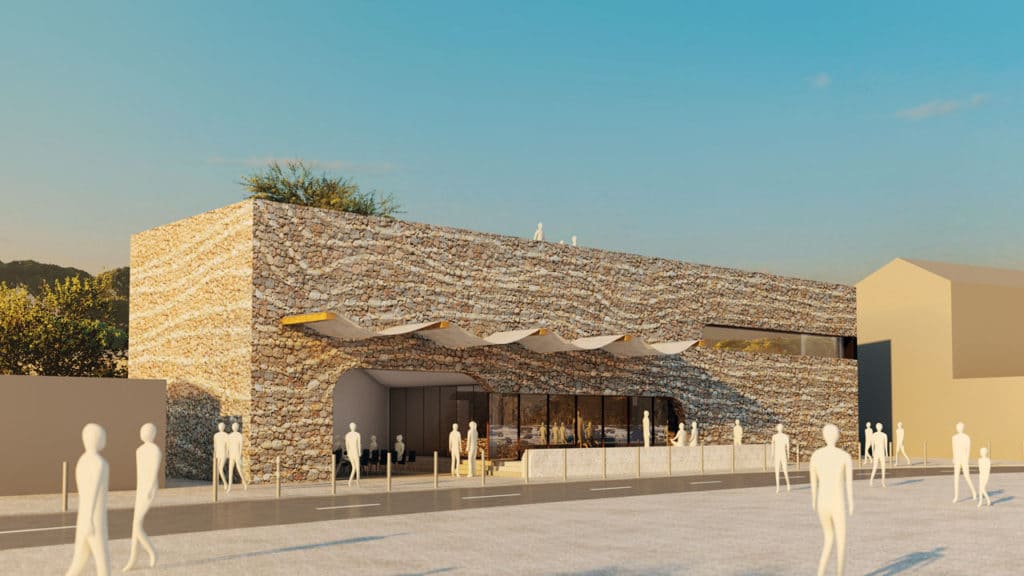 The market in Dubrovnik must have been quite demanding as a project.
It's located in a summer residence whose garden has 150 metre-long, high walls pointed towards the sea. They define the aesthetic of the Gruž port and of this part of the city. The market should blend in with the summer residence, to respect and partly reconstruct the residence. At the same time, it should address the needs of a contemporary market, which must be a complete, public space. We came to the dilemma of whether the heritage or everyday life was more important. As a result, we have a low-hanging linen roof, that segmentally opens up so that the space under it could be ventilated, making it pleasant for both being there and shopping. In Vodice and Dubrovnik we used white Teflon canvas that lets light shine through. As both of the markets are near ports, the white canvas is a nod to sails and ships' awnings.
What about the Olive House project?
It is important for the new architectural works of public interest not only to look beautiful and like tourist attractions, but also to create and develop city life. I think that everything we do for tourists should also be of use to the locals. If we use the tourist attractions to develop new products and new businesses owned by locals, we will help them kindle their own enthusiasm, interests, and foster their own culture. We will soon have more lucrative tourist deals and significantly happier locals. Utilising these very principles, we are developing the Olive House in Jezera. In the beginning, our task was to renovate an old, single-storey house and to open an olive growing museum as a tourist attraction. We've developed the project very quickly to not only be a tourist attraction, but also a place where historical and modern knowledge of olive growing is collected and developed: A place where olive growers, oil manufacturers, professionals, gourmands and connoisseurs of fine food can meet – a reference point for those who do and live for olive growing, because such a place doesn't exist in Dalmatia. It is both a museum and a business centre. An important component of the project is investing in the education of the people working in the Olive House. Their task is to educate and inform all those who are interested in olives and olive-growing culture and to connect them for the purpose of production and doing business. The Olive House emerges from the distinctive, Dalmatian landscape and olive-growing culture. Unlike other Mediterranean entrées, hard hand-work is required for olive processing and oil extraction in this difficult, rocky landscape. Lots of work for a drop of pleasure. This house will reflect that – it will be built from hand-made drywall on the outside and from rounded and liquid lines on the inside. All those involved are enjoying the project, as we have left our comfort-zone of creating normal museums and opened up to a contemporary-living culture that needs content like this.
You also work on private investors' projects, houses, and villas.
We work on private villas with private clients. It's a 'boutique' architecture, where everything is subject to the owner's needs and appeals. When talking with mostly foreign clients we tend to point them towards the values found in the Mediterranean. People here live outside, usually in open, shaded, and airy spaces, adjusted to enjoyment and resting. Most of the time we don't even need air-conditioned spaces. When a villa follows this Mediterranean logic of using space, all the relationships in space change and the outdoor area takes on a profound significance. The ambition for buildings to become awe-inspiring objects is lost and they become primarily an ambient for enjoying life. It is then interesting to see the owners relax and let themselves enjoy the Mediterranean pleasures.
No tags for this post.