From a small street in the Split's Firule neighborhood to winning Wimbledon, induction into the tennis hall of fame and coaching Novak Đoković, Goran Ivanišević is one of the greatest sportsmen ever to emerge out of Croatia
Where were you on July 9, 2001? Most Croats will know exactly where they were: watching Goran. One regular summer Monday exploded at 4:10pm, when the Croatian player, who needed a wild-card invitation to even play, won the Wimbledon singles title – and became the only player in history to do so. The fourth match ball turned out to be the one. Australian Patrick Rafter's forehand ended up in the net after his second serve, and voila: Ivanišević – Rafter 3-2 (6–3, 3–6, 6–3, 2–6, 9–7).
Even the traditionally reserved BBC commentator sighed in relief. 'At last, he did it', he said. Nineteen years later, Goran Ivanišević became the first Croatian player to be inducted into the International Tennis Hall of Fame. Due to the corona virus pandemic, the ceremony was postponed for 2021 – just like everything else in Goran's career, the ultimate honor just couldn't go without a glitch. Does that make all his accomplishments sweeter? Perhaps. What does the Wimbledon winner, Grand Slam winner, Davis Cup winner and inductee into the tennis hall of fame think about that and his fascinating career today?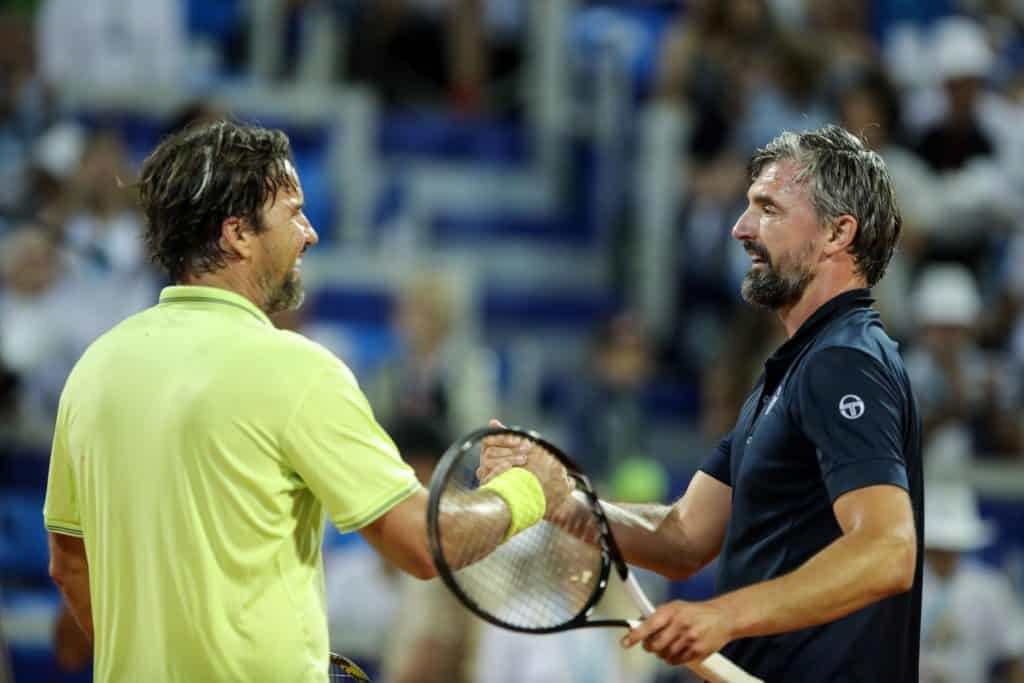 The 2001 Wimbledon title defined my career
What did you learn about life because of sport?
That everything is possible. When your life journey takes you, over 40 years, from a small house in Split's Firule neighborhood, to Hall of Fame, it shows every kid they can do whatever they set their mind to. My street may be special, and the Firule tennis club might have created four top ten players, but my life story is still proof that so much is possible in life if you work hard enough.
With Novak Đoković, it's easy. We've known each other for years, we've always felt mutual respect, and I've always liked him. I guess he doesn't hate me either, seeing how he invited me to join his team, revealed Goran Ivanišević
What were the happiest and the most difficult moments in your career?
The happiest is obvious, the 2001 Wimbledon title. It defined my career, as well as me as a person. As for difficult moments, I have had many. Perhaps the most difficult among them was the loss at the 2001 Australian Open, during the qualification stage. That day, I thought my career might be over. Thank God, things went into a different direction.
You're about to be inducted into the Hall of Fame. Are you nervous? Have you prepared you speech yet?
I just knew things wouldn't go smoothly. I guess I'll have to wait until next year, but never mind the delay: what's important is that I'm being honored. Next year Conchita Martinez and I will join the class of 2021, it'll be just as fun. As for my speech, it's 85-90% ready, but now it'll have to be revised a little.
John McEnroe was everything I wanted to be as a kid: a leftie, charismatic and a fantastic player, explains Goran Ivanišević
What was your least favorite part of your playing career?
Traveling was rough on me, I hated it. I'm not crazy about airplanes, and I had to travel a lot. I still do. The part I never had any issues with was the practice itself. People don't seem to understand how much practice actually was behind my play; they say, 'Oh, he's got a great serve, but that's all he's got', as if all the other aspects of the game just came naturally to me. Well, the truth is quite the opposite: I had to work hard, and I really did.
Goran the player vs. Goran the coach. Are they the same person? Two completely different persons?
Oof, that's a good question. I guess they are the same person, because when I'm looking at Novak play, I go through the same emotions as I did when I was playing. The reaction to those emotions might be different, but the emotions are the same.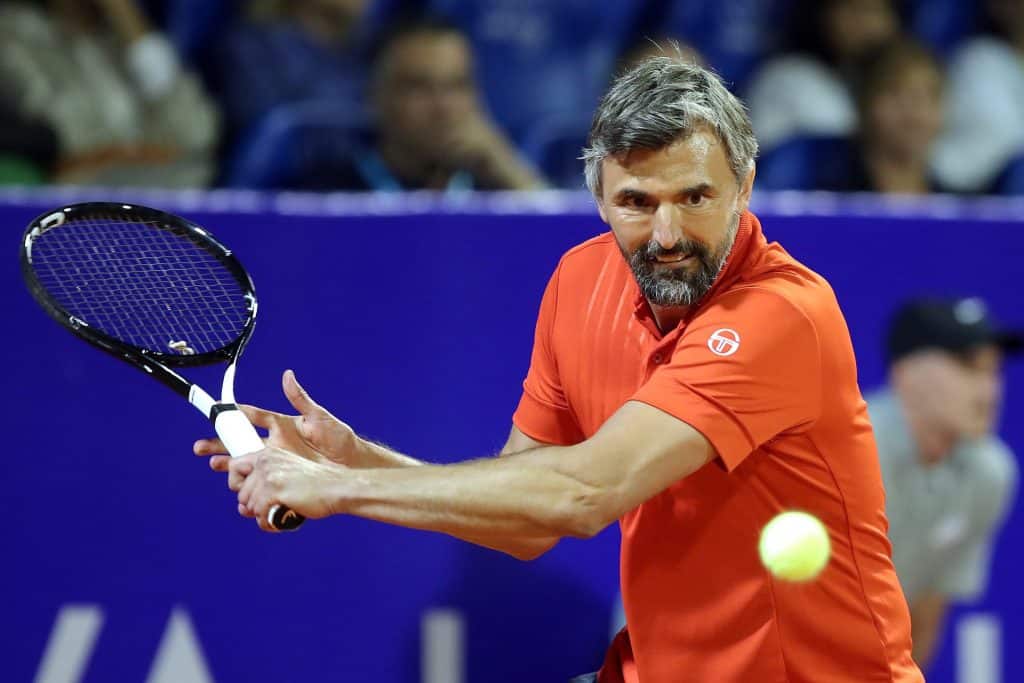 You once said Novak Đoković can only be properly coached by someone from around here. What made you say that?
I've had a lot of experience with coaches, and now I have a lot of experience as a coach. The thing is, people from the Balkans are best understood by other people from the Balkans. Sometimes it's hard to literally understand us, no matter how well you might speak our languages. How can anyone from anywhere but the Balkans really understand what Novak's curses mean, for example? Of course, Marian Vajda is Slavic (Slovakian), so he understands Novak a lot, and sometimes it feels like he's one of us, as well (laughter).
I love tennis, and working with the best player in the world is a privilege
Can a player like Đoković even be taught something new?
As unbelievable as it may sound, yes. I was fascinated by his drive to learn, to push his limits, to improve his game. He's a perfectionist, but I guess so are all the extremely successful people in the world. It matters to him that when he does something, he does it on a top level, so there's always some detail to work on, something to tweak.
How long does it take for you as a coach to develop chemistry with a player? Have there been cases where you just couldn't get on the same page with a player?
In my opinion, chemistry either happens, or it doesn't. There have been cases when, both as a player and a coach, I felt an instant connection with someone, and there were cases when I barely spoke with a player even after being his coach for a year… With Novak, it's easy. We've known each other for years, we've always felt mutual respect, and I've always liked him. I guess he doesn't hate me either, seeing how he invited me to join his team (laughter).
What's the hardest part of coaching?
There's nothing especially hard about coaching. I love tennis, and working with the best player in the world is a privilege, so no, there're no hard parts in coaching.
Ljubičić and Federer have also instantly connected. Since Ljubo joined his team, we seem to be witnessing Federer 2.0?
Roger is the most successful tennis player in history, and Ljubo has helped him to stay great and work magic on the court at an age when most players find it hard to stay on top of their game. The corona virus messed with everybody's plans, so it remains to be seen how the break will affect Roger, and also how fast and well he will recover from his knee surgery. It's definitely great to see Ljubo and me on teams of two of the most successful tennis players of all times.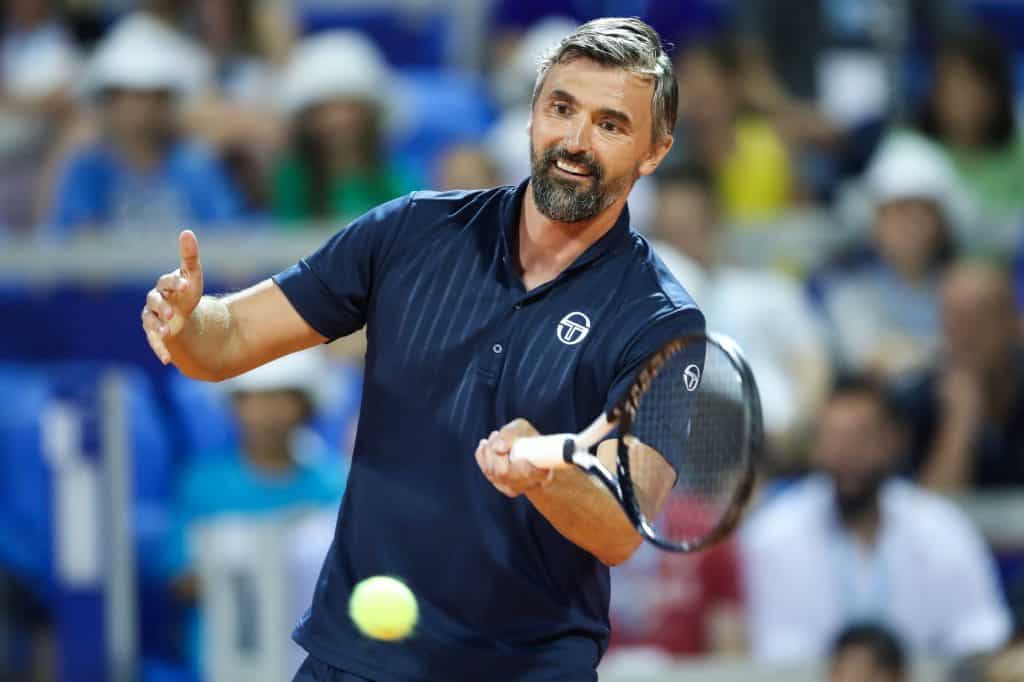 You wore Dražen's jersey on your Wimbledon homecoming parade. Are there any other athletes that have inspired you?
Dražen Petrović was special; he was an inspiration, a role model to us all. I love sports and I watch a lot of it, not only tennis. I love football and basketball, too. It seems unfair to just single out one athlete as an influence, but if I had to, I'd say John McEnroe. That guy was everything I wanted to be as a kid: a leftie, charismatic and a fantastic player.
Sampras… Oof, Sampras. Who knows what my career would look like if I wasn't playing against him. He was a marvel!, said Goran Ivanišević
You have played against many great players. How would you rank Đoković?
There's no mincing words about it: Novak Đoković is the greatest tennis player of all times. Of course, there's something to be said about my objectivity here, but I can back my opinion with so many arguments. When he's healthy and fit, he's the only one who can win the calendar Grand Slam, and he's unbeatable. I hope he'll break all the records by the time his career is over, and that he'll be recognized as the greatest, as well. These days more than ever, being called the greatest more than anything means you're the most popular, so it's hard to tell who really deserves the title.
What would you borrow from Novak if you were still playing?
His backhand, definitely. The technique, the timing, the assuredness… It's simply perfect! There's more to him to admire, for example his mentality is unbelievably sturdy, but if I could only pick one thing, then it's the backhand.
Your top five players of all times?
Oh, that's a difficult question. If I really had to rank them, Novak for number one, for all the reasons I already stated. Number two, Nadal. Number three, Federer, Sampras four, McEnroe five, as my personal favorite. My top three choices speak for themselves, and Sampras… Oof, Sampras. Who knows what my career would look like if I wasn't playing against him. He was a marvel!
Most fun players of all times? Tennis, like many other sports, seems to have lost the fun side. Most players seem scared of saying something wrong most of the time…
I agree with you. Sports have become very sterile. Still, things are changing a little, there are several young players with some zest and bite to them. Kyrgios is the bad boy of the moment, but there are others whose antics on and off the court are pure entertainment. Again McEnroe, Connors, and Bahrami… As many times as I have seen his tricks, he's still fun to watch.
Secret spot on Korčula
Who's your tip for number one after Novak, Roger and Rafa retire?
Dominic Thiem. Even now he's number three; he squeezed above Federer, but that's not why I chose him. If it wasn't for the three you've mentioned, he'd already be number one. He has everything a number one needs. After his loss in the finals of the Australian Open, I told him how sorry I was that he lost. I know better than many what it's like to lose in the final of a Grand Slam, and to have to wait for the next opportunity, but I'm sure he'll get that opportunity.
Our magazine is all about sea and sailing. Are you as passionate about boats as we are?
I love boats. I could not live without sailing, that's for sure; without that feeling sailing gives. Those of us raised by the sea know what I mean, it's in our blood.
Is there a secret spot in the Adriatic you're particularly fond of and why?
There is, on the island of Korčula, with a dear friend of mine – but that's all I'm going to say. That's a secret I'll keep to myself (laughter).
Text Hrvoje Bulešić
Photos Boris Kačan & ATP Umag
Video Wimledon