The most famous plastic surgeon in Croatia, specialising in maxillofacial surgery, discusses 30 years of his private practice, causes of patients' unnatural look, cosmetic surgery tourism, libido boosters and vitamin injections to help boost metabolism, and explains why he prefers tenders to yachts
Siniša Glumičić is the most famous plastic surgeon in Croatia and one of the top regional surgeons. Held in high regard by his peers, he is the honorary chairman of the Croatian Society for Aesthetic Medicine. He works hard and is very successful.
The main reason for this, in addition to having performed 12,000 surgeries and procedures in his career–from nose correction, facelifts, eyelid surgery, correction of under-eye bags, to breast augmentation–is the fact that he knows how to enjoy life. Many of his former patients are now his friends, he constantly invests in new technology and gladly shares his knowledge and skills with young doctors who are only just entering the world of cosmetic surgery at congresses and symposiums.
Chief of medicine Dr Glumičić also has a private life: a wife, three children and two dogs. They travel the world often, but he also likes to hop on his motorcycle and explore new routes.
LOOKING BACK, HOW WOULD YOU DESCRIBE THE DECISION OF A YOUNG, 28-YEAR-OLD DOCTOR TO OPEN AN AESTHETIC SURGERY PRIVATE PRACTICE: COURAGE, MADNESS OR A STROKE OF GENIUS?
I'd say a combination of courage and madness, definitely not a stroke of genius. I simply had no choice. At 22, I was the youngest medical graduate in Yugoslavia at the time. Having undergone education and training in the USA, mostly in Boston, I was the first person in Croatia to get a specialisation at a private clinic, working for the regional pioneer in aesthetic surgery in this area, Dr Boško Milojević, owner of the only private aesthetic surgery clinic in the region. Unfortunately, my mentor suddenly passed away, so I was forced to open my own practice.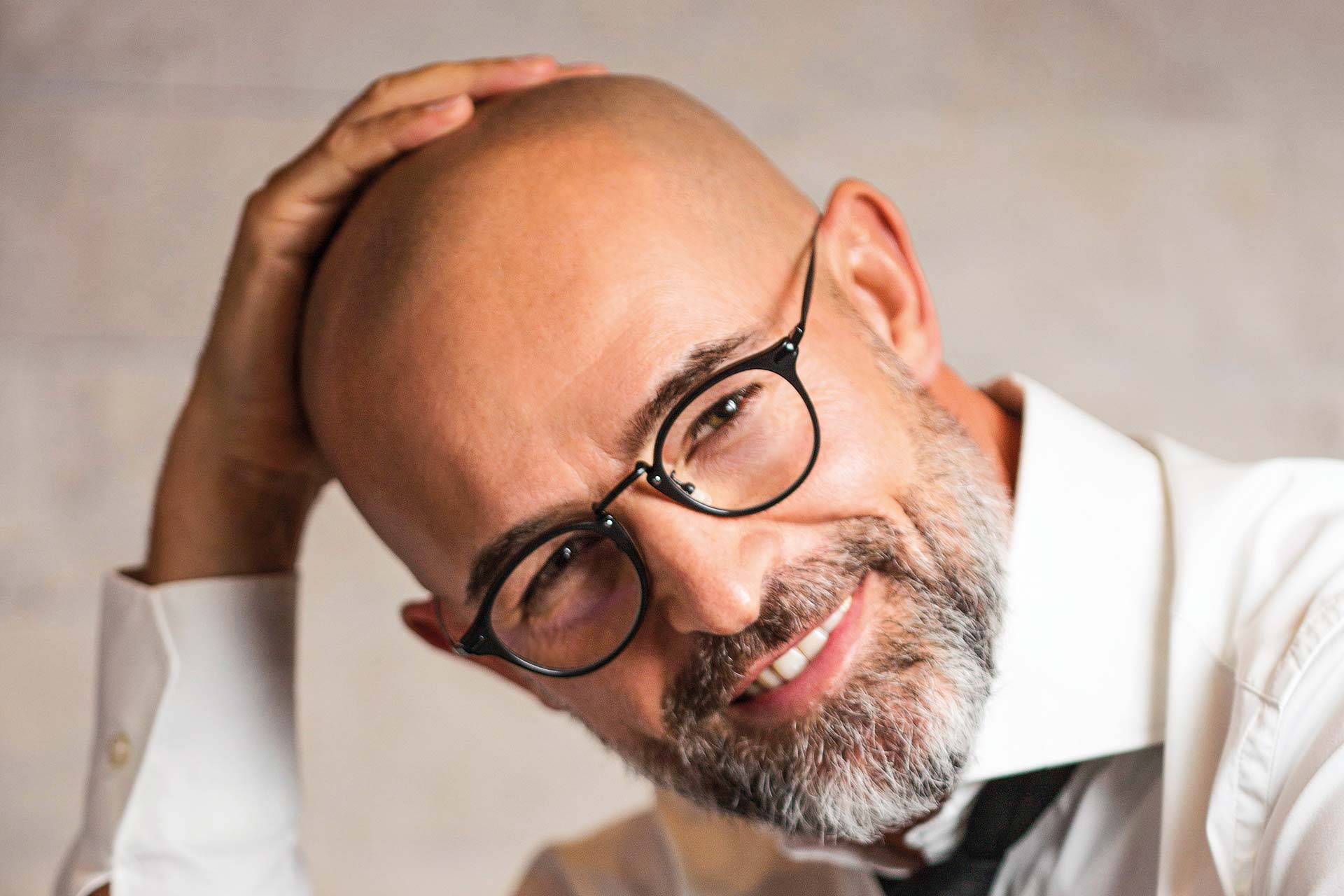 WHICH WAS MORE DIFFICULT, MAKING YOUR WAY TO THE TOP OR STAYING THERE?
I hadn't really thought about making my way to the top, I just worked hard and gave my best, and I did it for years. However, it's much more difficult to reach a certain level of quality and maintain it. It requires continuous education at the best clinics, and the USA was still number one for me back in the day. As I joined a number of US expert associations, the doors to all clinics in the country opened up, so used it as best I could. Then ten years passed and I realised that the experience I gained brought knowledge and a sense of security, so nowadays we can do some things if not better, than certainly just as good as they do.
HOW DID THE PERCEPTION OF COSMETIC SURGERY CHANGE OVER 30 YEARS?
When I started my practice, cosmetic surgery was practically a taboo. People were embarrassed to be seen visiting a cosmetic surgeon. Very few people didn't hide it, but the trend started to change in 2010. Nowadays there's no hiding or shame, and not only did the perception change, but the procedures also became more accessible and the recovery process is now quicker. Instead of 12, it now takes five or six days to recover after surgery. On the other hand, there's an entire spectrum of new aesthetic non-surgical procedures, fillers and Botox, which also changed the industry.
HOW DID THE MEDICAL TECHNOLOGY CHANGE?
Since the first breast augmentation procedures, the implants have changed five times. It's like an iPhone, I remember the first generation, and now there's the 15. Medicine evolves rapidly, and nowhere is this more visible than in cosmetic surgery. I spent years at a hospital in New York where the world's best cosmetic surgeons operated on patients. It isn't easy to get into that living legends' club, but once you do, you watch them operate, listen to their stories and learn their secrets. I remember that in 2000 they got a new set of surgical lasers and used it to make incisions on virtually everything: face, breasts and stomach. One year later, I returned and saw a bunch of these lasers lying in the hallway. After their initial enthusiasm, doctors realised that most incisions heal better if there's no heat damage. Lasers were soon phased out from surgery and found their place in dermatology. Luckily for me, I always waited a while before buying new expensive machines see how functional they really are in practice.
WHO IS THE TARGET AUDIENCE FOR THE LUXURY MEDISPA 'PREMIUM AESTHETIC' THAT YOU OPENED IN ADDITION TO YOUR BOUTIQUE CLINIC GLUMIČIĆ MEDICAL GROUP?
Everyone, but primarily patients for skin treatments before procedures, especially lymphatic drainage, and post-operative care. Feng Shui design principles were used in the entire MediSpa and our fantastic staff and state-of-the-art technology enable patients to get the best face and body care. This includes non-surgical face-lifting and also the latest machines for cellulite reduction. The treatments in two beautiful rooms are pleasant and painless. We also opened an infusion centre where we administer the best infusions for rejuvenating skin, body and muscles, libido booster infusions and recovery infusions when you're recovering from the flu or Covid. These are vitamin infusions with amino acids, glutathione and NAD+ complex. You take it once a month and don't need any additional vitamins after that. Your body can only use up to 20% of the vitamins taken orally, while the percentage with infusion is 100%. I tried it myself after recovering from the flu recently and I was as good as new in a matter of days.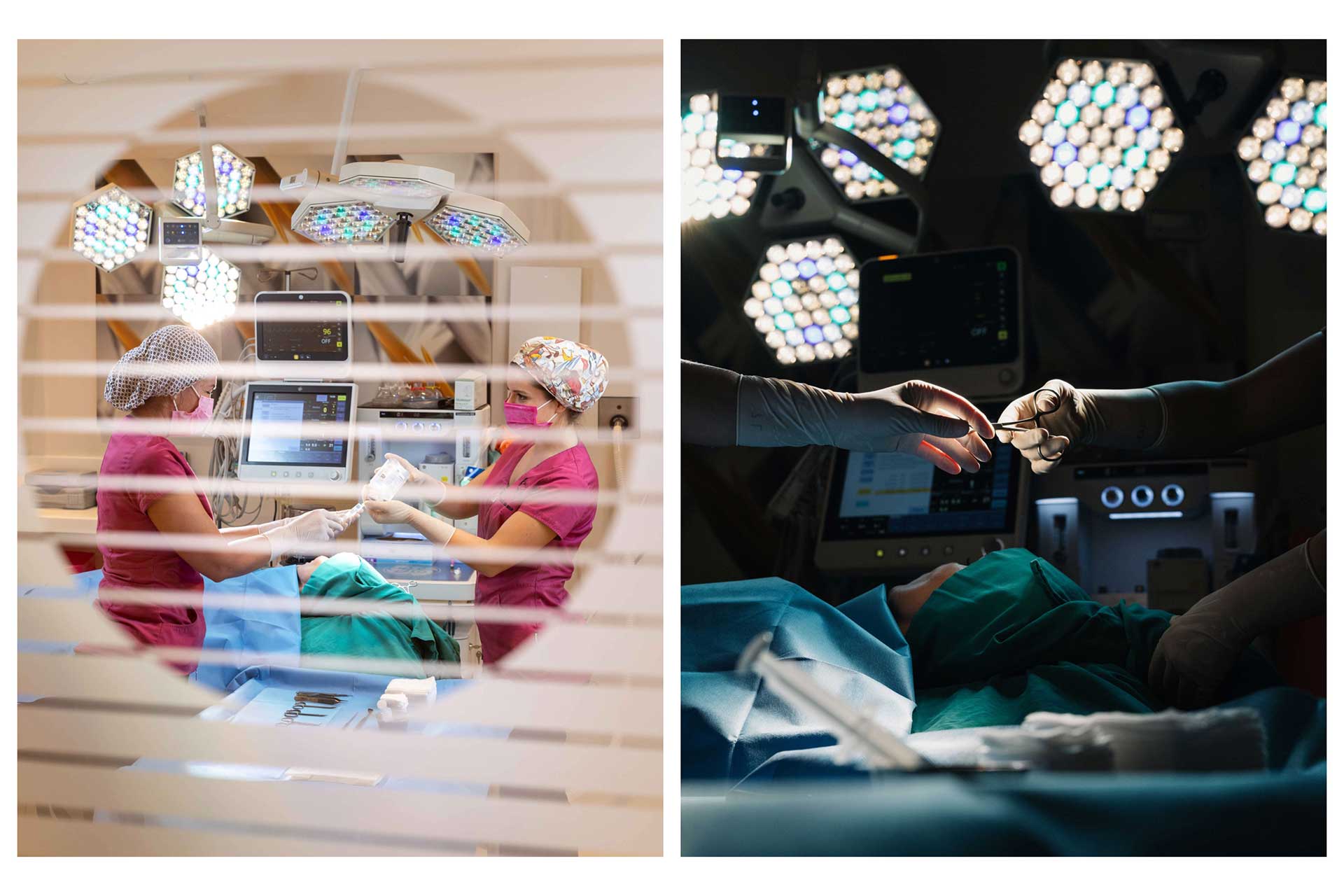 WHICH ONE DO YOU PREFER: LASER OR SURGEON'S HANDS?
The hands. Surgery is my first and biggest love. Just like in brain or heart surgery, cosmetic surgery also has subspecialisations, so my focus in the past eight years has been head and neck. Most of the procedures I do concern the face, so nose, eyelids and facelifts. It's my niche, the closest thing to my original specialisation.
WHY DO SOME PEOPLE LOOK UNNATURAL AFTER A COSMETIC PROCEDURE?
The biggest issue is too much filler and Botox, as well as a lack of precision and expertise when injecting them. People are afraid of the scalpel, anaesthesia and all things surgery-related, so they choose injection therapy instead, even though the results are incomparable. Especially with older clients, fillers and Botox can make you look worse than you did before the treatment. With injections, you're done in no time. However, fillers won't lift your face if you're over 50. You use too much and end up looking like a hamster, which is exactly what it's called, the hamster look. A facelift is a much better option, especially if done in moderation. It simply turns back the ageing clock, so, if done carefully and in moderation, the patient looks fresher and 12 to 14 years younger. Experience has taught me the importance of choosing good clients, who understand what can realistically be achieved because that's the only way a doctor can create such good results. Can you make a 65-year-old look like an 18-year-old? Absolutely not, nobody can! I can turn 65 into 50, but anything younger than that would look grotesque.
WHICH TYPES OF FACIAL COSMETIC SURGERY ARE THE MOST SENSITIVE TO SUNLIGHT?
You can swim in the sea 15 days after a nose surgery. You can't dive head first or wear a mask, but you can swim. Face lifting and eyelid surgery should be done at least a month before being exposed to the sun, and body procedures, such as liposuction, are done in winter or in spring. New technology really makes it possible for clients to look natural and recover quickly. A post-operative lymphatic drainage is advisable, as it stimulates skin circulation, so clients should take a week off work and not go back to their lives immediately after. That way, they avoid all possible complications, a haematoma or an infection. Unfortunately, some clients don't listen to this advice.
DOES IT MAKE YOU HAPPY WHEN YOU MAKE PEOPLE LOOK MORE BEAUTIFUL AND YOUNGER?
Of course! It's wonderful, you give them a new sensibility and literally make them fall back in love with themselves, so often times this spills over into other segments of life as well. After all, every single one of us is happier and their day is better when they look into the mirror and feel good about what they see.
WHAT HAS SURGERY TAUGHT YOU ABOUT PEOPLE?
One glance of the patient sitting in the waiting room is enough for any surgeon to tell you what they can and can't do. If they tell me what they want and it's realistic, we reach an agreement in no time. Then again, some people simply won't accept the limits of their own tissue and anatomy, so we can't reach an agreement. I treat every patient as if they were my next of kin and I want the best for them. If there's no point in doing a procedure, I say so openly. The patient needs to feel that I would do the same for them as I would for myself. When a patient comes in with a special request, it's important to consider realistic options, so I tell them if something is worth spending money on. People appreciate it. You often realise that the underlying reason for wanting to change something is very complex and a new nose, facelift or breasts won't solve it. It's another doctor's area of expertise. Women are better clients than men and often act as a trigger for their partners because if the woman goes under the knife, the man feels like she will be rejuvenated, and he'll stay an old man, so they often choose to get a surgery as well. 30% of our clients are men.
WHY IS FACE LIFTING 10 TIMES CHEAPER IN CROATIA THAN IN THE USA OR SOME OTHER EUROPEAN COUNTRIES?
The primary reason is the purchasing power. Famous and popular surgeons in the USA can raise their prices indefinitely, as long as there's demand for their knowledge and skills. Our prices are tailored to our people, so that's probably why more and more strangers come to Croatia for cosmetic surgery procedures. It makes me angry that medicines, anaesthetics and other materials cost more here than they do in the USA or some Western Europe countries, which is inversely proportional to prices of procedures. For example, a facelift costs EUR 5,000–6,000 in Croatia, while in the USA, you'd easily pay USD 30,000–80,000 for it. That's why cosmetic surgery tourism is on the rise in Croatia.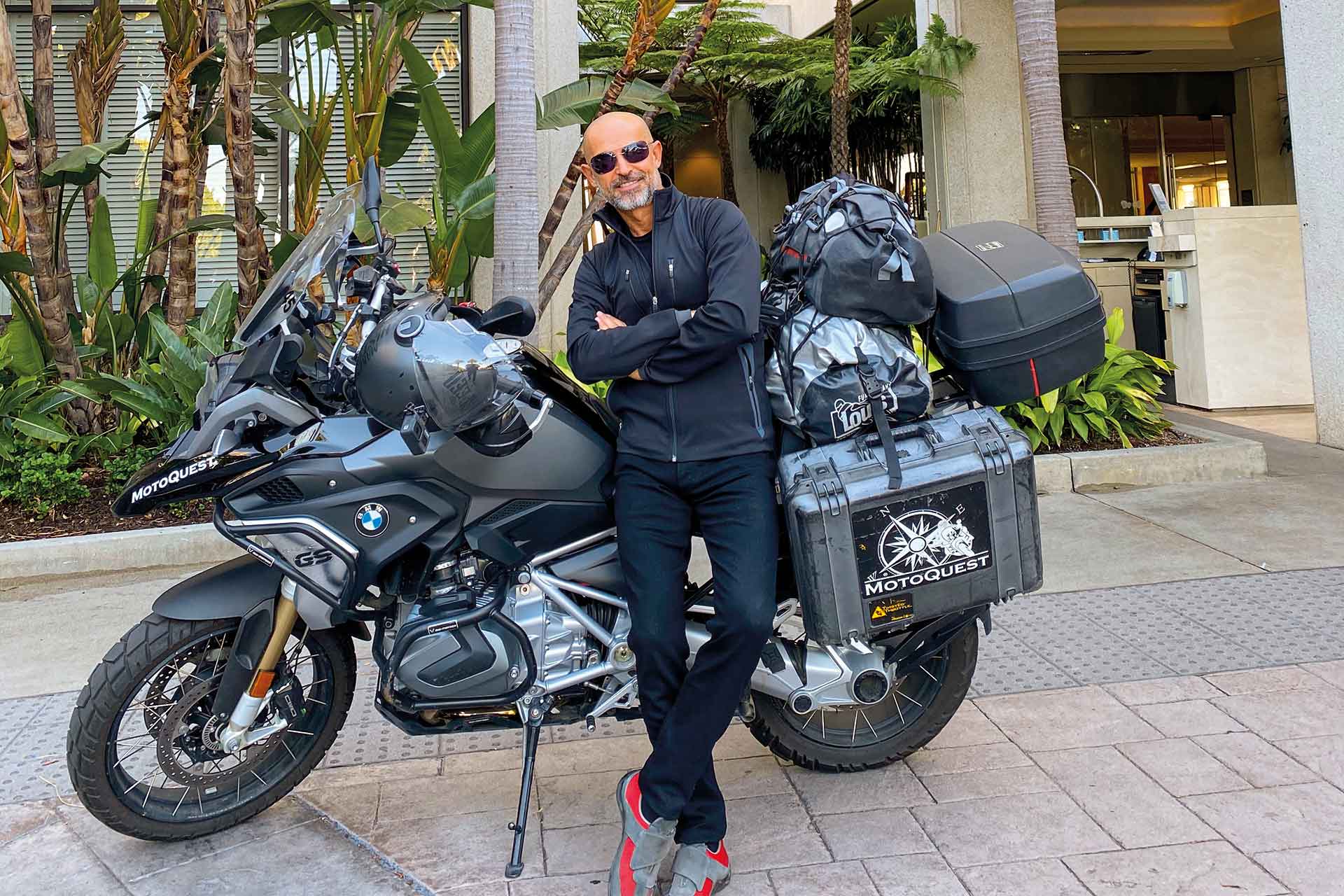 WHAT KIND OF TOURISM DO YOU LIKE?
The family kind. We adjust to our children's school holidays and travel the world together, while they still think we're interesting. But I also like to travel alone, especially on a motorcycle.
WHY DO YOU PREFER A TENDER TO A YACHT?
I'm simply not the sailing type. I've always enjoyed speed, especially at sea. I have a Capelli tender with a twin 250 HP engine and I love racing it around the island of Rab and we often go to the southern part of the Adriatic coast as well. I haven't reached the yacht stage yet, just like I don't play golf, even though many of my friends do. It's wonderful, you walk around nature all day long, but it lacks the speed component that I like. Besides, I still haven't got the time for so much relaxing.
YOUR WIFE LETS YOU GO ON MOTORCYCLE TOURS?
She knows that I'm careful. I love my motorcycle, it's an extremely safe BMW R 1250 GS, which isn't meant for racing, but instead a seriously comfortable motorcycle that you can travel the world with. Each year I do one long route, normally the coast of California or from Florida to Georgia in the USA, or I go to Stockholm or Morocco in Europe. Riding a motorcycle is similar to diving in that sense. You can't think about anything else while riding a motorcycle, you're focused on the road, but you experience all the smells, wind and nature because you're outdoors, present in the moment. A motorcycle gives you a sense of freedom, just like diving.
Text Dubravka Tomeković Aralica