Luxury Yacht Crew Training prepares candidates for jobs in the luxurious world of yachting, allowing them to work for even most demanding guests
Superyachts, the pinnacle of the entire yachting industry, started coming to the Croatian coast a few years ago, and with the arrival of larger ships, so began the growth of interest in high-quality, professional crews in the Adriatic.
How to get a job on a superyacht?
Superyacht- related jobs are gaining momentum, as the perfect combination of travel and employment, allowing crew members to visit some of the most beautiful spots in the world and put their foot in the door of world of luxury. Being a yachtie means getting opportunities to meet a large number of people, gain expertise, meet new cultures and gather new perspectives, as well as to further your career and of course, earn an education. For many, being a yachtie is a dream job.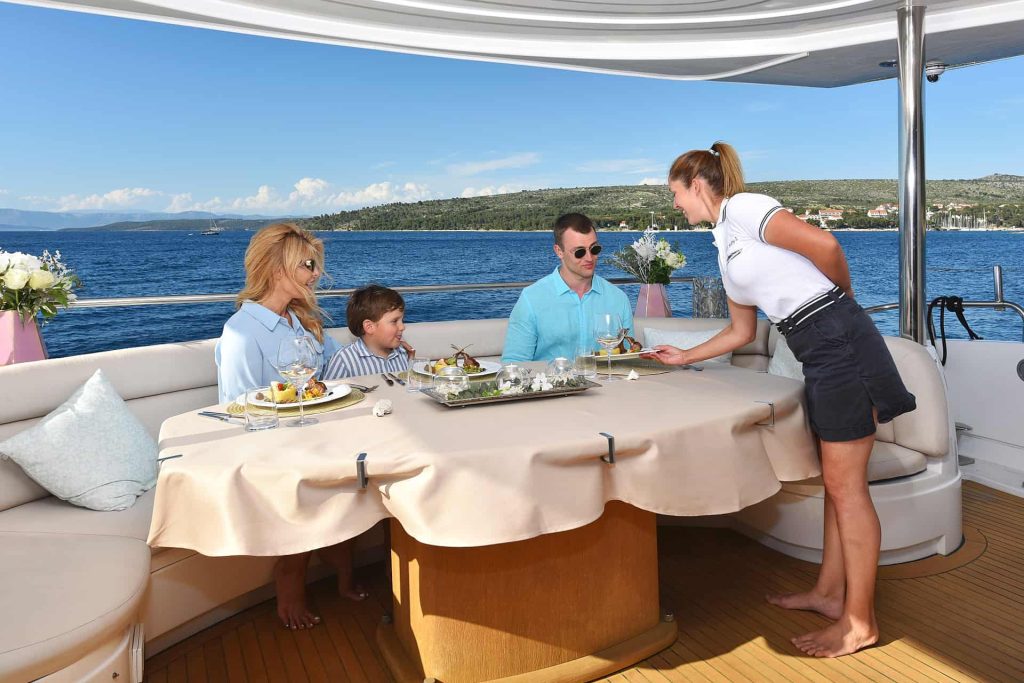 Before we give you a detailed explanation of what being a yachtie really entails, let us first define a superyacht: a superyacht is any and all leisure vessel longer than 24 meters (78 ft.) manned by a professional crew. Superyachts can be owned by private persons or companies, and insiders will tell you working on a chartered superyacht is more dynamic, as guests come and go on a weekly basis, while privately owned yachts follow a routine, and the crew is expected to recognize and meet the needs of the owner.
Crew size depends on the size of the yacht. While smaller vessels are served by one or two stewardesses, a cook and a skipper, larger floating villas have up to ten crew members, each and every one of them trained in a specific necessary skill.
Important skills for superyacht stewardesses
On yachts of all sizes, stewardesses and stewards are expected to possess a certain skill set, including command of foreign languages, excellent social and communication skills, specific knowledge of all destinations on the route, basics of nutrition and alternative diet regimes, food and drink service and presentation, knowledge of maritime law of countries on the route, understanding of yacht life and hierarchy, navigation safety. Crew members are all obliged to have safety certificates and skipper licenses.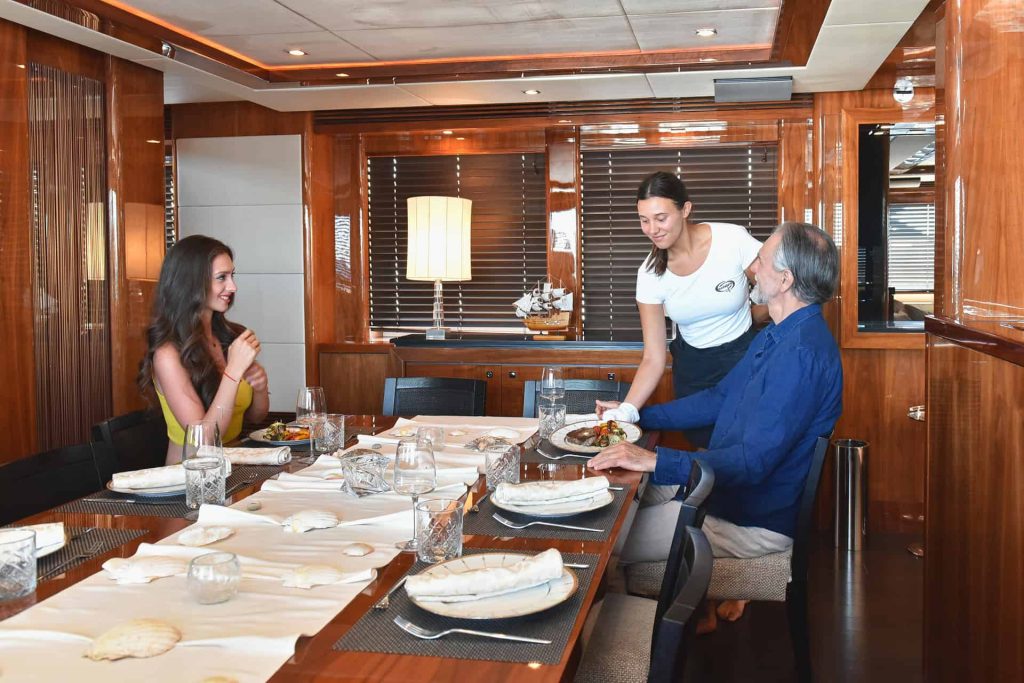 Stewardesses are expected to serve as as hostesses, tour guides, mixologists, even yoga instructors – like a Swiss army knife. Finally, one crew member's personality and skills must fit with all the others, seeing how life on any super yacht follows a 24-hour routine and the crew must be prepared to work through all the challenges and stresses.
STCW training courses
The first requirement for any crew member candidate is a doctor's note confirming the person is completely healthy and free of all acute and chronic ailments that might prevent them from fulfilling their duties. Unlike on land, where doctors are a mere phone call away, medical emergencies at sea might take hours to resolve. Future crew members are thus expected to be in perfect health. The next step, also required, is STCW training – basic safety training (D2) and maritime security awareness training course (D42), which teach skills such as survival at sea, first aid, fire management, safety policies, responsibility and preparedness in crisis situations aboard. This training, to borrow a sports metaphor, will get you through the preliminaries.
As yachting is a very demanding and competitive industry, it is desirable to complete the Luxury Yacht Crew Training, which provides you with the basic knowledge and skills needed to work on luxury yachts.
What is Luxury Yacht Crew Training?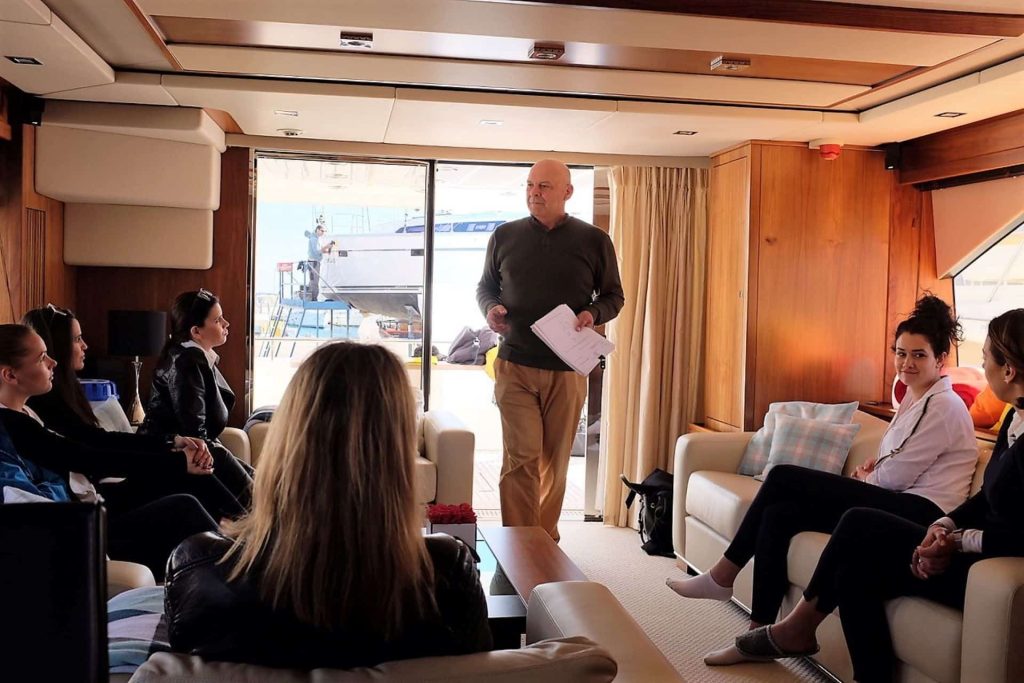 Super yachting as the most elite form of yachting tourism is a small segment that employs less than 1% of population worldwide, and seeing how popular yachting jobs are in many countries, proper education, lots of good will, dedication and professional training is only the first step toward a yachtie job.
'Superyacht is a specific working environment, where crew members are expected to rise up to every challenge with poise and perfection, all day, every day. Luxury Yacht Crew Training program gives candidates an introduction to all types of situations expected aboard a super yacht. This beginner's course stresses quality over quantity of knowledge, and is also useful for those who already possess some skills, but wish to expand their knowledge', says Emma Baraka of Adria Libar maritime & yachting training centre..
Practice makes perfect
For stewardesses, Luxury Yacht Crew Training program offers more than the basics, and teaches them everything about life aboard, member duties, crew hierarchy, etiquette, communication with guests from various cultures, food and beverage serving and presentation, as well as maintenance on the expected level. Seeing how extensive this basic skill set is, it is obvious most of the program is practical, allowing candidates to teach from their experience, not only form materials.
Field training aside, the entire crew training course does require a lot of reading and testing, especially when it comes to use of modern technology. Ultimately, a balanced education course offers enough of both – theoretical and practical knowledge. Attaining certain level of knowledge without obtaining proper certification may prevent candidates from being hired in the future, especially in larger yachting centers, on crewing up events or through agencies who often have to pick the right candidates from thousands of applications.
Every stewardess, skippers and other crew members, there is no compliment to their skill more pleasing than satisfied customers. Dedicated crew members can expect further referrals from influential clients, and in the world of superyachts, a referral is the best mean to get ahead, it leads to jobs on larger and more luxurious yachts, and opens a world of possibilities.
A good crew is the heart and soul of every yacht
The yachting industry dictates trends in the luxury segment, and the trends are many – which leads to new jobs being created basically every day. Crew members are expected to keep up with those trends, constantly adding to their skill set, as the bar is set higher than one might imagine.
'The Adriatic is one of the most beautiful yachting destinations and we believe yachts sailing these waters deserve to be manned by highly skilled, professional crews ready to meet every challenge. Our training creates crew members whose skills make them cherished workforce on every yacht', says Emma Baraka of Adria Libar.
Stewardesses Nena Kriška, Ana-Marija Puzić, Tea Mladenov and skipper Klaudio Marcelić have years of serving on superyachts behind them, and their respectable careers demonstrate the importance of proper and continuous education as the only path to success the luxury yachting segment.
Photos Touch Adriatic, Adria Libar
Video Adria Libar