With 40 models launched over the course of more than 30 years, the successful Prestige F-Line has made history, and today, it is reinvented in a new generation.
This new generation of flybridge yachts, built on the heritage of the F-line, features exciting improvements, such as innovative interior and exterior designs, high-end fittings, and an unrivaled level of fit and finish. The new generation remains focused on a comfortable and elegant yachting experience, with clever details and an exceptional layout. Inside and out, a soft atmosphere of refinement and the art of living well are perceptible, always in close connection with the sea.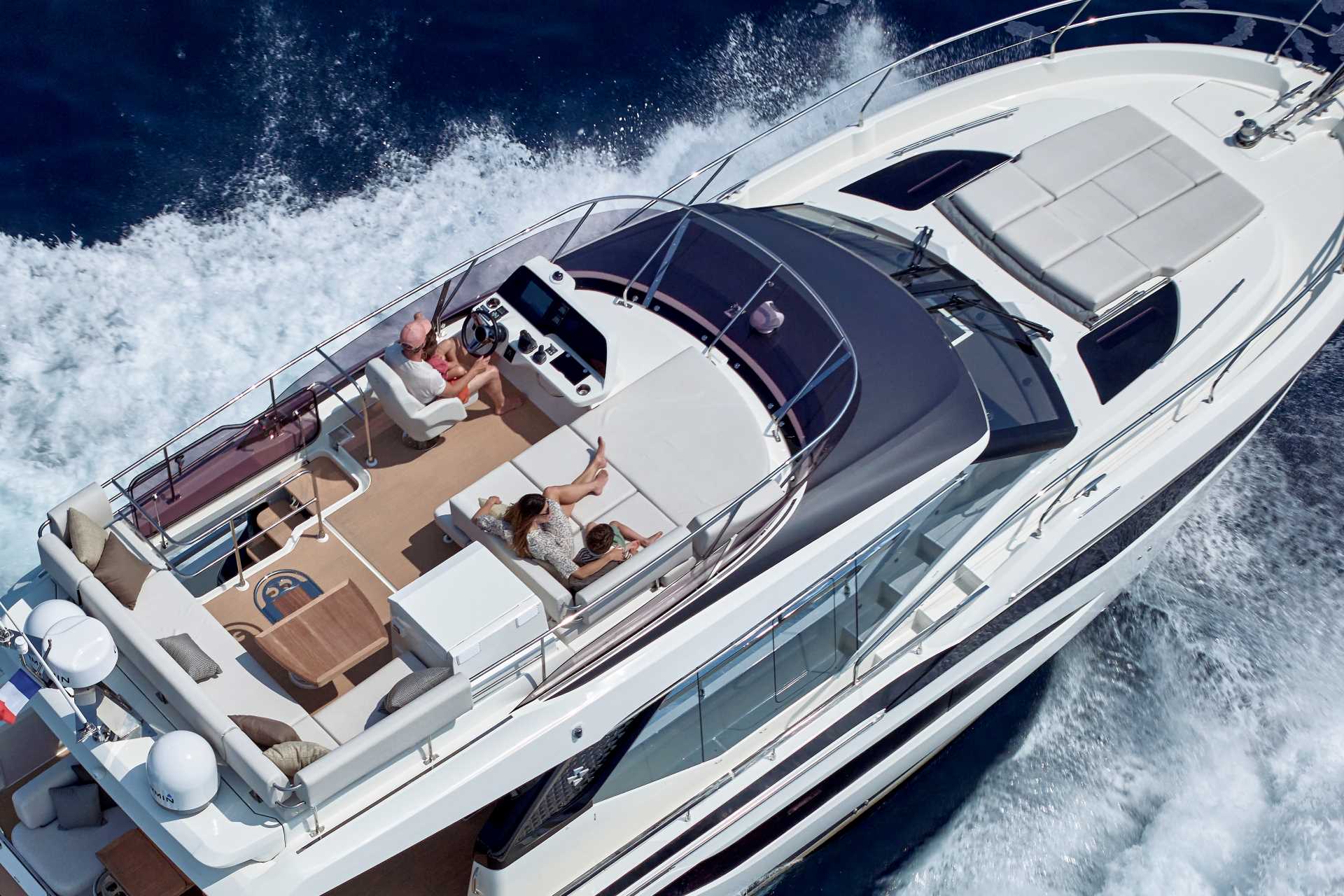 The F4 reveals an innovative layout, designed to enhance volume and light. Inspired by the movement of water, the fluid and elegant exterior lines of this new hull blend with polished surfaces in living areas, reflecting copious natural light. Curved surfaces have been meticulously designed to create smooth, refined, powerful lines.
With her powerful new silhouette, the F4 also features a completely new hull design by Michael Peters, with a more pronounced V-shape than previous generations. The rounder, higher bow provides unparalleled stability, efficiency, and comfort in navigation. On the exterior, a new fashion plate, located on each side, appears as a strong brand marker of this new generation.
With the F4, Prestige reinvents the exterior and interior layouts of its yachts, offering customers maximum comfort to savor moments with friends and family at sea. The OceanView galley and the location of the owner's suite are defining features of the Prestige F4. The Flybridge, accessible via a wide staircase, boasts a generous living area sheltered by a bimini or a hard top.
A fully equipped outdoor galley and a versatile dining area are perfect for entertaining, while sunpads and seating arrangements for relaxing are located near the helm. The optimized layout offers unprecedented ease of movement and comfort for all on board.
For intuitive cruising, exceptional maneuverability, and peace of mind, state-of-the-art solutions are installed on board, while the stabilizer ensures the comfort of all on board. Additionally, on board monitoring and assistance systems, such as Seanapps, provide an easy way to monitor safety, maintenance, onboard equipment, and cruising data.
Photos Jean-François Romero