Designed in collaboration with legendary Italian styling house Pininfarina and equipped with Active Foil System (AFS), developed with BAR Technologies and powered with mighty V-8 from Corvette, new Princess R35 is the most forward-thinking Princess ever conceived
Princess Yachts, the long-established British boatyard, recently asked themselves the question: 'What should a fast, fun 35-footer be like?' Their answer was a radical machine packed with ground-breaking technology, founded on ideas that are totally new. With its all-carbon construction and unprecedented engineering challenges it didn't present the company with a learning curve so much as a sheer rock face, complete with overhangs.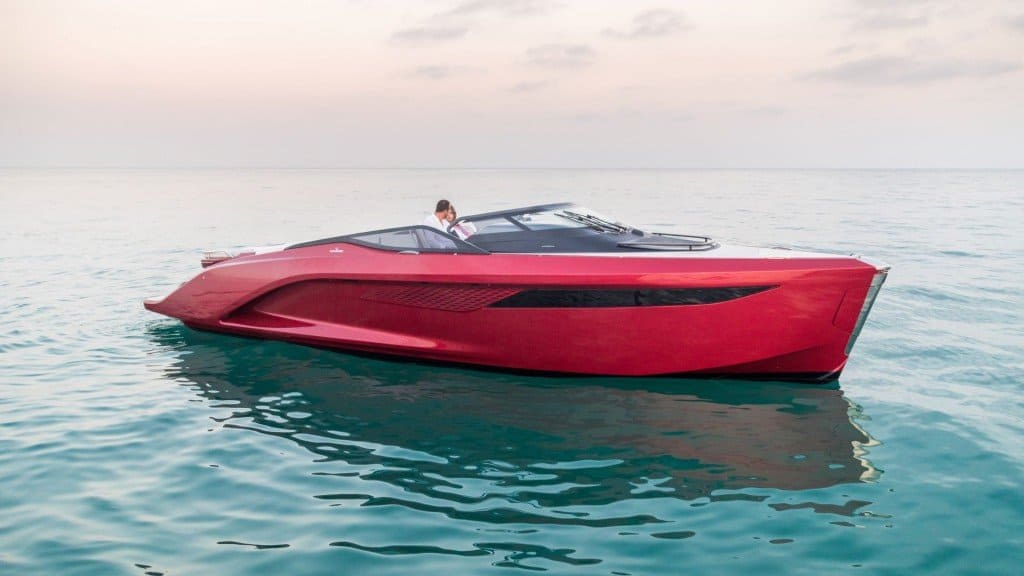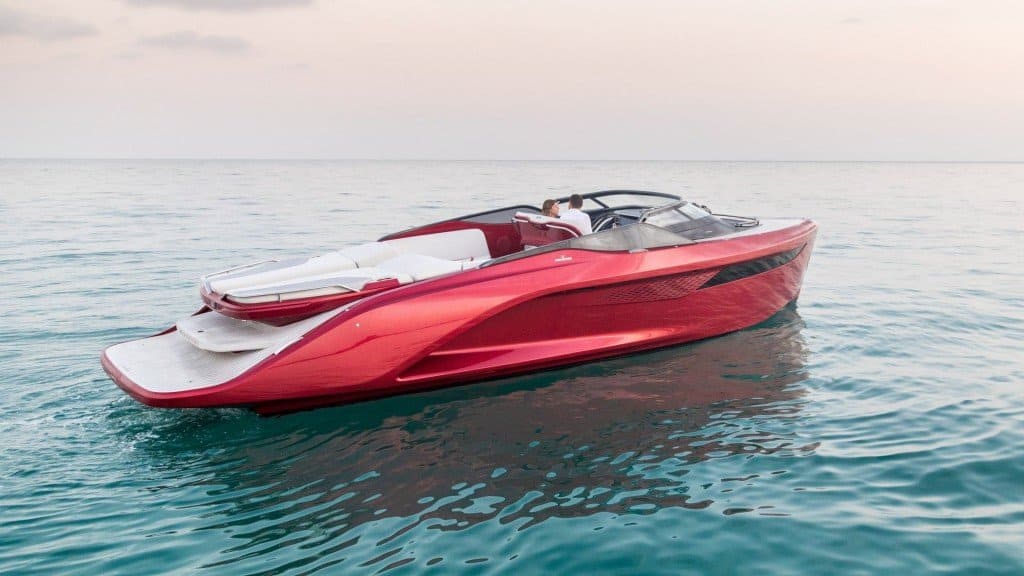 High-concept, high-tech and high-priced, the R35 was tasked with nothing less than reinventing the Princess brand image and attracting the attention of a new and younger customer base, who see nothing unusual in having 'sport' and 'comfort' modes in their cars, and don't see why boats shouldn't have them too.
With its excellent detailing and fashionable plumb bow, as if getting drenched in spray is something that only happens to other people, this is a thoroughly modern dayboat.
R35 styled by Pininfarina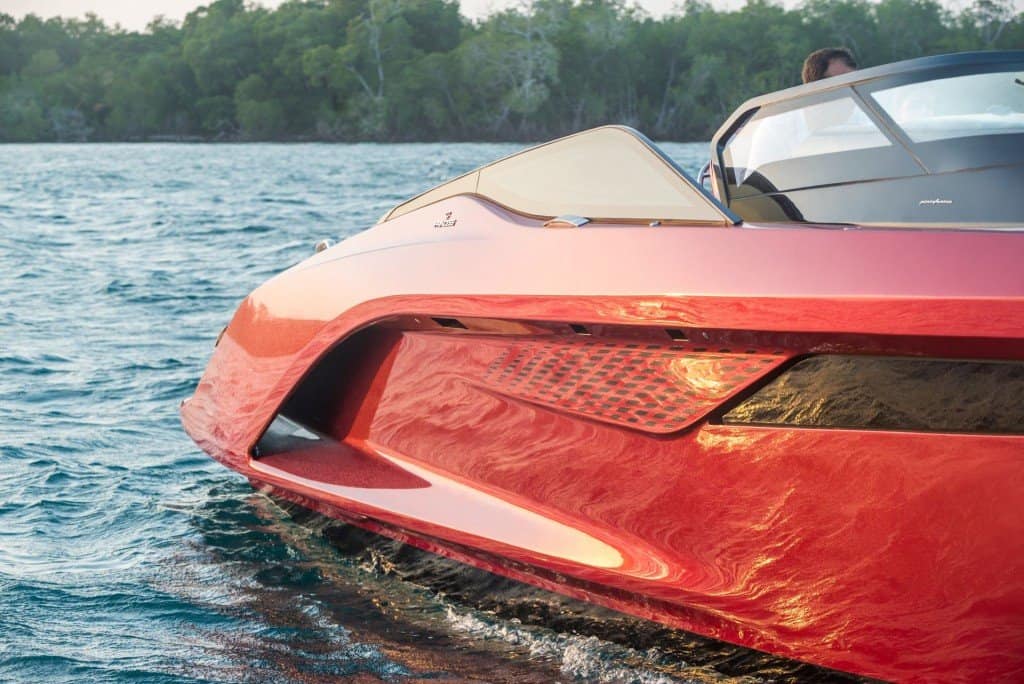 The Princess was styled by the legendary automotive carrozzeria Pininfarina, and bears the coveted badge just below the windscreen. An incredibly involved collection of convex and concave curves, the only straight line anywhere on board looks to be the stem. Tunnels in the topsides aft are reminiscent of the engine intake scoops of a Ferrari or a Lamborghini, and were originally intended to perform the same function, although the R35's engines now get their air from a grille in the transom. The finish is lustrous: to save weight, there is no conventional gelcoat but instead a 500-micron resin film which is lightly abraded before spray painting. It's a technique they also use at Aston Martin, apparently.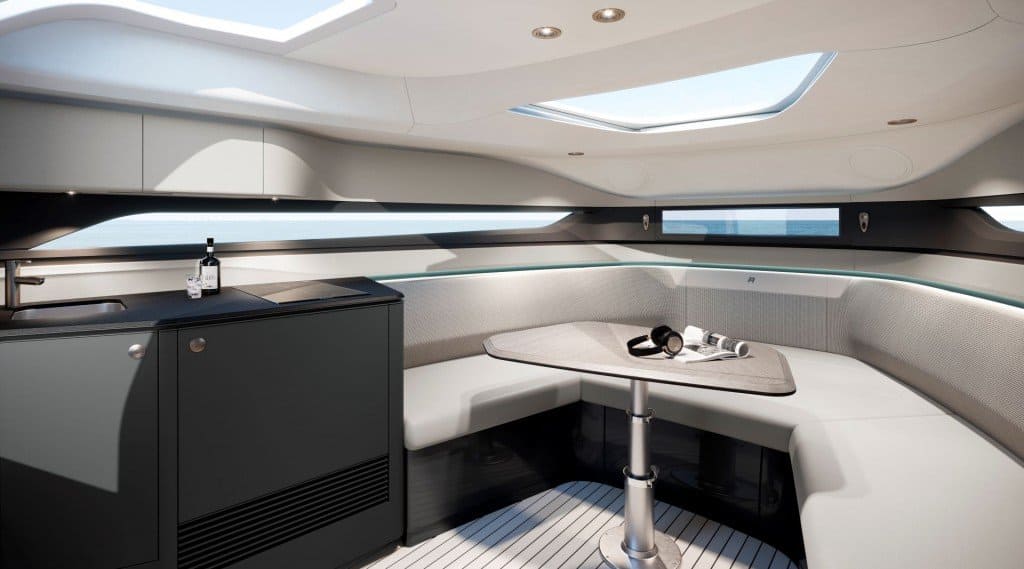 The cockpit is compact, and dominated by the three-person helm seat. Down below, headroom is just 5ft 5in at the door. The dinette table lowers to form a berth measuring 5ft 10in by 7ft at its widest, and there is also a basic galley and a head.
Foil system designed by Ben Ainslie's BAR
They key to this boat is the hull design, for which Princess called in the design services of BAR Technologies in Southampton, England. The requirement was simple: 'The most forward-thinking Princess ever conceived', with a new approach to hull design and dramatic improvements in efficiency. Faced with such a brief, perhaps only a company best known for designing dramatic, foil-borne America's Cup catamarans would immediately start thinking in terms of hydrofoils – although it's more helpful to think of the R35's as trim tabs rather than foils because they're about control, not lift.
High-concept, high-tech and high-priced, the new R35 was tasked with nothing less than reinventing the Princess brand image
BAR started with a blank sheet and set out to design a planing hull that was efficient not just at high speeds, but throughout the performance envelope, without sacrificing seakeeping. So the R35 has a very fine, wave-slicing entry that swells out to full-bellied midships sections, before flattening out aft to a low-drag stern that is barely immersed. The foils, just 20in long, are lowered downwards automatically from the hull bottom into the water flow, forward of the sterndrives, on computer-controlled carbon struts that tilt fore and aft by five degrees in each direction to adjust the angle of attack.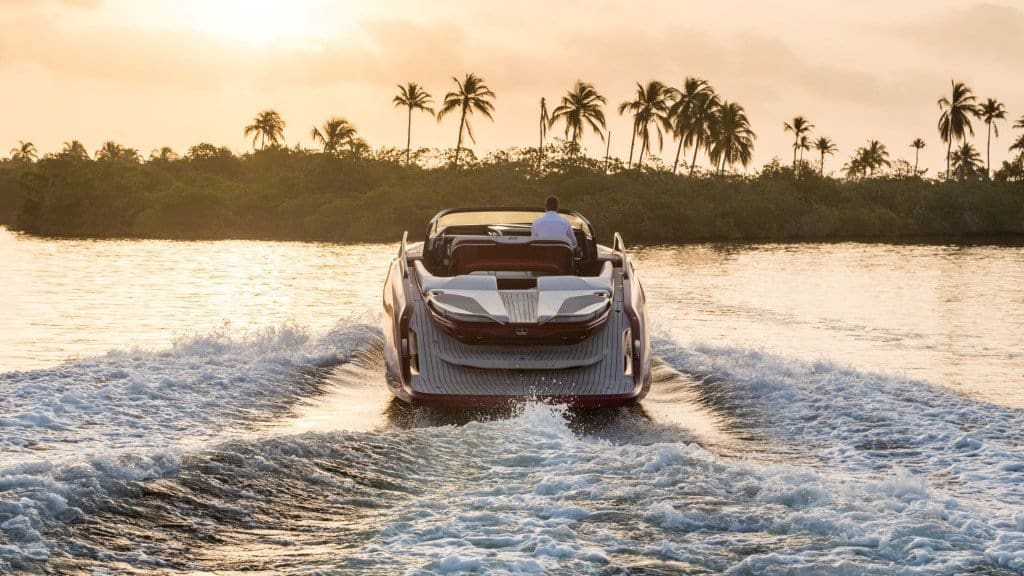 Their job is to keep the hull at its optimum angle of trim. To make this possible, the boat's weight is concentrated amidships: the engines are set well forward of the stern and connected to the sterndrives by two, long, carbon-fibre jackshafts. Screen graphics give the helmsman a comprehensive overview of what's going on, from the angle of the foils to the level of lighting in the cabin. Change the drive mode from 'comfort' to 'sport' and the screen changes colour.
'It felt just like any other aeroplane'
The R35 was designed around a specific power package: a pair of Volvo's 430-hp gasoline V8s. These are beautiful engines, smooth, torquey and electronically-controlled, with aluminum blocks and cylinder heads, and based on GM's Generation V 6.2-litre motor. On land, they can be found powering the Corvette Grand Sport.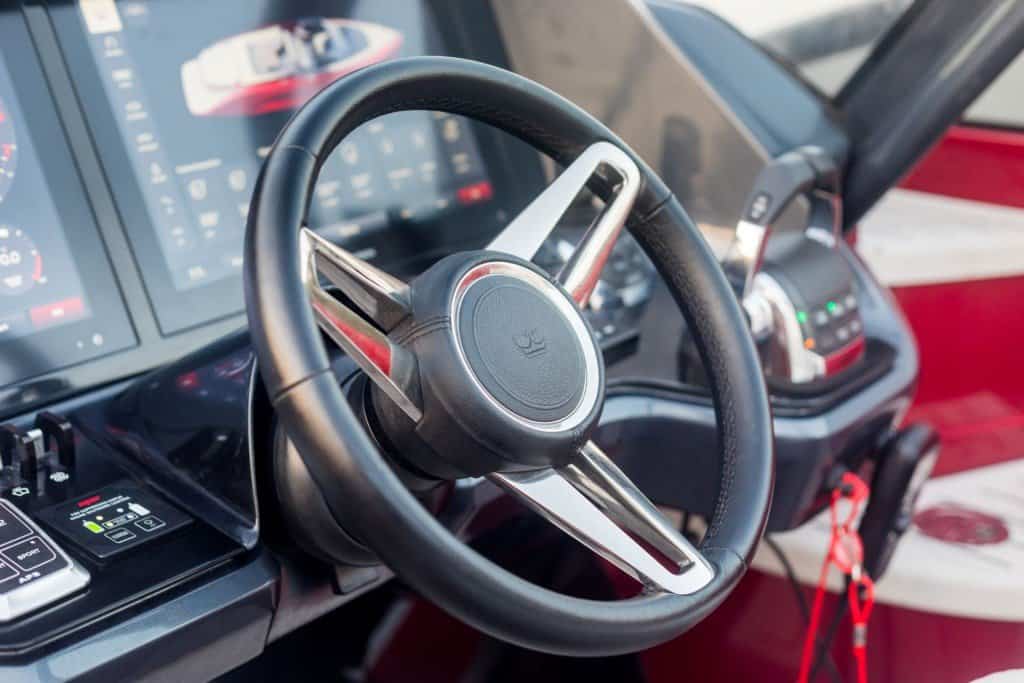 With its 4kW diesel generator and 330-lb carbon hardtop, our test R35 was never going to be the fastest of its kind, but it still managed a lively 43 knots in our sea trial in Plymouth Sound. A boat of such engineering complexity isn't just about top speed, in any case. Driving the R35 I was reminded of the Duke of Edinburgh's comment on alighting from his first trip in Concorde: 'It felt just like any other aeroplane.' This was music to the ears of the engineers who had worked so hard to ensure that flying at twice the speed and twice the height of any other airliner felt normal. Incredibly, the complex, computer-controlled Princess R35 feels like any other thoroughbred sportsboat to drive.
At high speed, the boat heels and handles like a good deep-V. In 'Comfort' mode it is as good as gold throughout the rev range, heeling gleefully into the hardest of turns with an awe-inspiring grip on the water that never lets go. 'Sport' mode imparts a little extra edge, a little sense that you could get it to misbehave if you really tried – although I never managed it.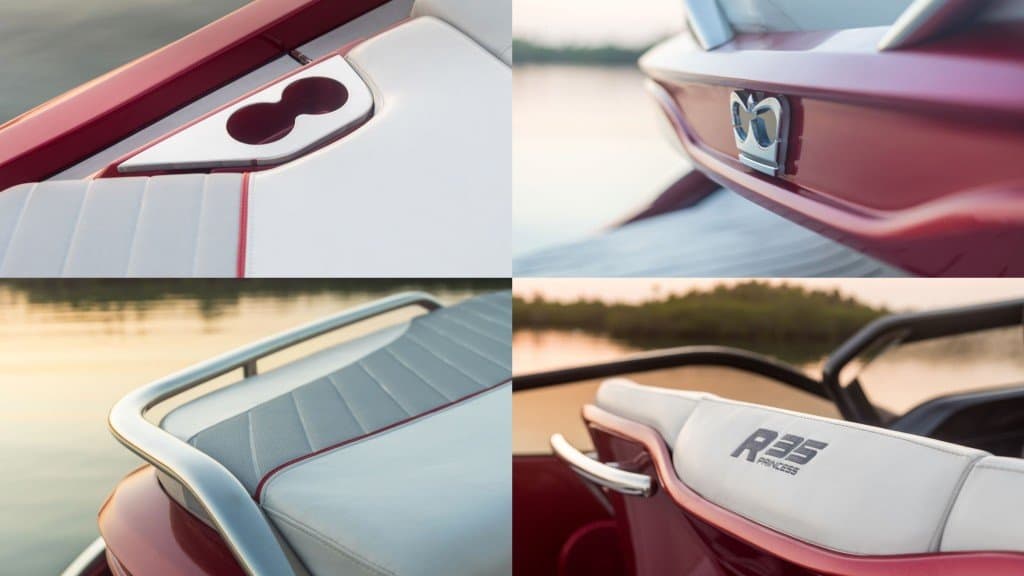 Ignore the screen graphics and you would have no idea what was going on beneath the waterline of the R35. There is very little trim change under acceleration, and certainly no 'hump', as the foils do their job. With no marked trim transition between displacement and planing modes, there is none of the usual penalty in fuel consumption at moderate speeds. Princess demanded efficiency – here it is. When all is said and done, perhaps the most one can say about the R35 is that, amazingly, it works.
Text Alan Harper
Photos & video Princess Yachts