Privilege Euphorie 5 review: Sailing in perfect safety, comfort and style
The new motor catamaran in the catalog of the French builder, Privilege Euphorie 5, is one part a villa by the sea, one part a bluewater cruiser
Currently number one builder of multi-hull leisure vessels, France is the home to almost every builder on the market, and a temporary home to several foreign builders. The multi-hull tradition has been developing for decades, and Privilege was among the first series that made catamarans as appealing as they are today.
The story begins with Philippe Jeantot, two-time world single-handed sailing champion and the founder of Vendee Globe race, who in 1985 founded Jeantot Marine guided by the desire to pour all of his experience and skill into design that guarantees comfort, safety and joy – and created the Privilege line.
Euphorie 5 design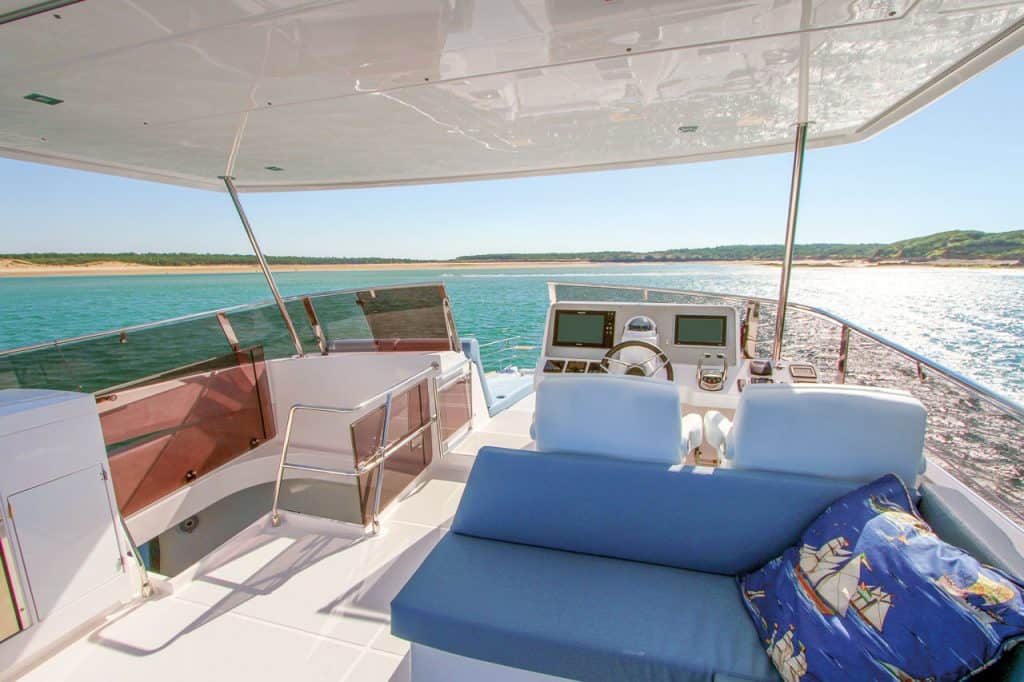 Now part of the Hanse Group, Privilege has recently significantly expanded their range, adding among others Euphorie 5, a 15-meter long multi-hull already nominated for the multi-hull of the year. The slick and stylish Euphorie 5 has a large flybridge, a low superstructure and a well protected aft. The command post is also protected, as a roll-bar comes as standard. The design of Euphorie 5 testifies to the builder's dedication to practical, easy sailing – as too tall a superstructure is anything but practical – but also to the idea that even at sea, comfort is a must-have.
The silhouette and the bow of the new model are all about sailing, but the aft is a paradise for the lazy sailor just looking for their place in the sun. Two swimming platforms and two staircases connecting the aft to the deck are all perfectly sized and ready to please, protected by the flybridge from above and tall sides that protects from inquiring eyes.
The aft space is large enough for a dining table. The flybridge, connected to the aft by the mentioned staircases, is spacious, but mostly designed to be a command post and thus well protected from all sides, especially from the bow.
Skipper enjoys excellent visibility all around
The tall windshield protects the skipper's seat starboard, which enjoys excellent visibility all around. The instruments are provided by Raymarine, classical in every way, and include two gas levers. The bow of the flybridge is cozy, but by no means cramped: there is more than enough room for a C-shaped sofa and a sun bed, right next to the passage connecting the command post and the bow salon.
The interior salon is large, stretching side to side in the superstructure between the two hulls, and divided visually into a living room, a galley with a diner and the navigator's corner. The galley is port-side, set up in a semi-circle and spacious enough for culinary creativity, while the dining space has an L-shaped sofa and a dining table that can be lowered and transformed into an additional berth.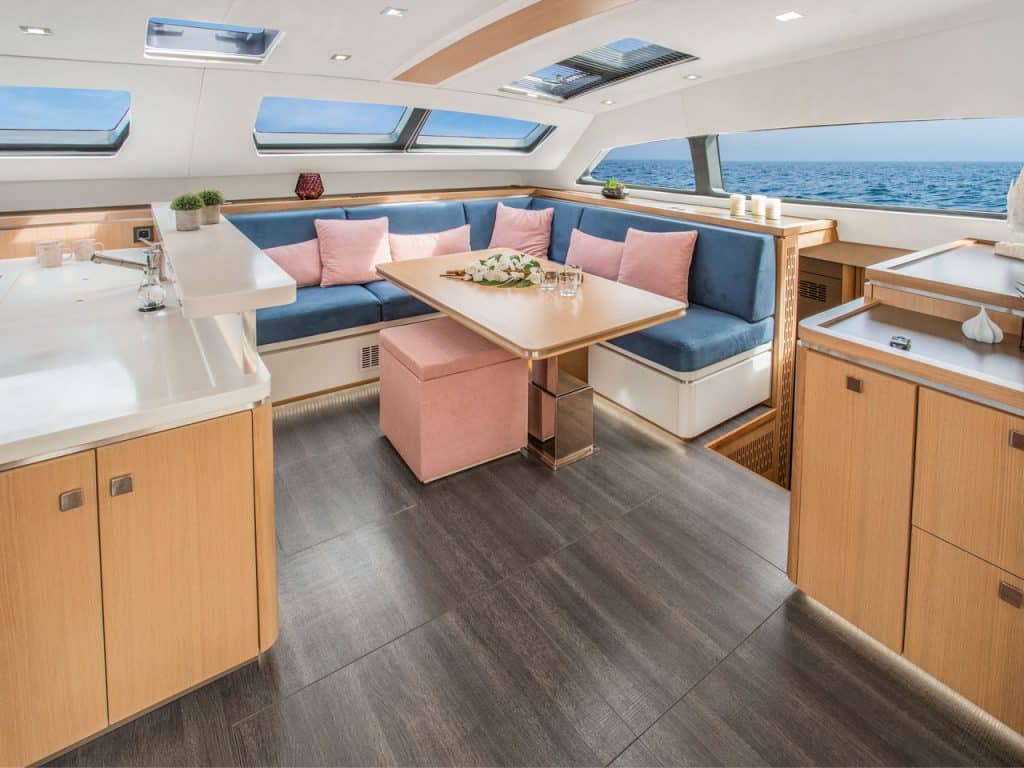 Speaking of berths, Privilege Euphorie 5 is available in three versions – the owner's version with three cabins and a truly large owner's cabin in the bow, a four-cabin version with as many double beds and a four-cabin version with twin beds. In all versions, all cabins are served by private heads. Client is also the one to decide on the interior decoration, choosing from many materials and fabrics available.
Impressive autonomy of almost 900 miles
Privilege Euphorie 5 is powered by two 320HP Yanmar V8 engines and is almost stingy when it comes to fuel consumption. At most economic cruising speed of 7 knots, the yacht boasts impressive autonomy of almost 900 miles. If you can't imagine sailing at a snail's pace, or want to go faster than the recommended cruising speed of 15 knots, rest assured that Euphorie 5 is more than ready to speed up – the builder states top speed of 20 knots, which is more than good for a yacht weighing over 25 tonnes.
Privilege Euphorie 5 will be equally interesting to those dreaming of a floating villa and those looking to cruise around for days on end. This beautiful and well made catamaran will turn heads in every port, and give her proud owner many years of sailing in perfect safety, comfort and style.
Photos & video Privilege