Elegant exterior, spectacular details and harmonious design make the latest Riva 68 Diable a delight that can hardly be matched by any other open in the up to 70ft segment
Last fall at the Cannes show, Ferretti Group debuted a new Riva model, a luxury open yacht named 68 Diable. Any new Riva inevitably attracts attention, and this one is a sophisticated yacht designed by the already famous duo of Mauro Michieli and Sergio Beretta from the Officina Italiana Design studio, creators of all new Riva models in the past 27 years.
Riva 68 Diable: elegance meets luxury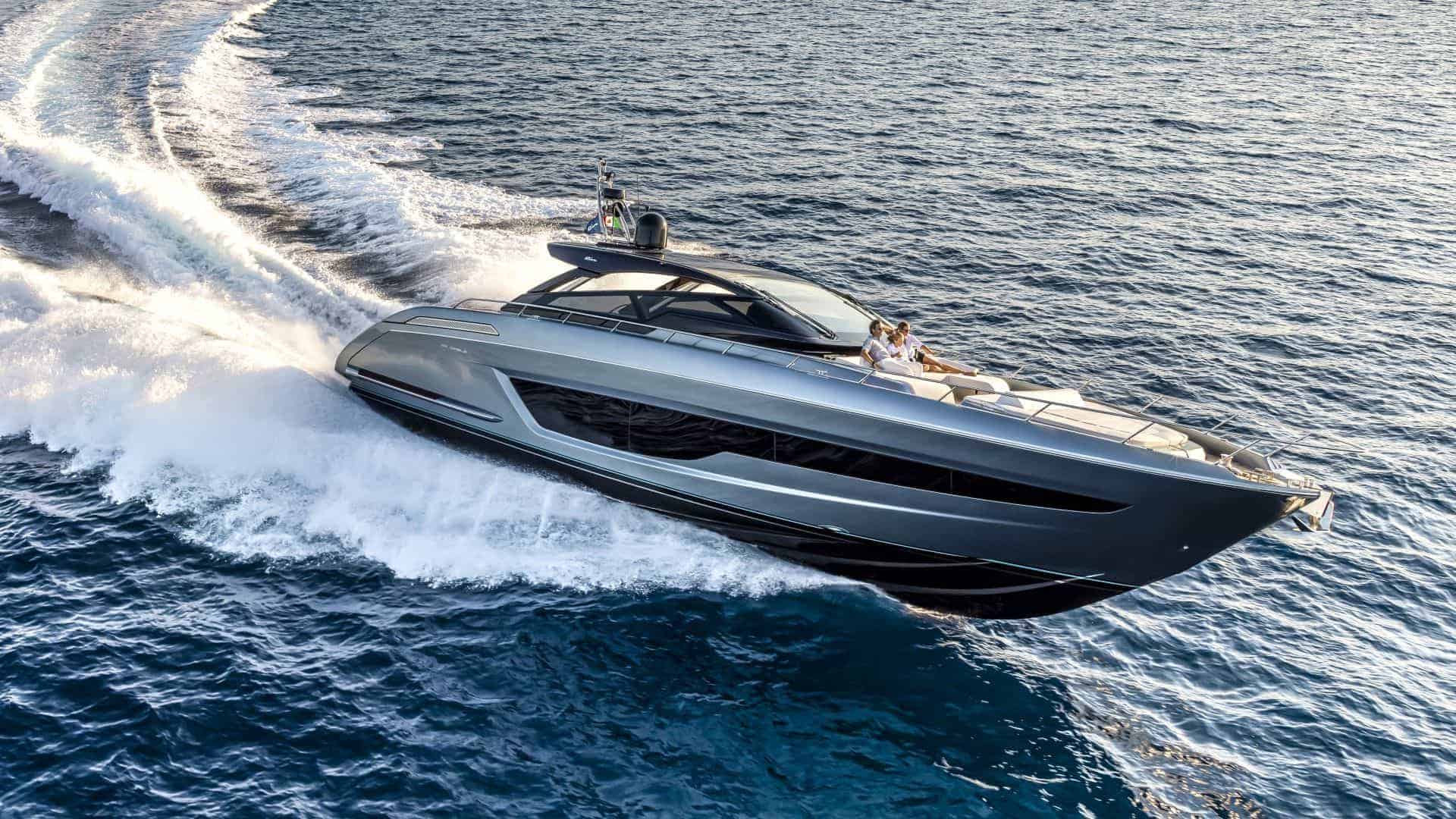 The perfectly balanced exterior lines of the new yacht are accentuated by a combination of metallic gray colour (Shark Gray), sparkling stainless steel details, mahogany and black coloured plastic elements. The biggest news on the model is her carbon cockpit hardtop. Last year Riva have – for the first time in their long history – decided to install fixed hardtops on their models, first on Dolceriva and Rivale, and now on Diable, after the spectacular success of the said models on the market.
Carbon hardtop
Diable offers much more than pretty accessories; it screams elegance and luxury in the vein of luxury cars. The aft platform is an integral part of the hull and is connected to the cockpit by stairs on both sides, as direct access to the sea is expected from all models in this segment. Although she is a comfortable cruiser with three cabins, you will often Diablo playing the role of a tender to a luxury yacht villa, or a day boat serving a villa.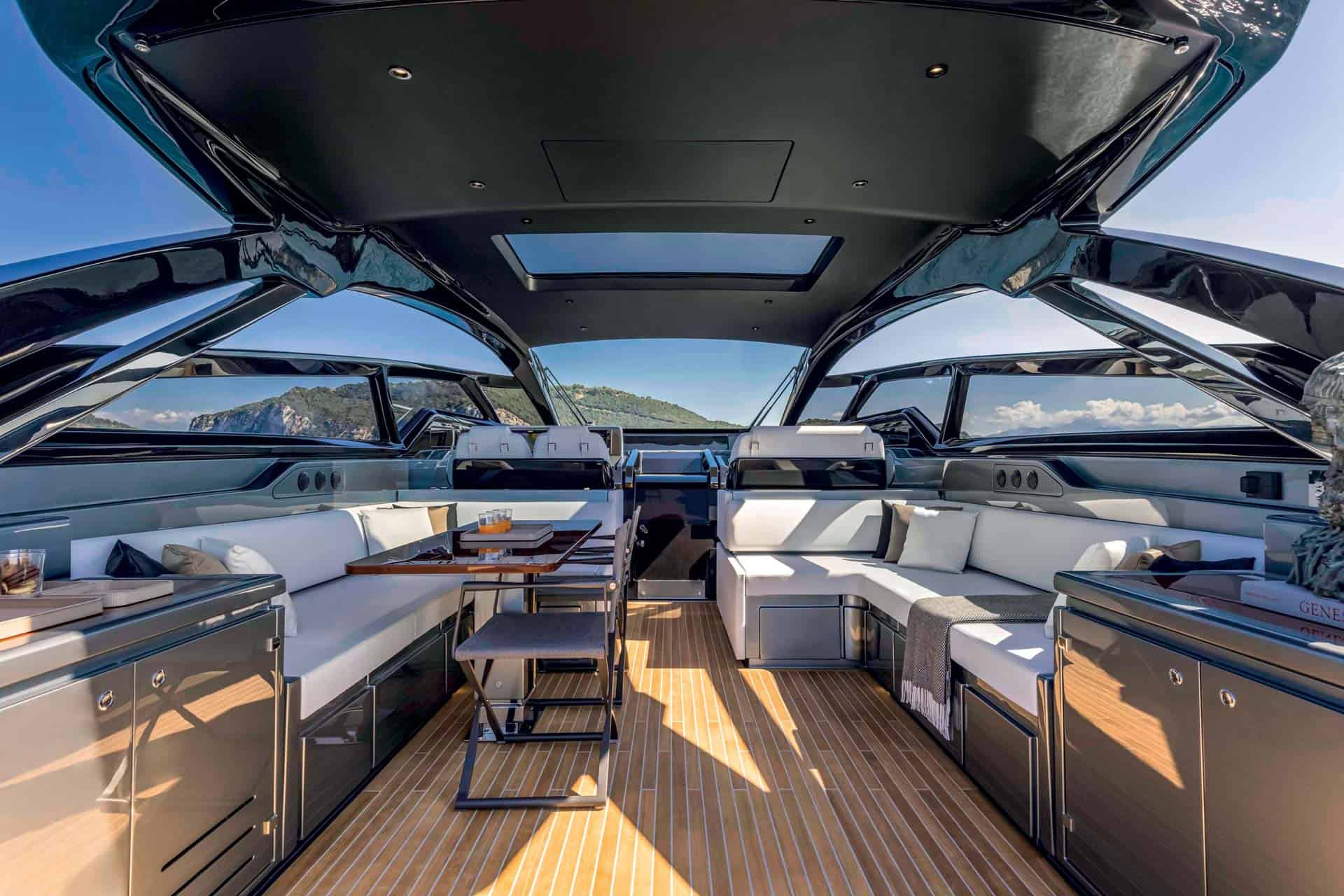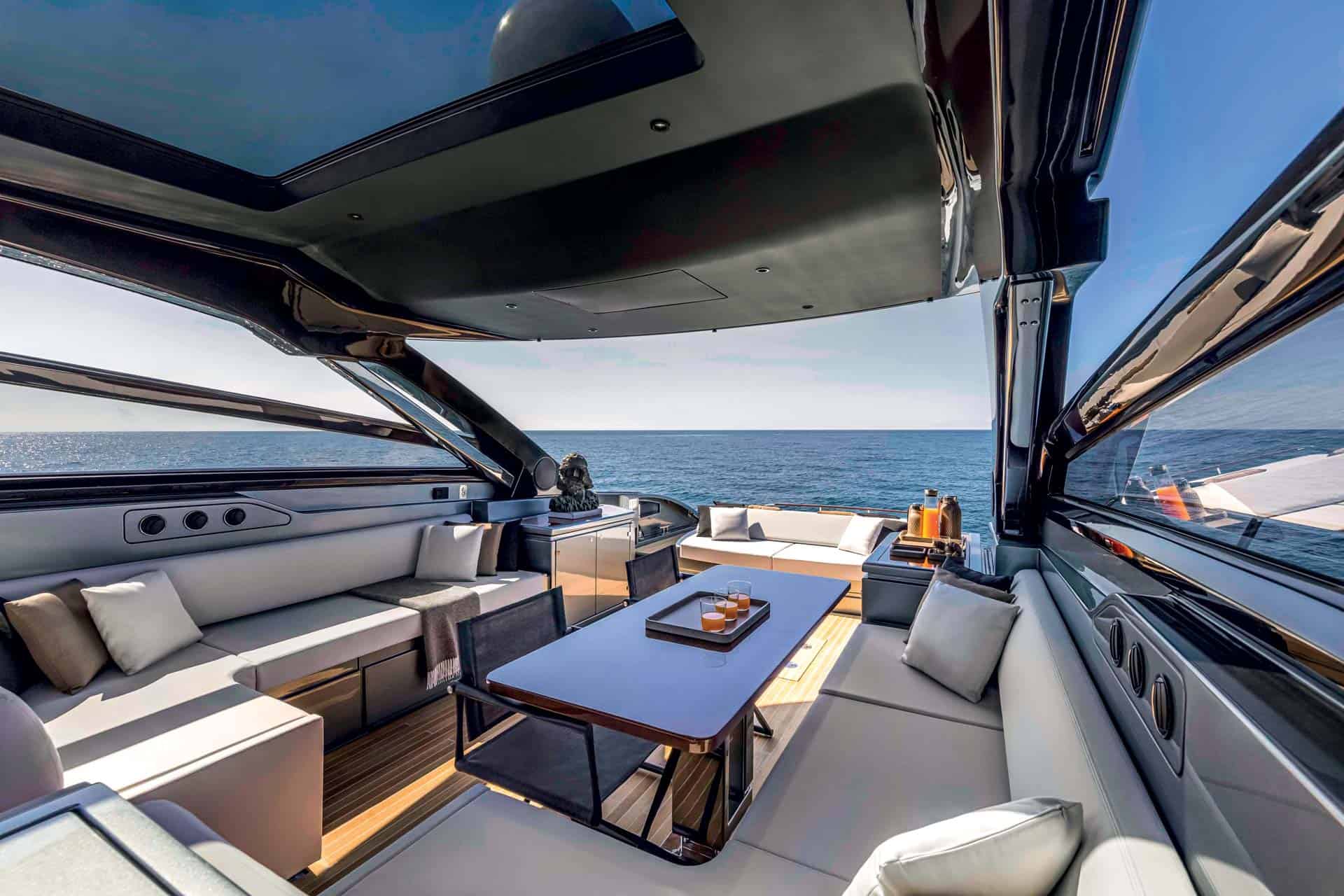 Riva Diable has a garage for her own luxury tender, and the unit we tested carried a Williams 354 and a Seabob. Atop the garage, there is a sundeck, and an electric bimini built into the hardtop protects the stern cockpit from the sun.
On the other side of the sun deck, there is a bench – the most comfortable seat in navigation for all those not interested in steering this extraordinary yacht. Aft, there are large L-shaped sectionals both port and starboard, and a glossy glass and mahogany dining table.
In the front of the cockpit, the console is served by two seats, own of which hides an ice machine. The console has two multifunctional 16-inch Simrad screens. Although fixed, the cockpit cover has two openings for ventilation. The cockpit is by far not the only lovely outdoor space, as the spacious bow offers a sunbed and a U-shaped sofa protected by a windshield.
Riva 68 Diable interior
This part of the yacht will be especially appreciated in ports, as it provides the necessary privacy, but also a little romance for all those into sailing with the wind in their hair.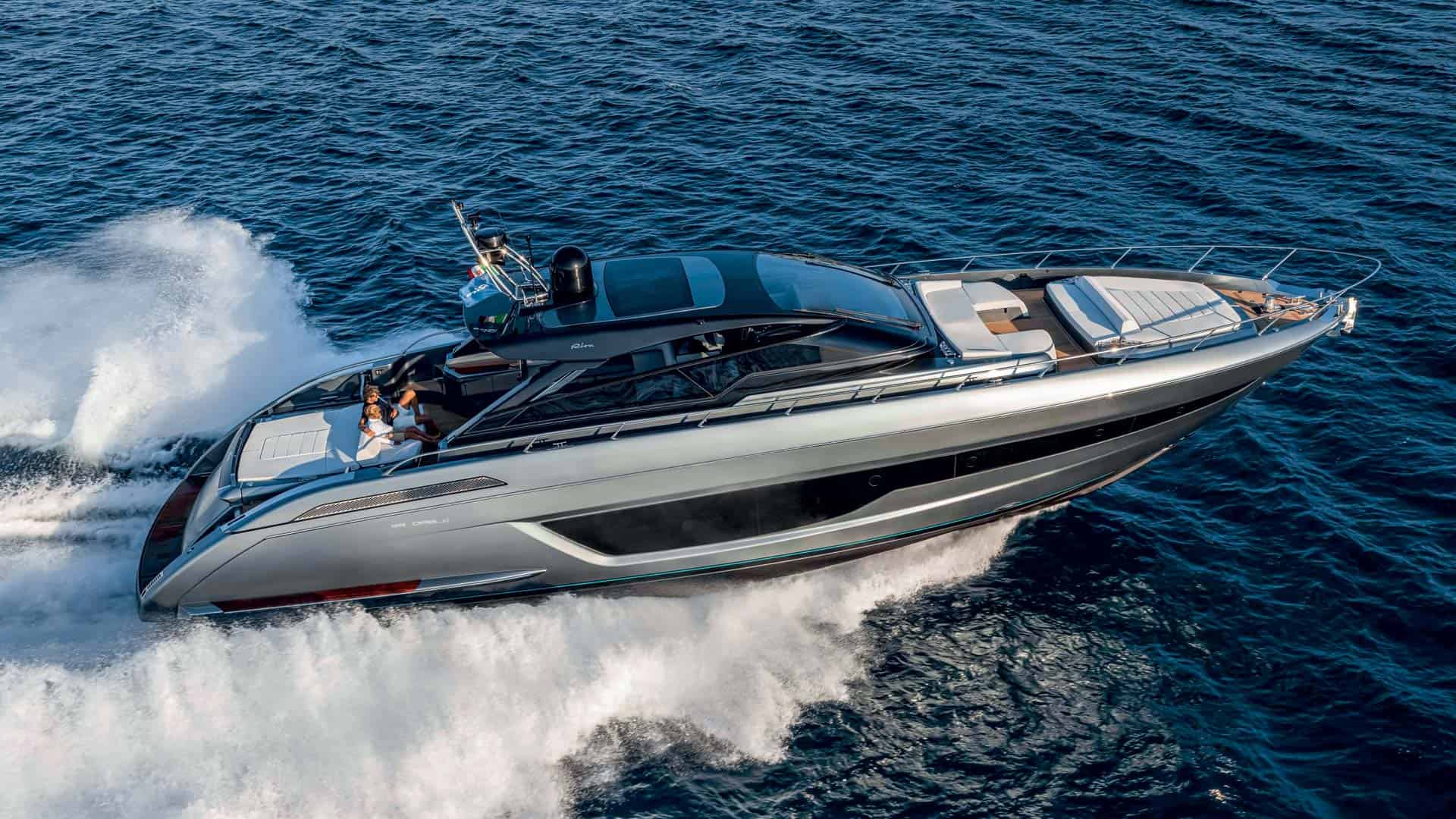 Below the deck, this model is an exemplary Riva in every detail. The designers skillfully worked so many details into the relatively small space below the deck that you will remember this true Riva long after visiting. Stainless steel details, glossy lacquered wenge wood and handrails all proudly display the logo of the Italian brand, creating a sophisticated, almost royal feeling.
Riva 68 Diable layout
Diable has three cabins, a galley and a small dining room. Below deck astern lies the full-beam master cabin, whose bathroom has separated spaces for a shower and a toilet.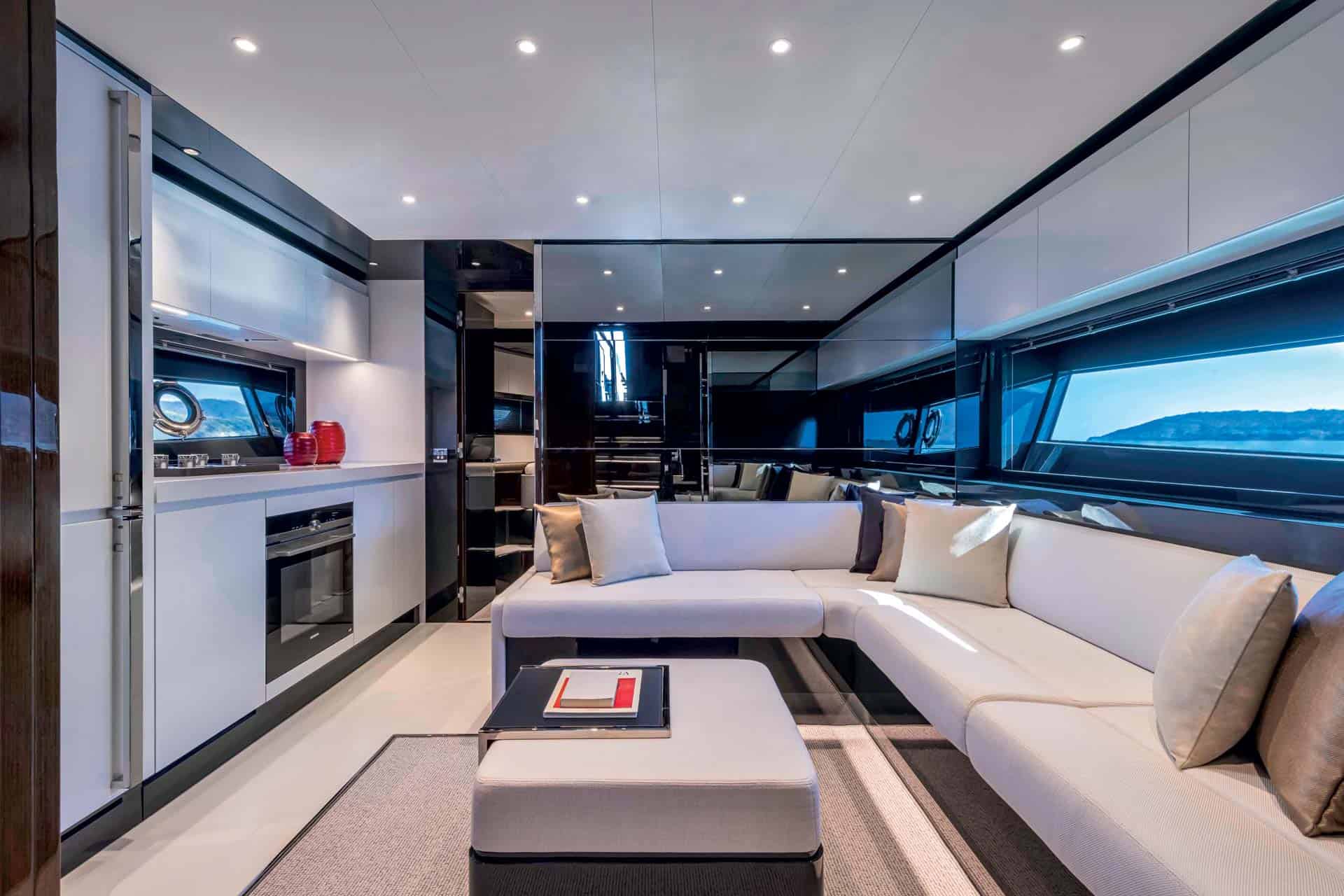 The central part of the lower deck is occupied by a guest cabin with two single berths on the left and a toilet area on the right, and in front of them is a galley on the left and a comfortable L-shaped sectional on the right, served by a folding dining table.
The VIP cabin is in the bow, served by a private bathroom, while a crew cabin with a separate entrance – a single cabin with a private bathroom – is right next to it. This classic layout does not diminish the 'wow' effect of the model, especially since the style of all these spaces is spectacular.
Riva 68 Diable range and speed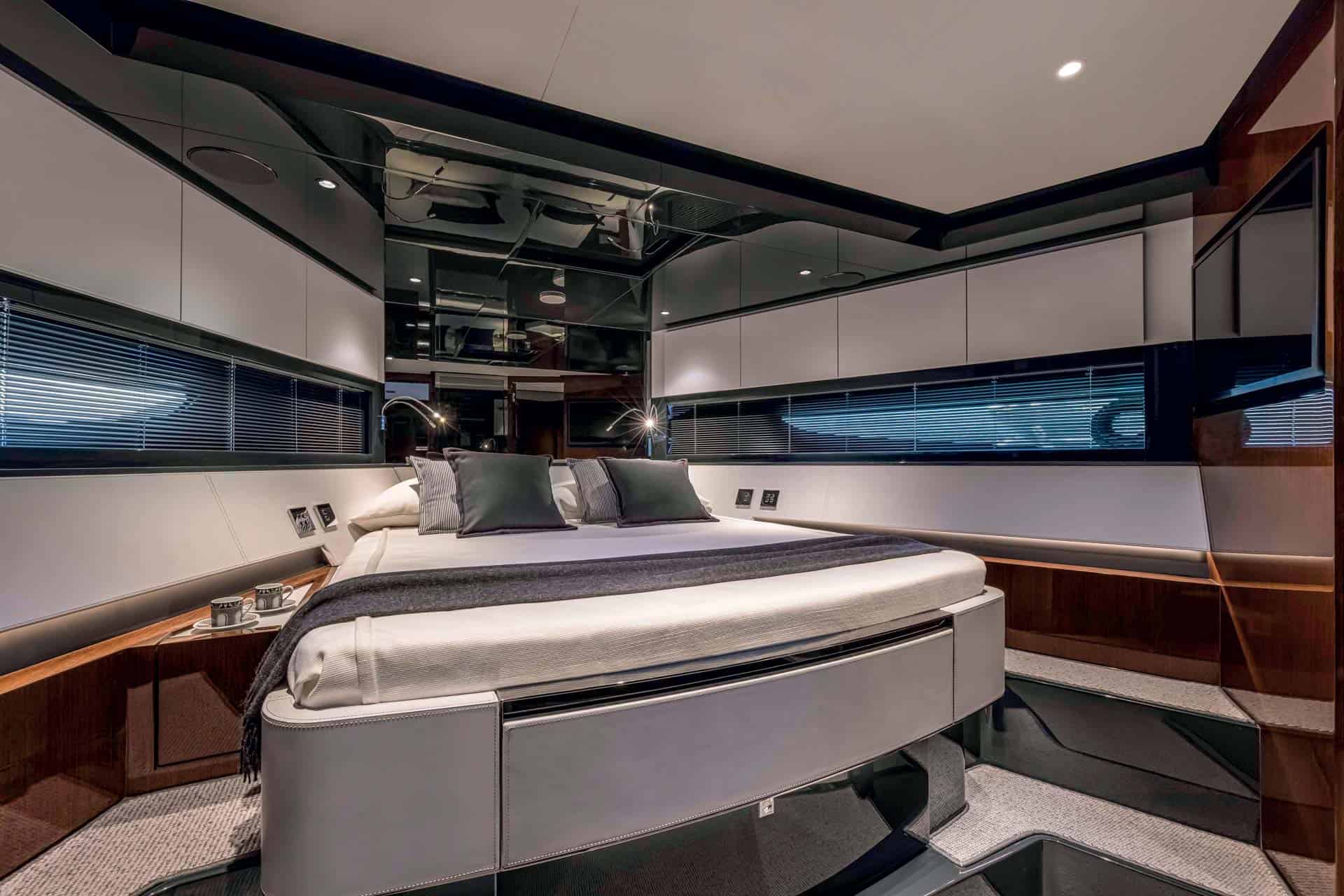 Riva Diable is powered by a pair of MAN V12 giving her 1550 hp, while the prototype was fitted with a pair of more powerful 1650 hp engines, allowing her to reach enviable 40 knots of maximum speed, consuming 670 liters per hour. That unit also reached higher cruising speed of 34 knots, and consuming 490 liters per hour.
YACHT SUGGESTION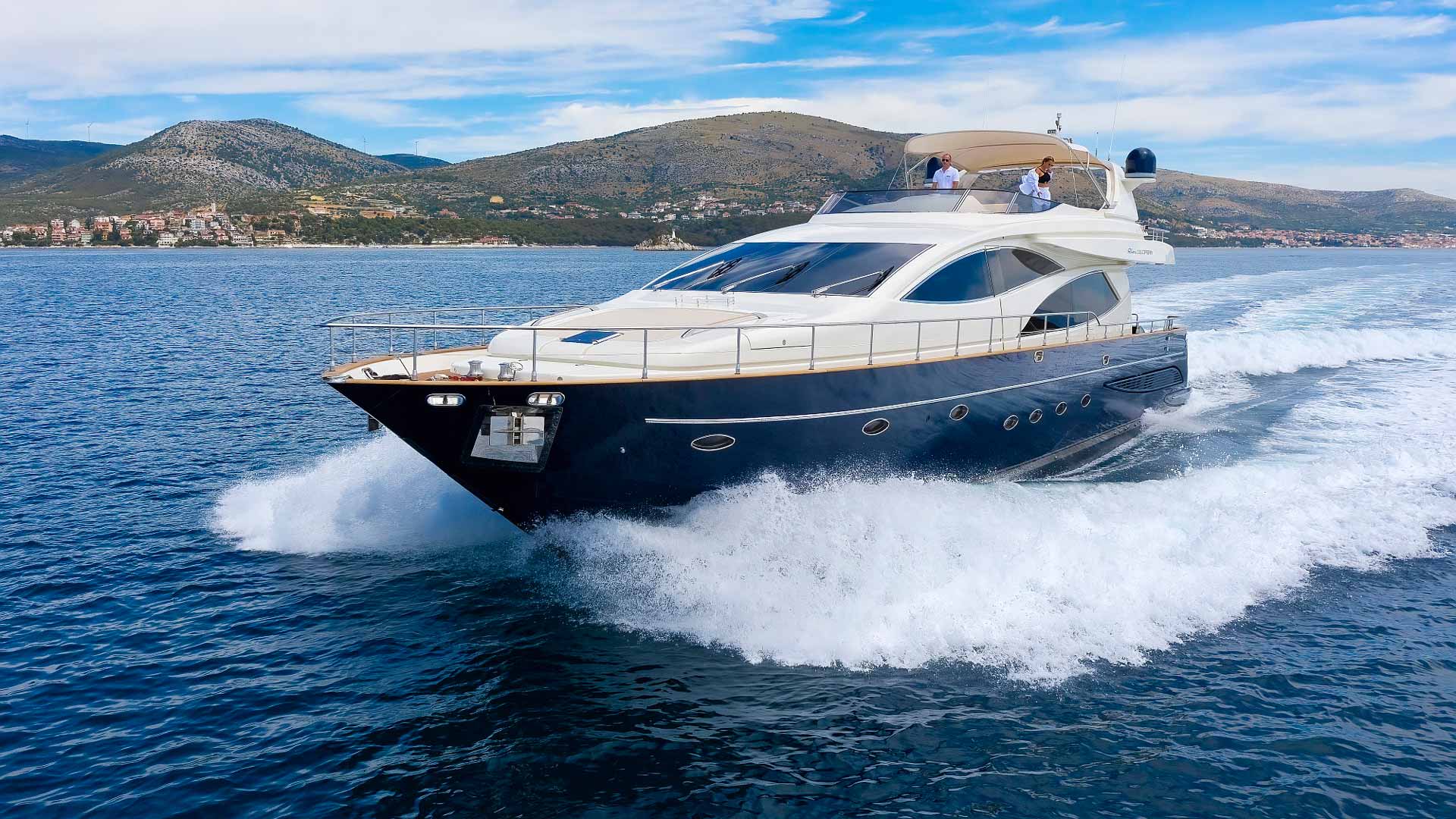 Riva 85 '888' has impressive and spacious outdoor & entertainment facilities making her the ideal yacht for family and friends!
Since staying on this yacht is pure pleasure, all those who aren't in a hurry can just save fuel enjoy cruising. We woulds expect nothing less from Riva, whose latest model is just as much an embodiment of perfection as any of her predecessors.
Text Darko Šupuk
Photos & video Riva