With Split Luxury Yacht Charter Guide we are taking you to the serene islands of the Split Archipelago, like Biševo with its famous Blue Cave, southern shores of Vis, Pakleni islands and Hvar
Split, as well as the entire Adriatic coast, is blessed by the mild Mediterranean climate, which means a lot of sun and heat, especially in the summer months, and very few cold and rainy days. Although there is a whole range of things you can do in Split throughout the year, such as the obligatory walk through the UNESCO-protected Diocletian's Palace, if you love hubbub, parties and concerts, this enchanting city should definitely visit in the heart of the season.
Climate and ideal time to visit Split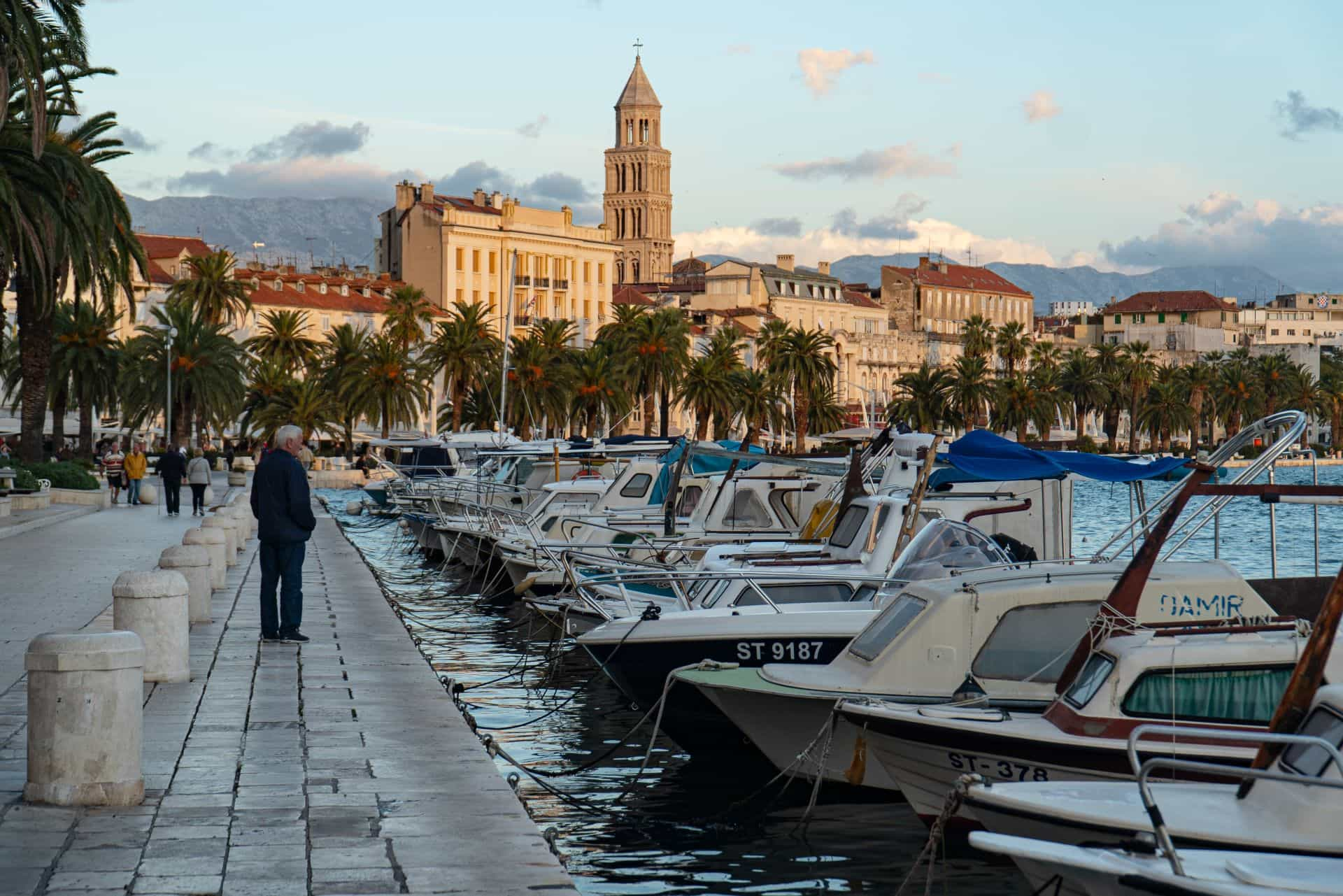 In July and August, all of Split seems to be dressed summer dresses, just in time for the world-famous Ultra Europe festival (July 8-10, 2022). On the other hand, those who are into more romantic experiences will surely be delighted by the spring face of Split and the surrounding islands, which seem to wake up around Easter, as do most travel agencies, cafes and restaurants, opening their doors and welcoming first visitors.
However, it should be emphasized that for many September, and more often October, are the most desirable part of the year to visit Croatia and Split, as in pre- and post-season there are no crowds, prices are lower, and weather and sea temperatures are still pleasant for all sea-related activities.
Throughout this summer half of the year, an extremely large number of visitors decide to charter a yacht in Split because the Split area is one of the top charter destinations in Croatia.
Marinas and Berths in Split archipelago
Split yacht charter is extremely popular because of the many magical surrounding destinations, but also because some of the most beautiful Croatian marinas are located in this part of the Adriatic.
ACI marina Split

The city of Split is dotted with many small, local marinas, but with 320 berths by far the most visited is ACI Marina Split (+385 (0) 98 398 850) which offers much-needed parking sports for yacht owners. In case you are looking for parking in and around ACI Marina Split, first look inside the marina.
One very attractive anchoring spot near Split is the Blue Lagoon, which is located between Veliki and Mali Krknjaš, and the much larger Veli Drvenik.
Marina Martinis Marchi

On the island of Šolta, in Maslinica, visit the modern Marina Martinis Marchi (+385 (0) 21 659 093), where you can book one of 50 berths and enjoy the rich gastronomic offer of the hotel of the same name, while the nearby mooring Stomorska (+385 (0) 91 980 73 11) has 30 berths with with water and electricity supply stations.
ACI marina Milna
On the island of Brač, the largest nautical center is the deep Milna cove with three marinas: ACI marina Milna (+385 (0) 98 398 851) with 170 berths, Yacht club Milna (+385 (0) 91 400 04 87) with 45 berths and Marina Vlaška (+385 (0) 99 244 7410) with 70 berths. Apart from Milna, the nearby Brač Yachting Anchorage Bobovišća (+385 (0) 91 500 1619) is also becoming increasingly popular, where you can book your place on the buoy in advance.
ACI marina Palmižana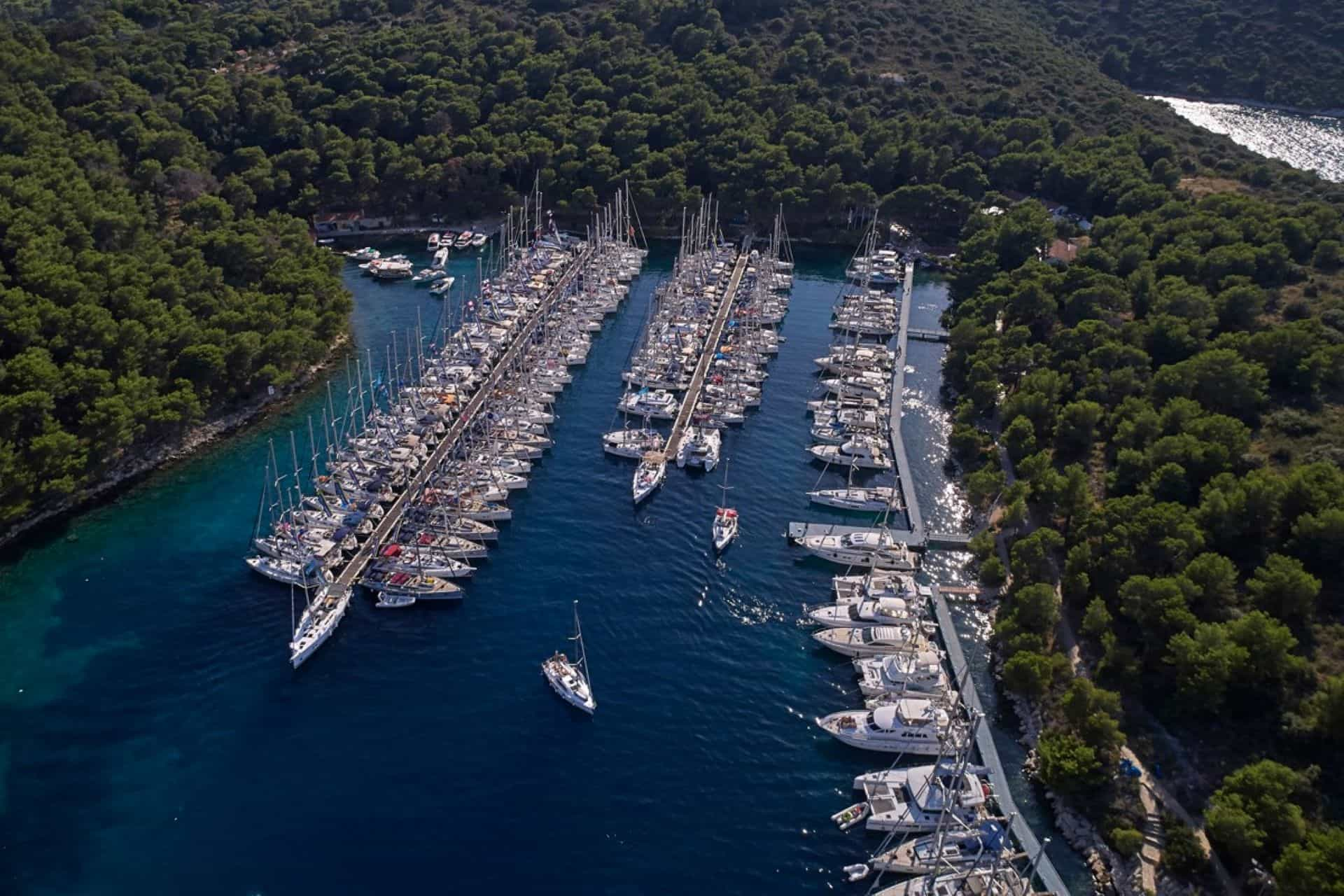 Pakleni islands off the coast of Hvar seem to have been created for anchoring, as was the nearby ACI Marina Palmižana (+385 (0) 21 744 995) with 180 berths. The nearby Vinogradišće cove offers the possibility of buoy berths (concessionaire Đenko Meneghello +385 (0) 91 171 82 42), and in addition to providing protection from almost all winds except the south, is locally famous for a spectacular number of excellent restaurants to visit by boat.
Anchorages on Vis island
If you are aiming towards Vis, make sure to stop at Budikovac, beloved for its turquoise lagoon whose depth rarely exceeds 2 meters. One of everyone's favorite coves on the island is Stončica, where buoys have been set up to welcome yachts, and the same concessionaire (Gradina Vis +385 (0) 21 711 121) offers buoys in the town of Vis, where boaters have 100 berths at their disposal.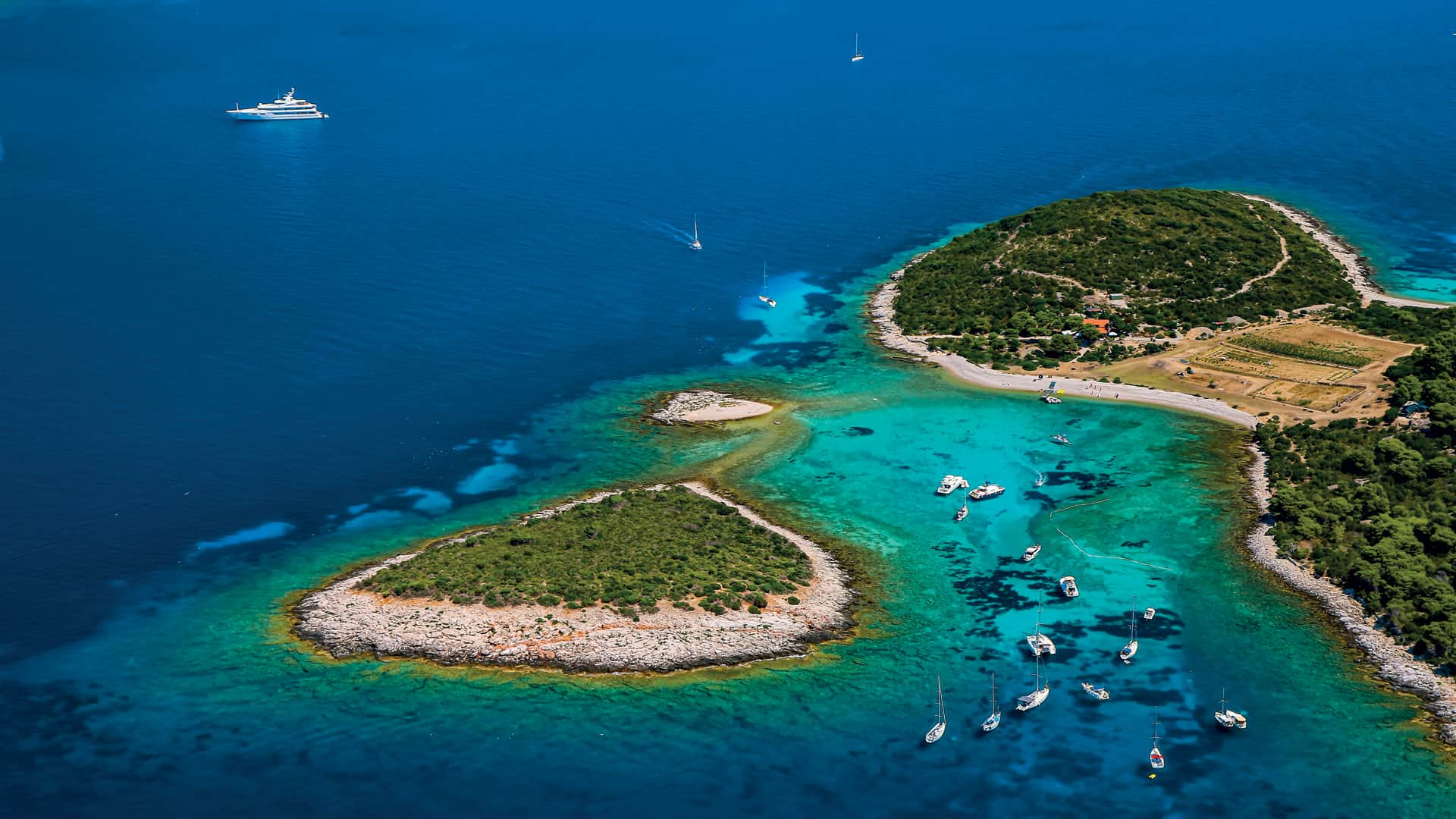 In Komiža, 30 boats can be moored on the waterfront (SDZ Port Authority +385 (0) 21 339 825), and 60 buoys have been set up in Komiža Bay (Komiža Nautical Center +385 (0) 21 713 215). Contact the Komiža Nautical Center if you decide to visit the Mezoporat cove on the island of Biševo, where 20 buoys have also been set up.
Split island hopping
Yachting routes that pass through the Split waters are by far the most popular on the Adriatic due to the magnetic attraction of this part of the Croatian Adriatic and the fabulous pearl-like islands that surround this city – Hvar, Pakleni islands, southern coast of Vis, Blue Cave on the island of Biševo. Gather your crew, opt for Split luxury yacht charter and direct your bow to the south.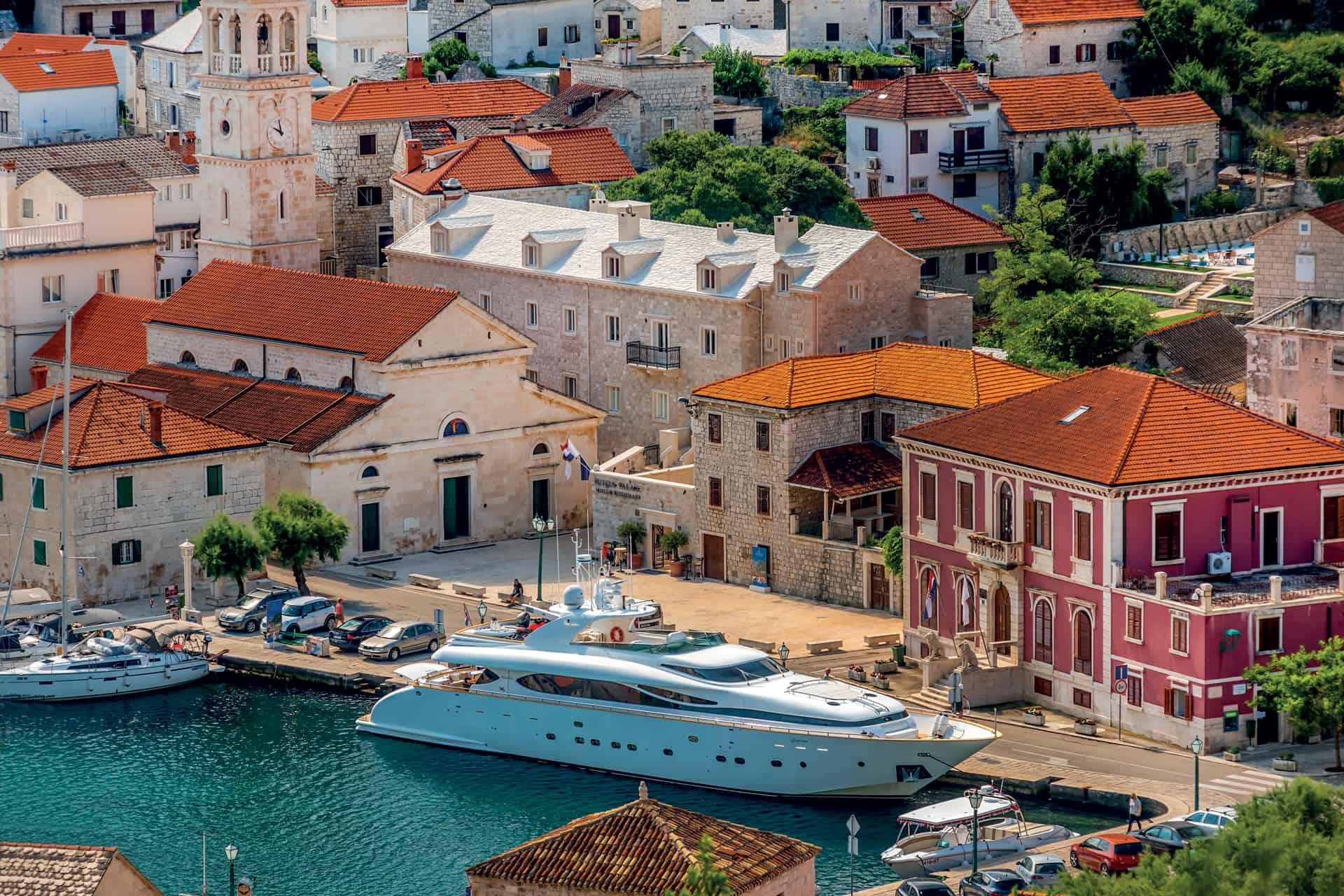 Island of Brač
Along the way, many boaters want to swerve a little toward the island of Brač and the deep Milna cove, whose Italian name valle di mille navi is due to its legendary depth and the ability to host a thousand ships. Those who want to experience the local atmosphere of a small island town can spend their first night in Bobovišće cove where most boats moor, while lovers of calm, picturesque nature can sail to the southern shores of this stunning island.
Island of Šolta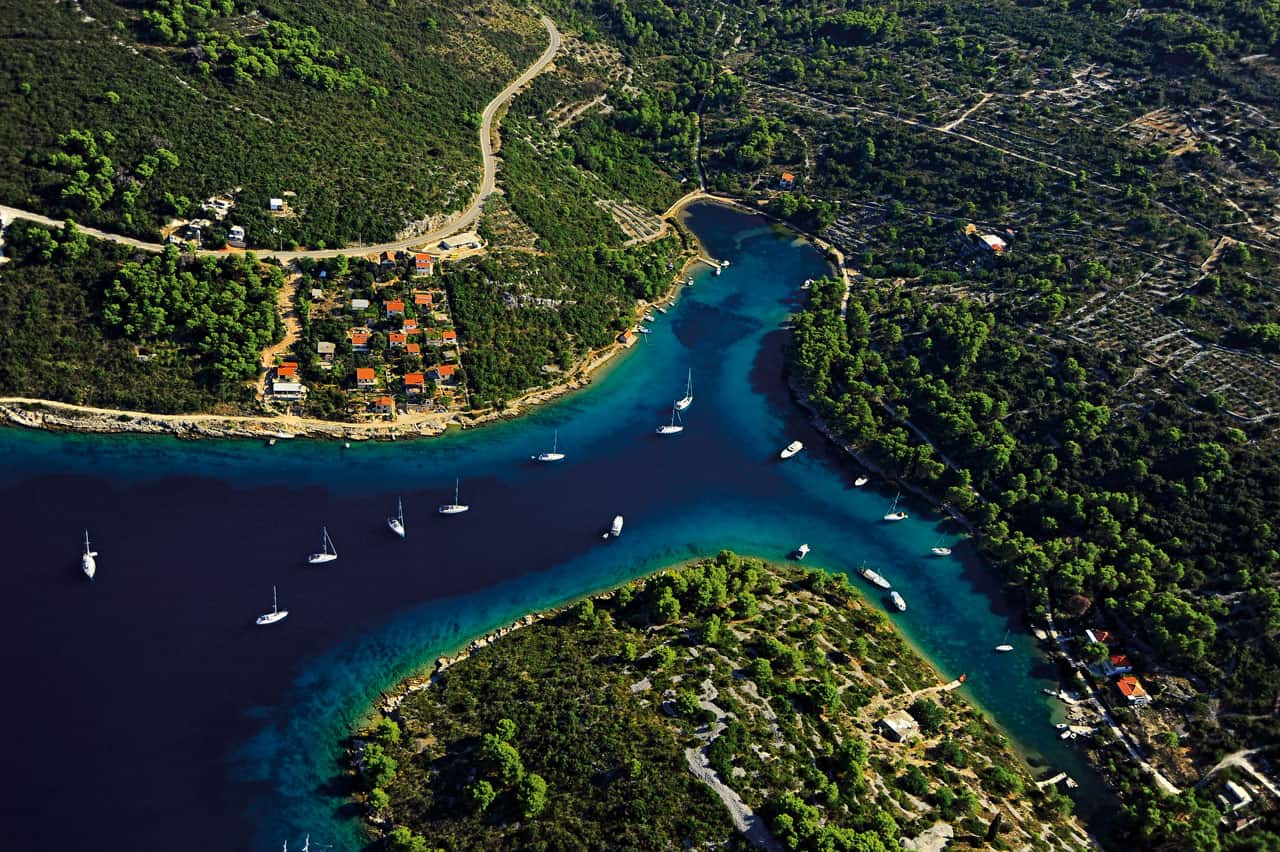 If your cruise hasn't started in Šolta, make sure you visit the island as the icing on the cake of your Split yacht charter. This island has similar yachting attributes as the neighboring Brač, but is much smaller and isolated. On island of Šolta, the most desirable destination among boaters is Maslinica, an authentic fishing village that today shines with new splendor and is the proud home of the most beautiful Croatian boutique marina Martinis Marchi.
We also warmly recommend a visit to the picturesque town of Stomorska or the turquoise southern coves that maintain a certain wild feeling to them and are ideal for all fans of intimate lovers of more mysterious moments.
Hvar and Pakleni Islands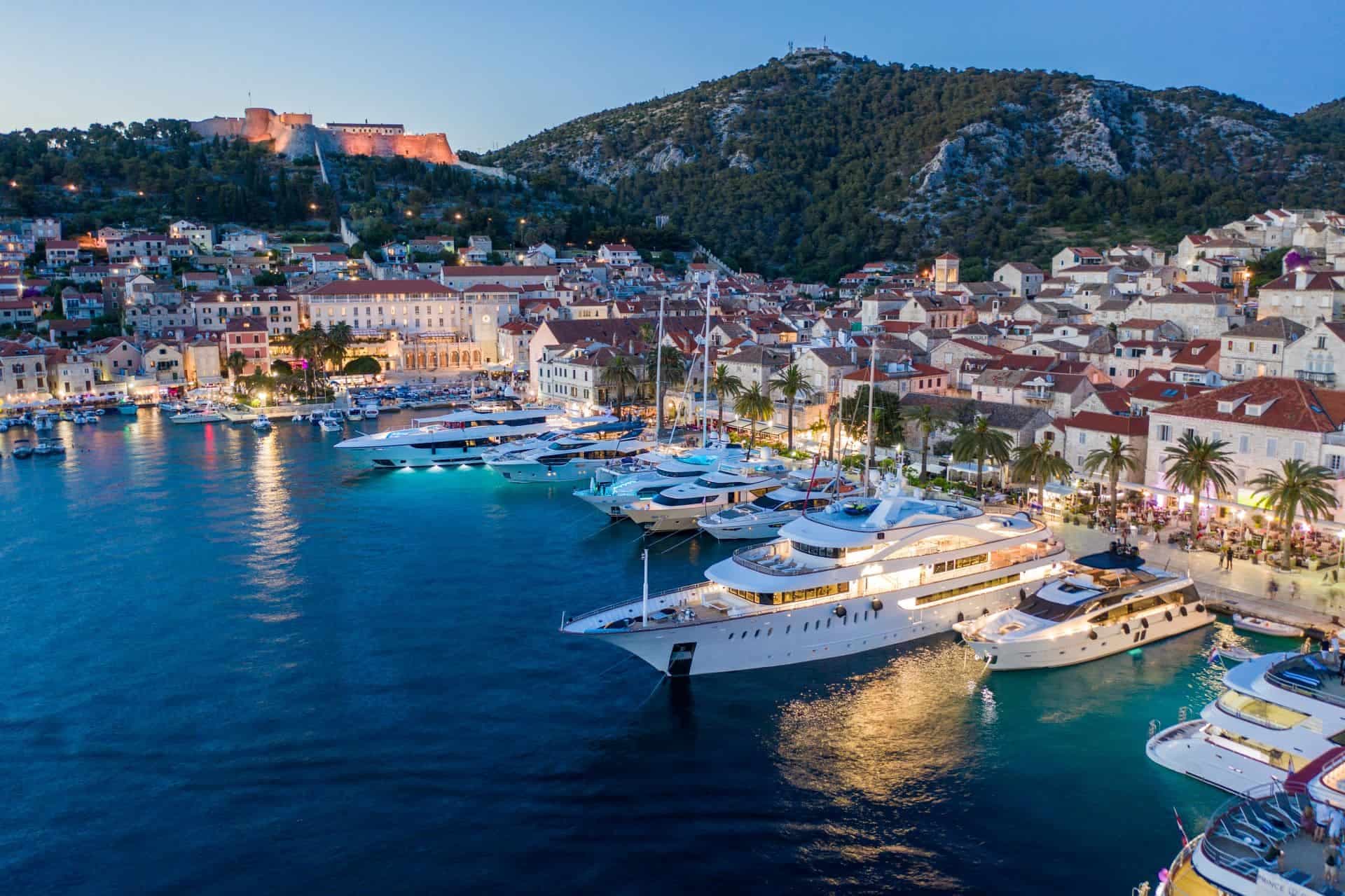 Many boaters who opt for an early check-in during their Split yacht charter immediately decide to cover about twenty-five miles and conquer Pakleni islands, and spend time exploring this enchanting archipelago counting 21 islands, islets and cliffs. Pakleni islands – which sounds like hell islands in Croatian – do not justify their name and are actually as peaceful as you can imagine, seeing how they are actually named after a wood resin – paklina – found around here.
The largest island in this archipelago is St. Clement, and with no southerly wind all of its southern coves are true oases of beauty and pleasure. Stretching west to east, the spacious Soline, the turquoise Taršće, the slightly smaller Stari Stani and the most popular Vinogradišće coves lure with their charms.
On this list is also the too popular Stipanska cove on the islet of Marinkovac, whose vibrant and loud nightlife might not be everyone's cup of tea. In any case, St. Clement is serene, criss-crossed with trekking paths that connect all its bays and are a great opportunity for an hour or two spent in nature.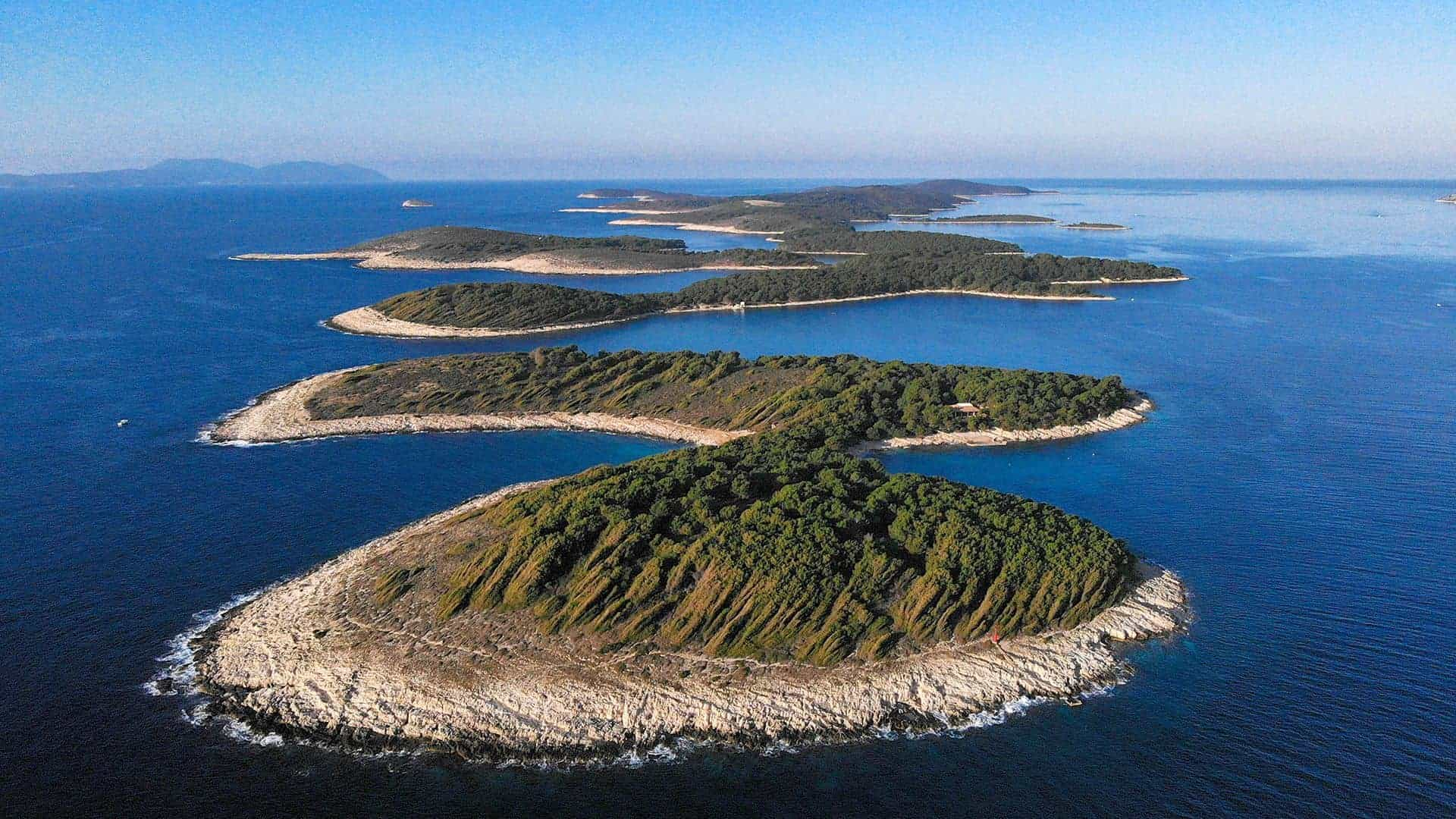 Should you want a stronger 'connection' to the land, either due to unfavorable weather conditions or just in case, ACI Marina Palmižana and the northern shores of St. Clement are only a few miles away, and the mesmerizing beauties of Hvar are at your fingertips.
You can stay in this micro area of Hvar for several days, just like many local families have been doing for decades, but it would be a real shame no to go farther and get to know the entire island.
Vis and beautiful beaches
The southeastern side of Vis and a range of incredibly beautiful islands are only a dozen nautical miles away. We suggest that you first drop your anchor in Stončica, a sandy cove with turquoise water, and take a walk to the nearby lighthouse, among the beautiful in the Adriatic. In its immediate vicinity to the east lies Smokova cove, where even in the high season there aren't too many boats, and which is known as an ideal destination for playing picigin, a highly addictive local ball game.
Later, you can visit the other sandy haven on the island – the nearby Zaglav cove, where you can indulge in a dive among the many fan mussels, allow yourself to be charmed by the surrounding turquoise or bask in the sun lying on the fine sand that this uninhabited cove is famous for. Right around the corner lies the town of Rukavac, whose northern side is covered in rocky shores, and whose much gentler southern side is a haven with white pebble beaches, like the beloved Tepluš beach. Both sides are suitable for anchoring (in the absence of southerlies) and are separated by a stone pier suitable for docking for vessels with shallow draft.
In case the weather forecast is favorable, spend the night in the turquoise lagoon that mourns the island of Budikovac. This island is a unique microcosm that doesn't lose its peculiar character even at the peak of the yachting season. A local celebrity Andro Slavić lives in Budikovac all year round, where he has a real small ranch and a uniquely imaginative restaurant.
The next day, as soon as the sun approaches its zenith, let the magical colors of the Green Cave on the neighboring island of Ravnik spill over you. After that, visit another island delight – Srebrna beach, whose name – silver – is a misnomer, as the this cove boasts the most beautiful white pebble beach.
Sailing along the southern shores of Vis in the direction of sunset, you'll find it hard to choose where to drop your anchor. Ruda cove lures with its almost Caribbean shades of blue, Mala and Vela Travna with imaginative configurations of rocky shores and silky miniature pebble bottoms, and the famous Stiniva is a true masterpiece of Mother Nature. This 'cove in a cove' is reminiscent of an exclusive pool, open 24/7 for the lucky ones.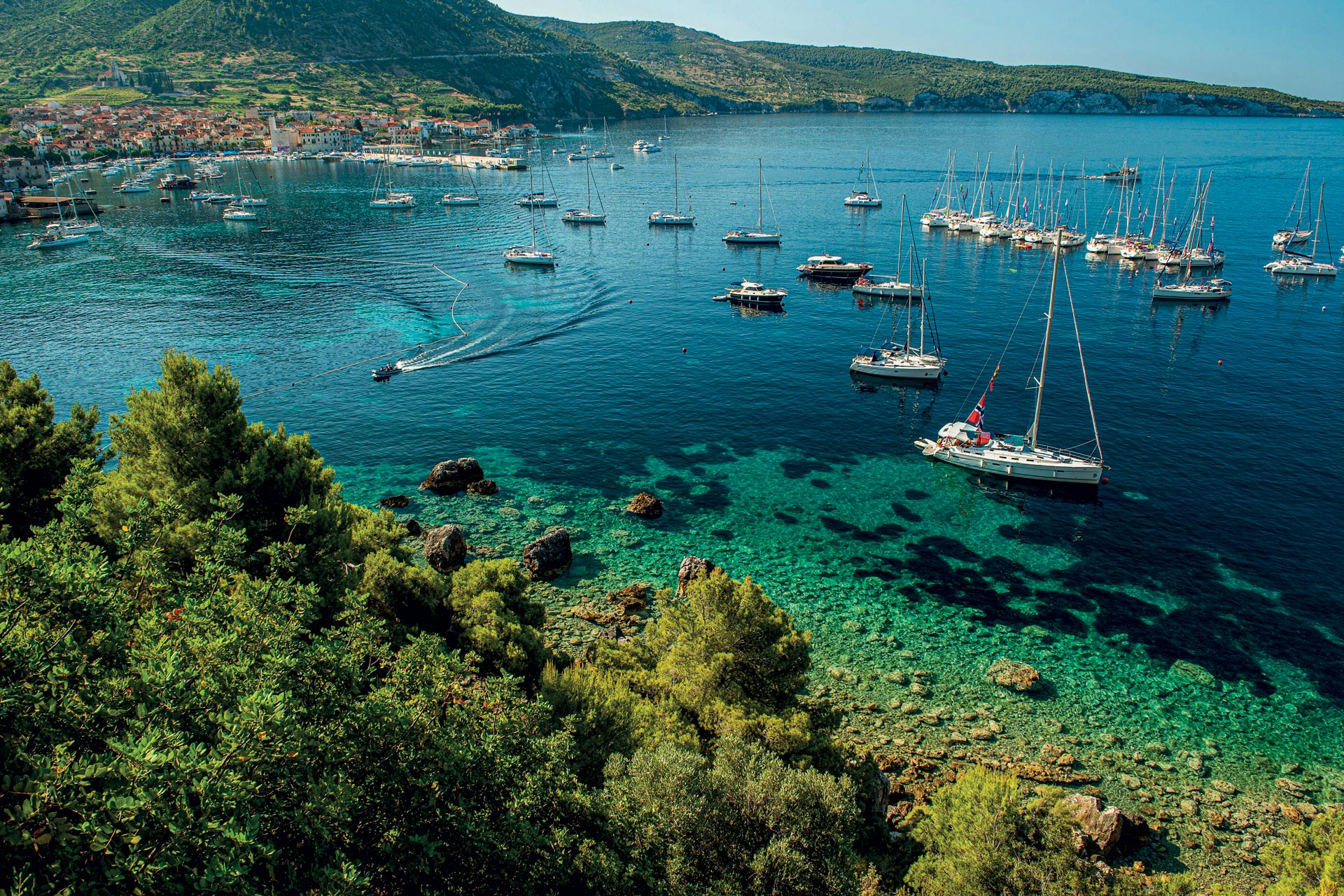 Spend the night in the picturesque fishing village of Komiža if the sky is not frowning from the west, which is usually a sign of bad weather. Drop your anchor at the waterfront or tie your vessel to one of the many buoys, but wherever you stay, make sure you leave Komiža exactly as you found it.
Visit local beaches around Komiža, walk to the most impressive symbol of the town – the church of St. Nicholas, and if you want a unique adventure, rent a bike and conquer the steep, steep road to one of the most spectacular Adriatic lookouts, from where you'll be able to chose where to turn your bow next. Vis luxury yacht charter is a ideal mixture of magical beaches, pristine nature and delicious local cuisine.
Biševo and Blue cave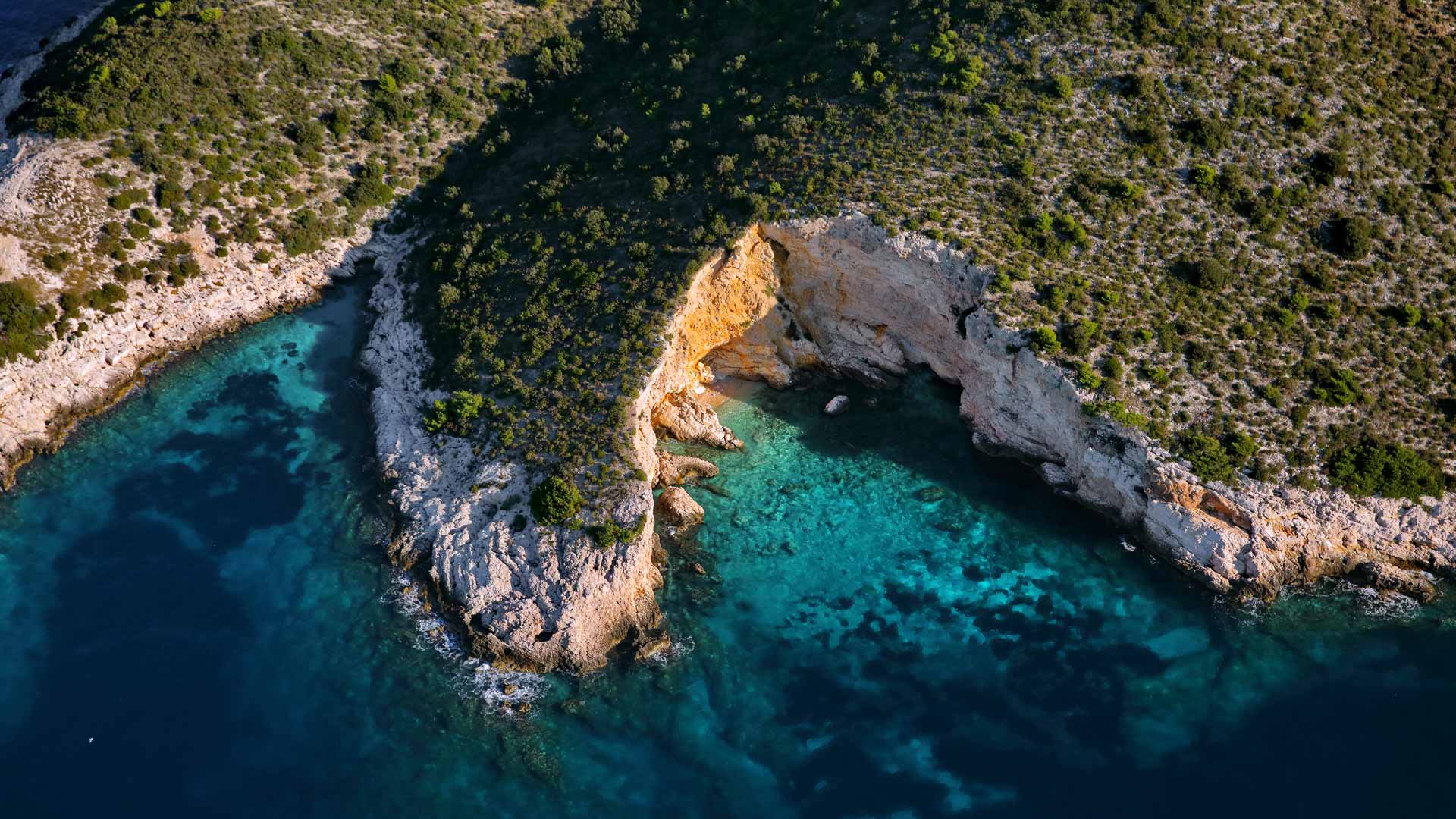 You can complete your cruise with a visit to the magical Biševo island and the beautiful Blue Cave. A visit to this island some 40 miles toward the open sea almost always remains imprinted into the visitors' minds ss one of the most beautiful memories from their Split yacht charter, which is why this very special, almost zen destination, deserves a special full-length feature.
Yachts for Charter in Split
Islands near Split are among the most beautiful yachting experiences in Croatia. For example, island of Hvar has gained global visibility, but there are many other gems to discover within this stunning area to sail, only 30 nautical miles from Split. In order to explore this area at its best, we provide free counseling regarding chartering and activities during your charter holidays. The team of experts that brings together Yachts Croatia is also at your service when creating your perfect charter experience in Croatia and can help you to customize your Split boat charter.
YACHT SUGGESTION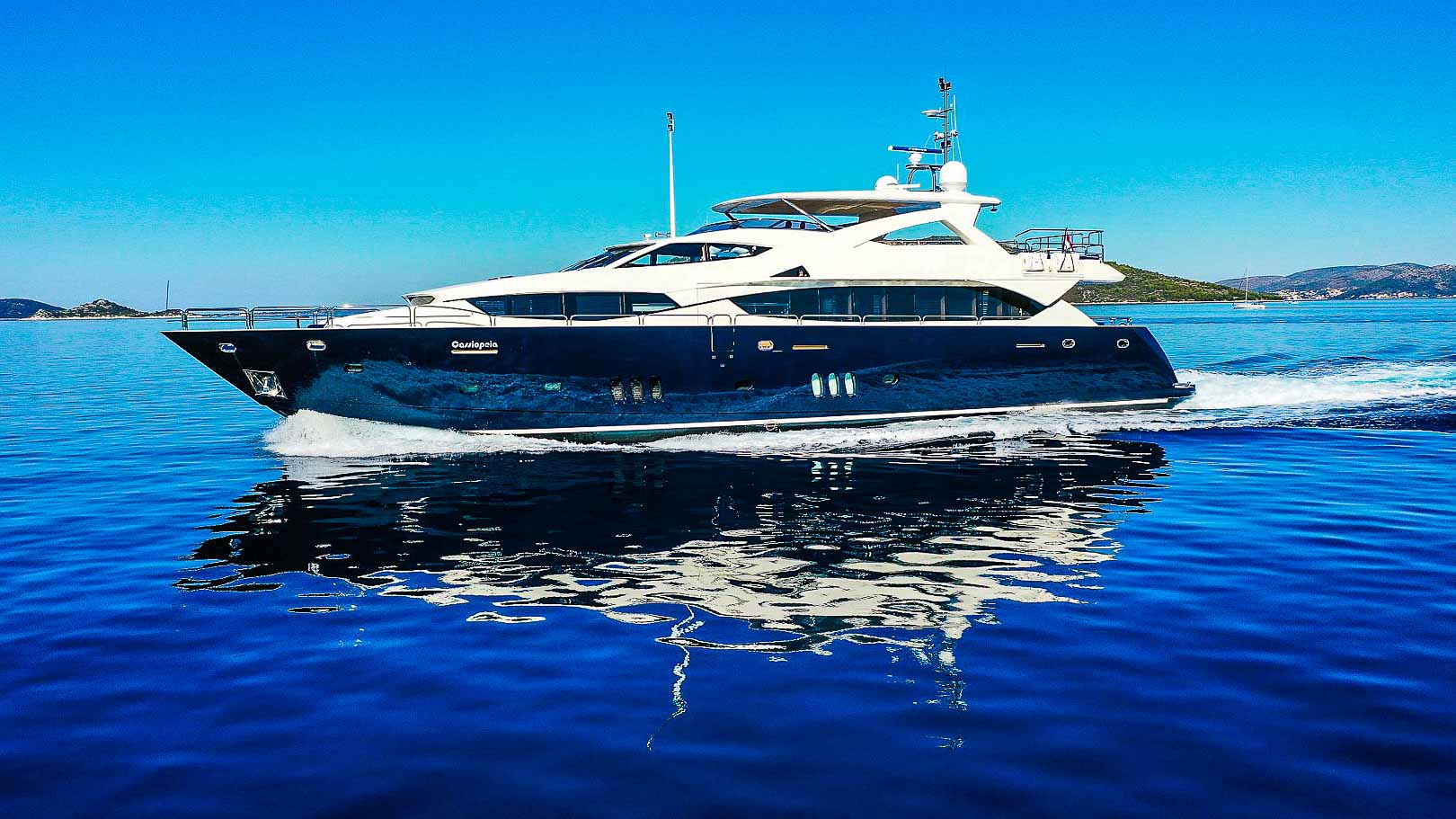 Designed and built by Sunseeker, Cassiopeia was delivered in 2009 and lightly refitted before summer 2020.
When choosing a yacht, you first need to decide whether you want to feel the meditative power of silence on board sailing boat.luxury sailing yacht and catamaran, or whether you appreciate speed and comfort, with interest to rent a motorboat or luxury yacht. After that, leave all the 'details' to us. We will pay special attention to all your needs, to select the boat up to your wishes, to feel safe and comfortable with the crew that will make your time special, organize provisioning and prepare the route that will leave you breathless!
Upon request, our team will visit the yacht (s) you are interested in, with special care to your wishes – and make sure that we 'pamper' you with beauty while sailing! So contact your broker and make sure your e-mail includes the following information: your preferred type of yacht (sailing boat, catamaran, motorboat or yacht), arrival and departure dates, number of guests, preferred number of cabins and crew. Finally, we recommend you add the sum you are willing to spend on luxury yacht charter in Croatia.
Text Josipa Vlahović Cikatić
Photos Archive Yachts, Kristina Peračić, Ivo Pervan, Boris Kačan, Pixsabay, Unsplash, ACI d.d./Petar Fabijan i Davor Žunić, Javna ustanova More i krš & Heli Foto