Designed to make your stay at sea dynamic and comfortable, Saxdor 320 GTO attracts the eye with her reverse bow and her trendy low profile, and her cabin with an en suite is perfectly suitable even for longer trips
After the great success of the Saxdor 200, which we have already written about, the new Saxdor 320 GTO was expected to rise to with great expectations. Larger than the previous model and offering proportionally more space and more functional solutions. Naval architecture for the model is the work of by J&J Design studio and the brilliant Sakari Mattila, the creator of Axopar, XO Boats, Paragon and Aquadora.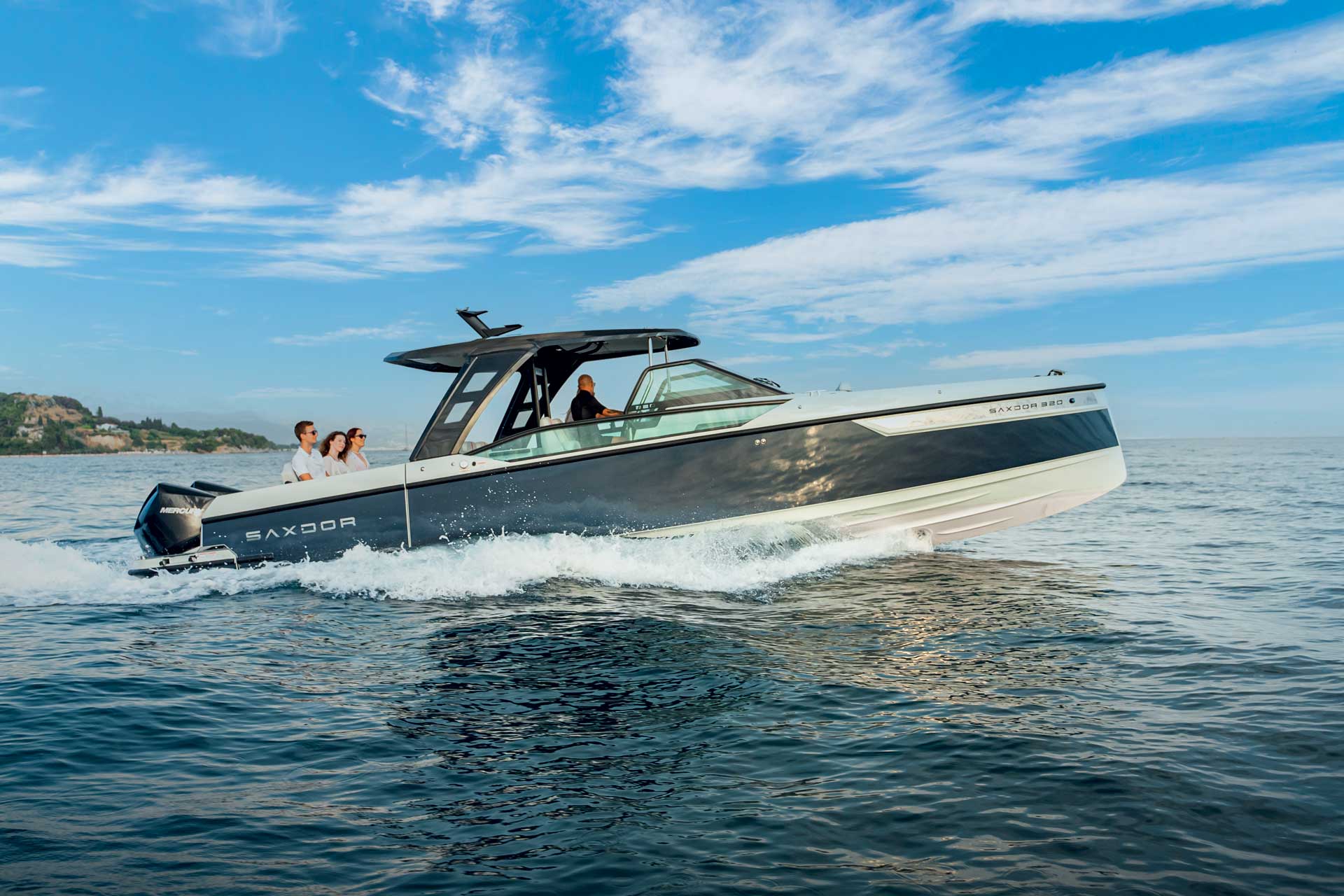 Designed to make your stay at sea dynamic, with many elements serving that purpose, like the wide and safe passages, the reverse bow and the trendy low profile. The inverted bow is slightly more rounded than expected, and at the very top there is storage for the anchor chain, ropes and fenders. This part of the boat is just wide enough for access to the bow and to the sunbed with cup holders. All surfaces are covered with a comfortable anti-slip material, as they are constantly exposed to the sea and sun and should be durable and easy to maintain.
Other elements, such as the T-roof, windshields, folding sides and systems for easy mounting of fenders, are already present on boats from different builders, but here they are all gathered in a balanced and easily recognizable product with strong visual identity, which isn't easy in this segment. The stern entrance of this models is the safest aboard, as neither the thin walls or the Prospex glass doors are fit for that purpose.
Saxdor's innovative en-suite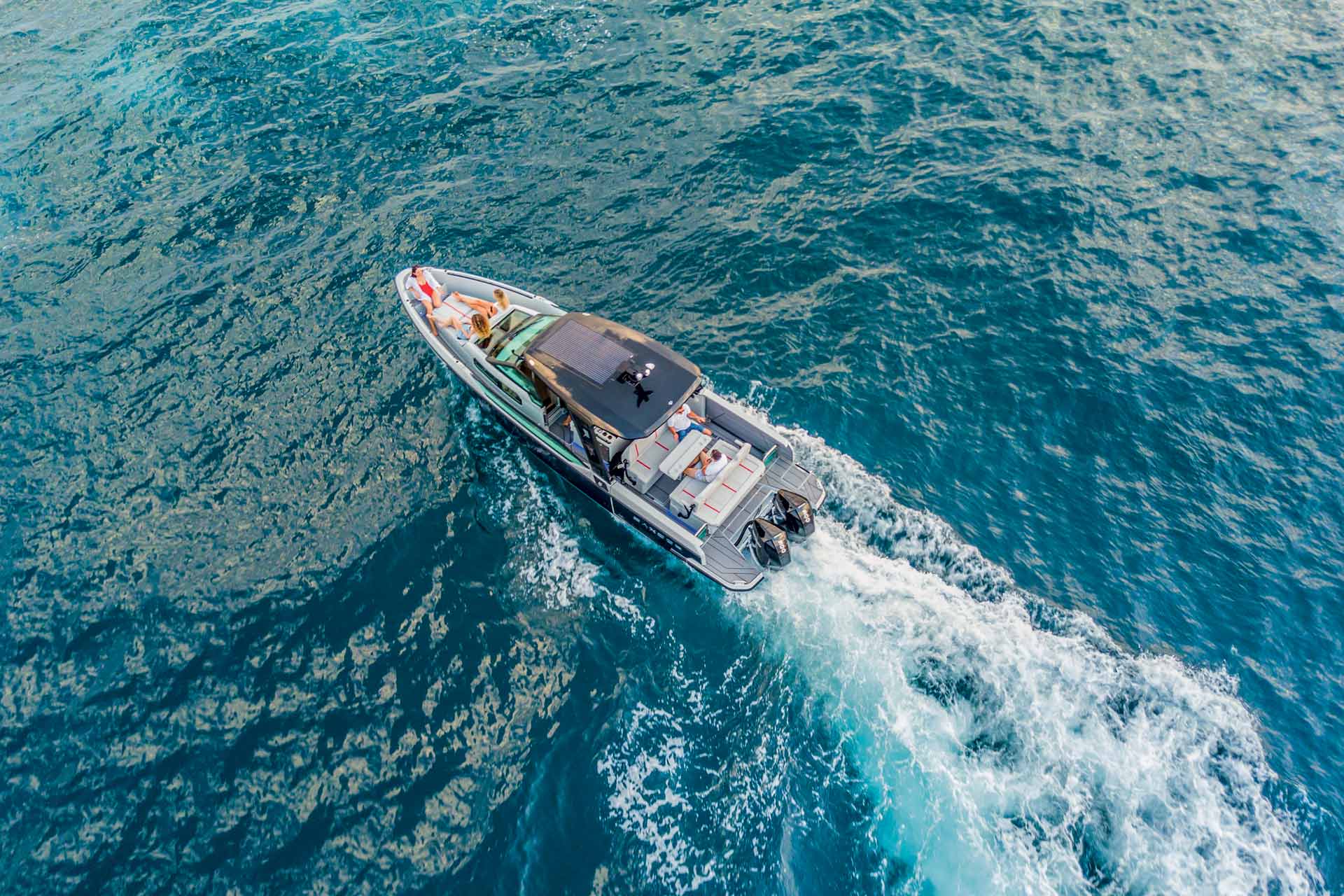 The model is available in five layouts, all with an innovative en-suite. The unit we tested was, in our opinion, the most interesting one, with a folding table, a bench with storage underneath, that can be turned into a sunbed. Behind the other bench, which seats three (skipper plus two), there is a wet bar with as sink, a grill and two fridges for all your daily cooling needs. The sides can be lowered electrically, opening more space for daily fun and entertaining, enjoying the sun, or storing water toys.
The three seats that serve the command console enjoy great visibility and are well protected, while the console itself is clear and tidy, with a Mercury Joystick with Skyhook (option) to make sure your ride at sea is just as smooth as your maneuvering in marinas.
Saxdor 320 GTO consumption
Although available with weaker engines, the unit we tested was powered with two Mercury 300-hp engines. Even with unpleasant 10 knots of northerly wind and some waves, our Saxdor 320 GTO proved to be stable and calm, reaching 17 knots at 2900 rpm (consumption 49 l/h), and battling wavy sea at 30 knots at 3800 rpm (consumption 80 l/h) with a smile.
When we pushed the engines above 6000 rpm, we easily reached 47 knots, speed at which our Saxdor still remained pretty calm, with only some jumping across largest waves. Saxdor 320 GTO is a vessel that provokes all the positive emotions we expect from navigation and we can already see it becoming a huge hit. The young Finnish builder have already announced the next model, the probably even more exciting Saxdor 400 GTC, and we can hardly wait to meet it.
Text Filip Bubalo
Photos & video Saxdor