Saxdor 200 sport review: Speedboat for the new generation
Saxdor 200 Sport is a six meters long day cruiser designed for quick trips, surprisingly safe and ideal for its purpose aimed at younger water enthusiasts looking for a fun and fast vehicle that isn't a jet ski
At first look, Saxdor 200 Sport looks like just another water toy, but then you hear whose brainchild it is. Sakari Mattila, the brilliant mind behind Axopar, XO Boats and Paragon, teamed up with the Jakopin designing duo of studio J&J and created something that most certainly deserves to be taken seriously.
First unit of Saxdor 200 in Croatia
Aimed at younger water enthusiasts looking for a fun and fast vehicle that isn't a jet ski, Saxdor 200 Sport is speedboat for the new generation. Sharp bow, low profile and even the logo look like they belong on an Axopar, sure – but in this case, that's nothing but a compliment, as it hints at great performance. We tested the first unit of Saxdor 200 Sport sold in Croatia with top engine configuration; Mercury 175 HP, and took it for a ride from Split to Biševo and back.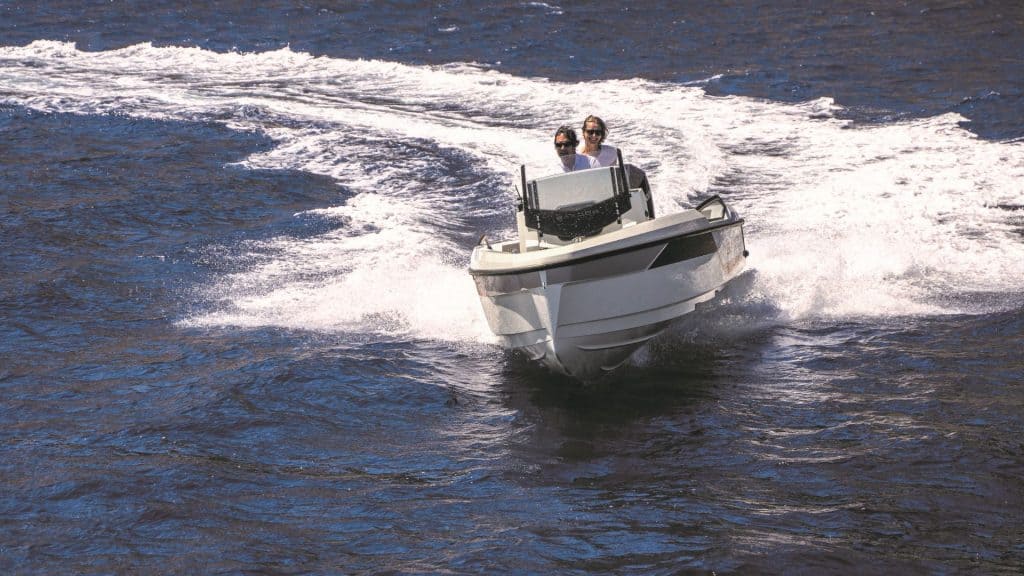 Essentially, Saxdor 200 Sport is a six meters long day cruiser designed for quick trips like the one we made on it, surprisingly safe and ideal for its purpose. We flew at 42 knots (just 3 knots short of top speed) at just under 5000 rpm, and never felt anything but safe – and more importantly, thrilled. The double-stepped hull weighing 780 kg almost literally flies out of the water at higher speed, keeping loose contact with the water only by dipping the aft third in it, but it feels as safe as gliding on tracks.
Saxdor 200 Sport requires minimal maintenance and guarantees maximum fun, it just might be the new favorite among the day-cruising water enthusiasts
At no speed did we feel anything but safe and comfortable, partly due to the three jockey seats, even when we were so close to the water we could touch the surface. As Saxdor 200 Sport has no transom, there's plenty of space for skis or diving equipment – but be careful when maneuvering, not to flood the cockpit. Saxdor 200 Sport handles waves without a blink, and even when that requires jumping, the cockpit and the seats remain spritz-free. The front seat is additionally protected by a glass panel, so there's no need to worry about leaving your hat behind on windy days.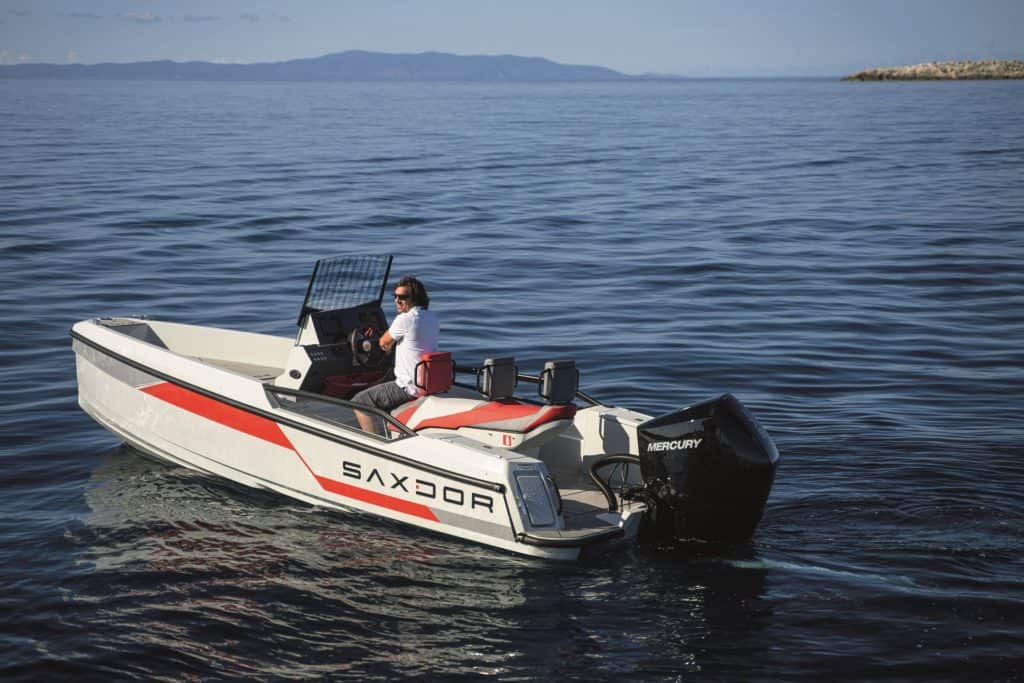 The unit we tested was equipped with two Simrad GO9 XSE touch-screens and Fusion stereo system, and had light switches, a bilge pump and a 12 V port on the console, while the list of options includes a T-top or a Targa top, and a double seat bench, raising the number of seats to four.
Suitable for spending a night
Storage space for smaller items like the phone is located under the steering wheel console, while larger items will find their place under the aft platform, beside one bunk bed. The T-top can be tied to the aft platform and the cockpit fully covered by a fabric awning, making Saxdor 200 Sport suitable for spending a night in a peaceful cove somewhere. The Mercury engine proved to be unusually economic even without our efforts to save fuel (just under one liter per mile): our speed mostly hovered around 25 knots, and the 110 liter tank was more than enough for our test.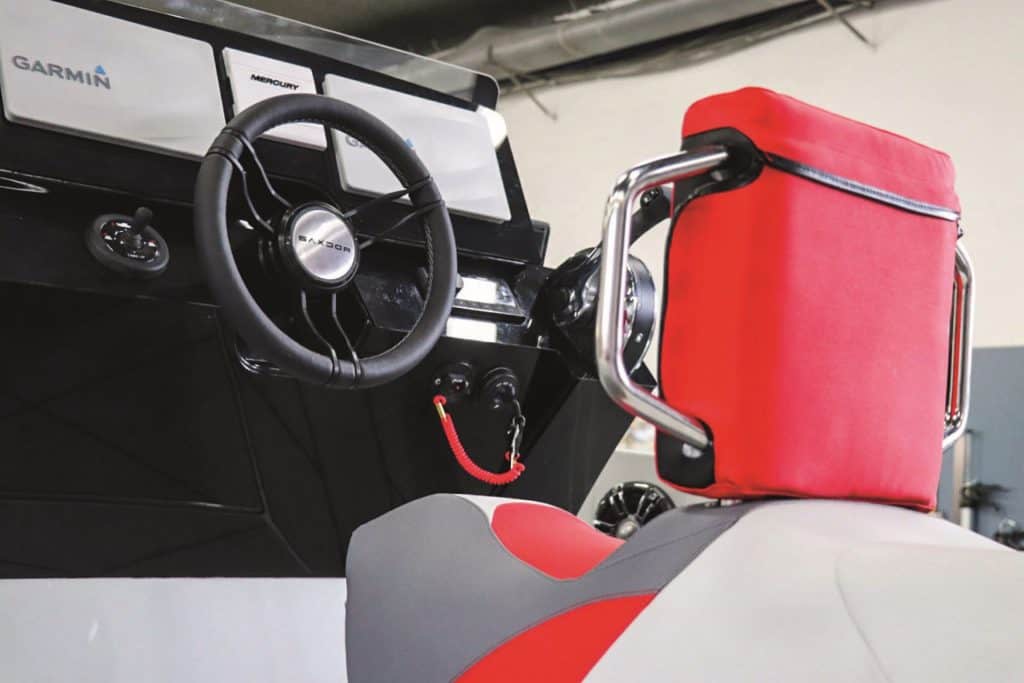 Priced at 20.000 euros with Mercury 100hp, Saxdor 200 Sport is affordable to most, and seeing how it can be towed, requires minimal maintenance and guarantees maximum fun, it just might be the new favorite among the day-cruising water enthusiasts.
Text Filip Bubalo
Photos Kristina Peračić
Video Yachts Croatia